September 2018 I rolled as wheelchair pilgrim from Maastricht to Reims in 2 weeks. Below the report.
here you can read the whole trip, but you can also click on the menu below to see it day by day.
Day 1 Maastricht – Eijsden
Day 2 Eijsden – Liege
Day 3 Liege – Hoei (Huy)
Day 4 Hoei – Namur
Day 5 Namur – Dinant
Newspaper
Day 6 Dinant – Givet
Day 7 Givet – Fumay
Day 8 Fumay – Rocroi
Day 9 Rocroi – Aubigny-les-Potes
Day 10 Aubigny-les-Potes – Lalobbe
Day 11 Lalobbe – Château-Porcien
Day 12 Château-Porcien -Bazancourt
Day 13 Bazancourt – Reims
Day 14 Monastery
End of this pilgrimage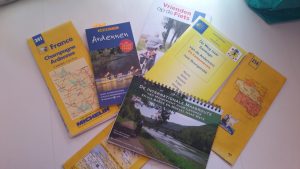 Preparation
July 2018
I am busy with the preparations for the next stage. I am now on the couch in the between a lot of maps of the Netherlands, Belgium and Northern France, a booklet about the Ardennes, a route book of the International Meuse Route and a booklet about the Via Campaniensis. and I also use my laptop with google maps for the route planning.
My rough planning is to follow the Meuse from Maastricht through the Belgian and French Ardennes. The nice thing about this route is that it is quite flat because I roll along the Meuse.
I start from Maastricht and roll to the town of Revin in France. From there, I leave the international Meuse route and roll to Rocroi where I start the Via Campaniensis. that is the part where I will not be able to avoid the hills/mountains. I have the hope that I will end up in Reims and then go back home from there. in total  is more than 300 km, so the longest distance so far.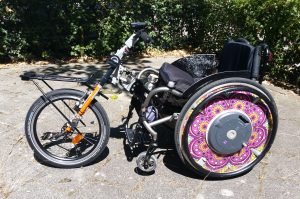 Beside that I am planning the route and trying to find cheap places to sleep, I am also looking for a new backpack, a completely waterproof so that my clothes but especially my spare batteries stay dry in case it rains. As soon as I have found them I will write about them at the reviews (I have updated them with new products anyway).
Furthermore, my front wheel was badly worn (a number of screws / screw holes had problems with the thread so that it almost fell apart and I am that's why in recent months we have been applying for a reimbursement via the municipality (by the Dutch WMO rules) for a new wheel and the front wheel has been granted as a sports facility! He is already inside and I am very happy with it. He is very stable and has more options than my previous one. including lighting, an extensive bike computer and a luggage rack, so I can go on the road again!
I have already made some large test drives in my area. I only couldn't do hill training because Holland is flat, But I trained a bit by going up and down high and steep bridges. but I think I am ready now for next September when I go through the the Ardennes! 
I will keep you informed when I am leaving and wish you all a nice summer! and if you have not yet registered for the newsletter, do so on the home page.
September 7, 2018 by wheelchair pilgrim
Day 1 Friday September 7.
This morning around 9.00 am I left by train to Maastricht. There I had an appointment with the Dean John Dautzenberg at 13.00, I had met him last year at the end of my trip and now I started again. I received a stamp from him and the pilgrim blessing and I went to the St. Servaas basilica and visit the church and the treasure room.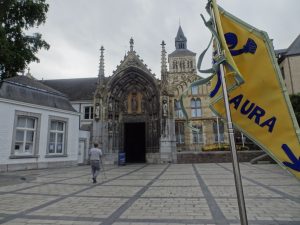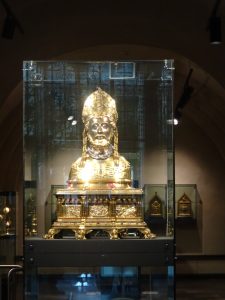 After that I went on the road. It was just a puzzle where I had to get out of the city to get to the mesh route and in the end I went a bit different from the official route, but even before I was out of Maastricht I still had the right route.
I rolled over the west side of the Meuse on different types of roads, busy, slow, paved and unpaved. But everything was easy to do. There was a lot to see. Lots of beautiful nature and beautiful houses. I also drove past the castle of André Rieu.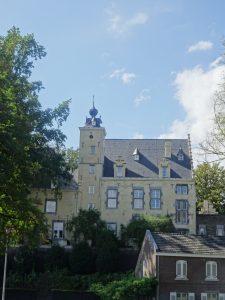 I also rolled a piece over an unpaved dyke path, so I could look very nice over the Meuse. it was very special to seethe rock walls with all the caves and even an old cave house that is now half gone.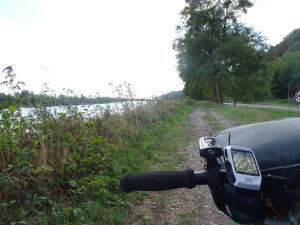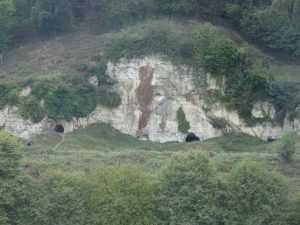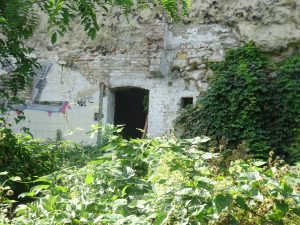 At Ternaaien / Lanaye I crossed the Albert Canal at the lock, the difference in height of that lock is 14 meters. I had a friend who is an inland skipper and I went with her sometimes and then we went through that lock and it was fun to see the lock now from the other side.
At Ternaye I wanted to take the ferry to Eijsden, but I was unlucky because the ferry lay quietly on the other side and I was told that he would not sail today. And that is why I had to travel 4 km on via Ravel paths (the bicycle network in Belgium, often cycle paths that follow old railway lines or through nature reserves) to the next bridge.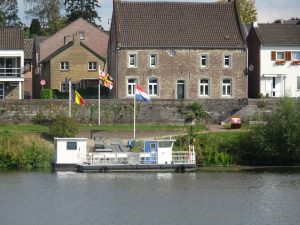 And I also had to roll about 8 km extra. Although it also gave me a nice ride where I could still watch many birds. Especially (large Canadian) goslings were many and another path crossed the path. I also ate half a fall apple. Earlier today I had also found a few blackberries so I have eaten delicious super fruits again. There were also a lot of nuts (walnuts and hazelnuts) but that is a bit more difficult food to eat on my way, so I have left it.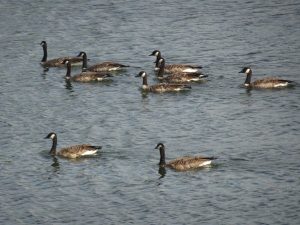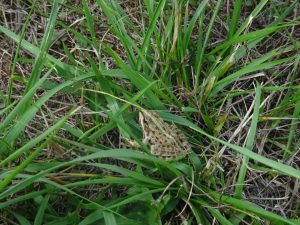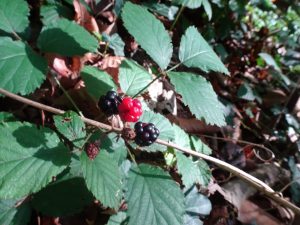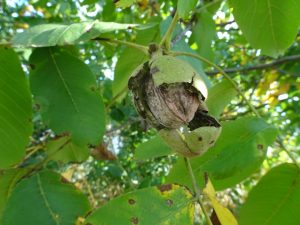 Eventually arrived at the address of "vrienden op de fiets" (translated, friends on the bike, an organisation where you can sleep at homes of bikers and hikers). There I have prepared my couscous and now I am writing this in bed and preparing the route for tomorrow.
Then I really go abroad.  I will go to Liege in Belgium.
After a good night's sleep with Linda and Patrick from "vrienden op de fiets", after a nice breakfast I left Eijsden around 9:30 AM.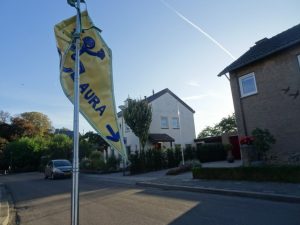 First I rolled a part of what I had rolled yesterday because of that not working ferry. I drove past a lot of sugar beet fields and some corn. Soon I arrived at the border. Just after the border was a weird narrow bridge with on one of the sides a short (2 to 3 meters) but very steep gravel slope with loose gravel. Yesterday I drove there and then thought to myself that it was nice that I had that slope down and the paved slope up. Unfortunately … Now I came again and I came from the wrong side. I tried it a lot but I had no grip at all. Every inch that I rolled up I slipped down on the gravel. In the end I got out of my wheelchair (fortunately I can do this) and pushed my wheelchair up the slope. And so I could continue.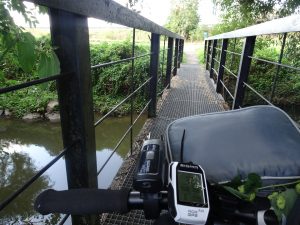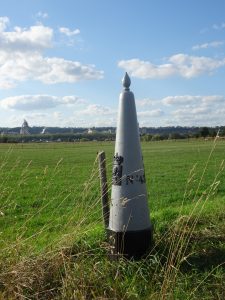 Soon I rolled back to the Meuse. For the first time the route was marked with the real Santiago sign (shell) and I followed that up to Visé (or Wezet), 2 names 1 place, which is affected by many Belgian names).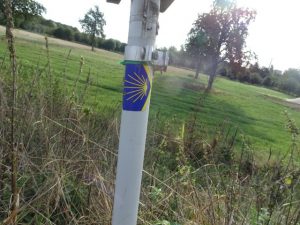 In Visé I visited the church, first on one side of the Meuse and then on the other side, but unfortunately they did not have a stamp for my pilgrim passport. Eventually they decided to write a signature and date on the spot where the stamp belongs. Is better than nothing. Fortunately, yesterday I had already received a stamp in Maastricht and Eijsden. In Eisden the church was closed but the address of the priest was hanging in the vestibule and I had rolled over there. When I arrived he just walked out the door to go to a mass in another place, but fortunately he still had time for a stamp.
But I was telling about Visé. After Visé I ended up on a Ravel cycle path which really lay on the Meuse and into Liège. Here were signs of the international Meuse route that I follow. On the way there was quite a lot of industry. Large factories and companies with huge heaps of stones, sand, tree trunks, compressed waste, etc. I also rolled along a stretch with a lot of boats (from sloops to small barges) on the quay, some of them still looked like or they could sail but the vast majority were wrecks, rusted, holes in the bottom, missing tops or rotten, etc. And in the water were sometimes ships that look like they have been abandoned for years. A strange situation.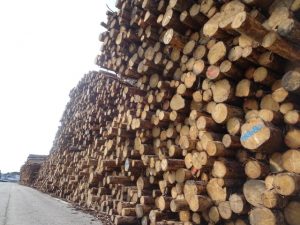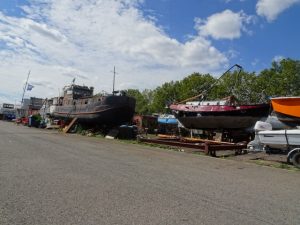 When I arrived in Liege, I visit 3 churches, including the st James church. At 2 I got a stamp, the third church had lost its stamp. So today I received 2 stamps and a signature that I have been given in my passport. after 3 years rolling I started the last page of my pilgrims pasport. Fortunately, the next passport is already in my bag.
Now I am with the Sisters Benedictines. A very beautiful monastery. Really as you imagine a monastery. Cloisters around a beautiful garden. A beautiful but simple monastery church. There is also a large dining room (refectory) where we have eaten a sandwich meal tonight (there is one other guest). And I have a sober bedroom with no more than a single bed, a desk and a faucet with a sink. Exactly what a person needs. About 20 sisters of all ages live here. There are a number of really old sisters but also some still fairly young who have not yet made a vow.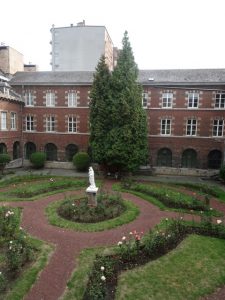 And now it's time to sleep. Tomorrow a long day towards Hoei / huy.
There is no internet here so today's pictures come later (postscript: as you can see I have been able to post them now, 2 days later when I had Wi-Fi again).
This morning at 7.30 a sister came to help me to put my backpack to the wheelchair. I slept upstairs and my backpack (with batteries) is to heavy for me to carry on my own. Then I had breakfast and I went to the morning prayer. Unfortunately I could not stay for the Mass otherwise it was too late to leave.
2 Dutch speaking (actually Flemish speaking) sisters waved me off and then I went on the road again.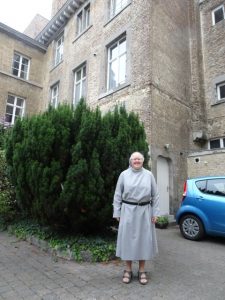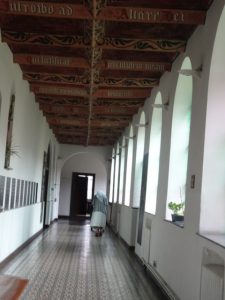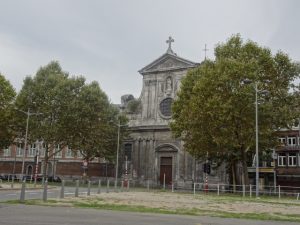 It was a bit of searching before I was on the route again and when I was on it I also had bad luck because it was broken up and then it took a while before I could get back to another spot. But It worked.
I rolled past ugly industry for most of the day. It was often so ugly that the became something beautiful. Old unused factory buildings, power stations, locks, rail tracks that looked like they were never driven, etc.
And not only what I saw was ugly, the smells too. A lot of diesel and other chemical smells that I could not recognise entered my nose.
Between that industry were also parts with very old luxurious houses (I guess they are at least 100 years old). Now those beautiful stately houses with turrets were dilapidated, broken windows, leaking roofs, hanging down gutters and often very overgrown with all kinds of climbing plants. The word pauperization has been invented here.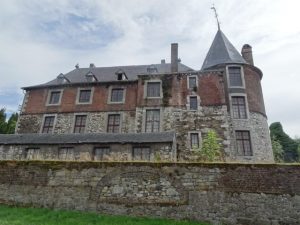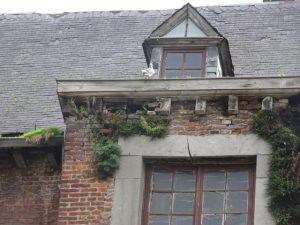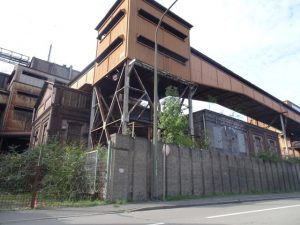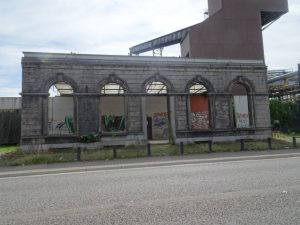 At the end of the day the atmosphere changed, the industry became less and there were again smaller roads, with not more traffic than  once in a while a cyclist. I also found blackberries and I an apple tree that had dropped a few nice apples for me.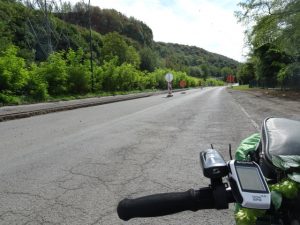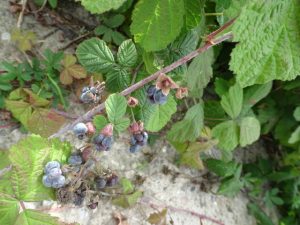 After about 28km of rolling my batteries were almost empty and I decided to replace them at the church for a new set that was in my backpack. The church itself was unfortunately closed. But when I was busy replacing I suddenly saw that they had a lourdes cave at the church (For the readers from the Holland, he was a bit smaller than in Zevenhoven, but still quite big). Unfortunately, therefore, not a stamp from the church but did take a picture.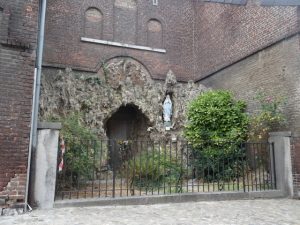 Just before Huy I passed a huge nuclear power plant.
And then I continued the last 3 kilometers before I came to my bed. That 3 kilometers has cost me almost 1 1/2 hours instead of half an hour. That was because it was a very steep hill. But I made it!
When I arrived at the top, I felt like I arrived in Tibet. Exhausted from the "mountain" climb I saw a Tibetan temple. Here is the monastery where I will sleep tonight. A Tibetan monastery. I ate a meal here. There turned out to be many other guests, more than half of them Dutch or Flemish.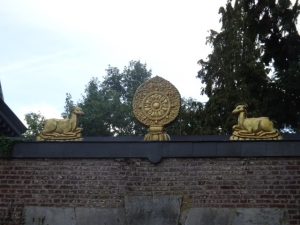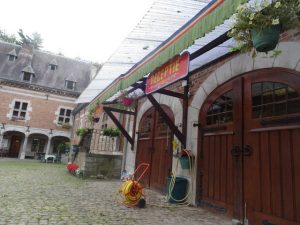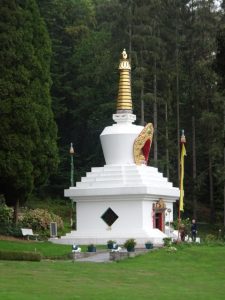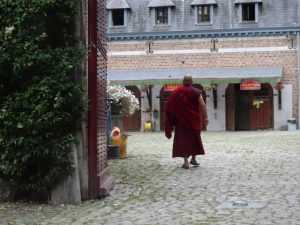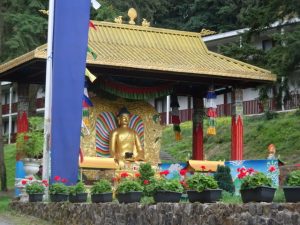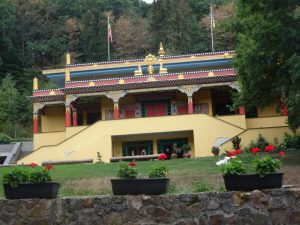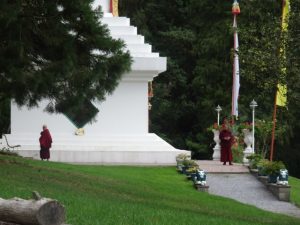 After dinner I went to my room, showered and handwashed (hopefully tomorrow will be dry again) and now I'm lying in bed writing this (but I can only put it online later because the internet does not work here, no wifi and also mobile internet has no reach). And then it is time to sleep.
Tomorrow is another long day. Today I rolled almost 44km.
This morning stood up and again packed for departure.
First breakfast, there was a buffet with bread, yogurt, muesli, egg and fruit. So I could handle it again after breakfast. During breakfast I had a nice conversation with a man who was sitting at the table with me. I had already spoken yesterday. Hik regularly visits the monastery. He gave me a book that he thought was very good. When I received it I was amazed. I expected a book about buddhism (which he is quite fanatic about) but I got a booklet from Anselm Grun, a Catholic monk. I'll just read that.
After breakfast I looked around for a while at the monastery complex, paid and then left.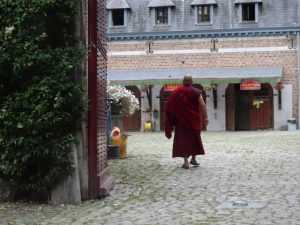 In Hoei I found a metal shell on the floor when I was on my way to church. I found the church but unfortunately the door was closed. There was a tourist information point in front of the church and I asked if they knew what time the church would open. Unfortunately she said that it would be closed all day because it is Monday but they had good news because they had 2 stamps for pilgrims themselves.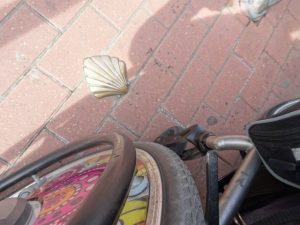 Then went to the supermarket across the water. There I bought some food, a bit of fruit on the way and asked for a toilet. Because that remains my biggest concern during such a walk. Then I was ready to continue rolling.
The route today was very easy and was also very well signposted.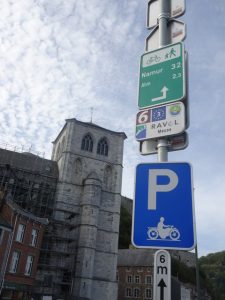 I just follow the Meuse to the destination.
Fortunately, the landscape was much more beautiful than yesterday when it was beautiful of ugliness. I rolled tightly along the water for almost the entire time. There were occasional factories, especially a lot of industry that deals with stones. Digging, chopping and transporting. Occasionally there was also a huge blast that reverberated between the hills, dynamite I think with which they make a piece of rock small. Around those factory you also saw that whole pieces of mountain are gone. when they keep going like this  it is here just as flat here as in the Netherlands.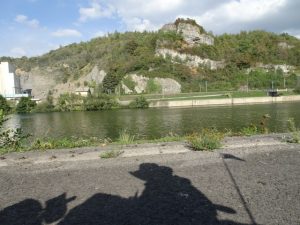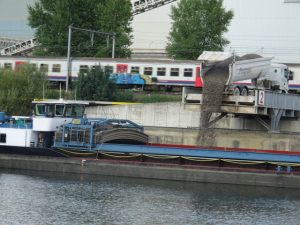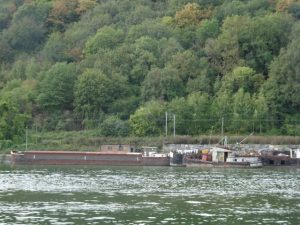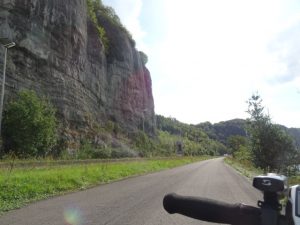 Ever since Visé, I have always seen walnuts shells on my route. In the middle of the path, sometimes on the edge of the quay but in any case where you walk. Every half hour I find one or two of those notes and sometimes even more. When they are there then every time a piece of skin is covered every few meters. There is probably a nut-eating pilgrim for me.
And I talked about nuts, which I have also found (but not in the vicinity of the found nuts, there was no nut tree to discover in those places). I still found a few apples and blackberries. That is good food again!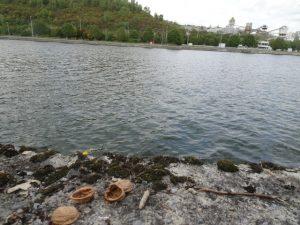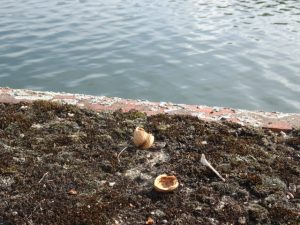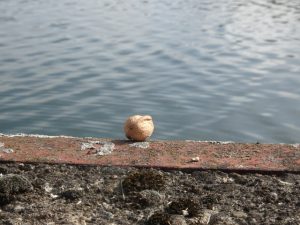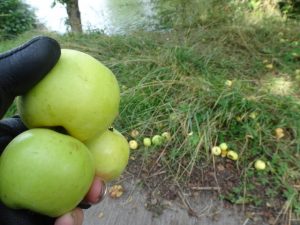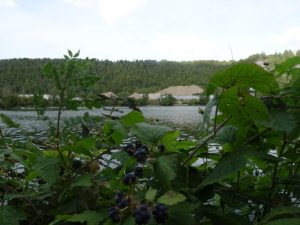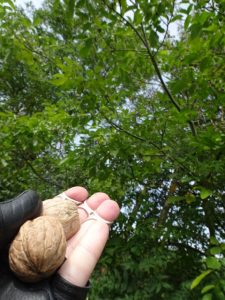 Another funny thing that I encountered in the Meuse (although it might be pathetic) is 2 turtles. They were quietly enjoying the sun at the edge of the Meuse.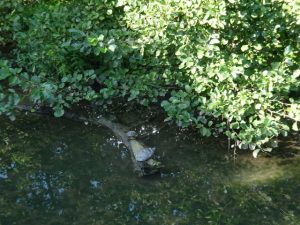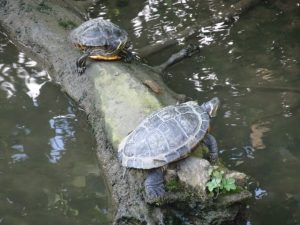 At the beginning of Namur I visited a church. I had already seen online that they had a celebration so I knew people would be there. And that was right so that gave me a nice conversation with a number of parishioners who were very sorry about my trip and my special wheelchair. And I got a stamp from the priest. Then I went to the youth hostel where I had reserved.
I have a 4 person room for myself, and now lie on my bed to write this. There is good working Wi-Fi here, so from last 2 days I also updated with photos.
Do you want to stay informed and receive an email when I post something new? Then register on the homepage for the newsletter (and do not forget to confirm the email, if necessary check your junk mail).
This morning stood I up at 6.45, dressed and packed everything and rolled to the breakfast room. I did not fit inside the wheelchair lift with all my luggage, but after some fitting and measuring I could still come up.
I got an organic breakfast buffet. I eat some bread, fruit and yogurt. 
I got a stamp at the youth hostel and then I left.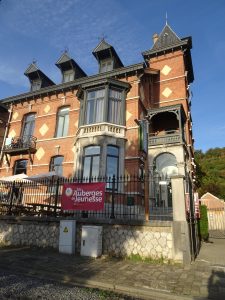 Even today I came back regularly eaten nuts, that person is still running for me.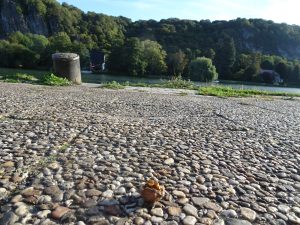 After a ride I was greeted by a walking man who was having a chat. He asked me if I am a pilgrim and I told him yes. We talked about my route and then I went on the road again.
Half an hour later I was suddenly overtaken by a cyclist, the same man as I met before. He had some questions because he would like to become a guest address for pilgrims himself. We talked about this for a while and then we all went our own way again.
The route was again well signed today. Everywhere signs with the route and also a sticker on lamppost or other places with the shell of Santiago.
The landscape was very beautiful. Beautiful steep rock walls with trees next to the water and castles.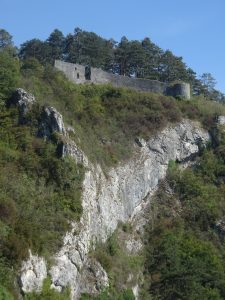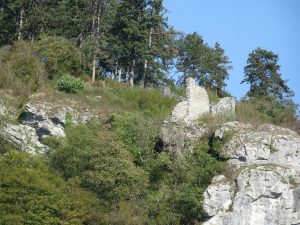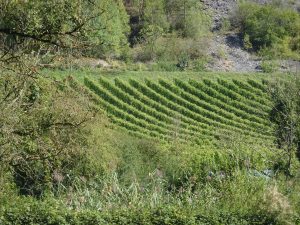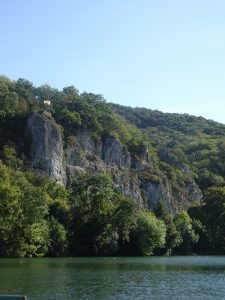 In Profondeville I went to church, someone was cleaning here. She told me in a mix between French, Dutch and English that the priest lived 3 houses away in a large house with a garden where a crucifix stands. I had found it quickly and he was standing in his garden. And there I got my 2nd stamp of the day.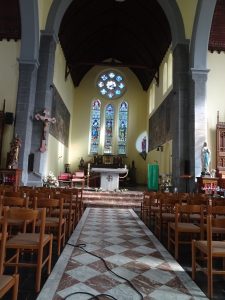 a while later saw a nice place for a photo, there was a boat under the Dutch flag to attack and I put it immediately in the picture. At the moment that I did, the man on board of that boat also took a photo of me. I thought it was a shame that I could not see that picture.
An hour or so later I passed a lock. And exactly that boat was in the lock. I Spoke to the people and we had a nice conversation. They took a few more photos as I rolled and she went out and promised to email those photos. So that's a lot of fun. (as you see I received them, if you read this, thank you for the pictures!)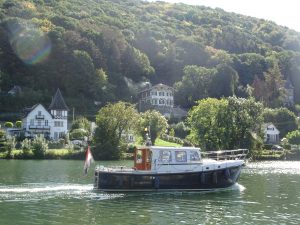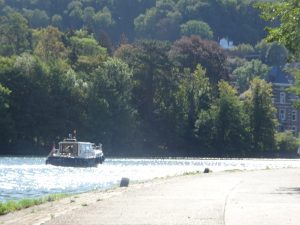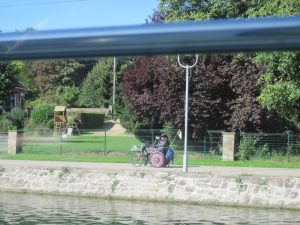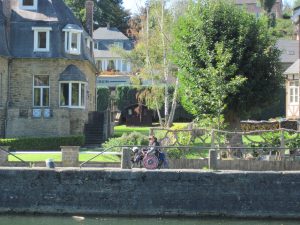 I also saw the first vineyards today. I expect to see more on my route when I get to the south.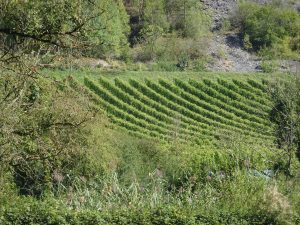 I also encountered a few crossing lizards. And I could take pictures of them.
In terms of food, I only had a few blackberries today. Not so much. almost everything was dried up or unreachable.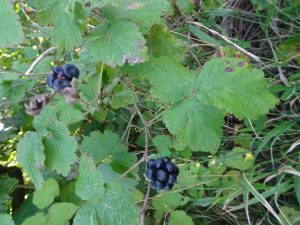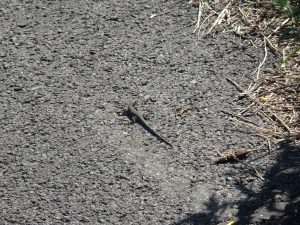 Just before Dinant I went through the monastery of Leffe. Unfortunately they were closed (I already knew that, the mons where on retreat) and could not give me a stamp.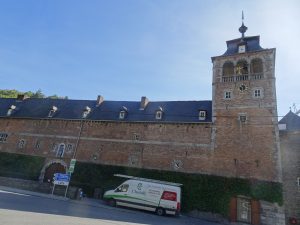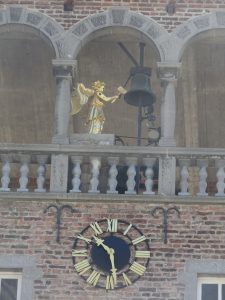 Then to Dinant. Here I visited the church. Unfortunately they had no knowledge of possible pilgrimages and the youth hostel was unavailable by telephone so I am now on a camping site (with internet, so I can happily post this).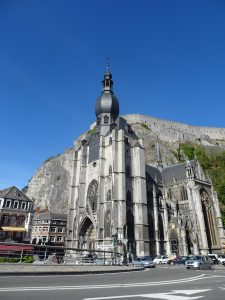 On the way to the campsite I met the man from the boat again and we talked about their and my trip.
my tent is close to the Meuse, so tomorrow I can quickly pick up my route again.
2 boys have helped set up my tent and tomorrow morning they come to help break off so that's ideal!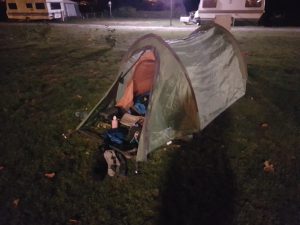 And for now I'm going to sleep.
see you tomorrow!
When I was in Dinant I was called by the Algemeen Dagblad (Dutch newspaper). And below is the result.
There are 2 articles that differ slightly, 1 short in the newspaper and a comprehensive online.
Unfortunately, there are a few things that are not quite right, especially the kilometer number is not correct. there is 242 kilometers, but that is the route if you take the shortest (GR) trails (through forests, unpaved paths with steep slopes), I did not take the shortest but the most beautiful and "flat route". I rolled 400 kilometers before I arrived in Reims because I followed the meandering Maas and rolled through beautiful old places.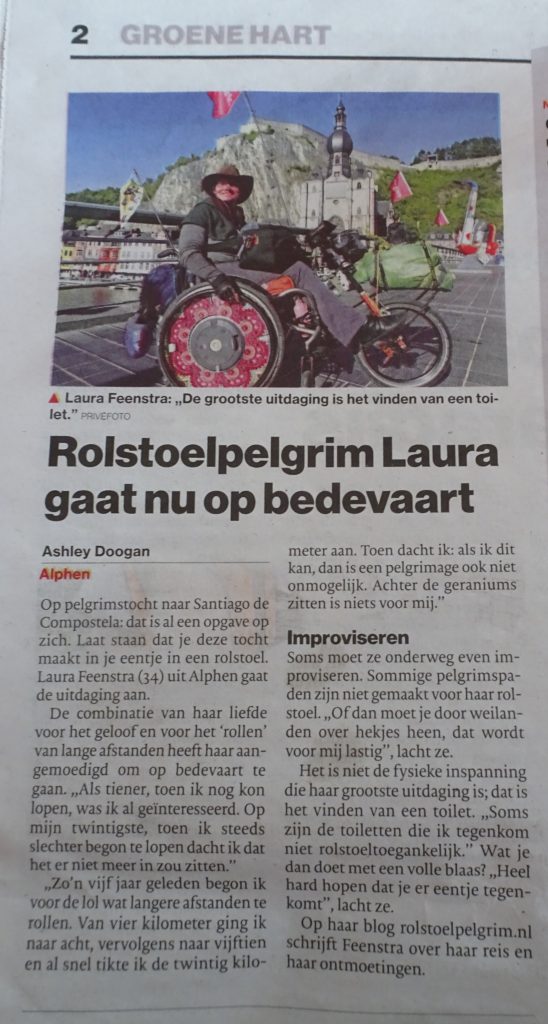 and the (translated) article on the website: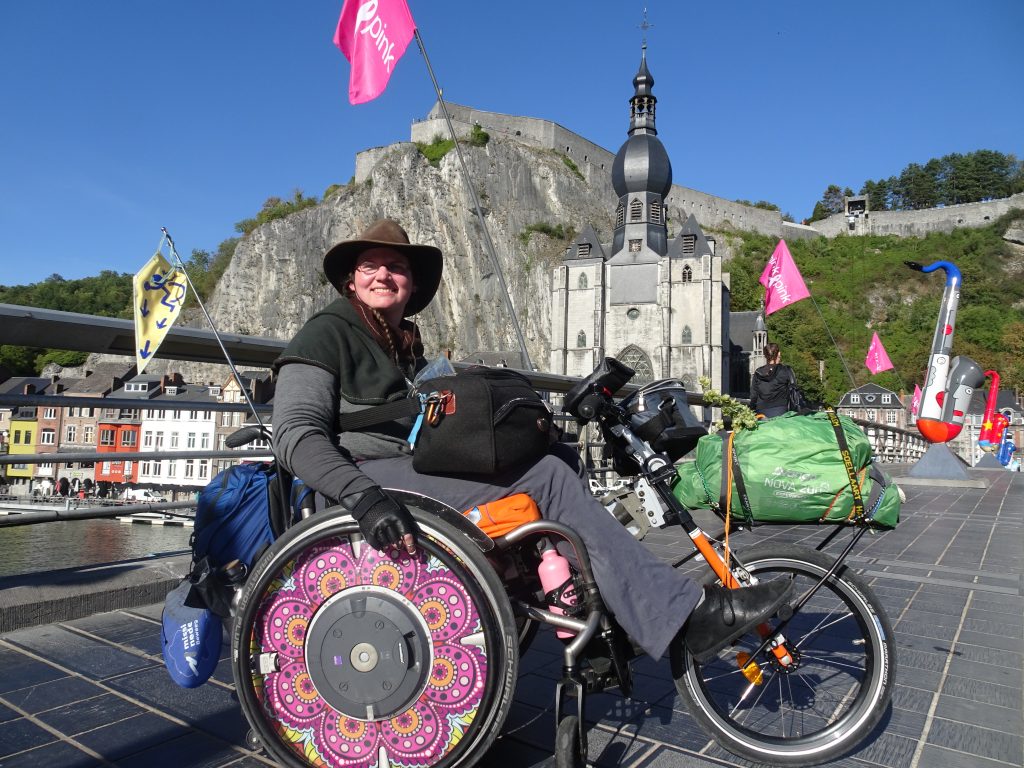 Rolling to Santiago de Compostela: Laura (34) is a wheelchair pilgrim

On pilgrimage to Santiago de Compostela: that is already a task in itself. Let alone make this trip on your own in a wheelchair. Laura Feenstra (34) from Alphen takes up the challenge.
The combination of her love of faith and the 'rolling' of long distances has encouraged her to go on pilgrimage. "As a teenager, when I could walk, I was already interested in it. But when my health started getting worse at the age of twenty, I thought it would not be there anymore. "Feenstra was diagnosed with Ehlers-Danlos Syndrome (EDS). This is a connective tissue disorder in which the limbs always come out of the bowl.
"But for about five years, I started rolling longer distances for fun. From four kilometers I went to eight, then to fifteen and soon I touched the twenty kilometers. Then I thought: if I can do this, then a pilgrimage is not impossible either. Sitting behind the geraniums is nothing for me. "
Improvising
Sometimes she has to improvise along the way. Some 'muddy' pilgrim paths are not made for her wheelchair. "Or you have to go through meadows over fences, that will be difficult for me", she laughs. ,, And recently there was a ferry out of service. Well, then I had to drive more than 8 kilometers. "
But it is not the physical effort that is her greatest challenge; that is finding a toilet. "Sometimes the toilets I encounter are not wheelchair accessible. Or you just do not see anything else than open fields. "What do you do with a full bladder? ,, I hope very hard that I see one , "she laughs. ,, But actually it always works well. If I need something it wil be there. In the middle of nowhere I finally saw a house , where an adapted wheelchair car was standing in the driveway. There I could not only go to the toilet, it was also a wheelchair-friendly toilet. Special. "
,, And if you do not come across it, then you have to ask. That way you will meet very nice people again. "Feenstra writes about her journey and these encounters on her blog, www.rolstoelpelgrim.nl.
Piece by piece
,, I have a 14-year-old son who does not like it when I stay away for months. "So Feenstra does a 'piece' every year. In 2016 she rolled from Haarlem to Den Bosch and in 2017 from Den Bosch to Maastricht. This year she leaves for the first time the Dutch landscape for the hills of France. She goes in two weeks rolling along the Maas from Maastricht to Reims, which is about 242 kilometers.
The 'wheelchair pilgrim' travels around 30 to 35 kilometers a day from the trip. "But because I sometimes have to make detours or just have to go to the supermarket for food, I do most of the time 10 kilometers more on a day."
She sometimes sleeps on campsites and in hostels, but she prefers to stay at monasteries for an overnight stay. ,, The atmosphere there is always special. "At various churches she receives a stamp for her pilgrim passport. "Just like the Elfstedentocht." (a Frisian skate competition)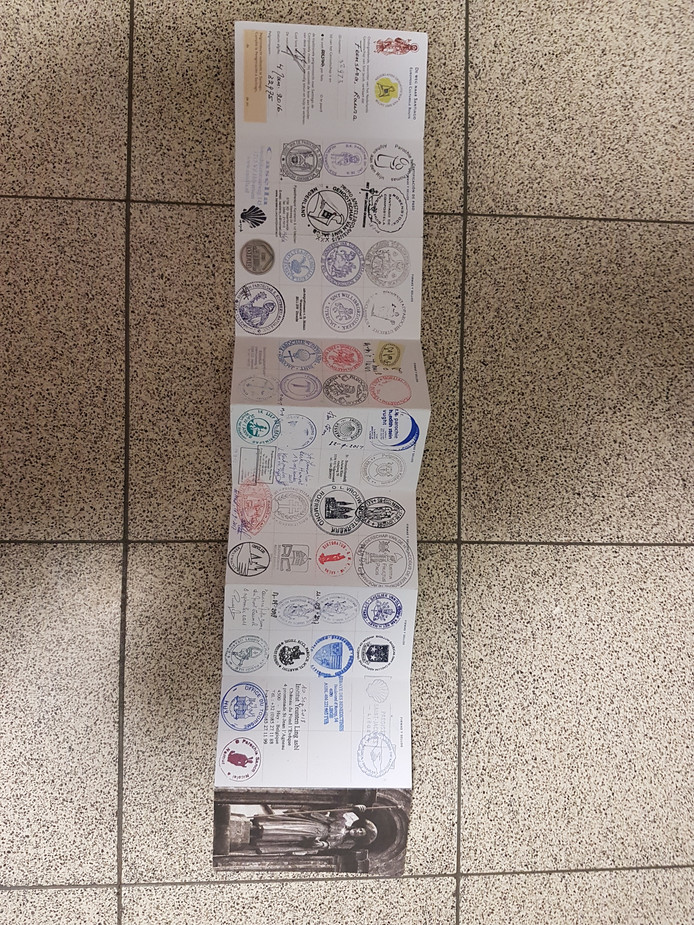 This morning around 5.00 I woke up shivering, it was still quite cold and in my sleep I had half crawled out of my mummy sleeping bag. I did not want to go to sleep anymore, so around 6.00 am I started to get dressed and go packing. When everything was packed, I left.
I drove back to Dinant and on the way I came across a huge freight train full of cars (these kind of freight trains also drifted all night along the campsite, only the Meuse was in between).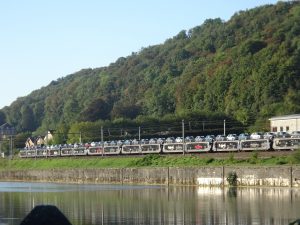 I think I have seen the nuts eating pilgrims. When I first came from Dinant I saw 2 people with backpacks and after that I did not see any more nuts.
After Dinant I drove almost the whole time through a very beautiful area. Large steep rock walls that were close to the water or the road and many castles and fortresses.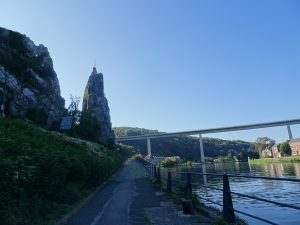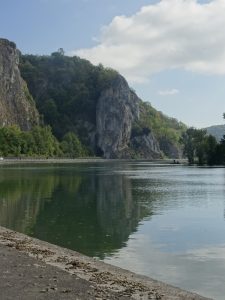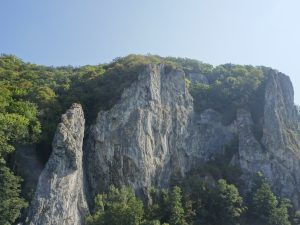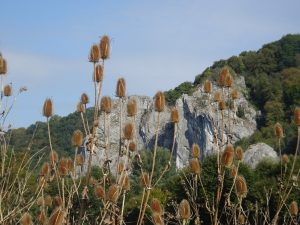 Next to forts there were also very beautiful old buildings, I read somewhere that these old luxury hotels were built in the time of draft barges and steam trains, Dintant and surroundings was then a place where many rich people went on vacation. After the transport changed people went to other places for vacation and these hotels became extinct and dilapidated. I heard that they are now often used as storage.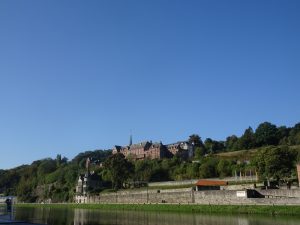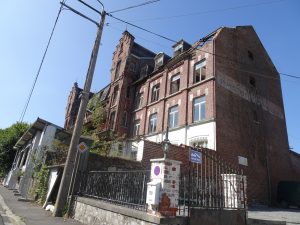 I had many different types of roads, roads with cars, but mostly bike paths where almost no one was driving. many of these cycle paths are made on or next to old abandoned railway lines, this has the advantage that the route is relatively flat. some of them have just left the rails and the rails are completely overgrown.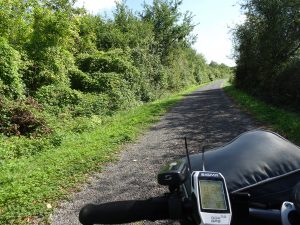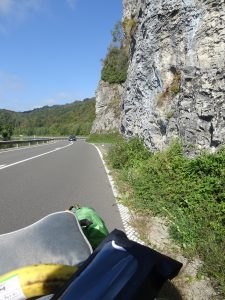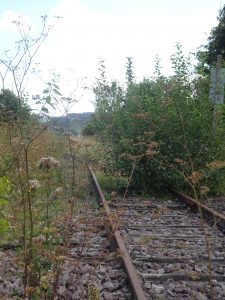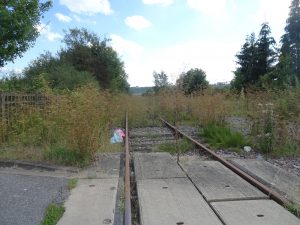 At one point my water bottles were almost empty and there were few places to ask or to fill. Finally I saw a man standing in a garden. I asked him in my best French to fill some water and instead of filling my bottle with tap water, I got a liter bottle of spring water. So that was nice because the water here is not very tasty (tastes and smells like swimming pool water although it is less bad here than in other parts of France).
I had to pass locks a few times, it changed a few times on which side I rolled. Locks are difficult to pass. Because the walkway or bicycle bridge is attached to the lock gate and can turn to open, the bridge is higher than the road surface. Sometimes 25cm. I have to get out of my wheelchair and then I lift that chair up the bridge and sit down again. Or I push him all the way to the other side. It is always a big job. Today I was lucky because I always got help. one time from a Dutch couple that I saw a few times before. They also do the Meuse route but then always up and down to go back to their car. And the next day they go up and down another piece.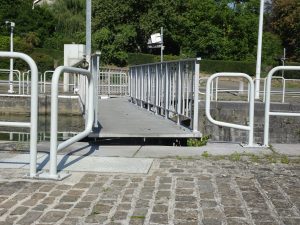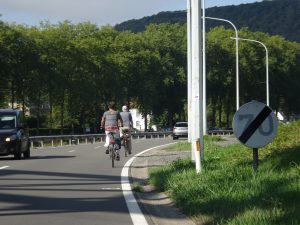 I also passed the border today, there were 3 flags at the border. The Belgian, French and European flag. Now I will really have to manage to speak in French. And that is quite difficult because I never had French at school. Only a French course for traveling. And now all the time to practice!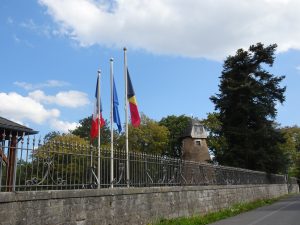 Now I am at a campsite in Givet, there are 5 more small tents on this campsite. It is a simple French campsite. No toilet seats, no light in the toilet, but I am fine here. And for that 6 euros I can not complain. My wheelchair wheels are parked in the laundry room because there I can charge and the rest of my wheelchair is in the tent (which fits exactly in my tent, I go first into the tent myself and pull the wheelchair behind me and then I squeeze myself along the wheelchair to close the tent).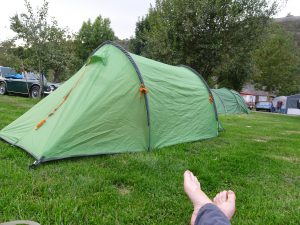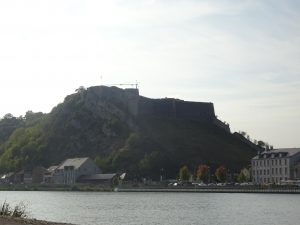 Tomorrow morning I want to start early again. Then I go to Haybes or Fumay. Depending on how I feel and how the road is. The Ravel has stopped and I will now drive over Voie Verte Trans Ardenne. I think that is pretty similar to each other, only a Belgian and a French version.
See you tomorrow
And for those who have not yet registered for the newsletter, go to the main page and sign up. Do not forget to look in your email afterwards because there is an email that you have to confirm. No email? Look in your junk mail or send me a message
Today I am on the road again for a week.
Last night it started with a bit of rain. I heard it drip on my tent as I wanted to sleep.
Fortunately, it was not very bad and when I was in the morning my tent was almost dry. at the campsite I found an apple tree with all kinds of little fallen apples, I took a number of them on the road, delicious.
When everything was tied to my wheelchair again, I left.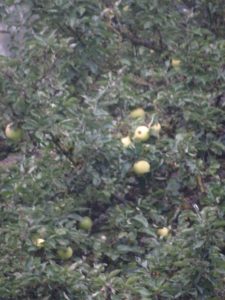 The first stop was in Chooz. I visited the town hall for a stamp.
The signs of the Voies Vertes are easy to follow, although I have to get used to it.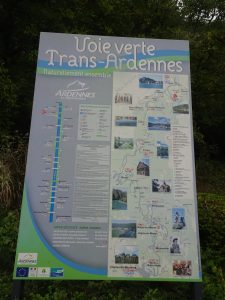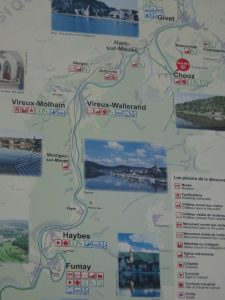 The day started very foggy, the hills / mountains were sometimes almost invisible. it was raining a little but not too bad. the mist made it very beautiful, again very different than with a clear blue sky like the last few days.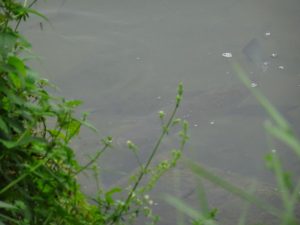 The route today was very beautiful and quiet. Only the river, the trees, the wind and the silence. I never was such a silence place in the Netherlands. Only in the very far distance I heard sometimes a car (and not even every 5 minutes or so only a few times in an hour) and a single cyclist or hiker who passes me or drive in front of me. I also see a fisherman on the other side, usually fishermen with everything with them, tent, lounger and 3 fishing rods, but sometimes also the opposite and the fishermen look like they are fishing in their lunch break with ordinary clothes and only a small fishing rod and nothing else.
Furthermore, I heard a wild boar (I did not see him but it sounded like a pig, so I assume it's a wild boar.) From time to time I heard a chainsaw on the other side of the water (if there was a road, because most of the time there was nothing but forest on the other side) occasionally I saw a truck on the other side.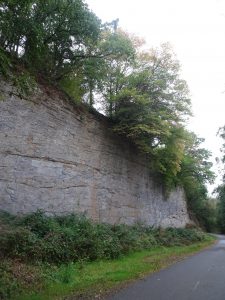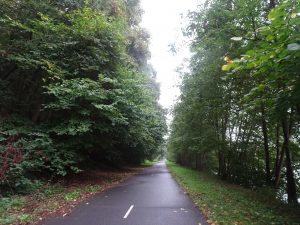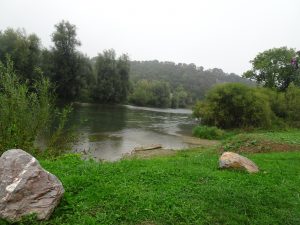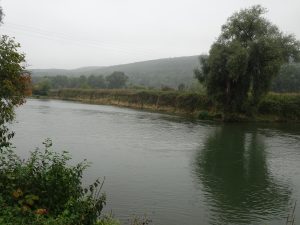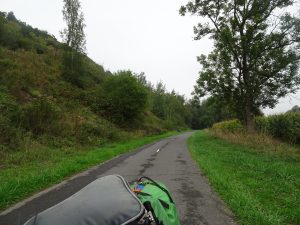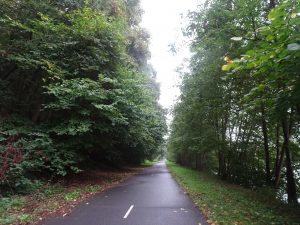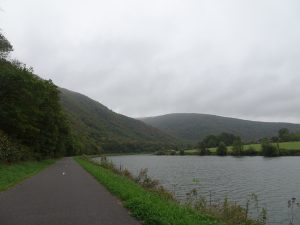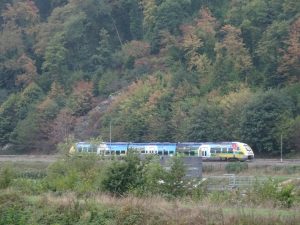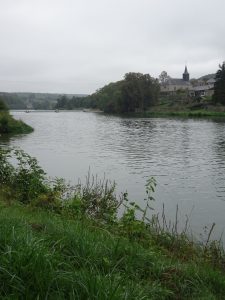 In some parts, the Meuse is almost a fast flowing river, very shallow. It is also fairly clear. I can see fish swimming. Some are quite large (40 to 50cm?). Later I read on a plate that salmon is living here.
Furthermore, I saw a small waterfall today.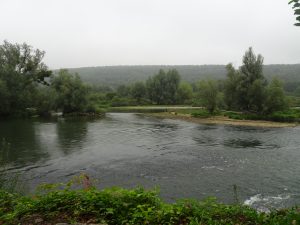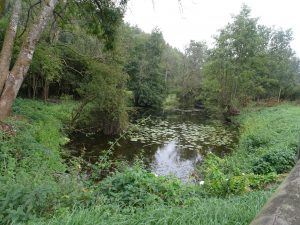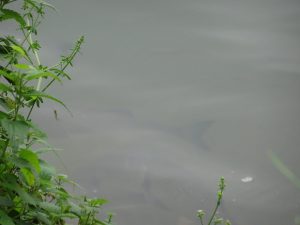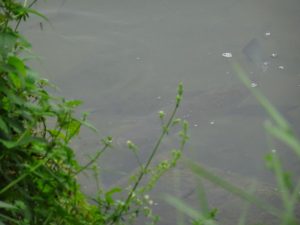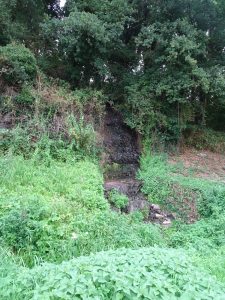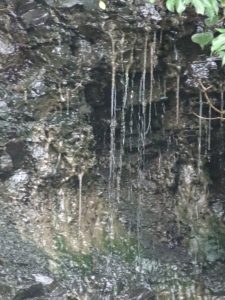 I regularly see a lot of hop plants, sometimes a small plant, but sometimes the hops overgrown the trees and shrubs.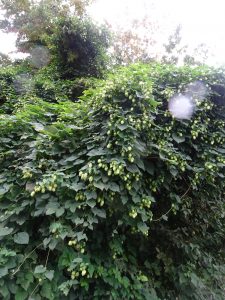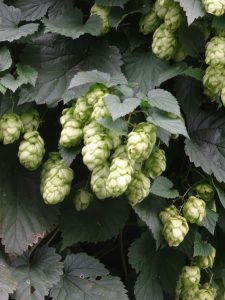 Everywhere along the road in gardens there were apple trees that dropped their apples without being harvested. I think it's a shame of all those tasty apples. When I see it, I already feel like making  a year's supply of applesauce and storing and giving it away. But unfortunately I can not take those apples with me now and I leave them for what it is. This morning I did eat an apple from the tree next to my tent.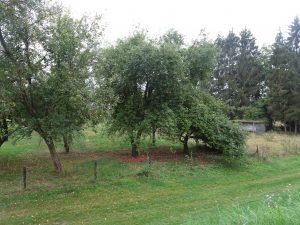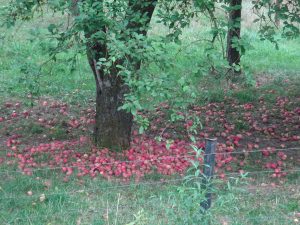 I drove along the Maas for most of the day, but I have hardly seen any boats. 1 small pleasure boat. However, there were always locks.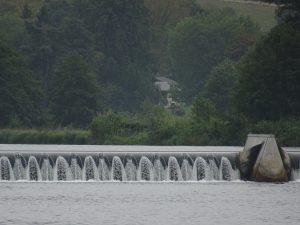 In Haybes I got a stamp with the tourist information. I also went to the bakery for some bread for my dinner.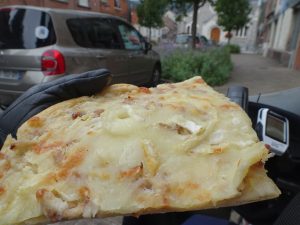 Just before Fumay, the Meuse is very quiet and smooth, you can see the mountains reflect in the water.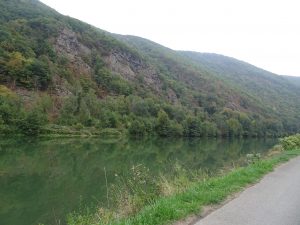 In Fumay I had a stamp in the church, that was special because normally this church would be closed but there was a special situation. There was a window broken and there were pigeons in the church and they had pooped everywhere. There were now a number of women with masks on the brushing to get rid of all the dirt because it was really everywhere. One of these women took me to a neighboring building where the administration of the church was done. That was the next stamp that was put in my passport.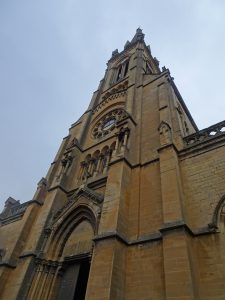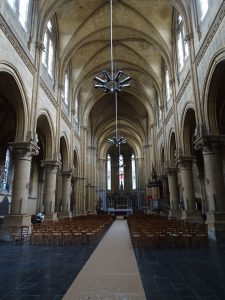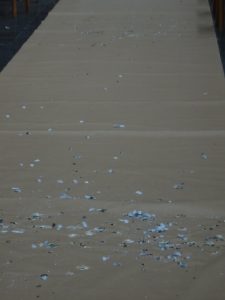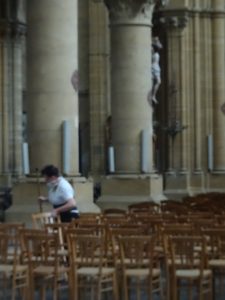 After the church I went to the campsite. Here I was assigned a place alongside 4 Dutch people with 3 dogs. I can charge my wheelchair in the awning of  the caravan of one of them and I was invited to come for a drink. That resulted in a very pleasant evening.
1 of them had a non-working thermos (as they said, it was warmer from the outside than inside) and that was offered to use as a  hot water bottle last night. So I am now nice and warm in my sleeping bag with a jug. Hopefully I will stay a little warm tonight.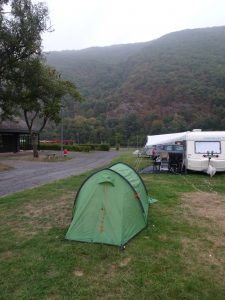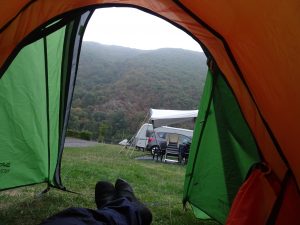 Since there is no Wi-Fi here at the campsite you will have to wait for new photos (meanwhile you see that it has been updated).
tomorrow I will leave the Meuse in de middel of the day and then roll from Revin (on the Meuse) to Rocroi (start of the Via Campaniensis).
See you tomorrow!
Today there was only a few kilometers (compared to the last few days), the schedule was I believe 22 km and it has become a small 25 km. But that does not say anything about the heaviness.
This morning I was finally not frozen after a good night with the thermos bottle of the neighbor (see story yesterday) and my own hot drinking bottle In combination with my summer sleeping bag, a garbage bag and an emergency blanket (such a shiny foil thing).
My wheelchair was fully charged and packed and after drying the tent I left.
First I went to the supermarket for my daily groceries and then quickly again. It rolled through very nice area again. I saw a lot of cormorants with their wings spread out. I like to look at them.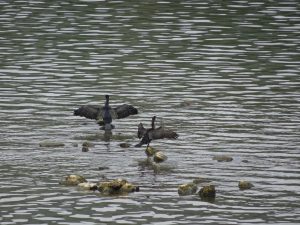 After a while I was suddenly overtaken by a man on the bike and I know him, it was one of the people I knew from the campsite and where I could recharge my wheelchair. We waved and he passed through.
I also drove along the railway for a long time. The trains here are very short and cheerfully coloured and do not have overhead lines.
Soon I arrived in Revin. I was familiar with this because I slept last summer as a stopover on my way to Taizé (for those who do not know, that is a monastery in the middle of France where I go every year).
Revin was for me the end of the international Meuse route that I have followed since Maastricht. The Meuse route continues but I turn towards Rocroi, it is 11 kilometers from Revin. In Rocroi I can then start on Via Campaniensis. An official pilgrimage route to Santiagio.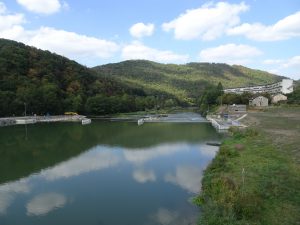 11 kilometers is for me normally easy to do and I roll that in 2 hours. But not these kilometers. In those 11 kilometers I had an average increase of 5% and my maximum increase was 20% (I had to do that backwards because otherwise I would tip backwards)
The first half of the route after Revin I drove on a D road where trucks and cars drove by at 80km per hour. However, I must say that I think that those car drivers take good account of cyclists, walkers and in my case a wheelchair on the road. In the Netherlands I am regularly passed at 30cm but here they keep at least 1 1/2 meter away. Very nice. Along the way I also made a stop at a viewpoint to catch my breath. Two cyclists arrived, father and daughter from England. I had a nice chat with them and then we both went on.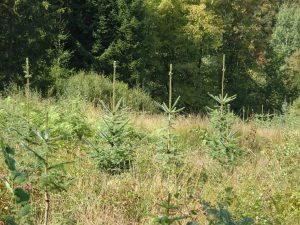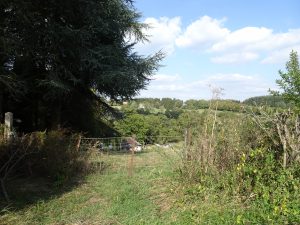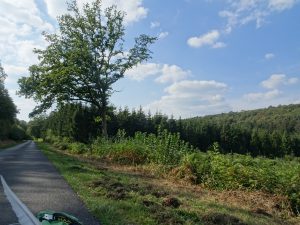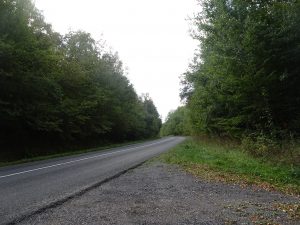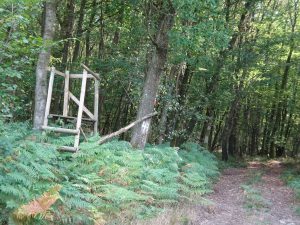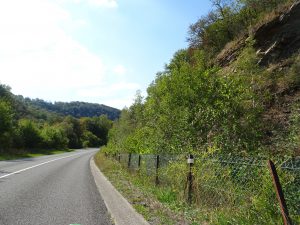 The second half of the route ran through a forest on a smaller side road where occasionally a car comes. Another woman stopped to ask if things went well. I do not think that wheelchairs often roll here. On that side road I actually saw only trees and a huge slope
at the end of that road was also the name of the road, that is Vallée de Misère, and I thought that was an appropriate name. It was a really tough day.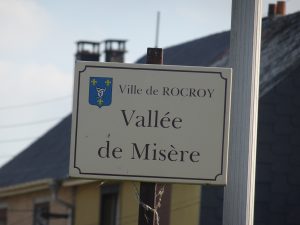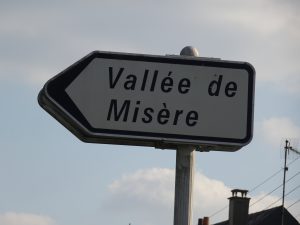 In Rocroi I went to the tourist info. They have here a pilgrims inn. And after I got a stamp in my passport, we went to the inn. I only sleep here now and have been able to do everything to do what I could not do on the campsite . taking an extensive shower, eating hot food, drying the tent (hanging in the shower) and washing clothes. The washing is here very nice because there is a centrifuge so after washing by hand, the clothes went in the centrifuge and are almost dry again.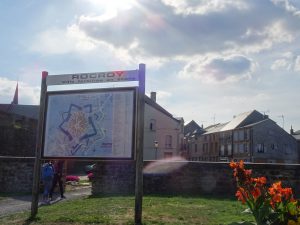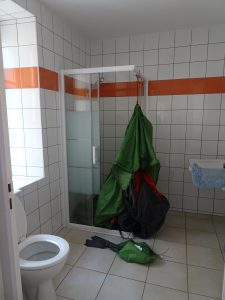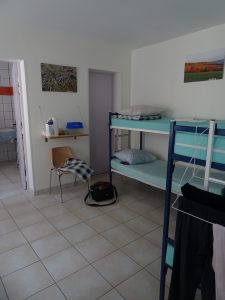 I am now going to check my route for tomorrow and then go to sleep. I am very tired and ready for a good night's sleep.
See you tomorrow!
I had a good sleep in my private inn in Rocroi (I found out today that it is sometimes written as Rocroi and sometimes as Rocroy).
I have been able to roll up my tent again this morning. It is dried in the bathroom of the inn.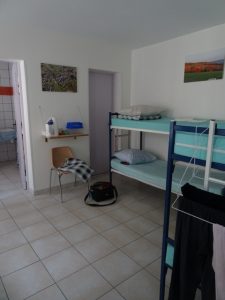 The inn's building was already quite old. 1829 was written on the front of the building. The walls were almost a meter thick and I had almost no telephone coverage inside. For the message from last night I first had to walk outside.
This morning I started the Via Campeniensis. That first led me to the city walls. They are still almost complete and star-shaped, they are also accessible and you can go through the corridors but I have not done that now. I have rolled through, the route is clearly indicated with shells and with yellow bauwe stripes.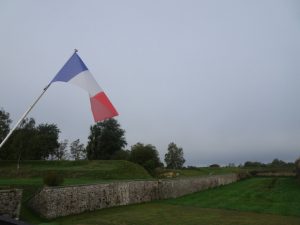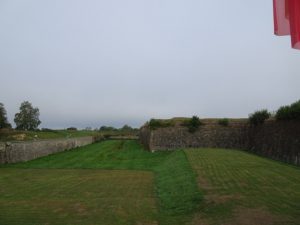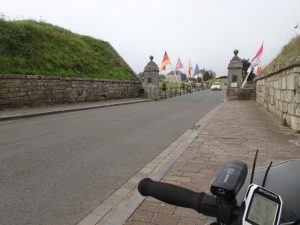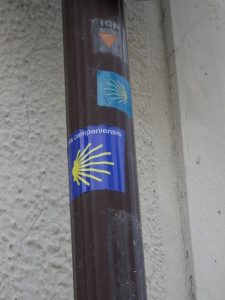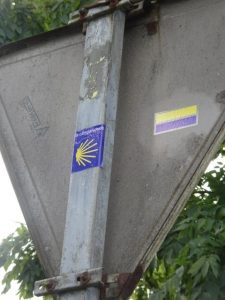 Today I had a lot of forest but also a lot of open landscapes. Especially meadows with beautiful pale French cows.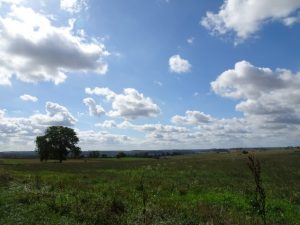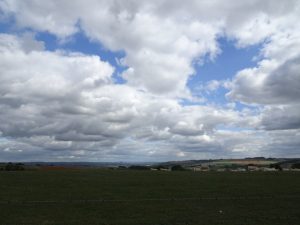 I had a few steep slopes again, but luckily I had more descents.
On the way I regularly encountered crosses and chapels. mainly with st Remi. I still have to find out who I am, because many things have been mentioned to him in this region. I see many street names and so with this saint. and spoken about Sacred names. I also passed another special street (see photo)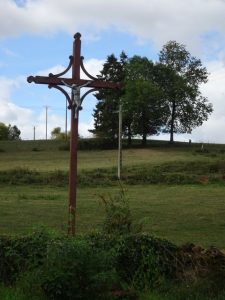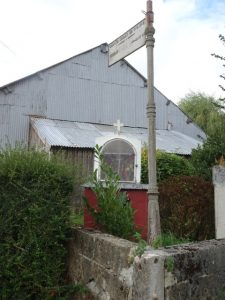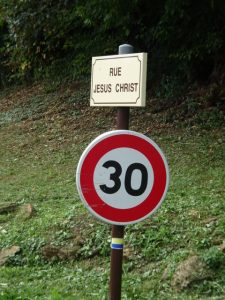 I also saw many butterflies and other insects along the way. Later I also met a large French grasshopper. I had heard them before but did not see them on this pilgrimage.
On top of a hill two bull calves walked on the road, they found me scary because they ran away quickly when I came rolling. So I did not have to hold a bullfight to roll along.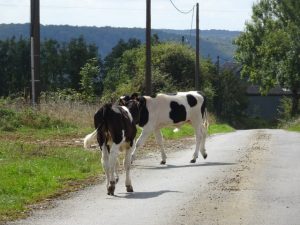 At a certain point the route went through a badly asphalted path and was soon getting worse and ended in a path with deep tire tracks (perhaps 20cm deep) and a grassy middle section. This all went downhill … I was really afraid that it should get even worst and going back was not an option because it should be uphill and through grass, impossible to do. so I just keep going. It was pretty exciting but I got through it. And at the end I was rewarded with a pear tree with tasty pears. And then it went right back on an ordinary asphalt road.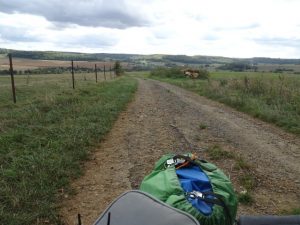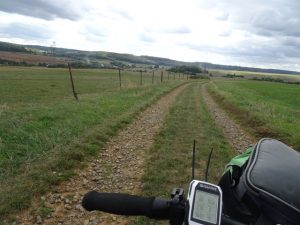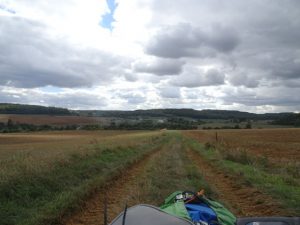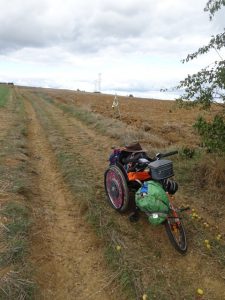 After that it was only a few kilometers to Aubigny-les-Potes and then I thought it was enough for today and I decided search a place to sleep. And now I am in a dormitory with 2 other pilgrims following the same route. Dutch too.
We have just had a very tasty and extensive meal (4 courses) and now I lie on the bed writing this and I go to sleep.
See you tomorrow!
This morning got up and had breakfast with my fellow pilgrims.
It was a delicious breakfast with juice, tea, sandwiches and homemade jams. It was also very nice to hear a lot of interesting pilgrim stories.
I rolled again around 9.00 am.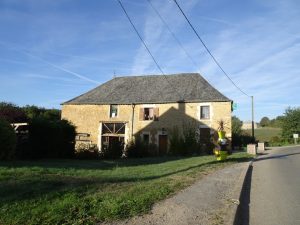 Today it was a simple route because I decided to deviate from the official Via Campeniensis today because the route would go on bad roads. That is why I went to the next place by the usual route. First to Signy-l'Abbaye and then to Lalobbe where I now also have my overnight stay.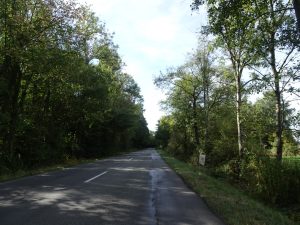 On the way I rolled over the hills today and saw many meadows with cows and oxen. I took a lot of pictures. They are mainly beef cows and all calves are just with their mother. very nice to see. Also, most of the cattle have their horns on their head.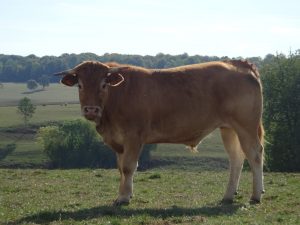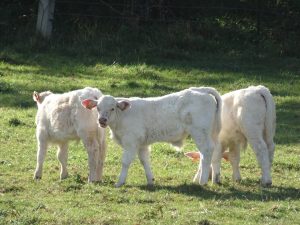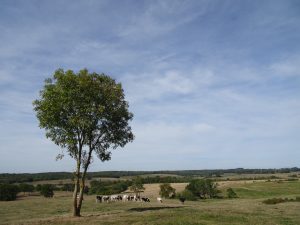 Today I met a pilgrim. A woman who walked with a kind of trolley where her luggage was lying on. She was actually a full-time pilgrim. She did not walk to Santiago or Rome, but traveled from monastery to convent and continued throughout France.
Later I met her again when I did some shopping in the supermarket.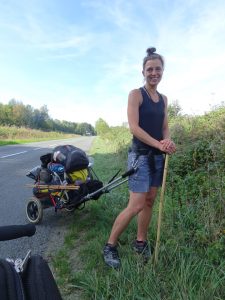 I have now arrived in Lalobbe. I stay here in house with a Dutch couple who have been living in France for years. It is a nice place. I spent a while in the beautiful large garden this afternoon and made a lot of pictures of the flowers and apples. There is also a meadow with a number of sheep next to their garden. I have helped the owner wit feeding them some apples. They are pretty tame and they eat out of my hand.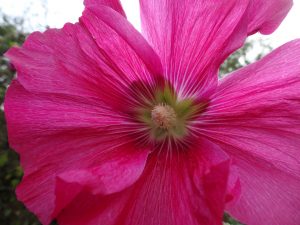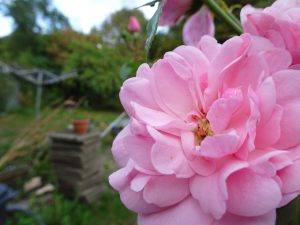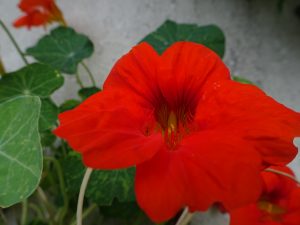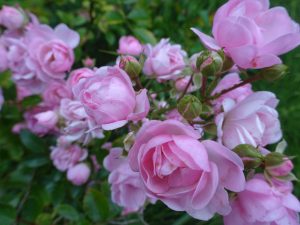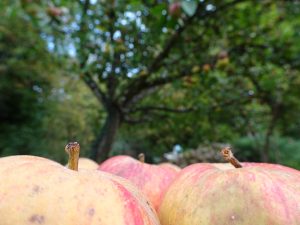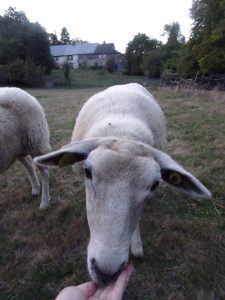 Tonight we talked a lot after dinner. Many stories and experiences exchanged. Was very nice but I really have to go to bed now.
Tomorrow probably to Château-Porcien.
When I woke up around 7 o'clock, before my alarm clock. I had a wonderful sleep under a lovely warm blanket. The days here are quite warm but the nights are often cold and then a good blanket is very nice.
After packing my bag I went to the living room where my nice breakfast was ready. Bread all sorts of toppings, also Dutch things such as peanut butter and chocolate sprinkles (hagelslag), yogurt and an egg. We talked very nice and then it was time to get my wheelchair. We had parked my wheelchair in the church yesterday, between the Jesus statue and the Mary statue, because there was a socket. The people where I slept are also the managers of the church, so that was easy.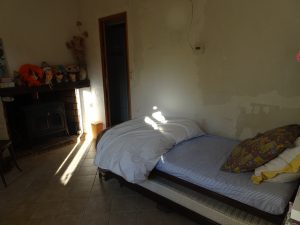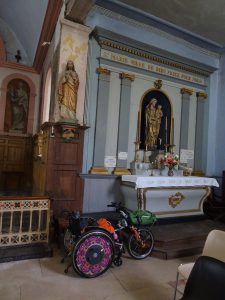 Then I went on the road again. First I had a few steep slopes that I had to defy, but I have come up and above I always get 2 rewards. The first is a very nice view and the second is the prospect of going down again and doing little.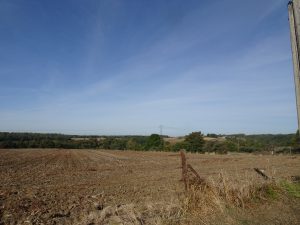 I also occasionally encountered signs that I am on the right route, sometimes Santiago shells but also the yellow blue markings are there again regularly.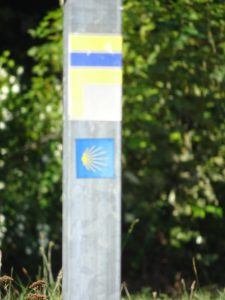 I passed the village of Wasigny, which is a 15th century market hall that was in use until 1900. I heard that he has just been restored, so in principle a market could be held.
When I just saw the market hall and took a picture, a man in the house next to the spot where I was standing opened a window and asked if I was Dutch and if I wanted to have a cup of coffee. I told them that I do not drink coffee but prefer a cup of tea. And so I was sitting with a Dutchman in France to drink a cup of tea. After the tea I left again and I took a more extensive look at the market hall and put it on the picture. And then it was time to continue.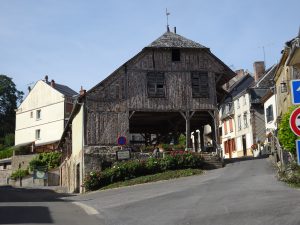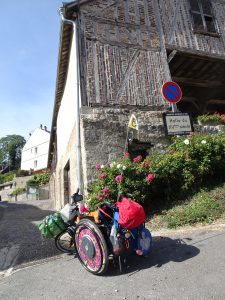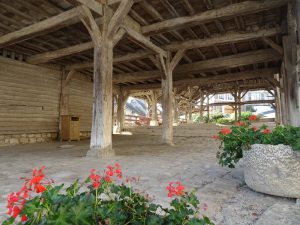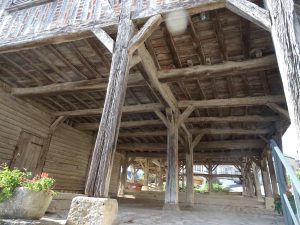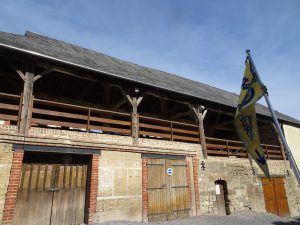 Today I have mainly rolled over the road again, but there were only a few cars. I mainly saw cows in the meadow and occasionally a horse or sheep. There were also a lot of mown wheat fields and a few partly mow fields where the farmers were often harvesting. There were also stacks with, among other things, sugar beet on the side of the road. And occasionally, trucks full of harvest passed by.
I also saw birds of prey flying regularly, unfortunately I am not so good at recognizing them.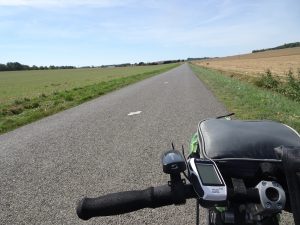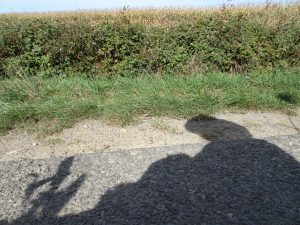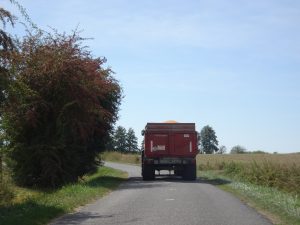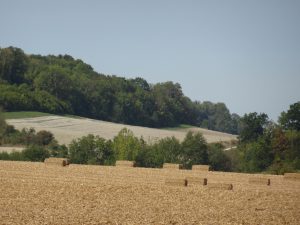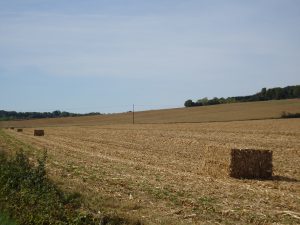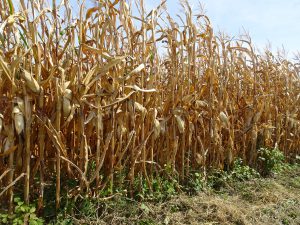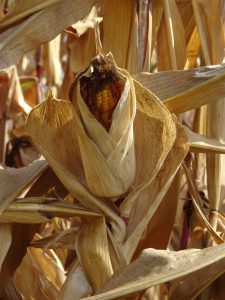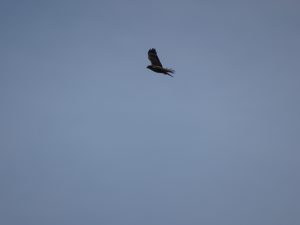 I also met a cyclist today. Completely packed and dropped. He came from Kyrgyzstan and now cycled from Berlin to Nantes. Later I met him again. He had taken a break and I had caught up with him in the meantime.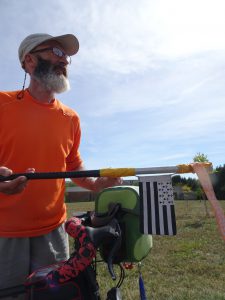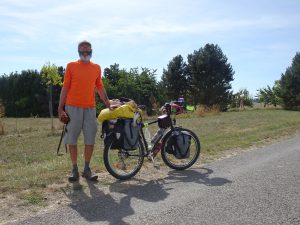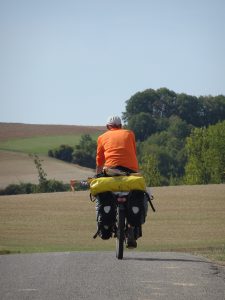 When I arrived in Château-Porcien I rolled past the pilgrimage place to the place to pick up the code of the house. This was a cafe where about 5 men sat at the bar and the barman gave me the code and a stamp in my pilgrim's passport.
Then 2 haunters walked with me to the cottage to see if I could get the door open because he is stuck, but that went well. I have chosen a bed and have gone to rest and have given my wheelchair some power. After an hour I went away to get some food at the supermarket and a stamp at the town hall.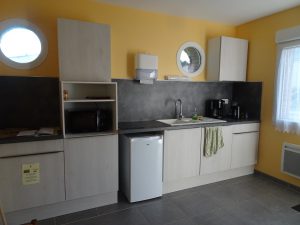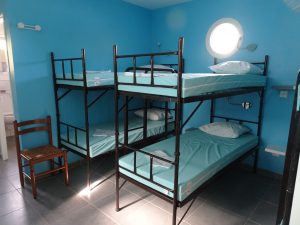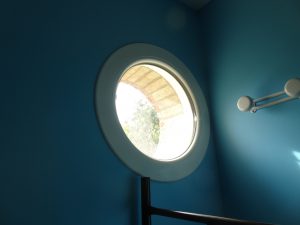 And now I am back and lying in bed again. So prepare some food and then sleep early.
It is also a very nice house. I think it is quite old but completely refurbished. There are 2 neat bathrooms and a good kitchen. There is also the dormitory with 8 places. All walls are painted blue and with the round windows it does a bit like a ship (portholes).
Today I unfortunately do not upload any pictures (as you can see they have been placed) because I only have mobile internet here and otherwise I am too fast through my bundle. Maybe tomorrow.
See you tomorrow!
When I woke up this morning and got back in, I went on the road again.
First I went to the church in the hope that there was someone to find who could give a stamp, but unfortunately that was not the case. Also in the presbytery / office of the parish on the other side of the street was not opened and so I am just rolled further.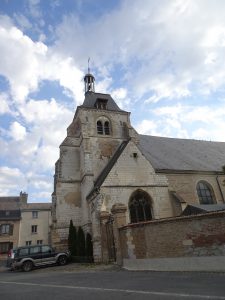 I started the day with a long climb and after that climb I still had small pieces uphill but not that long and steep, and it also went down often. I drove through a landscape with hills and fields full of sugar beet, onions, alfalfa (French clover) and mown grains. Very occasionally a few trees in the field but they are actually negligible. So it went for miles, often I saw in the villages in nothing but this kind of fields. Which is quite awkward if you really need a tree at one point to hide behind.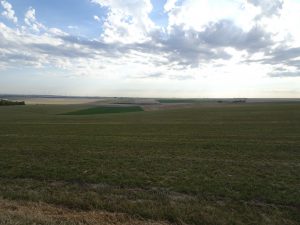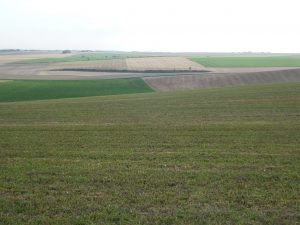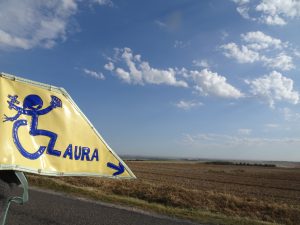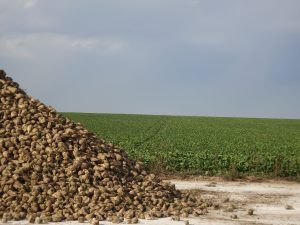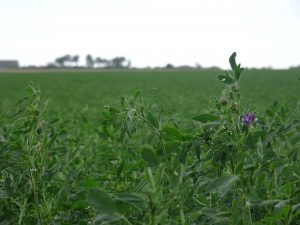 I also followed the normal road today. A D road. That sounds like a serious road, but it did not show much. On average, perhaps every fifteen minutes a car came by or occasionally a tractor with a trailer full of harvest. But otherwise it was very quiet. There were hardly any cyclists. However, there was one special bike that came along, a kind of tandem and the front person lay as if he was cycling a recumbent and the rear person was just sitting upright also they were heavily loaded so I think they also drive a good distance. maybe to Santiago or Rome or something.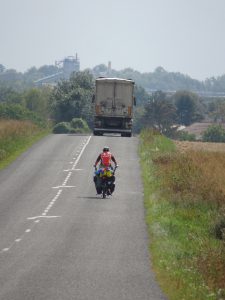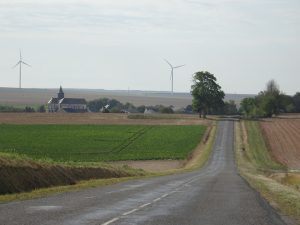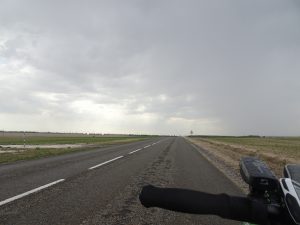 Trucks with harvest drove there and lost sometimes some harvest. On the way I came across regularly fallen crop, heaps of corn, straw, sugar beet and onion. That has yielded me a number of onions. So soon I will be eating onion soup (or someone I meet on the way wil be happy with onions so that I have space in my bag again).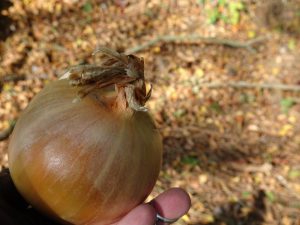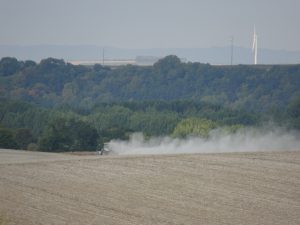 The weather was pretty warm today. 28 degrees according the thermometer of my bike computer. And I also had a bit of rain. But that was not too much. And the clouds were very beautiful.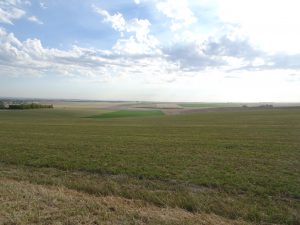 I passed the towns of Avançon and Saint-Loup-en-Champagne and in these places I got a stamp at the town hall. And I also visited the church, I think the church of Saint-Loup-en-Champagne was actually closed, but a side door was open with a screen for it, which I have pushed aside and so I'm in the church slipped.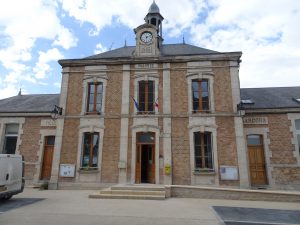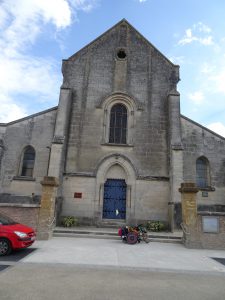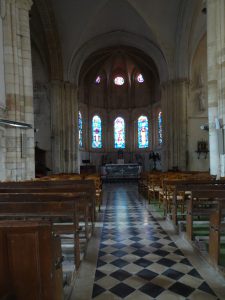 In Saint-Loup-en-Champagne there was also a very nice cat walking, and he was sitting beautifully so that I could take a picture. it was just a photo model.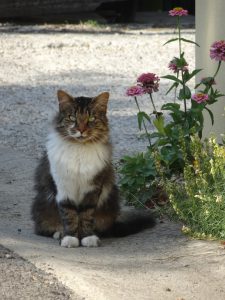 When I arrived in Bazancourt I got a key to the pilgrimage inn at the town hall and I received a stamp in my pasport.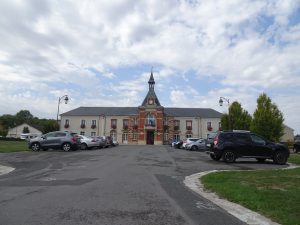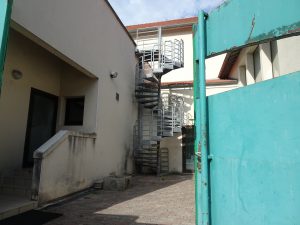 It is quite different than yesterday. Very sober. there are unfortunately 2 steps as soon as I open the door but fortunately I can lift my wheelchair up to those 2 steps,  I only have to use my own weight to pull it up. And when it was up it was just close enough to a socket to be able to be charged it when I use my extension cord. Because I do not get the dormitory there. That is an extra 5 steps up. But luckily he is also well in the hallway.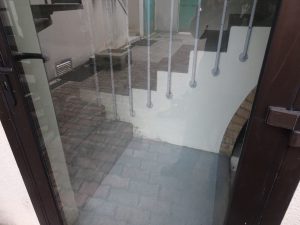 The dormitory is a room where there are a number of folded folding beds and a few mattresses (for the pilgrims who are reading and are going to arrive here, there are no disposable sheets, take them from your previous place, in Château-Porcien they are, I had luckily taken my set with me instead of being thrown in the rubbish). There is also a microwave which is also the whole kitchen. The plumbing consists of a (not very clean) toilet without toilet seat and a shower. But despite the fact that it is not ideal, you don't hear me complain because I did not pay anything and I'm fine here.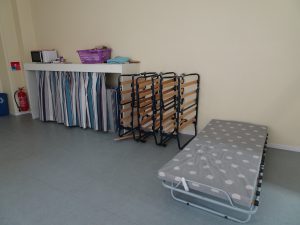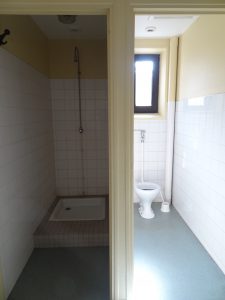 (a few minutes after I wrote this I discovered what this room really is.) A space behind a large stage in a kind of theater, I opened a side door and I stood on a big stage, including red curtains. So who knows which famous French people have been backstage in this room!)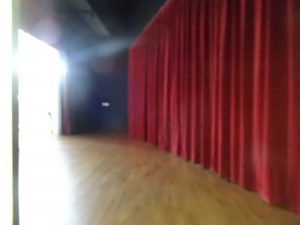 I just rolled through the town. Since I do not pay for my place to sleep, I will support the local economy by eating something here.
The supermarket is here (I think forever) closed but there are some small shops such as a bakery, a butcher and around 4 restaurants. and there is a nice park with a water mill (with a large motor, the house with the mill got a large window so anyone can see how it works).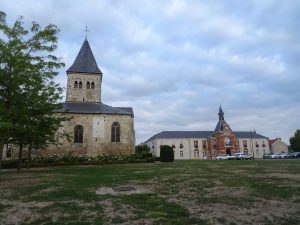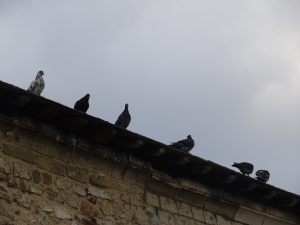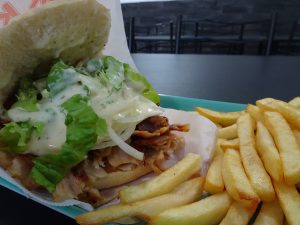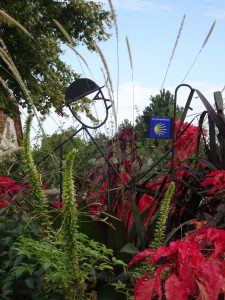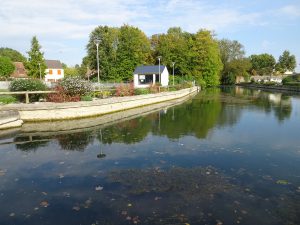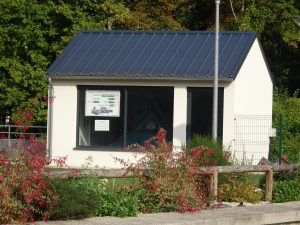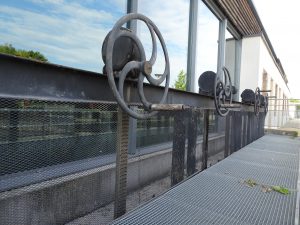 Meanwhile I have eaten and am back in the dormitory where I am alone again. I'm going to sleep so early.
Tomorrow to Reims!
Last night I fell asleep early and this morning I woke up around 7.30. I packed everything again and at 8:45 am I drove to the town hall to put the key in the mailbox as agreed.
Then I went on the road again.
Soon I found out what people in Bazancourt need for a living, sugar! no, they do not only eat the sugar, but they work with sugar. I drove past a huge sugar factory. There stood huge silos 1 had a volume of 45,000 m3 and was filled with sugar syrup and of this kind of sizes there were still a piece of 10. The biggest syrup pot I have ever seen! The trucks drove on and off. large trucks with large loading bins full of sugar beets drove and outward came empty trucks and tankers, I think with sugar syrup.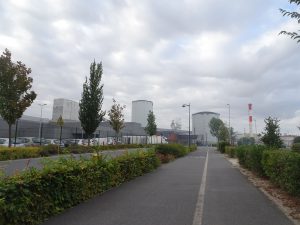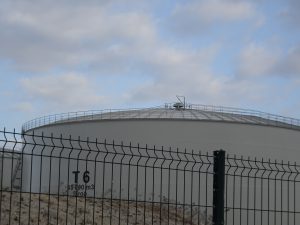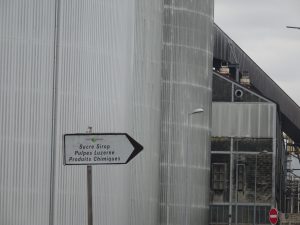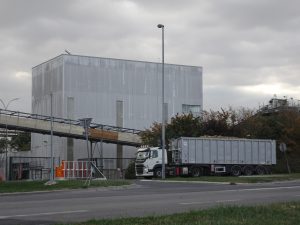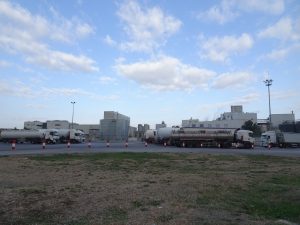 When I passed that industry again the fields started with sugar beet again. Just like yesterday, they were endless, up to the horizon.
More and more fields were now bare, those were the sugar beets that are already in the factory. I have been able to follow the entire way of the sugar beet.
And so I drove past the fields. the skies were particularly beautiful.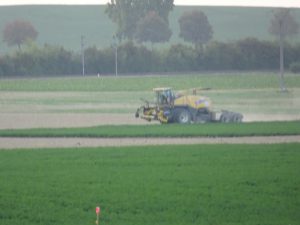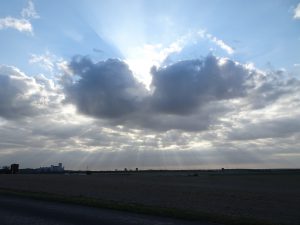 I came across 2 small villages. In Pomacle I got a stamp from a good English speaking woman in the town hall. I also walked along the church. In contrast to the many medieval churches in France this was a church from the 1920s, in the first world war many churches were destroyed in the Reims area and in the 20s of the last century new "modern" churches built.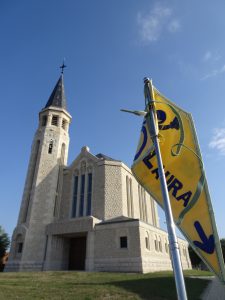 After all the fields I came back into builded area, the beginning of Reims. I rolled to the Cathedral where I got a stamp. I also visited the cathedral.
She also arranged my sleeping place here. I sleep in the Clares Monastery and here I stay 2 nights before I go back to the Netherlands.
The Clares are a monastic order that live in the footsteps of St. Clara who lived just like Fransiscus in Assisi in Italy. Actually, this is a kind of female branch of the Franciscans.
After the sleeping place in the monastery was arranged by the people in the cathedral, I went into town for a while. At first I was still planning to visit the city and visit churches and go shopping, but soon I noticed that did not had a feeling to do to this. after so many days in silence, days through meadows and forests, the bustle of the city was overwhelming. That is why I decided to use Wi-Fi in the city center to organize my return journey by bus and then I went to the monastery, which was also 6 km south of the cathedral.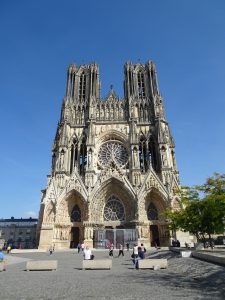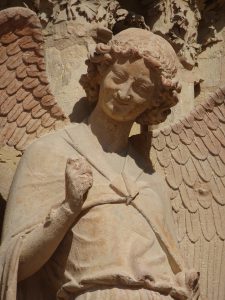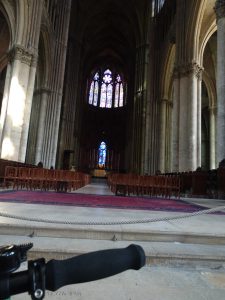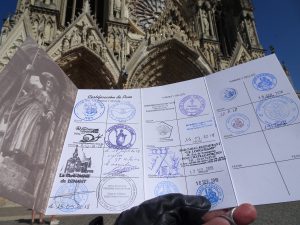 I got a nice bedroom in the monastery. And when I arrived, the mass had just started. later on was the evening prayer and then it is bedtime again.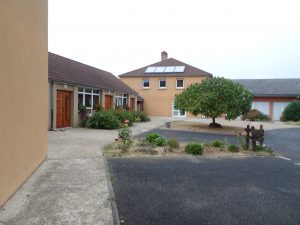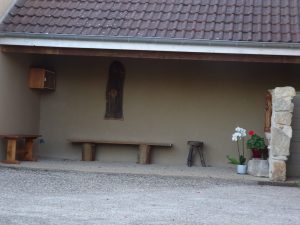 My real pilgrimage is done for this year. Next year again a new part, starting from Reims. But now another 2 nights monastery.
See you tomorrow!
Today it is a day of monastery. just a break from rolling.
I think that a large number of people who read this never stayed in a monastery, I thought it would be interesting if I write something about it. I have been coming to monasteries for a number of years myself. I like it very much.
I have a nice room here. In a monastery this is usually called a cell. In most monasteries, here too, this is not too big a room with a single bed, a desk, a wardrobe and a sink with a tap. Sober but actually everything that is needed. Shower and toilet in the hallway. Of course there is a cross in my room on the wall. In this case the cross of San Damiano. I am here with the sisters Clarissen who come from Assisi in Italy and this cross comes from Assisi from the church of San Damiano where st. Clara (right, the founder of the Clares) lived.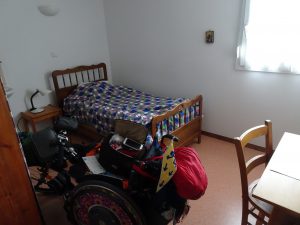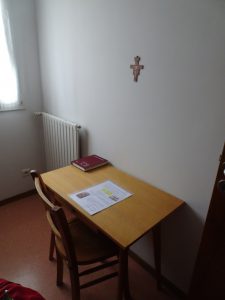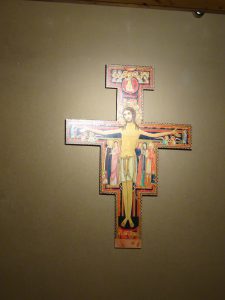 How a day in a monastery looks like is as follows.
In the morning at 6:30 am the lecture service starts. Here the lectures of the day are read and often something is sung. when I entered the church it was still dark (except for a small light), but soon a sister came to prepare everything for prayer. After a few minutes, the rest of the sisters also followed and the lecture service began.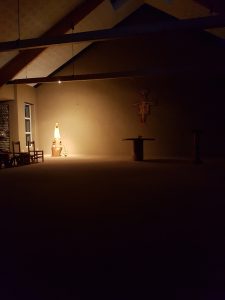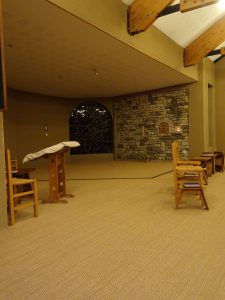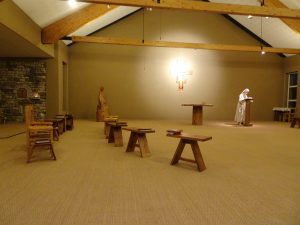 Then it's time to have something to eat in the dining room for the guests. In this case, we were able to take bread and fillings ourselves and grab tea, coffee or chocolate.
At 8.00 the Lauden, the morning prayer. During the prayer times, psalms are mainly sung. This is done through a special schedule which is the same worldwide, which is all prayed and sung in a psalter, book of hours or breviary. The advantage is that I can follow what has been said with my very limited French because with an app on my phone I can read all the translations. The lectures are also according to a fixed schedule and I was able to read in Dutch.
At 11.30 there was a Eucharistic celebration. Then there is a priest who reads the lectures and does the Eucharist. In between there are fixed and changing chants.
after the Eucharist it is time for lunch.
Then there is free time for the guests, but the sisters themselves are working between the times of prayer. In the monastery here they make hosts (the bread for the eucharist) and I think pottery things are made. In other monasteries other things are being done, brewing beer, bookbinding, icon painting and sometimes working outdoors as a nurse or at a school but that is becoming less common.
I slept a little bit today during that time.
At 17.30 there is the vespers. The evening prayer. Then more psalms are sung and prayers are made.
Then it is dinner time again.
And then at 20.15 the day ends with the completen. The day closure. And then it's time to go to bed again.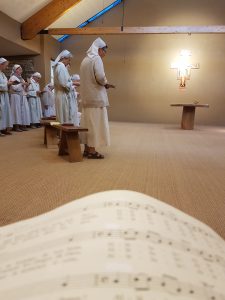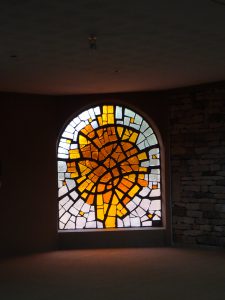 Tomorrow morning I am here and then I roll to the station where I take a bus to the Netherlands. More about that later.
See you next time!
Last night (21 September) I returned home.
Friday morning I first went to the lecture service and the morning prayer in the monastery. And then I had breakfast with the other guests. The other guests did not speak Dutch or English and I only have minimal French so we communicate via google translate. That works pretty well. I have even been invited to come and stay with my other people on my route next year and Troyes (where my route goes). So that overnight place has already been arranged.
After breakfast I packed the last things and at 11.00 I settled and received a stamp in my pilgrim passport. Then it was time for departure. On the way to the station I bought some food and drinks on the road and then I went to the station where I arrived an hour early.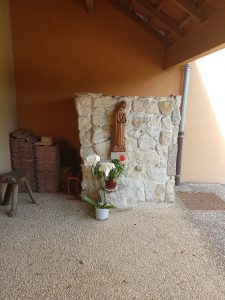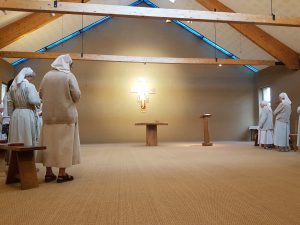 It is the first time that I took an international bus line with my wheelchair. I called with flixbus 3 days ago and I was told that it is no problem to take my wheelchair with me.
But that turned out to be different, I actually feared that because I've already had a problem with transporters before. After all, I do not have a very small wheelchair, but if it is necessary I can make it small by dismantling it so it is not much bigger than a normal folding chair.
At first I was refused by the driver but after having said in my best French that I had called about it he went back into the bus. And a little later he showed me where I could load my wheelchair. And he did not even have to be disassembled, but he was completely in it. even my bags could stay on my wheelchair.
By bus I went from Reims to Paris and then from Paris to The Hague. Unfortunately there was no direct line to the Netherlands, but this worked well.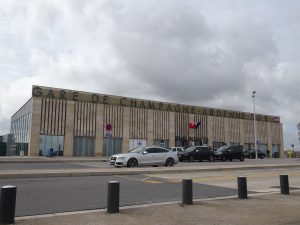 On the way I slept a lot and occasionally spoke to my Kurdish neighbor on the other side of the path in broken English. He was for the first time in France, Belgium and the Netherlands and always wanted to know what places we came from and whether that was a city or a village, and took photos at every stop as proof that he had been in that country. He was on his way to family. I also spoke to a woman from Vietnam who had studied in Ghent (and was on her way to her graduation ceremony) and was now studying in Paris.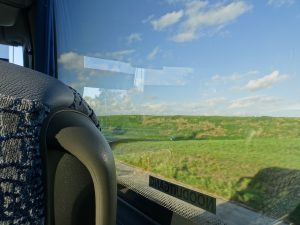 On the way we stopped in Ghent and Rotterdam and then drove on to The Hague. That was the end station where I got off at midnight. There I was picked up again by my parents and my son.
It is strange to be back home just after such a trip and no longer having to plan and roll. The next few days I will just take a good rest. My arms have rolled 400 km in 13 days.
Soon I will also post photos at the days when I did not have wifi and therefore could not post photos due to lack of data.
Then you can finally view all the photos that belong to the adventures. (it is already done)
As soon as this happens, I send out a newsletter. If you have not registered for the newsletter yet, do so here (homepage).
And to conclude, I have a number of figures on the last 13 days.
Longest day distance: 48 km (Huy – Namur)
Steepest slope up: 20%
Steepest drop: 22%
highest point: 388 m
warmest temperature: 30 degrees
Maastricht – Eijsden: 22.86 km
Eijsden – Liege: 28.65 km
Liège – Huy: 43.63 km
Huy – Namur: 48.00 km
Namur – Dinant: 32.97 km
Dinant – Givet: 33.05 km
Givet – Fumay: 31.90 km
Fumay – Rocroi: 24.59 km
Rocroi – Aubigny-les-Potes: 23.03 km
Aubigny-les-Potes – Lalobbe: 18.33 km
Lalobbe – Château-Porcien: 25.36m
Château-Porcien – Bazancourt: 28.05 km
Bazancourt – Reims: 33.74km
Reims monastery to train station: 6km
Total: 400.16km in 13 days.
Average: 30.78km per day
See you soon!
Next year I will continue.
Other news can also be read on the blog (only in Dutch, blog by google translate ) and sign up for the newsletter on the homepage, then you will stay informed of my next pilgrimages.