Here you will find my blog of the current journey, the journey from Taizé to Le-Puy-en-Velay. Not like the blog page with the newest posts at the top, but from old to new so it is easier to read in order. The pilgrimages of previous years are also easy to read.
I am still working on the translation of the page but I hope it will be ready soon so you can read the whole story in english.
Preparation
7 jun
1 august
countdown to pilgrimage 2021
New backrest
Travel to France
1st day Alphen – Revin
2th day Revin – Vitteaux
3th day Vitteaux – Taizé
Pilgrimage
Day 1 Taizé – Cluny
Day 2 Cluny – Saint Jacques des arrets
Day 3 Saint Jacques des arrêts – col du crie
Day 4 Col du crie – propieres
Day 5 Propieres – Charlieu
Day 6 Charlieu – Roanne/Mably
Day 7 Mably – Saint Jodard
Day 8 Saint Jodard – Pommiers
Day 9 Pommiers – Boen
Day 10 Boen – Montbrisson
Day 11 Montbrisson – Margarie chantagret
Day 12 Margarie chantagret – Marols/la citre
Day 13 la citre – Estivareilles
Day 14 Estivareilles – Retournac
Day 15 Retournac – Vorey sur arzon
Day 16 vorey sur arzon – Lavoute-sur-Loire
Day 17 Lavoute-sur-Loire –Le-Puy-en-Velay
French Newspaper
Day Le-Puy-en-Velay

Way Home
Newspaper Le Progres
Taizé and 1st part home, Taize – Paray-le-Monial – Nogent-sur-Seine
second part, Nogent-sur-Seine – Lille
Third part, Lille – Thuis
Final blog
june 7, 2021 by rolstoelpelgrim
It has been two months since my last post about my interview in Eva magazine, so time for a new blog.
Slowly but surely, I have started to plan something more. I hope to leave at the end of August if the corona rules allow it. But for now it seems to work out by then so I try to keep up the hope.
Regarding the route I am still in doubt about 2 possible routes. I can follow the official route, a Jacobsweg via Cluny from Germany. Or I can take a self-guided route via Lyon where I will roll along the river Saone for the first part. Both have their advantages and disadvantages, such as steep hills and/or longer distances between campsites. Until last year, choosing a route with enough places to sleep was my preference, but in the meantime i've learned that precisely in the more difficult places, i find a beautiful and often original place to sleep, where i have very special encounters. i also notice more and more that it's those encounters that make this trip so special. The same applies to the road quality of the route. I don't remember the easy parts, or I remember them as being boring, while the difficult kilometres on unpaved roads or where I could hardly climb up with my wheelchair have stayed with me. Up and over such a mountain, it gave me a feeling of victory, and I could enjoy the view enormously.
For now, I am partially planning both route options. I will probably decide just before departure which way to go. So more about that in one of the next blogs in the coming months.
Soon, I also want to take a good look at my luggage. Last year, I took too many things with me and they have remained unused. At the same time I also have to check if there are things I missed last year and now have to take with me (the latter will be minimal, I missed very little). I would prefer to travel with minimal luggage, but because of my wheelchair I always have to take more with me than walking pilgrims. Fortunately, I don't have to lift the luggage myself, so that's a blessing in disguise.
Regularly I get the question where I leave my luggage on my wheelchair. Below a picture and the description of my stuff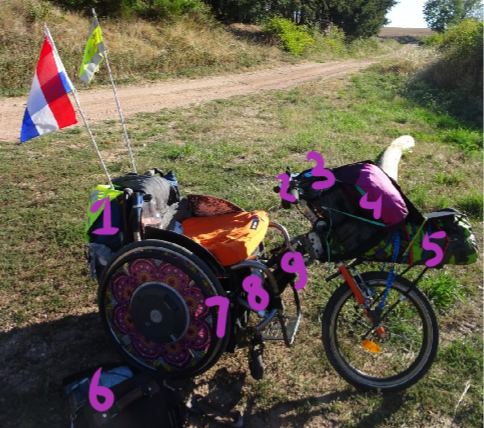 Backpack, in which I have my airbed, sleeping bag, clothes and 1 spare battery.
On my handlebar I have several things. a bike computer, a bag in which I have a powerbank and very important a bell.
This is my solar panel, 30w, with which I charge my powerbanks and phone.
Bag in which I keep my (often received) packed lunch or groceries, here it is very full because I had just done some shopping and knew that I would not find a supermarket the next day but often there is not much more than a piece of baguette and some cheese.
Large waterproof bag. It contains my tent, the hammer and the charger for my wheelchair.
My handbag and the transparent map holder. They are on the ground here but on the road this is on my lap. many people call my handbag a trunk! I like large bags that are comfortable and stable on my lap and in which everything fits that I need to have at hand on the road. a bag to walk with that is narrow and high doesn't work well when you're in a wheelchair and have a bag on your lap, then a bag has to be wide and low, hard to find. In my handbag are of course my wallet and passport, but also medication for the road, a small first aid kit, spare gloves and very importantly my pilgrim passport (credential). I am now on my 3rd and I always have an empty one with me in case the one I use now is full.
The cover for the cards is ideal. It is transparent plastic and has a string that I can hang around my neck or tie to my bag. I always use separate maps that actually come from a michelin map book. This gives me nicely detailed maps but sometimes I need 6 or more maps for 2 weeks of rolling. In this transparent cover, I can keep all the maps and then put the one I need in the front and fold it so that I am ready that day and can follow the route. I also often put my mobile phone in this when I have places where the map is insufficient to navigate, then I use google maps and because of this cover everything stays neatly on my lap.
Under the seat of my wheelchair I have a bag with 2 spare batteries in it and I also keep my other power cables in it.
Metal drinking bottle, during the day for drinking and at night often used as a hot water bottle.
Tool kit on my wheelchair frame. It contains everything to solve problems on the road, duct tape, tiewraps, allen keys, screws, pliers, tyre patch kit, spare tyre, screwdriver and more.

So I'm pretty loaded, but luckily I still manage to fit everything on my wheelchair. despite the fact that I'm so loaded, I can't reduce my luggage very much, especially when it comes to wheelchair stuff (like tools, batteries and chargers and cables) and camping stuff (tent, airbed, sleeping bag), especially that stuff is heavy and/or big.
If you want to hear more about my luggage, feel free to ask me. also on my packing list on the website you can find a lot of info about what I'm taking.
Thanks for reading the blog, on the homepage you can subscribe to my newsletter, then I will keep you informed when a new blog is posted.
Greetings,
Wheelchair pilgrim
---
august 1, 2021 door rolstoelpelgrim
From where do I start pilgrimage 2021?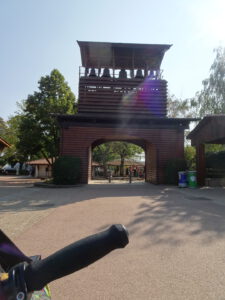 Unfortunately, I had to decide to go with my own car again this year. Because of corona, I don't dare to travel with flixbus like I did before. Therefore, I will travel by car to Taize (where I ended last year) and roll from there. After arriving in Le-Puy-en-Velay, I can return to my starting point by bus and train. But first I have to get ready for departure.
packing light
In the coming weeks, I will slowly start to gather and pack my things.
When you travel with a wheelchair, there are always extra things to pay attention to. This week the wheelchair company is coming to replace my tyres, so I will be leaving on new tyres. I always take an extra inner tube with me so that in case of an emergency I can always ask someone to change my tyre. I don't have the strength to do it myself but there are (hopefully) always helpful people to be found.
I always try to travel with as little luggage as possible. "What you leave at home is a good thing!" That's a saying I often hear among pilgrims. Unfortunately, I am not able to travel ultra-light, because I am always stuck with a huge load of stuff that a healthy walker does not have. For example, I have just picked out my medication for a few weeks of pilgrimage. At the beginning of the journey this takes up about 1/3 of my backpack. Fortunately, on the way this is getting less and less so I get more space.
And then I have my wheelchair batteries, I think I have about 10 kilos of batteries and other wheelchair material (tool kit, spare tyre, bicycle pump, etc) with me. I'm glad I don't have to carry this on my back!
The clothes of a wheelchair pilgrim
Also in terms of travel clothing, it is different as a roller than as a walker. I always pay attention to whether the sleeves are tight. otherwise the sleeves are always against my wheel and they get dirty very quickly.
I like my trousers, especially when I'm riding for a long time, not too tight around the waist and high on the back. many trousers, especially jeans, give me a tummy ache after a long day of riding because they are so hard and stiff. I often wear jogging trousers when I'm on the road. they are comfortable to wear and easy to wash and they dry quickly.
On many forums/facebook pages with pilgrims you read about good shoes, this is of course not important for me. gloves the more important. I have leather gloves without fingers but with a thumb. These are hard to come by but thanks to my sister I managed to find a new pair. I always take 3 pairs with me so I can always wear a clean or whole pair. Every trip wears out about 1 pair of leather gloves.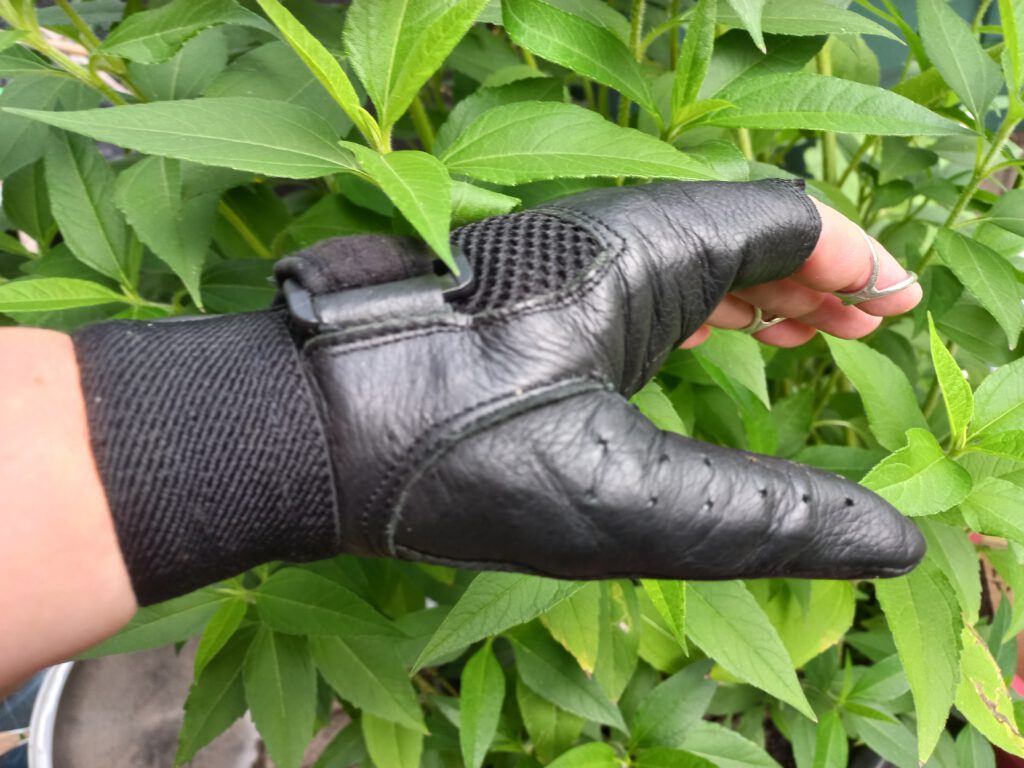 Now I have to get everything together and then I can be on my way soon. I will write a blog just before I leave.
I'm really looking forward to getting on the road again!
Greetings,
Rolstoelpelgrim
---
augustus 15, 2021 door rolstoelpelgrim
It is now a few days before departure.
I was planning to leave on Saturday the 20th but due to circumstances I can now leave a few days earlier, namely Tuesday the 17th. My bag is already largely packed.
Normally I look forward to my pilgrimage but lately it felt a bit double. Besides that I was looking forward to the pilgrimage, I was also looking forward to it because of my back problems with radiation in my leg. Because of this I could hardly sit in my wheelchair, despite of a lot of painkillers. At home, I have spent most of my day lying down with short walks to do something for a change. I only sit down when driving a car or going somewhere in the wheelchair. Normally, I manage fine with this, but lately even those shorter moments of sitting have not worked out well. I had already received physiotherapy and other medication which fortunately reduced the nerve pain, but sitting in my wheelchair remained a problem.
After some searching, tips and experiences that I read on the facebook page of the patients association, I found a backrest that seemed to be suitable for my problem. That had to be applied for through the municipality, WMO, and that did not progress. The wheelchair supplier had already come several times to adjust the straps in my old backrest but this hardly made it any better. I just had to get something new. I told the wheelchair supplier that the Tarta backrest seemed like a good idea to me, but he was not keen on it (probably because of the price). He thought he could solve it himself with loose pieces of foam between the backrest. And so it happened.
Unfortunately, this did not help. In the end, I contacted Summit revalidatietechniek, the company that made the Tarta backrest. They immediately offered to come and visit me. Two days later, they were already at my doorstep with a test backrest of Tarta. This is a fully adjustable system. They made it to measure and then I could try out the backrest. It was so nice, finally also side support without it hindering my rolling. After the fitting, I phoned my wheelchair supplier again and said that I really needed another backrest because I could hardly sit. He would discuss it and I just had to wait again.
This was 2 weeks ago and I started to get quite worried about my pilgrimage. Sitting in my wheelchair for longer than an hour was not doable, in fact 10 minutes was not nice at all. But 2 days later, I suddenly got a phone call from Summit. They had received a message from the wheelchair supplier that they could deliver the Tarta backrest! I was very happy but there was still one problem, namely the delivery time… The backrest was in stock but their agenda was full until the end of September. They could not come earlier. Fortunately, I had the clarity of mind to ask them when I could visit them. And that question solved the problem! I could go last Tuesday. The disadvantage was that it was in Deventer (a two-hour drive for me), but that means I can now go on a pilgrimage with a good back. Soon I will post a review about the backrest but first I want to test it properly.
Deventer
And so I drove to Deventer last Tuesday. First to Summit for the backrest. The man who helped me took all the time he needed to get the backrest to fit perfectly. I have a rather hollow back and I would like a low backrest that does provide support, not only at the back but also at the sides of my unstable pelvis and lower back. But after 1 1/2 hours it was all set and I could visit Deventer.
Deventer was a beautiful city, had never been there (consciously).
I visited the Broederkerk, that church was built around 1335 and has housed various churches through the years, now again a RK-church.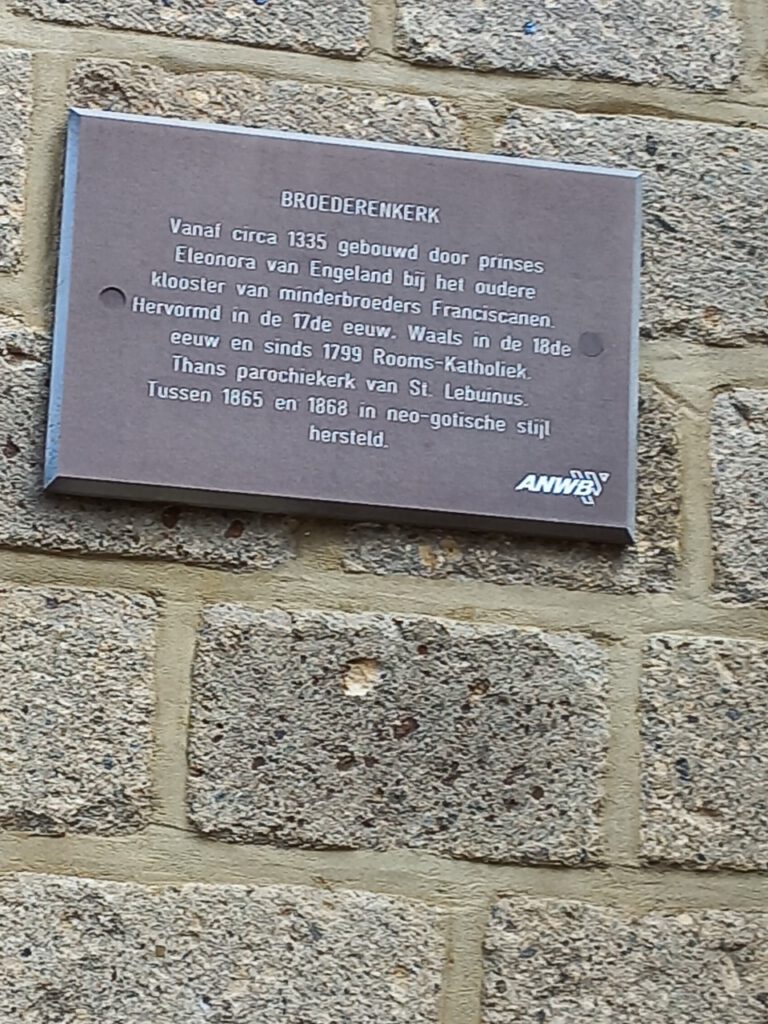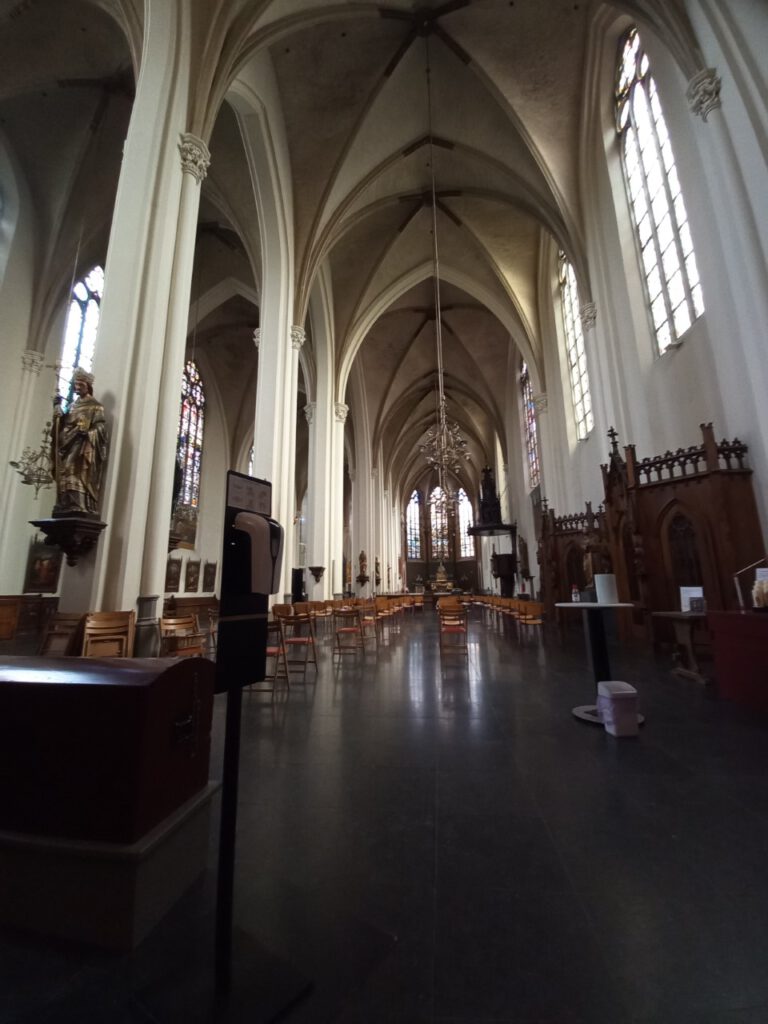 I also visited the Lebuinius Church from 1450, which was also a very beautiful church with beautiful stained glass of the evangelists. There were also some beautiful old murals.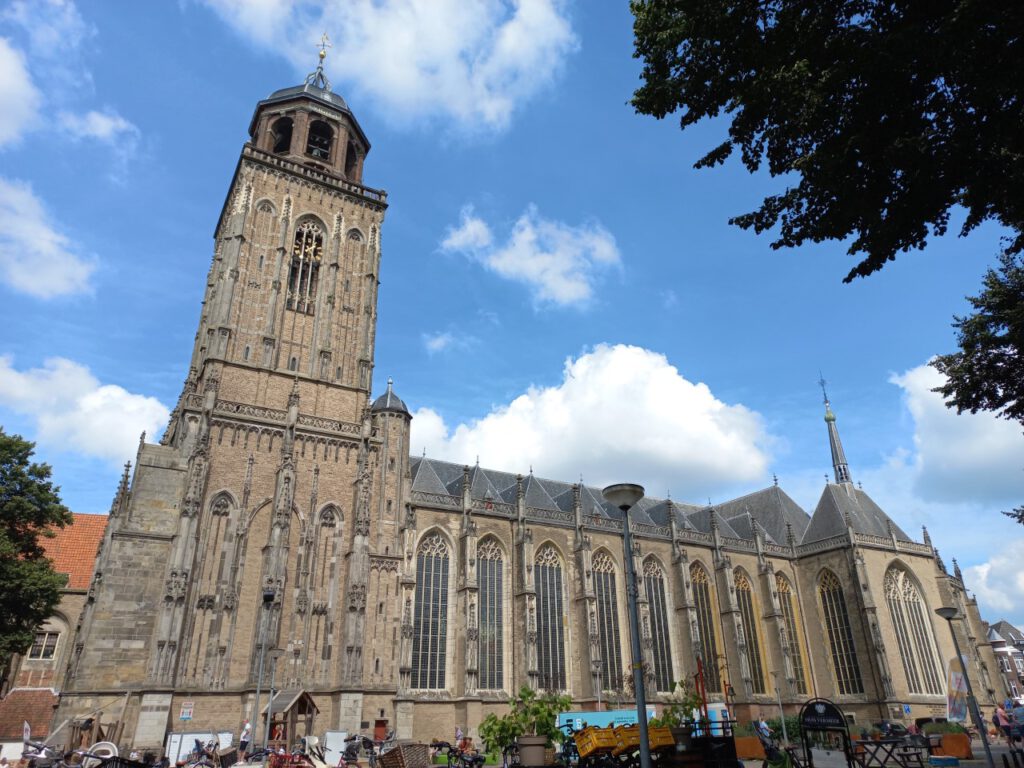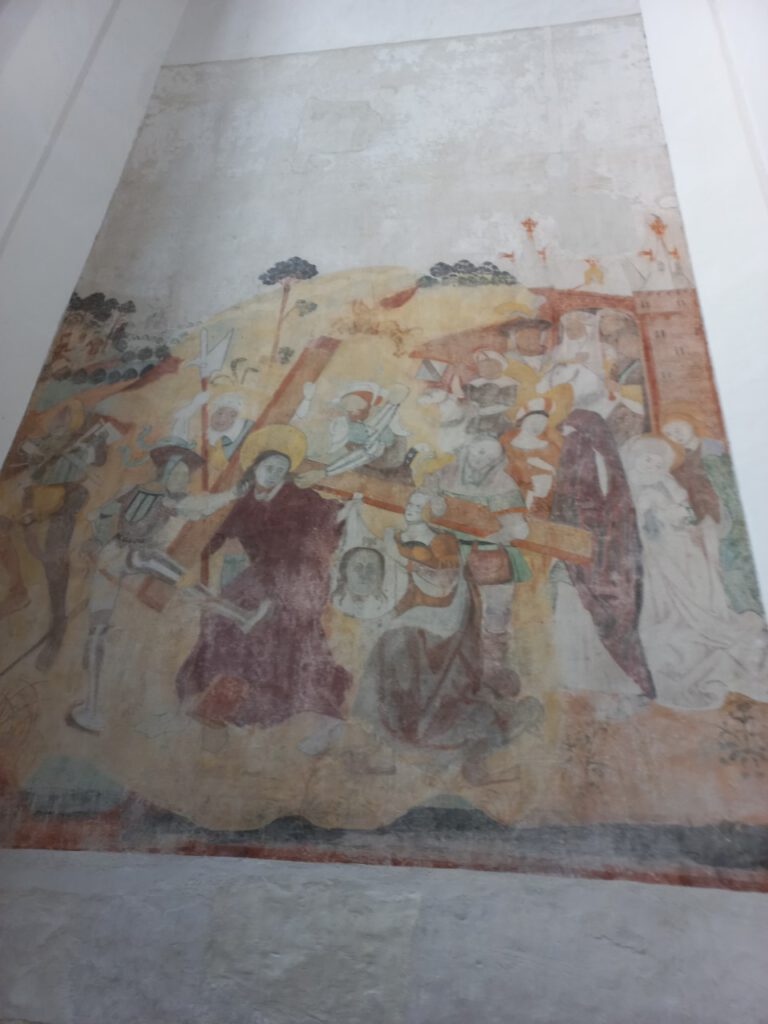 Besides these beautiful old buildings, I also found the modern town hall of Deventer very striking.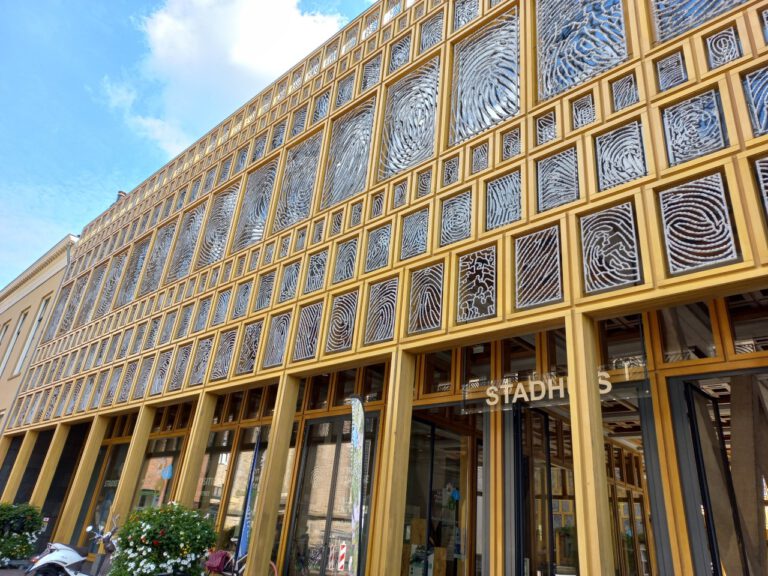 I also bought a delicious Deventerkoek from J. Bussink who has been baking these gingerbread biscuits since 1593. delicious!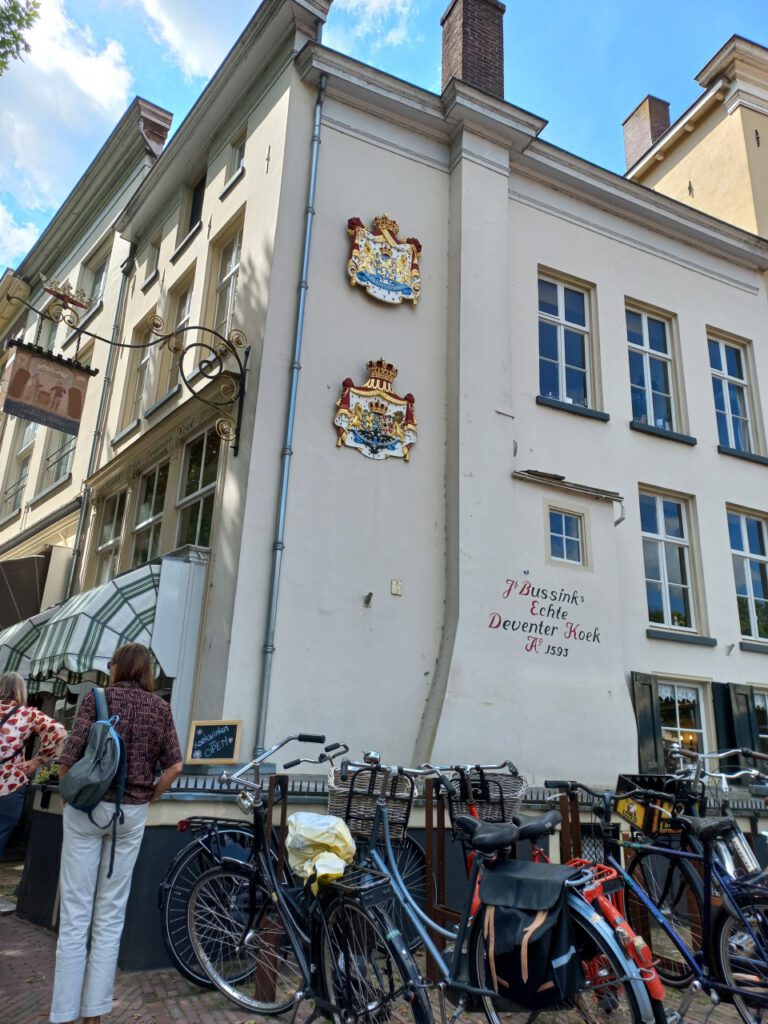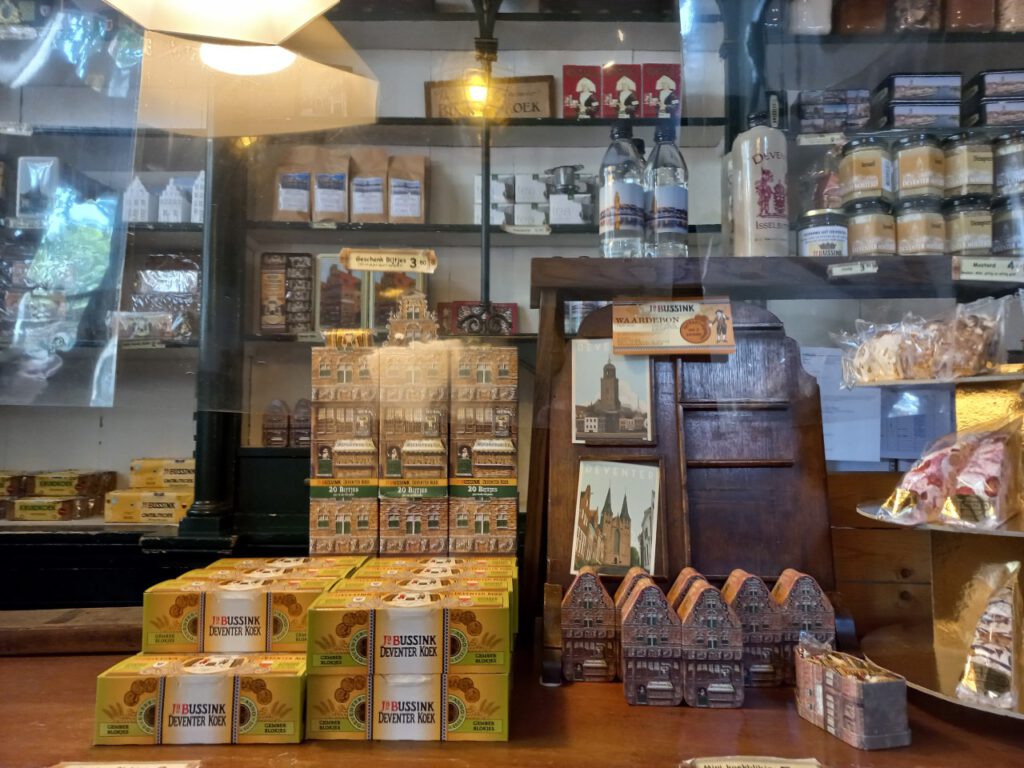 After a short tour of the city, I had to go home again. Rolling went much better with my new back support and I had much less pain. That gives hope for my pilgrimage.
After almost 2 hours driving with some stops where I lay down on a cloth at the parking place I was back home with my new chair.
So I had a very nice but tiring day.
Over the past few days, I have tested my backrest several times and it rolls so much better, I have much less pain.
I now see much less of a problem with sitting while rolling and look forward to my trip again.
Today and tomorrow I will pack the last things and then on Tuesday I will set off again. First a few days by car and then the real pilgrimage starts.
The daily blog will be there again from Tuesday.
Greetings,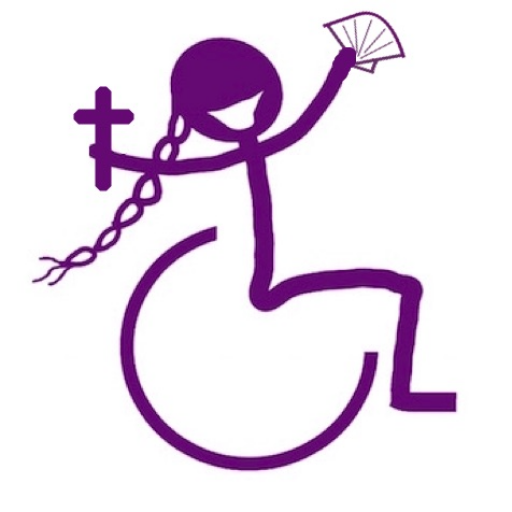 Wheelchairpilgrim
---
august 17, 2021 by rolstoelpelgrim
Today is really my first day of travelling.
Last night, I had already put most of my things in the car and this morning I only had to pack the last things like my charger, handbag and food for the road. So I was able to drive off at around 7.30am.
Normally I set the navigation to my final destination but I had other appointments.
My first appointment was in Helmond. I think I have written before about my voluntary work in the open air museum Archeon where I worked as a medieval shoemaker before corona (and hopefully soon again). This time I had not made medieval shoes but a pair of leather sandals that will be used in the musical Ruth by Kisi. This group is in Helmond and this week they are working hard on the musical.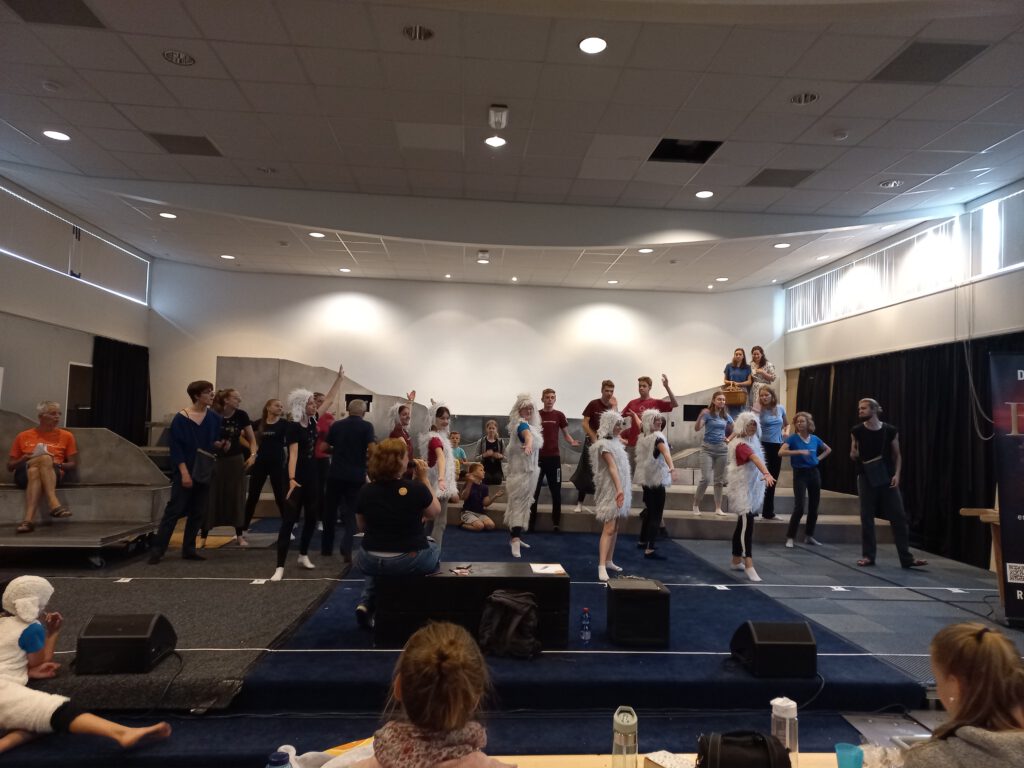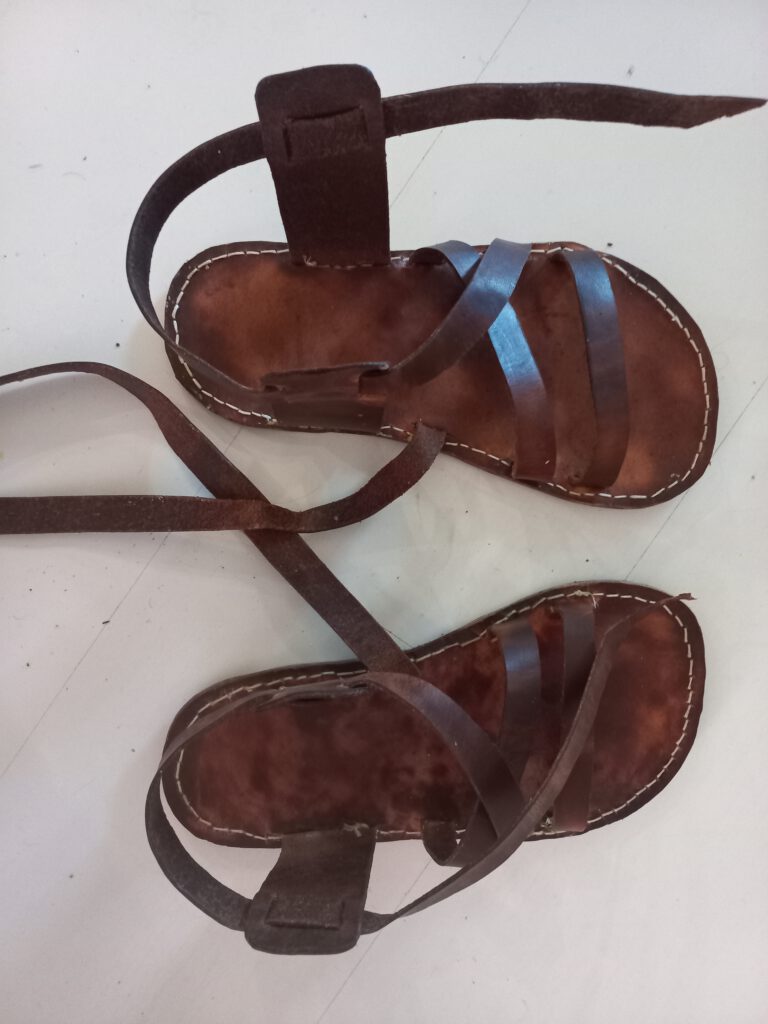 When I arrived, there was a lot of practising going on, but fortunately the person for whom the shoes are intended was able to try them on. Nice! After the fitting I stayed to watch the rehearsal and then on to the next appointment. This time at a friend's house that I always try to visit when I am in Limburg. Because of both our health and the large distance between our homes we do not see each other very often but it is always nice. I was going to stay for an hour but it soon became 2 but then I really had to drive towards France.
Unfortunately, the further south I went, the worse the weather became. In Belgium, I drove through the beautiful Ardennes region, but because of the wet weather, it was no weather to stop for a long time and taking pictures was not really possible either. So I only made necessary stops because my sore back made them necessary.
In France, the weather fortunately cleared up a little, but it was not really dry. Fortunately, it was almost dry when I had to put up my tent, because putting up a tent in a downpour is terrible, fortunately it was only a few drops.
Just like last year, I stayed at the campsite in Revin along the Meuse. A nice spot close to the toilet building so I can just walk that distance. I just brushed my teeth and now I'm back in the tent, the rain is tapping on the canvas but luckily I'm warm and dry inside and I'm going to sleep soon.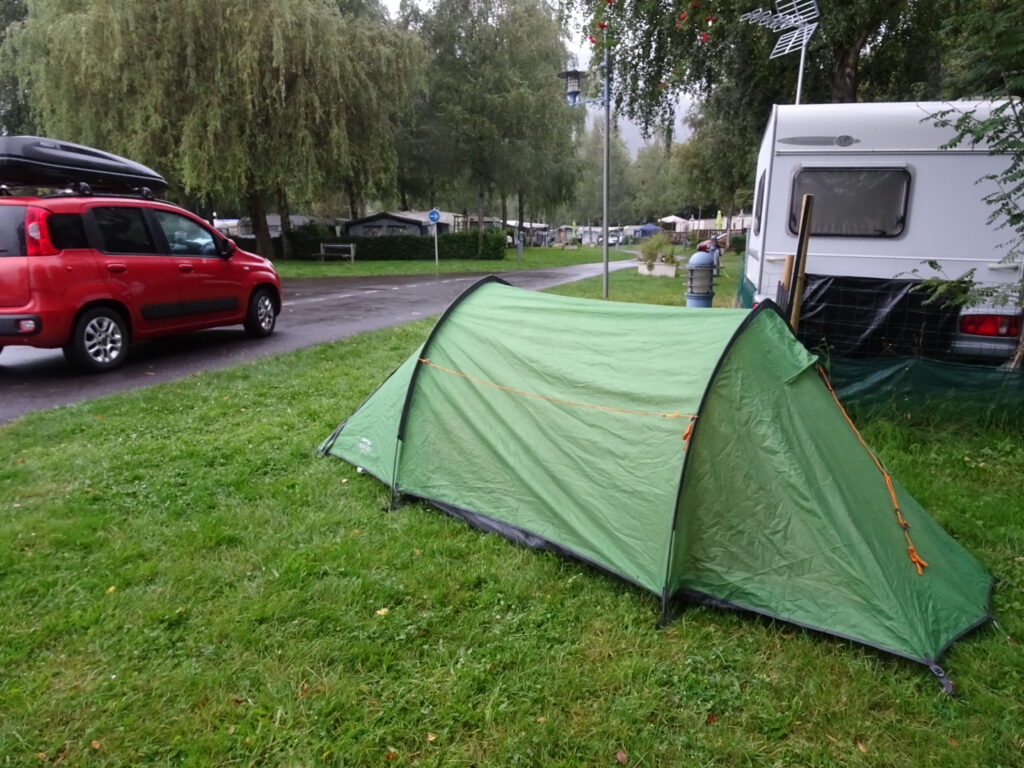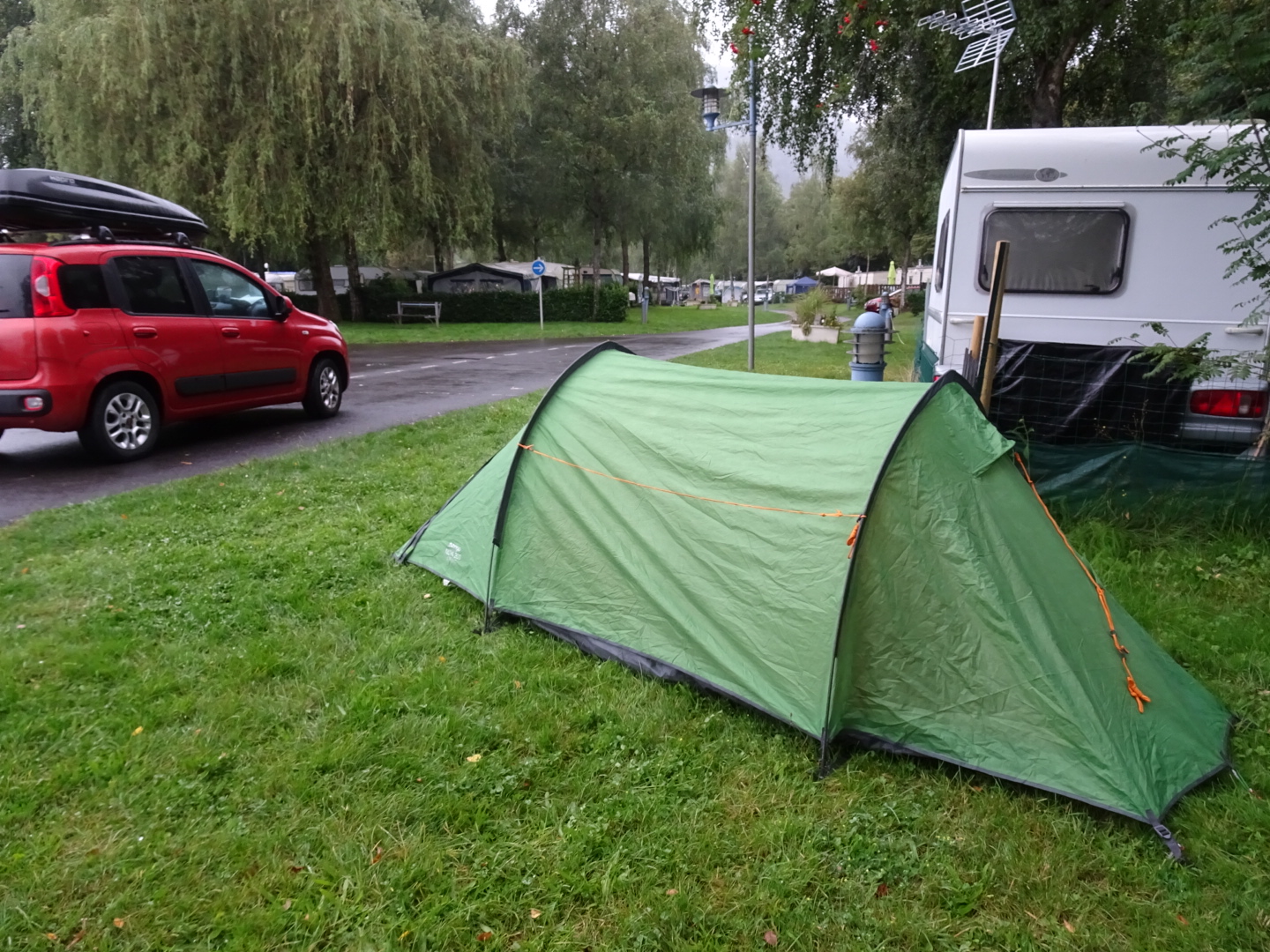 See you tomorrow!
Greetings,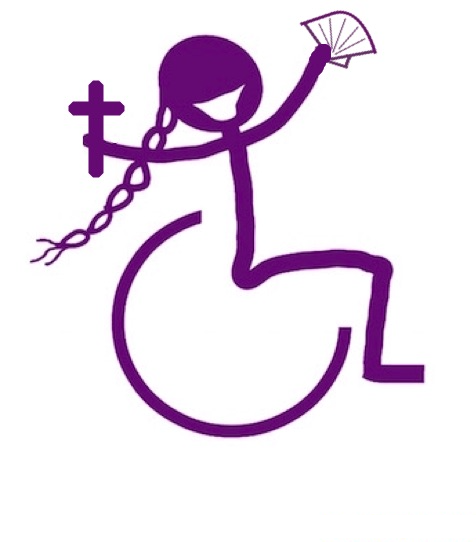 Wheelchairpilgrim
---
august 18, 2021 by rolstoelpelgrim
Last night there was a lot of noise from other campsite guests who came back after midnight from a night out or something and were talking loudly with their engines running. Fortunately, it finally became quiet and I slept well. Unfortunately, the rain continued all night. Around 7.00 I woke up. I did notice that I had been sitting a lot yesterday, my body was not quite as I would have liked but eventually it got going. The best way to get myself to leave that lovely warm sleeping bag is to simply deflate my air mattress. When I had left the nice warm bed, I packed everything again and left with my wet tent.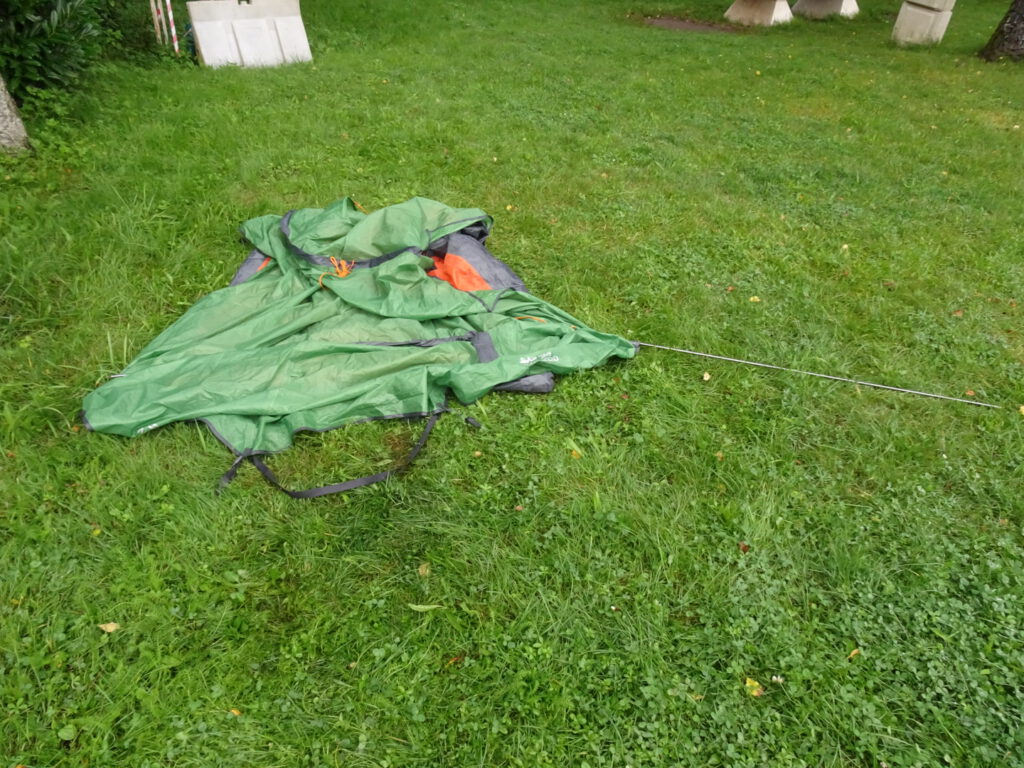 I hung it over my open boot and held the other end to let the wind pass through. Unfortunately, it wasn't completely dry when it started raining again. I then put it in the back of my car, wide open so it could dry in the car, something that sometimes caused foggy windows but with some extra ventilation that was solved.
On the way I came across several war memorials and cemeteries, most of them from the 1st World War. I stopped at the largest cemetery. I thought it was special that it was actually not one but two cemeteries, one with French soldiers and one with German soldiers, and that next to each other. Impressive, more than 30,000 crosses. Although, it was not only crosses. I noticed that there were also some graves with a different model. These were Muslims, often it said that they came from the colonies (Morocco), most were called Mohammed and Ali. I had never thought about the fact that they also fought in the war and of course they do not get a cross as a tombstone.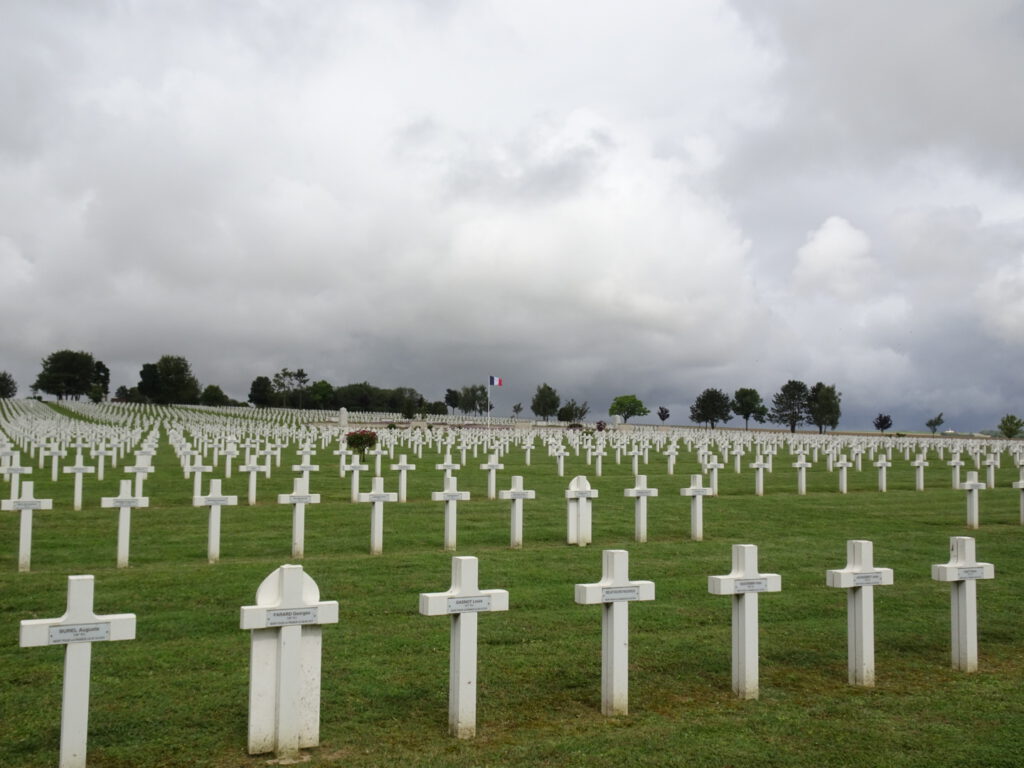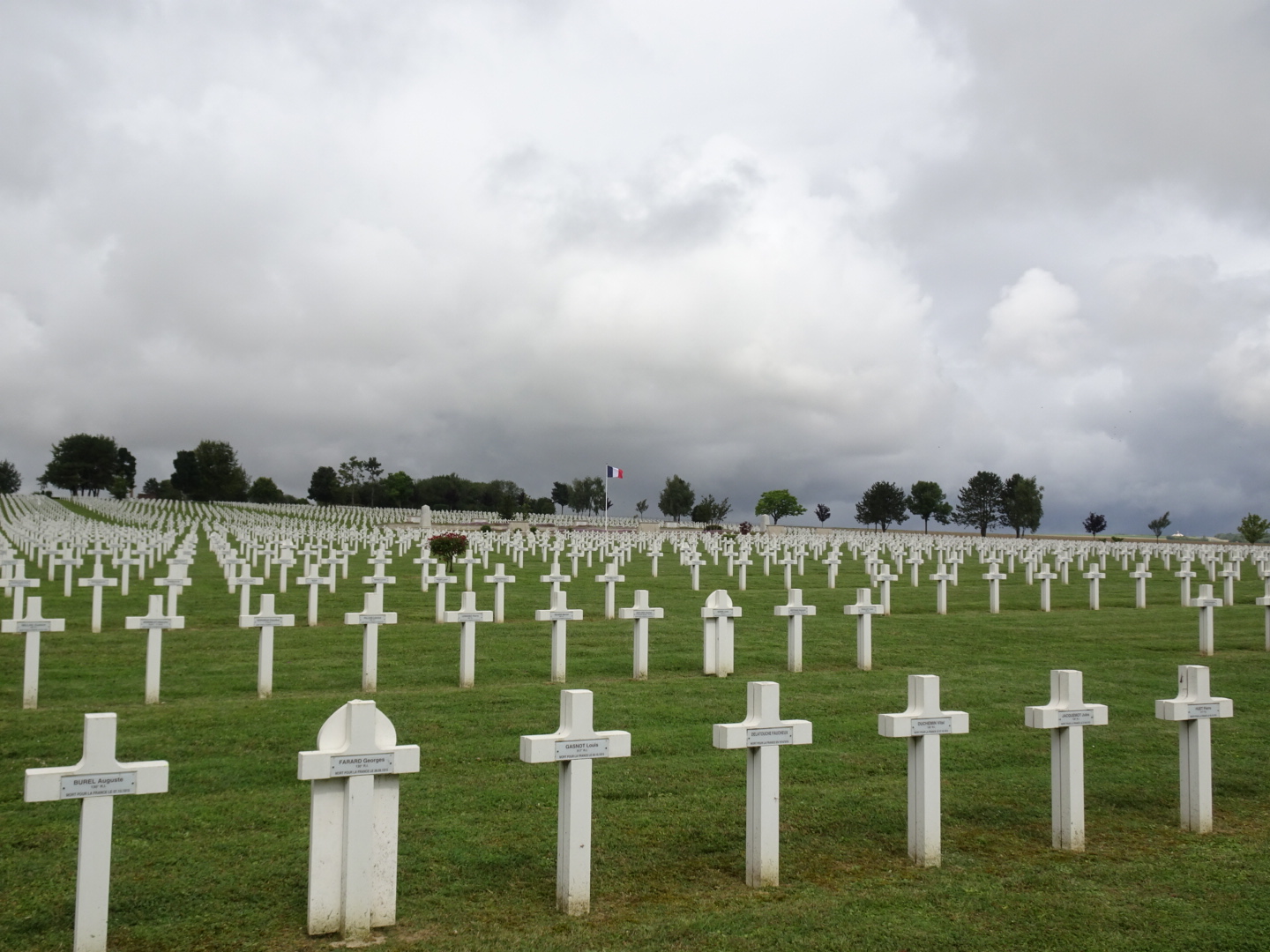 After the cemetery, we drove on. Today there is a lot of variety in the surroundings. Forests, villages and cities. sunflower fields, fields that used to be planted with grain but now only contain nice round straw bales, lucerne and the one I hadn't seen before were fields full of hemp. probably for rope, seeds, etc.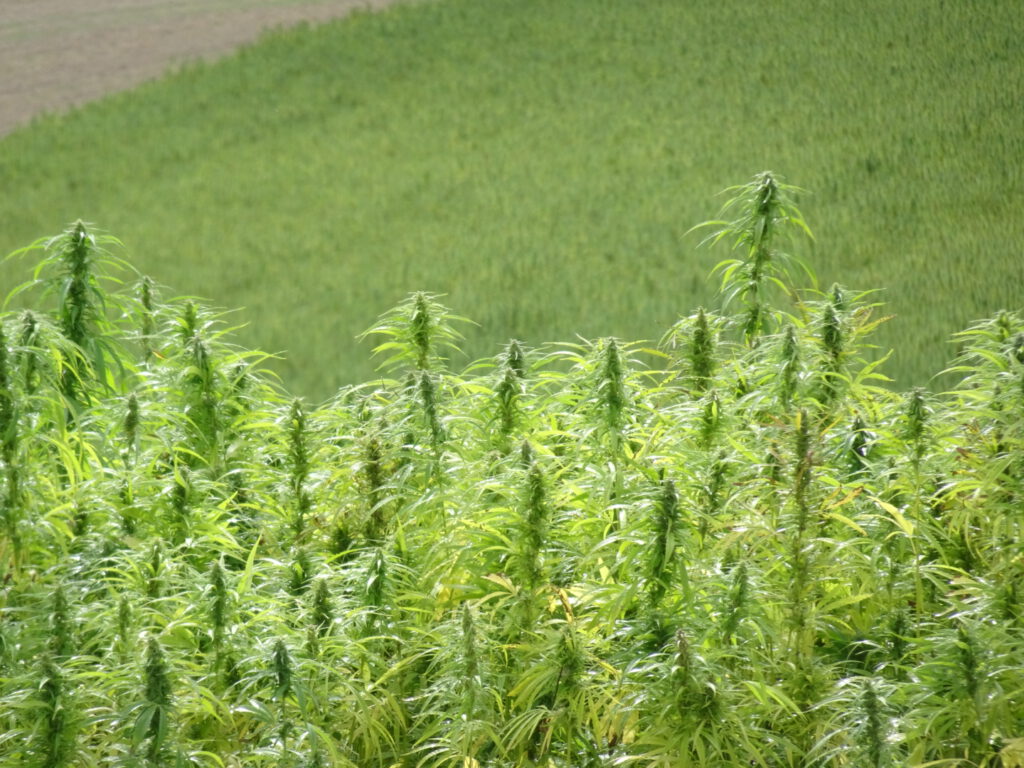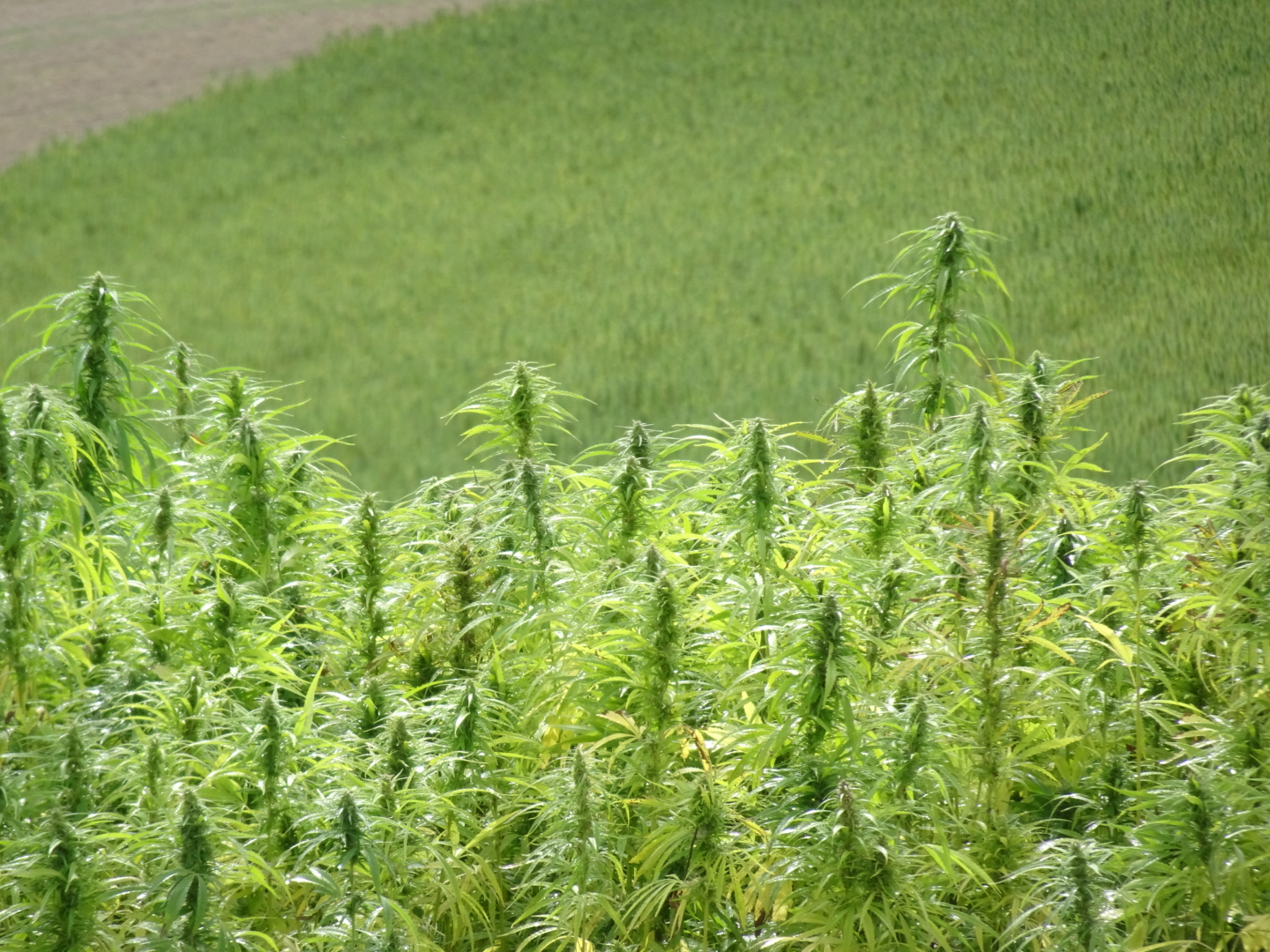 This afternoon, I also bought a route booklet for the route from Cluny to Le-Puy-en-Velay. I don't use the exact routes, but it is very nice to have a booklet with place names and lodging addresses to follow.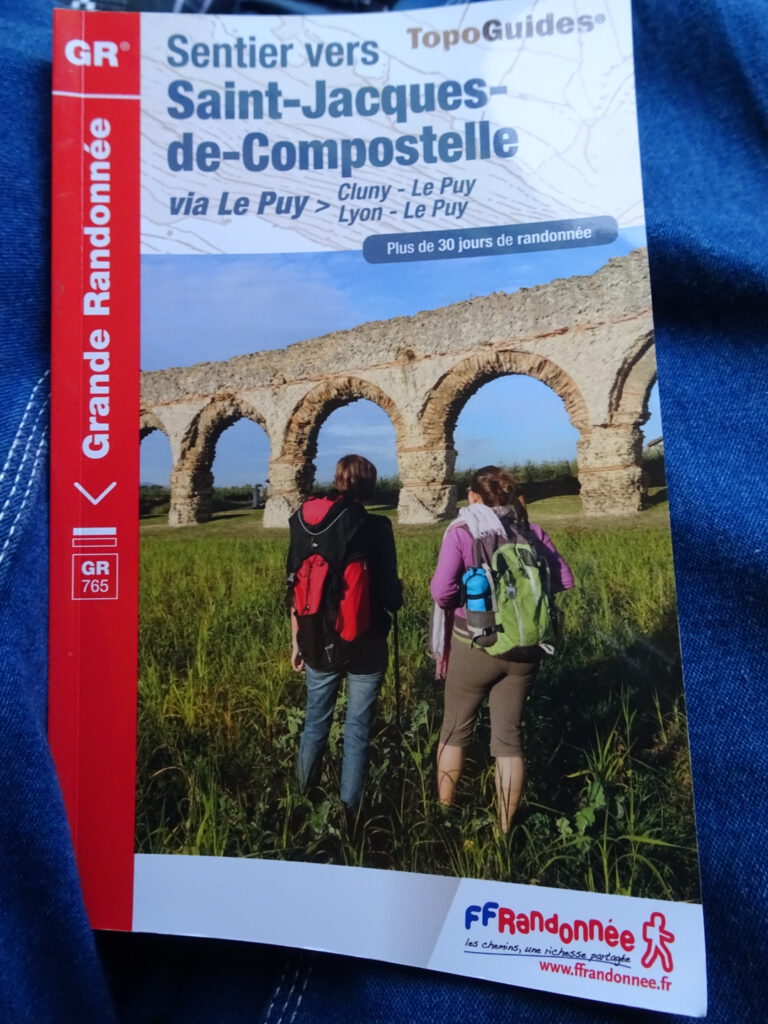 Now I am back at the campsite. I am lying in my tent again and I can hear a few drops now and again, but I am glad that I was able to put it up dry.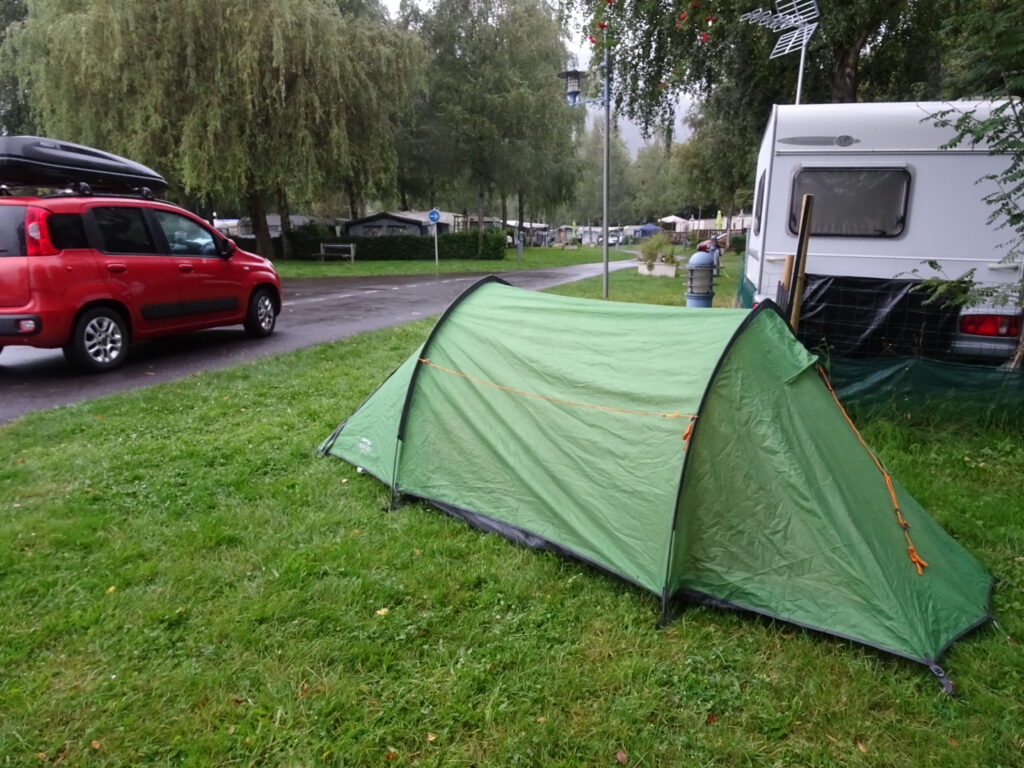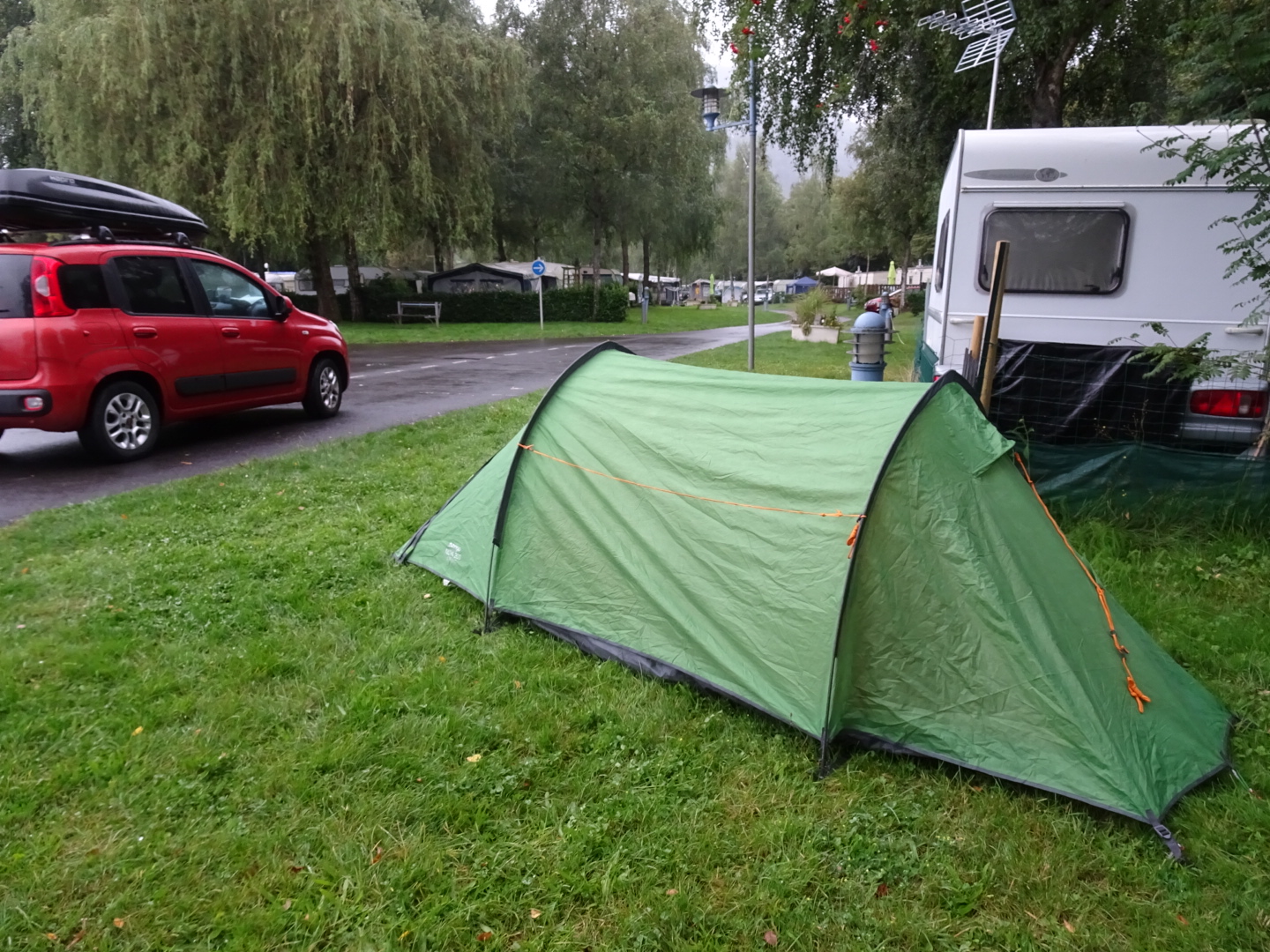 Greetings,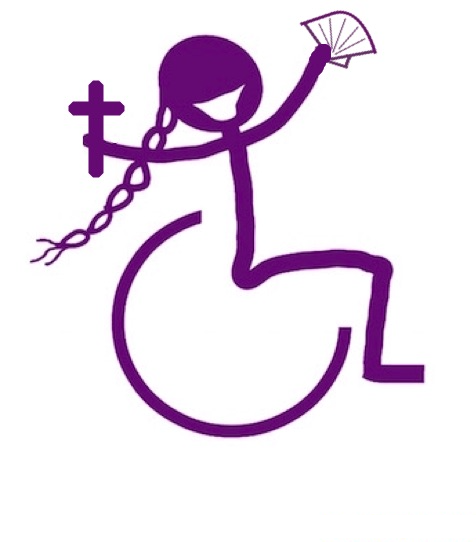 Wheechairpilgrim
---
August 19, 2021 by wheelchair pilgrim
This morning I woke up just before 7 with the sound of a woodpecker sitting in the tree in front of my tent, nice alarm!
After taking a picture of it, I packed up the tent and left the campsite.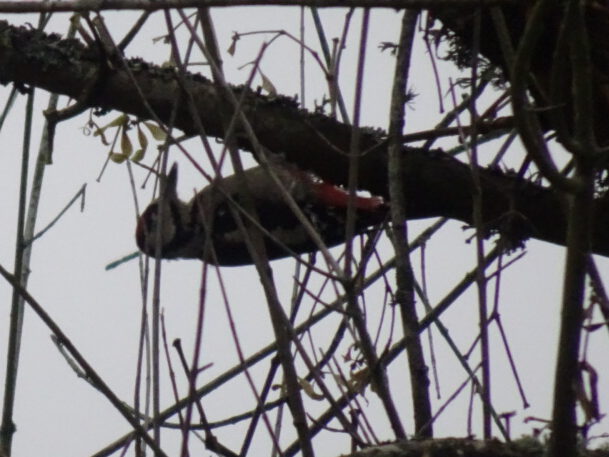 First I drove to Beaune, a town just below Dijon. There, I visited the Hotel Dieu, for the people who think that this is a Hotel for God, I will tell you what it is, because it is a hospital and has been so since the Middle Ages.
Besides the fact that it is interesting to see what it looked like from the inside, it is also a very beautiful building from the outside. Inside you can see the beds and the pharmacy. And from the outside, the most striking thing is the roof, which has a very beautiful pattern of different coloured tiles. You often see this on church towers in this area, but I think this building is the most beautiful.
I also found it interesting to see how they had arranged the beds, all on the wall and at the end of the hall was a place where the religious sisters held their Eucharistic celebrations, so the sick were sort of lying with their beds in church.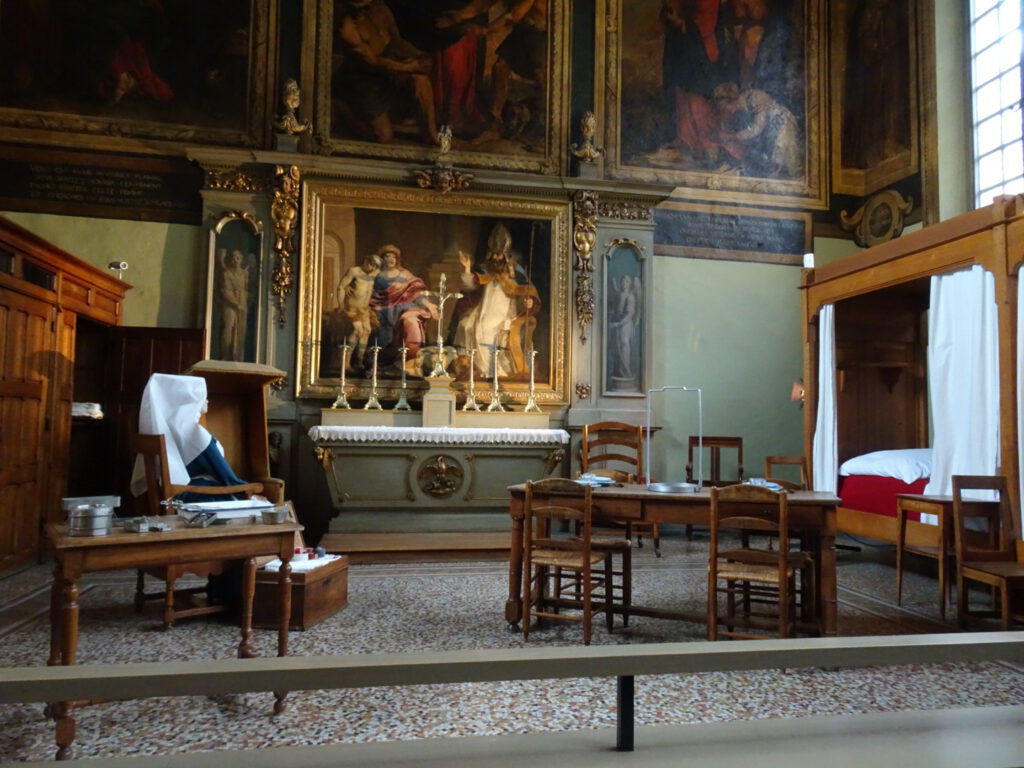 By the way, it was quite busy at Hotel Dieu, there was even a queue in front of the door because of course only a certain number of people can enter. A wheelchair often has disadvantages, but not at times like this. I was immediately taken to another beautiful large door and did not have to pay the entrance fee. Always nice to have such an advantage!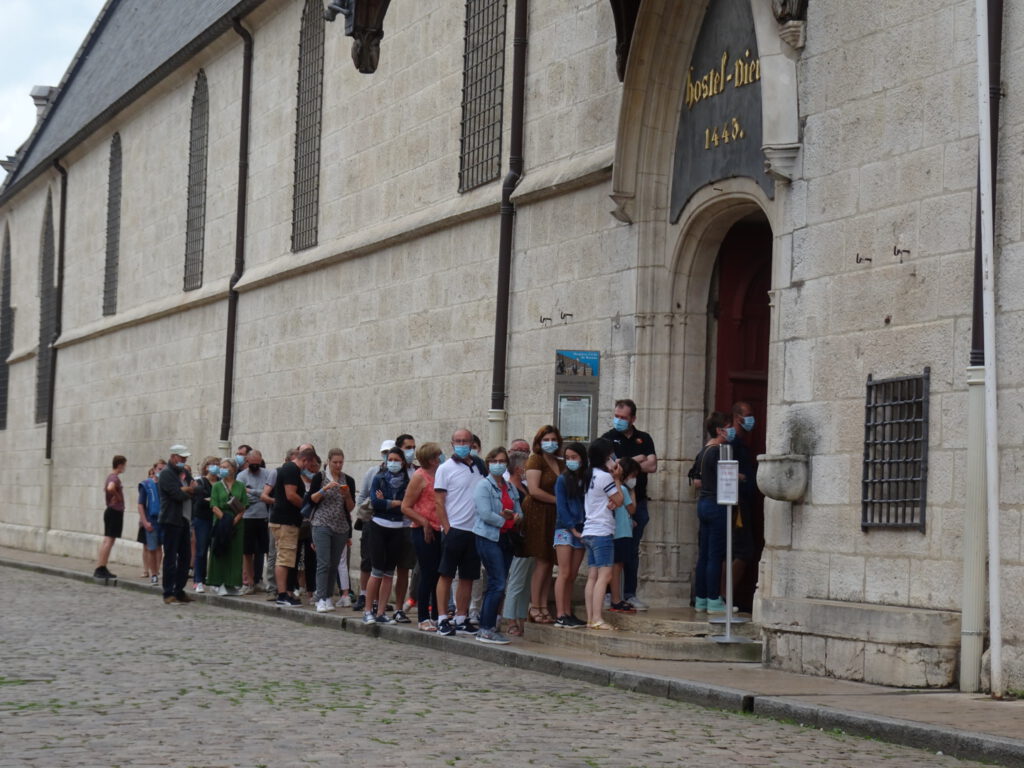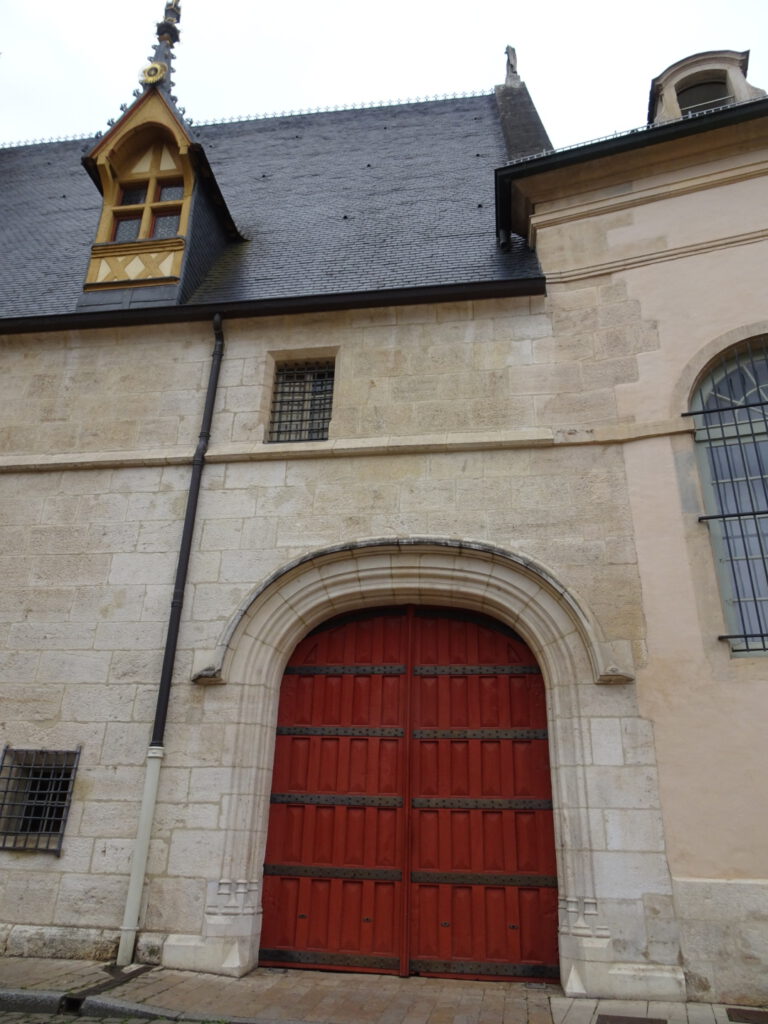 After this visit, I drove on to Taizé. Here I have been given a barrack and tomorrow I will write more about it. then my real pilgrimage begins!
Greetings,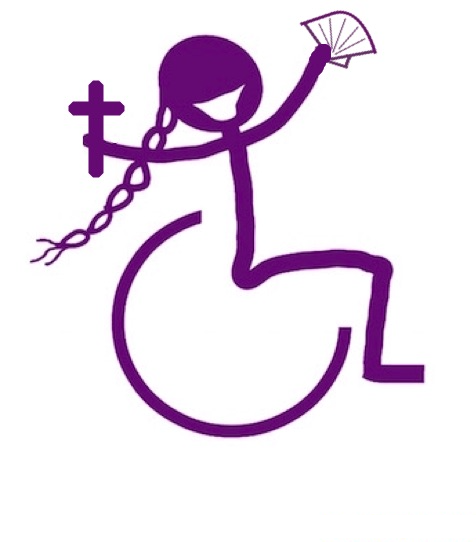 Wheelchairpilgrim
---
August 20, 2021 by wheelchair pilgrim
Got up early this morning, wanted to have everything packed and loaded on my wheelchair before the morning prayer of Taizé started. Sleeping bag, air bed, clothes, medication and other stuff back in my rucksack. I changed my balance a bit by moving one battery from my bottom bag (under my seat) to the front bag. And so I made a few more small changes to my pack. When everything was loaded again, I went to my car where I left everything I wouldn't need on the road (e.g. a fitted sheet that will be needed in Taizé, but not for the road). The bells had already started to ring and it was time to pack up everything and lock the car door. Then off to church for the prayer. It is always difficult to sing a foreign language for the first time (in Taize songs are sung in many languages), but it is also fun when you succeed (especially the Eastern European languages I often find difficult, too many vowels in a row and lots of s, z, sz, zs, czh, sounds). But after visiting Taizé for 9 years, I speak (sing) a lot of languages!
After the morning prayer, it was time for my favourite meal in Taizé. Breakfast with sweet Taizé tea, bread and chocolate bars!
At breakfast I spoke to a few more people. One Flemish woman that I met in my first two years in Taizé, nice to catch up with her, even if it was short. He pointed me to one of his group, a woman whom I had also spoken to yesterday.
She worked as a clown. Since I do magic and used to be a clown as well, that led to a very nice conversation.
But after all that talk, it was time to leave, and so I left Taizé, leaving the bell tower behind me.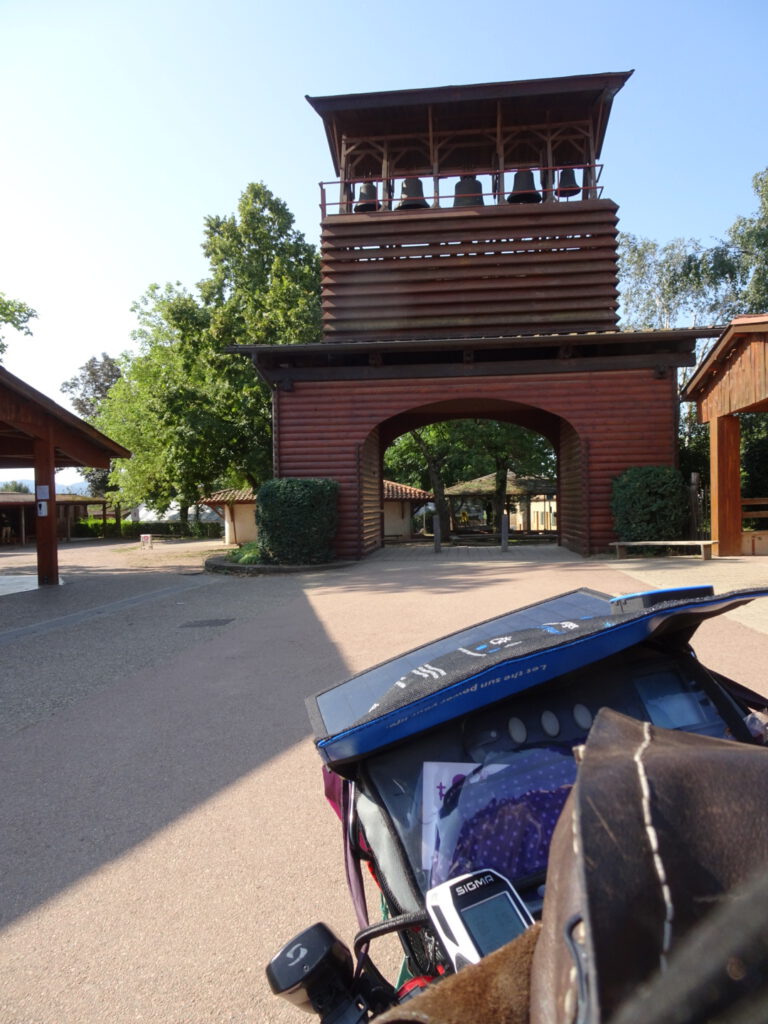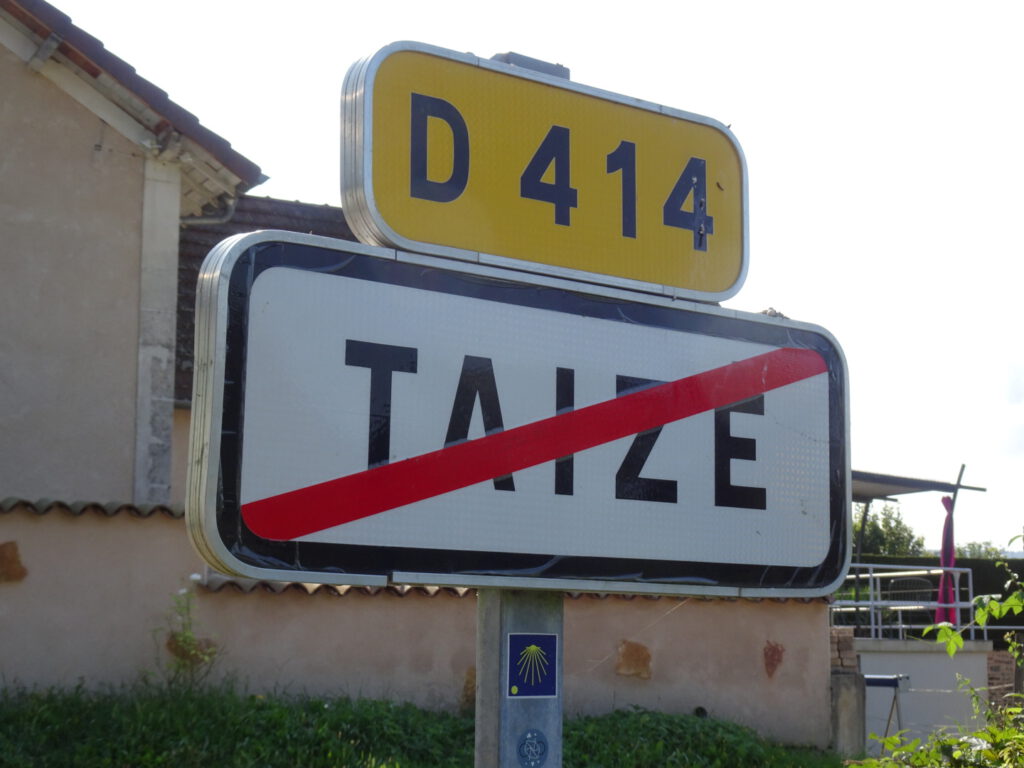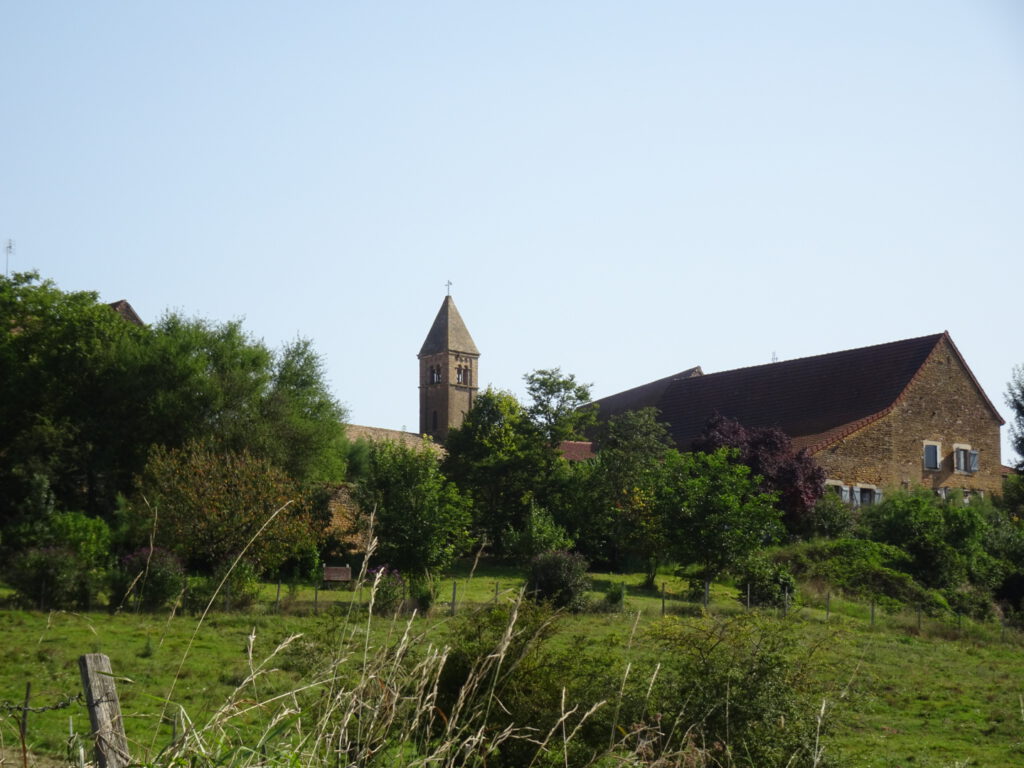 Today, I rode the same route as I did last year, only now I was going the other way.
These are cycle paths that have been and are still being built on places where railways used to run. Sometimes, there are even railway stations with platforms.
The road itself was quite boring and straight but the animals in the nicely overgrown verges with many flowers were a nice photo object.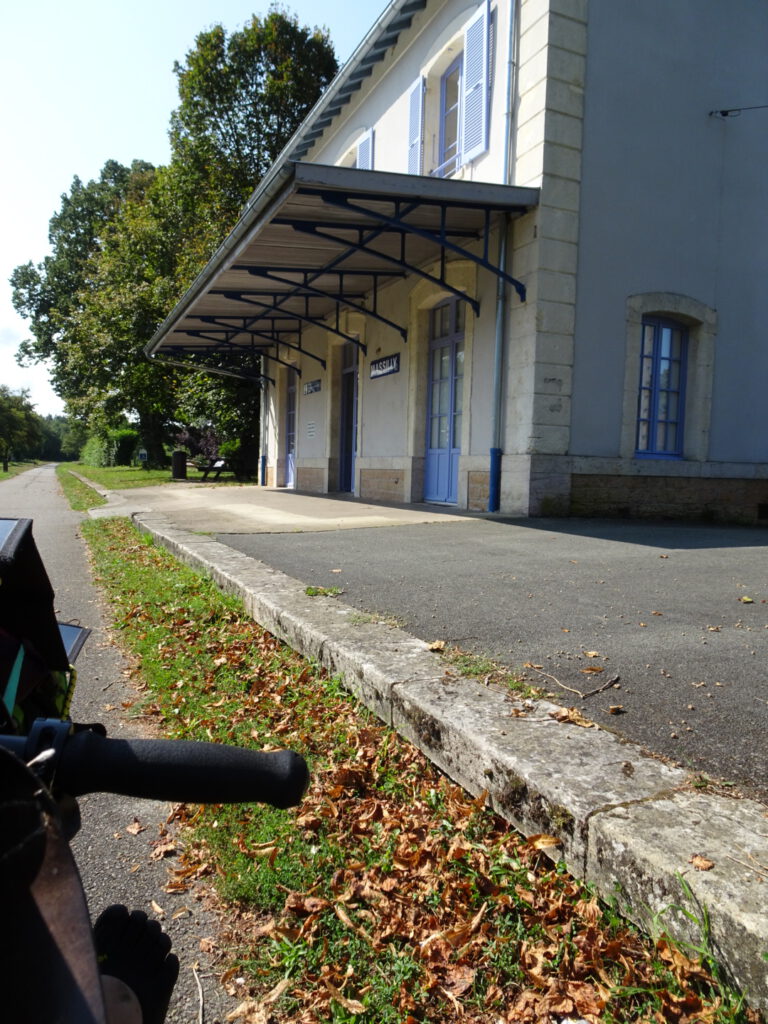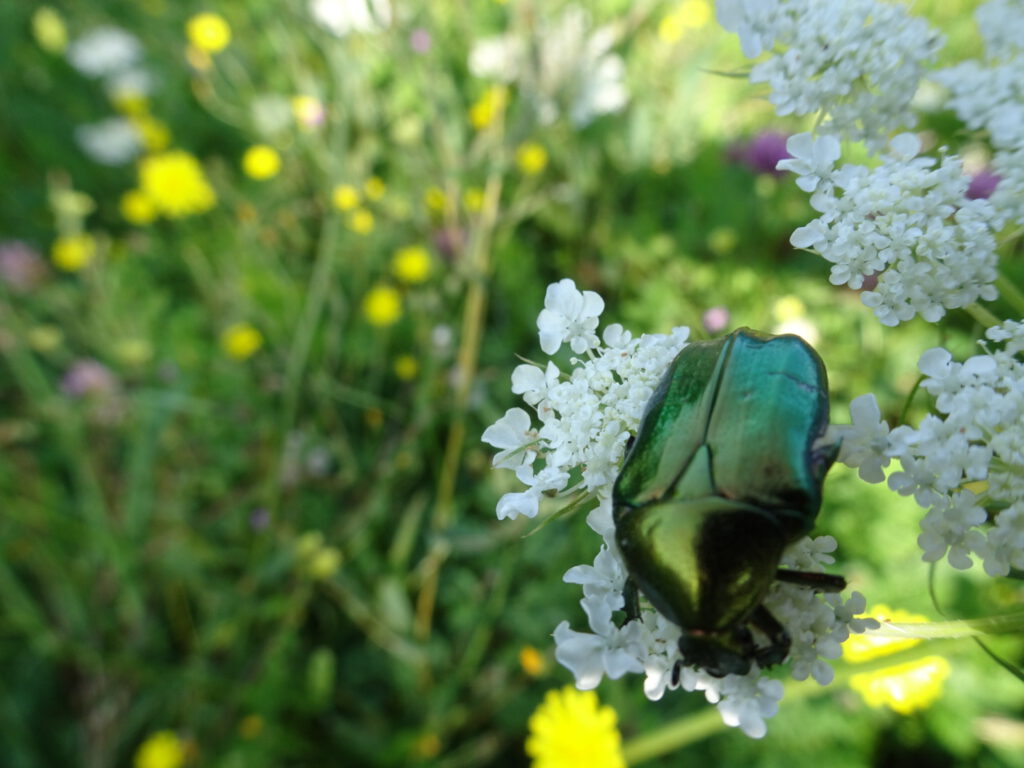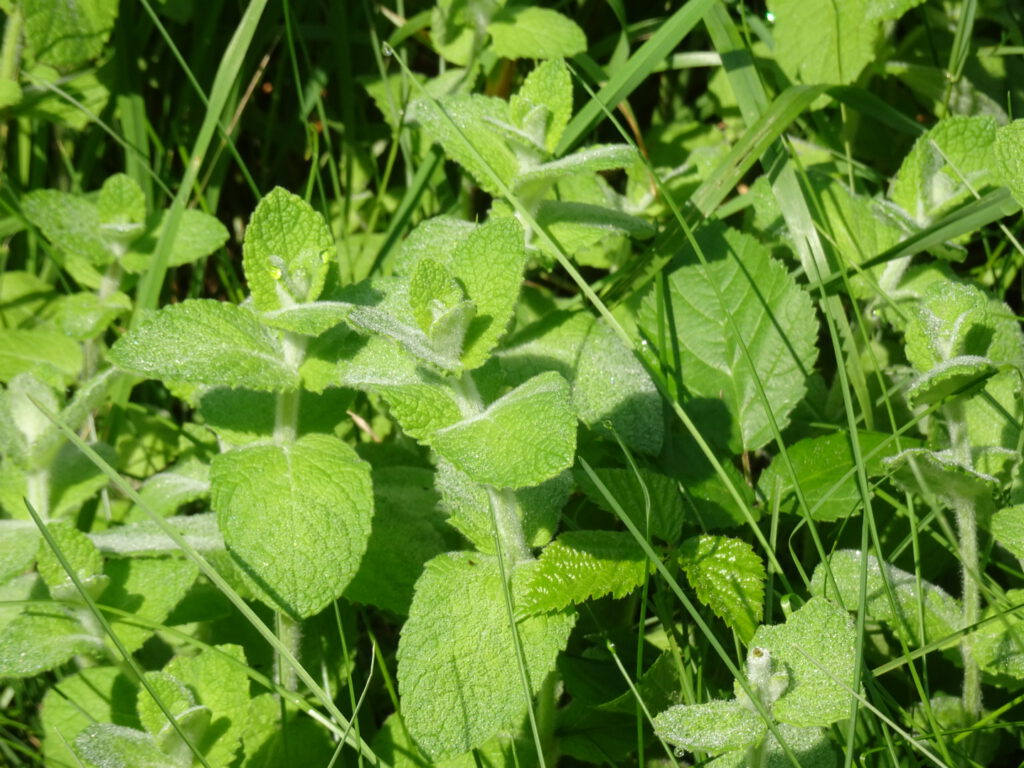 On the way, I also came across a sign with something written on it. Normally I don't like that messy on road signs, but I liked this one! A pilgrim's greeting.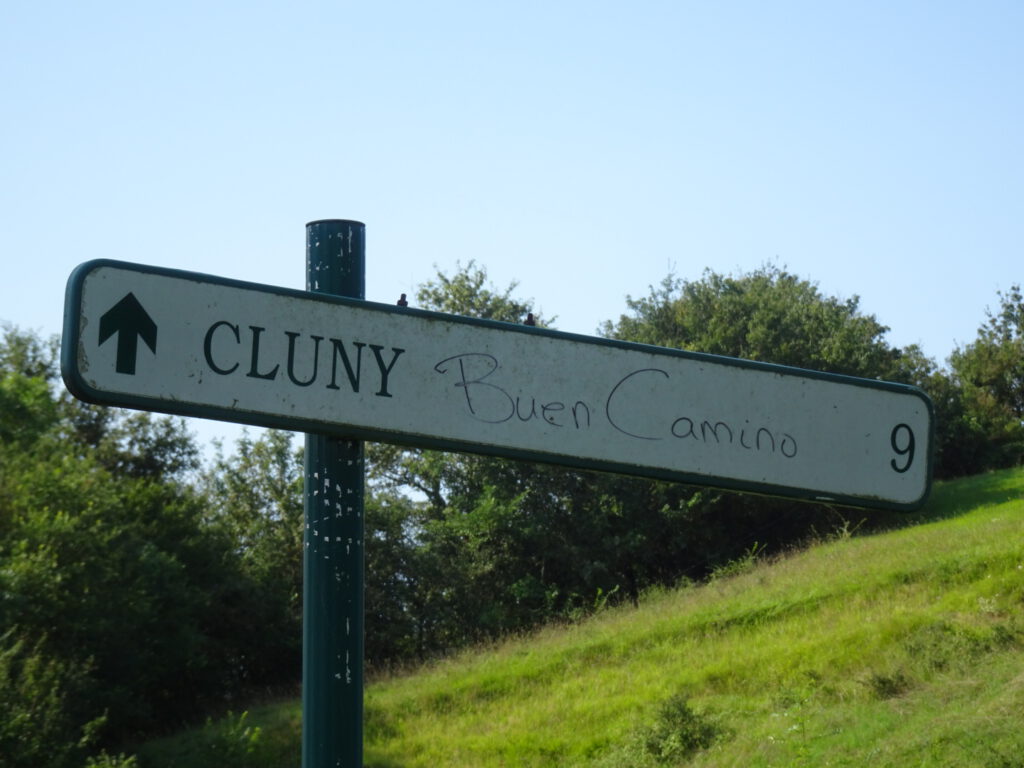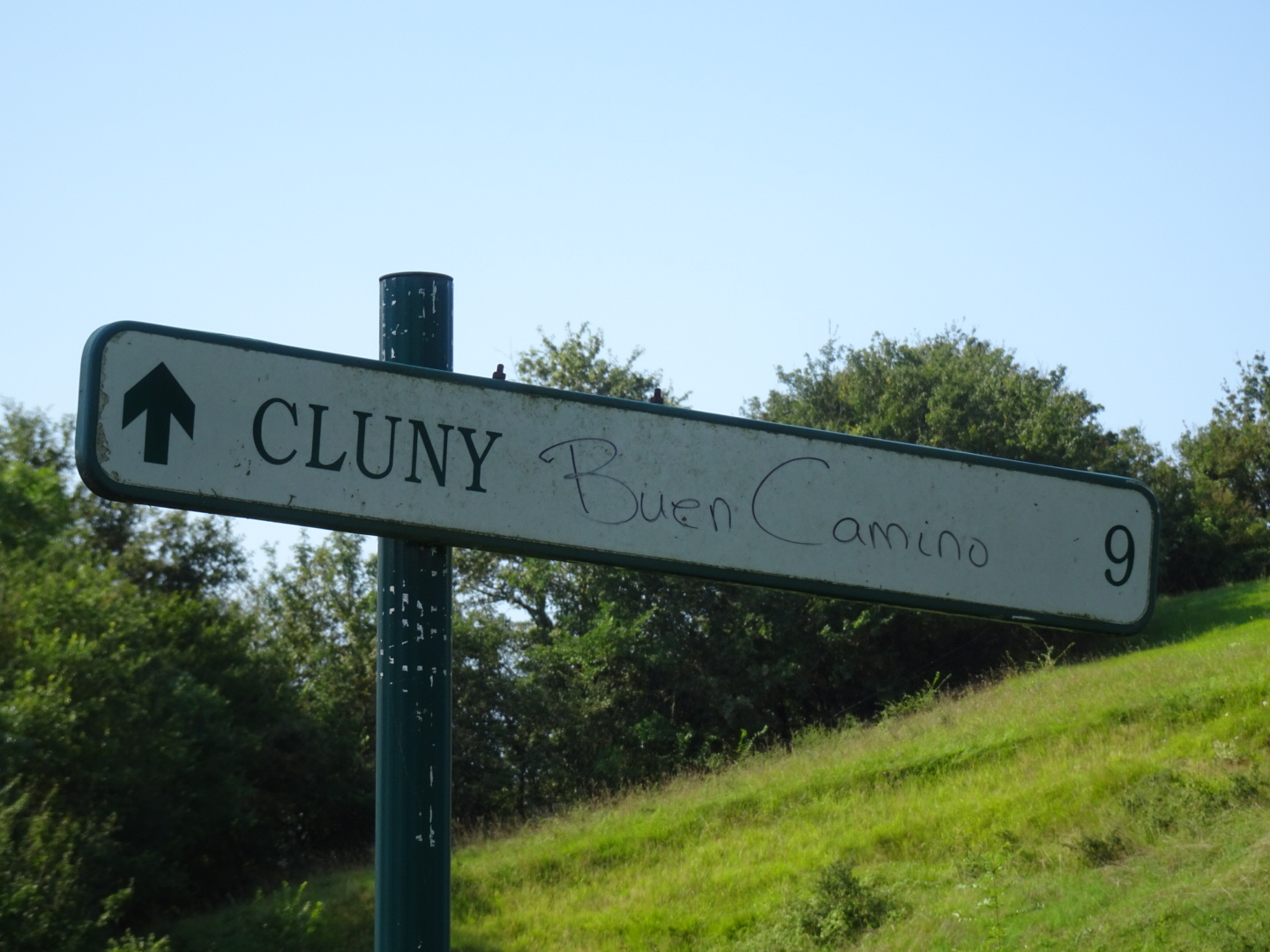 Now I am at the camp site in Cluny. It was only a short stretch of about 11 km and I had actually planned to go to another camp site. I can still hear the trains as they pass by the campsite.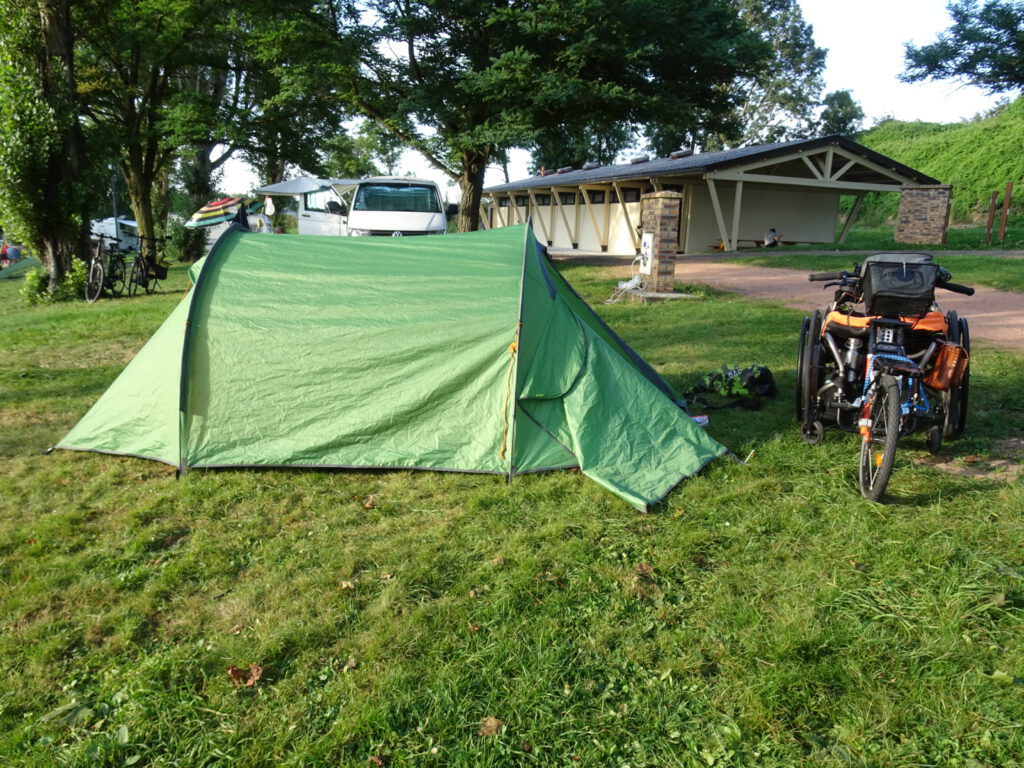 I will continue tomorrow.
If you haven't done so yet, subscribe to the newsletter and you will be notified as soon as I post a new blog.
Greetings,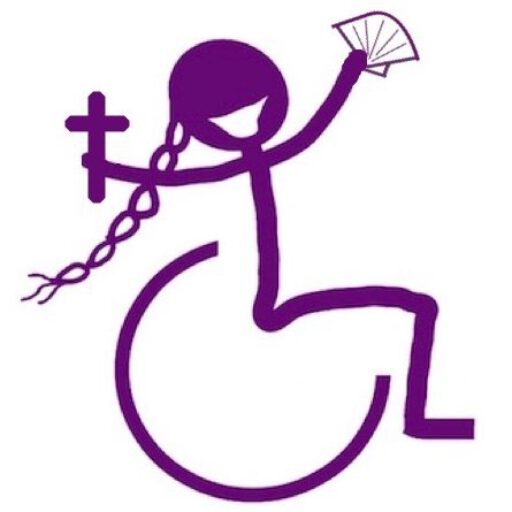 Wheelchairpilgrim
---
August 22, 2021 by wheelchair pilgrim
I didn't write a blog yesterday, I was so tired when I arrived that I only had the courage to write a short message when my tent was pitched and then go to sleep. Today's blog will follow as well, but I don't know if it will be this evening or tomorrow.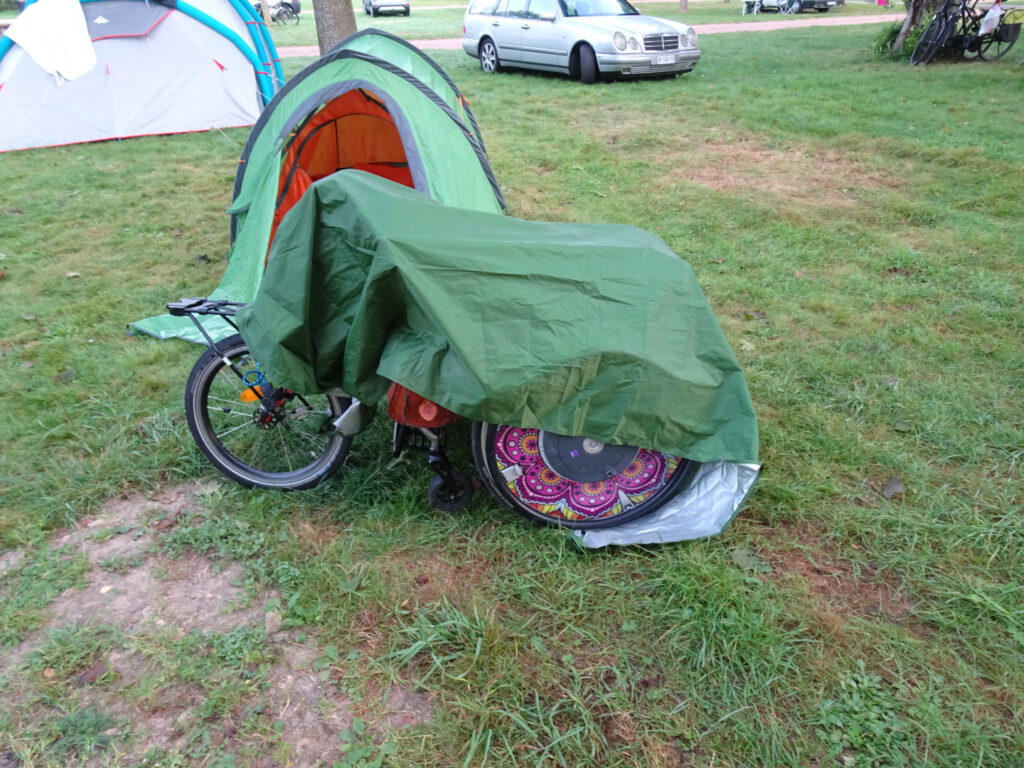 I left Cluny yesterday morning, this time I didn't go into the city because I knew I still had a long day ahead of me, but how long, I didn't know at the time.
On the map, I had already seen that I would be riding uphill the whole day, sometimes false flat and sometimes very steep
On the way, I regularly found ripe blackberries, always delicious.
I also passed a castle, I didn't go inside but had a nice conversation with the person who was selling tickets outside. At the end, she gave me a map of the castle as a souvenir.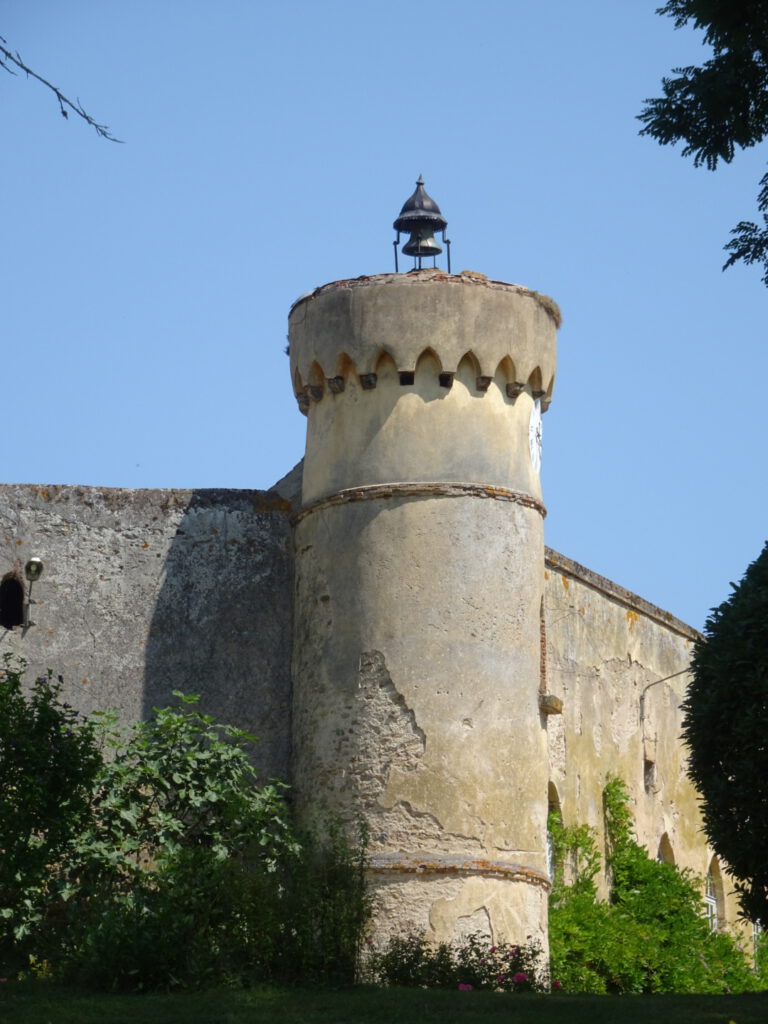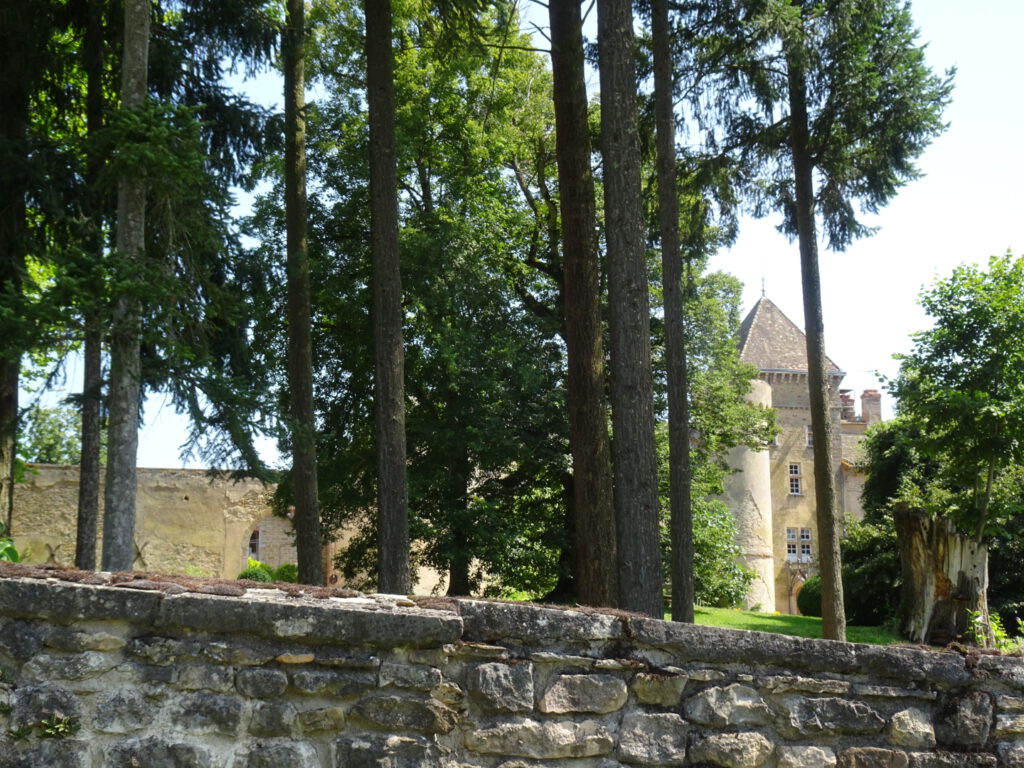 After that I rolled on, slowly up the mountain. I had to change my first battery set along the way, luckily I still had extra batteries with me. about 5 km before I got there I had to take a road that looked very difficult to me, a sort of tractor path. but according to google it was a cycle path.
The only diversions was 5km and because this path was only 800m and also went downhill, I took my chances. it went pretty well, until after 500m I ended up in a freshly mown wheat field. the farmer and his wife were still loading the straw bales. they came up to me and made it very clear that I had to go back. so I did, even though I could hardly get up on that overgrown path. It was already the end of the day and now there were 5 extra kilometres. But I just started rolling. Fortunately, those 5 extra kilometres turned out to be downhill, instead of a steep descent in 800 metres it was now a slow descent over 5 kilometres.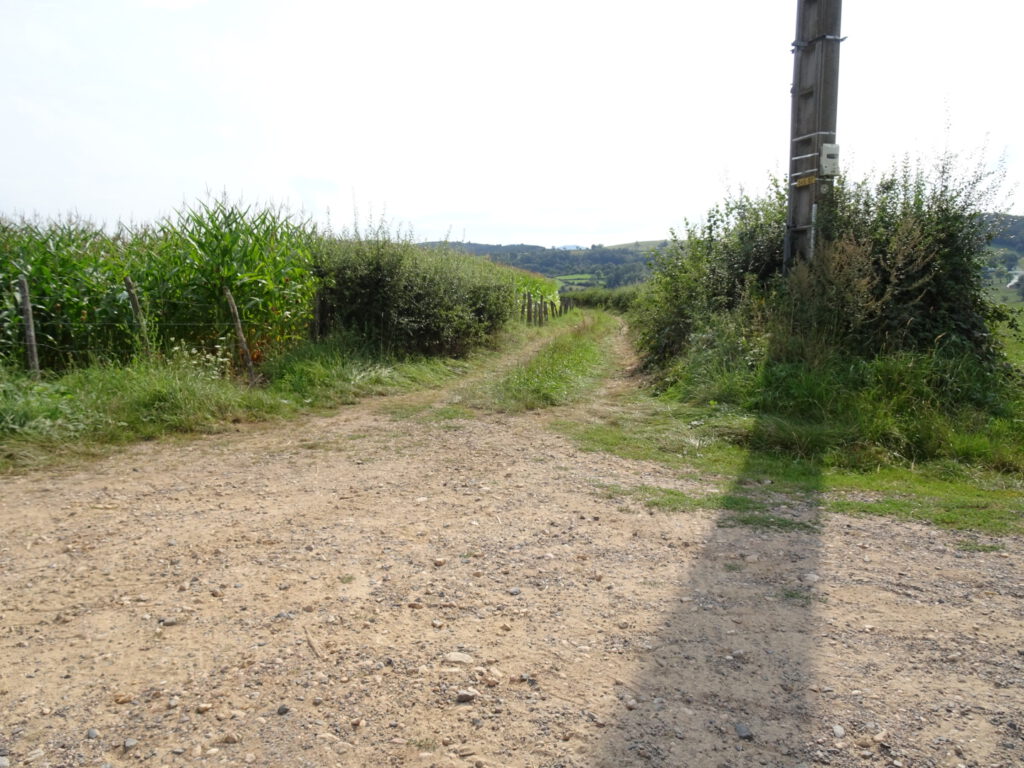 A few kilometres before the campsite, I had to climb a mountain to get to the village where the campsite was, a very steep slope started, about 200 metres of climbing over 2 kilometres. Almost at the top (I can't remember how long it took me but I think it took me over 1.5 hours) my wheels started to squeal, in normal circumstances this means I still have a kilometre left, but in these circumstances it was over a few tens of metres, just before the sign my batteries stopped completely, completely drained. They helped me to reach the campsite, I don't think I would have made it otherwise. So actually Santiago, only not the Compostella but Saint-Jaques-des-Arrets that means something like a stop on the way to Santiago.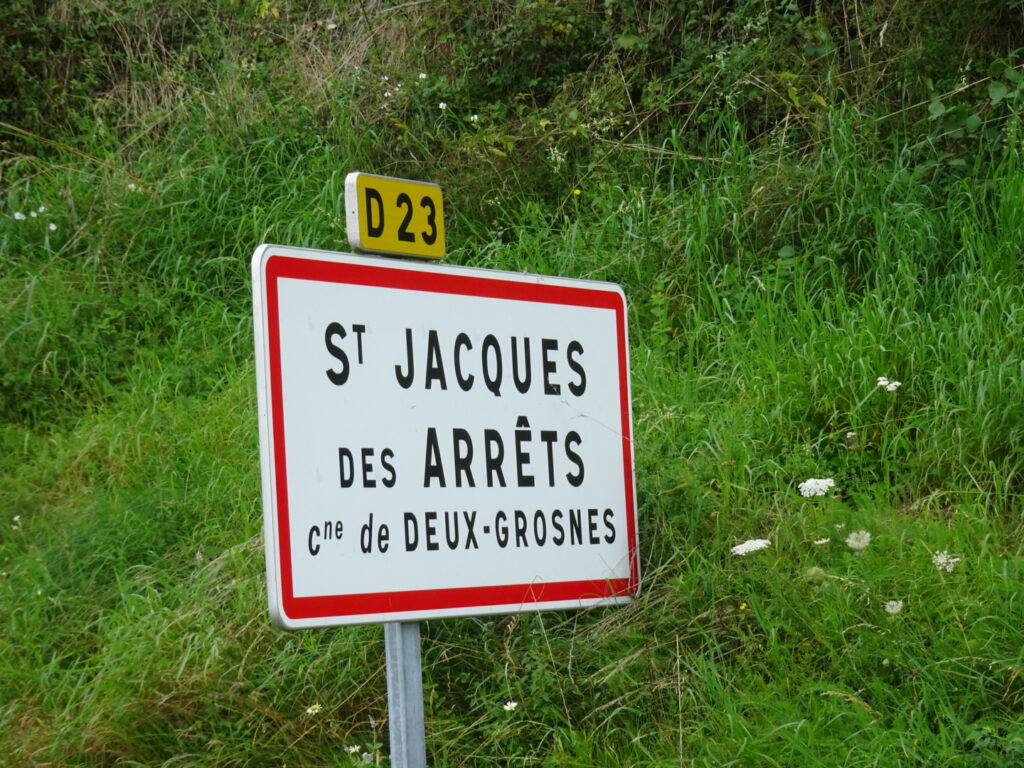 There was another one, from a cyclist I had seen in Cluny, I chatted with him for a while. He is also on his way to Santiago by bike.
There was a small toilet building. But there was a disabled toilet where I could recharge my wheelchair.
Because I had 2 sets of batteries empty, I could recharge the first one and change the second set around 2 o'clock. Before and after that I slept very well.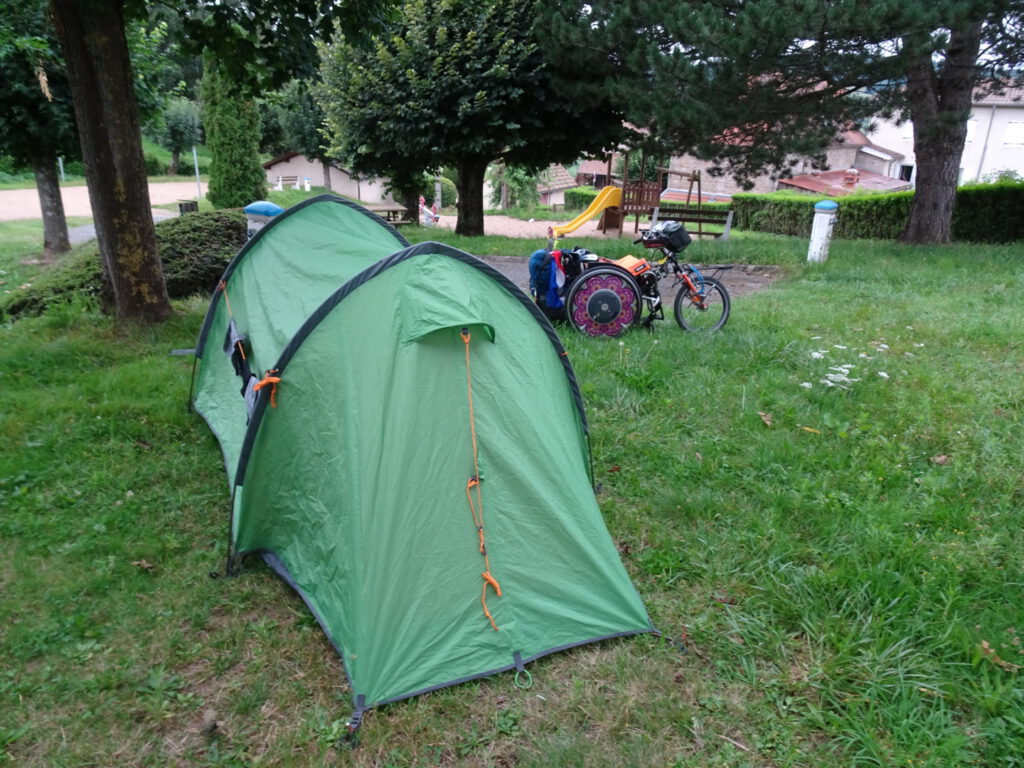 What happened the next day you will read about in today's blog (coming today or tomorrow). Just like the photos I will post when I have wifi. (which has happened by now as you can see)
Greetings,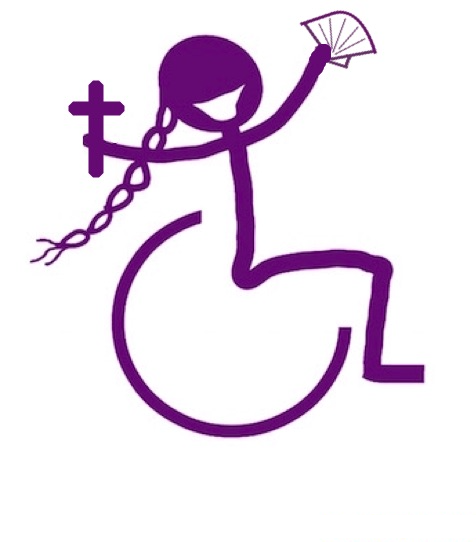 Wheelchairpilgrim
---
augustus 23, 2021 by rolstoelpelgrim
I had a good night's sleep at the campsite and wanted to visit the church. Now it so happens that this church, like many French churches have a front door with beautiful steps, looks nice but not very accessible. Therefore, I wanted to visit the church on foot (I walk just enough to be able to do this) but this turned out not to be necessary. Just when I arrived at the church, a lady who was carrying a bottle of water was going to the church, she opened the back door for me so that I could enter the church. it was a beautiful church with paintings by Jean Fusaro. I do not know this painter but he seems to be very famous.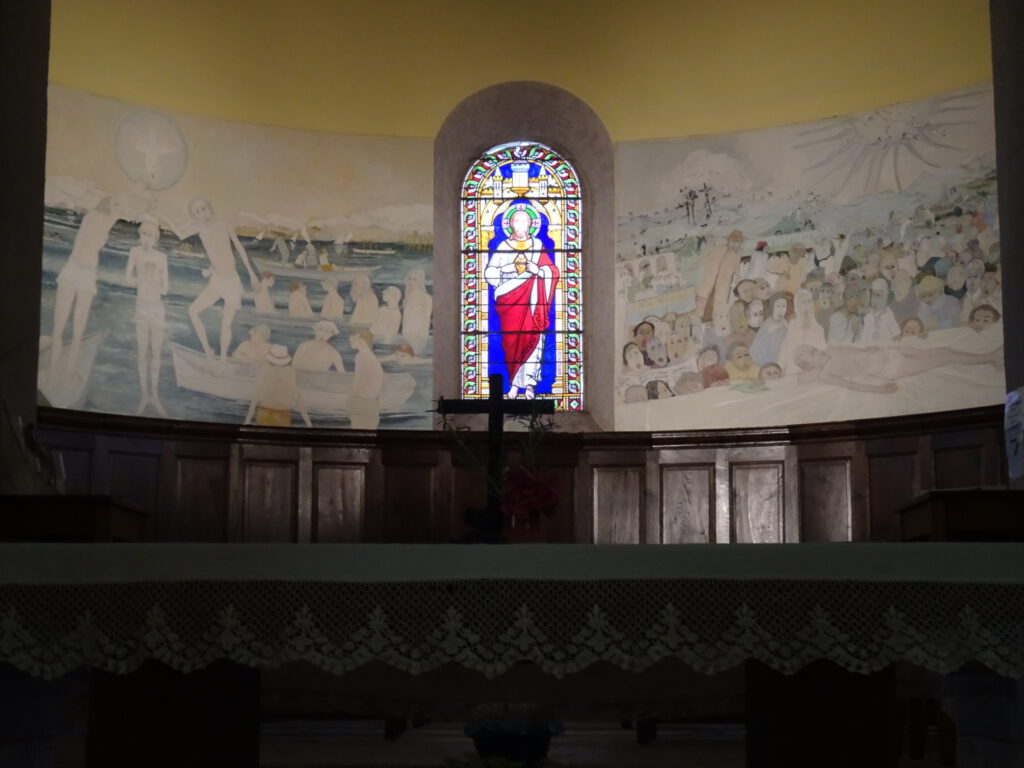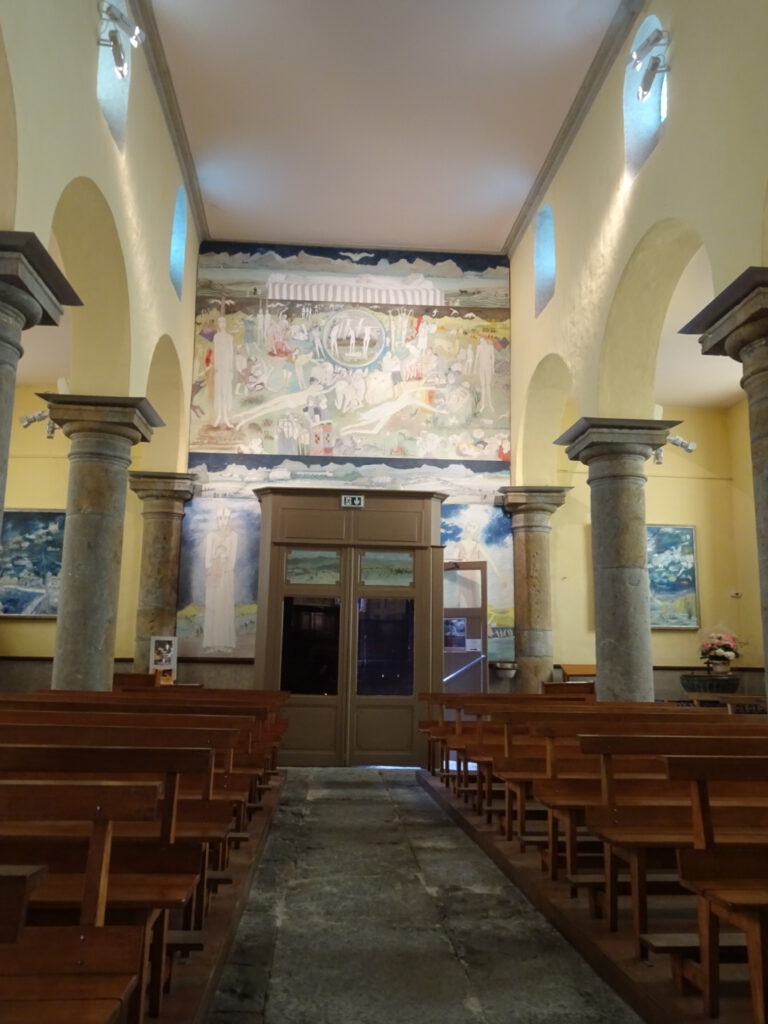 Ik had een goede nachtrust op de camping en wilde de kerk bezoeken. Nu wil het toeval dat deze kerk, zoals veel Franse kerken een voordeur heeft met mooie trappen, er mooi uitziet maar niet erg toegankelijk is. Daarom wilde ik de kerk te voet bezoeken (ik loop net genoeg om dit te kunnen doen) maar dit bleek niet nodig te zijn. Net toen ik bij de kerk aankwam was er een dame die met een fles water naar de kerk liep, zij opende de achterdeur voor mij zodat ik naar binnen kon. het was een prachtige kerk met schilderijen van Jean Fusaro. Ik ken deze schilder niet maar hij schijnt erg beroemd te zijn.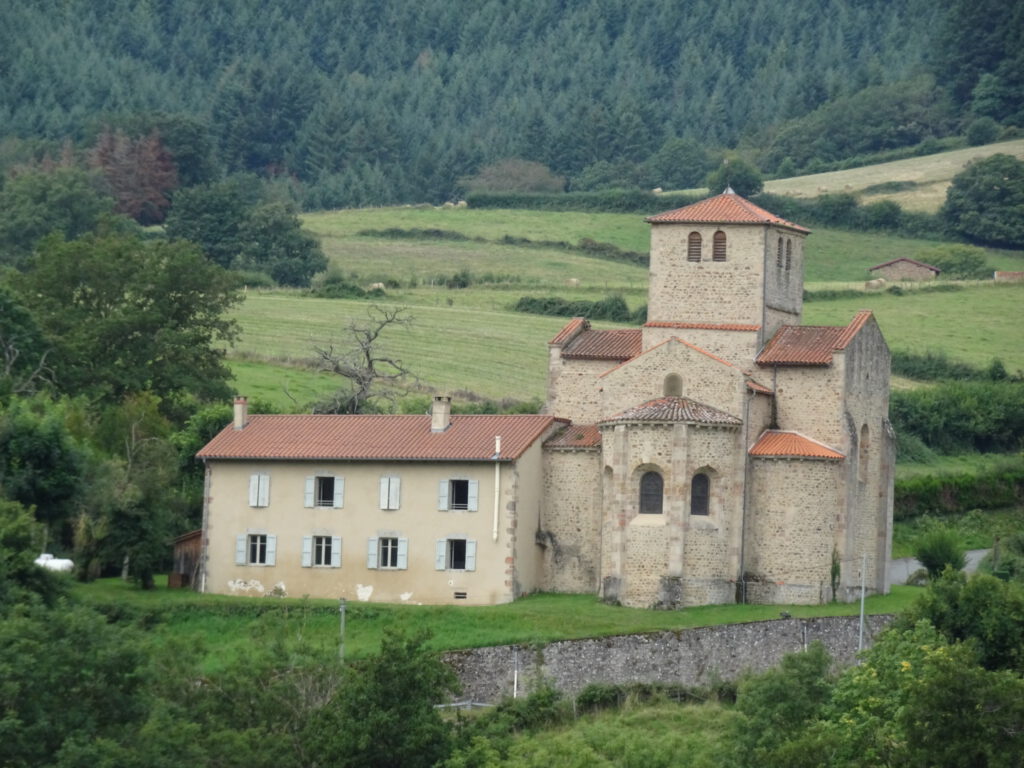 At the village near that church, st. Mamert, a basket weaver was working, he was teaching 2 pupils. I spoke to him (he spoke English) and he told me about his business and about the route I still had to take. He told me that I still had a climb to go but that in 1 or 2 days it would be less steep, which is nice!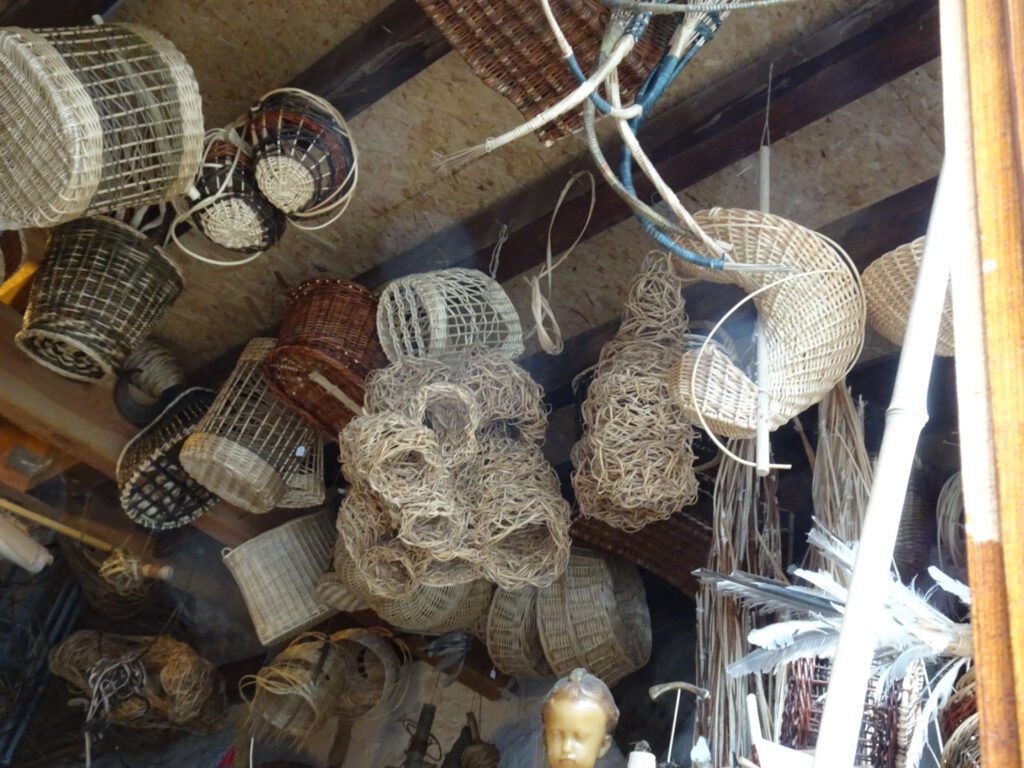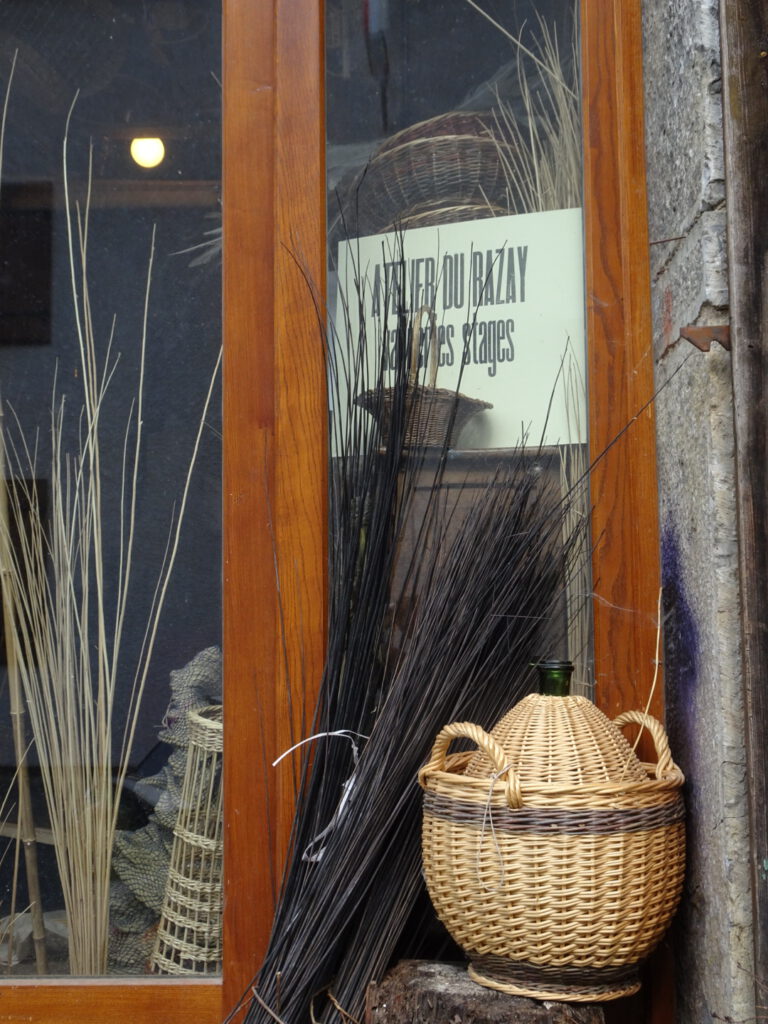 Then I rolled over to Route du col de Crie, which goes to the mountain pass that the road was named after.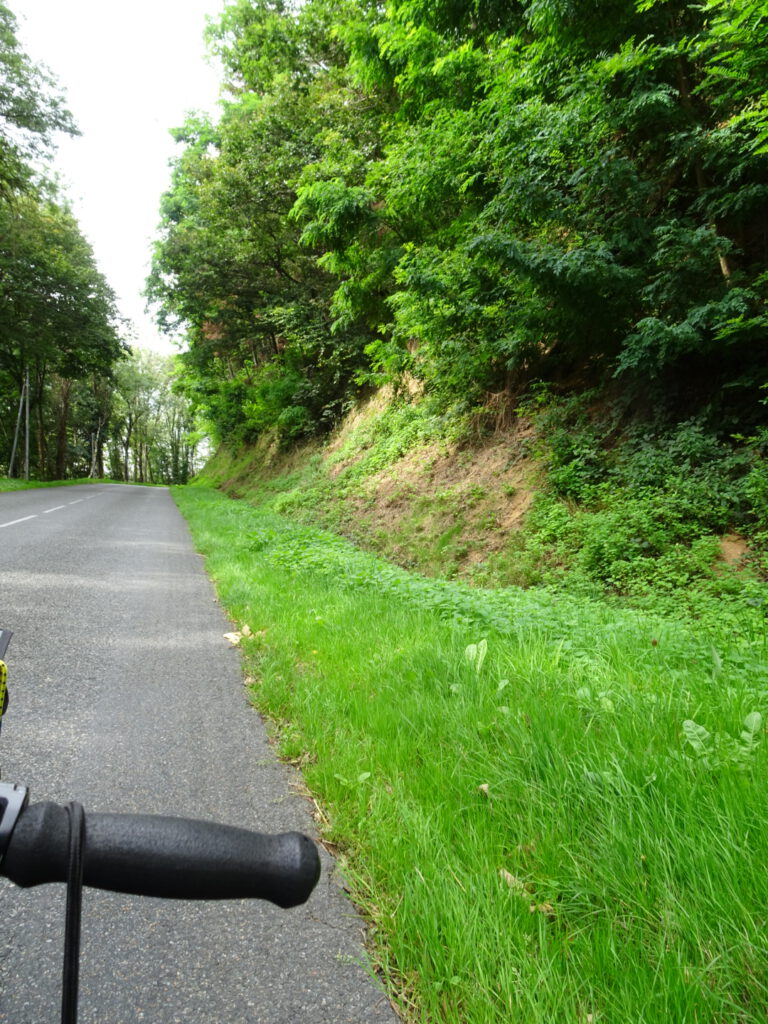 It was very grey weather and about 22 degrees, after yesterday's day of over 30 degrees I liked this.
During the climb I had a nice break and lay down in the grass with a beautiful view over the valley, but when I saw a few drops I decided to continue.
at those moments i am very glad that i have a waterproof bag so that i at least know that my stuff always stays dry.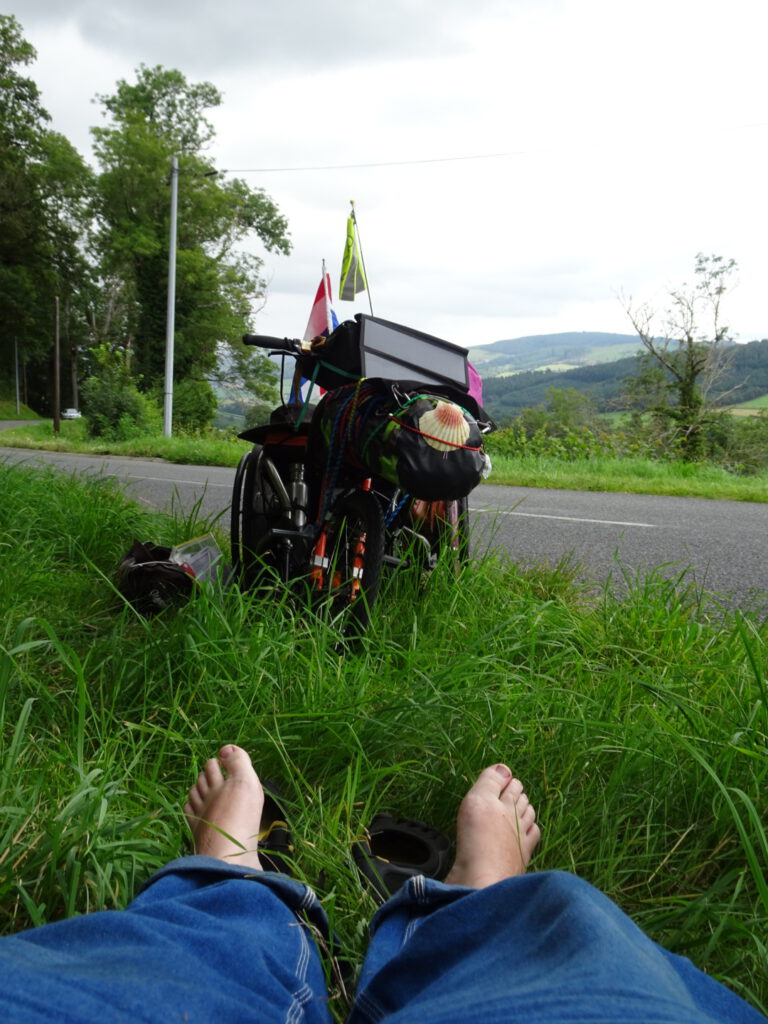 Fortunately, it didn't rain for very long. and in the meantime, I slowly rolled uphill a little more, but it soon went downhill a little more.
There was a sort of visitors' centre with a playground. a starting point for hikers.
as my batteries would not reach the campsite in 15km I decided to ask for a place to sleep, I asked for a campsite but she knew someone who took in pilgrims.
She called and asked if I could spend the night there and I could, but only after 7pm.
Till that time I could wait there.
By coincidence, I had just received a phone call from the person where I had stayed in Paray le Monial, asking where I was and if she could come over.
I was picked up around 18.00 by a nice english speaking man and his daughter. luckily he had a pretty big car and with some effort my wheelchair could fit in. And so I drove part of my route again, I had almost rolled past his house.
first we visited the house of the daughter's mother where we had a delicious meal. As an animal lover, I could really indulge myself, 2 dogs and 12 cats who were all very cuddly! very nice! After dinner we went to the house where I would sleep. here were also very nice cats, and he also has about 20 sheep and a number of cows of which he makes delicious cheese from the milk, that I could also taste at dinner.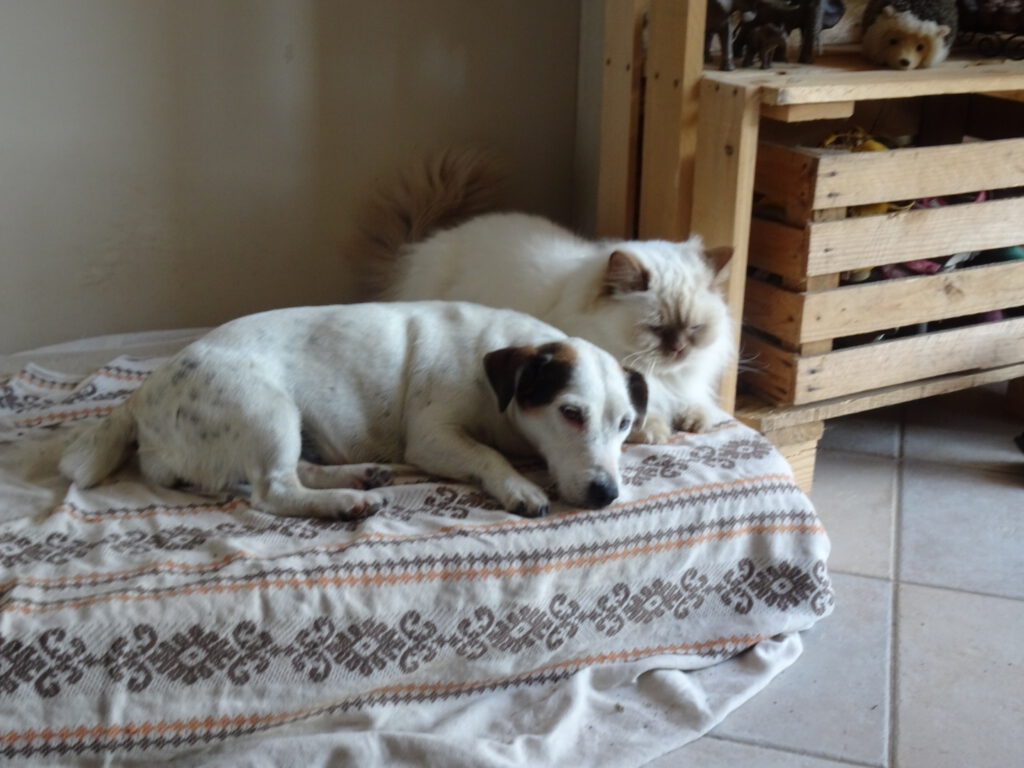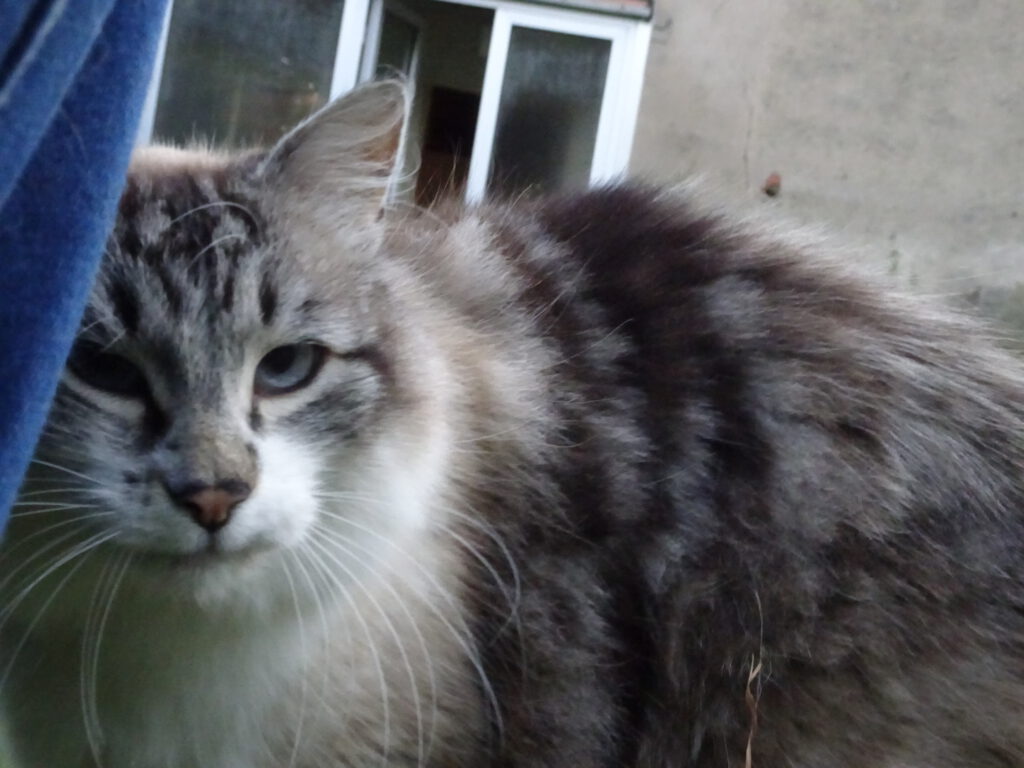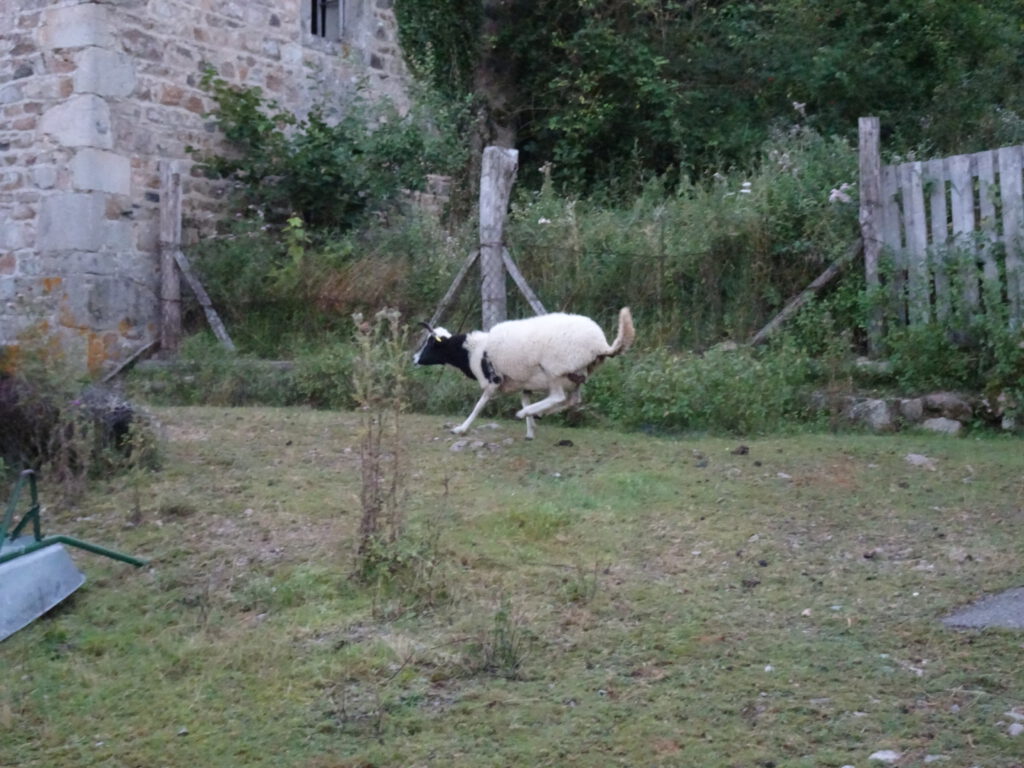 I got a good bed and wrote yesterday's blog there and then went to sleep quickly. In the middle of the night I had to do another battery change because I had ridden more than one set again. But it had been a good day of driving.
Now I'm at the visitor's centre where I was picked up yesterday, here is internet so now I can also post photos of yesterday and the day before and then I will continue my trip.
Greetings,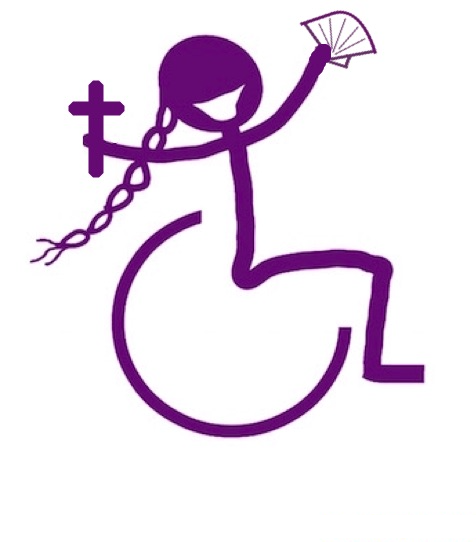 Wheelchairpilgrim
---
augustus 23, 2021 door rolstoelpelgrim
This morning my alarm clock went off very early, at 6 o'clock. At 7 o'clock everything had to be packed for breakfast and at 7.30 we left. I got a real French breakfast. Bread, jam and a big bowl of tea. The French do not drink tea from a small tea cup or mug but from a large bowl where the Dutch eat soup from. At home I always have (tea) glasses with a capacity of half a litre and if I get a small teacup somewhere (like at my grandmother's) it feels like I have only had one sip. But as said, I got breakfast and then we left. Leaving the beautiful sheep with a double set of horns (2 on each side) behind the fence.
I was dropped off where I was picked up yesterday. I stayed at the visitor's centre for a while because there was free wifi there. Now I could upload the photos from the previous two blogs and post yesterday's blog.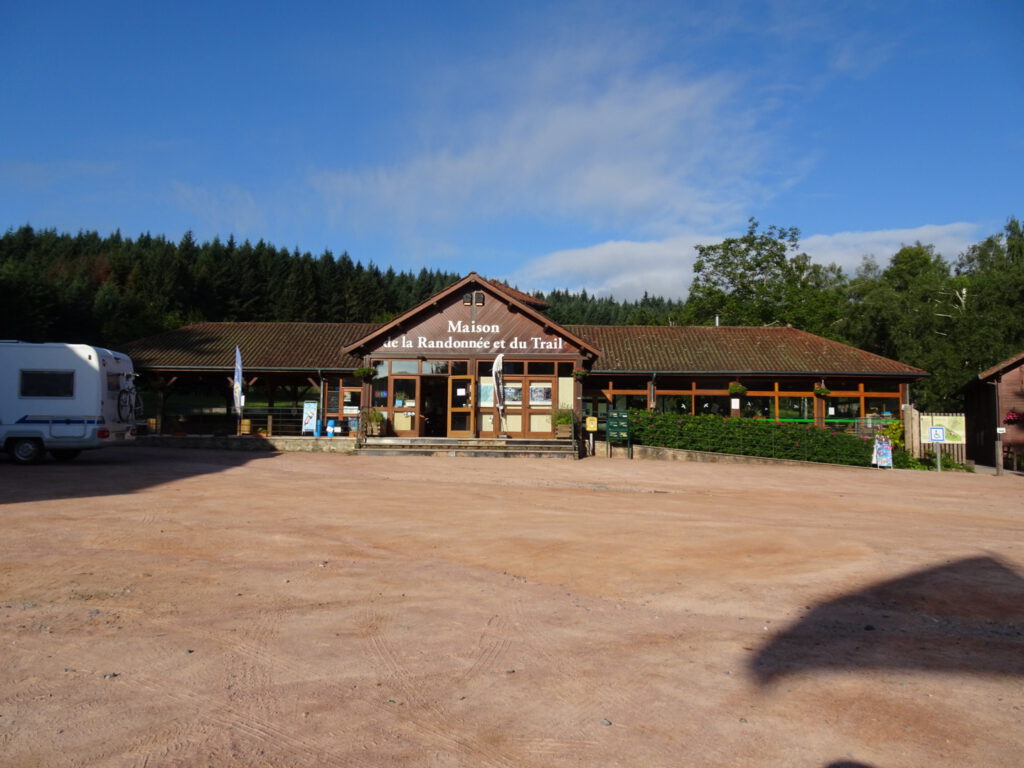 After this I started rolling. until halfway through the route I was in doubt as to which campsite to go to, but finally decided to go in the direction of Propièrs.
the first part of the route was uphill, luckily just like yesterday, not too steep but for miles.
on the way i took a lot of pictures of flowers, especially small flowers on the side of the road. i really like that. i also got to photograph a beautiful large bird of prey (who knows which bird of prey?) and several butterflies.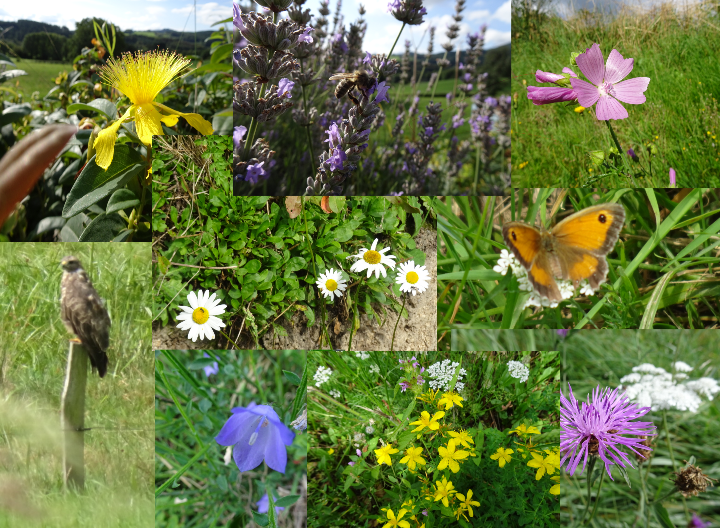 the second part of the route went downhill, which was very nice, although this did not mean that I only had to let myself roll because my wheelchair switches itself off when it goes faster than 10 km per hour, normally I also get support when braking, but when this fails I do not have enough power to brake myself and the only option is to stand crosswise on the road.
I was rolling here at an altitude of 600 to 700 metres, which means that I always have very nice views.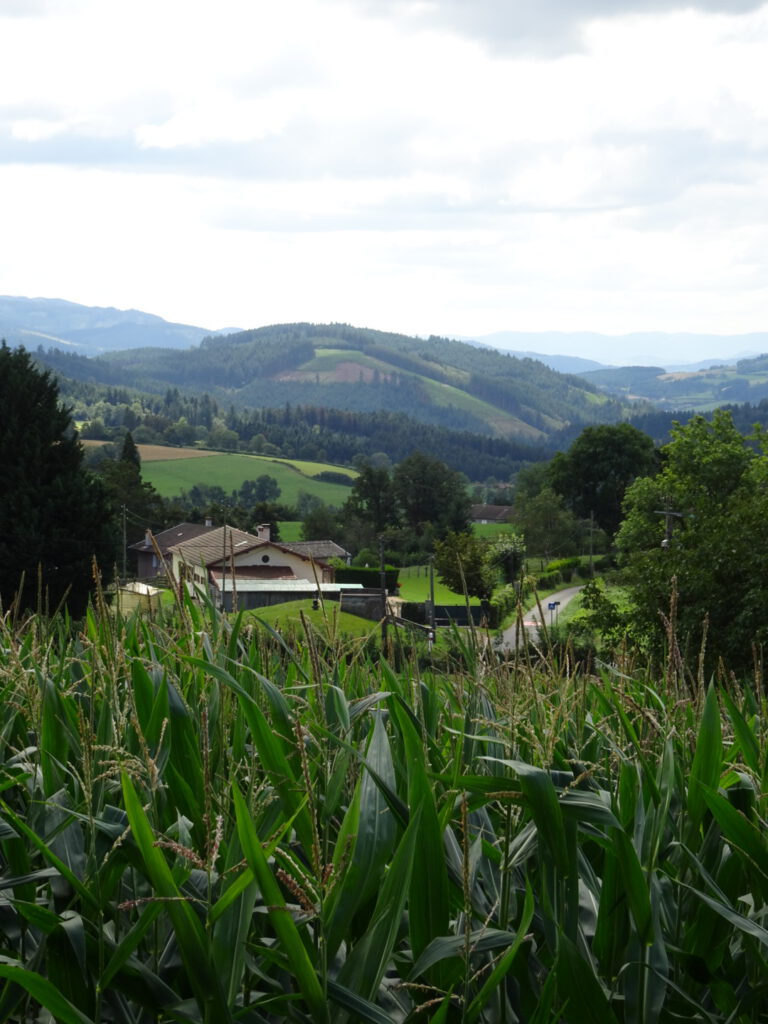 In Propièrs I first went to the shop for food. the plums I bought were delicious! In the supermarket they also asked me if I wanted a stamp for my pilgrim's passport. I was already disappointed that the mairie was closed, but now I had a stamp after all, and a very nice one at that. I have collected quite a lot of stamps during this journey.

Then I went to the church, unfortunately I could not enter.
Then I went to the campsite, for this a very steep slope that I would never be able to get up again.
Fortunately, I had already checked whether I would have to go back up again this morning, but fortunately that is not the case, I leave the camp site via another road.
Now i'm at the campsite. no camping boss or other camping guest to be seen. luckily the toilet building is open and who knows, maybe someone will pass by tonight, which is often the case with camping municipals.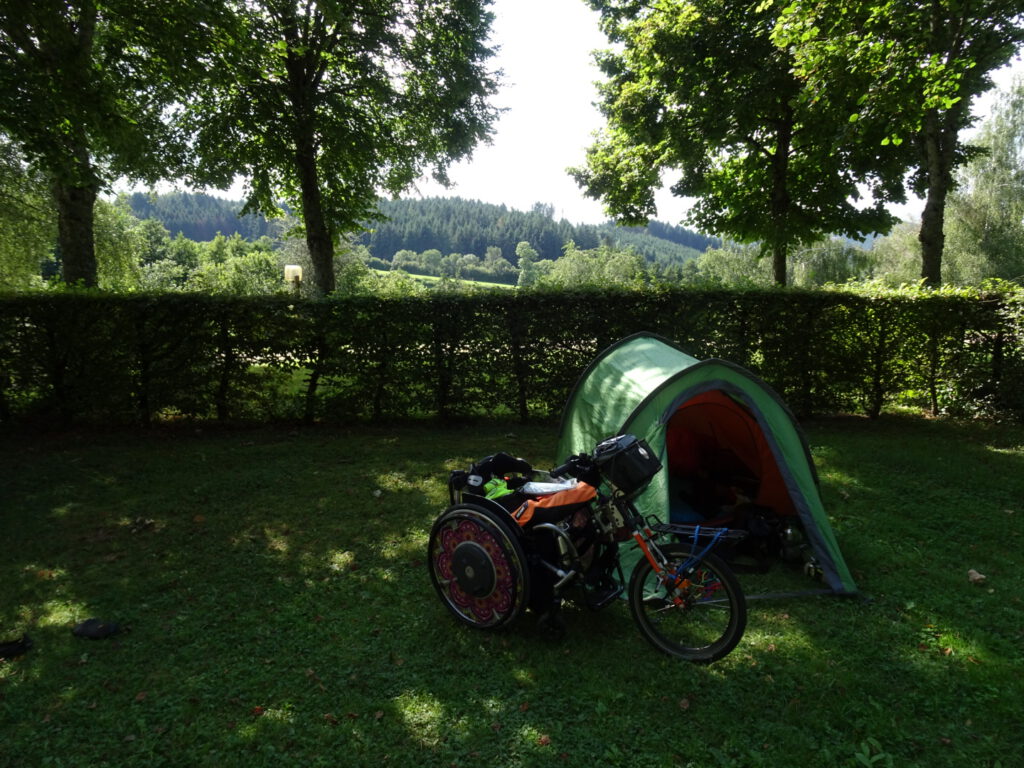 tonight i'm going to take it easy and go to bed early. i expect to have another long drive tomorrow but if google maps shows wheelchair pilgrim (isn't always the case, but most of the time) it won't be very steep slopes.
While I am writing this, a robin keeps coming to me, so cute. Really at 50cm distance on top of my shoes.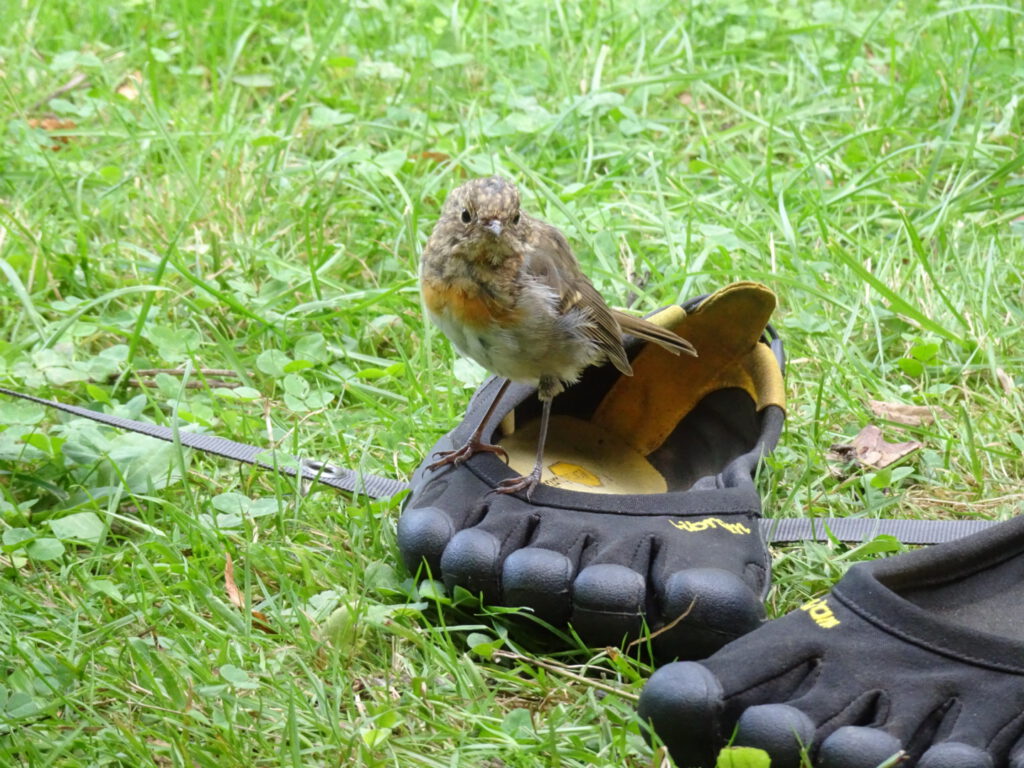 Greetings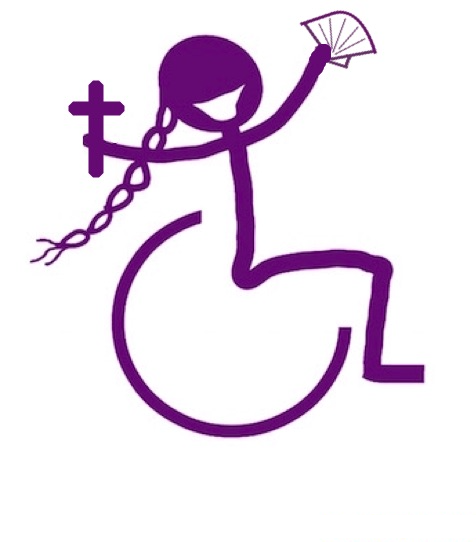 wheelchairpilgrim
---
augustus 24, 2021 by rolstoelpelgrim
Last night I slept well again. The whole night I was alone with my tent on the campsite, only last night a lady from the campsite came by for the payment. I had put my wheelchair in the toilet building to recharge it, so it was ready for a new day this morning. I myself was not ready this morning. It was still very cold this morning and I could hardly get out of my warm sleeping bag. I was also glad that I have a good sleeping bag so that I stayed warm despite the cold.
I had already seen that today's journey would start with a steep slope, but I didn't know how steep. I knew it was, it was so steep that it took me about 2 hours to walk up a 1.7km slope. Halfway through, I stopped (for a few minutes) at a cheese farm and bought a small goat's cheese.

Then came the 2nd half…. enormously heavy and I had to roll backwards up the mountain again. Suddenly, a farmer who was working on the land arrived with his tractor. He asked me if I wanted to be pushed, which sounded attractive, but I wanted to have a try myself and thanked the farmer for the offer.
It was a good thing that the slope was at the beginning and not at the end of my day. 3 of the 5 bars of my battery had already gone, and that in 1.7 km! But after that hill, the easy part of the day began. From that moment on I only rode downhill and flat or only uphill for a short while. The crazy thing was that by the end I had rolled downhill so much (with the wheelchair charging back a little) that after riding 32km I still had almost the same amount of battery as just after that slope.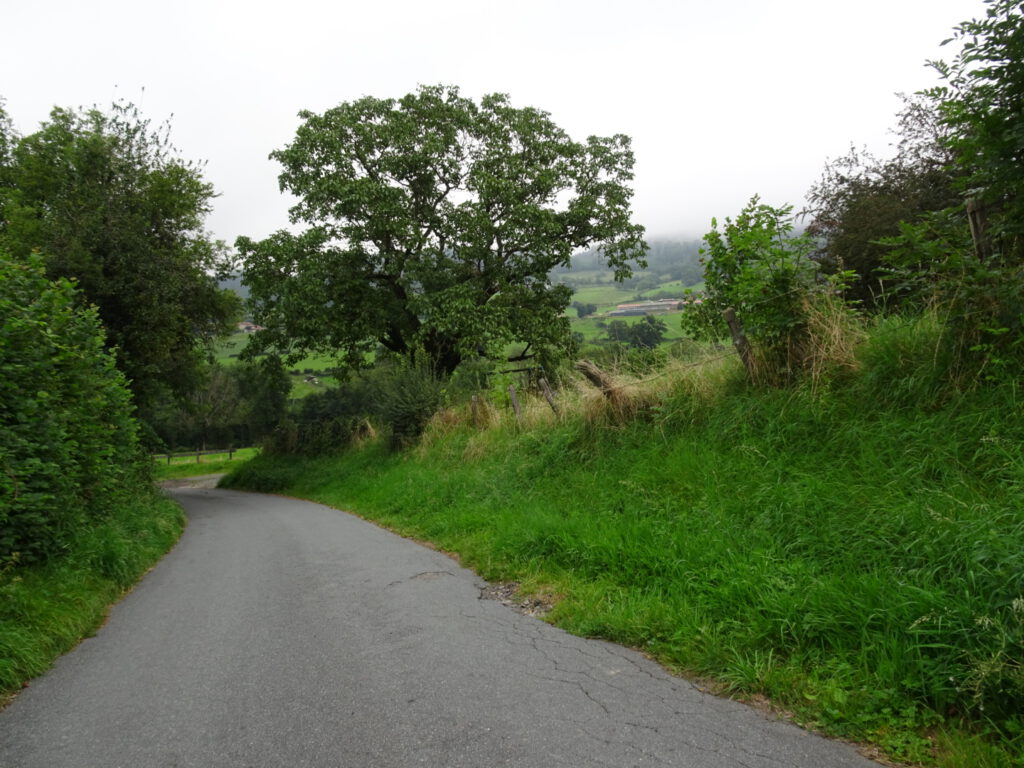 Today, I crossed departmental borders several times, back and forth, because of all the bends in the roads here.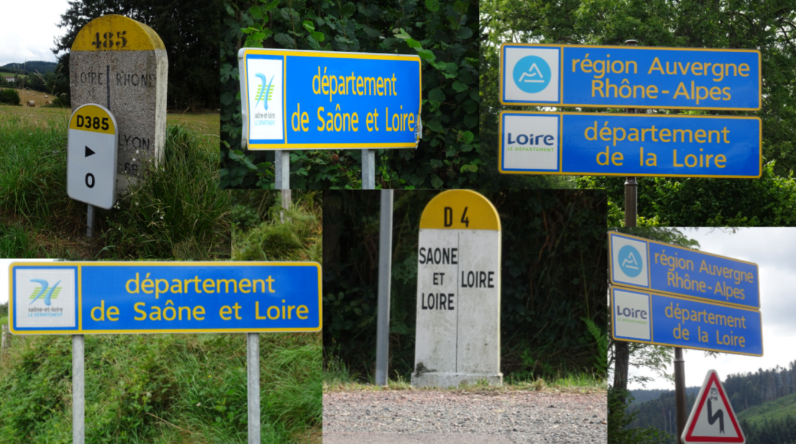 It was a very beautiful ride. through the woods, fields with corn and other grains and lots of cows. The latter always look very curious when they see me drive past with such a loaded wheelchair. Because I rolled slowly downhill, I could often look into the valley and I could enjoy the beautiful view.
There are many beautiful houses, farms and castles here (and buildings that are a bit in between, such as castle-like farms).
What I really like is that in every area (sometimes a large area, but sometimes only a few villages) the houses are built from a different kind of stone. Always of local stone and that causes that in some areas almost all houses are built of a bit yellow stone, in other areas brown or grey again and the last days I saw many houses of which the stones were yellowish with black.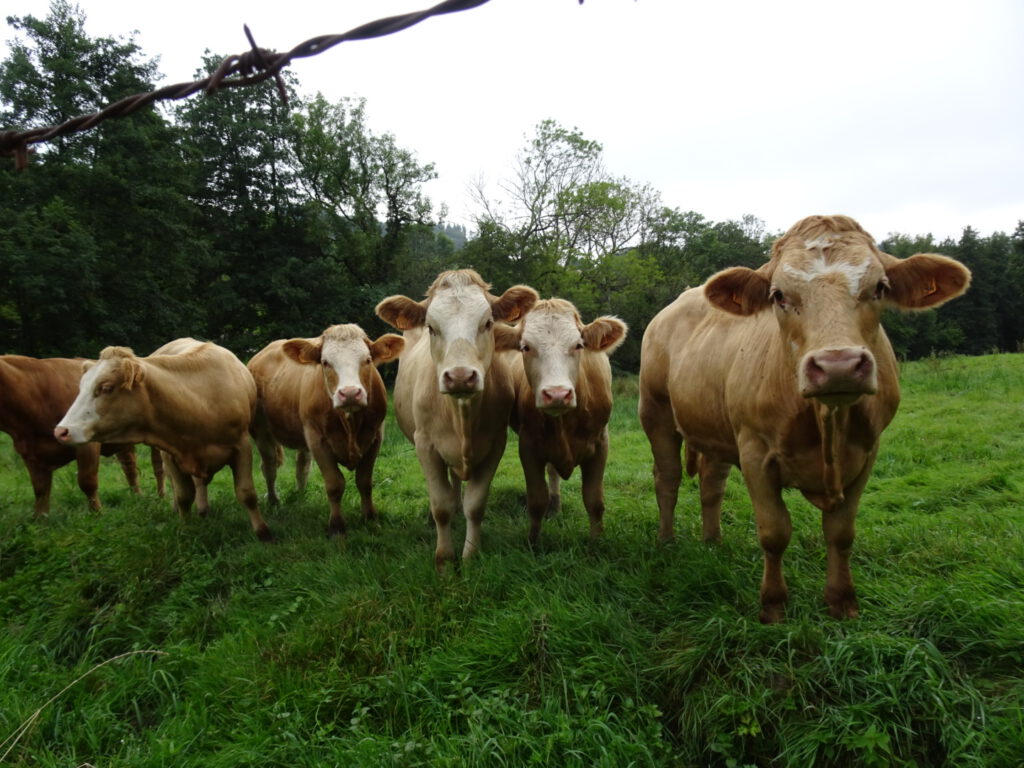 I am now in Charlieu on the camping municipal. tight I am going to figure out the route for tomorrow and then sleep early. I hope to leave again tomorrow reasonably early (around 9.00 at the latest) because I also want to try to see something of this historic city,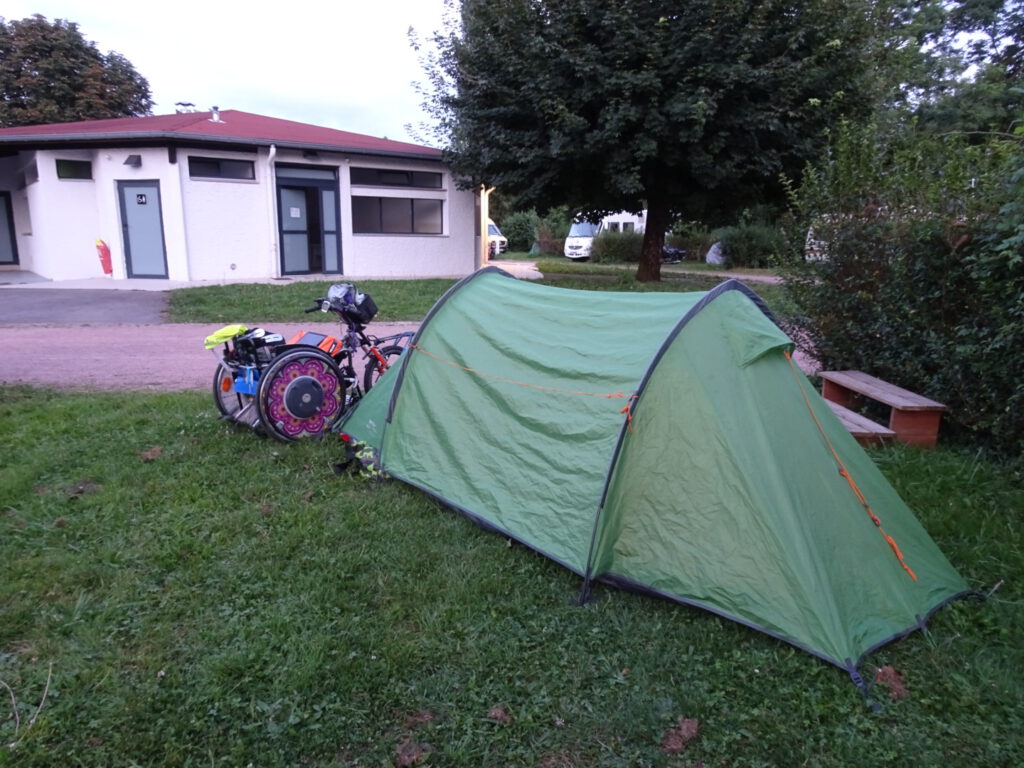 Greetings,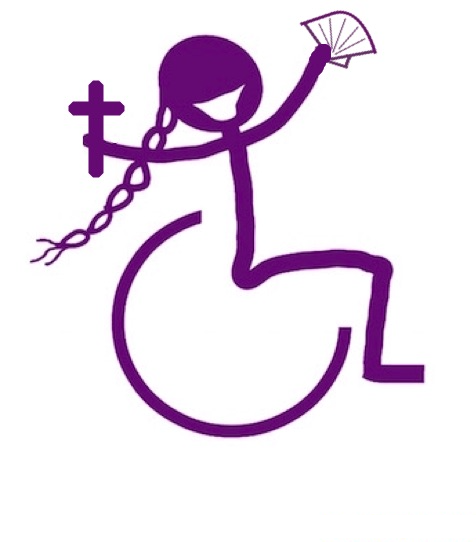 Wheelchairpilgrim
---
augustus 25, 2021 door rolstoelpelgrim
This morning, my alarm clock woke me up, but I was really awake almost immediately. First I went to the toilet to pick up my wheelchair that I had loaded there last night. Then I started packing.
I also picked a handful of delicious blackberries for breakfast.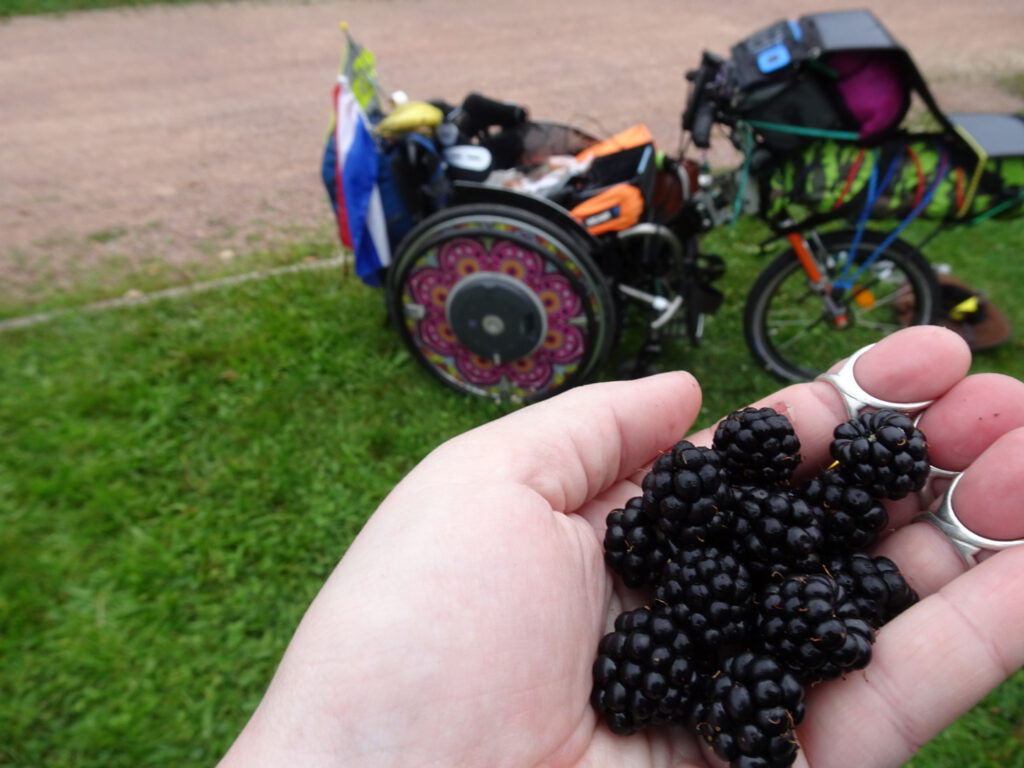 On the campsite there was a large group of motorcyclists, not ordinary bikes but very nice old-timers and some with side-car (my favourite).
Very nice to see all those old motorbikes.
I talked to some of the motorcyclists. They were making a tour of France.
Slowly the group left while I was still packing, but eventually, when I had loaded everything, I left with their chariot.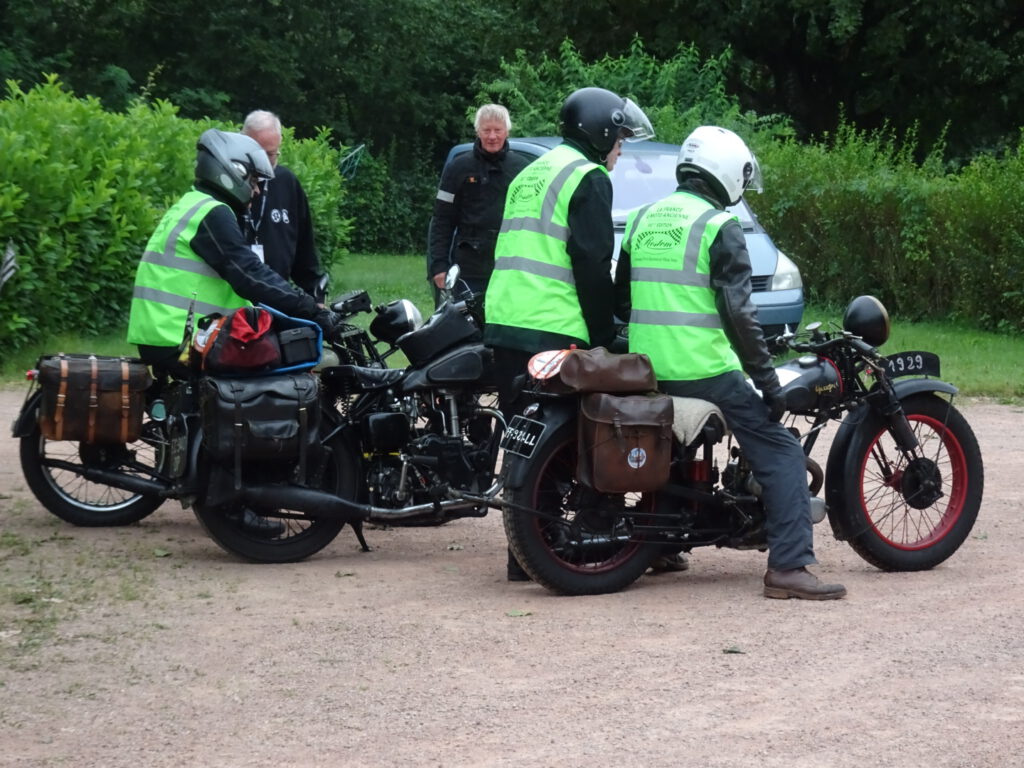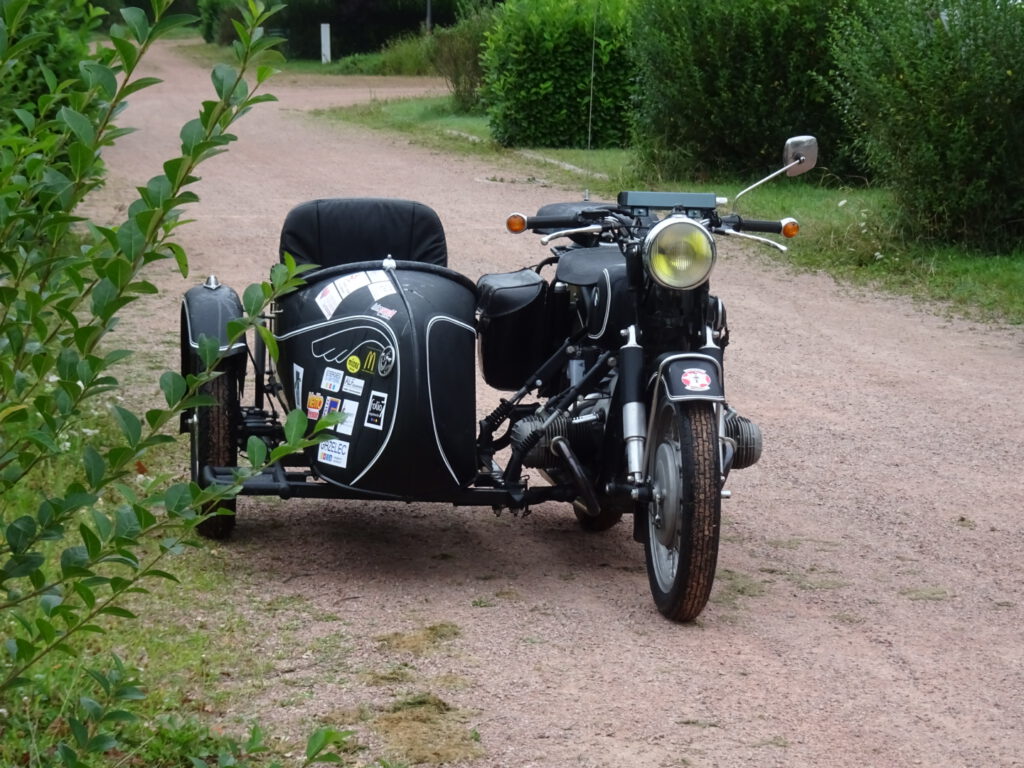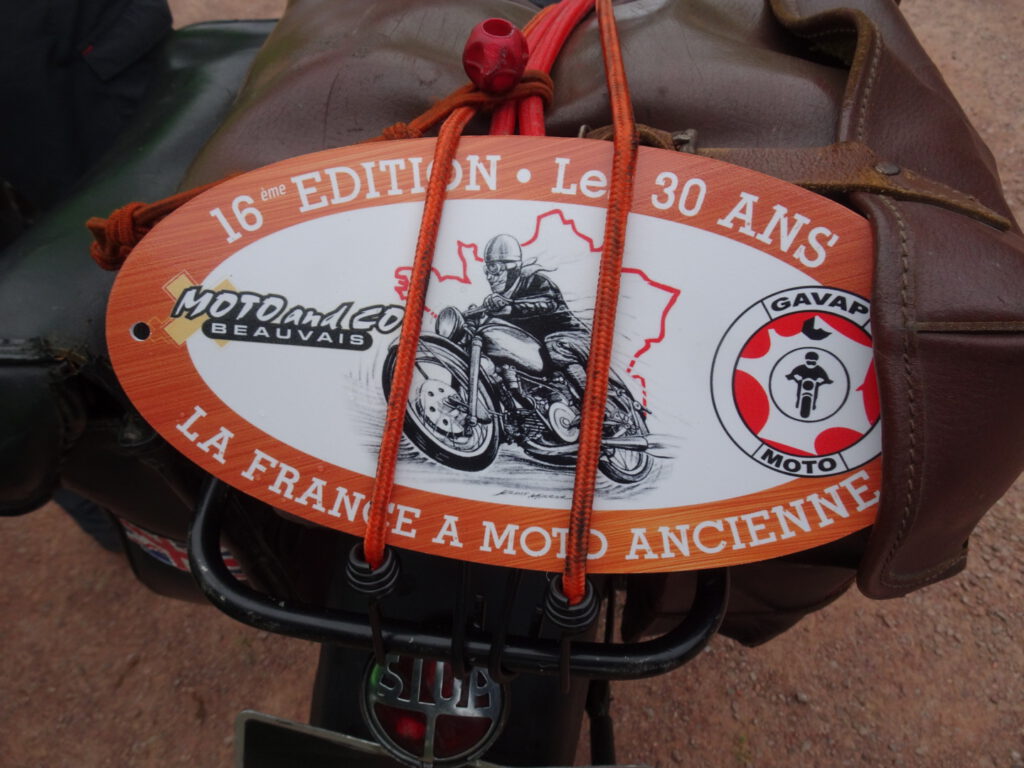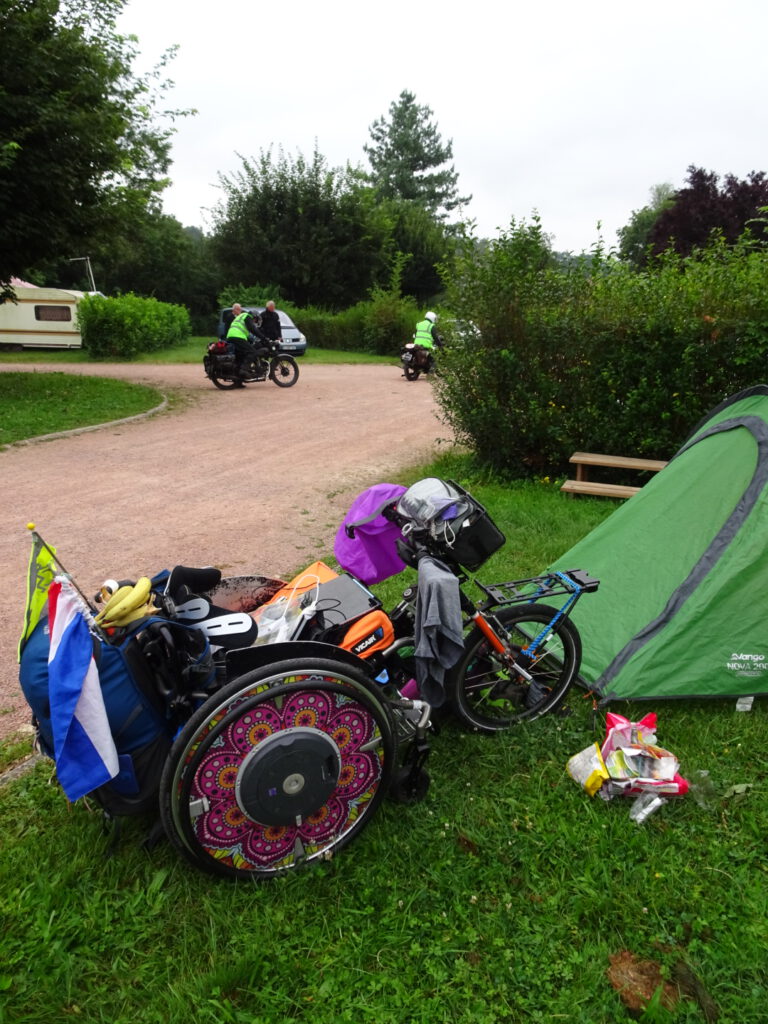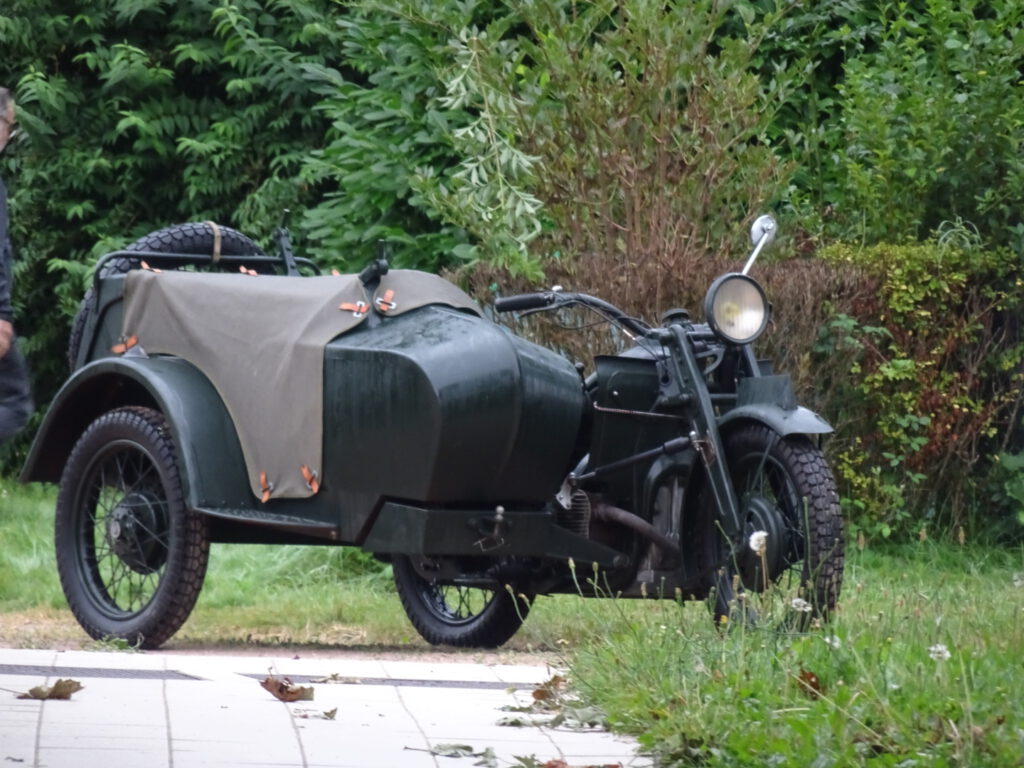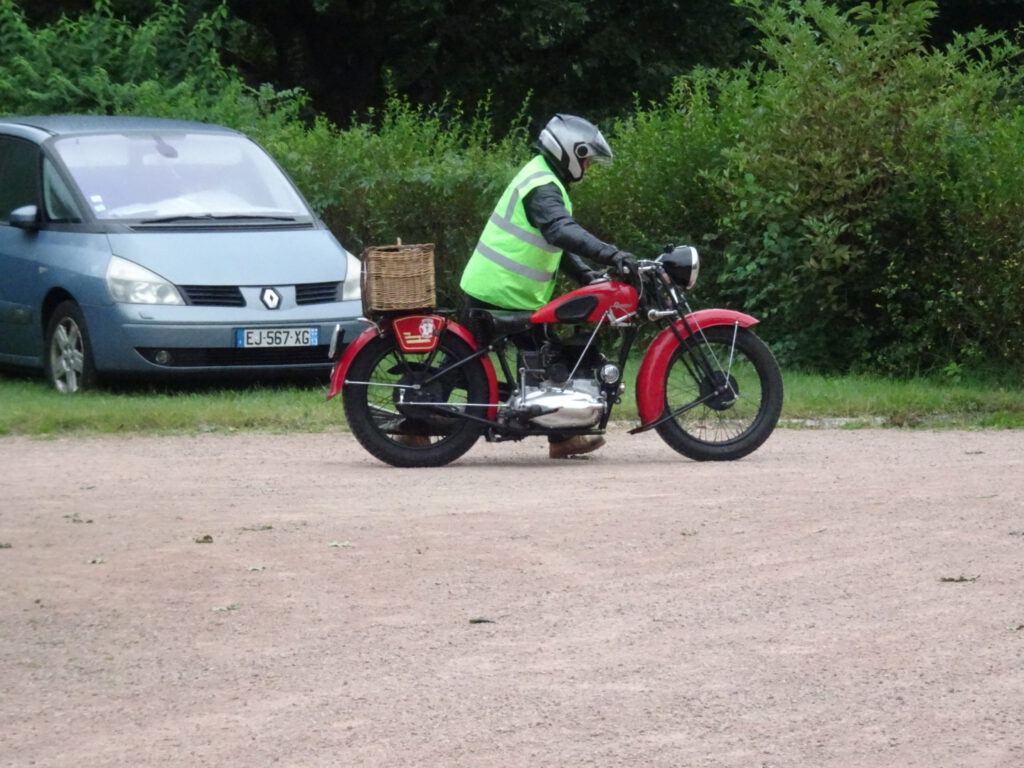 I rolled to the centre of Charlieu. I wanted to see the old abbey there. It is built in the same style as the abbey in Cluny.
On the way I went to the market. I bought some fruit and because I am a pilgrim I got twice as much as I asked for. Delicious!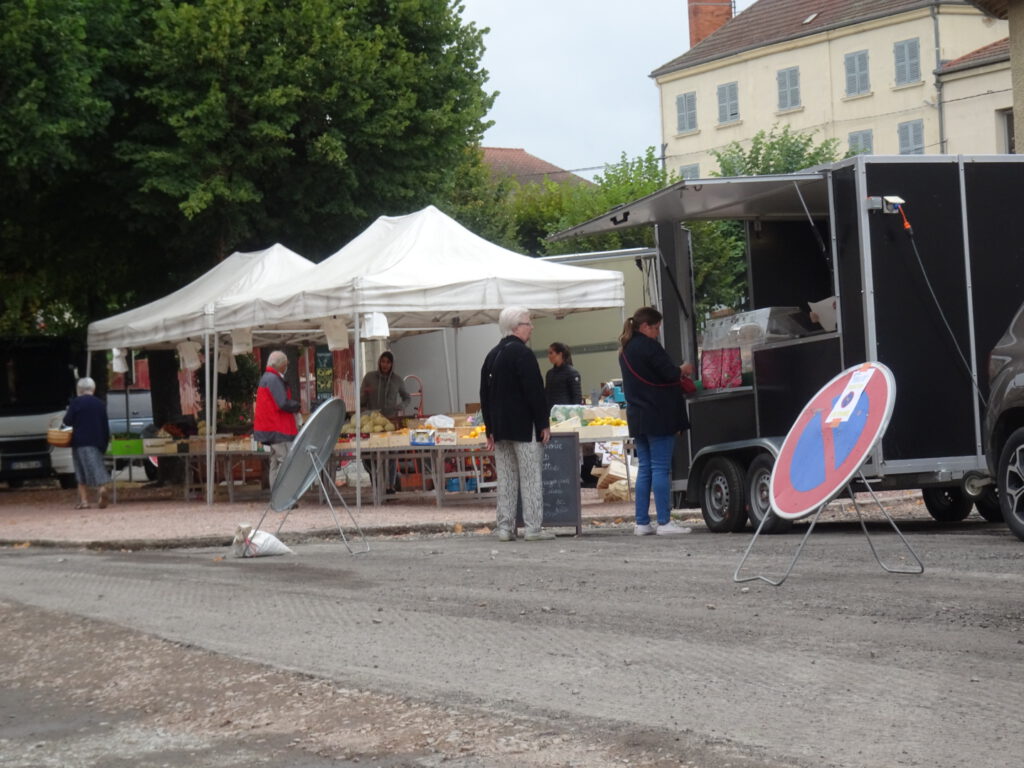 Then I rolled through the city and asked at the tourist office for a stamp for my pilgrim's passport. They had a nice one again, with a picture of the abbey.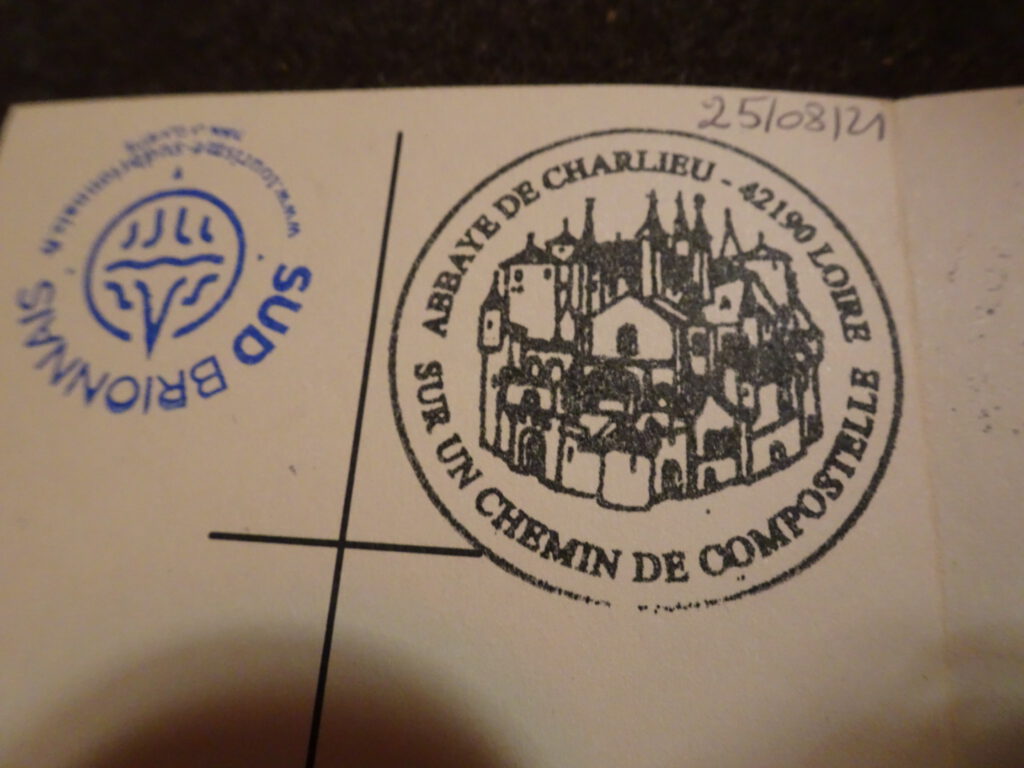 I rolled outside and went off a kerb at a slight angle.
That edge was deeper than I had thought and what never happened to me happened.
My wheelchair tilted and before I knew it I was lying on the road, wheelchair and all… at least 8 people came running towards me to help me. Miraculously, I had no injuries at all. I was sitting between my luggage and my new backrest so that I had not bumped into anything or hurt myself.
I quickly said that I was fine (the bystanders were even more shocked than I was) and wriggled myself out of the wheelchair. That was quite an ordeal.
I was actually more worried about my wheelchair than about myself.
I asked people if they could put my wheelchair upright and they did. Also my wheelchair (and especially the sensitive electric "emotion wheels") didn't malfunction at all. I thanked my helpers and got back into my wheelchair and continued on my way. Meanwhile, half a day has gone by and the wheelchair is still doing fine and I am not even hurt (at a time like this, in all the commotion, I sometimes overlook a little pain, but I am doing really well).
Charlieu is a beautiful old city. many medieval houses. many could be in a museum park like Archeon. very nice. There is also a lot of (modern) art in the streets. I will post a few photos of this. Especially one was very good because it represents a pilgrim. I liked it a lot.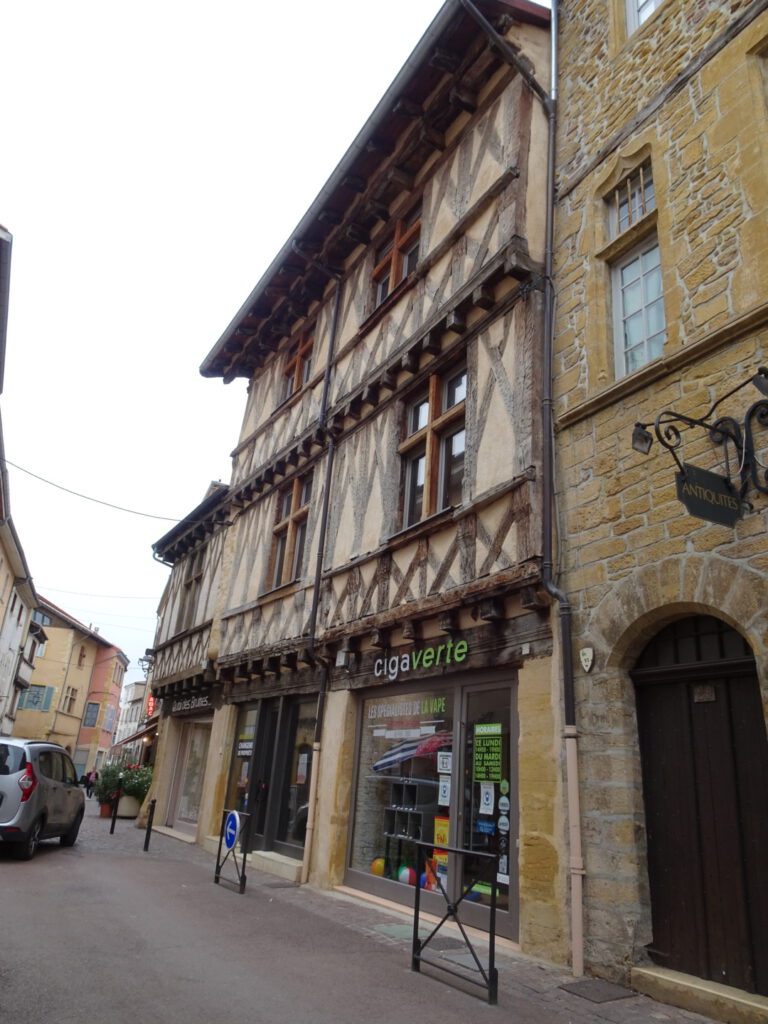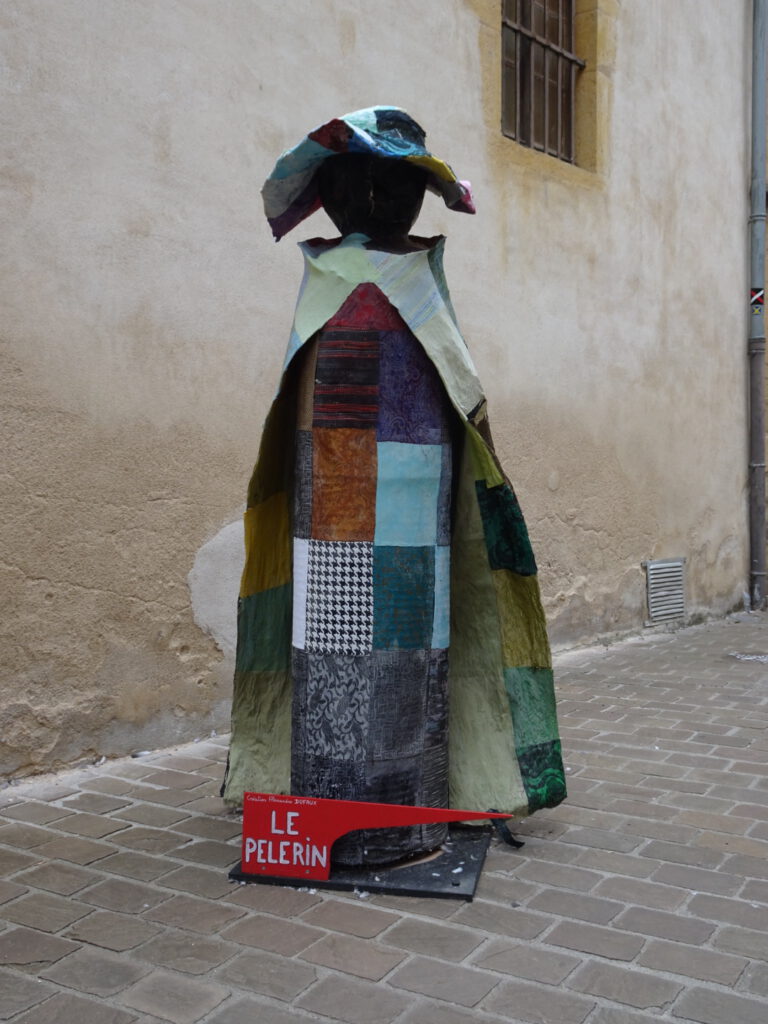 When I arrived at the abbey, I looked at it from the outside. I had no time to look inside. I did see a lot that reminded me of Cluny.
When I was standing at the abbey I had a chat with a woman, she spoke French, German and some English so we got on well, although it must have sounded strange to an outsider with 3 languages mixed up. We talked about the plan where I would roll to today. My plan was to go to the campsite south of Roanne. But that was quite a distance, 30 kilometres and usually that would be a few more. This lady lived in Mably, just north of Roanne, and she offered to let me stay with her. I liked that. She gave me her address and we exchanged phone numbers and so I suddenly changed my route for the day.
After leaving Charlieu, I soon rolled over the Voies vertes, the good French cycle paths. At the beginning of these, suddenly a woman came up to me and called my name. If I understood it correctly in my best French (if you read this and I did not understand it correctly, please post a message below or send me an email), she was the wife of a man I had met in Cluny and then again in Saint-Jaques-des-Arretes. Quite strange when people suddenly come up to me and appear to "know" me.
I also hear now and then from cyclists and motorcyclists that they had heard of me through the grapevine.
Last week I also met someone who had heard of me when she attended a lecture on the journey to Santiago. There, they told me that i'm travelling in my wheelchair and that people don't have to let themselves be limited by certain things. weird to suddenly be used as an example.
It was a nice ride, almost flat. Varied with some forest (not so much) and farmland. Between the 2 Voies Vertes, i stopped at a beautiful church with a very nice roof. i was here for a while and had a break. i thought it was a very beautiful church with fine acoustics (which i tested as i was only in the church (i don't do public performances).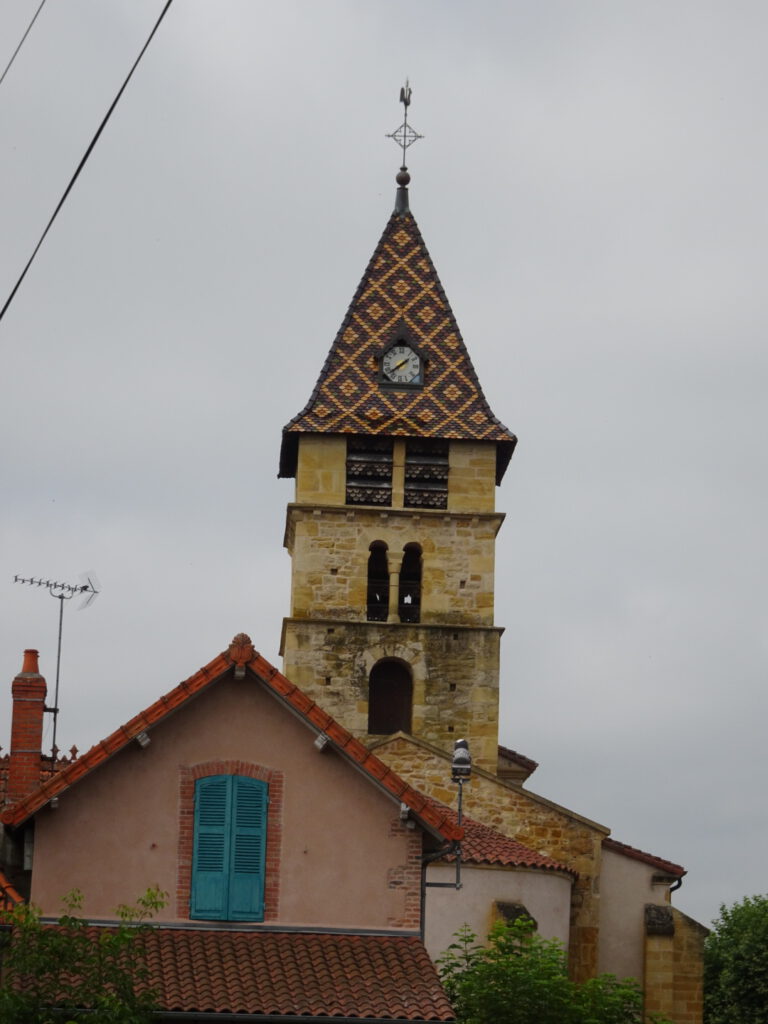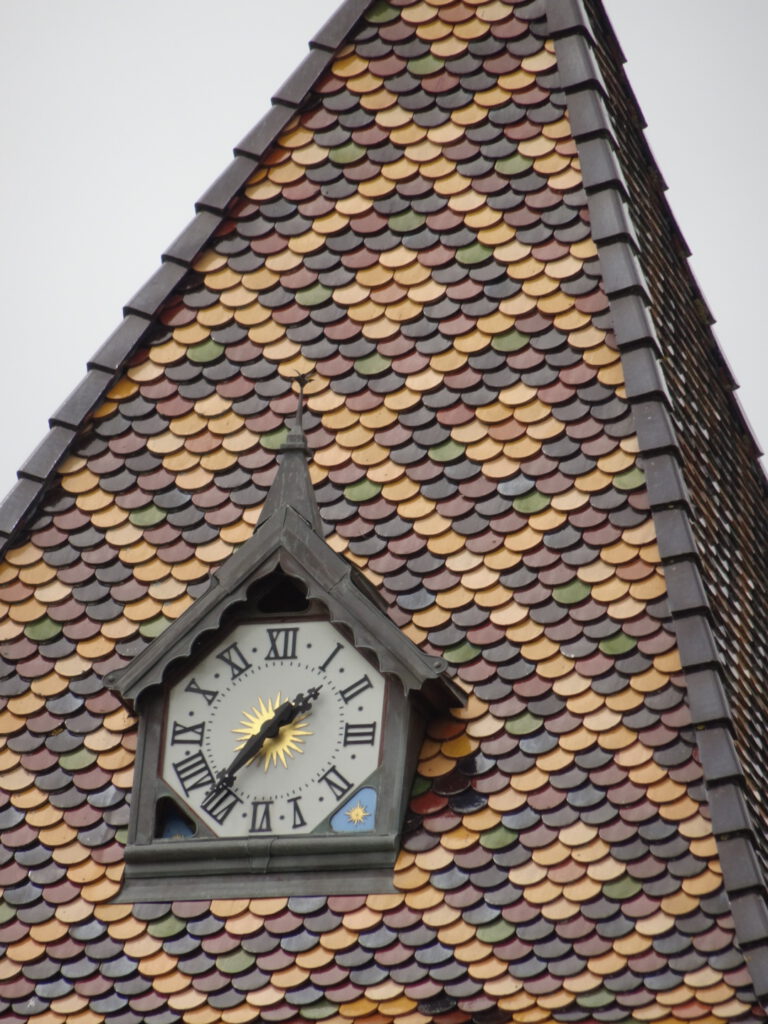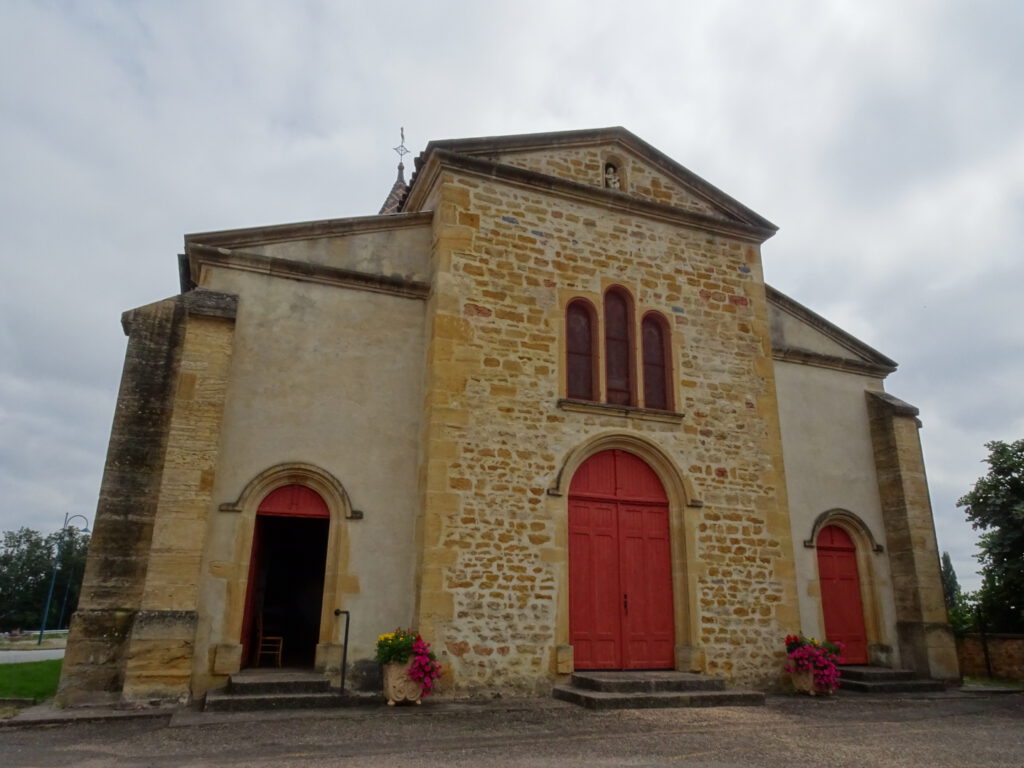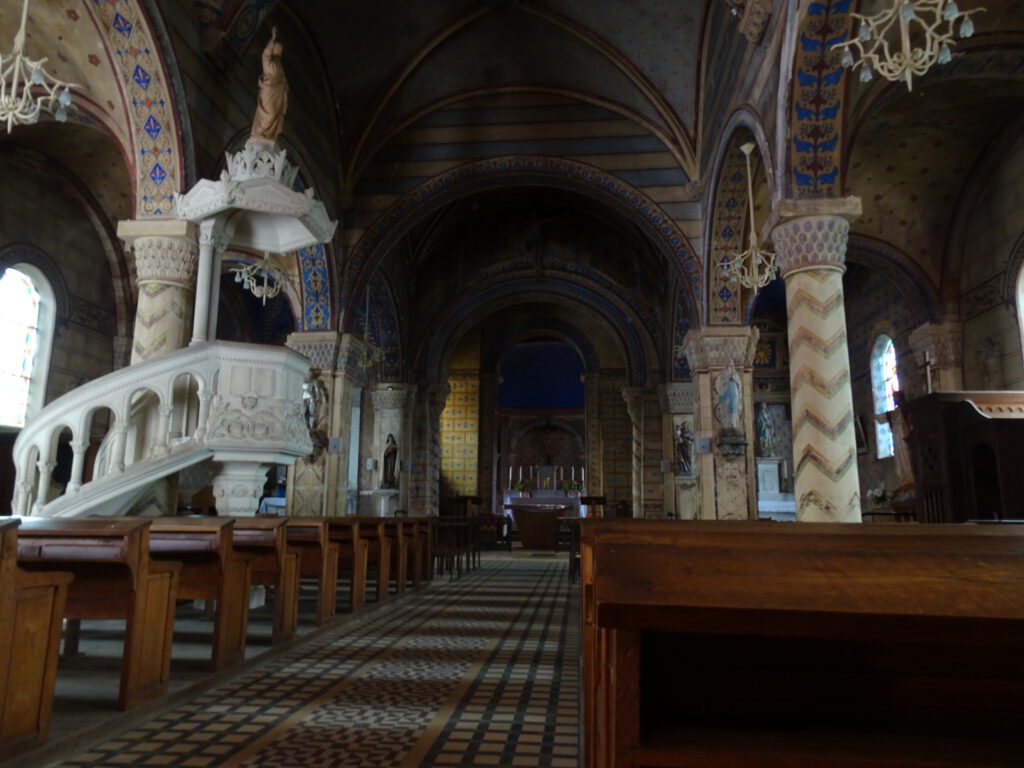 The last part went along the canal, nice to see all the locks. I didn't see any boats sailing. There were quite a lot of cyclists, especially cyclists and families. There were also lots of butterflies, dragonflies and other insects flying around.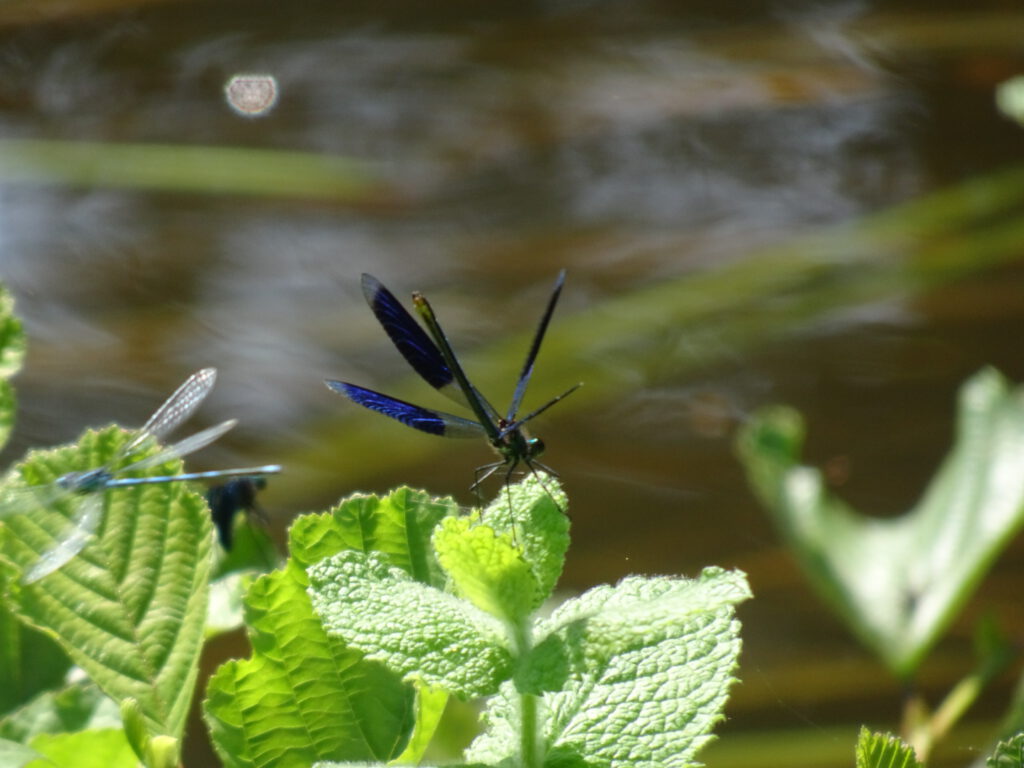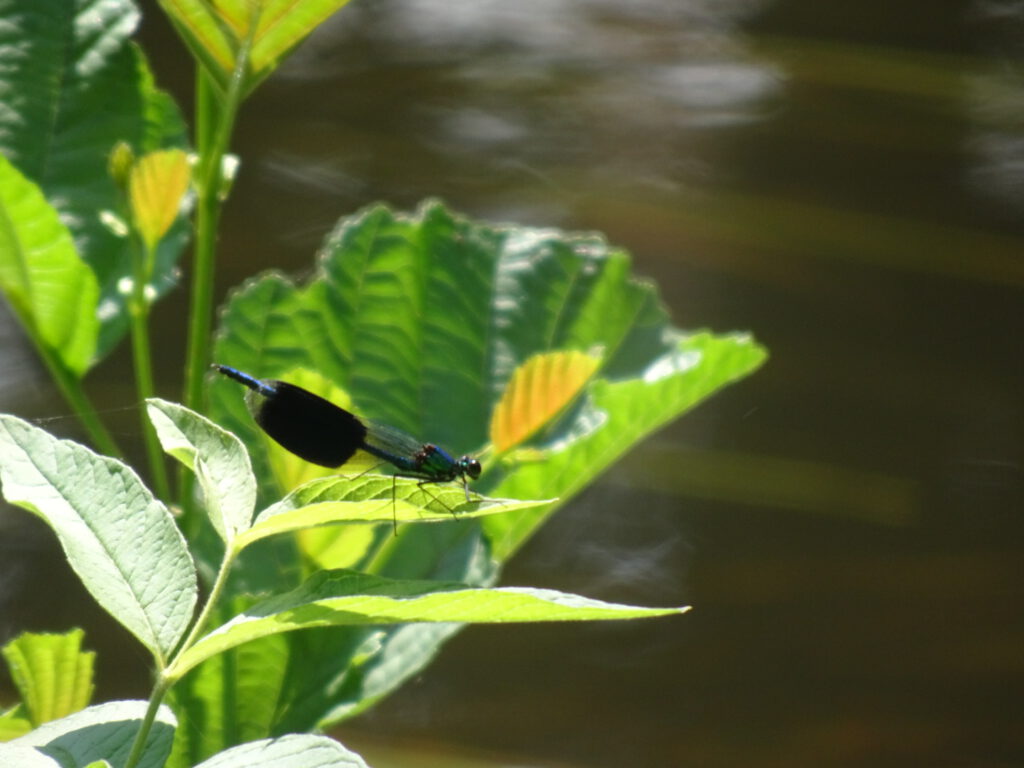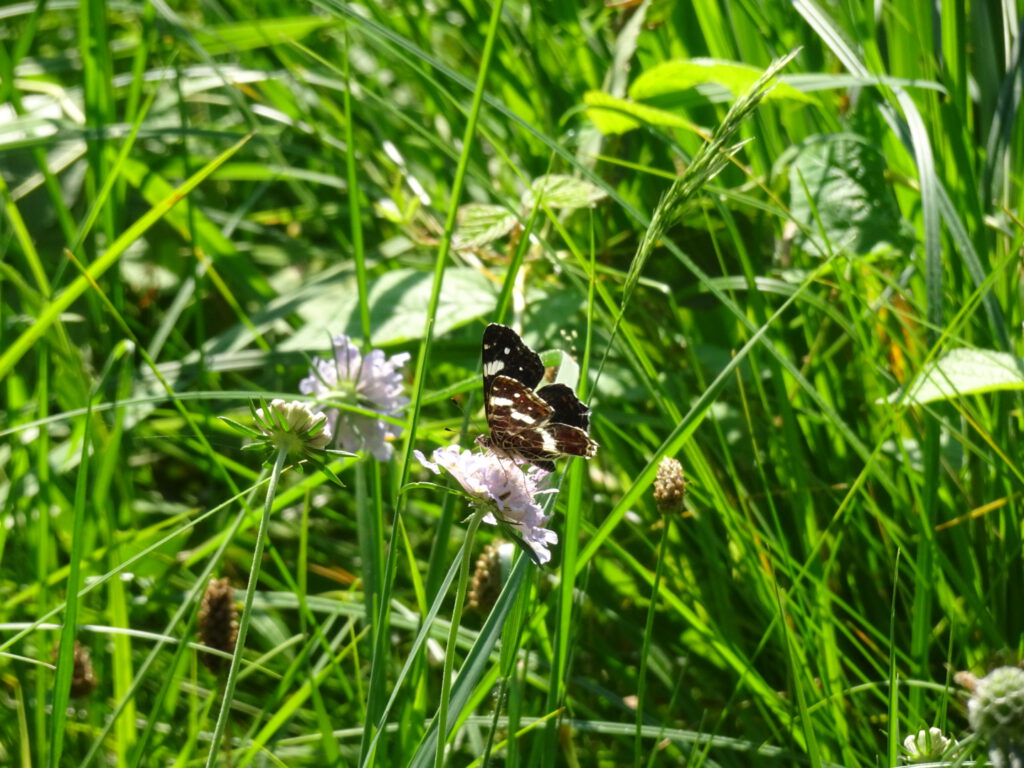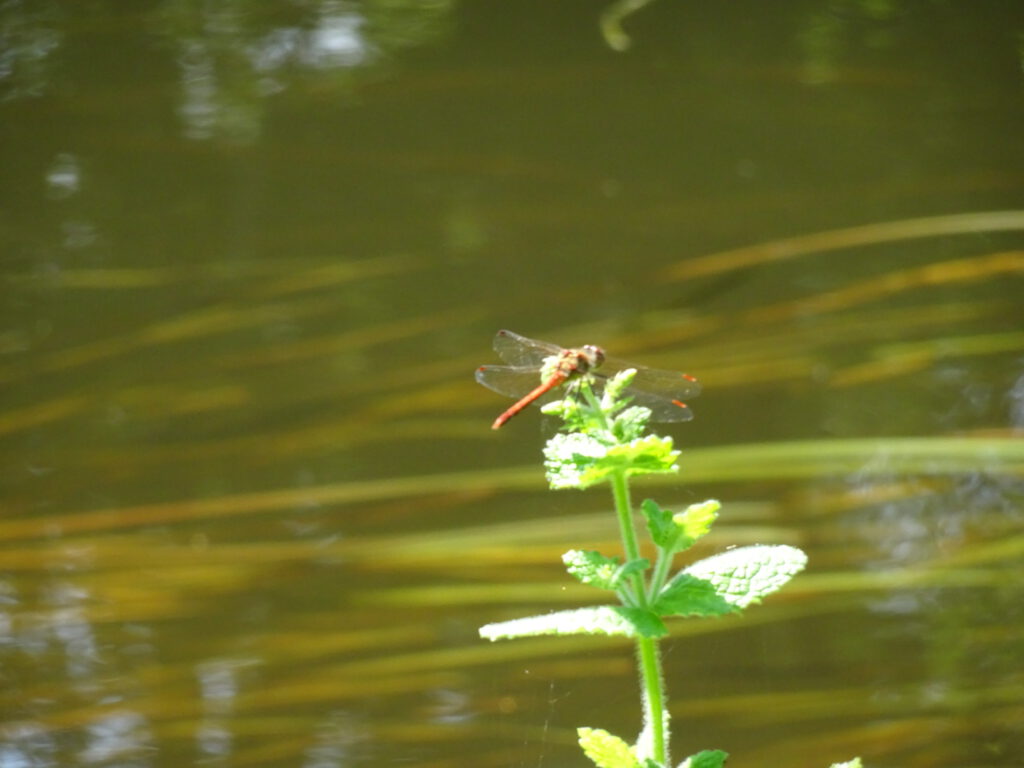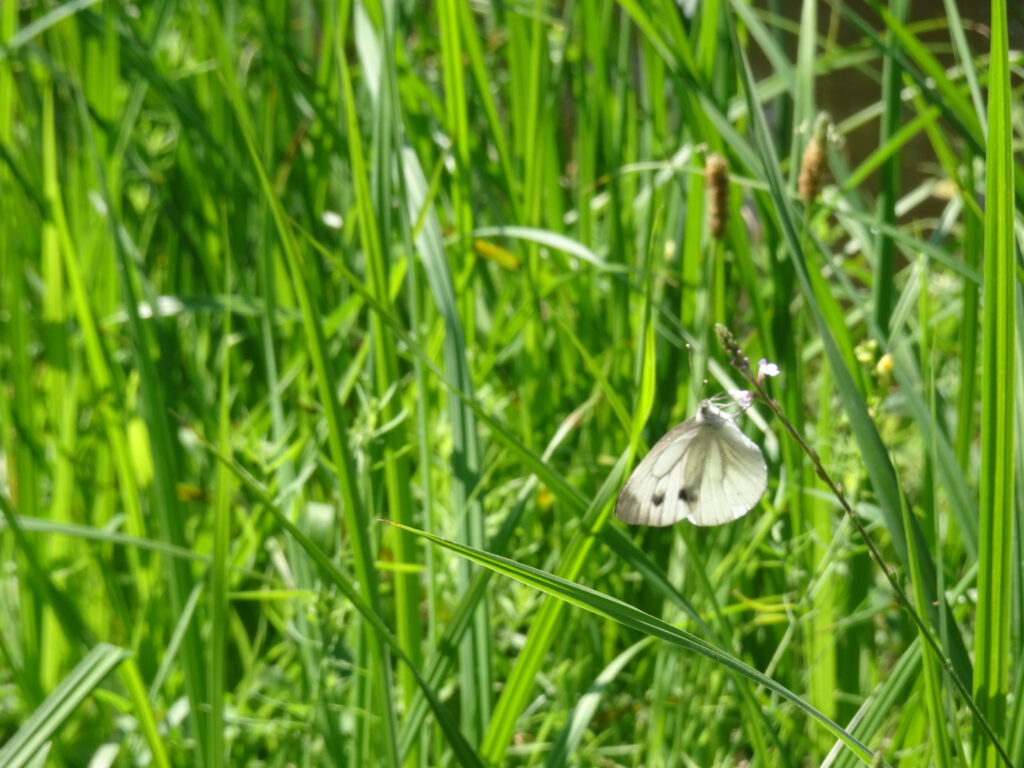 At the agreed address, I was warmly received and had a delicious meal. I have a nice room to sleep in.
And I'm going to do that soon because I'm very tired.
Where I am going tomorrow, I will find out in the morning.
Greetings,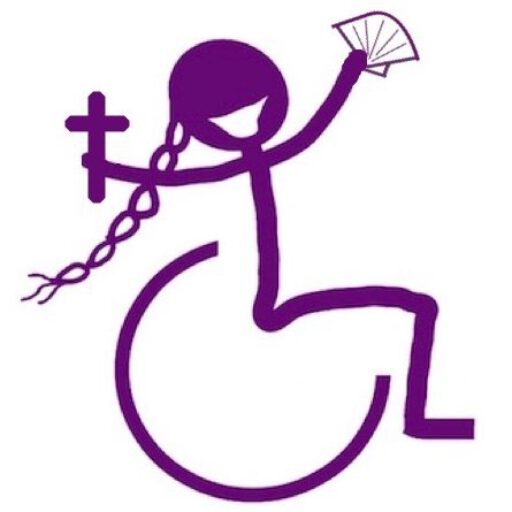 Wheelchair pilgrim
---
augustus 26, 2021 by rolstoelpelgrim
It was a good thing that I had set my alarm clock, I was still deeply asleep. First I packed most of my stuff and then I went to breakfast. Delicious bread with homemade jam and a nice big bowl of herbal tea with it.
The lady of the house was first away to pick up her grandchildren and when they arrived I inflated some balloons and made a nice flower for them. I think there are not many pilgrims who take balloons with them!
After that i rolled to Roanne. here i first looked for the church. and it was open as well. so i rolled inside via the slope and drove around the church. there was also a very beautiful old house next to the church. what i also found striking in Roanne was that i saw very beautiful murals on several places. What I also found striking in Roanne was that I saw some very beautiful murals in various places. on ugly side walls of houses, they painted very beautiful facades, which suddenly gives it a very beautiful look. there are often funny things incorporated in them, such as a knight and a damsel looking out of the window of the house.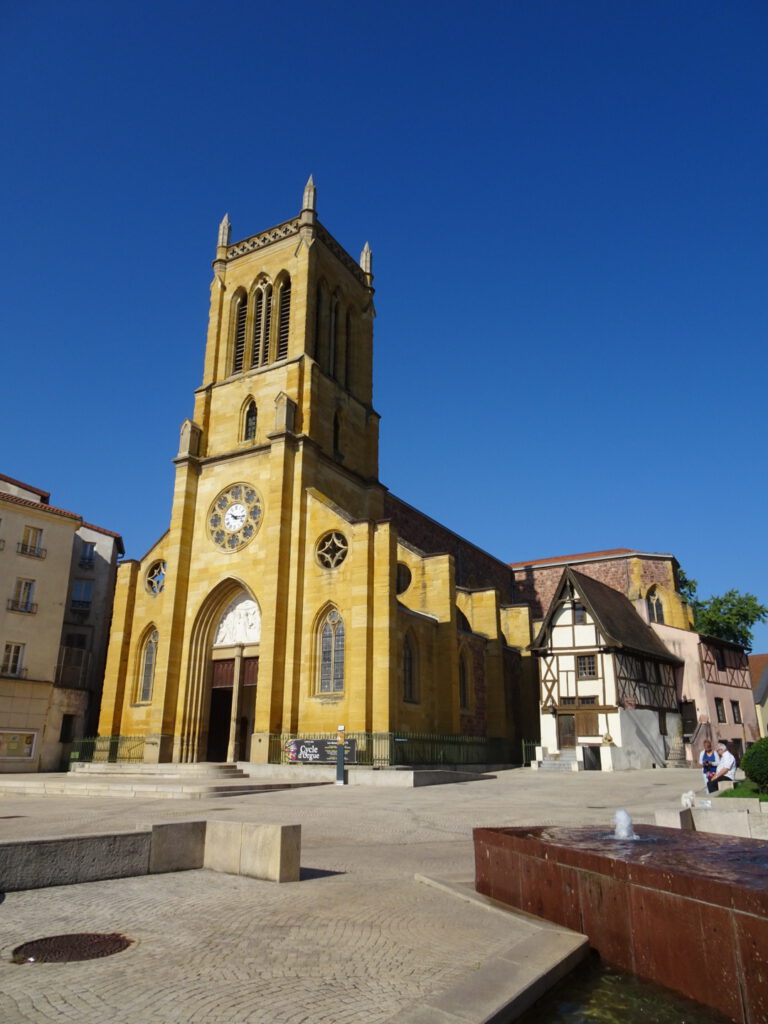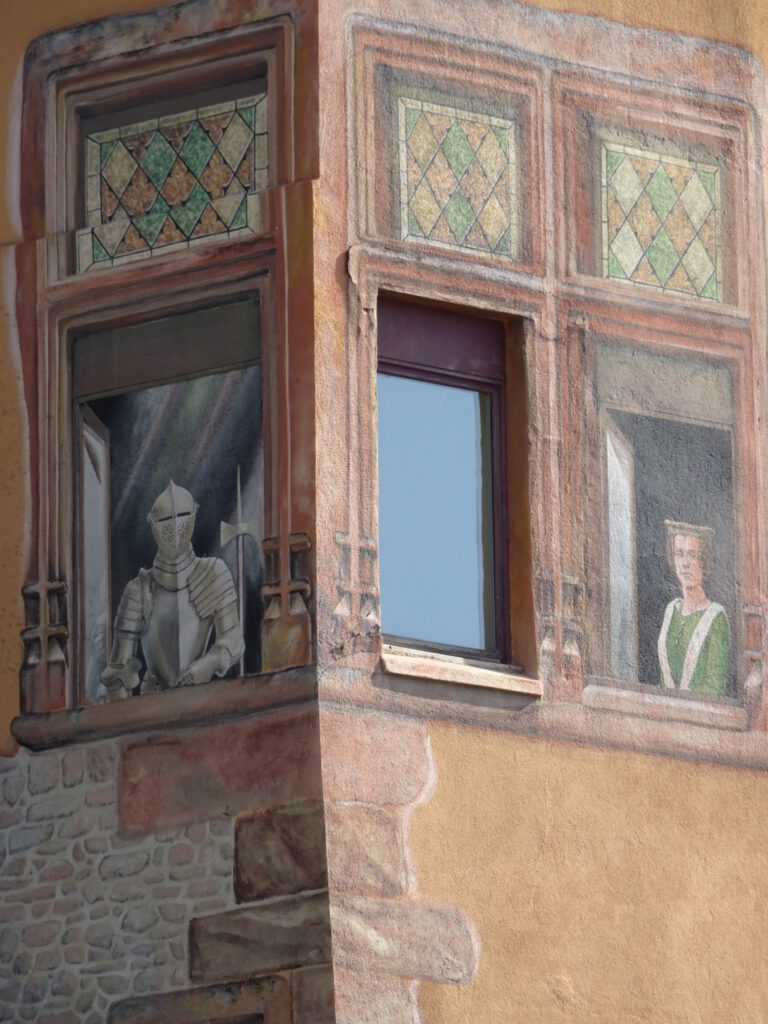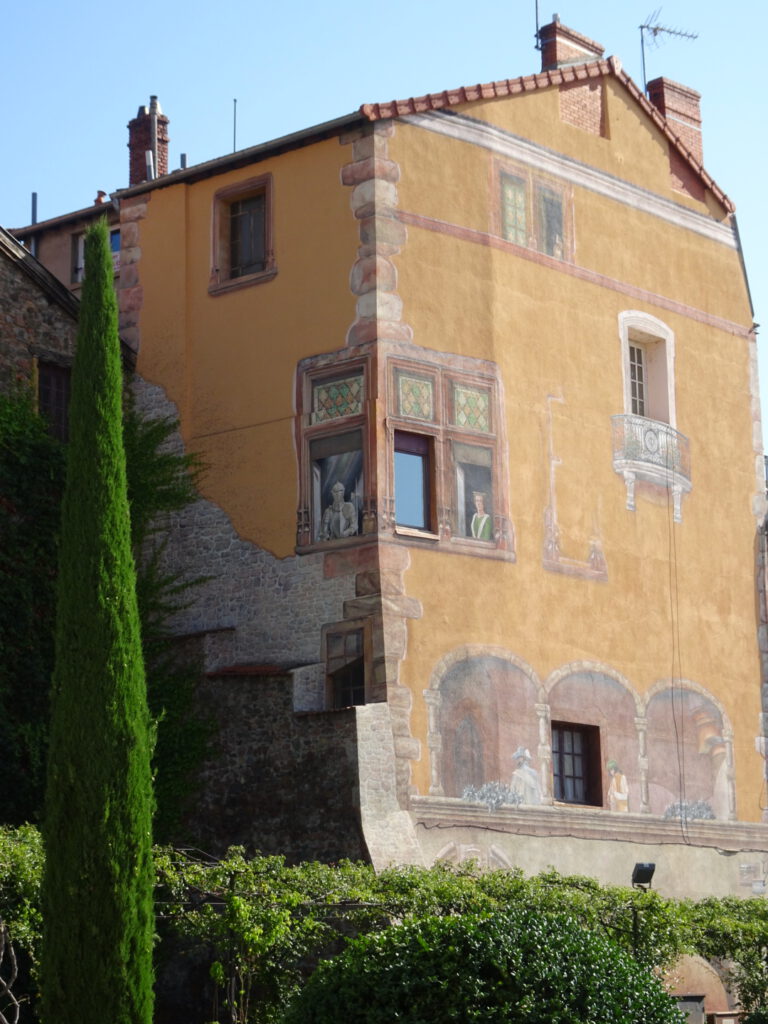 On the way, I rolled through a landscape with trees and meadows. many cows and bulls in the meadow, in contrast to the Netherlands where you actually only see female cattle with sometimes a calf, here, entire families often walk together. bulls I also see here alone or with a group of bulls in the meadow. almost all cows have their horns. I also saw a lot of butterflies in the verges. today, I rode mainly along normal roads, no beautiful cycle paths like yesterday.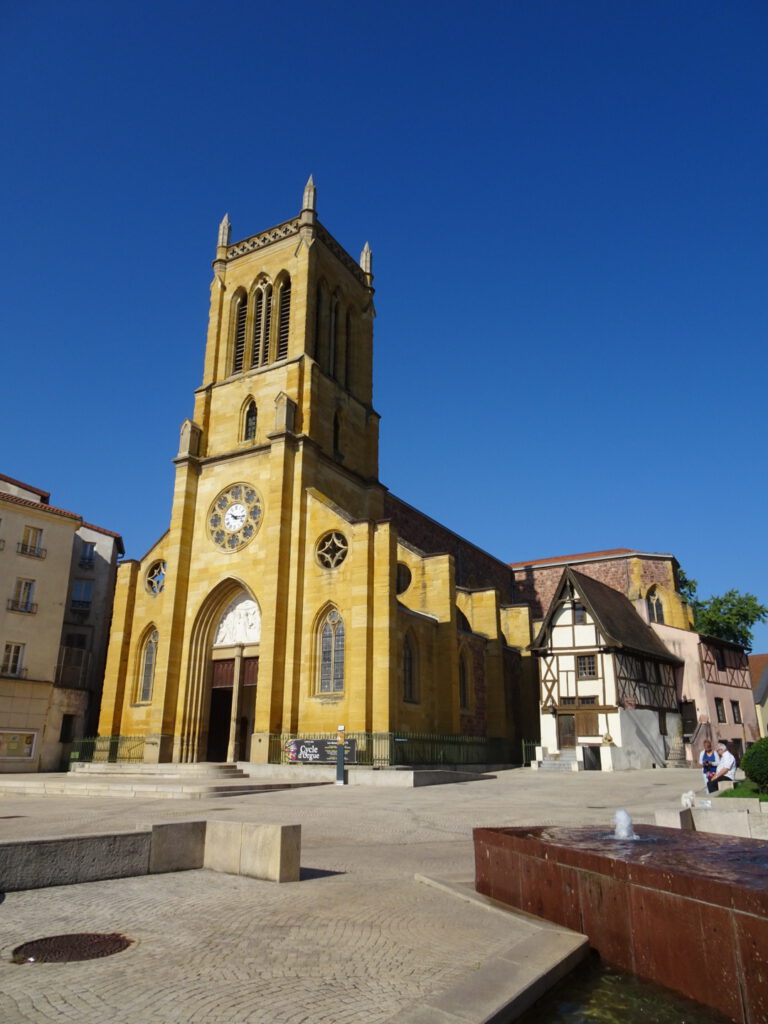 this time i was not on my way to a campsite but to a monastery of the friars of saint john. there are also friars of this order living in the Netherlands in the Hague, where they live and brew beer, the Haagse Broeder. and in Utrecht. and i have been to both several times and it seemed to me that it would be nice to also take a look in France at this originally french order.
I could not find much about this particular monastery but I took a chance. They wouldn't leave a poor pilgrim like me standing at the door (I hope). and so I just went there, trusting that there would be a solution.
When I arrived at the monastery, it looked rather empty and a bit neglected. I got my doubts. A huge building but no friar or sister in sight and according to google they would both live here. google was (partially) wrong.
Finally I found 1 friar. he was loading/unloading a car and I think he was a bit shocked when he saw me and I told him I was looking for a place to sleep for the night (I was glad to see someone). he told me that there were almost no friars now.
He had to ask if I could sleep there and luckily this was possible. They found a good guest room on the grounds. When I installed myself here, one by one the curious brothers came along and slowly the story of this monastery became clear to me.
There are only 5 people left here now, and from tomorrow only 3.
At that time there were more than a hundred friars living here and also sisters. Now the remaining friars of this monastery have gone to the other 25 locations of the friars of Saint John and they are going to close this location. The friars who are left now are still here to clean everything up and to distribute all the things to other monasteries and in a few months time, this location will be closed.
It reminds me of 2 years ago, I think it was Mery-sur-Seine, also there I slept as the last guest in a monastery a few weeks before the last brother left. That brother now lives in Lyon, I just got an email from him.
This evening I attended the evening prayer. It was very beautiful. They are only 5 brothers but they all sing very well.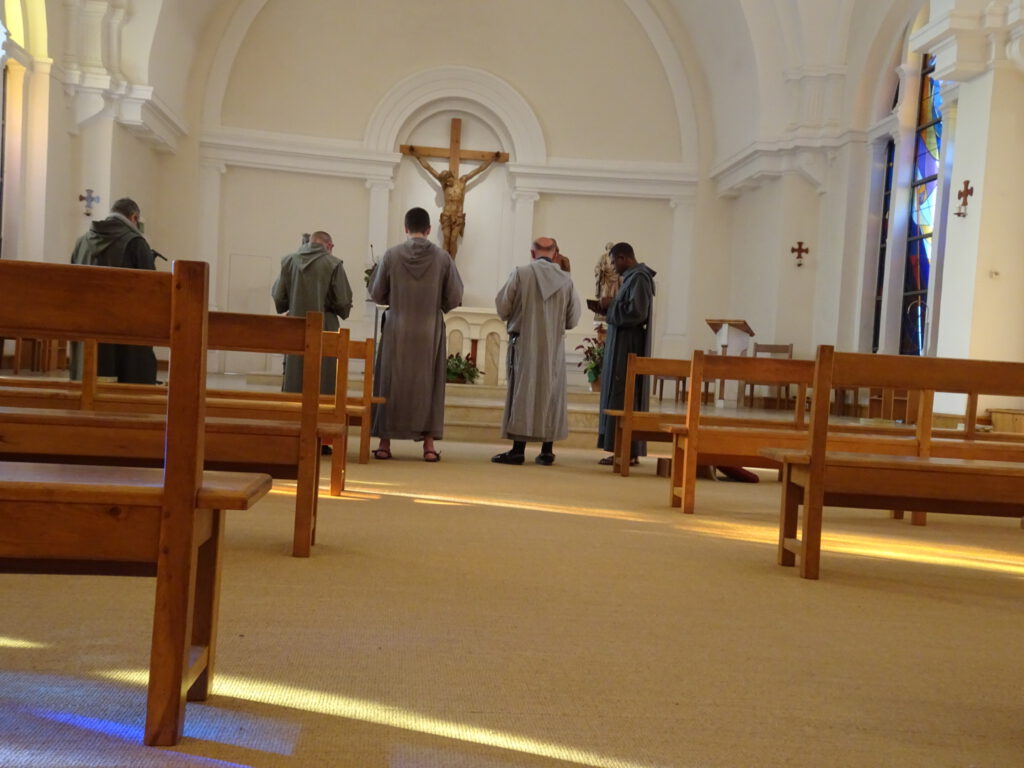 There is another mass tomorrow morning at 7 o'clock so I am going to sleep soon.
Greetings,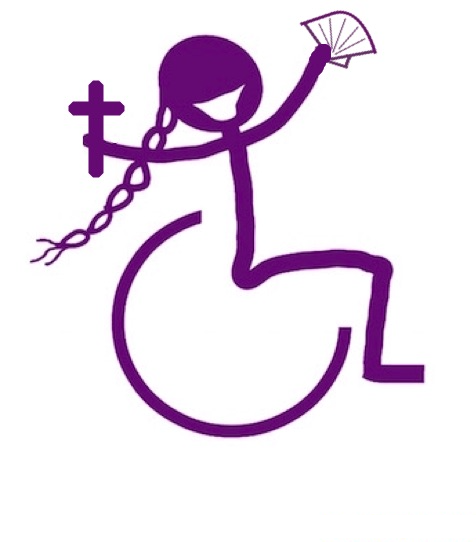 Wheelchairpilgrim
---
augustus 27, 2021 by rolstoelpelgrim
Already more than a week on the road.
Last night I got one battery almost full, so last night around 1 am I swapped it with the other empty battery (although the first one was not yet completely full).
This morning I got up at 6.15. Fortunately, my second set of batteries is charged but the ones I exchanged last night were not quite full yet so I recharged them again.
I am writing this piece in the morning and now (8.30) my battery is still charging. it doesn't want to be full, good training for patience because I am actually ready. hopefully that battery will be full by 9.00 and I can leave.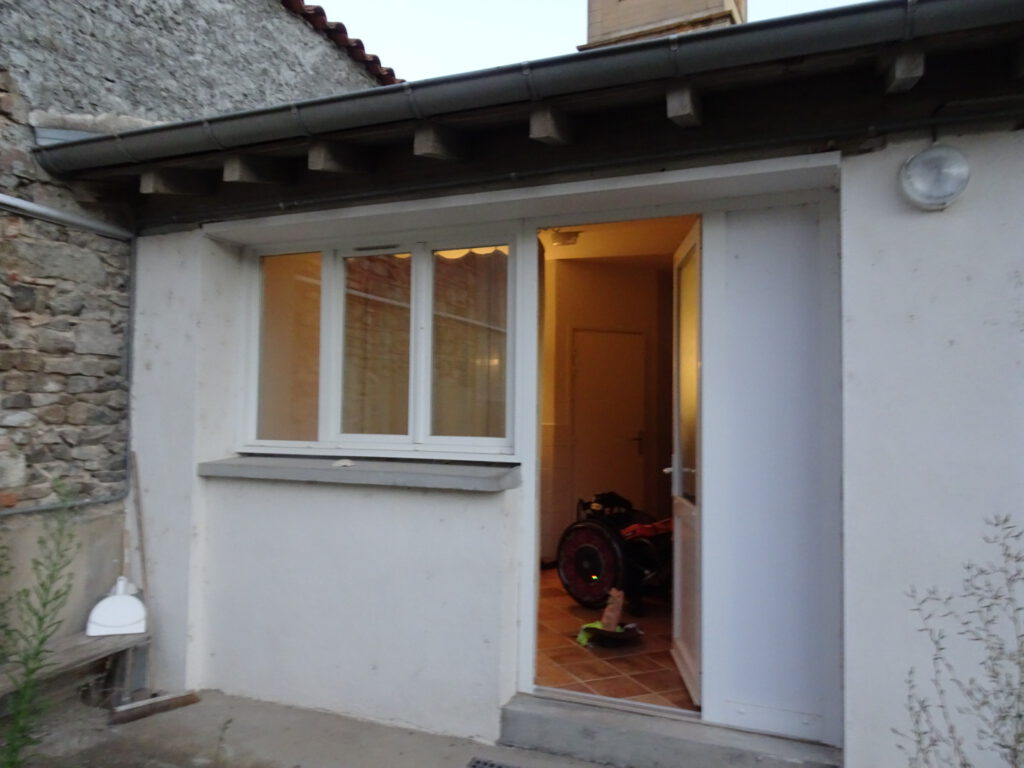 In the meantime I will tell you why I was up so early. it was because especially for me a mass was organised at 7.00 a.m. Last night I asked brother Jean (John) what time the mass would be. this was only at noon and for me this was too late to wait. but because he himself and another brother had to leave early he decided to celebrate mass at 7.00 a.m. It was very beautiful.
There were three of us and it was done in half English and half French. I was allowed to read the first reading in English.
The sermon was very personal, a connection between the readings of the day and my pilgrimage. So that was again a special experience.
.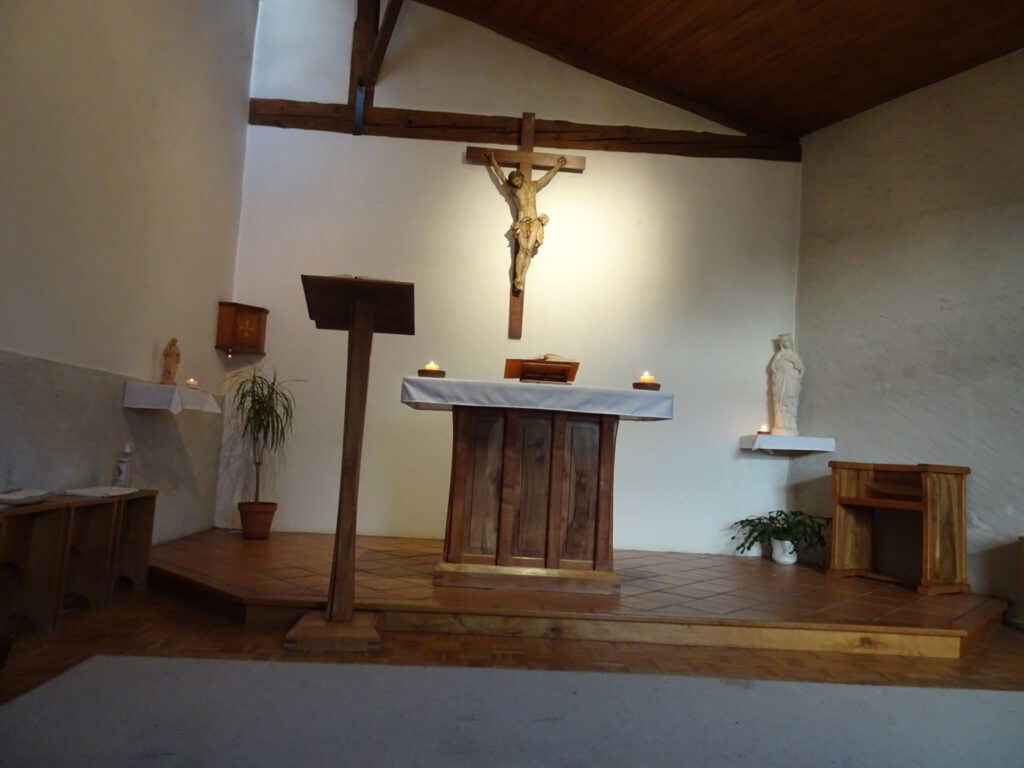 Then I got my breakfast, delicious bread, cake and a big bowl of tea. nice to start the day like this.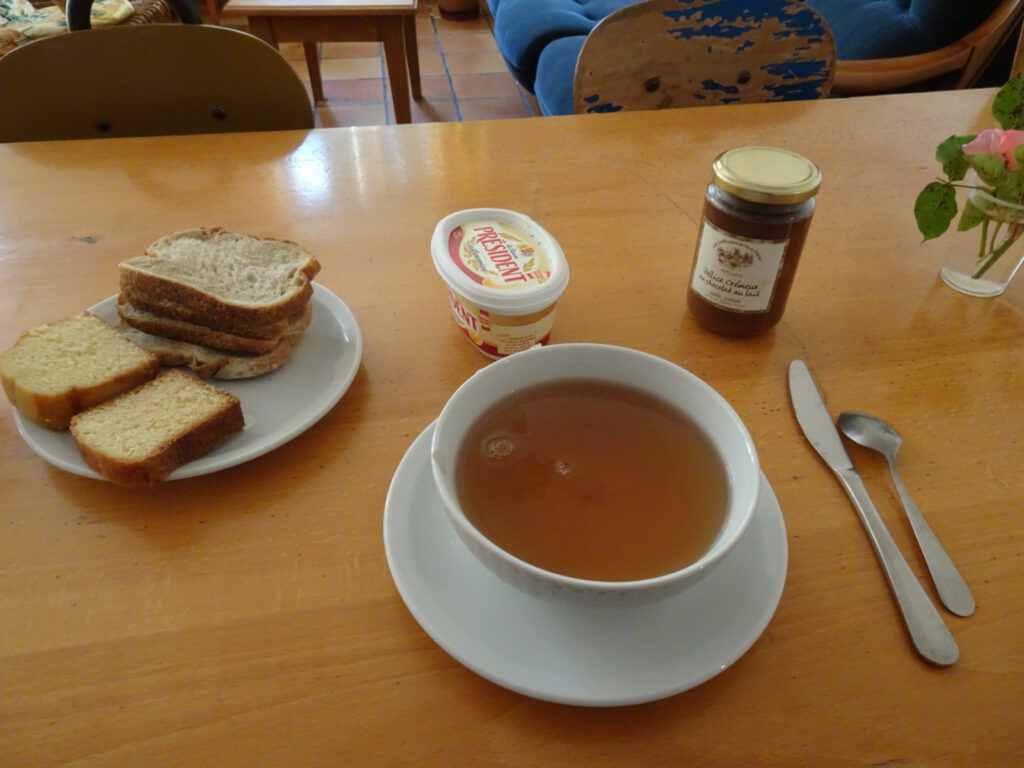 So I'm packing the last things and then I'm off. I'll write the rest later
.…….
By now it is late afternoon, time to write the rest, lying in my tent.
After breakfast at the brothers', I packed the last things.
I saw a beautiful large scallop lying outside, which I could make good use of. On the front of my wheelchair is a beautiful large one that I had received in 2016 from the Sisters Augustinesses (Casella) (the first convent I visited during my pilgrimage) but on the back of my backpack is only a tiny shell. The brothers allowed me to have it. I am very happy with this. Now I only have to find someone who can drill a hole in it.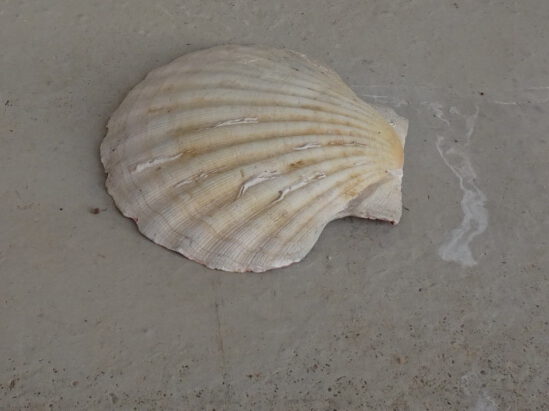 When my wheelchair was fully loaded (the time when I wrote the first piece) I left, after saying goodbye.
One wheel was not yet fully charged, and that was actually a good thing, because the day started with a long descent and the fully charged wheel protested and occasionally broke down due to overcharging. During the descent a squirrel ran over, I was just in time with the camera, although the squirrel doesn't look very nice.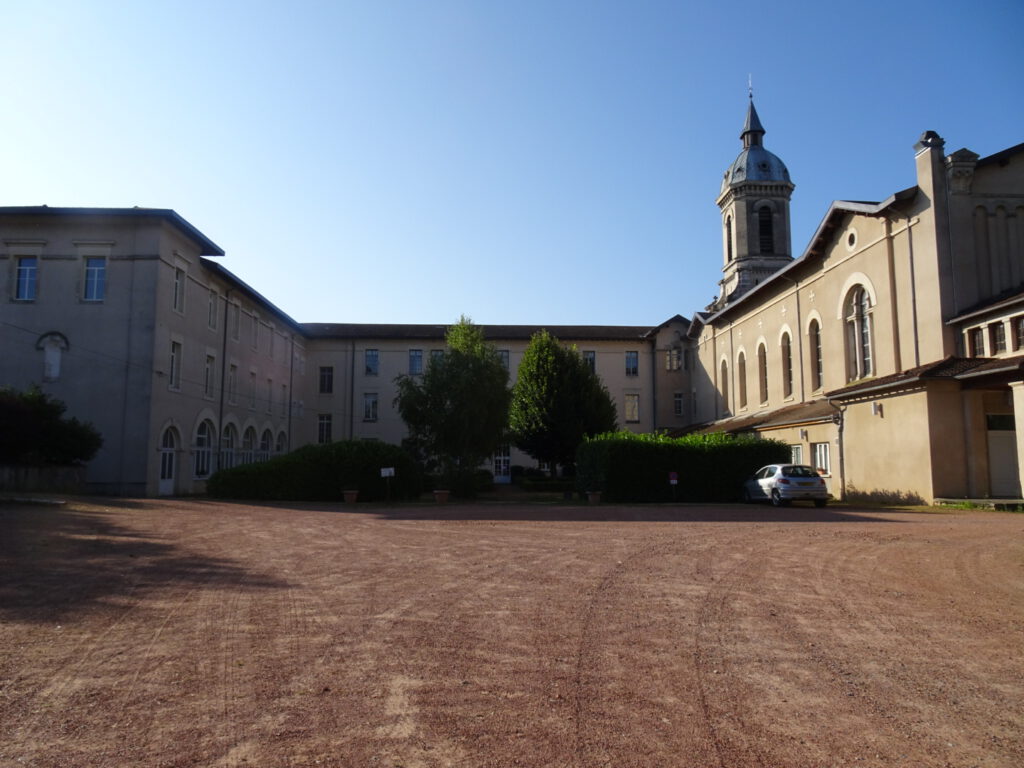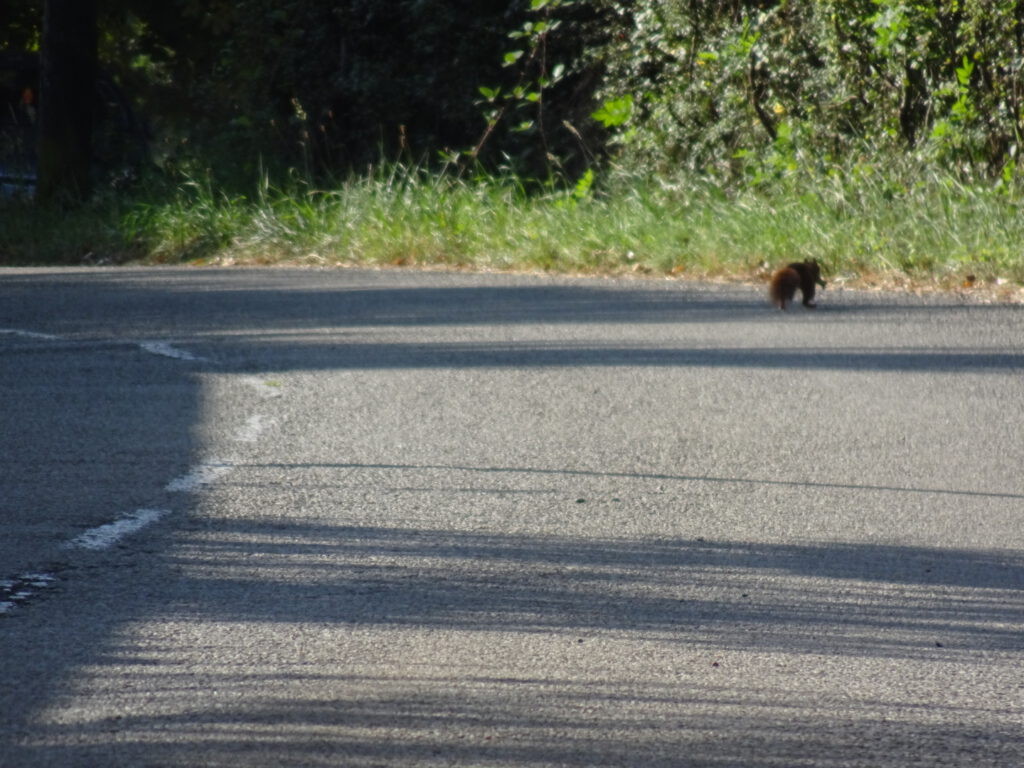 The landscape was extremely beautiful. I rolled over a bridge across the river Loire which winds through the landscape here. There are quite a few hills (low mountains?) here but not as steep as a few days ago. I rolled up and down again. On every top again an enormous view!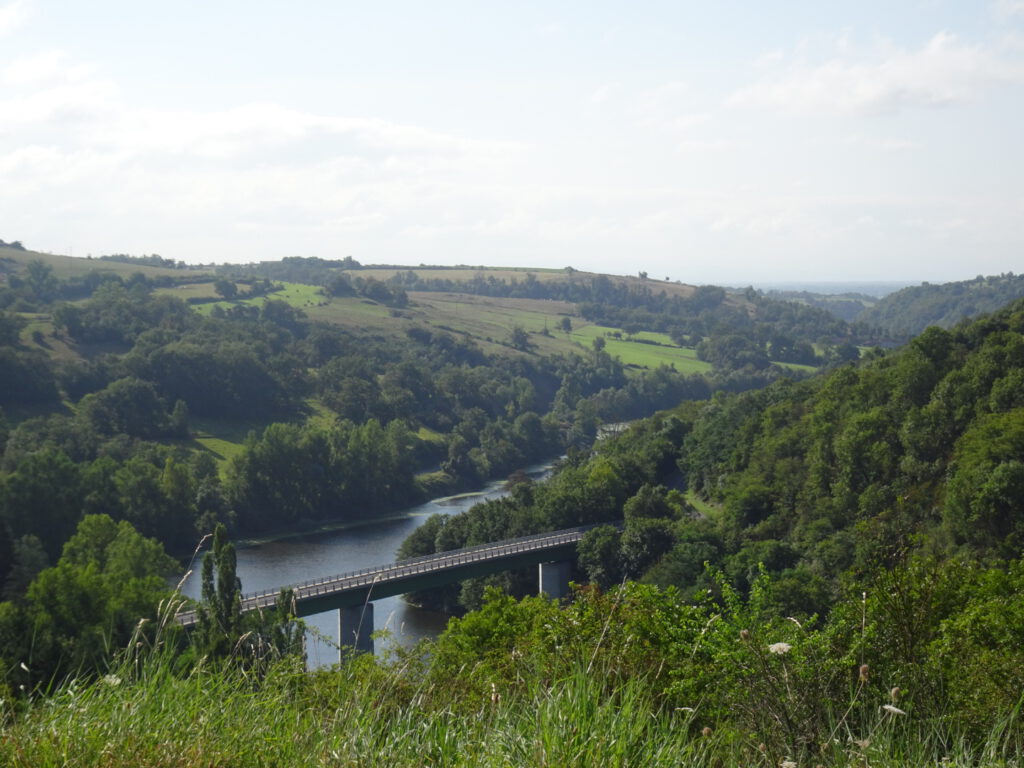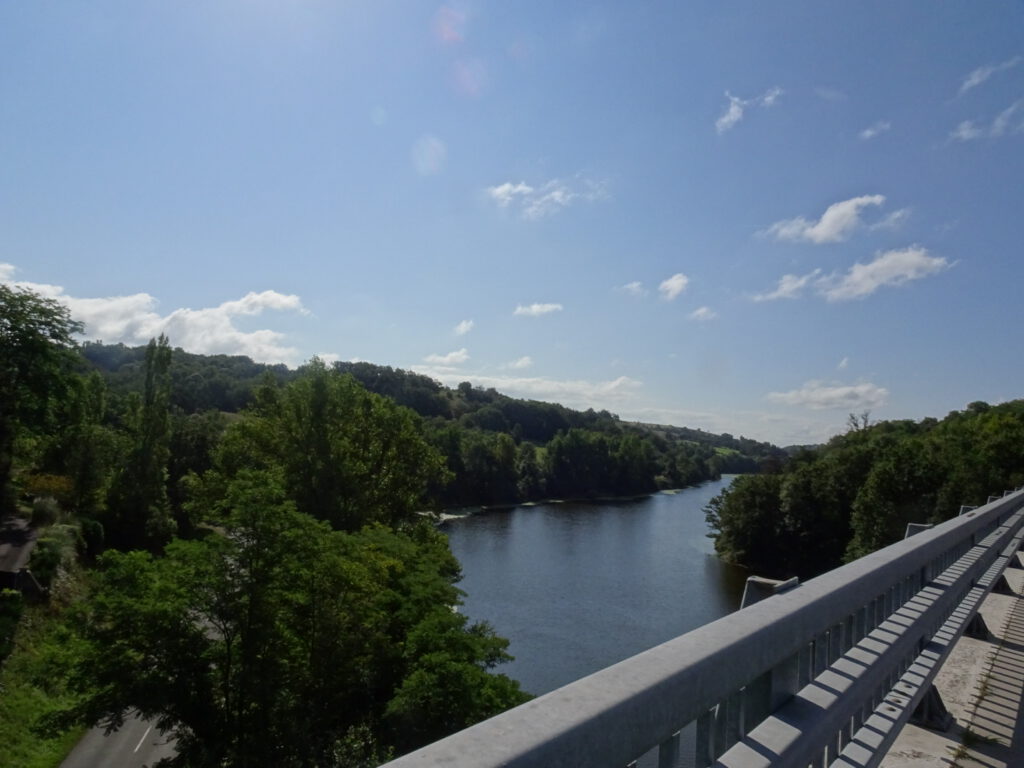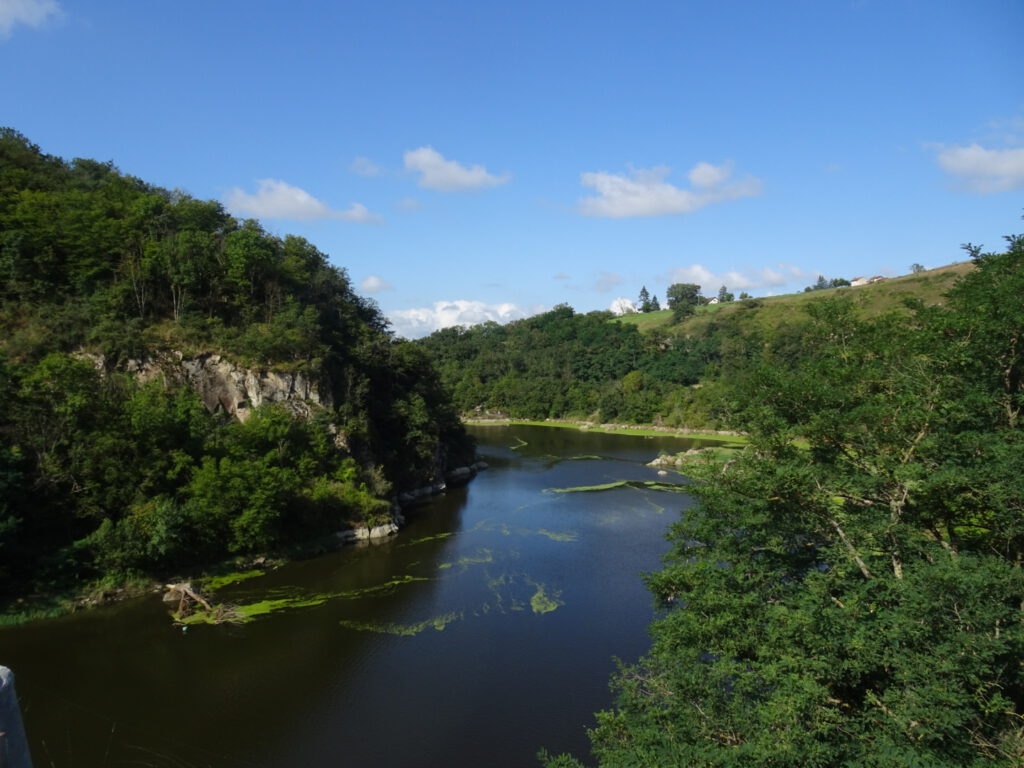 In Pommiers, I rolled past another old monastery. This one too was built in the style of the monastery in Cluny. I asked if I could go inside with my enormously long wheelchair and this was partly possible. Unfortunately, I could not go upstairs or downstairs (I did not fit in the lift) but I could go to the ground floor and the church. I got a tour, she told me about the beautiful 11th or 12th century church and about the history of the monastery. In the roof of the church there are a kind of pots (holes) that provide extra beautiful acoustics.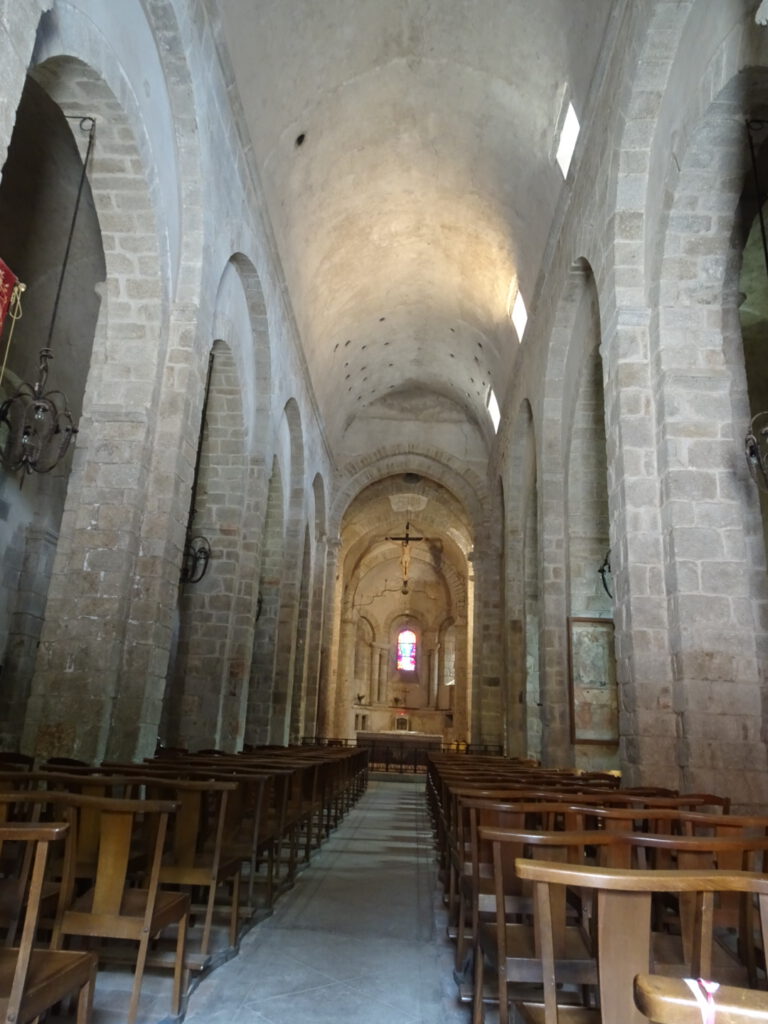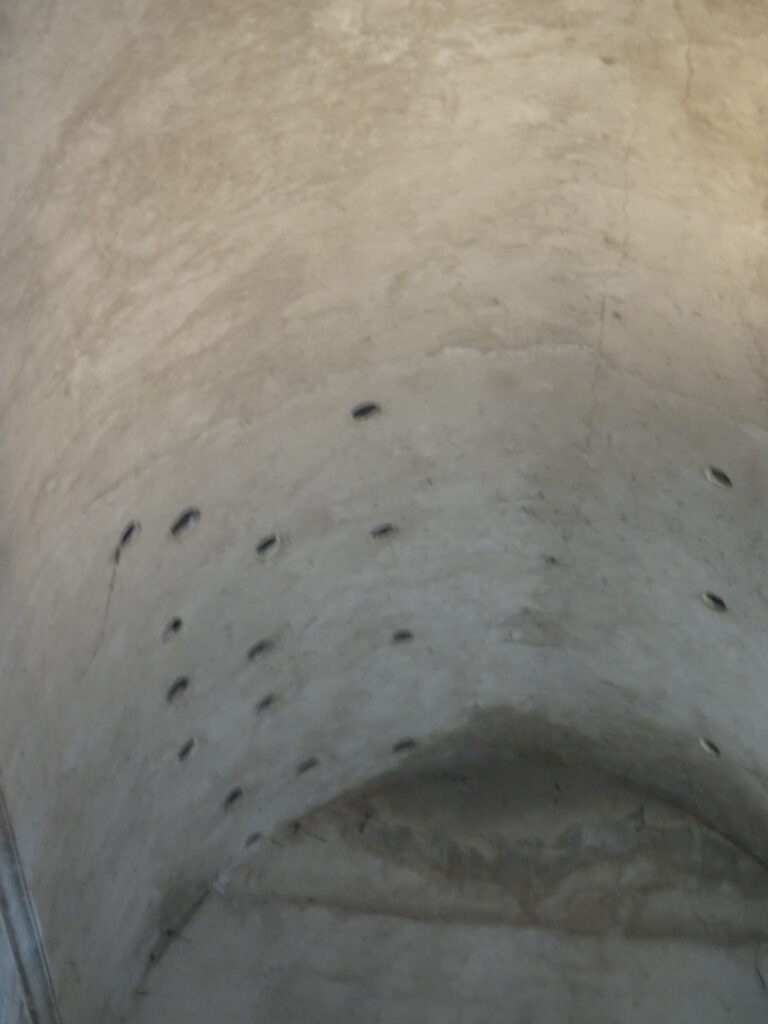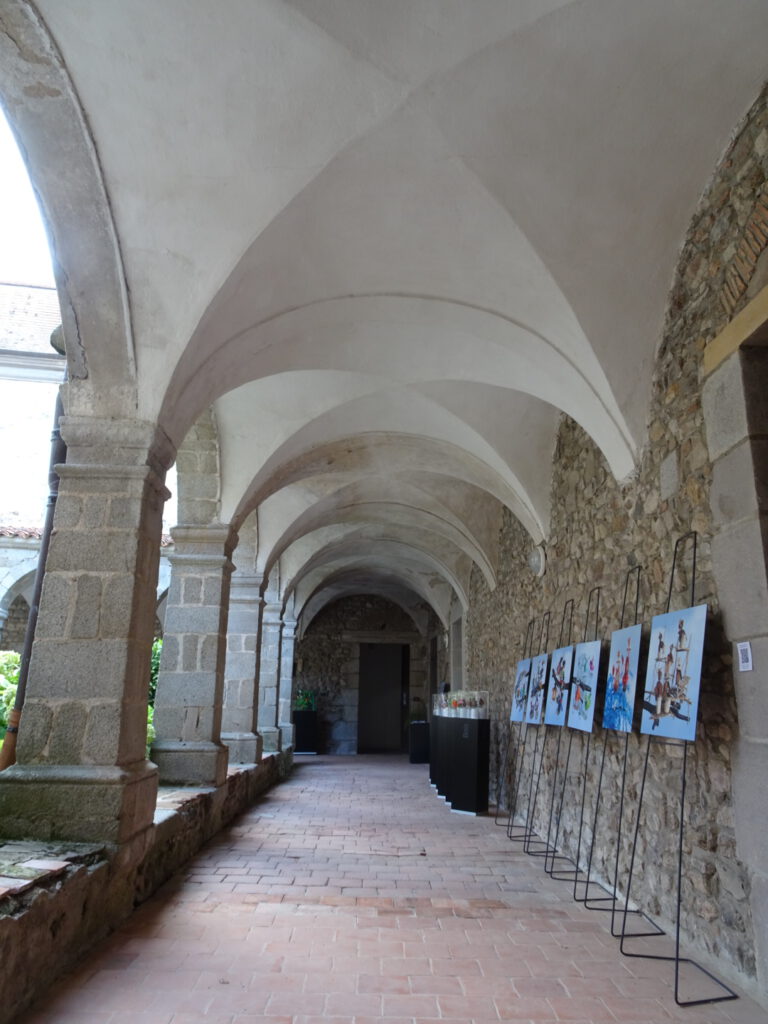 There was also a very funny art exhibition by someone who had made the most colourful and funny little figures from rubbish such as bottle tops and plastic bags and accompanying photographs. If I had not known it was waste I would not have seen it at first sight. so funny!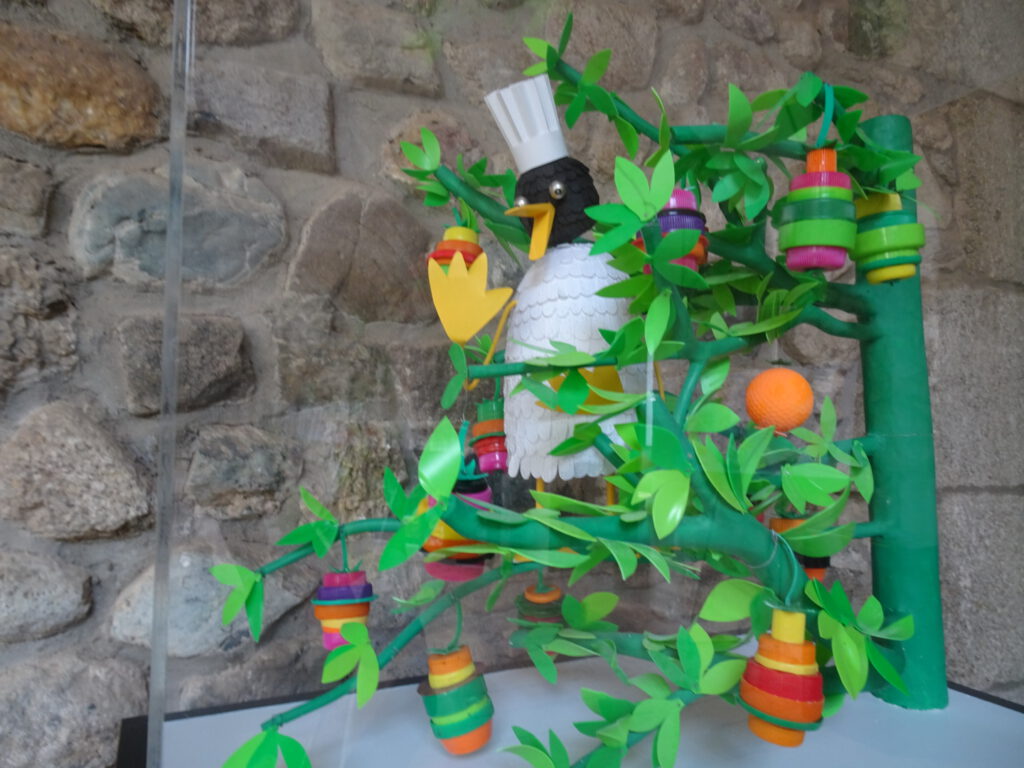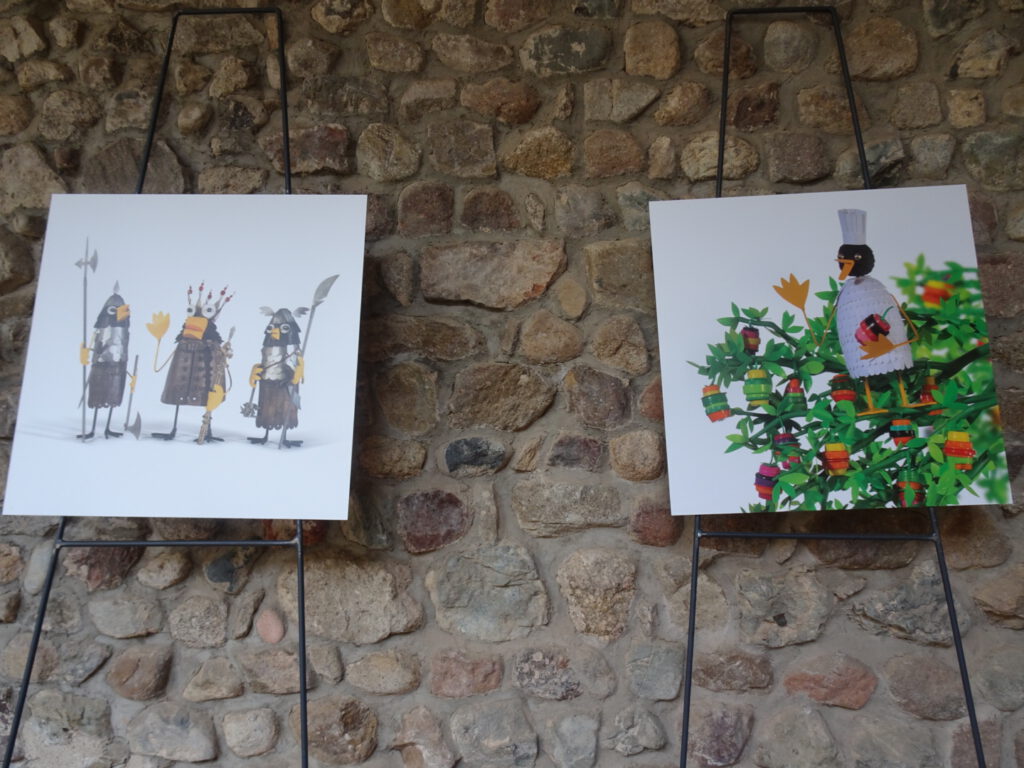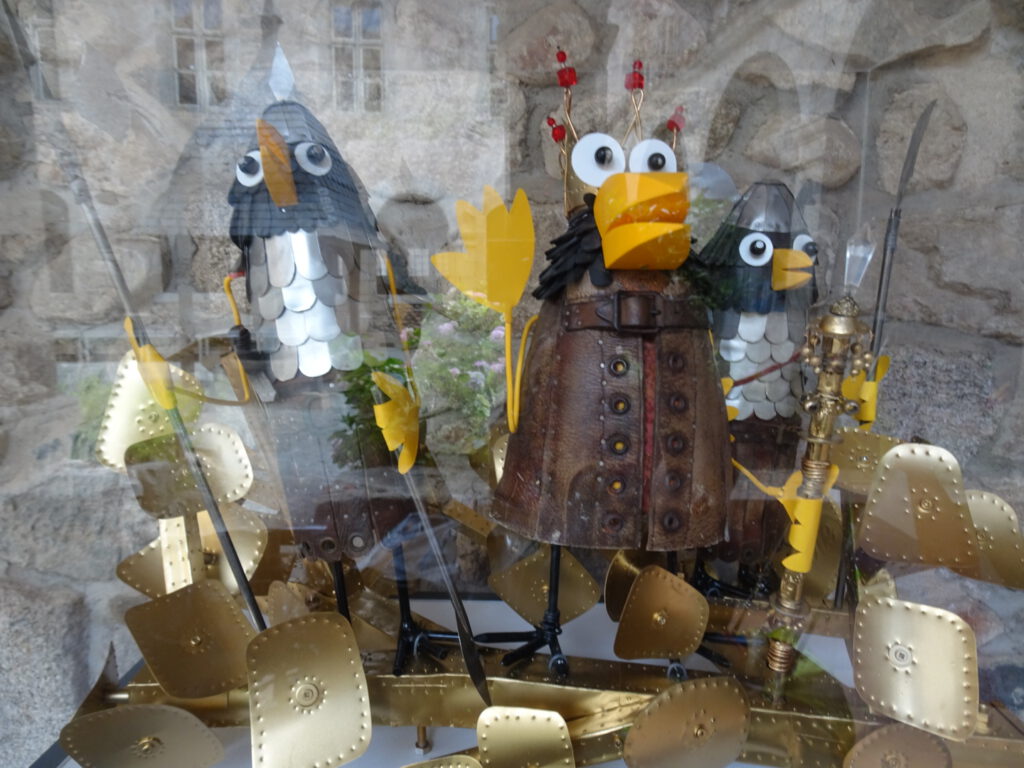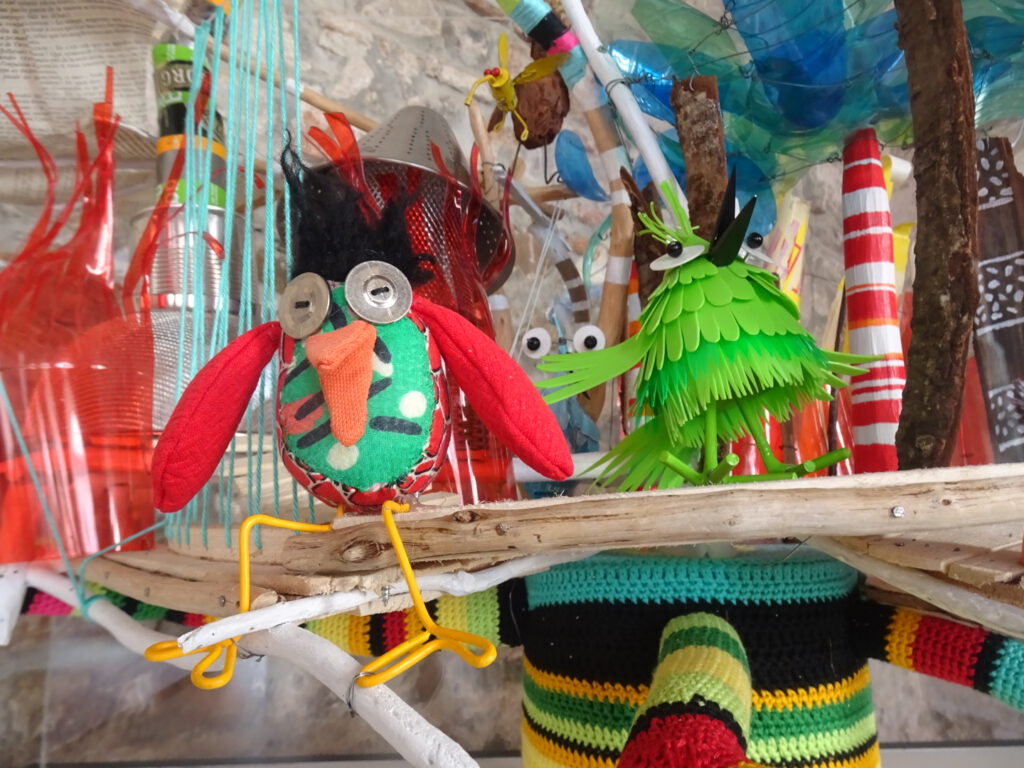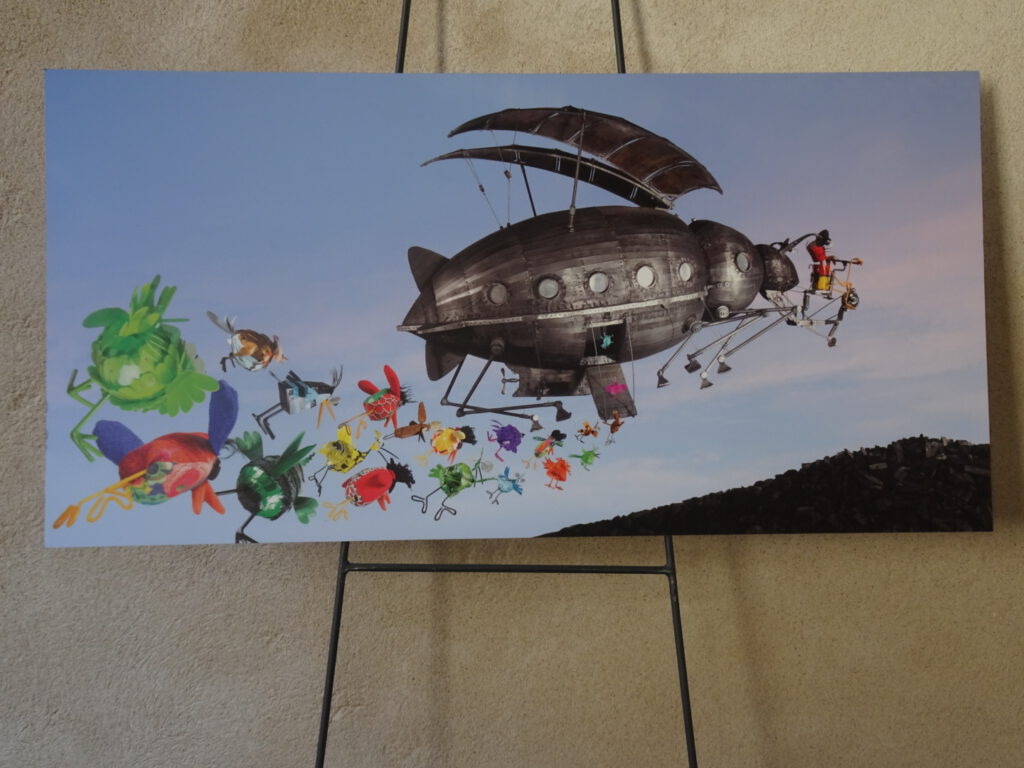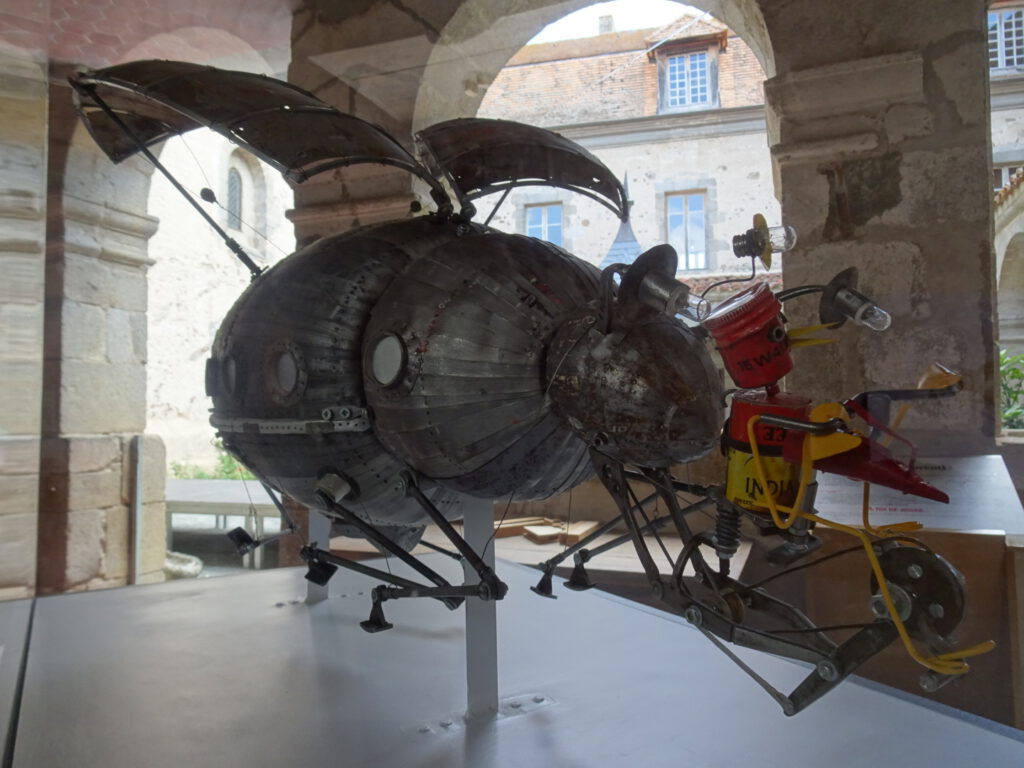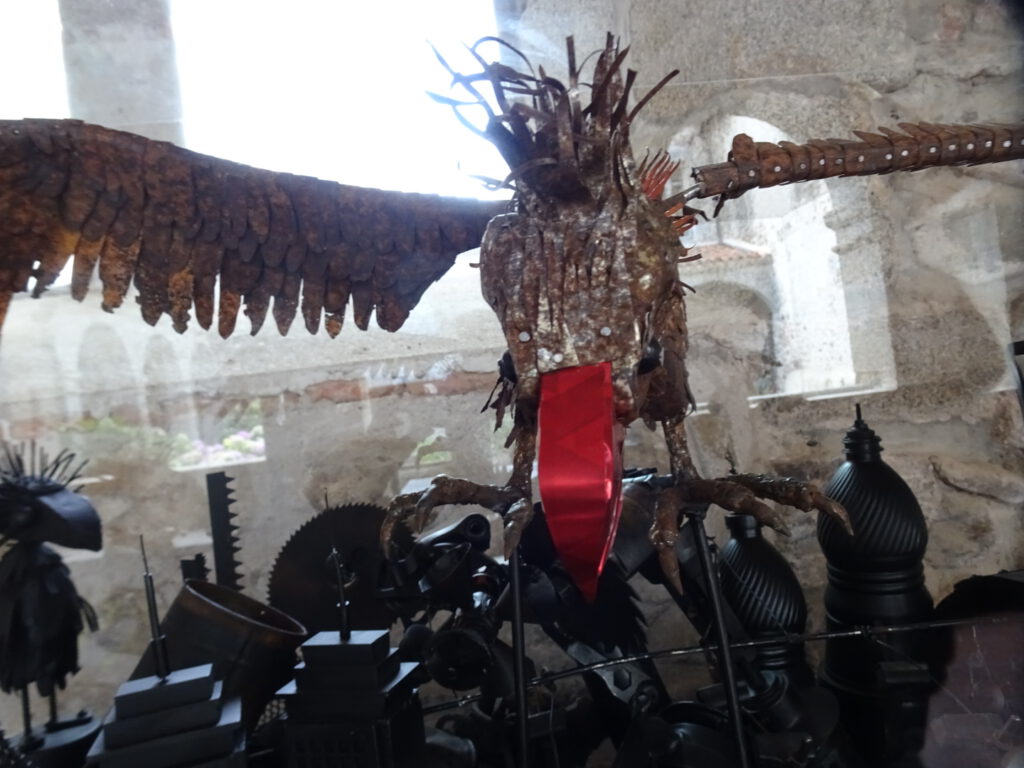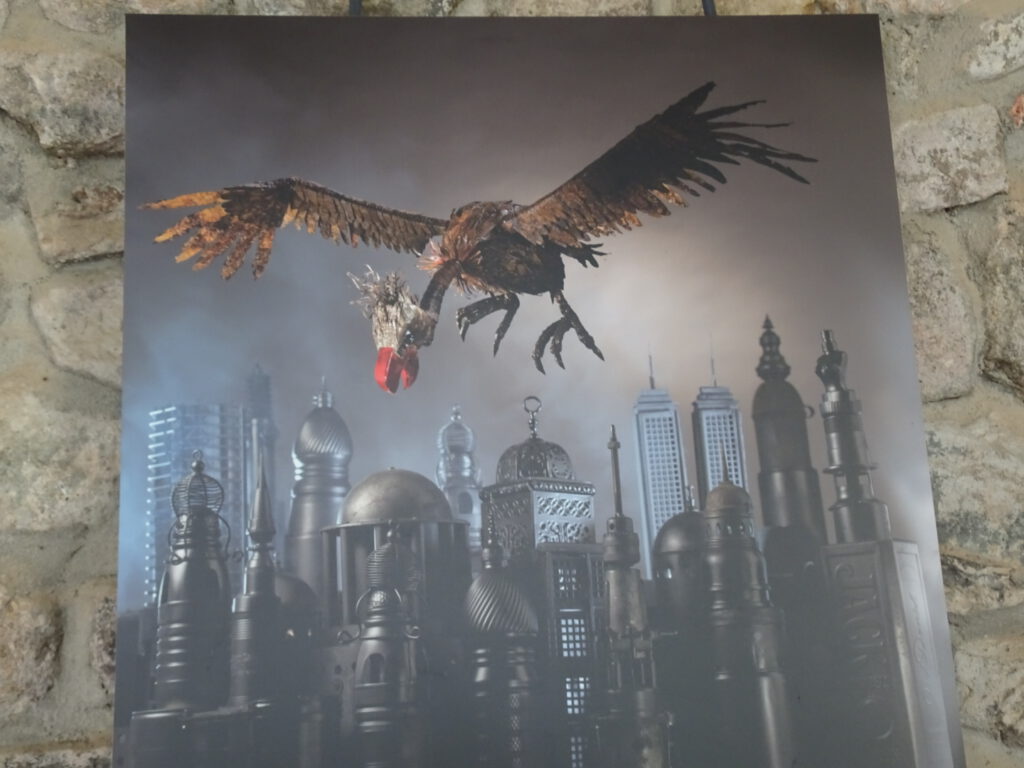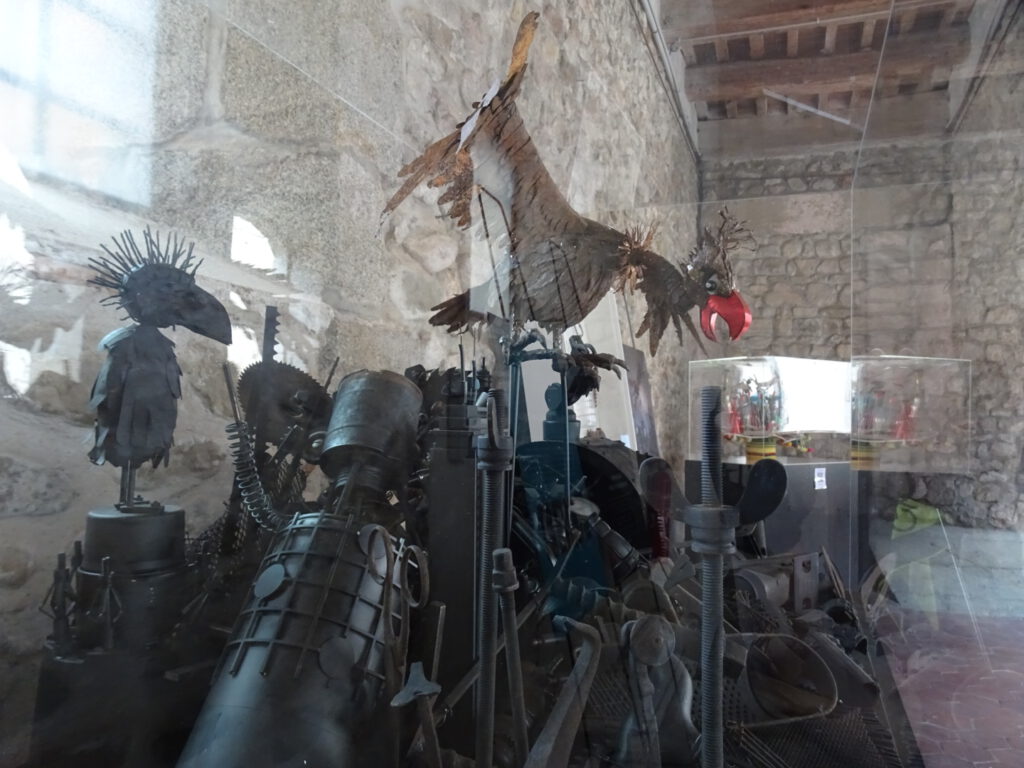 Then I rolled on. After a bit of rolling, I suddenly had a beautiful view of the monastery.
I also came across an old bridge that now seemed to be on dry land. Actually, I wanted to continue for another 14 kilometres but when I rolled past a campsite, I thought it was enough and decided to pitch my tent at this campsite. Therefore, an early blog today.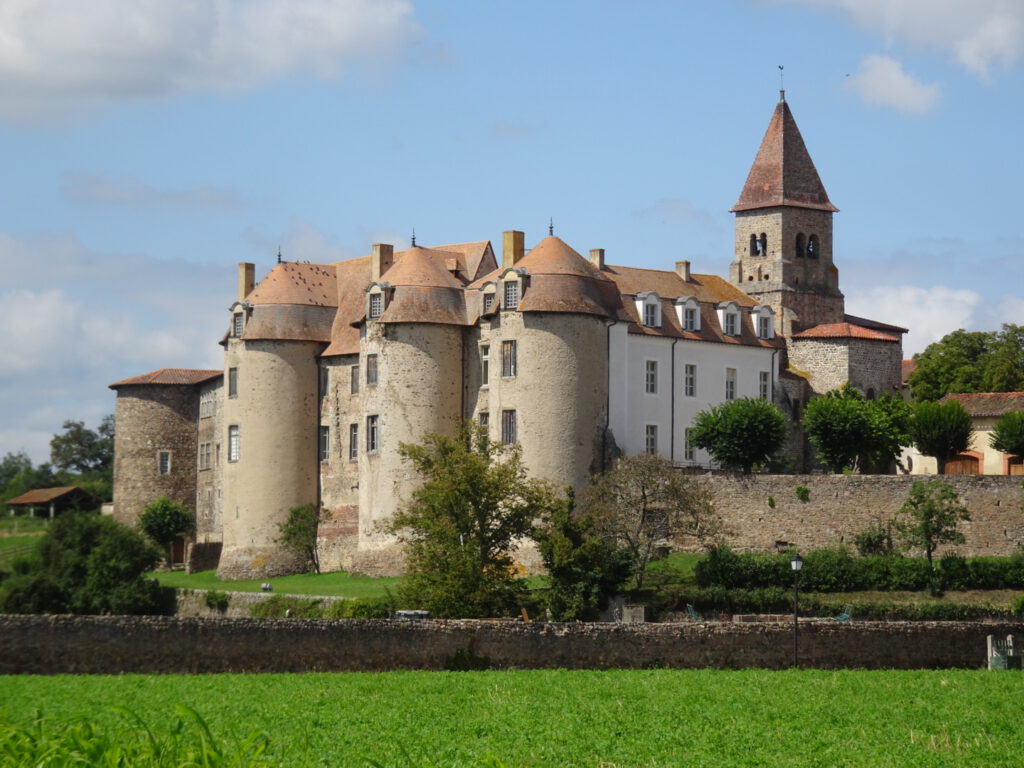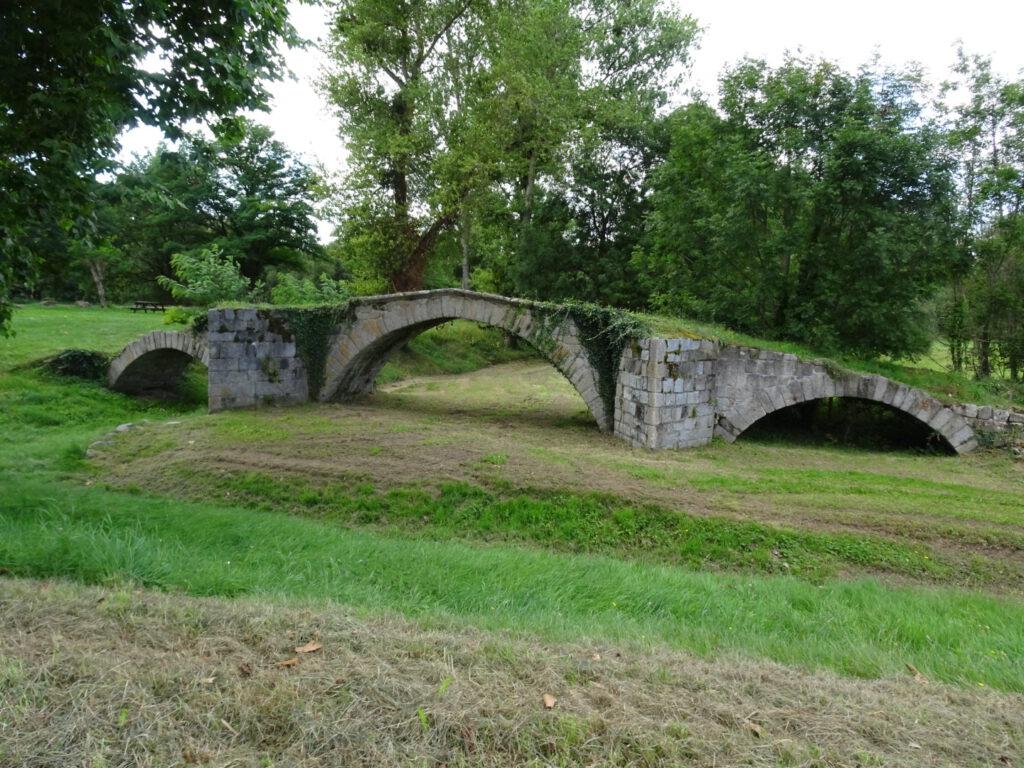 So now I am at the campsite in Pommiers, a campsite with wifi which makes it a lot easier to update this website.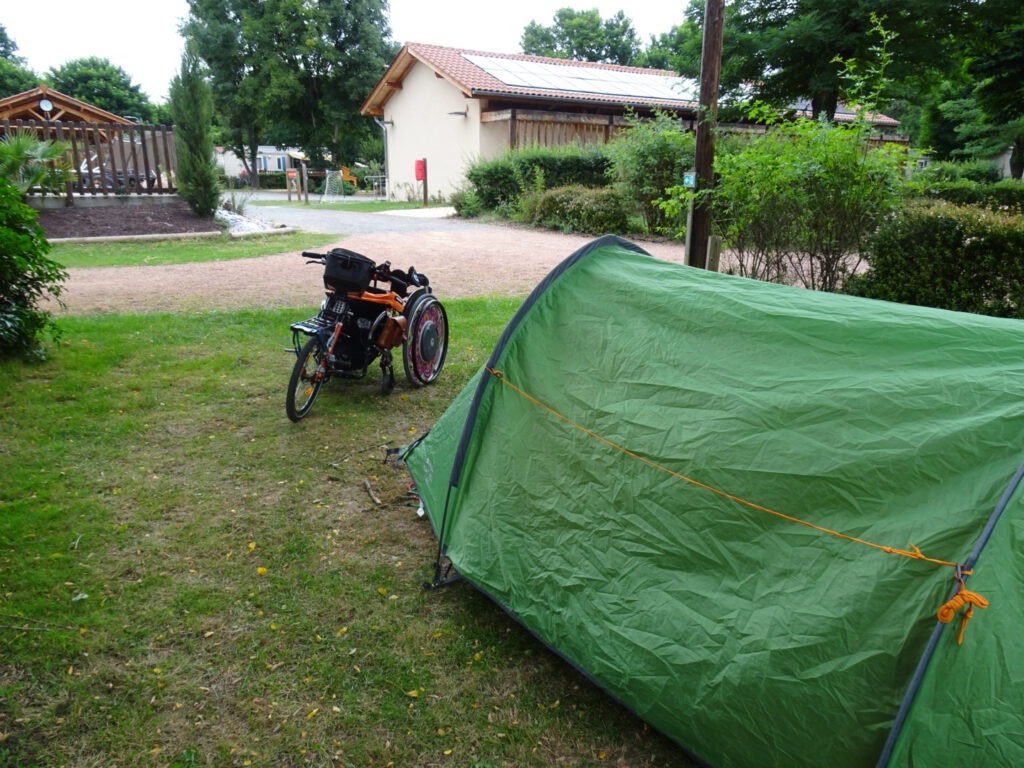 Continue tomorrow.
Greetings,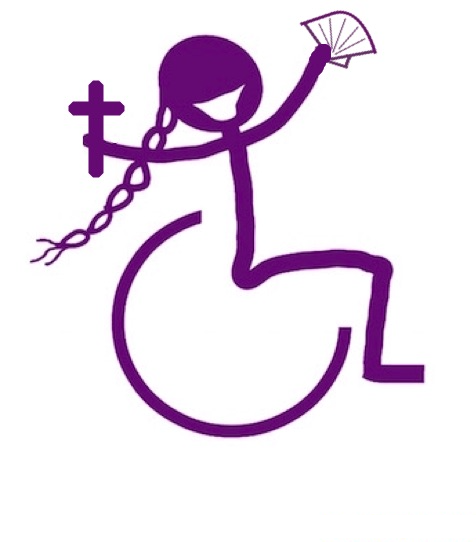 Wheelchair pilgrim
---
augustus 28, 2021 door rolstoelpelgrim
Let me first start my story with last night.
Around seven o'clock I was lying on my belly on the bed looking out the window when a woman and two boys came walking in. I had already had a chat with her and told her my story and gave her a visiting card with this website on it.
Now she brought me a delicious meal, rattatouille, bread with delicious blue cheese and later a few biscuits. She said that it was to warm me up and that was very nice because it had become quite chilly.
It's special how people come to look after me like that.
After the delicious meal, I went to sleep.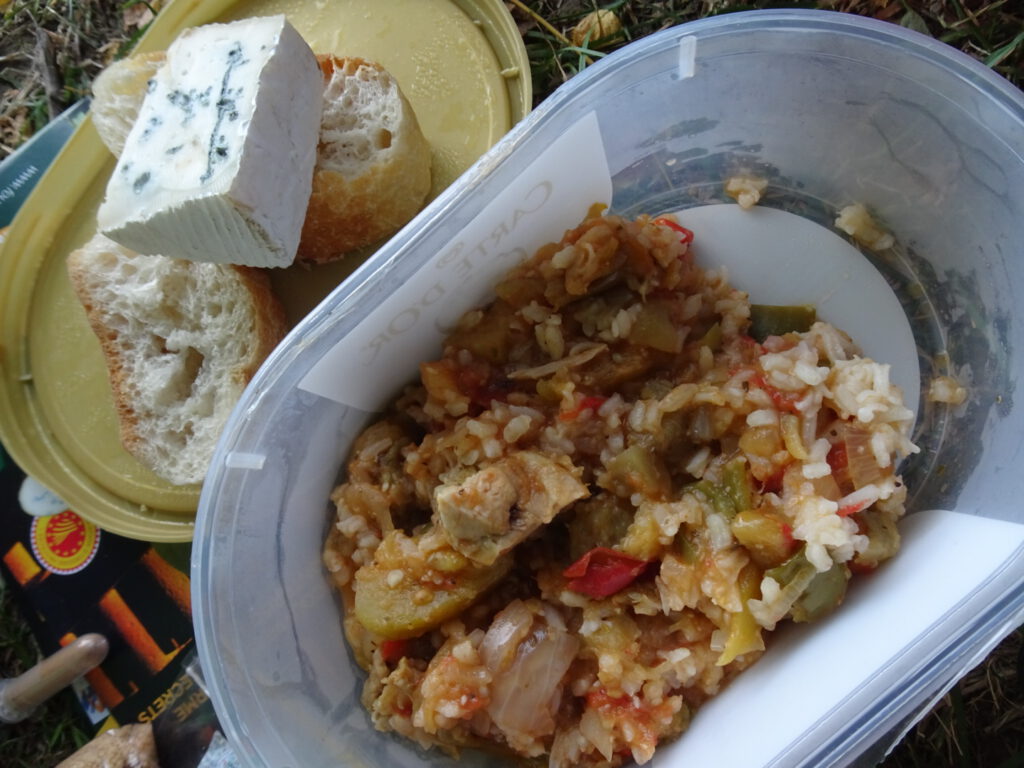 This morning I woke up around 7.30 but was still very tired. Eventually I plucked up the courage to pack up, have breakfast and leave, but it was already 10.00 am before I left.
Fortunately, the distance to roll is not too long today.
Because the distance was not that long (about 15 km), I decided to take it easy.
I took my time to take pictures (and wait patiently for the butterfly to spread its wings) and to make small detours if there was something to see.
I was able to follow the official route for the most part and the booklet pointed out special spots, so I saw two beautiful palaces, among others.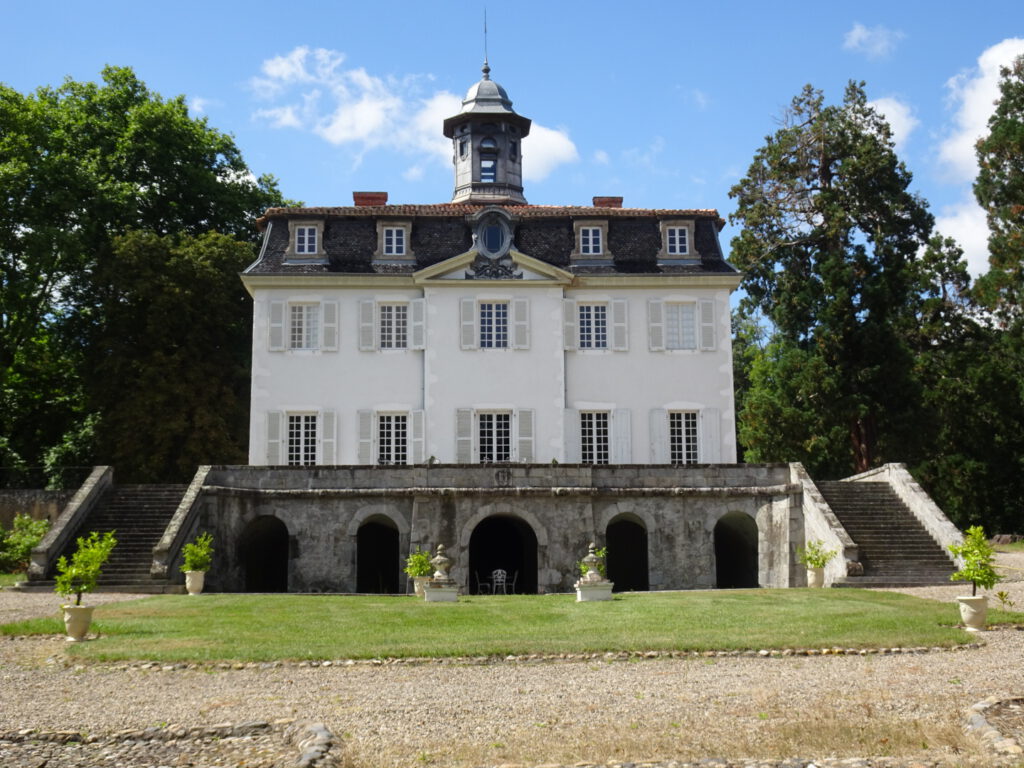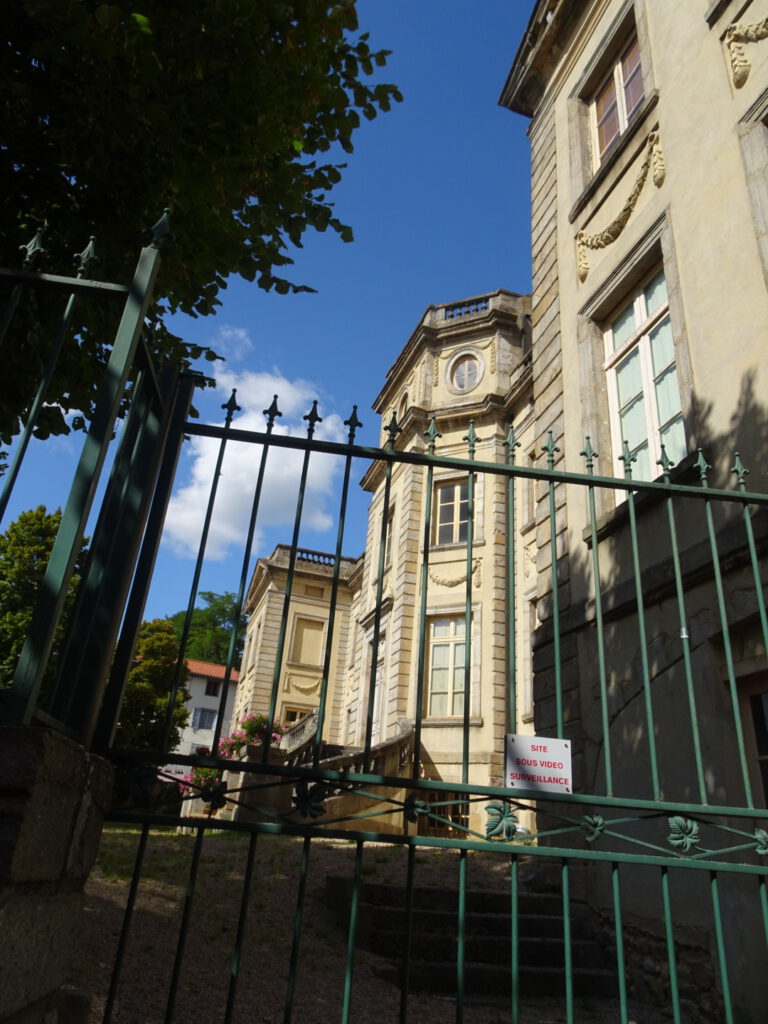 I also stopped at a couple of fishponds (there are regularly some kind of crazy square "lakes" here made especially for fishing, mostly on private land.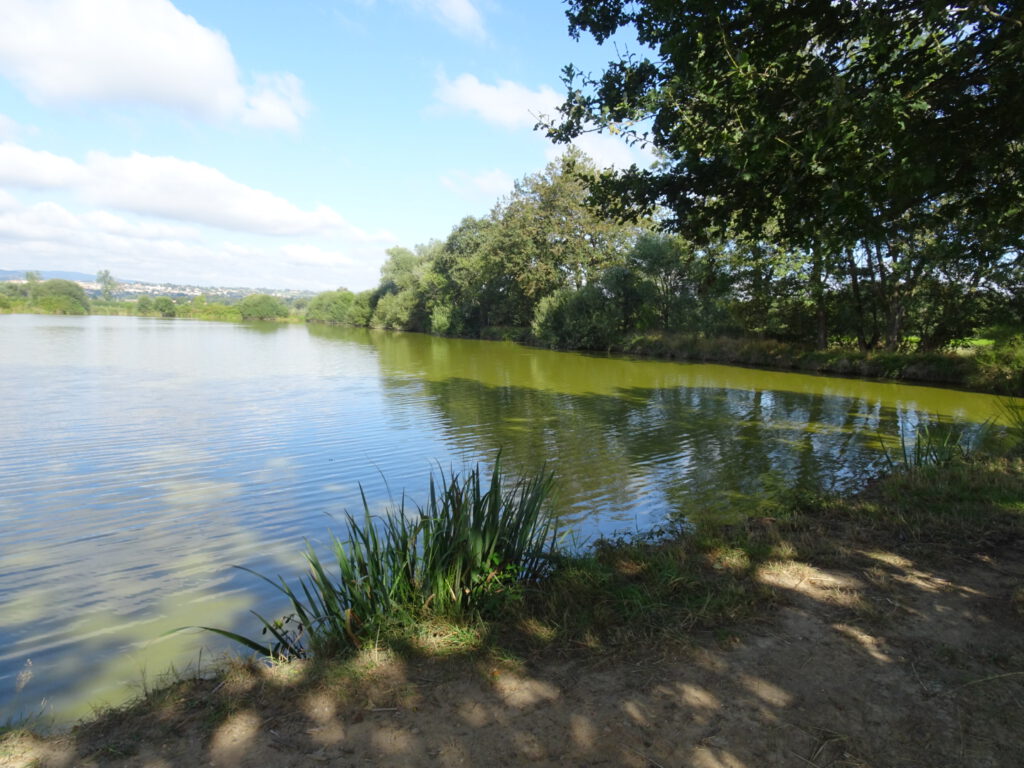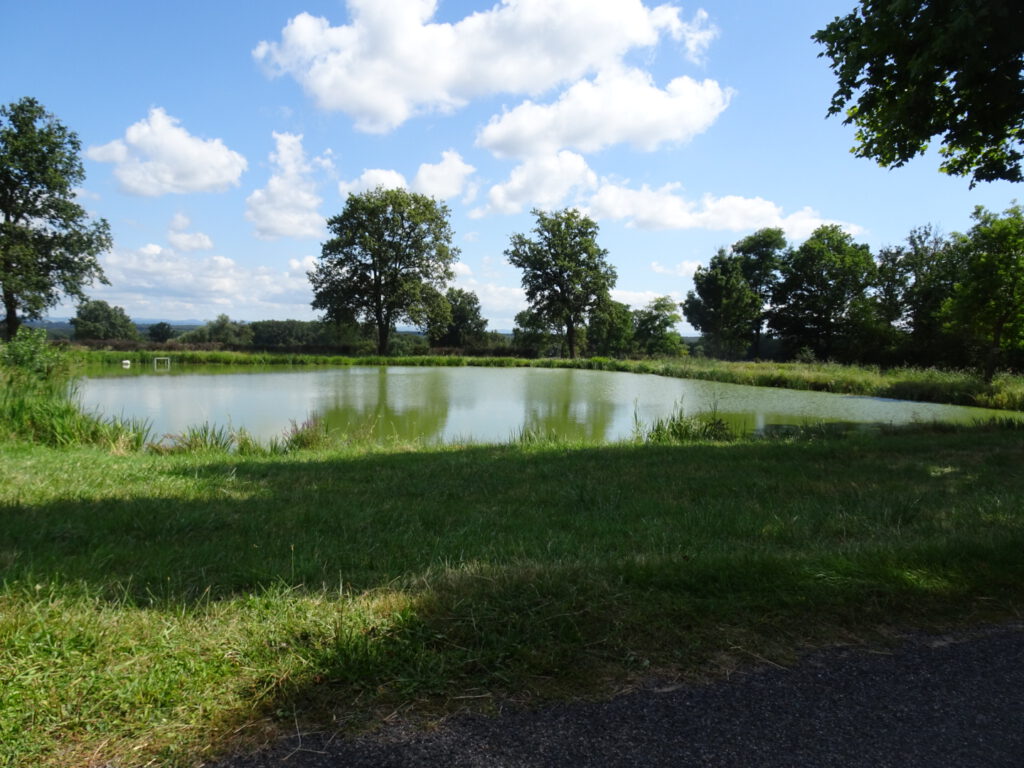 I also photographed countless butterflies, birds, spiders, lizards and other small creatures. I found one spider in particular very special, a beautiful black and yellow striped one.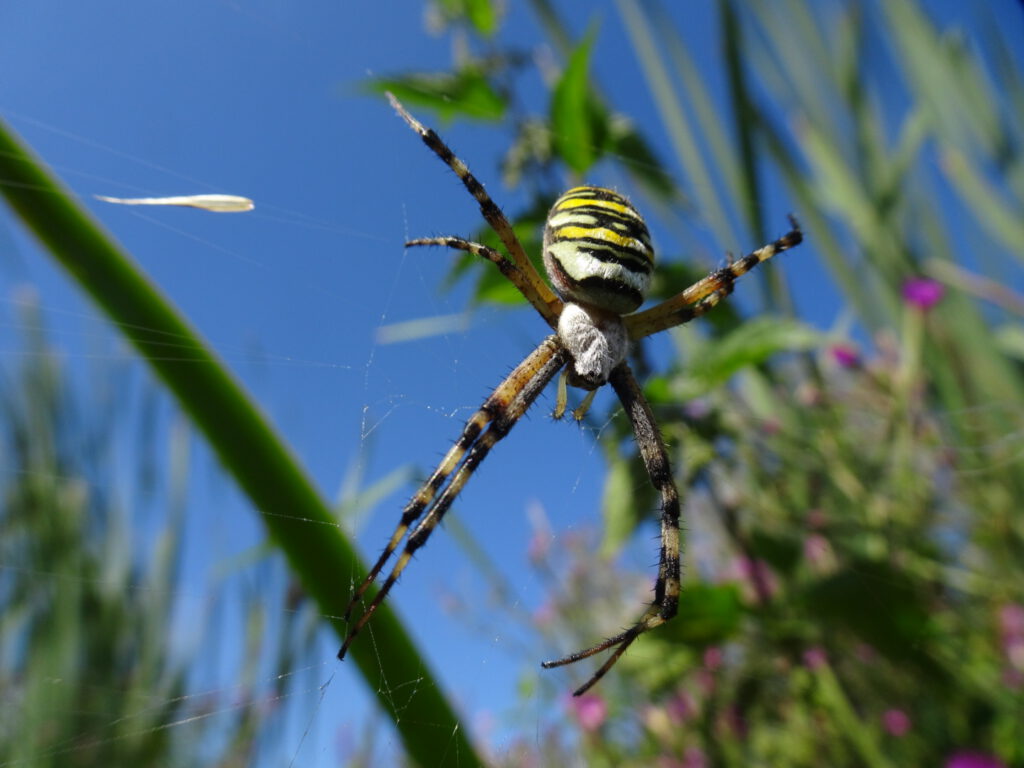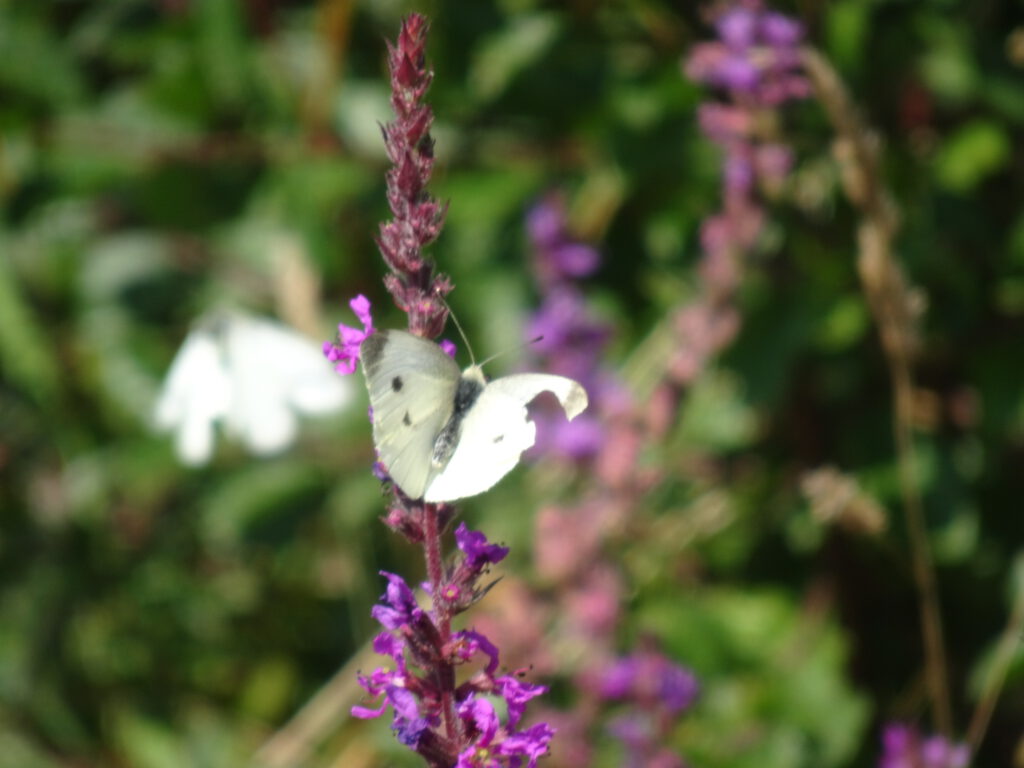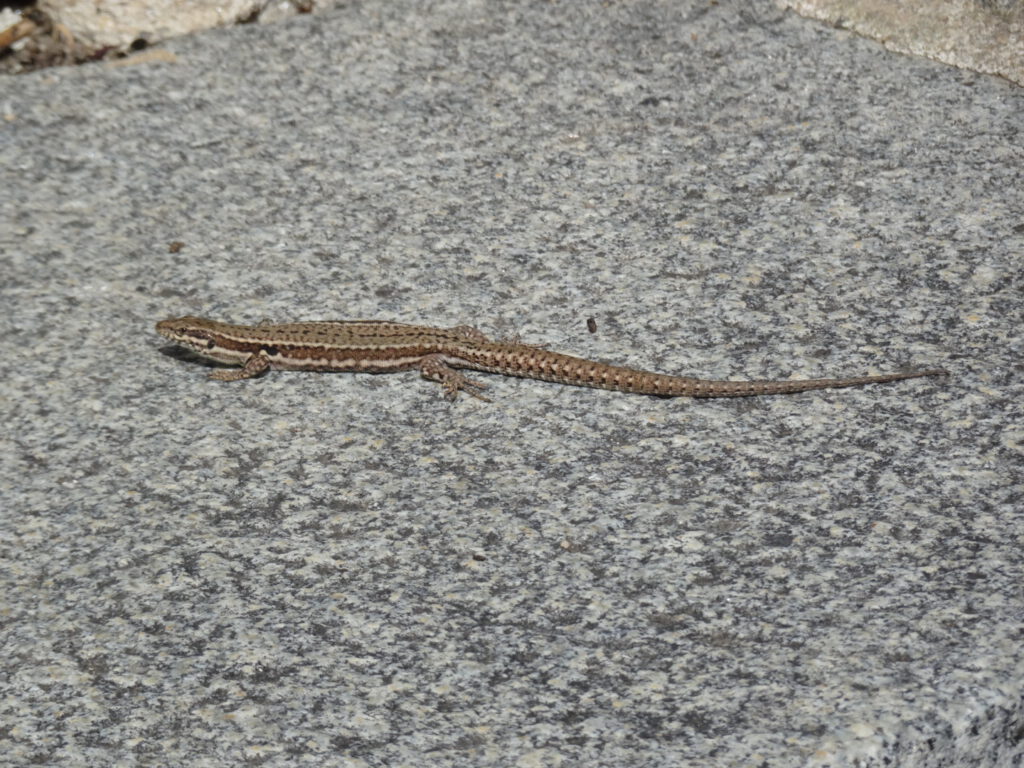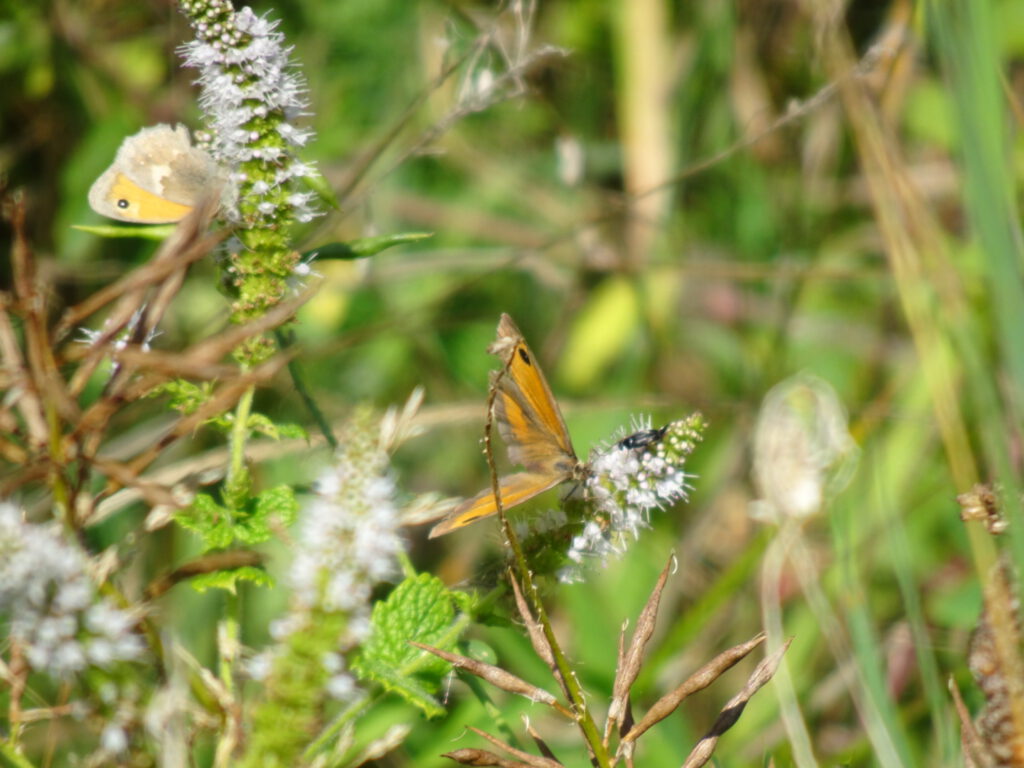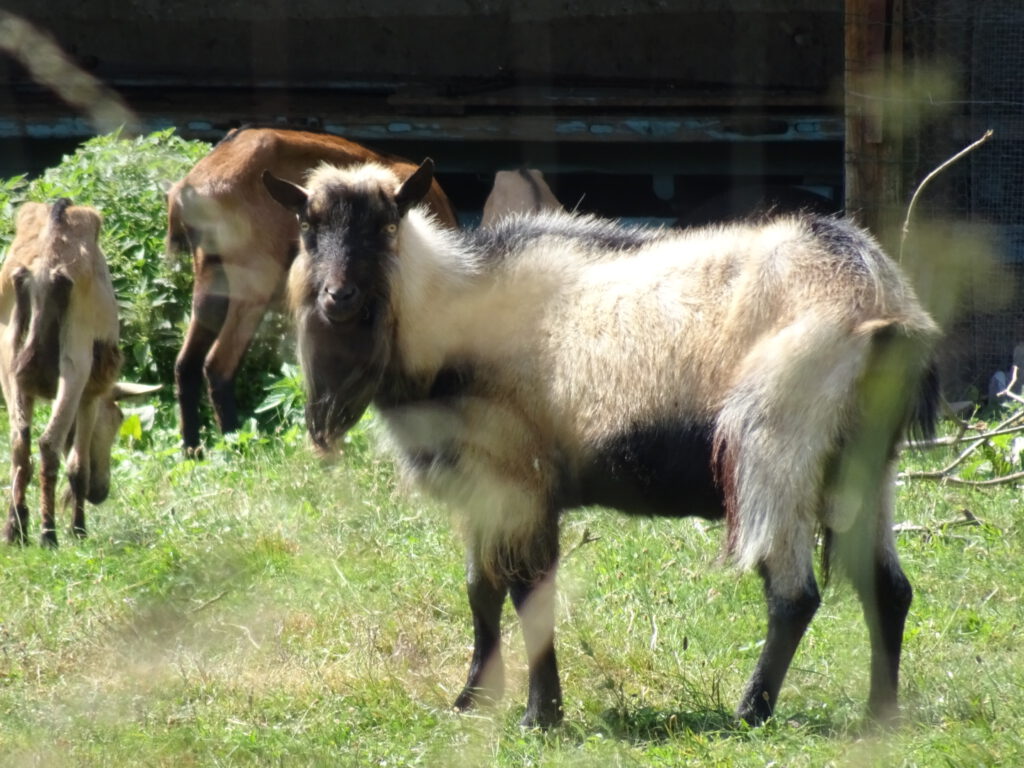 I also stopped at several churches. The first one was eglise Saint Martin from the 14th century in Bussy-Albieux, this church and its surroundings showed that this is a church where many pilgrims pass by. There are scallops everywhere, including a very large one in the street in front of the church.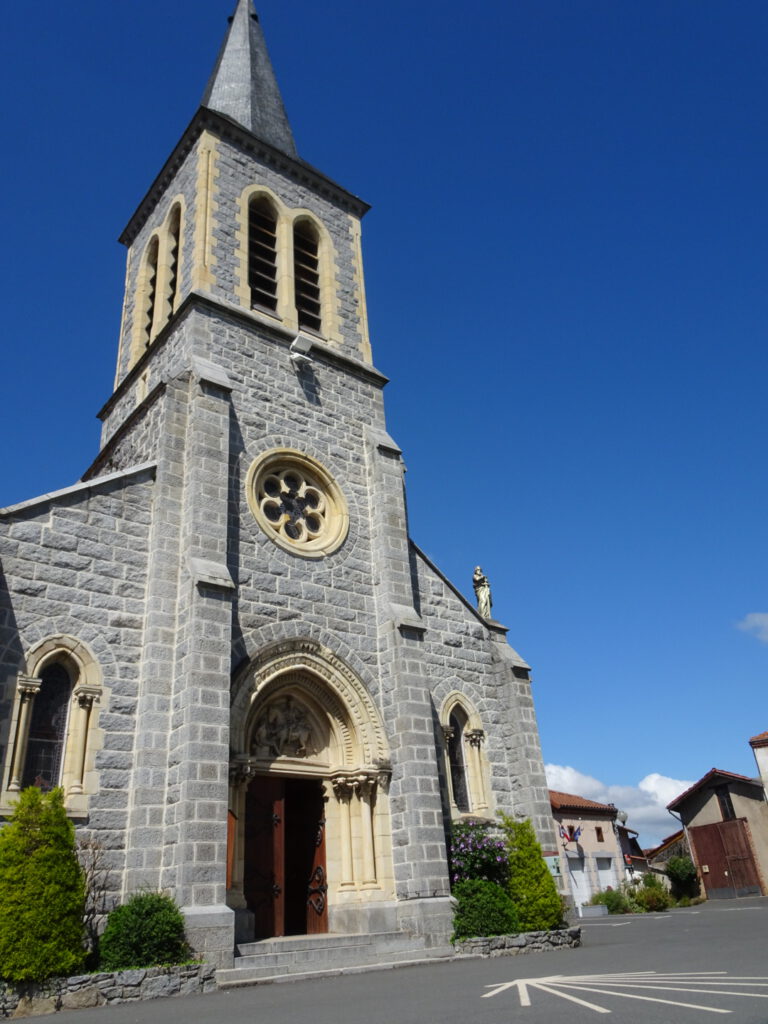 The next church was one on the cemetery, I read about it in my book (and that says something about my French, the reading is much better, now the talking).
This is an 11th century church with a monumental altar. The chapel is open for pilgrims but is also used as a church every month in the summer months.
When I was at the cemetery, I immediately filled my drinking bottle. There are always taps on cemeteries and they are ideal for filling up with water.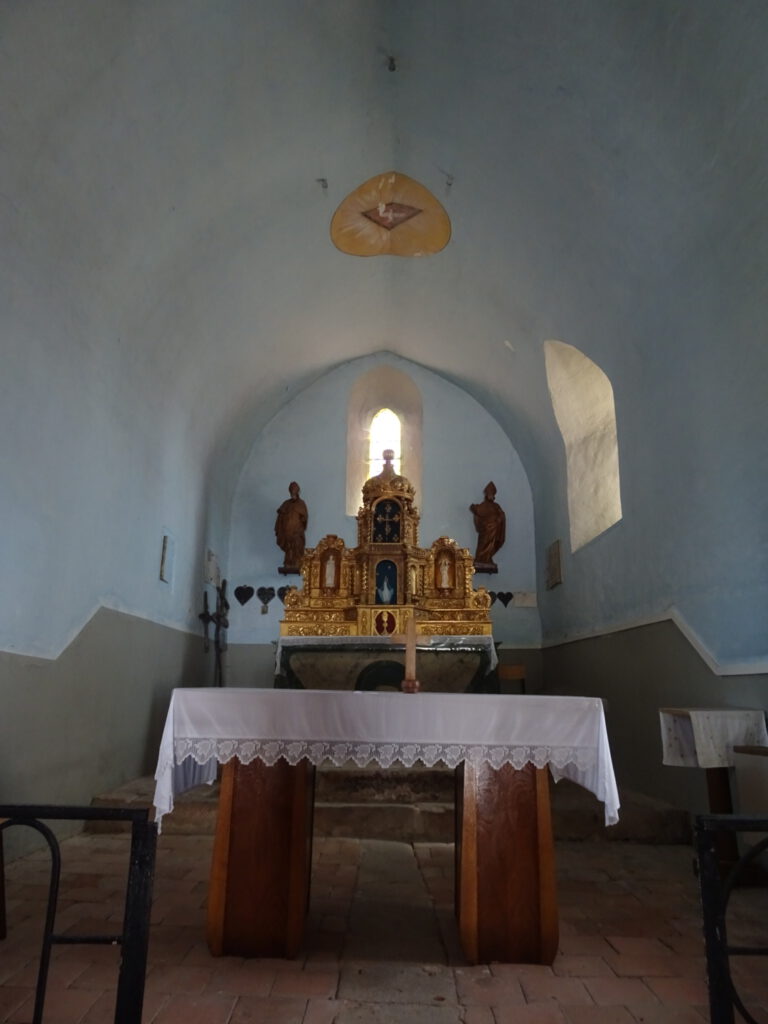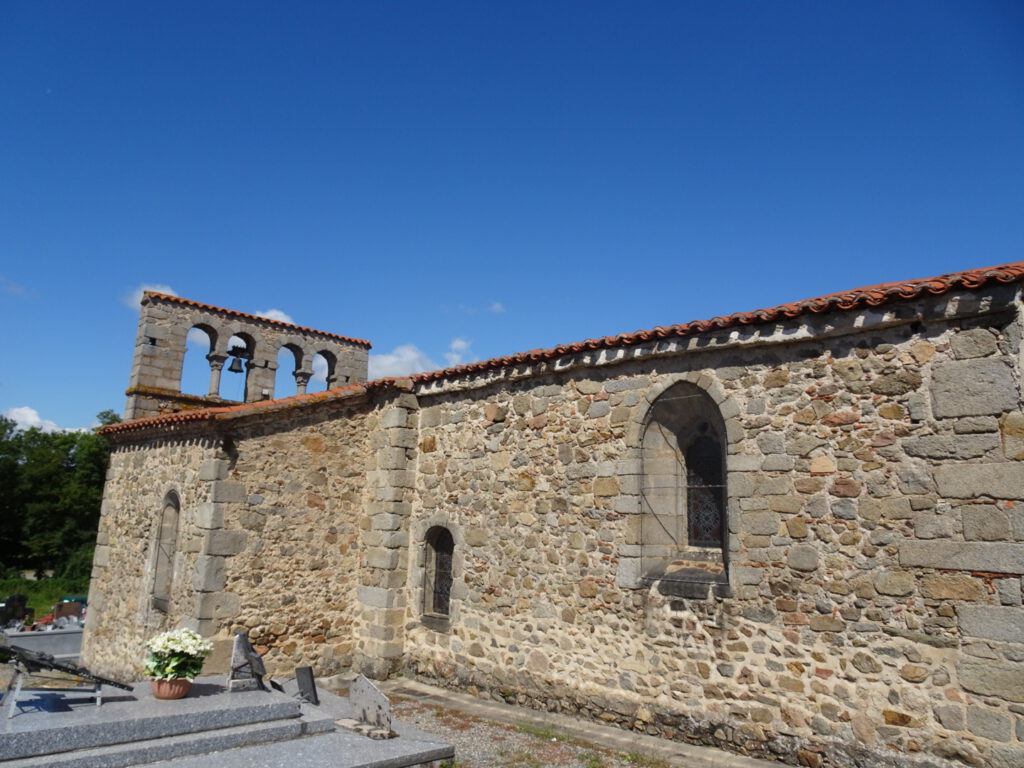 And finally, I visited the church of Boën-sur-Lignon. A church with a fairly modern interior.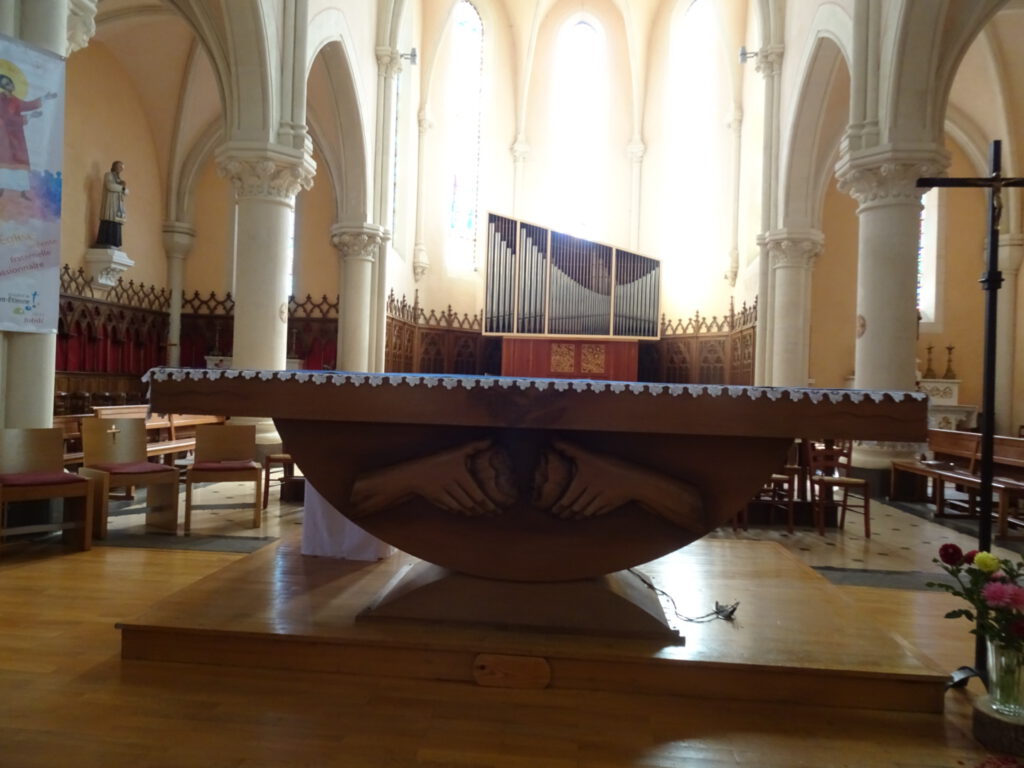 Then it was time to go to the supermarket for the weekend shopping and then to the campsite.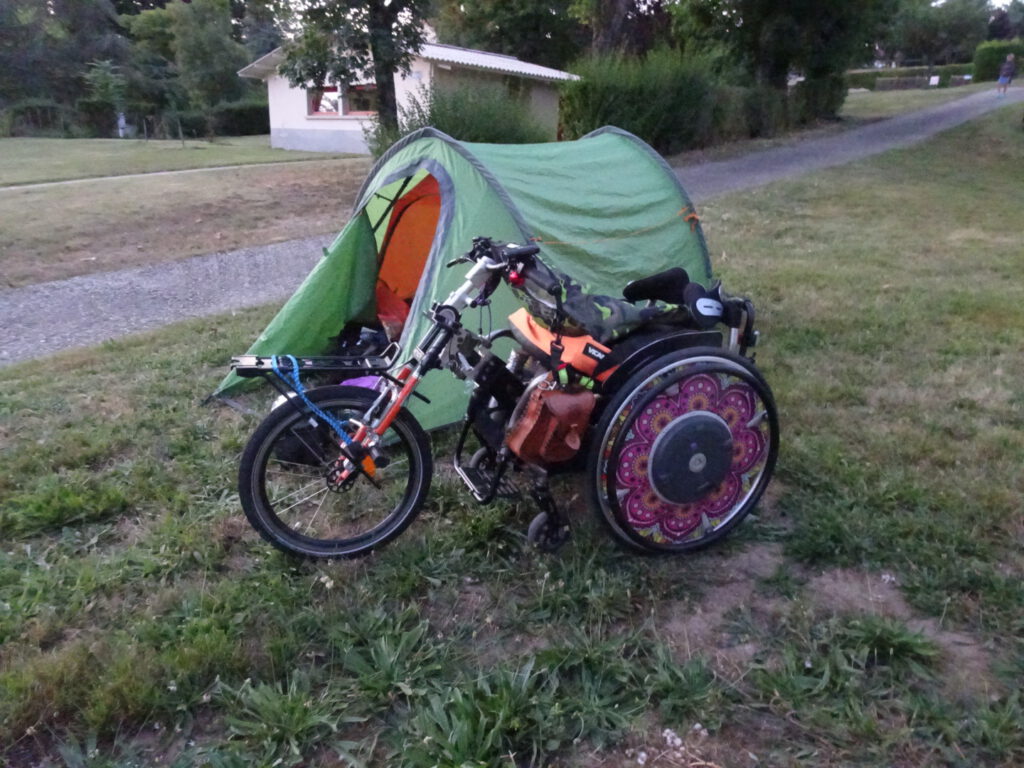 Zo weer lekker slapen.
Going to sleep now.
Greetings,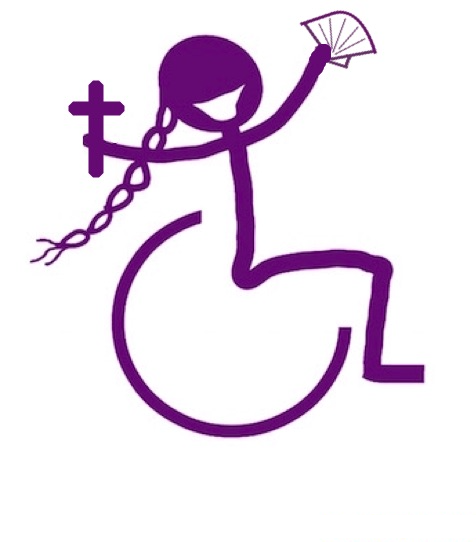 Wheelchairpilgrim
---
augustus 29, 2021 door rolstoelpelgrim
Had a fairly quiet evening at the campsite last night, only a few short chats, but the campsite was quiet and that was fine, because I also had to sleep a bit on time.
I had a pretty good night. Yesterday when I visited the church in Boëen I saw that there was a mass this morning, I was very doubtful whether I would go because I would have to roll another day of 25 km, but I decided to do it this morning . I was packed quite early and rolled towards the church (1 kilometer up the mountain). I was there too early so first a tour through the town, spoiled myself with a Sunday croissant (I hadn't finished it yet) and then I went to church too early. It was nice to see how busy a number of women were getting the church ready, connecting microphones, tidying flowers and wiping away fallen leaves, laying down cloths and cloths for the Eucharist, etc.
they also had time in between to ask what I was doing in church. It's not often that such a crazy wheelchair comes fully packed into the church (I don't think ever).
the priest also made a small talk before getting ready.
during the celebration I was also referred to several times, unfortunately I do not know exactly what he said during the sermon, only that he mentioned my name. it's a good thing I've already registered for French lessons, because although things are going better than last year, there really is still something to improve, especially in terms of speaking.
after the celebration, several people came to have a chat and I got a stamp in my pilgrim passport.
yesterday at the campsite I also got one and with that my pilgrim passport was full and I started with a new one.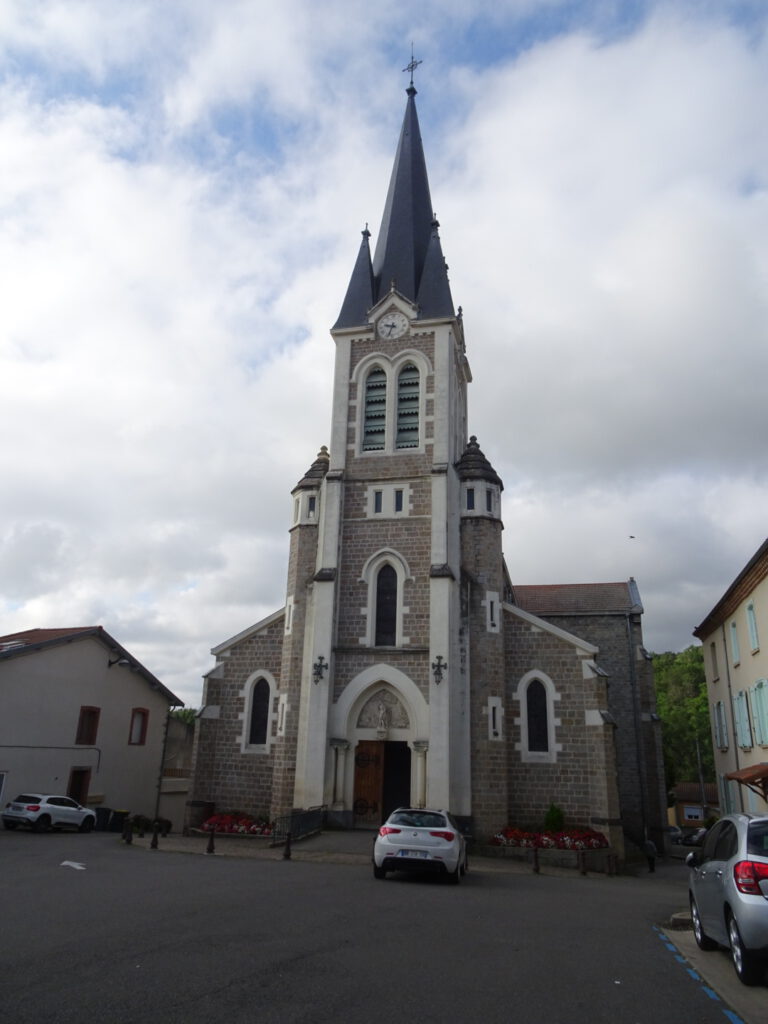 so I left much later than planned. on the way I came across a lot of blackberries, which I had a lot of snacking, there are now many more blackberries ripe than last year. although I had a lot of other fruit then such as apples and walnuts but they are still hanging on the tree (I was a few weeks later in the year then).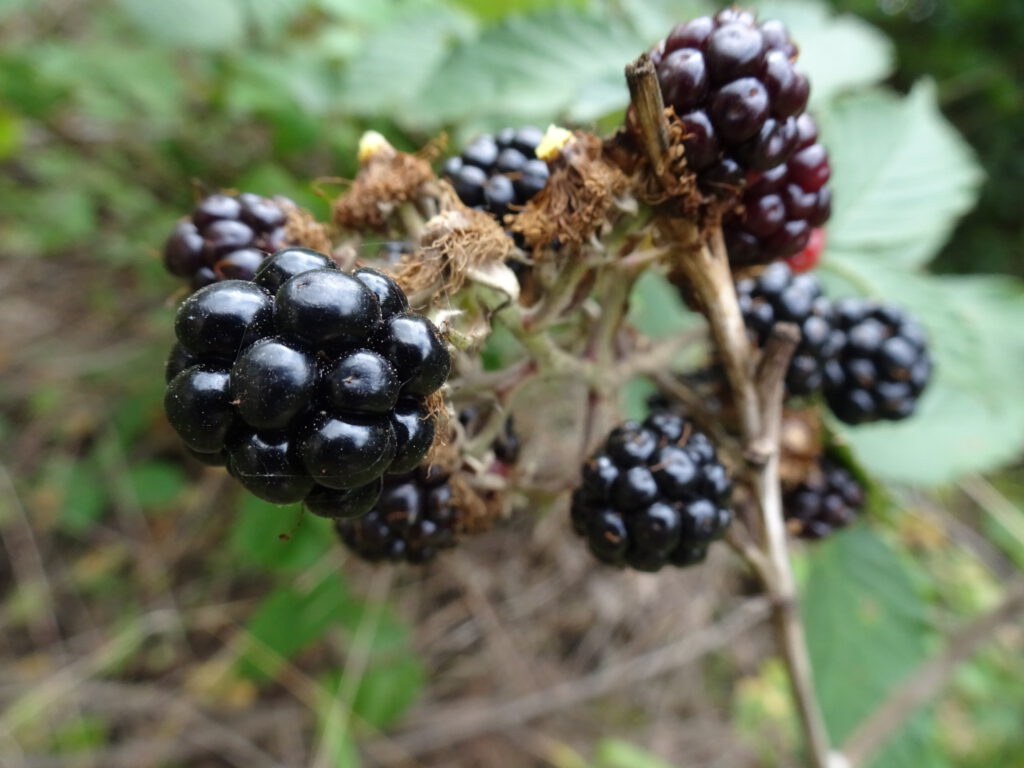 I rolled through very beautiful landscape, I didn't have extremely steep hills/mountains but I did see them on the left and right of me. a pretty face. closer are often a bit strange kind of mountains.
I read that the mountains that lie here are old volcanoes. along the way I also saw a number of monasteries (near Montsprei) and castles (at a greater distance) on those strange mountain peaks.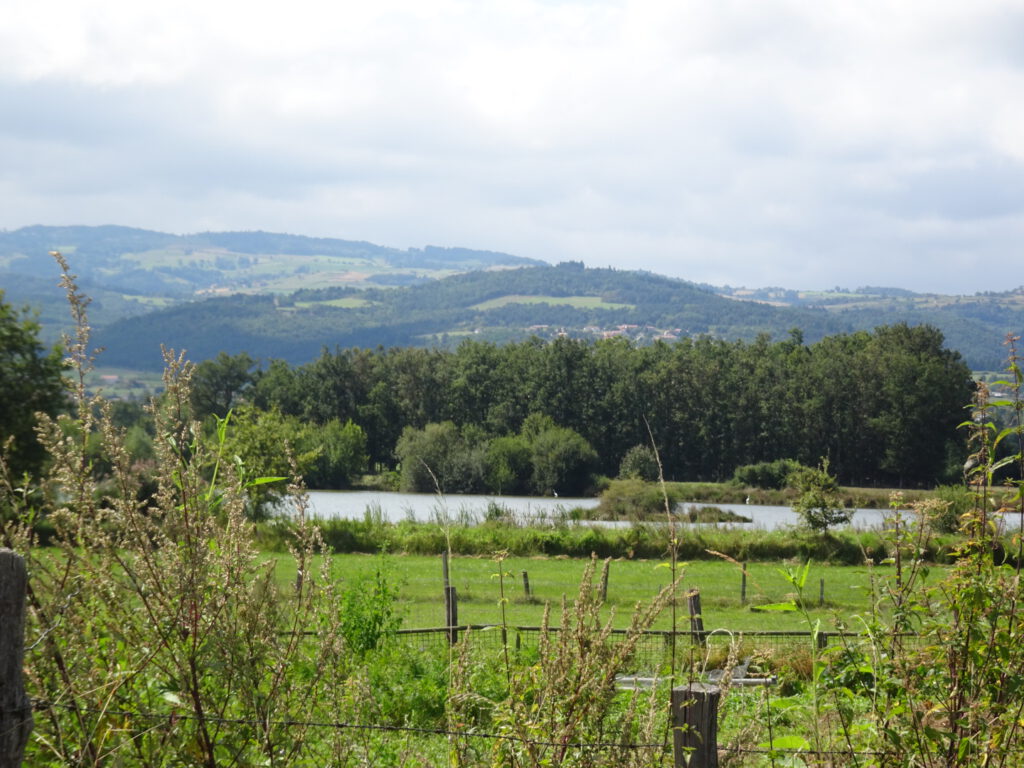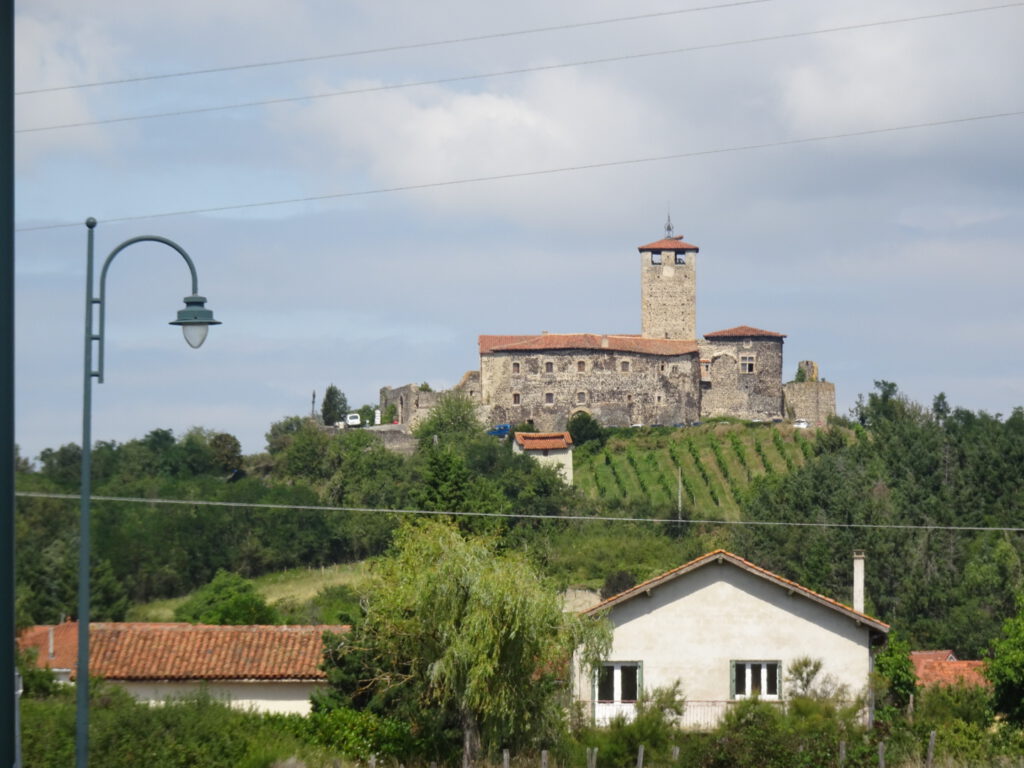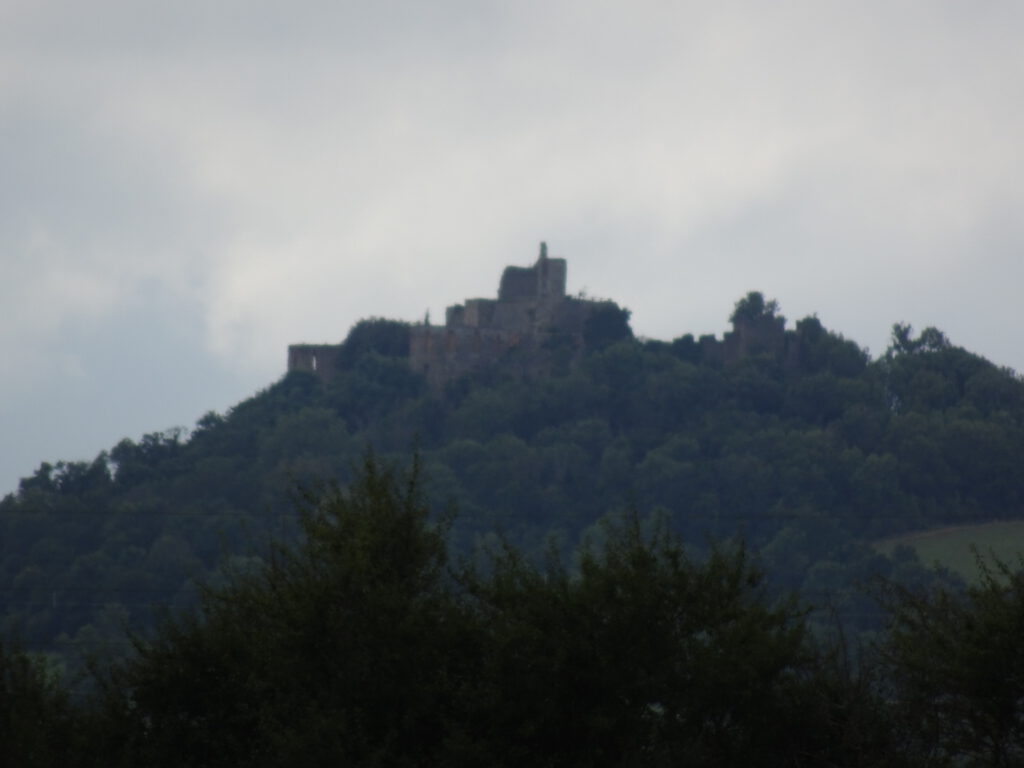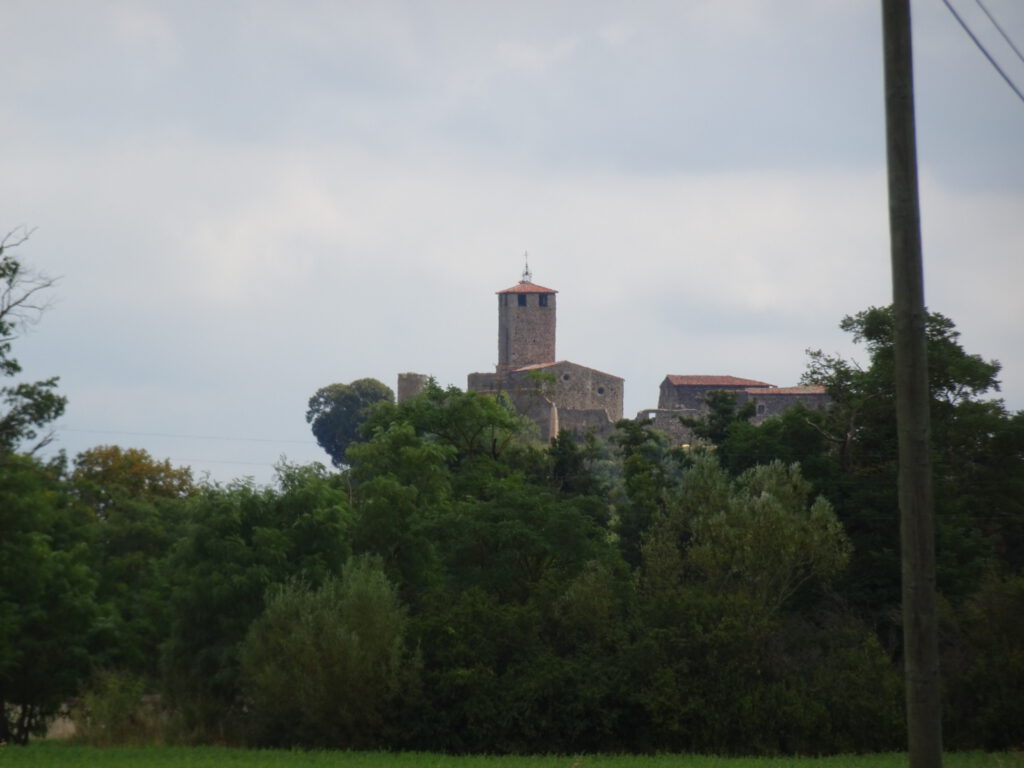 I've also photographed butterflies again, like almost every day, but I've never had one like today's before. there was a beautiful black and white striped very still, I even doubted whether he was alive but took a few pictures from very close, my camera 3 cm from the animal and he just stayed put but started to move a bit. eventually it jumped/flyed on my camera, and then on my hand, then decided the end of the shoot had come and flew away. very special such a butterfly up close.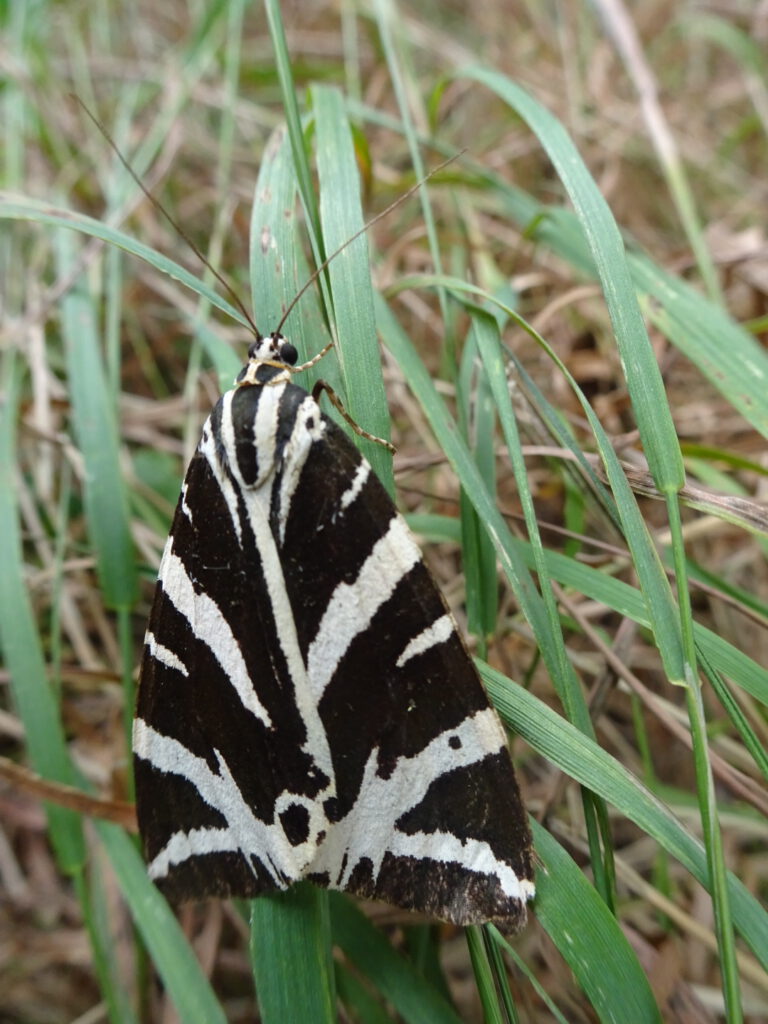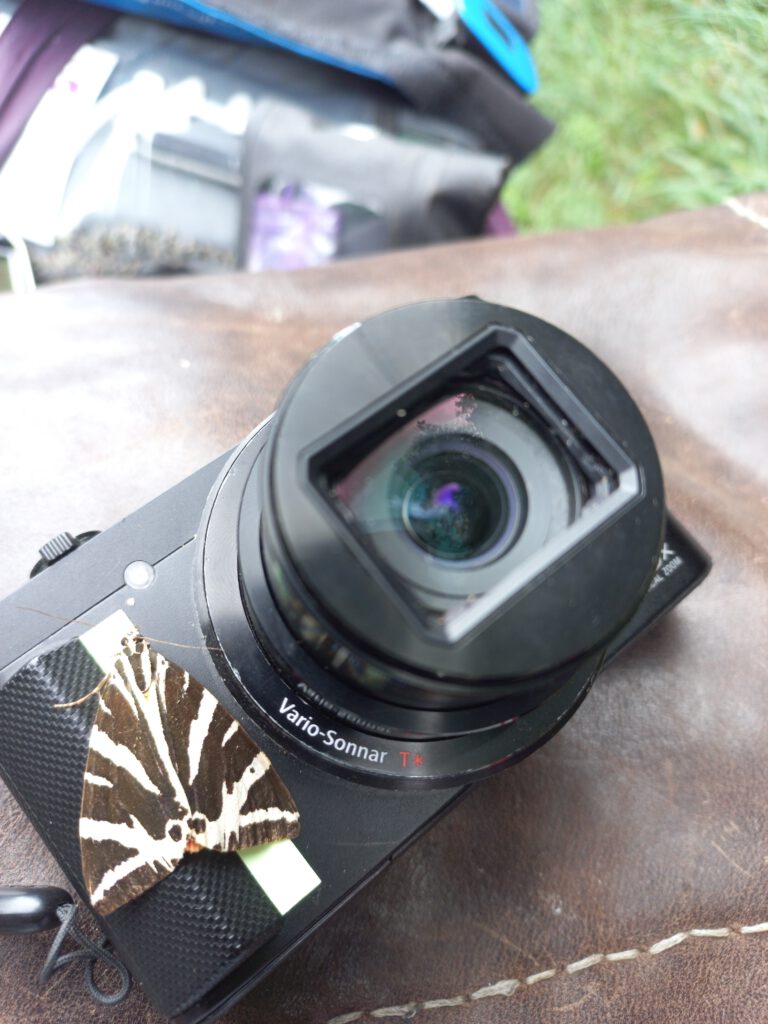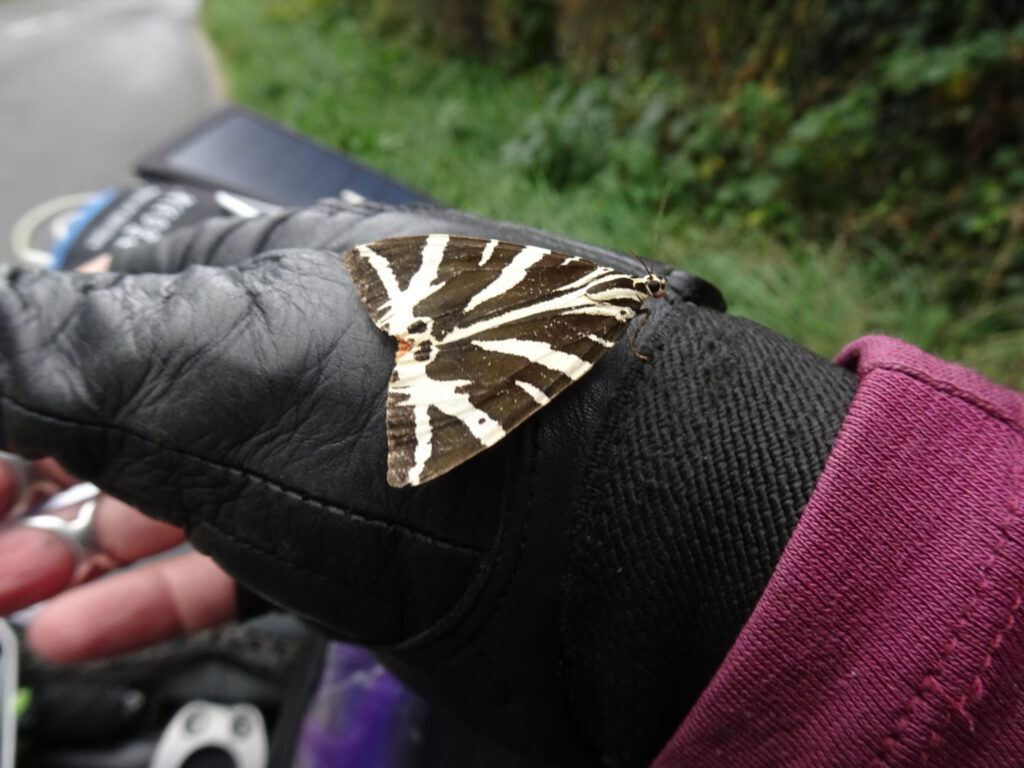 I also saw an animal I don't know, a kind of big black bee.
Do you know what this is?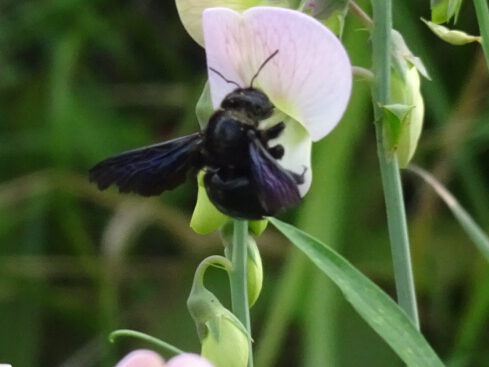 I rolled on the official route for much of the day today. mainly on small normal roads, but I also had a part of a dirt road, I always find that exciting, because when I make the choice to take such a road it often looks reasonable if I can roll on it but sometimes it changes suddenly in a sand/mud path or with such high grass or boulders that I can't dry out, now it stayed reasonably well, some smaller boulders, but still passable and they are beautiful paths so I'm glad I did it anyway dared again.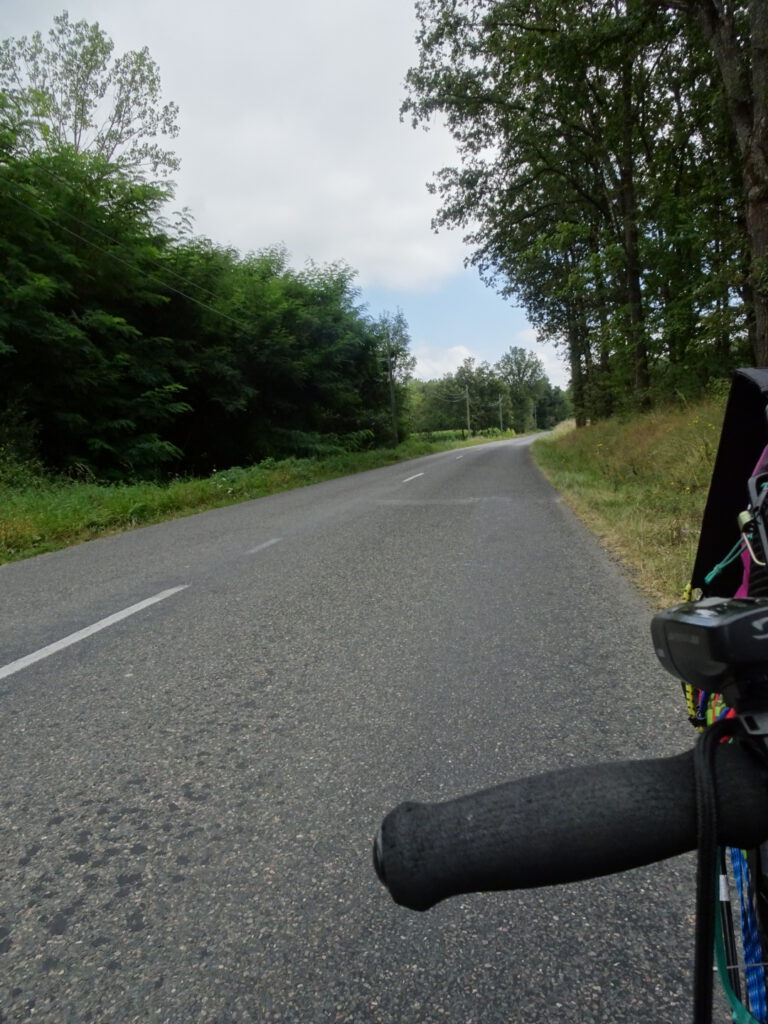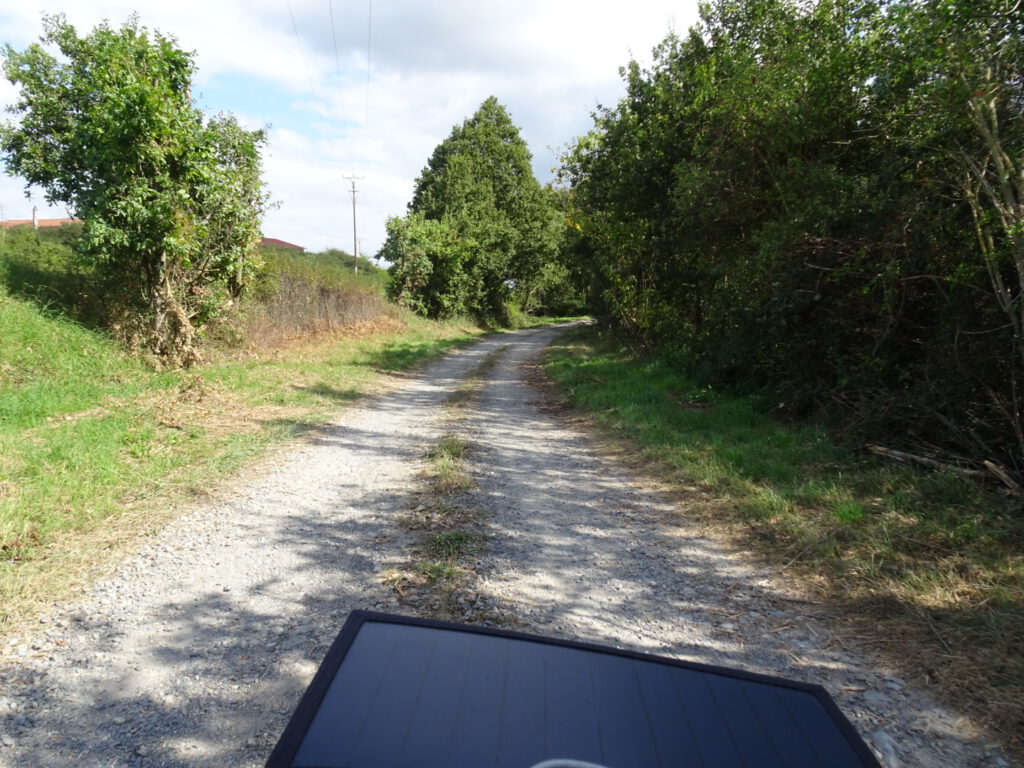 When I arrived at Montbrisson I wanted to stay with the Clarissen sisters, I also slept at their nunnery when I was in Reims and that was a good experience so I hoped to be able to stay here too, but that turned out differently. Because of their age, among other things, they stopped taking in pilgrims, the sister told me when I rang the doorbell, but she remembered someone she called and within a few minutes the wife of my new host family was standing in front of me.
I had a delicious meal there and now I'm lying in a great bedroom.
I will continue tomorrow, where to I don't know yet because the next campsite is not only 30 kilometers from here, but also because that campsite is 800 meters higher than here and that distance and ascent ensure that my batteries and arms will not reach that distance and I sooner need a place to sleep. there is little here so it is still a surprise where I will end up tomorrow. quite exciting but I try to trust that there will be another place to sleep.
Greetings,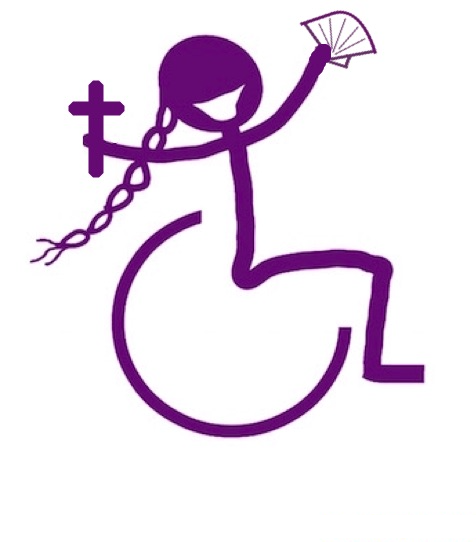 wheelchairpilgrim
---
augustus 30, 2021 door rolstoelpelgrim
Usually I write my messages from my tent or a bed where I sleep. Today I must confess I don't even know where I'll sleep yet, although luckily I now have a few possible (somewhat unusual) options.
more on that later.
Last night I was allowed to sleep with a wonderful family who unexpectedly came to visit me. although they sometimes received pilgrims who, for example, knocked on the door of the monastery or who entered them in other ways. they had ao 2 dogs and a cat, so I really liked that too!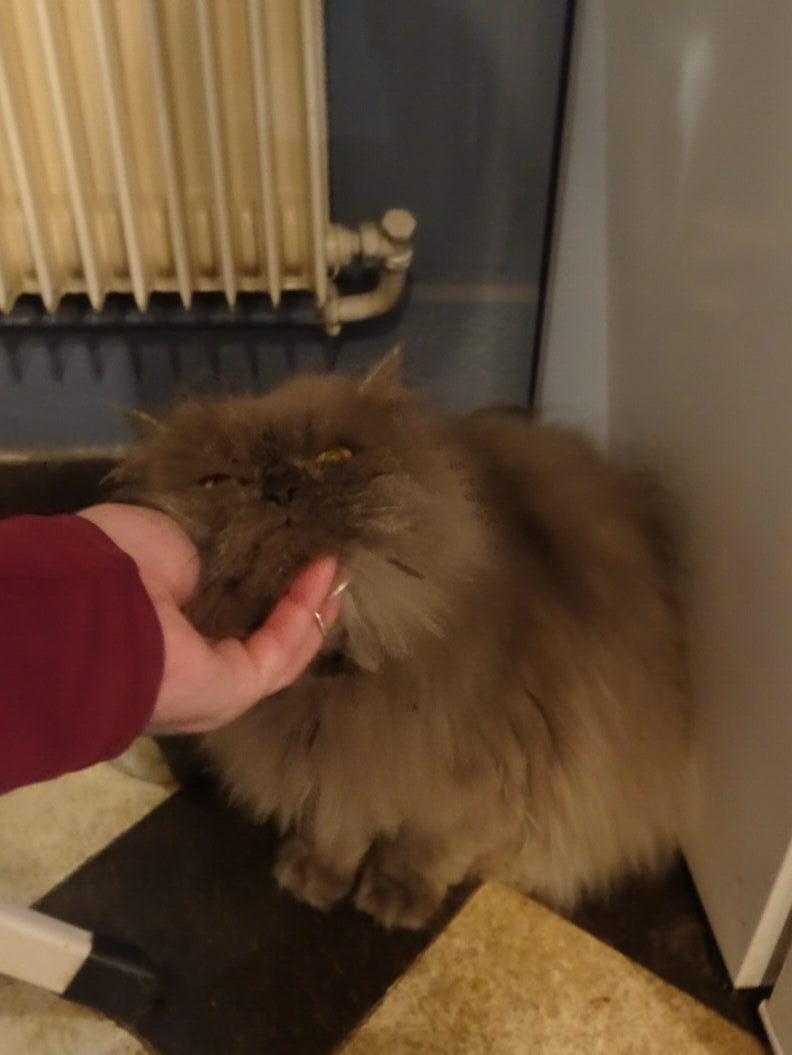 I like to see how many people open their houses to me, and I will probably need that a lot in the coming nights.
yesterday I had already seen that reaching the next campsite (or other affordable place to sleep) at 30 kilometers is not feasible, in the Netherlands I can easily roll 30 kilometers, but that 30 kilometers is on average with a slope of 5%, and then my set will find batteries are fine after about 8 kilometers and they stop. now I have an extra set but then the range is not that big yet.
This morning I went to mass in the monastery where I knocked yesterday, together with the woman I was staying with. nice to see it inside and meet the sisters and I got a stamp in my pilgrim passport. they also have a very nice shop with christian books, statuettes of saints and crosses but what i like the most is that they have heaps of things made by their own and other monasteries. icons, candles, soap, alcoholic drink, jam, honey, candies and all kinds of other (edible or inedible) works of art. unfortunately I can't buy anything now and take it with me because I don't have enough space in the luggage for that. By the way, it was a Poor Clare monastery just like where I slept in Reims (Cormontruil), I bought a cross there and it is still hanging on my bag.
Finally I said goodbye to my host family and left.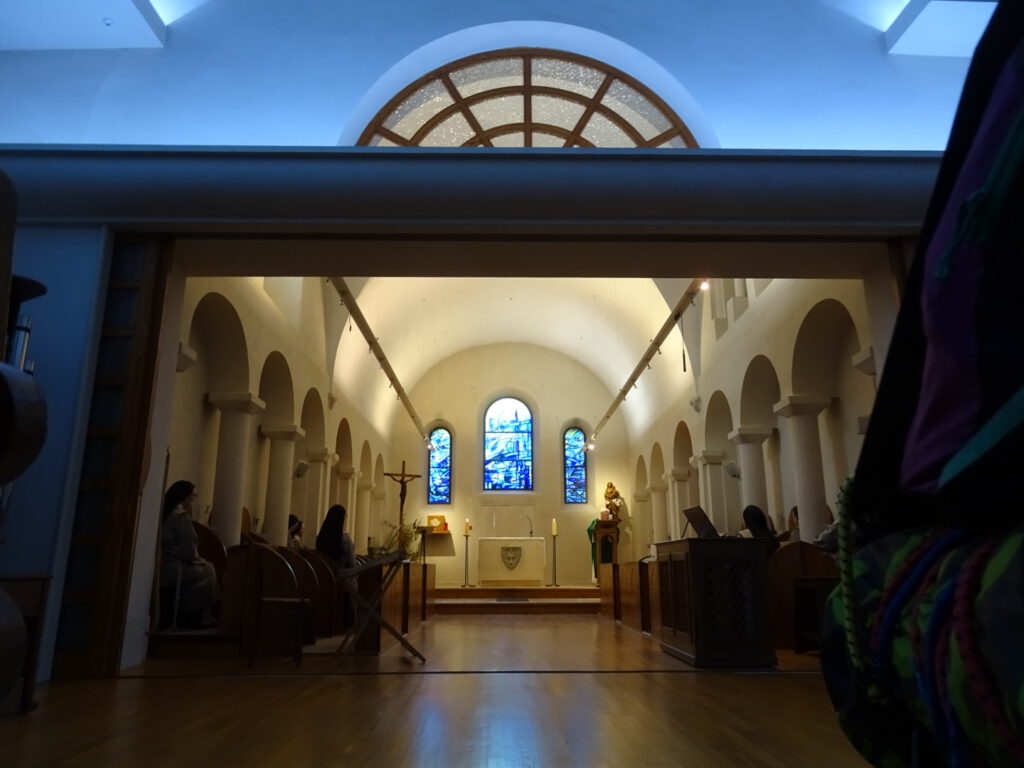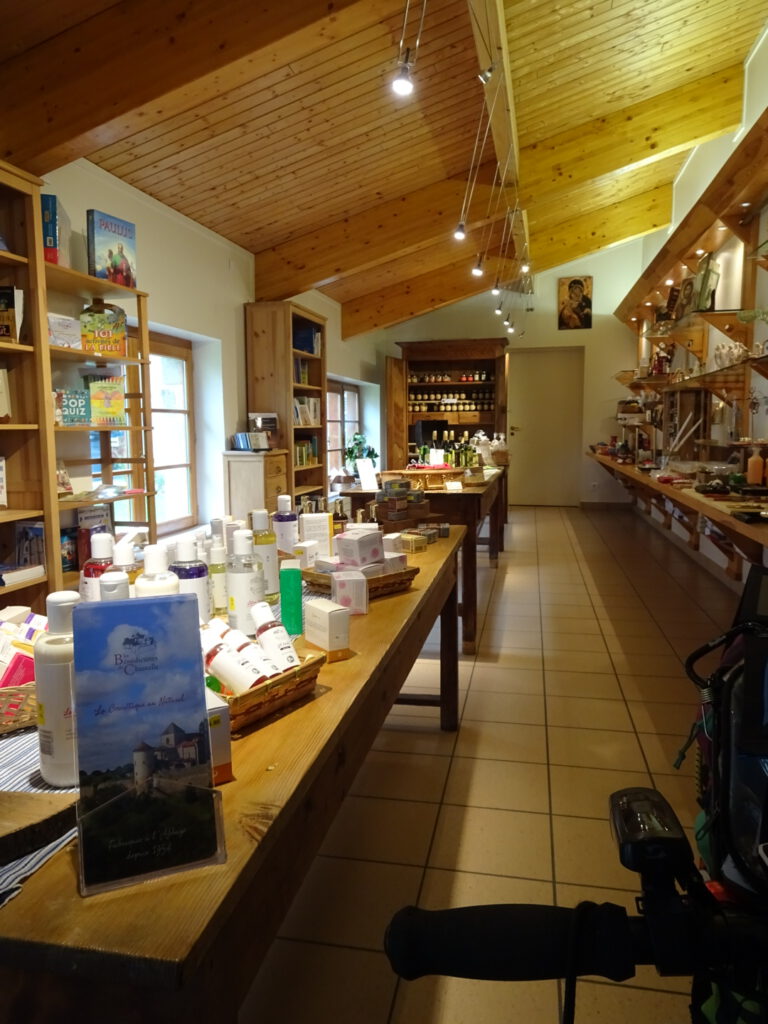 I rolled uphill with the navigation towards the next campsite, following the official pegrims route as much as possible.
The view was great, huge beautiful mountains in the distance on both sides of the road. Halfway through the morning there were low clouds which made some of the mountains disappear.
The weather today is a bit chilly anyway.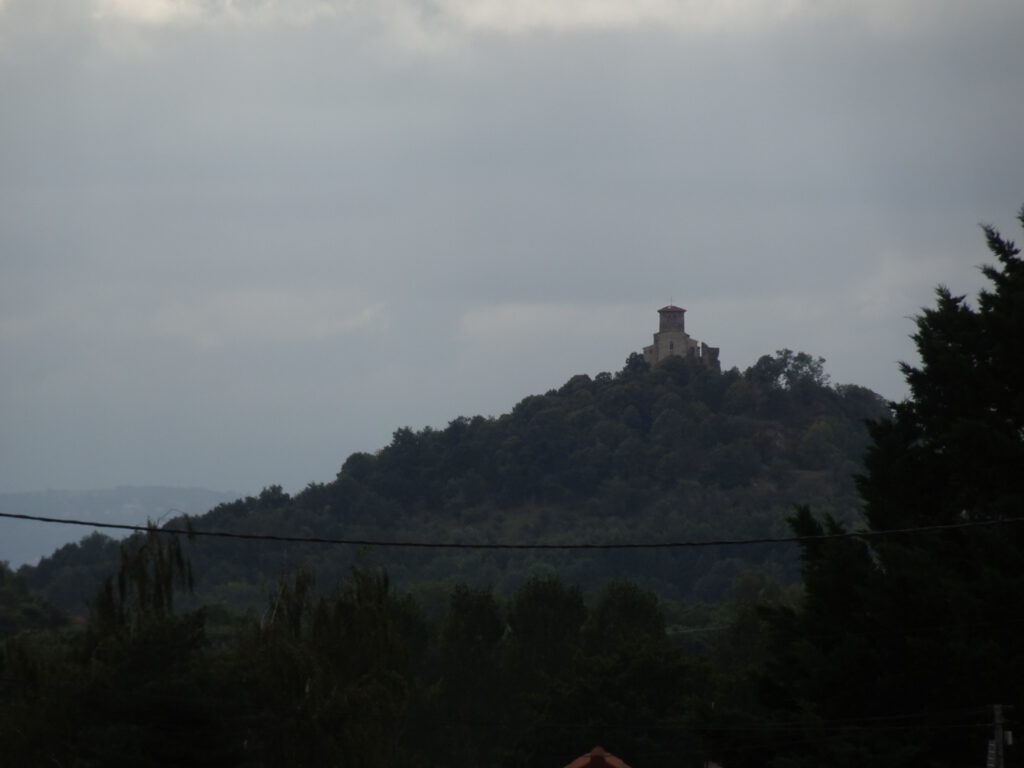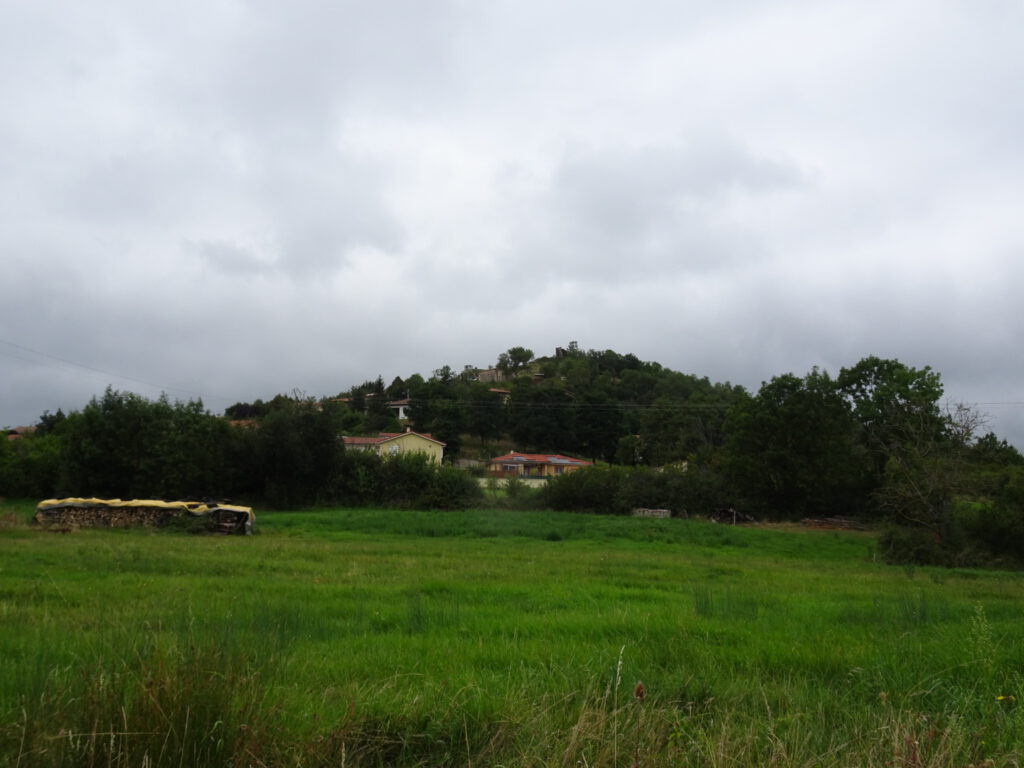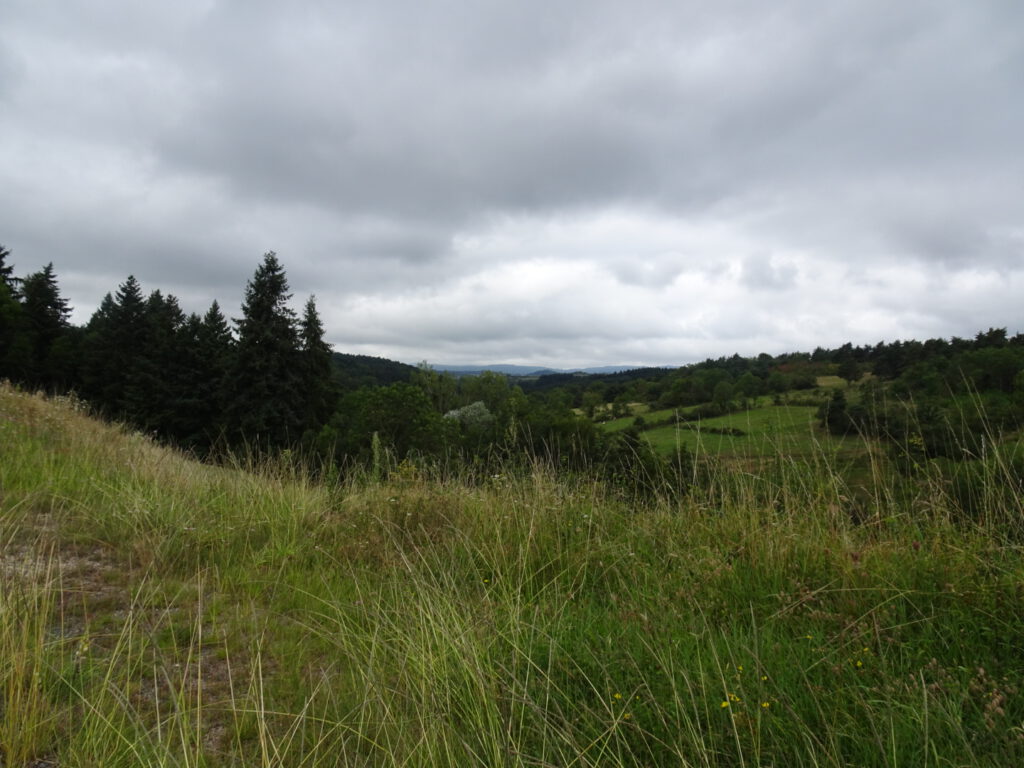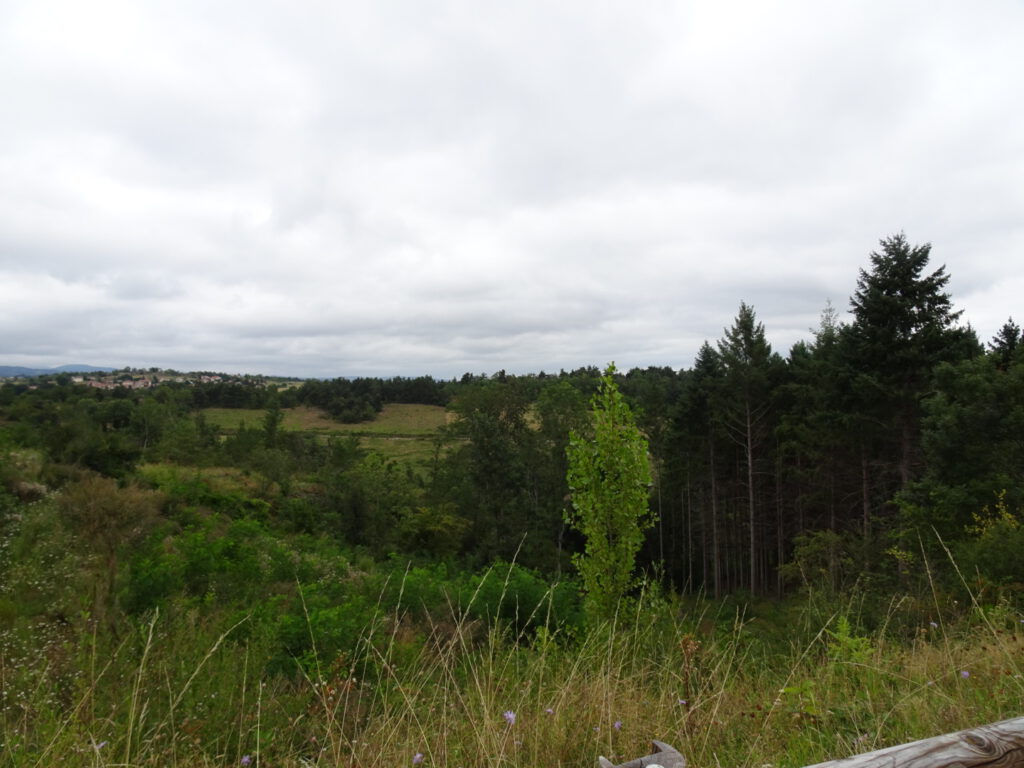 All those mountains are very steep to climb, but in a while I think there will be a lot fewer mountains because they dig them away here.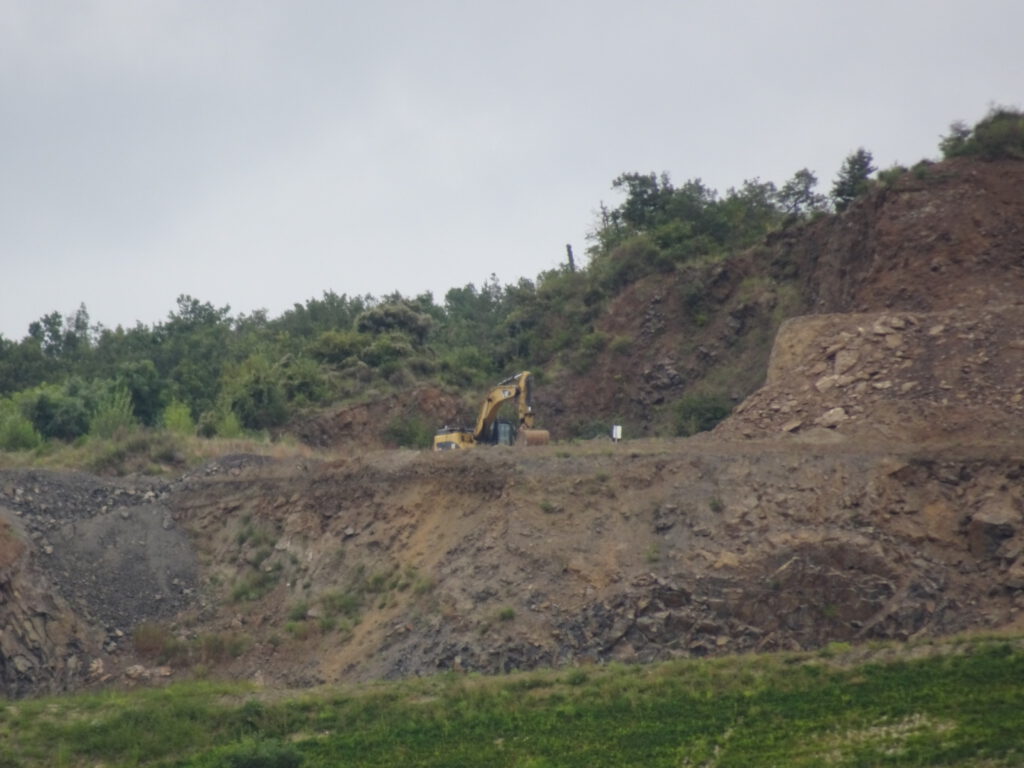 Other days I came across many cows but today also many horses and a mule.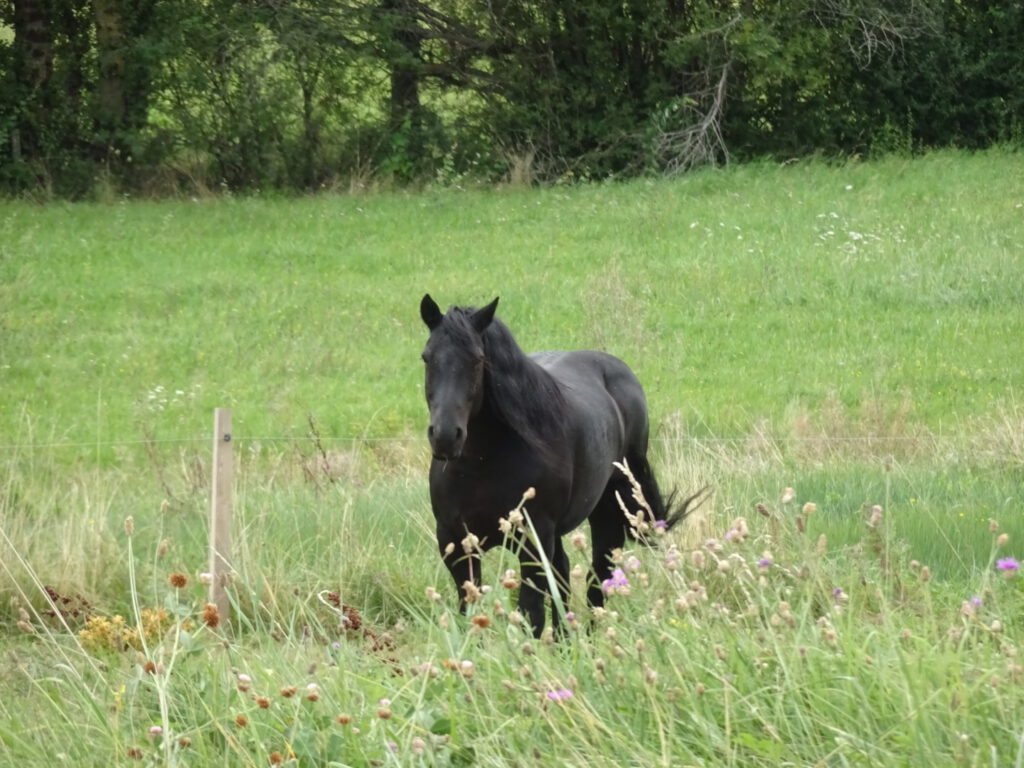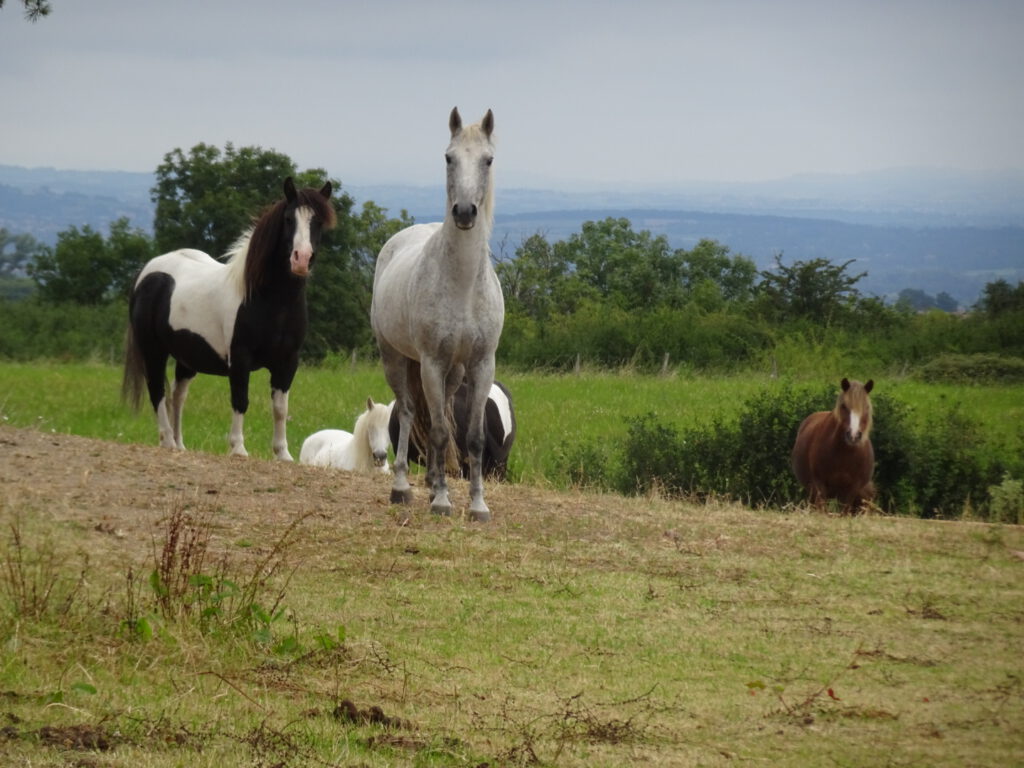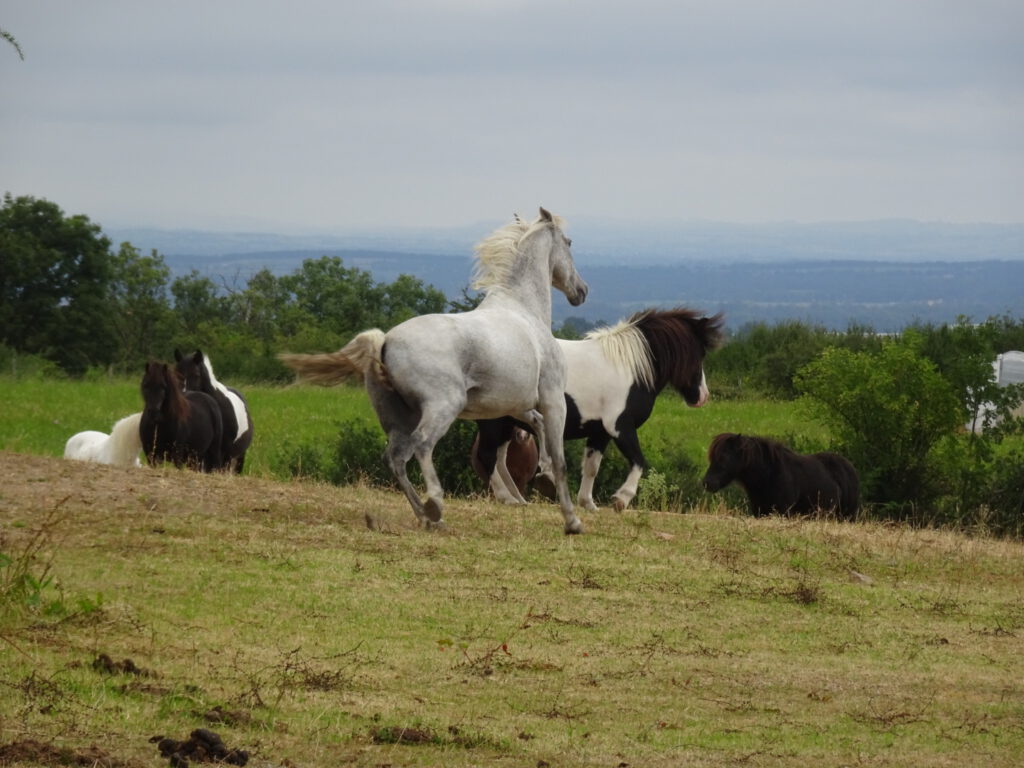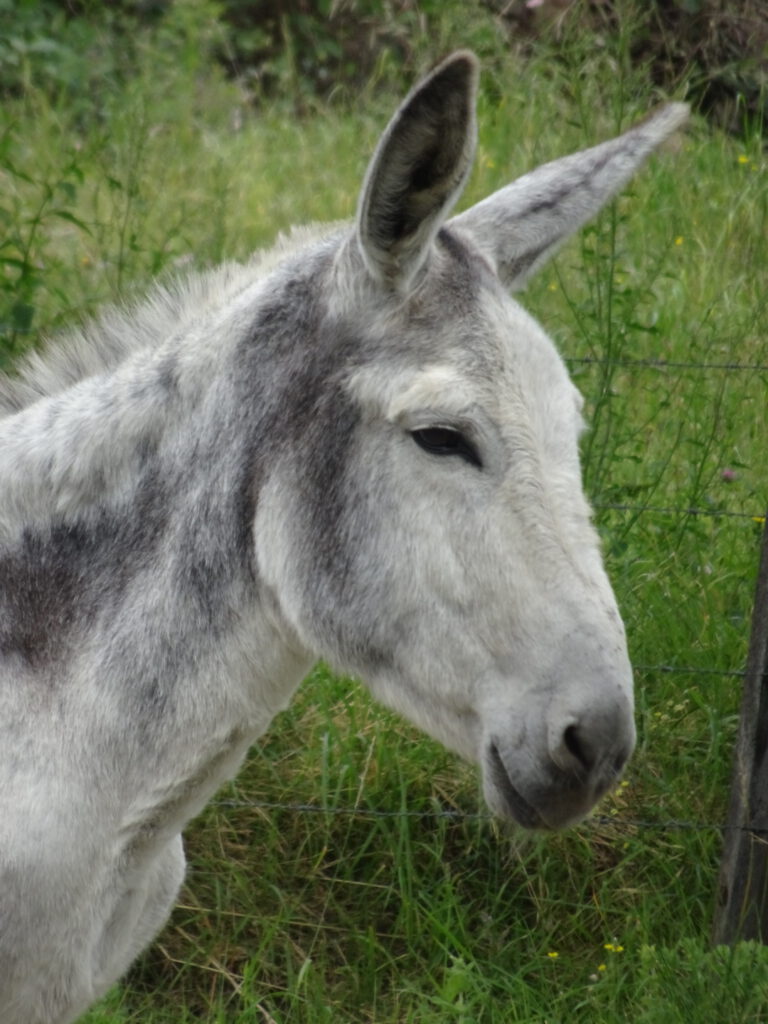 After 8 kilometers my first set of batteries was indeed exhausted.
I had decided to stop in the village after my 1st set would be finished because otherwise I might beach somewhere where no one lives. with my 2nd set of batteries I luckily reached the village of Margerie Chantagret, a village of about 500 inhabitants, a church and a few small shops (which are unfortunately closed on Mondays). That church is the most important because there is always electricity to be found there.
my empty wheelchair batteries are now also being charged in the church.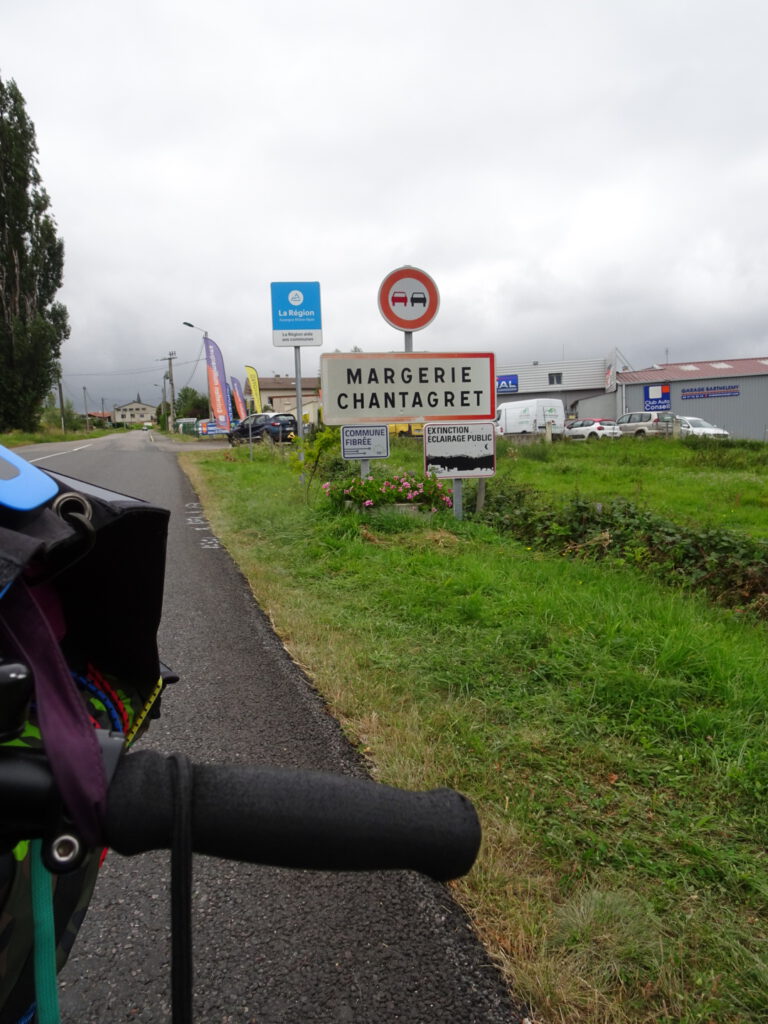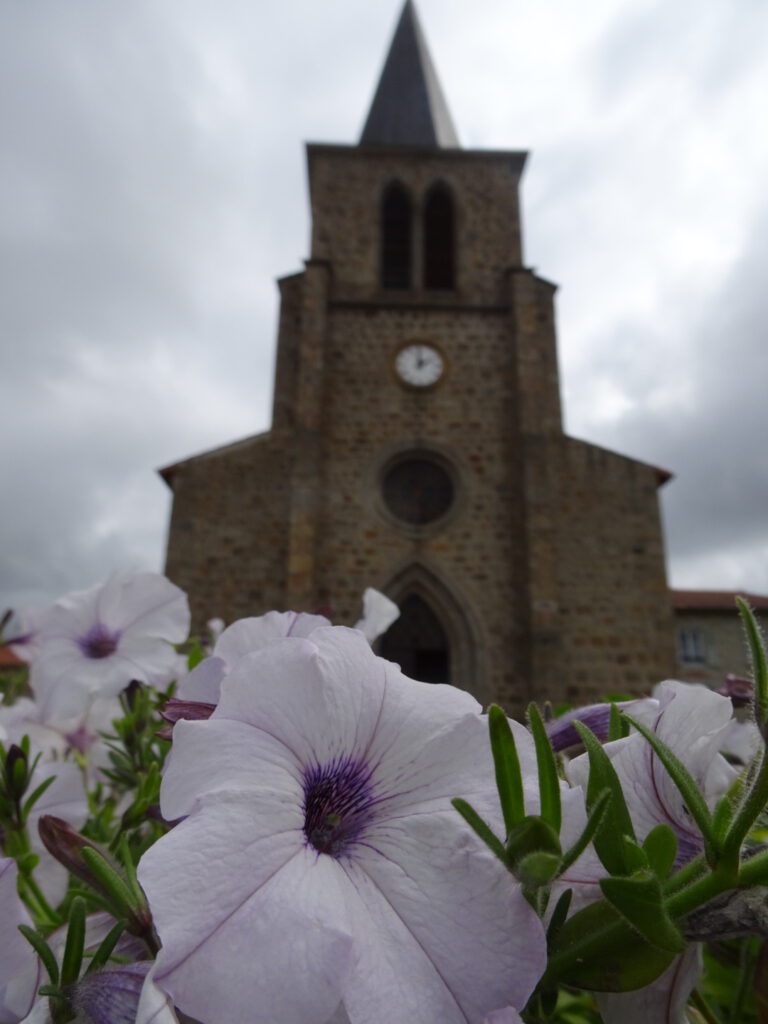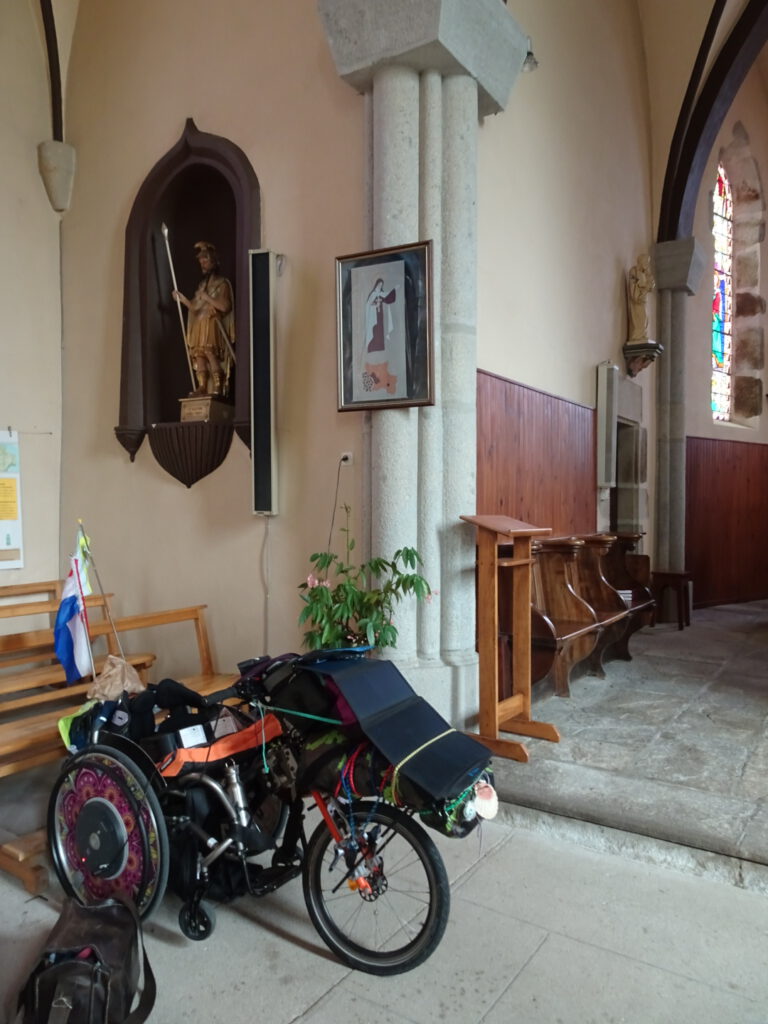 I don't know where I'm going to sleep tonight. I may meet someone who visits the church or comes to close the church tonight who invites me, maybe I can sleep in the church or else I put my tent near the church on the field where there is also a public toilet. I was then able to load the wheelchair in the church, I can go to the toilet and there is water, so that's all I need.
for the time being, it still takes a few hours (about 6 hours for a completely empty battery) to charge. I'll be here from about 1pm and at the time of writing blog it's about 3pm so I'll have to wait a little longer.
For now I'm having fun writing this blog, I have digital books with me and I can learn French or sing in church (that sounds so good)
Tomorrow I will let you know where I finally slept.
Greetings,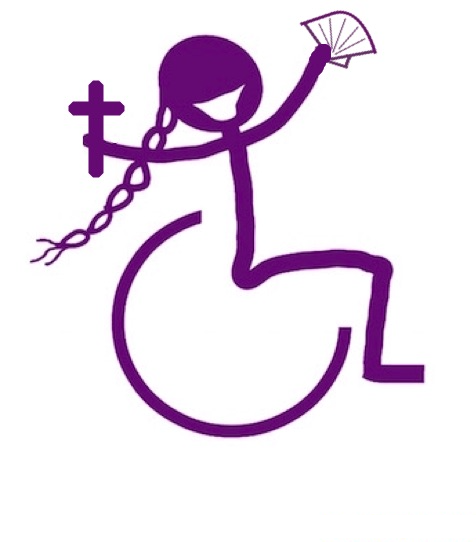 Wheelchairpilgrim.
---
augustus 30, 2021 door rolstoelpelgrim
just a short message.
I've been in church until about 6 am. My wheelchair was almost fully loaded when an elderly lady walked into the church with a beautiful bunch of keys full of large old-fashioned keys. I knew immediately that this was the woman who would close the church. I told her in my best French that I was looking for a place to sleep. She referred me to a hotel that was slightly set back, but it was too expensive for me. When I told that she knew another place. She didn't know the address, only the name of the family and a description of how to get there, which I couldn't remember, of course.
When I left the church to look up that address, all I knew was that I had to turn left first. Luckily I ran into 2 other women who were walking around with a dog. 1 of the 2 spoke some English and I asked if they knew where to go. They didn't know but asked that older woman and they knew the way. They decided to walk with me to the new house. A house with nice big scallops by the fence.
Here I now stay with an older couple who immediately served me a good meal and where I have a nice room to sleep. And my wheelchair is now fully loaded. So ready for tomorrow.
So it all ended well. Tomorrow is another day where I don't know where I will end up. The campsite is still too far away to reach.
But now I'm going to sleep first and tomorrow a new blog.
For those who haven't done it yet. On the homepage you can register for the newsletter and you will hear it immediately when the blog has been published.
Good night
Greetings,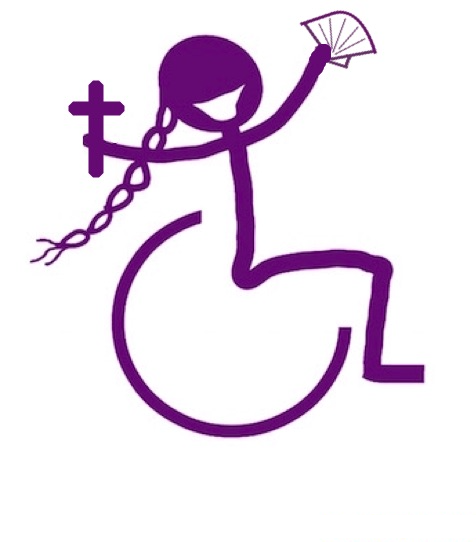 wheelchairpilgrim
---
september 1, 2021 door rolstoelpelgrim
After a wonderful night's sleep I got a good breakfast. the dog was also happy with all the attention from me.
I also got a stamp in my pilgrim passports, I made a picture of all pilgrim passports so far. quite a collection.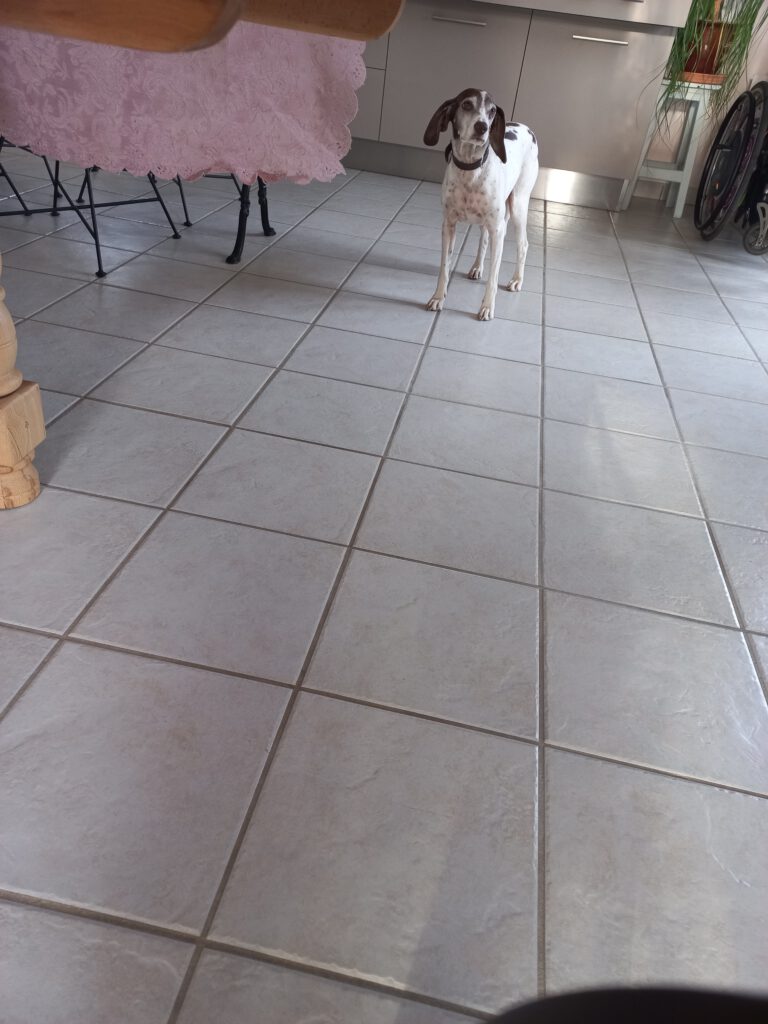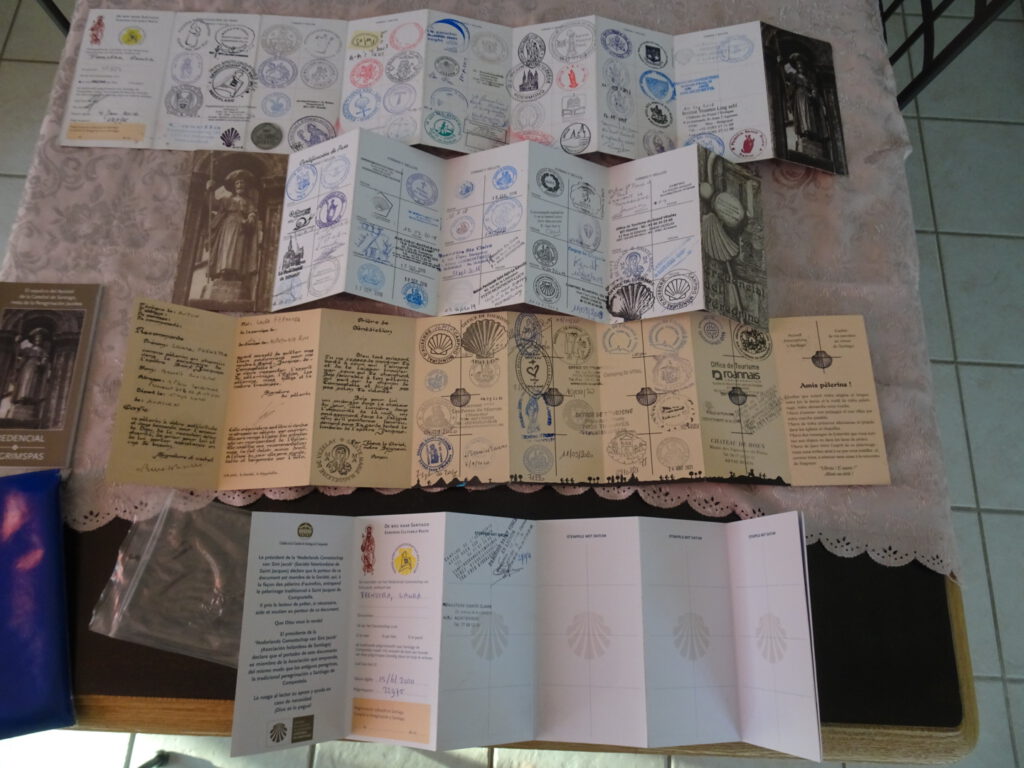 I knew I was going to be riding pretty much uphill all day, sometimes less steep but for the most part quite steep.
It started pretty well, it was a nice ride, nice views and lots of animals in the meadow, roadside and sky.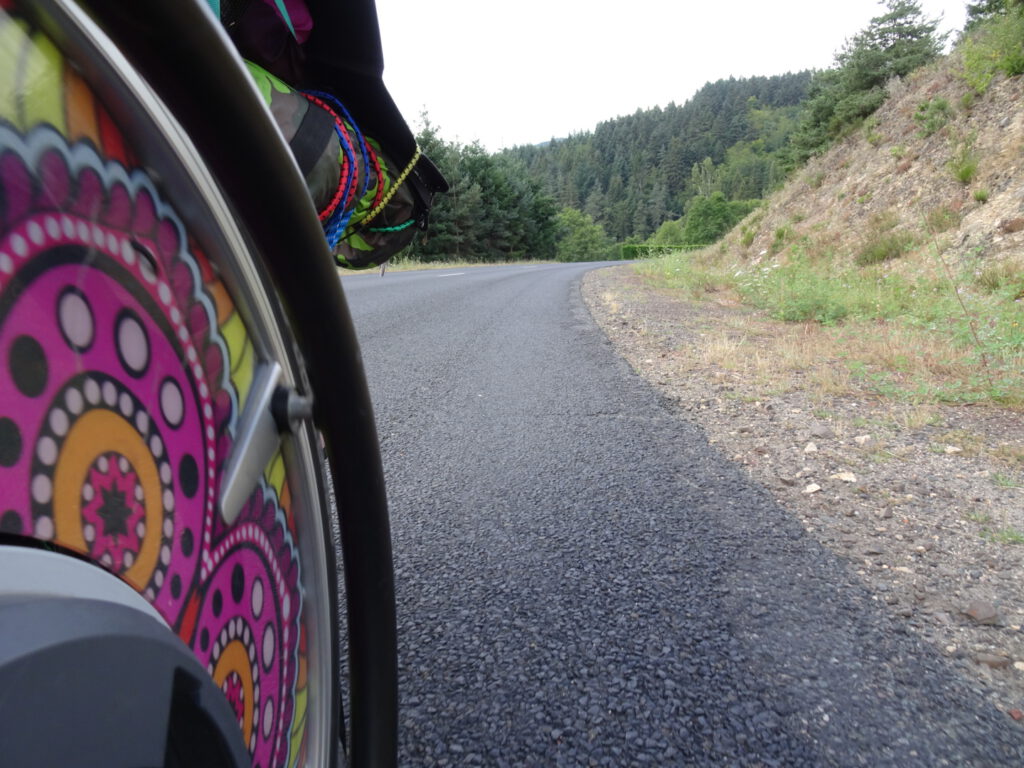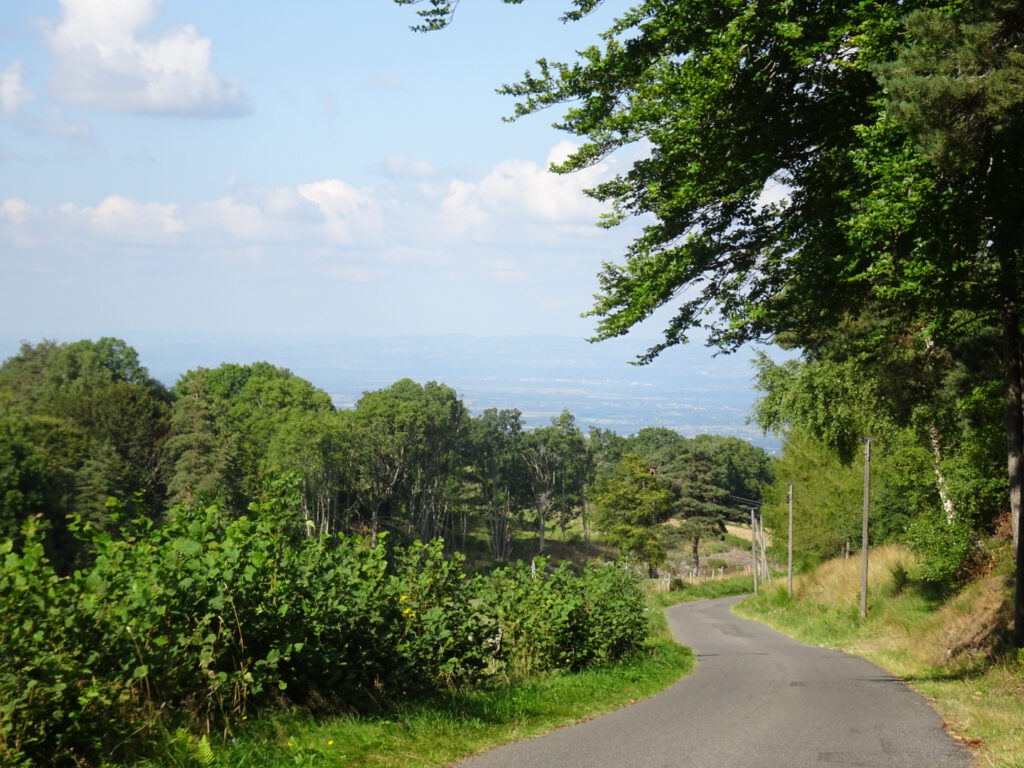 And I arrived in Marols before noon. I still felt good and I could handle that kind of distance myself. but my first set of batteries was already empty, so I decided to roll to the church in Marols and charge my wheelchair there. so said, so done. it was still quite a job to get the wheelchair into the church but 2 men came to help and lifted my heavy chair up the 3 steps. Sockets are almost always at the front. normally I drive my wheelchair forward but here the aisles were too narrow so had to take my wheels off and put them in front to load.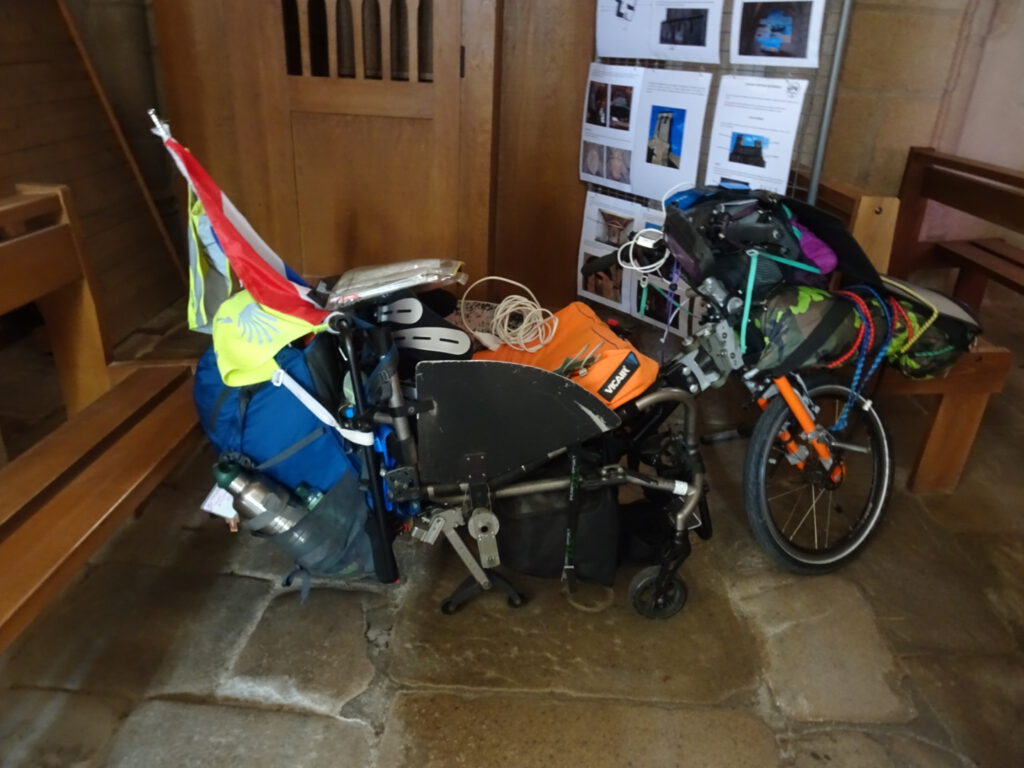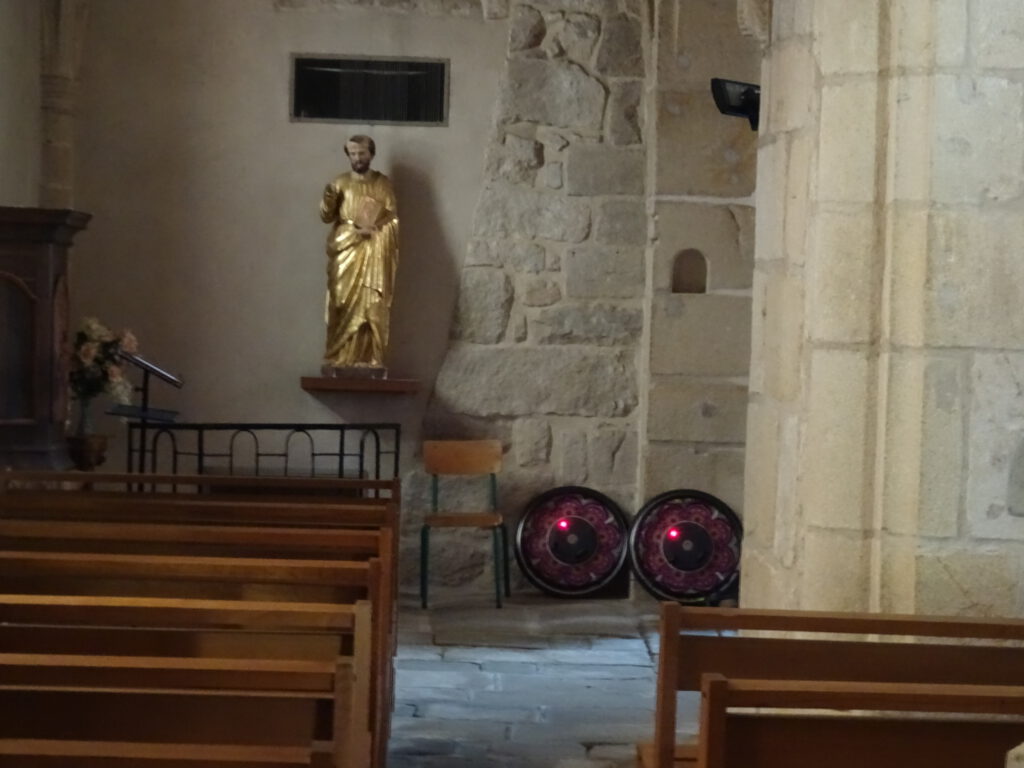 I thought Marols was very picturesque with a beautiful church so it was no punishment to have to wait a while. the wheelchair has been on the charger for 3 hours and then it was almost full again (4 of the 5 "lines" completely full and the 5th almost full). I wanted to go to a village 7 kilometers away  (uphill). I had 2 sets of batteries more than enough to roll there and if that went well and the time was still reasonable I might even be able to go a bit further because that would be downhill. but as good as this sounds. it went differently.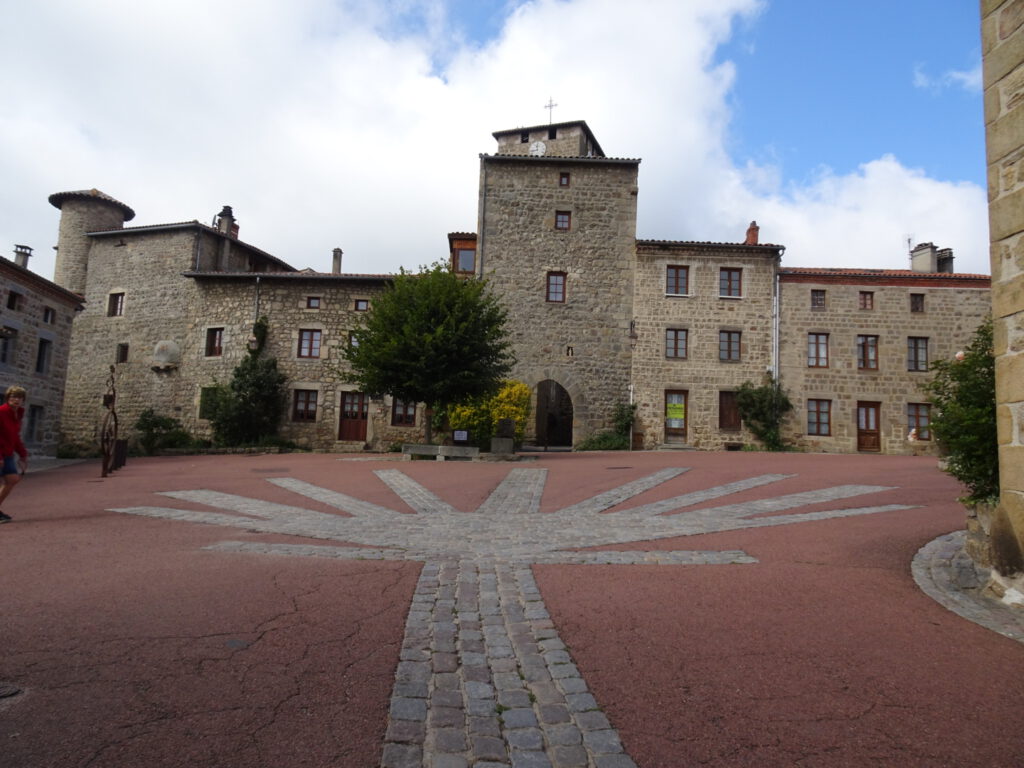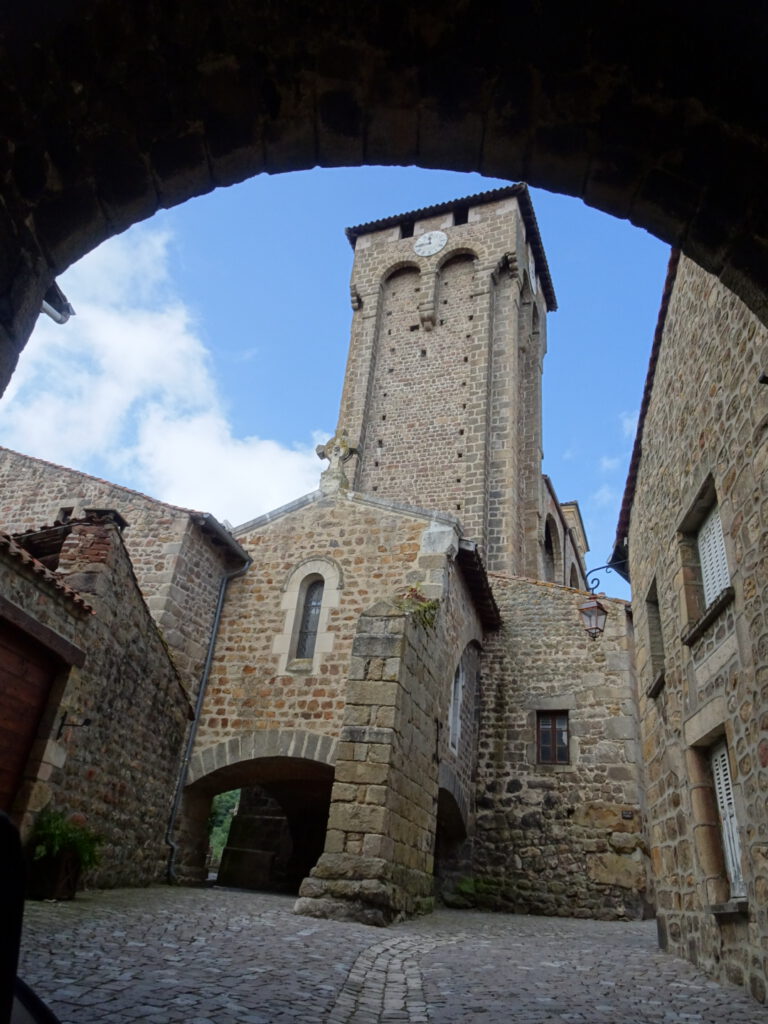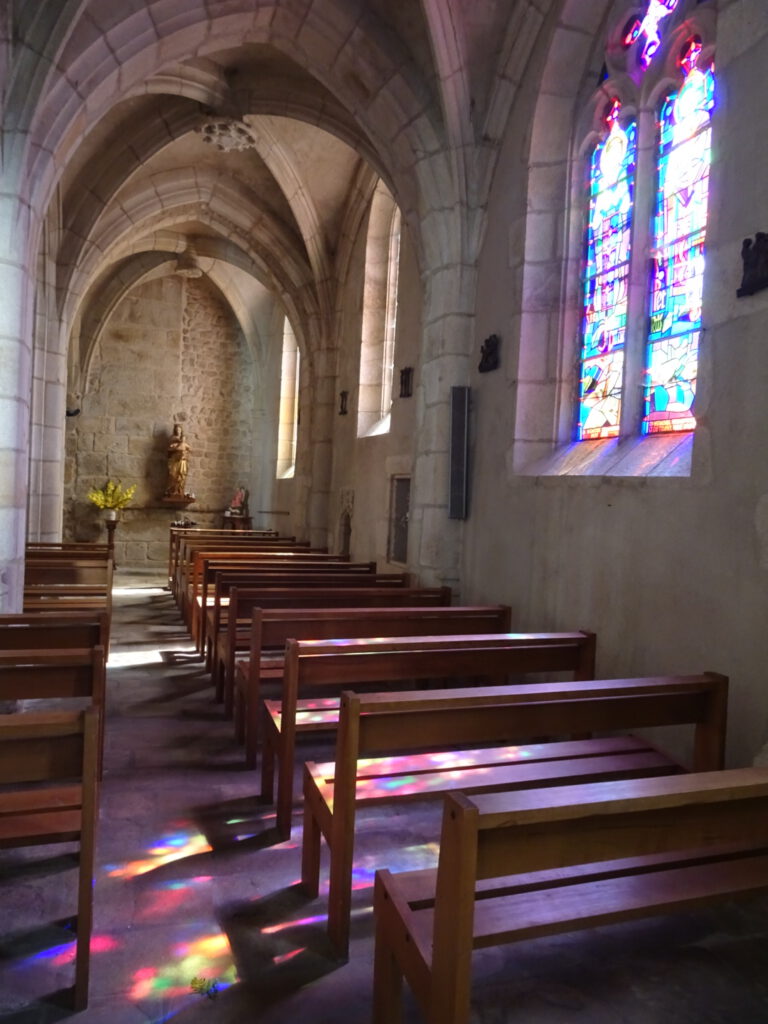 I thought Marols was very picturesque with a beautiful church so it was no punishment to have to wait a while. the wheelchair has been on the charger for 3 hours and then it was almost full again (4 of the 5 "lines" completely full and the 5th almost full). I wanted to go to a village 7 kilometers away  (uphill). I had 2 sets of batteries more than enough to roll there and if that went well and the time was still reasonable I might even be able to go a bit further because that would be downhill. but as good as this sounds. it went differently.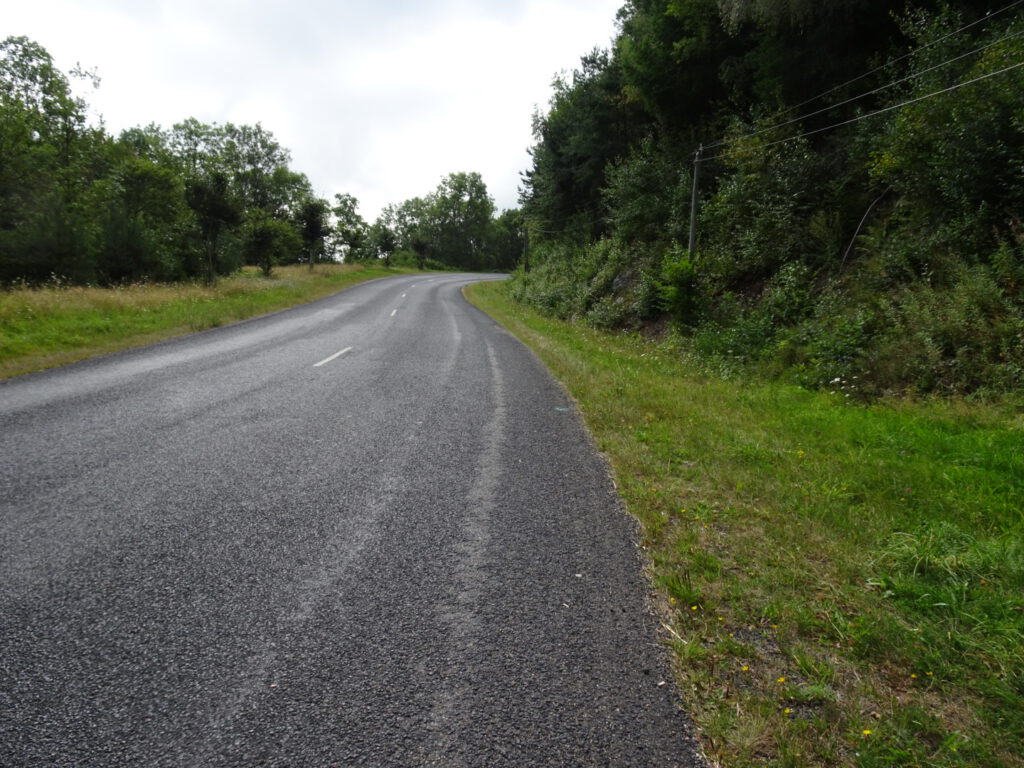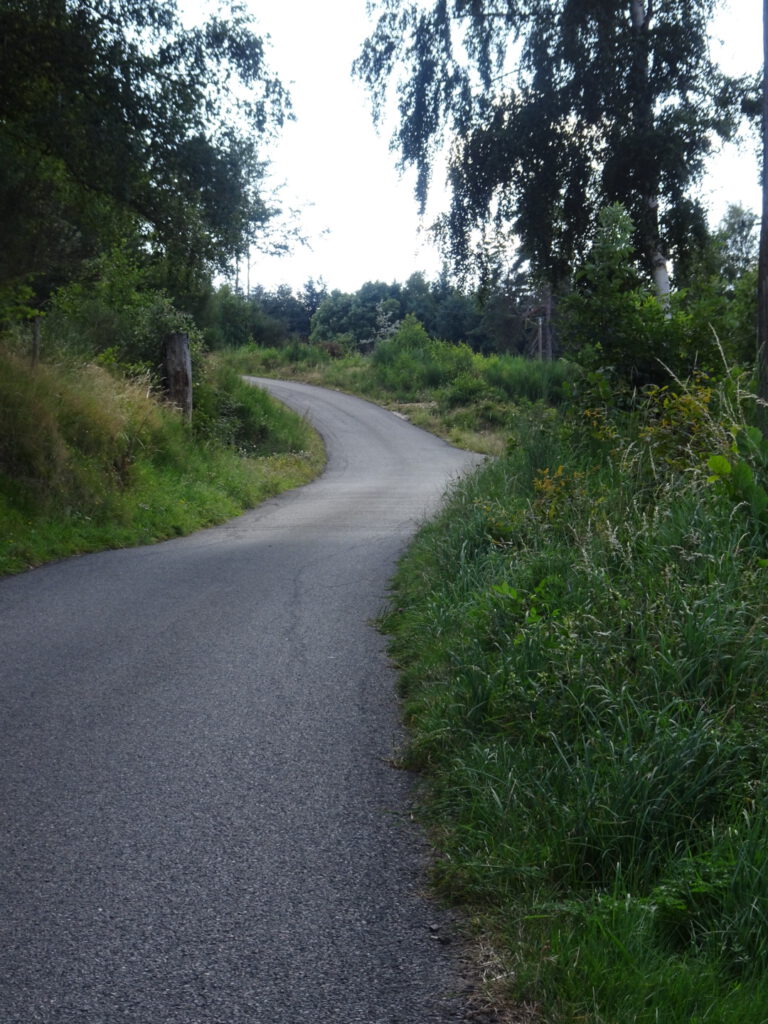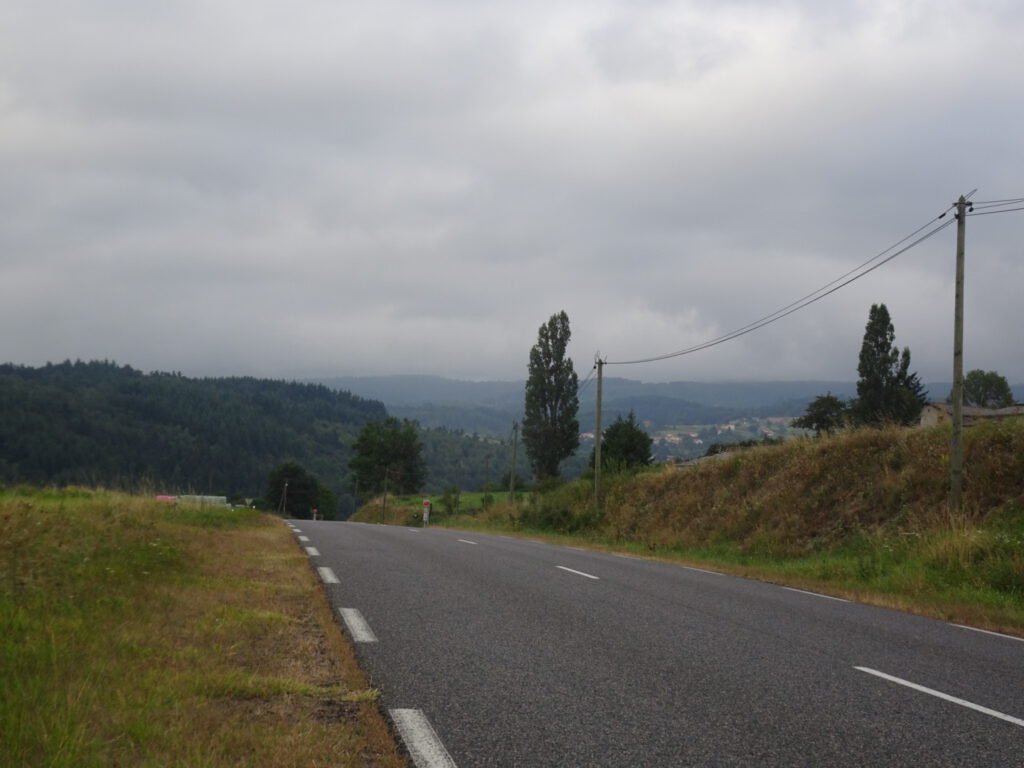 My battery charge dwindled quickly and after about 2 kilometers the first batteries were empty. it remained very steep and after about a kilometer I was already halfway through the battery charge, luckily I arrived in a hamlet, I didn't dare to go any further. I had risen in the 3 kilometers since Marols from 830m to 1040 meters and in the 3km that I actually still had to go to the highest point I would also have to go up 100 meters. So this was not feasible and I didn't want to get stranded in nothing. Arriving in the hamlet I suddenly saw a family come out of a house and decided to approach them and ask for help. they immediately offered. I got a nice room here with a great view and was invited to join me for dinner. it was a very pleasant evening by a nice fire (it's quite cold here now) in a great old fireplace. this house is from 1770 and there are still a lot of beautiful old things in it, including several fireplaces and beautiful old beams. There are also nice old objects, I liked the French wooden clogs the best, not only the Dutch wore/wear them!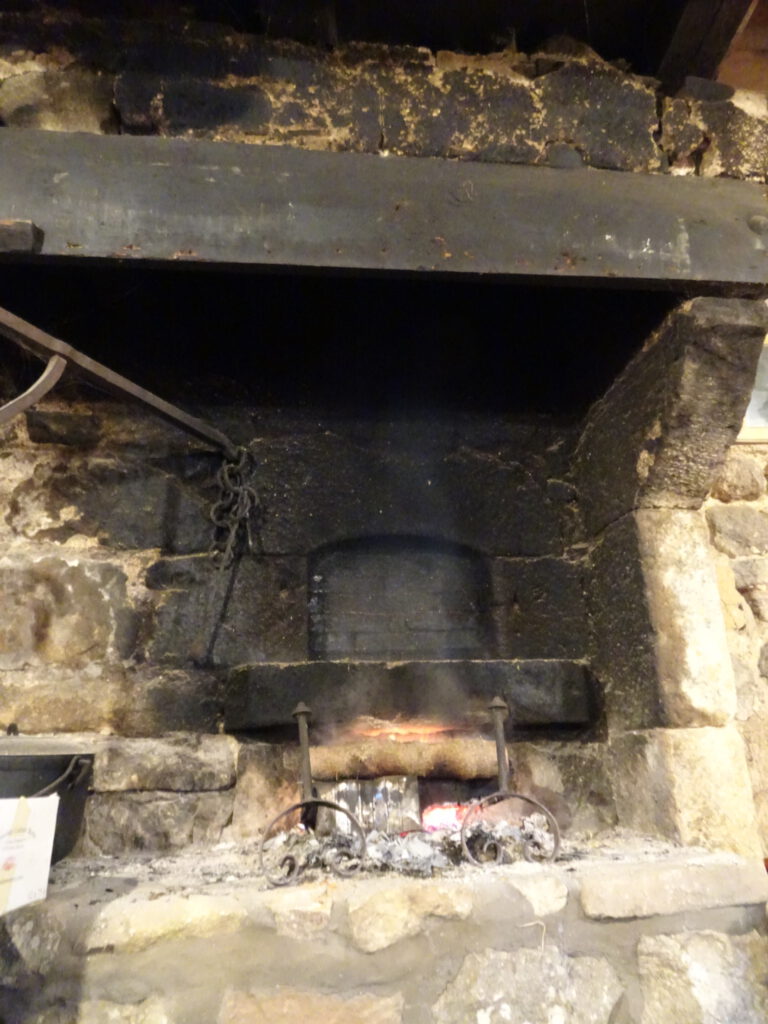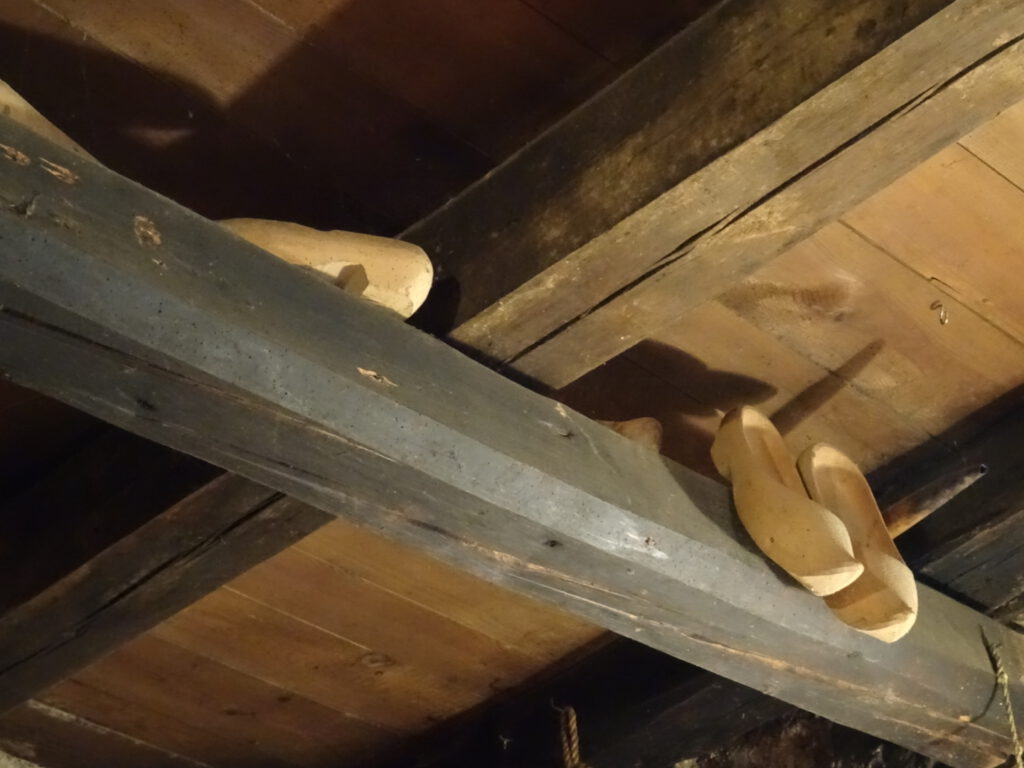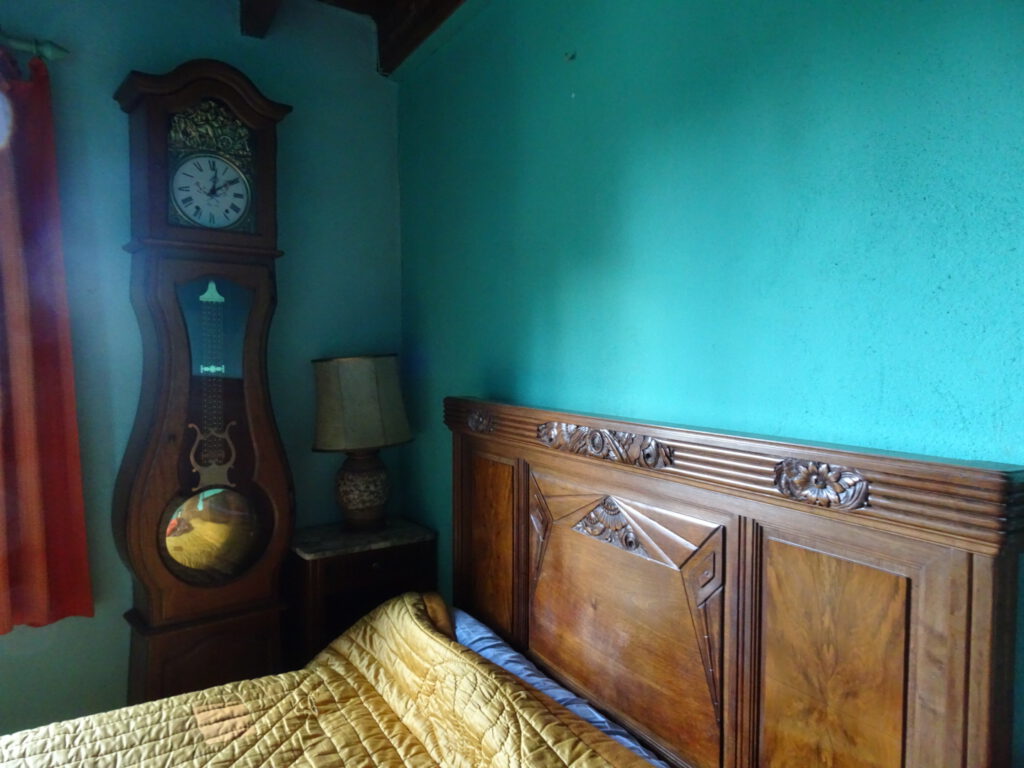 now I'm going to go to sleep first.
the last hard kilometers tomorrow, then downhill.
Greetings,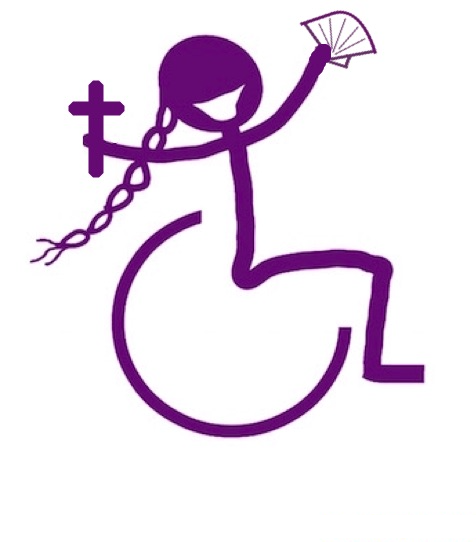 wheelchairpilgrim
---
september 1, 2021 door rolstoelpelgrim
Today a blog without pictures (they have now been posted), unfortunately, my internet here is too bad and too irregular to upload pictures, but don't worry, I have enough to write and write and the pictures will come when I'm somewhere with good internet.
Yesterday, after a pleasant evening by the fire, I quickly fell asleep.
this morning I was woken up too early by cocks clucking. I could lie down for a while, but actually I had to go to the toilet, but I was rather dreading that. this is a very old house and built before the time of sewers. in the house they have a toilet where a pee can be done, but for the rest you have to walk a hundred meters through a meadow to a cottage. although it was still early and cold I decided to take a chance. It was a long walk for me, actually more than I normally walk, but with a wheelchair through a meadow is not ideal (although it had been mowed so it could have been done). luckily I was then allowed to sit on a regular modern pot, and after I had rested and I had lost what I wanted to get rid of I flushed (from a jug) and started my hundred meter walk back to the house where the sun set the fields golden yellow lit. When I got to my room I opened the shutters and was impressed by the amazing view. I felt a bit like Heidi (in the Disney version of the film) opening the shutters in her grandfather's attic and enjoying the view.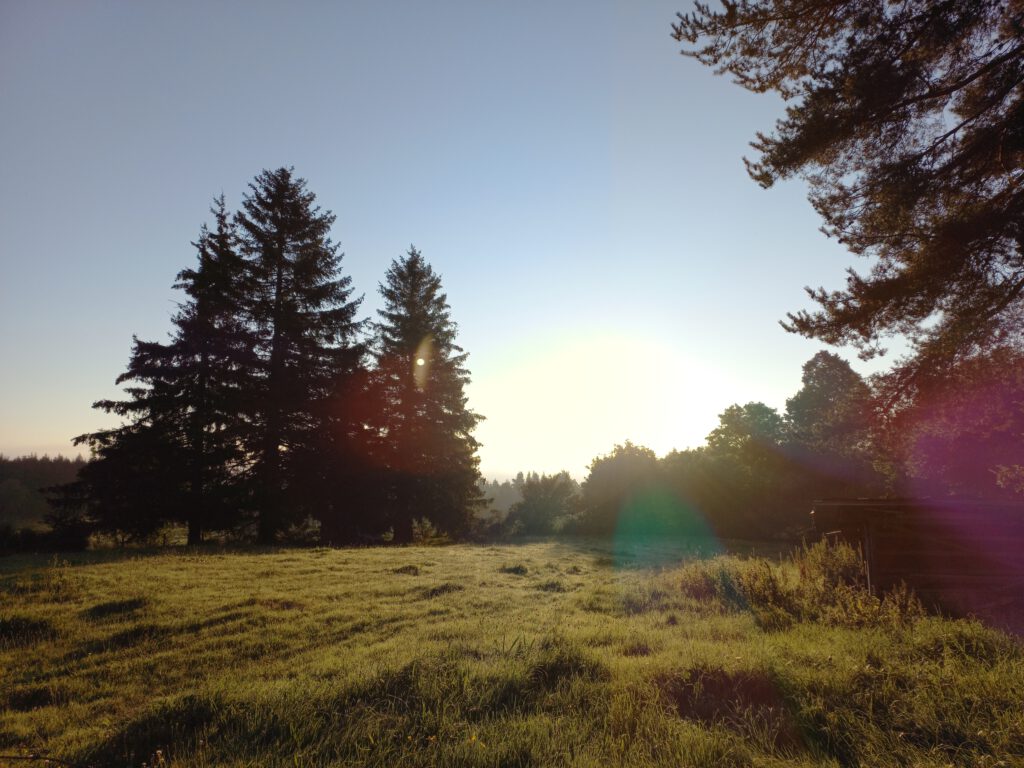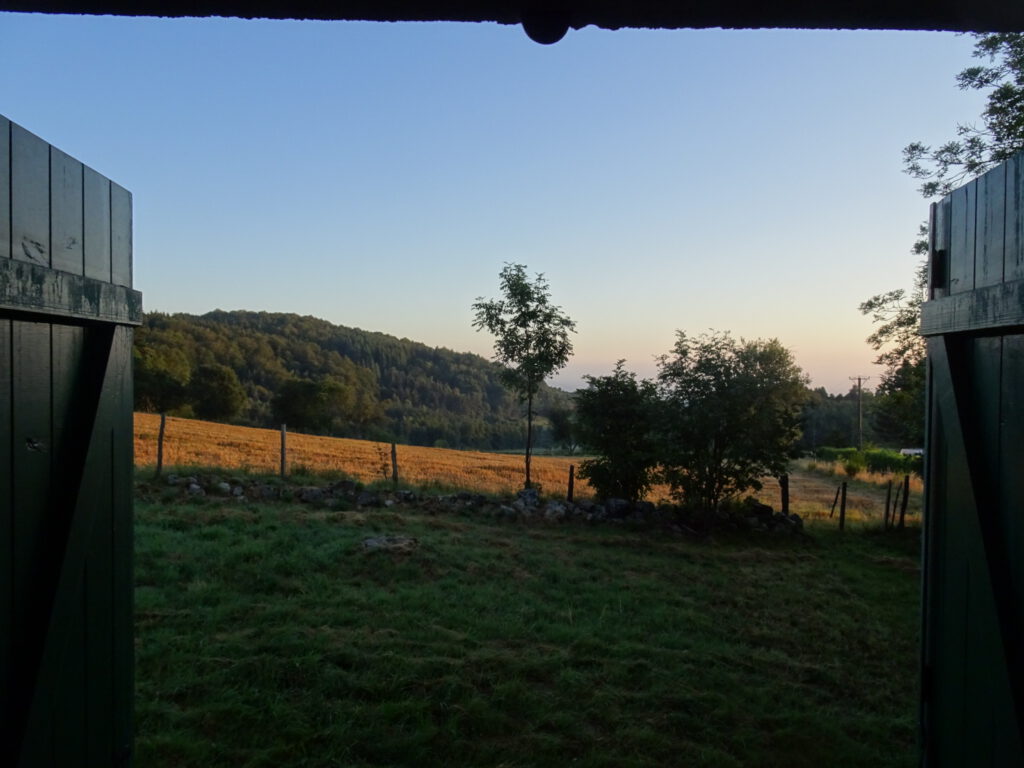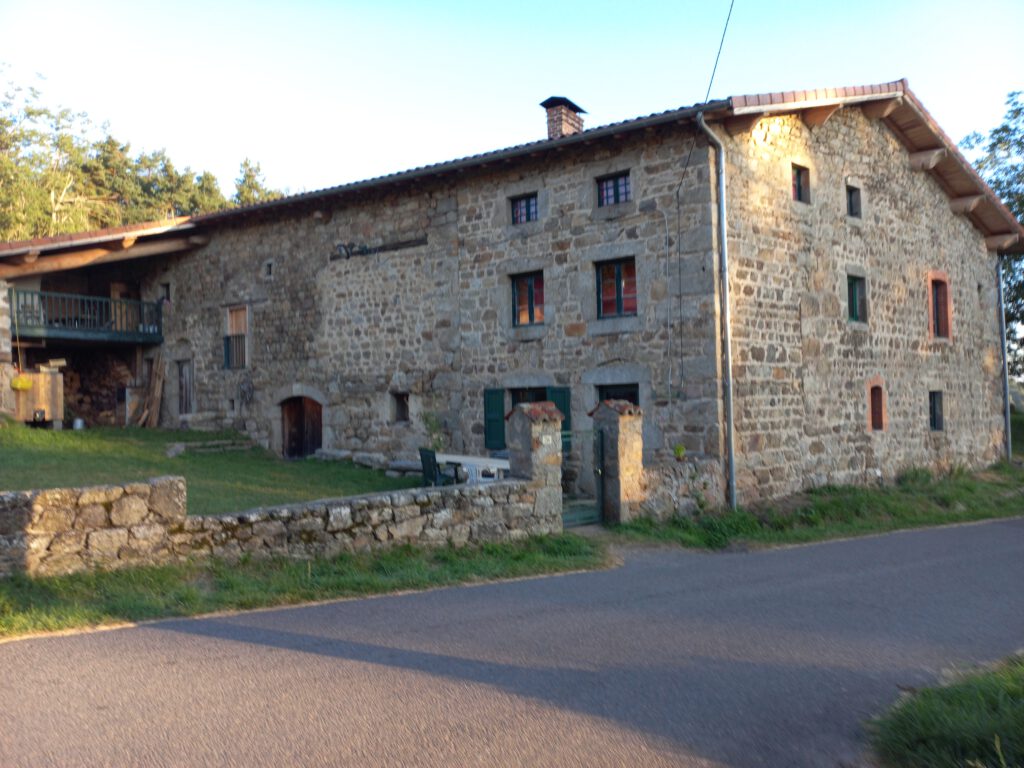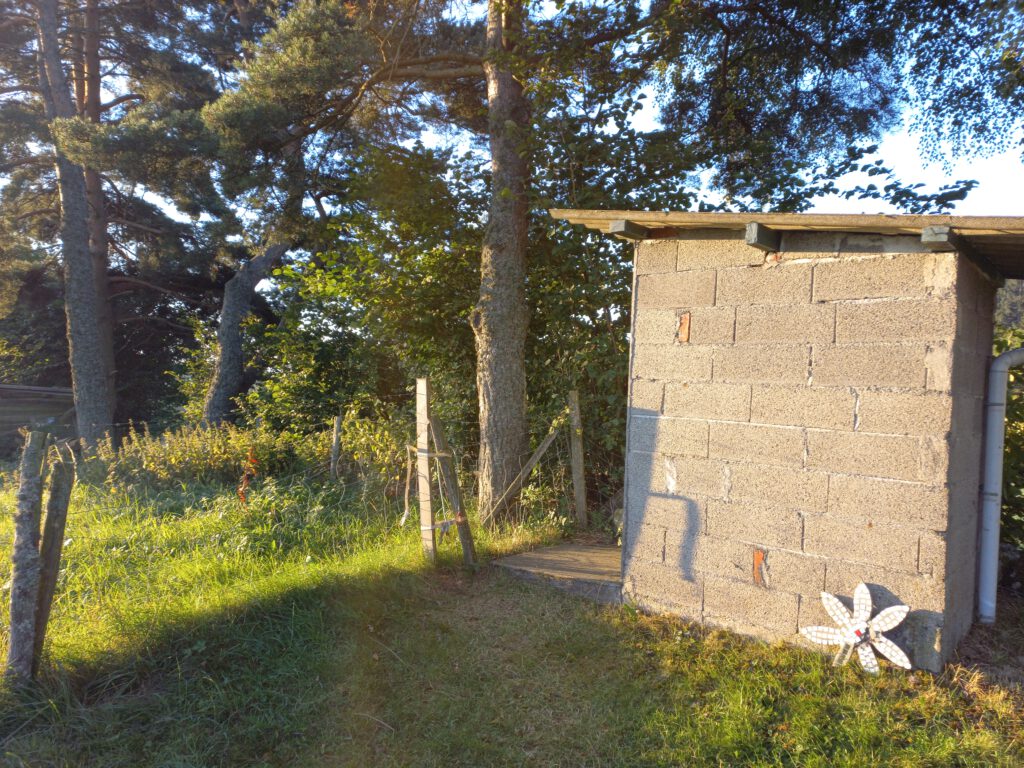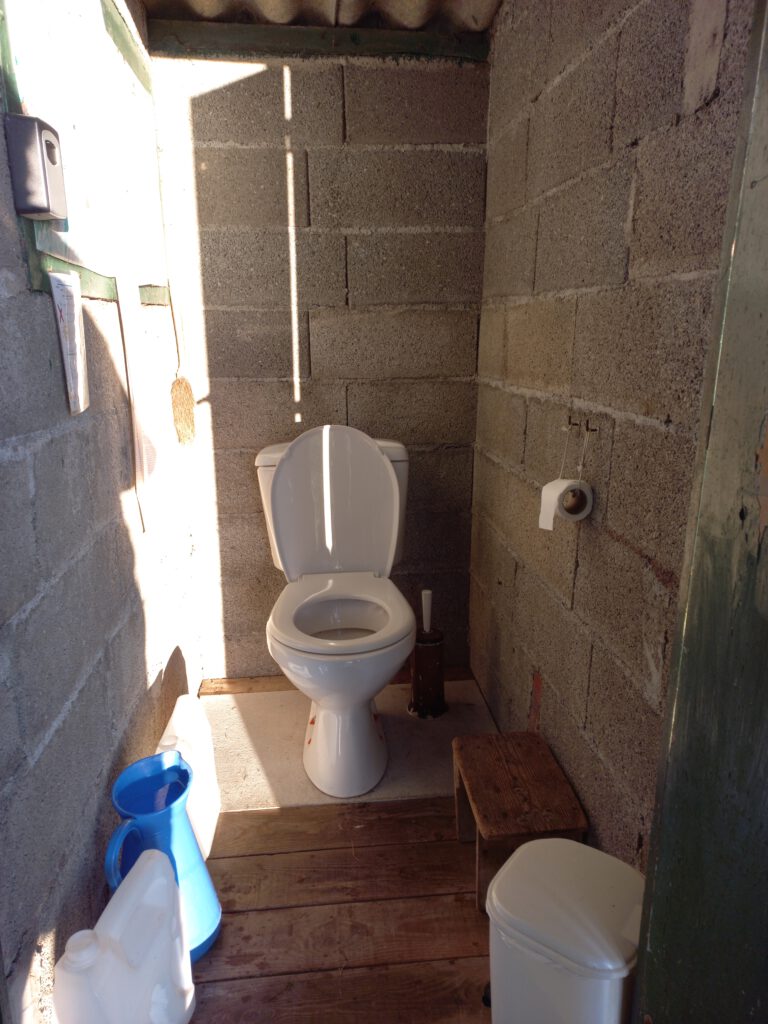 It is noticeable that this house is at an altitude of about 1000 meters because it is really very cold, when I came back I crawled into my warm sleeping bag for half an hour before I started packing again.
When everything was packed and I had breakfast with the family (and I still got cheese and fruit for the road, I still had bread and I didn't want to let it get old) it was time to leave. My wheelchair had been parked in the lovely old barn below the house. I was waved goodbye by everyone. it was a very successful overnight stay!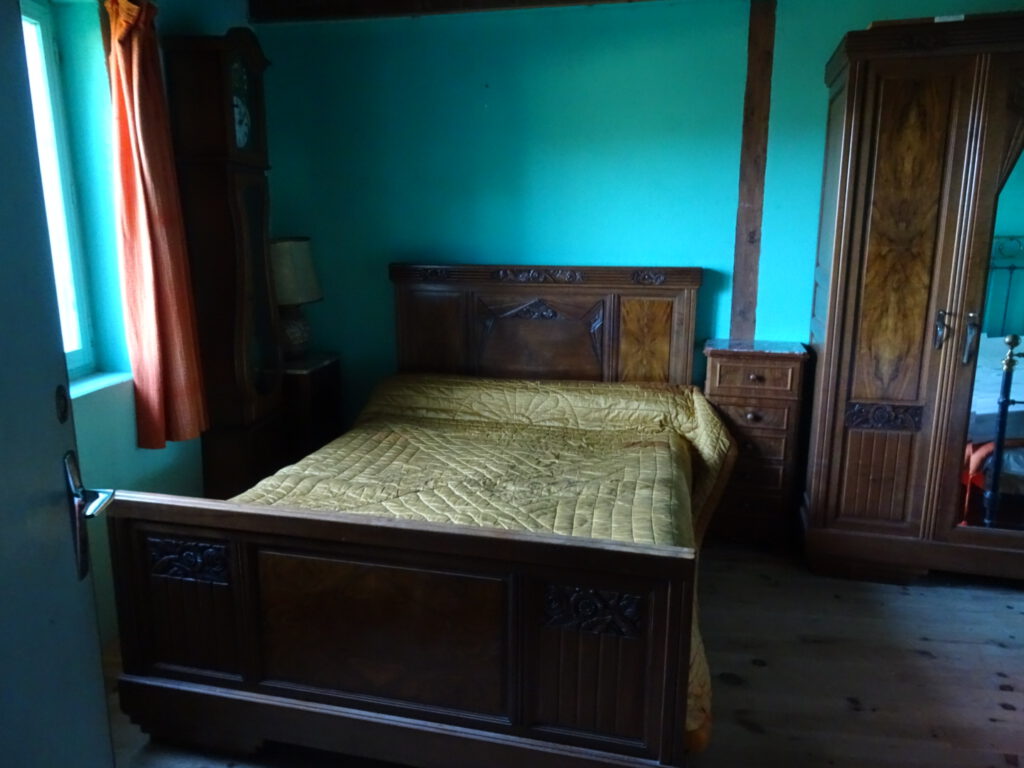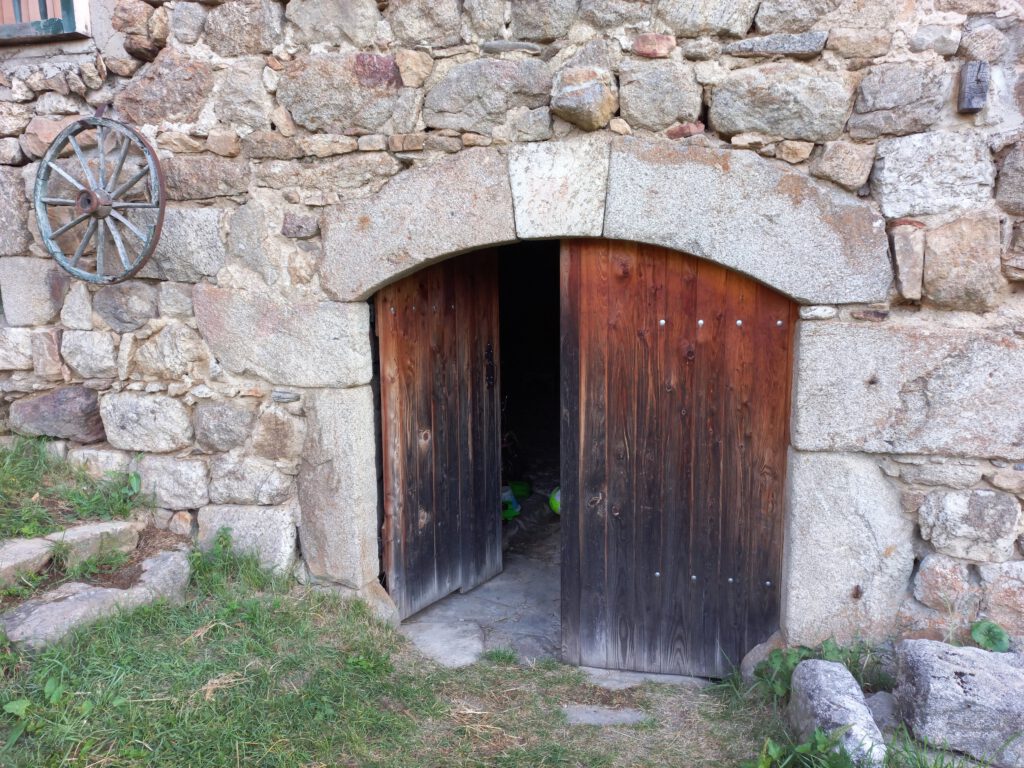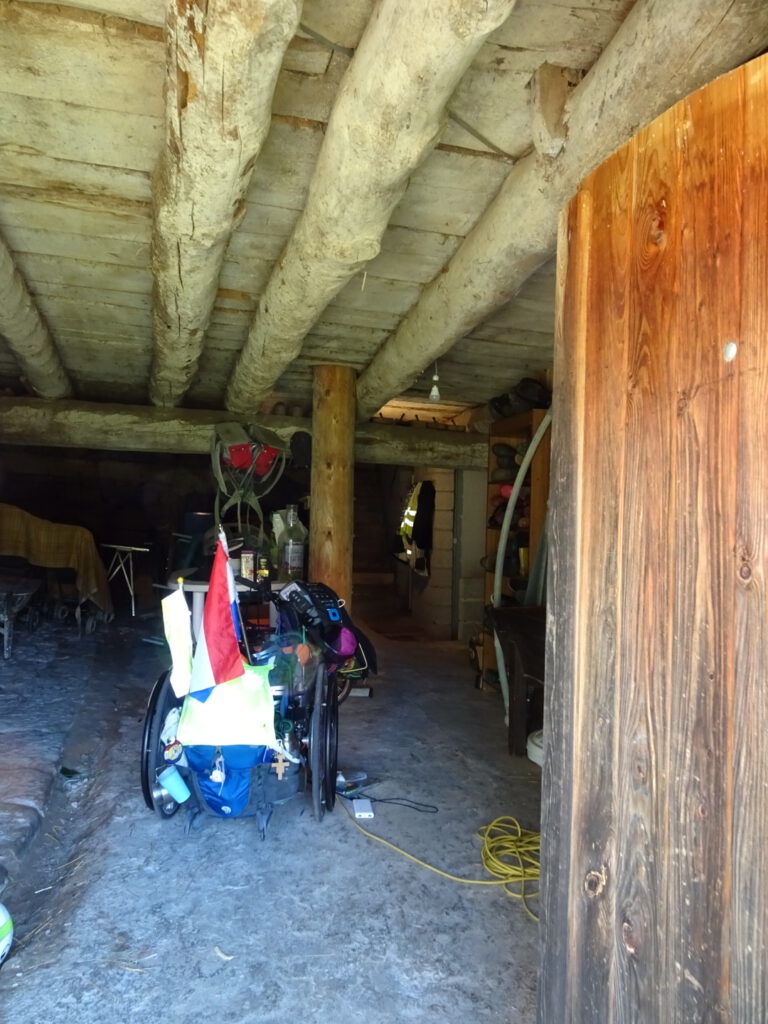 I had to climb 3 kilometers uphill, this climb was also very tough and I had to roll back about half way back, but despite it being tough I thought it was a very nice ride. i rolled through a very sparsely populated area and it was very quiet in the forest, not a single human sound except the noises i made even when i grabbed a candy with a very creaky plastic thing around it i already had the feeling of disturbing the silence . I heard birds, especially screeching birds of prey, crickets, the occasional rumble in the bushes and I heard (and occasionally saw) squirrels jumping from branch to branch. Besides the sounds I also enjoyed the smells of the forest, the conifers. The air here is so much cleaner than the Randstad in the Netherlands where I live. I also discovered a lot of blueberries, so much tastier than the blueberries from the store and there were a lot of them. Wonderful to be able to snack on this during the stops to rest.
and finally I arrived in Montacher, at a peak of 1140 meters altitude (in 3 kilometers so 140 meters climbed).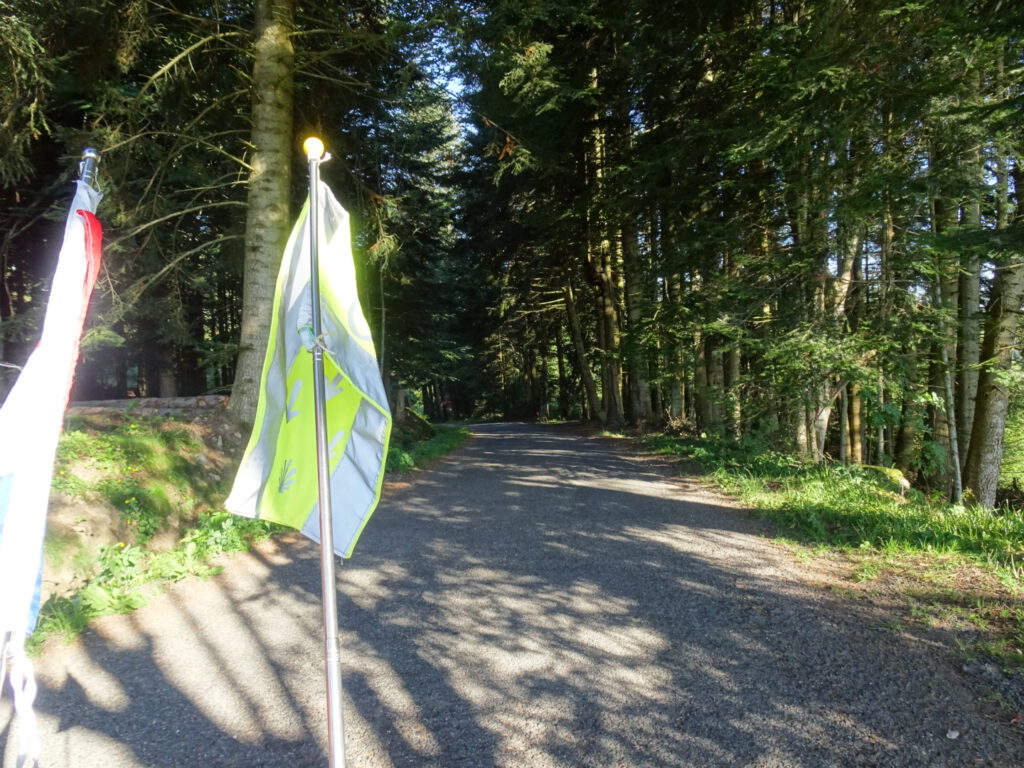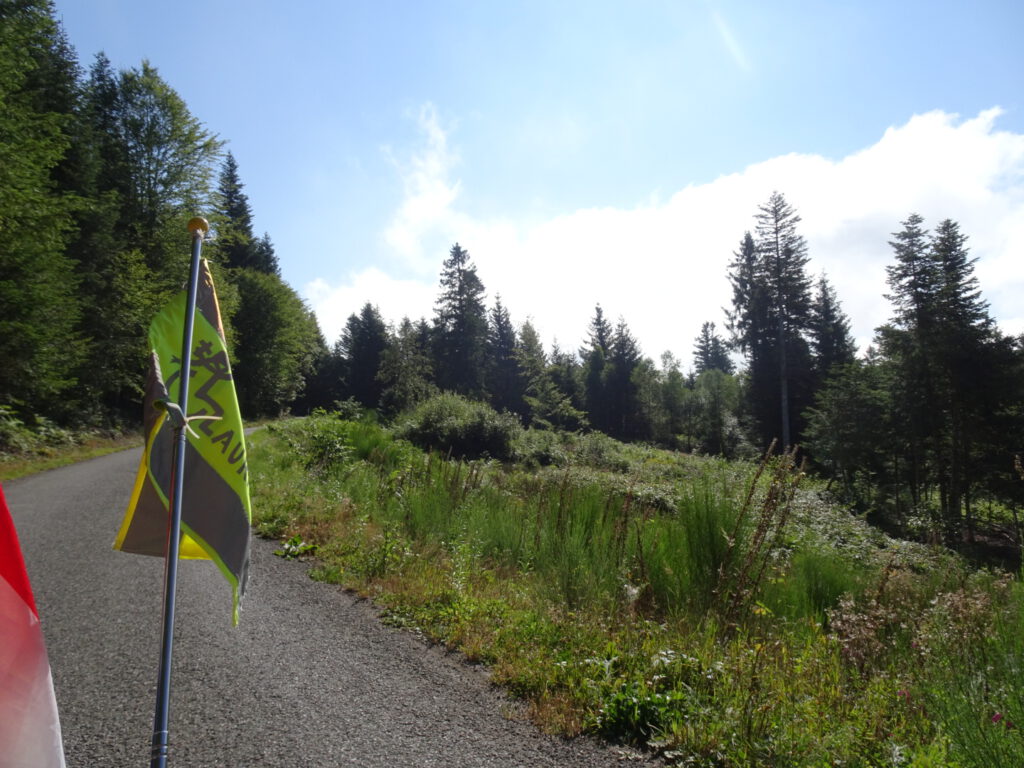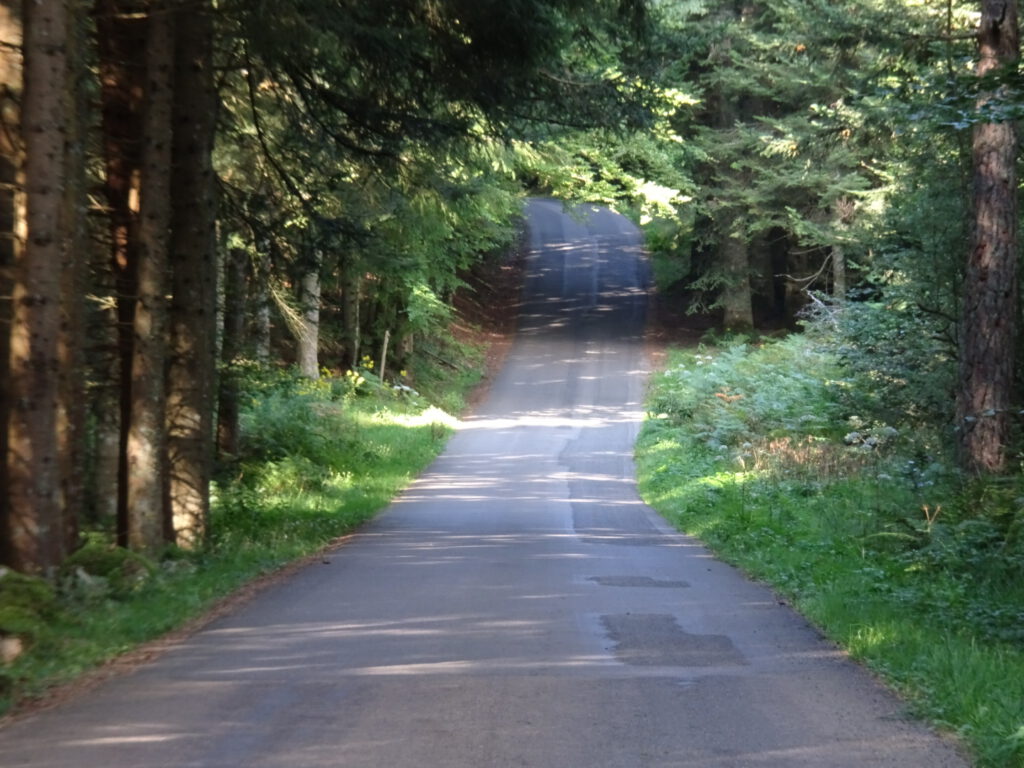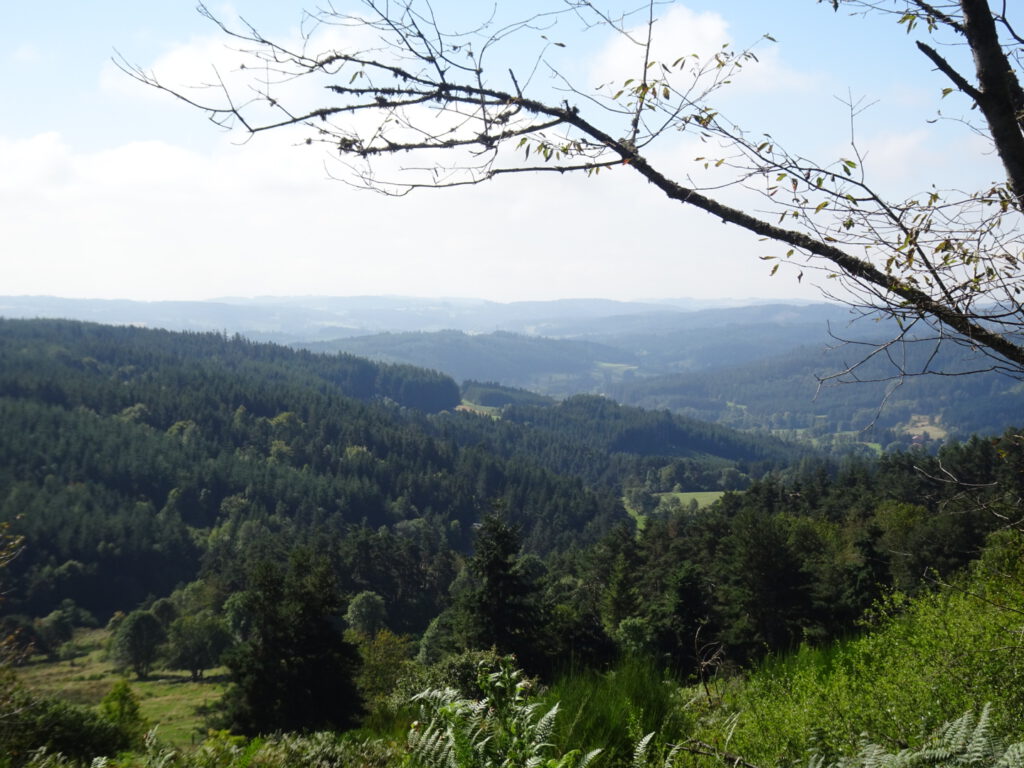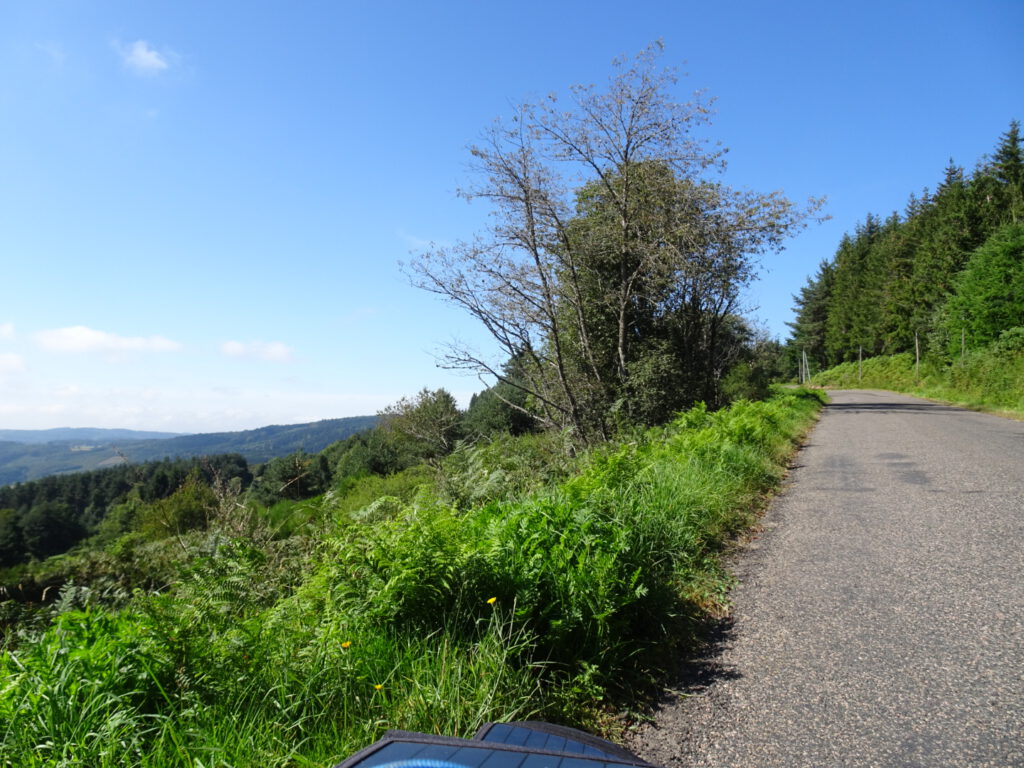 What a cute village that is, a beautiful 13th century church and a great view in all directions.
I parked my wheelchair because unfortunately this church was very beautiful but it also had a staircase of about 12 steps. my knee didn't want to go very well but in the end I managed to look in the church as well and to go back to my wheelchair. funny detail, 2 birds had their nest in this church and flew back and forth.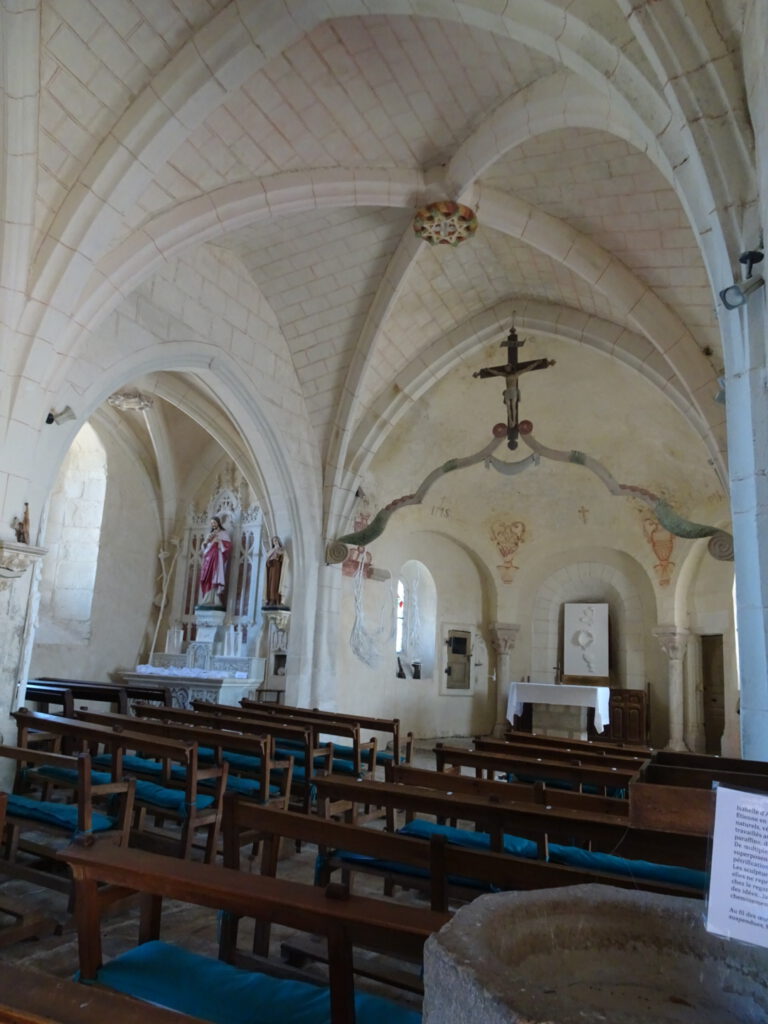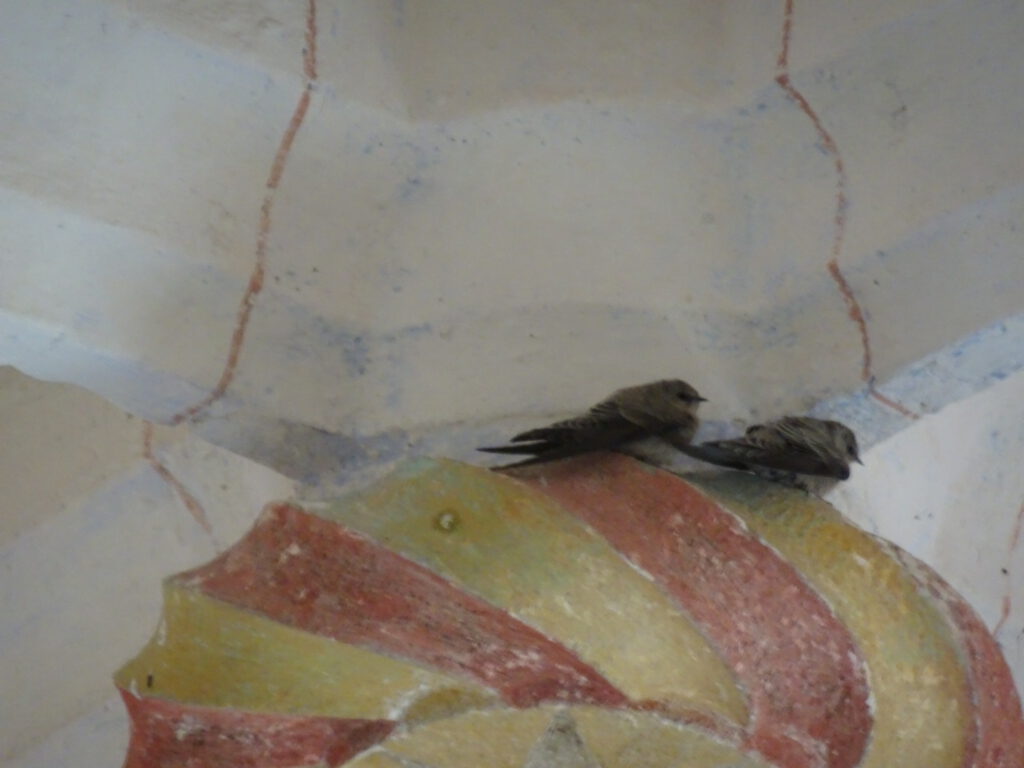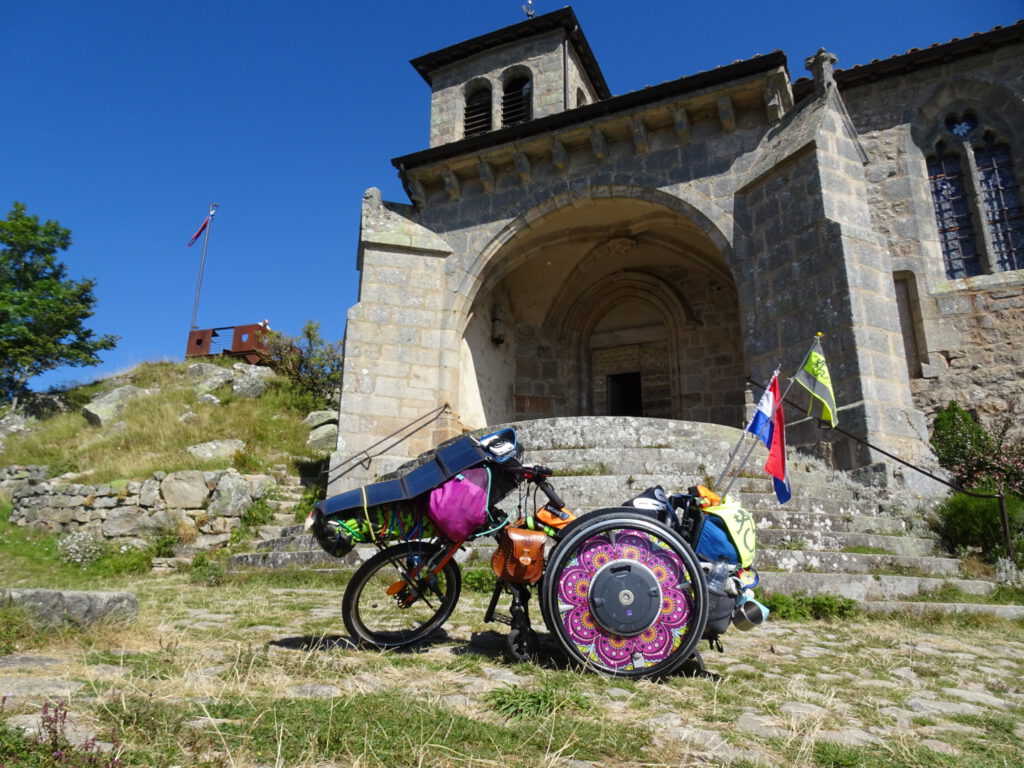 After enjoying the view it was time to go. On the way I filled my water bottle at the fountain that said it was drinking water. Then I rolled over again.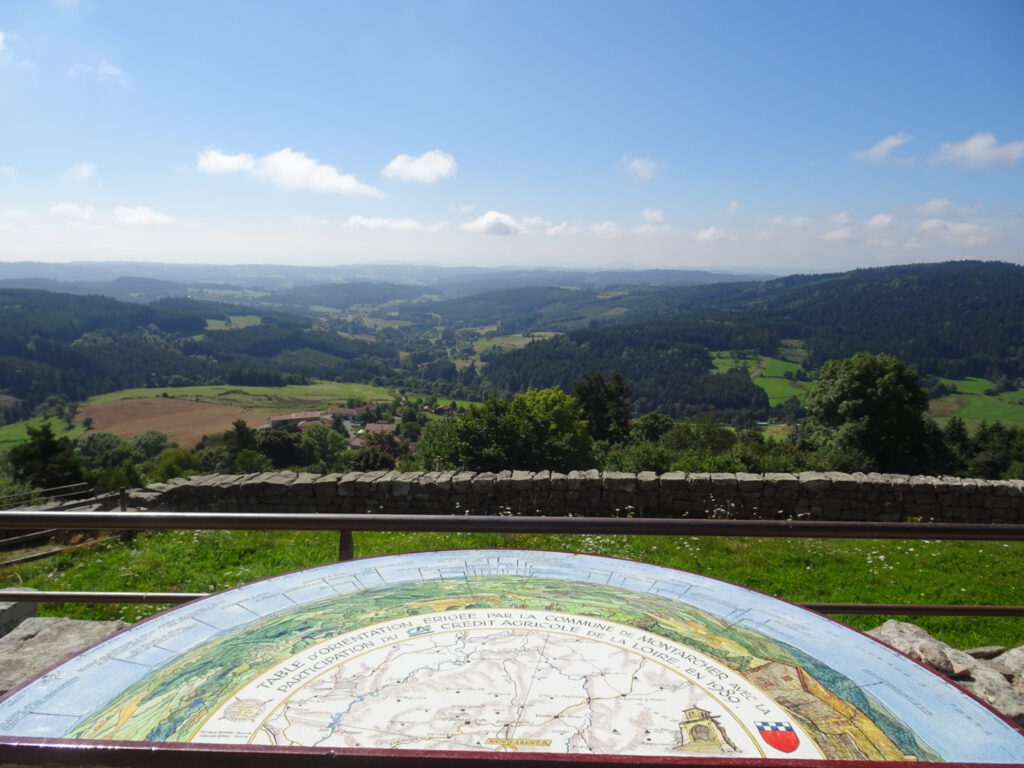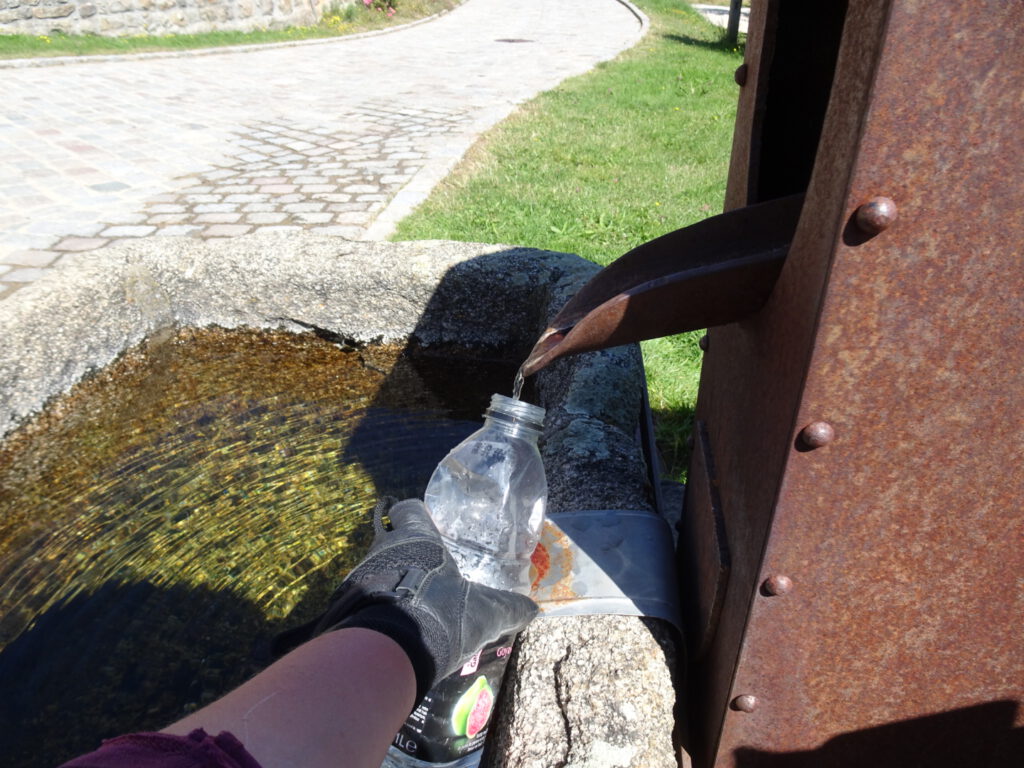 I had reached the highest point and the route to my campsite of 8 kilometers was all downhill, except for 1 small slope. Also enjoyed the silence here, on those 8 kilometers I may have only encountered 4 cars. This part of the route sometimes went through the forest, but mainly on the edge of the forest with meadows with a few cows.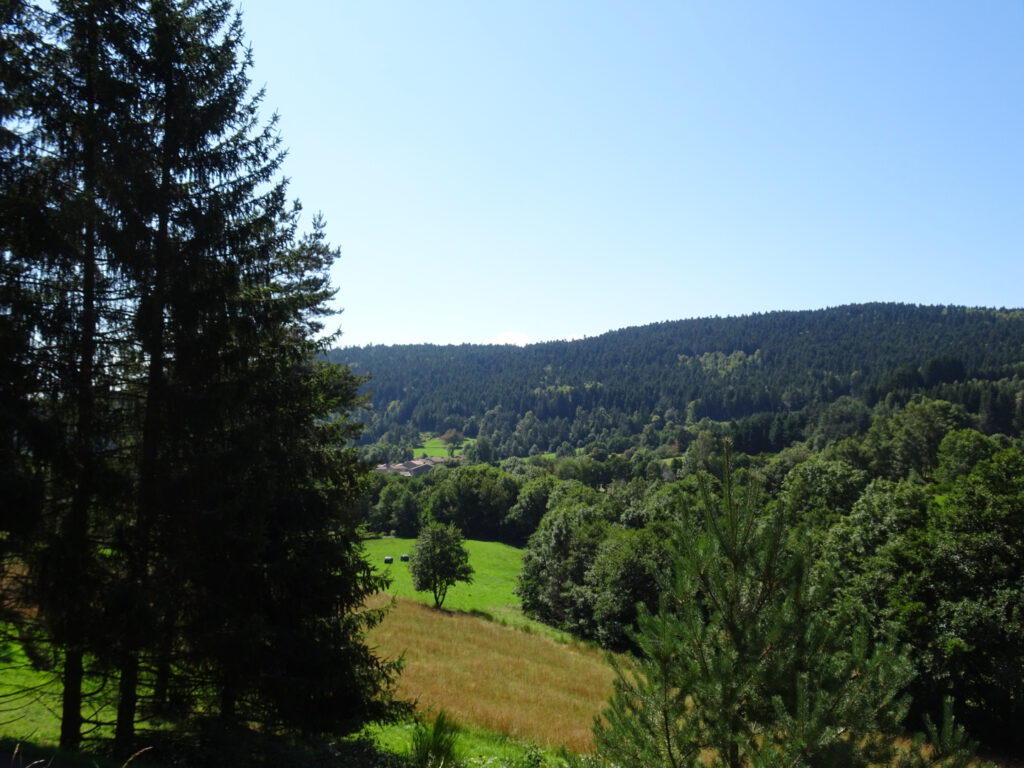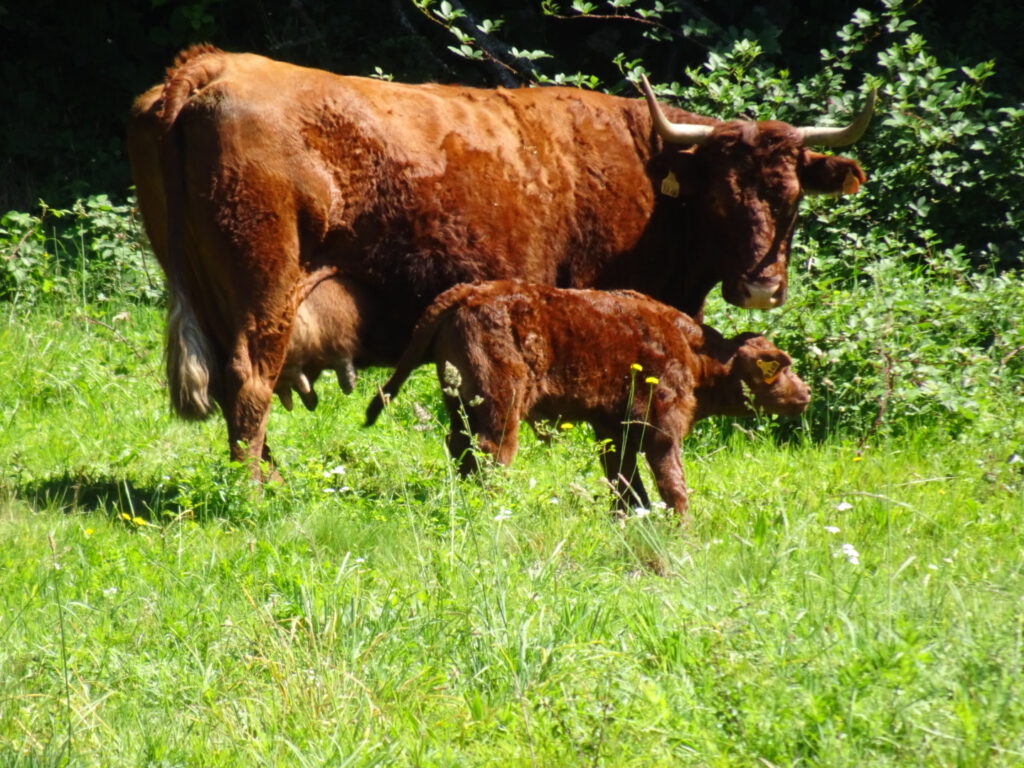 It was a nice ride, I am now at the campsite in Estivareilles, a small camping municipal. tomorrow I roll again.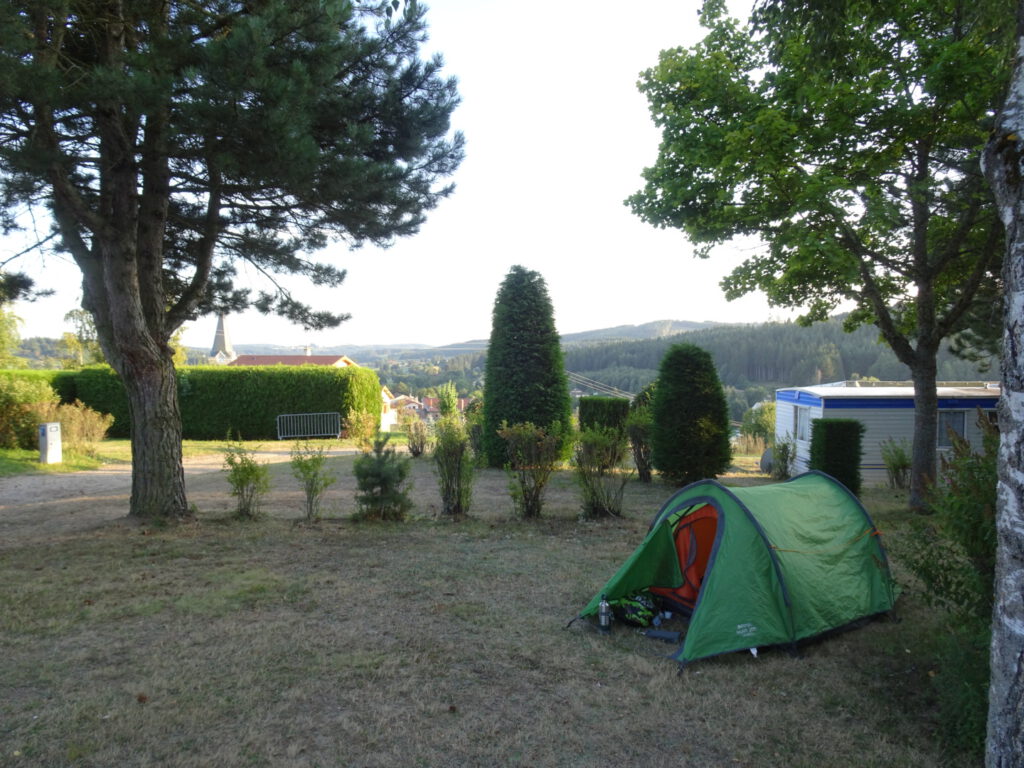 Greetings,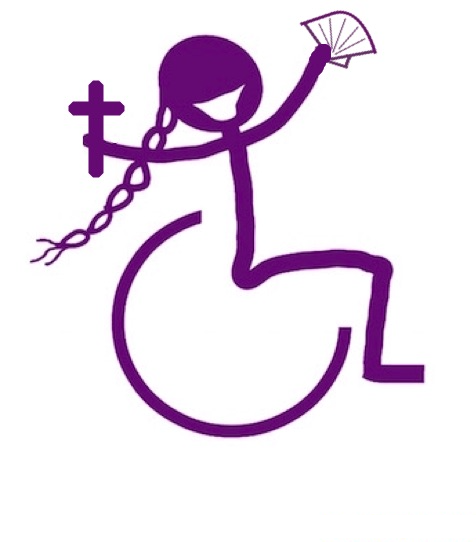 wheelchairpilgrim
---
september 2, 2021 door rolstoelpelgrim
This morning I got up again around 07:00, it had been cold last night, but except that I woke up once around 4 am and then crawled deeper into my sleeping bag, it didn't really bother me.
Then pack and prepare. at the toilet block (with only French holes) I picked up my wheelchair that had been there by the stream.
I came across a butterfly and finally understood why butterflies are so beautiful, if they are all like this one it is because they make themselves beautiful in front of the mirror.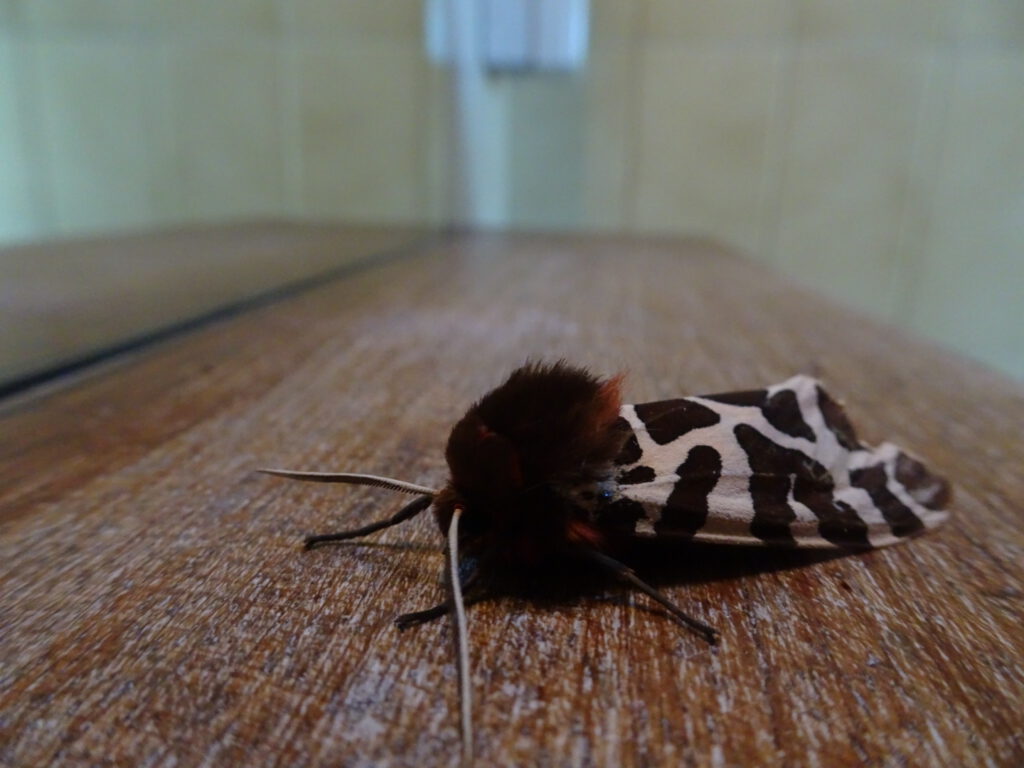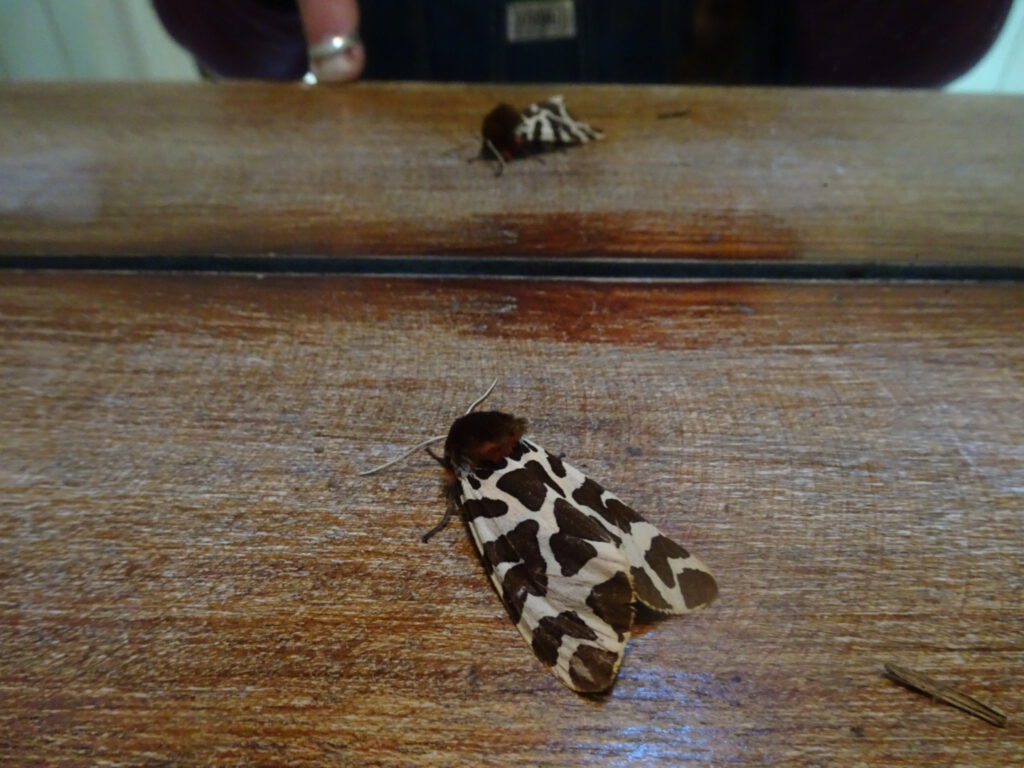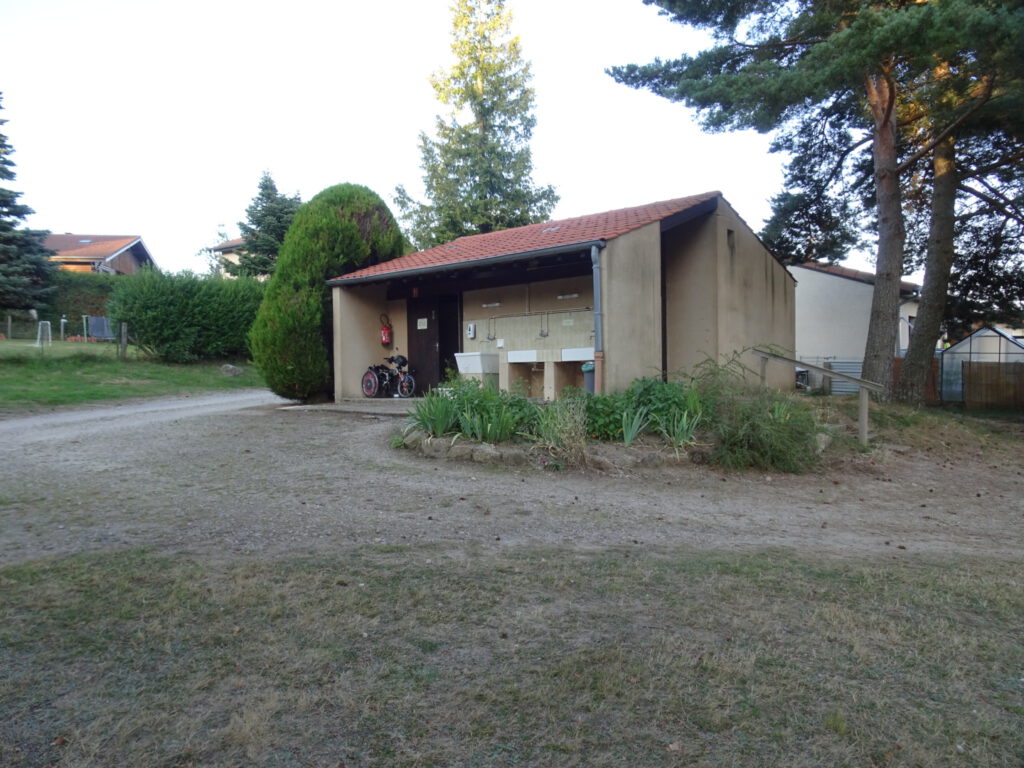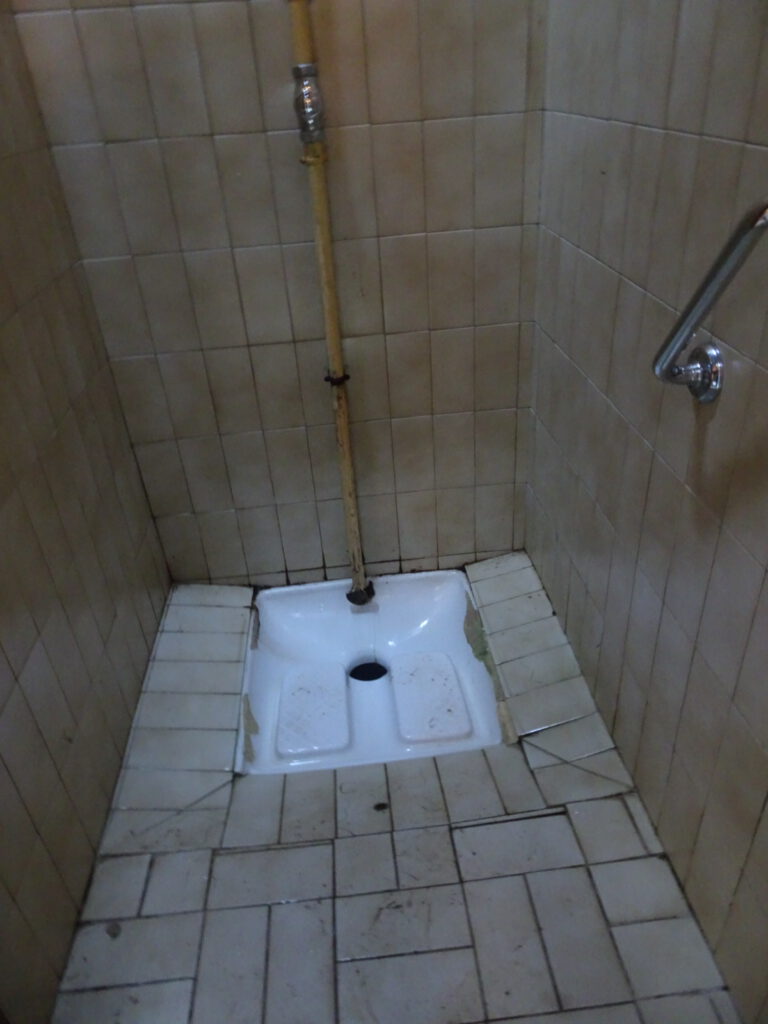 around 9.00 I rolled away from the campsite again, first past the church, which was open and I found besides all the beautiful things also various funny things, such as fantasy animals on pillars and on the choir stalls.
and then to the bakery. I bought a half baguette. when I came out of the store I was approached by a number of people who were standing there talking. they asked about my trip and before I knew it there was a whole group of people around me. sometimes i feel like a celebrity here.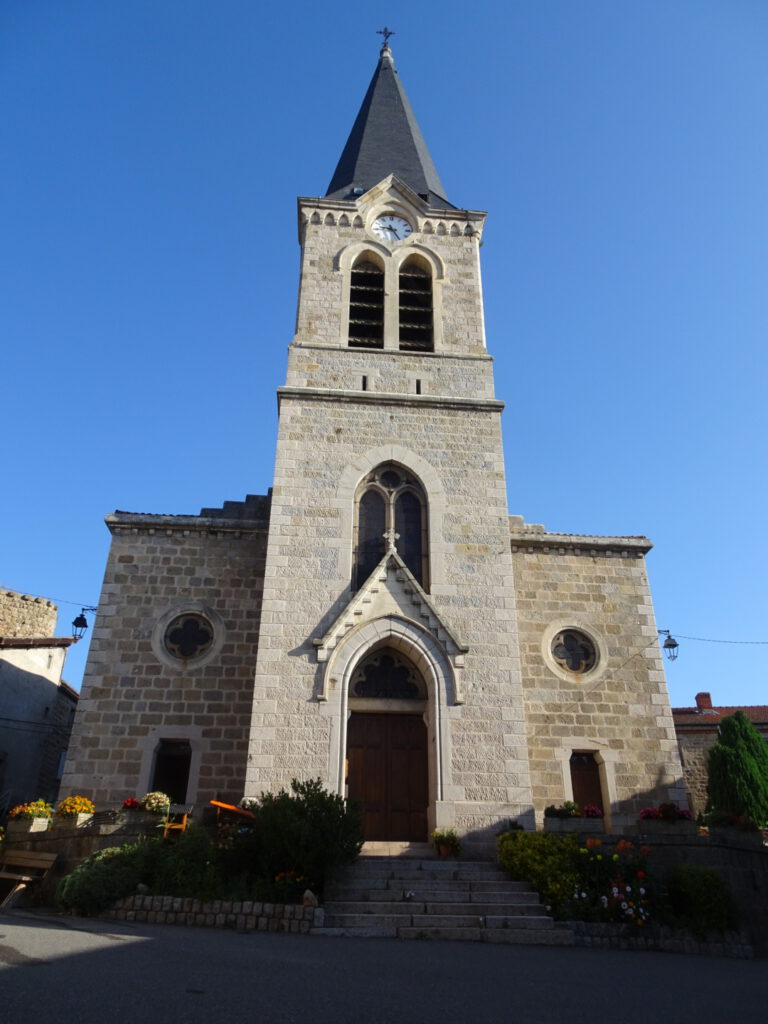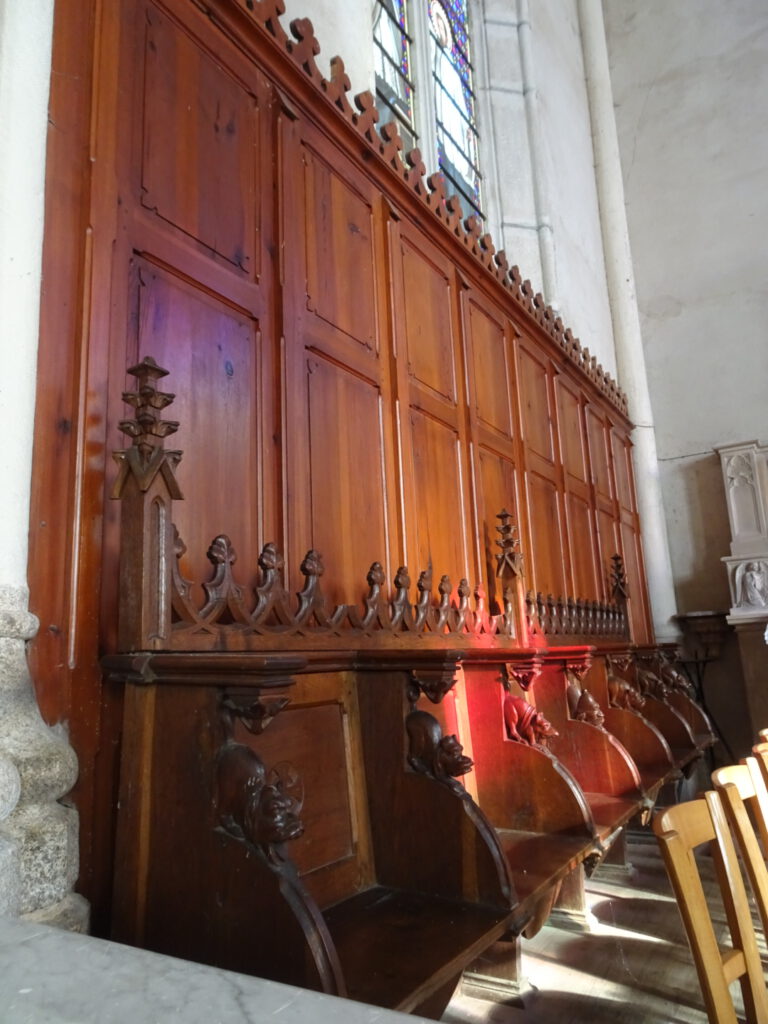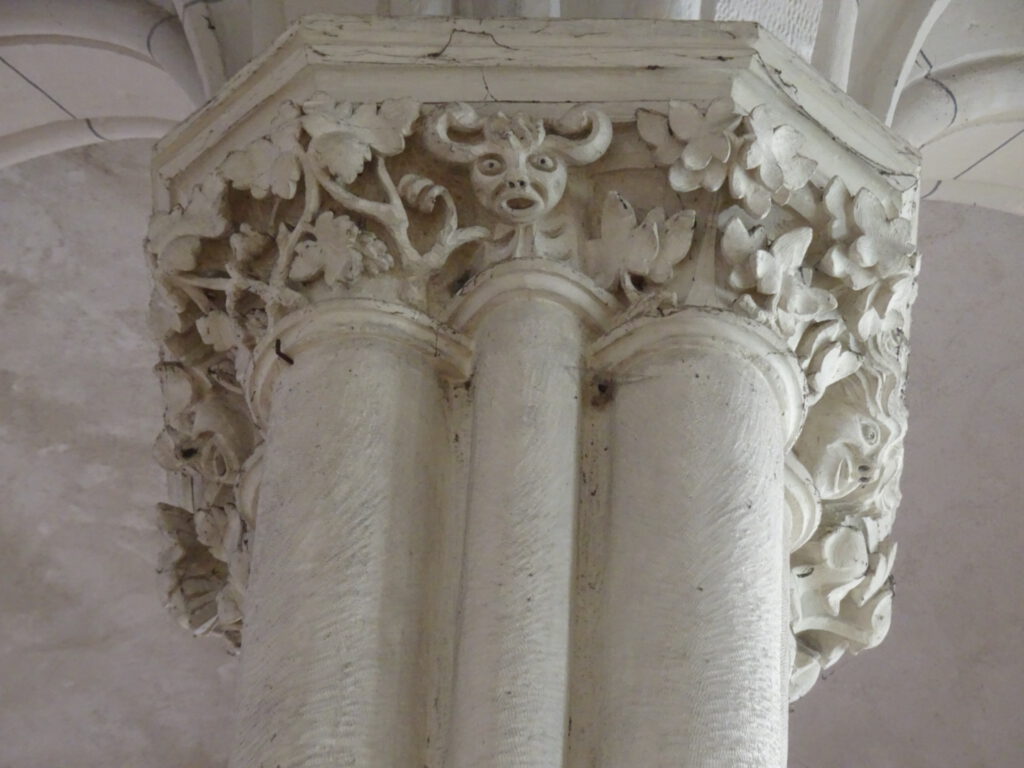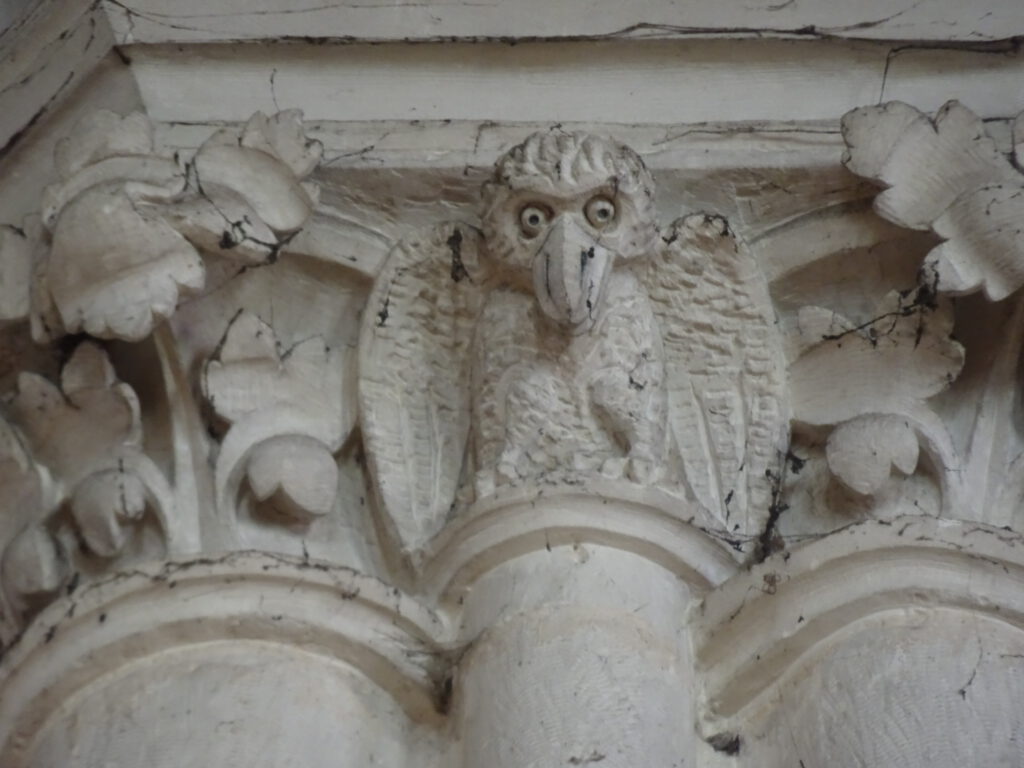 The ride today was very beautiful, through the mountains (around 800 meters altitude were the roads where I rolled) and much in forest area with occasional areas with meadows with a few cows or horses or fields with maize or mowed grain, some farmers mow really nicely which makes for nice stripes from a distance.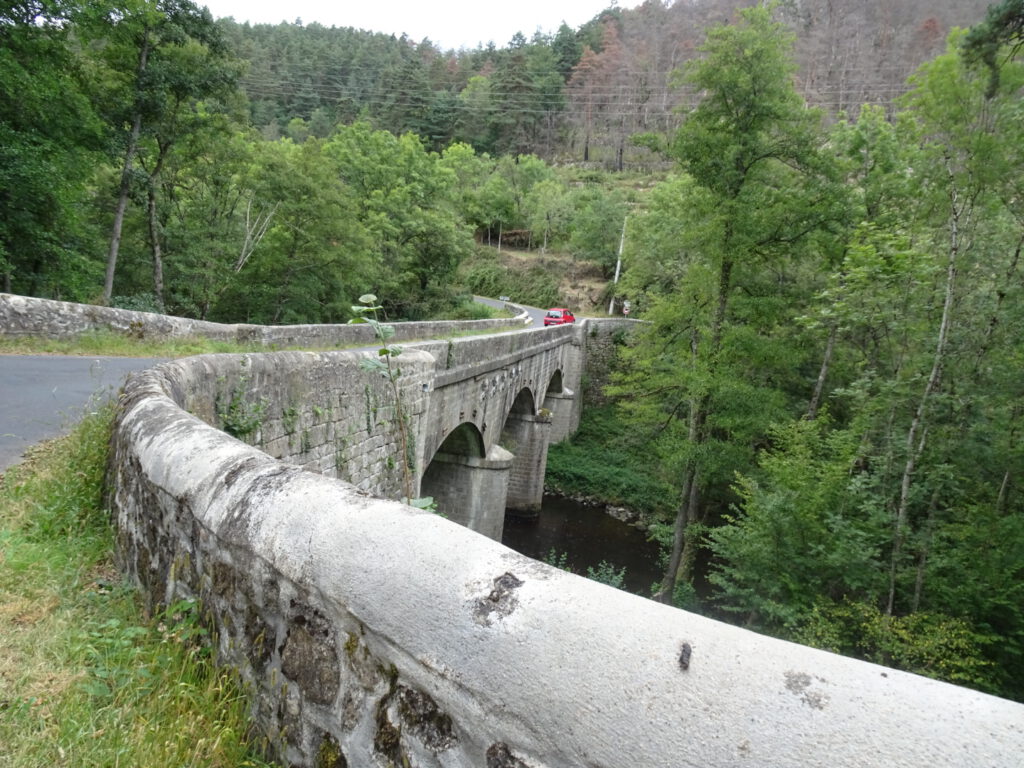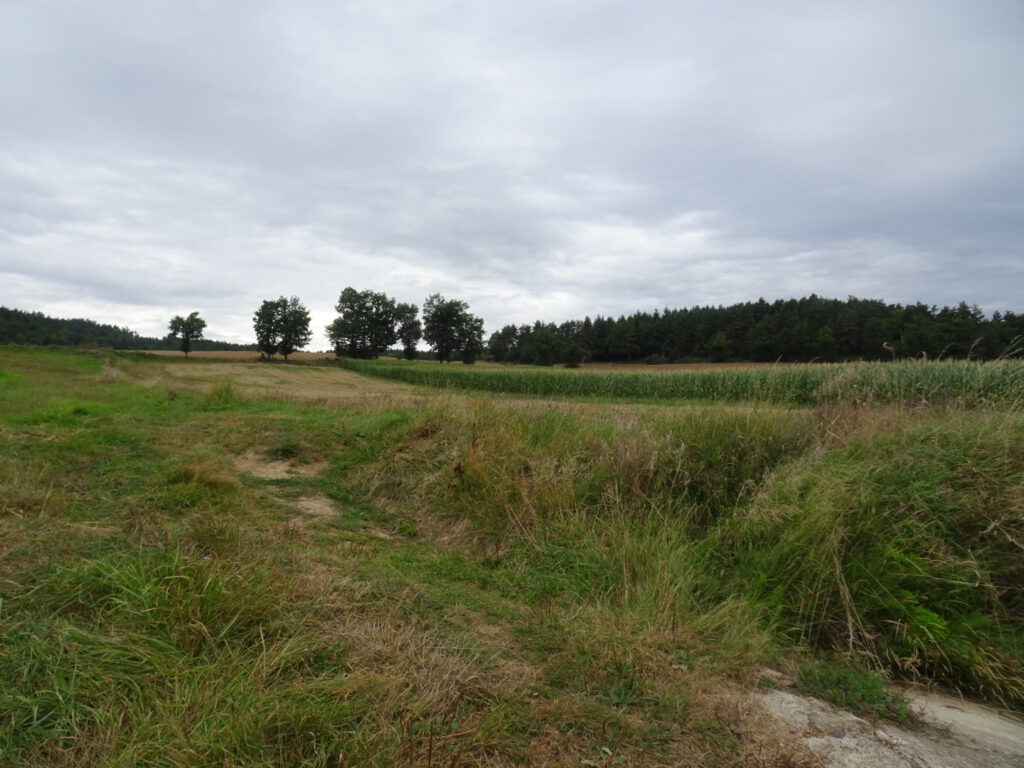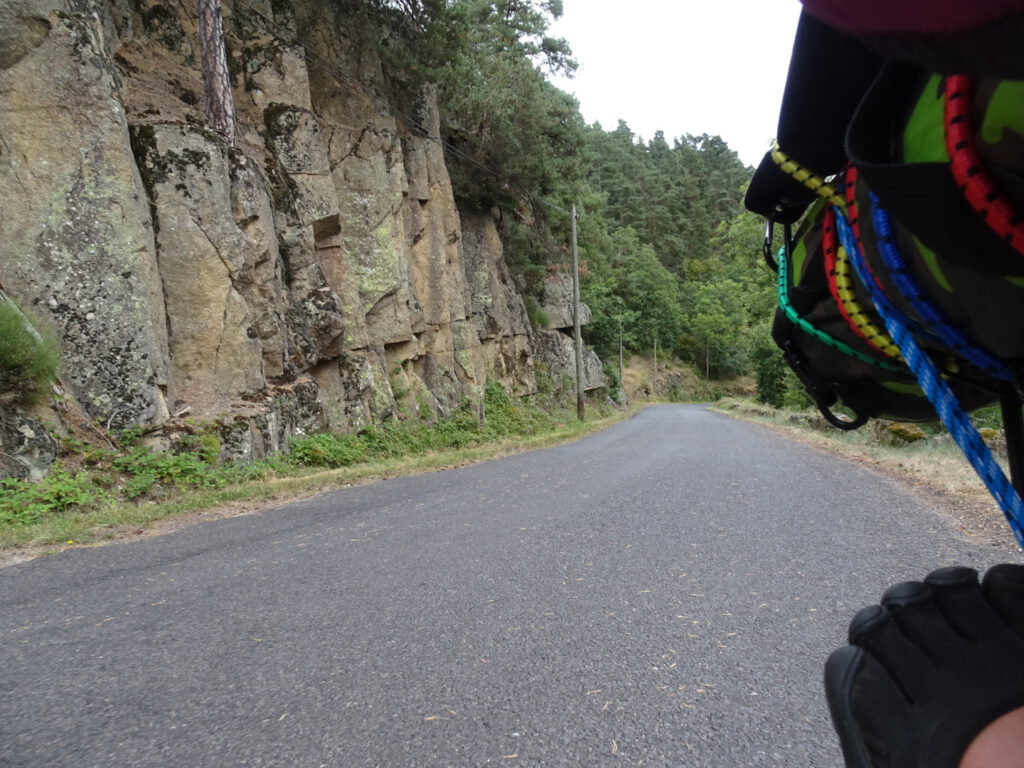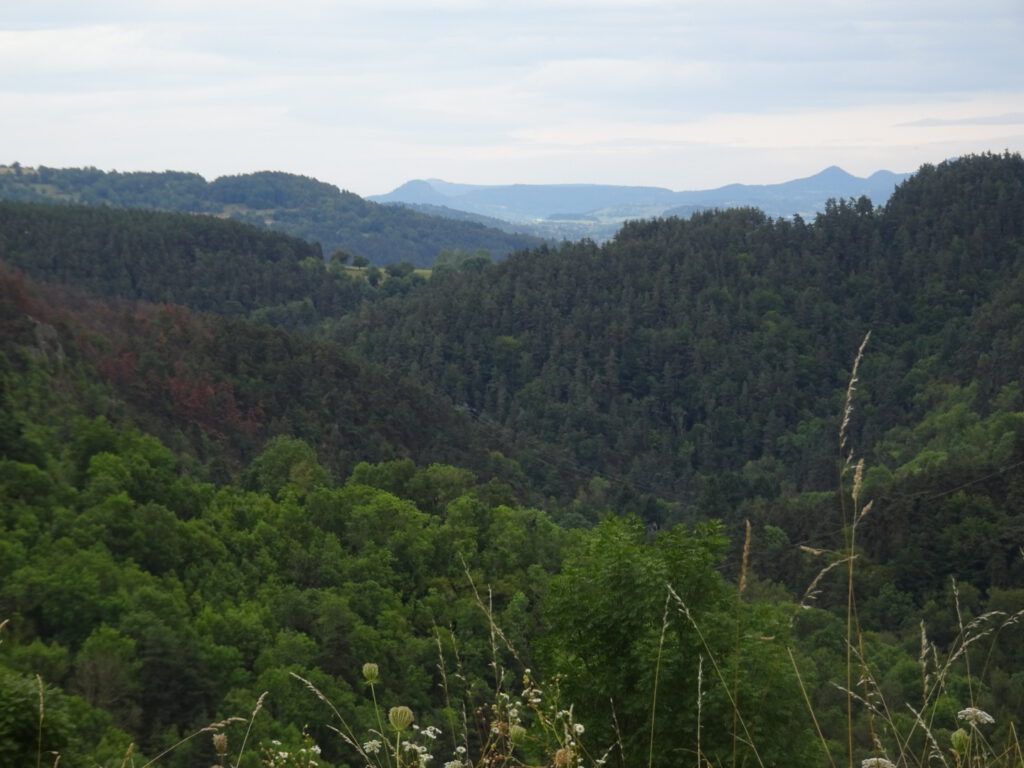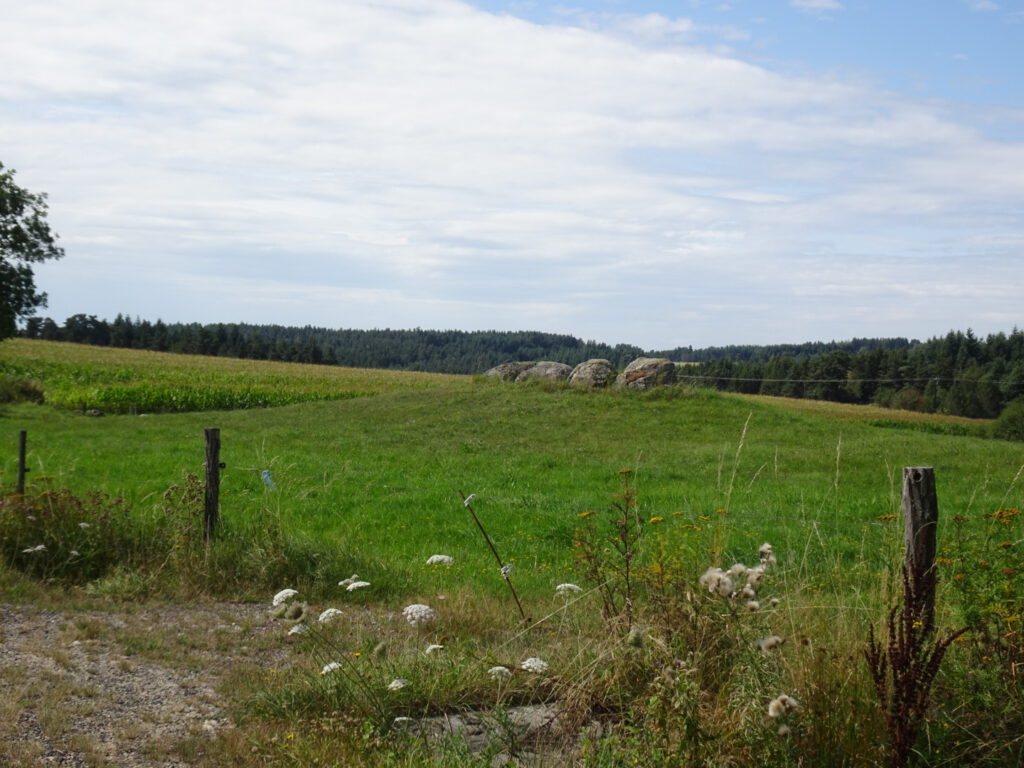 I also passed a very beautiful place where I looked into the gorge of the river Loire with a beautiful castle in the mountains. I took a short break here and marveled at the beautiful view.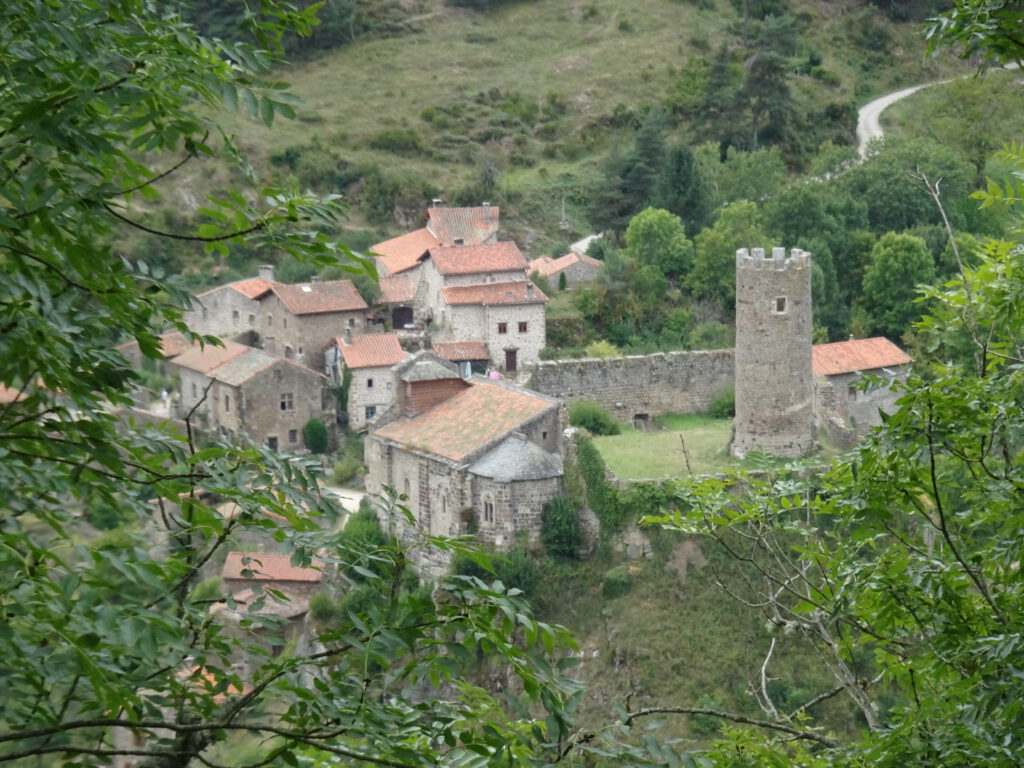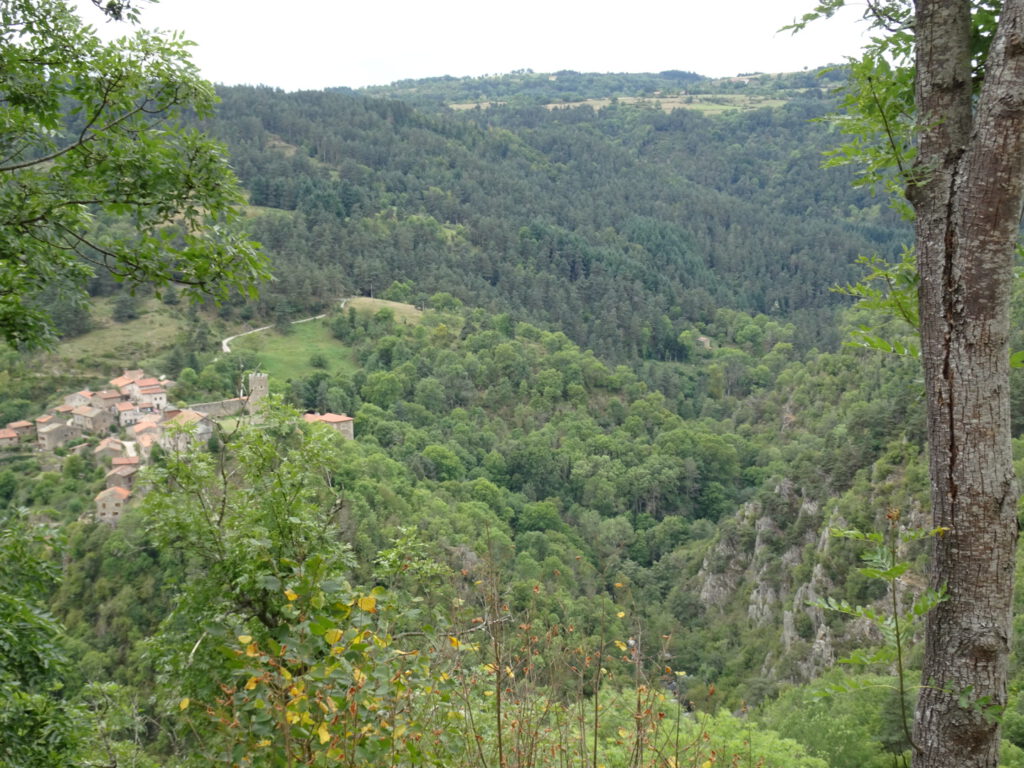 Along the way I ate blueberries and blackberries several times, delicious! and of course I ate the baguette with the last piece of cheese from Montbrison, a nice firm blue cheese.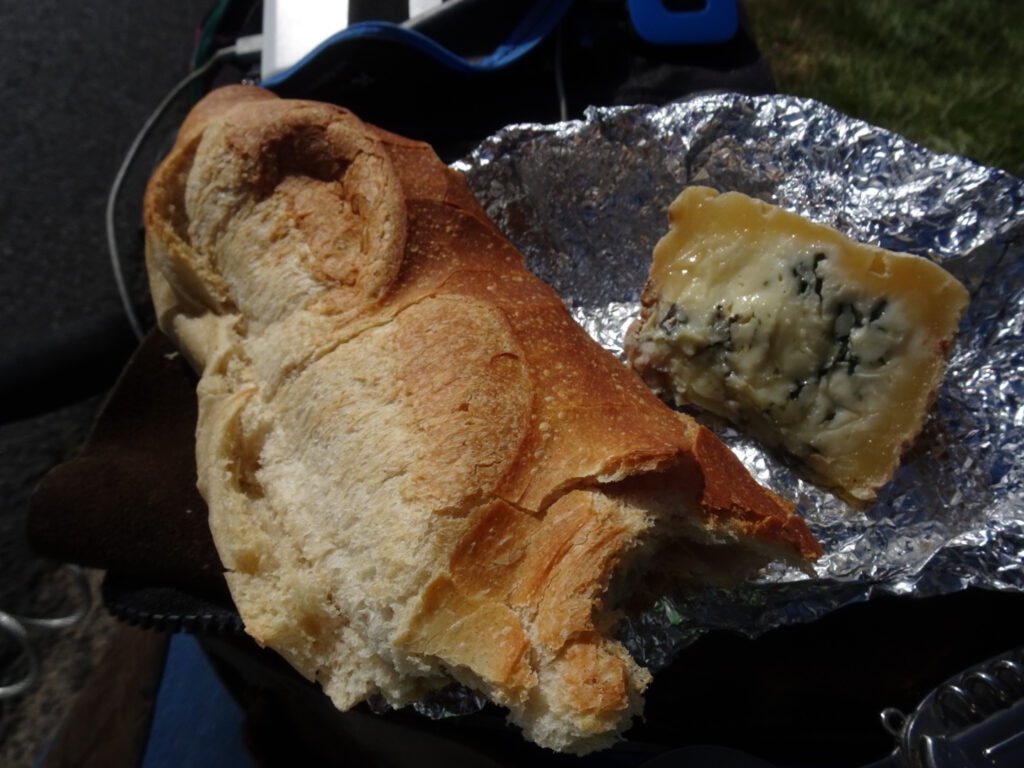 Finally I arrived at the campsite in Retournac, which fortunately existed because I had doubts about this because I found conflicting information.
Everything went very well today. but at the campsite my wheelchair charger broke, a cable break…. what a disaster and crying was closer to me than laughing. I assumed that this was my last ride because I can't roll without a charger.
luckily there was a neighbor on site with a camper who was handy and also had the right stuff with him. he saved me and made the charger! what a relief. I really saw myself getting on the train to my car (where I still have a spare charger) and traveling back to the Netherlands. But now I can still finish the last days.
my first set of batteries is almost full again, just change batteries and then go to sleep. I can go a little further tomorrow. today was a very long day (about 34 kilometers) but a very nice one, tomorrow a little shorter again and I am curious where the route will lead me next.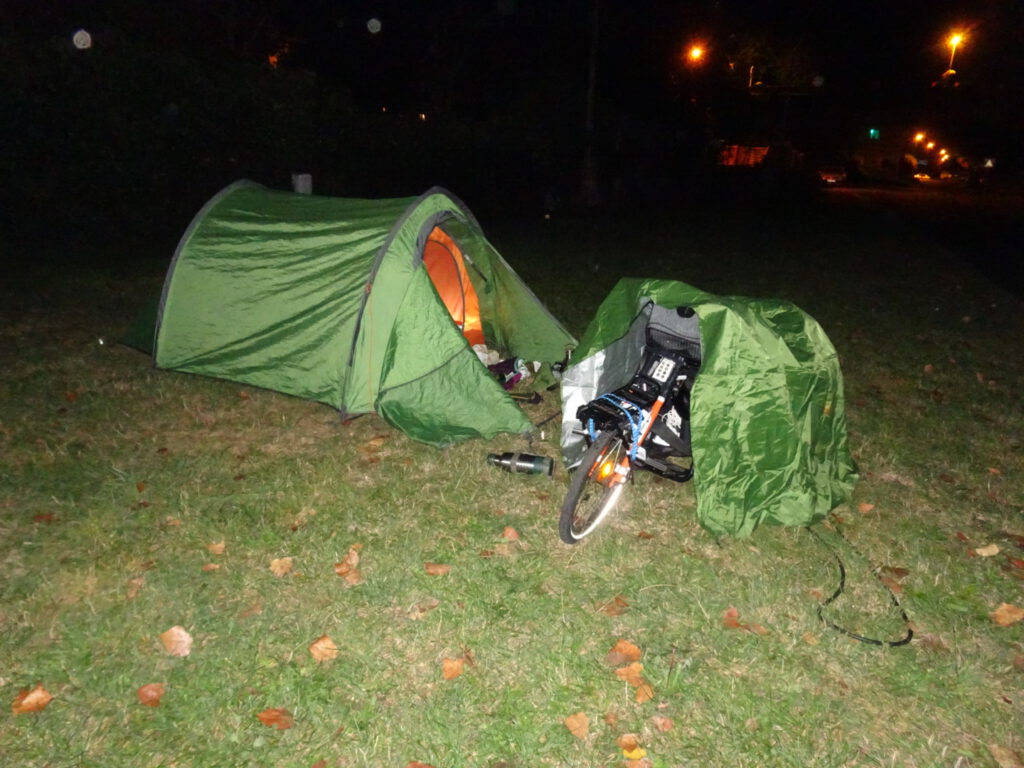 Greetings,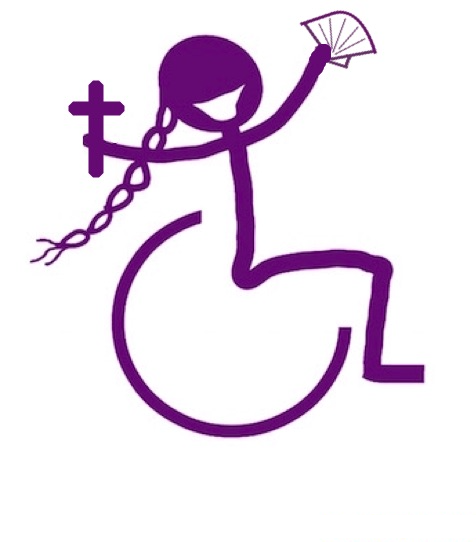 wheelchairpilgrim
---
september 3, 2021 door rolstoelpelgrim
Nadat ik gisteravond laat sliep werd ik na een korte maar gelukkig wel goede nacht vroeg wakker. Rond 8.30 was ik dan ook al volledig ingepakt en klaar voor vertrek. Het duurde nog zo lang omdat het voor die tijd regende en ik niet in de regen wilde vertrekken. Helaas heb ik wel weer mijn tent nat moeten inpakken.
Gisteravond kwam ik pas na 20.00 aan op de camping en de receptie was dicht, vanochtend was het nog hetzelfde. Ze leken wel volledig gesloten alsof ze al heel lang niet open zijn geweest. meestal staat er in zo'n geval dan ergens wat de camping kost en waar je het geld kan brengen (bijvoorbeeld bij het gemeentehuis) maar hier kon ik niks vinden. Ik denk dat degene die verantwoordelijk is voor de camping hier sowieso niet vaak komt gezien de staat van de toiletten.
Na nog even te hebben rondgekeken of ik toch iets had gemist ben ik maar vertrokken en heb ze in gedachte bedankt voor de gratis overnachting.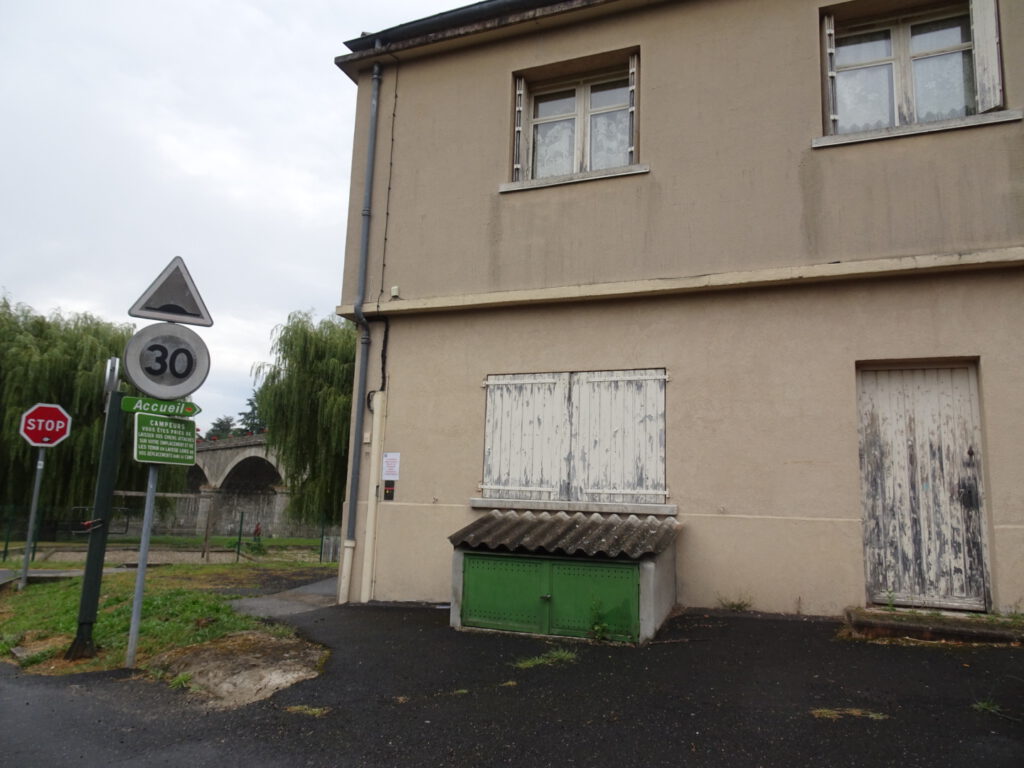 First I had to go up a slope, I had already gone down that yesterday and then I wondered how I was ever going to get up here again, even rolling down was almost impossible. But I started the climb full of courage. First forward, then backward. a passerby asked me if he could help but I said I wanted to try it myself. suddenly it went wrong, my front wheel came loose from my wheelchair, then suddenly I had a problem…. luckily the passer-by came quickly and helped me with the wheelchair and the front wheel. Luckily nothing was broken and luckily I was able to put everything back together quickly. I hadn't checked to see if everything was still attached. all the rain had distracted me while packing and forgot to check everything.
In the village of Chamalieres-sur Loire I saw a beautiful church that I wanted to go to. On my way there I came across the Mairie (town hall) where I wanted to get a stamp. In front of the town hall were all kinds of things (signs and pictures and the street name was "place Saint Jaques, square of Saint Jacob/Santiago) that pointed to the route to Santiago, but when I asked for a stamp the municipal official did not understand where I actually got it. stamp for wild. He acted like I just wanted him to sign something. It wasn't until his colleague joined me that it was all right and I got another stamp in my pilgrim's passport.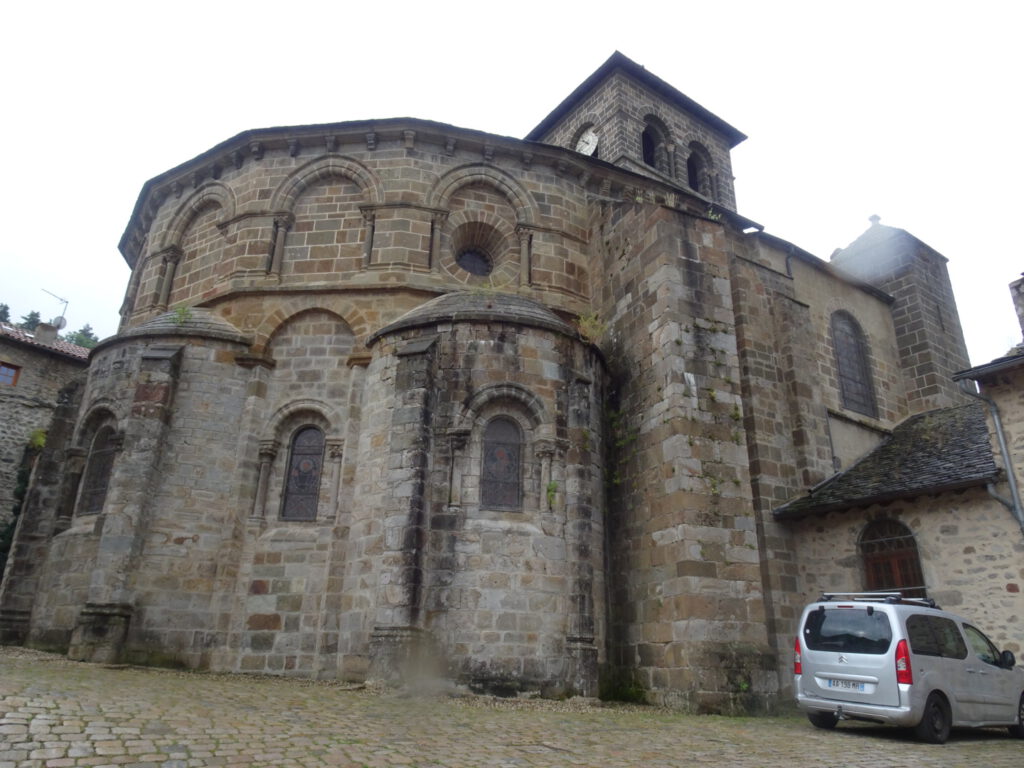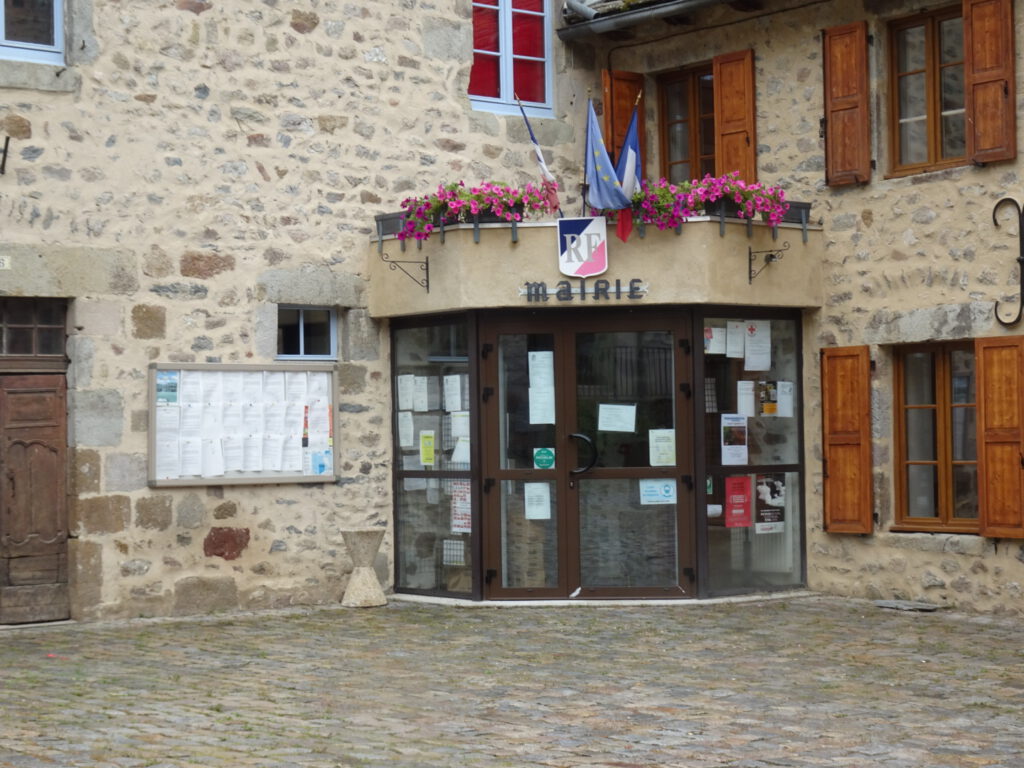 Then it was time for the church, a beautiful Romanesque church that had been part of a monastery.
When I got to the door to get out again, the square was full of birds, which were very easy to photograph.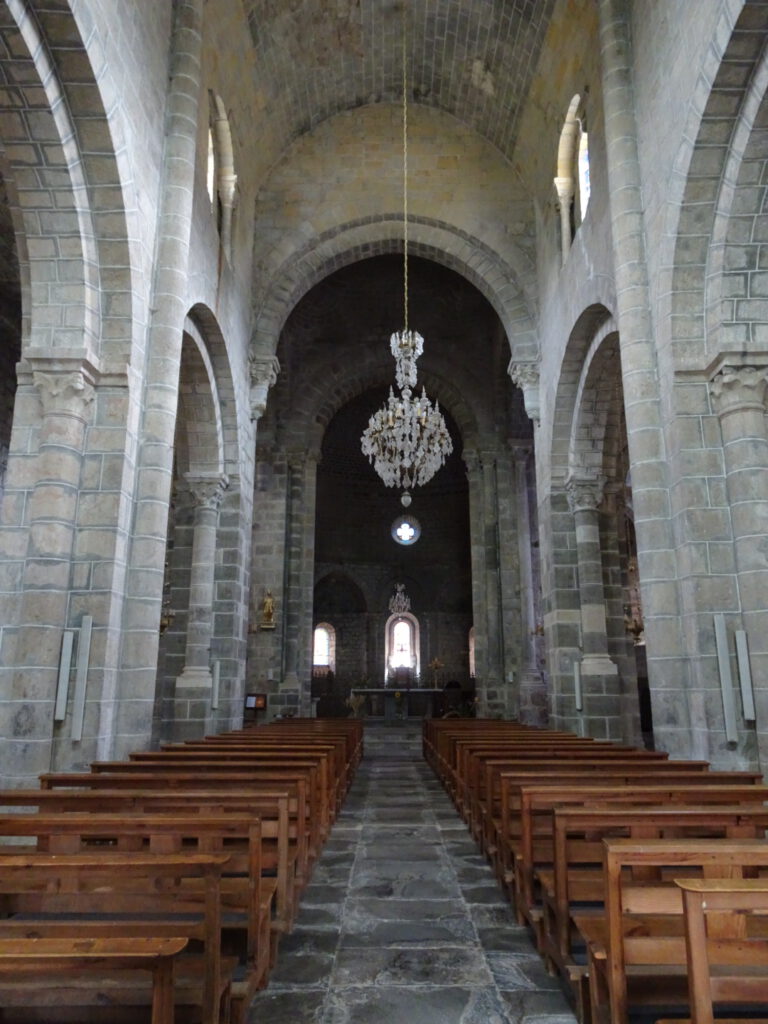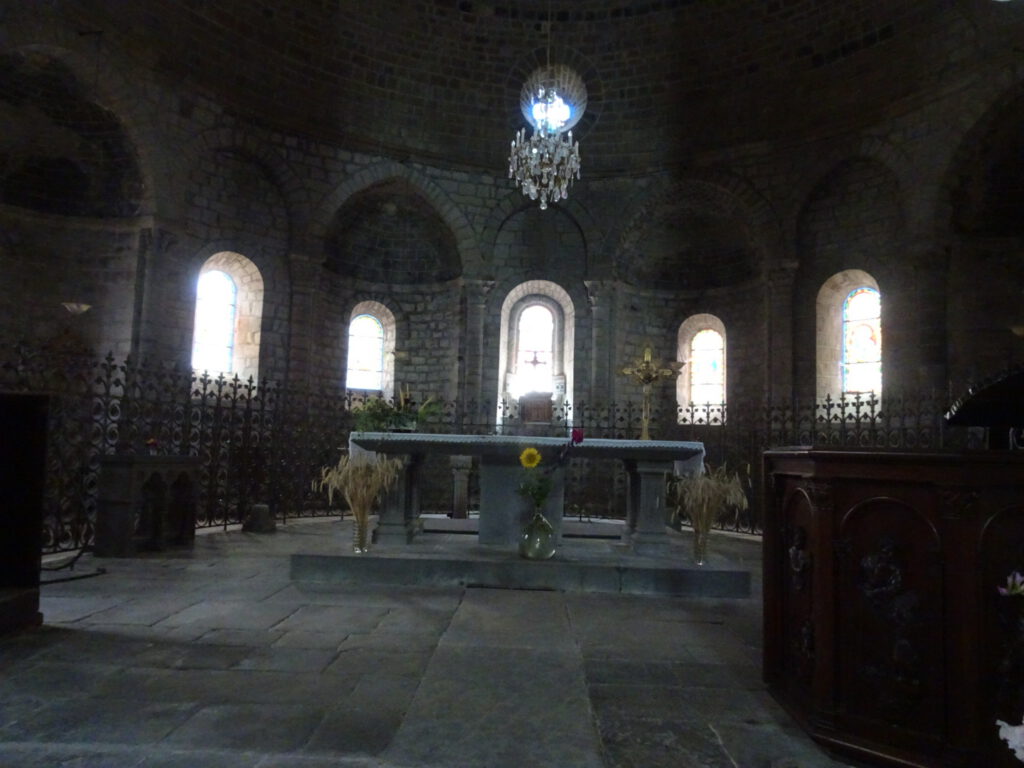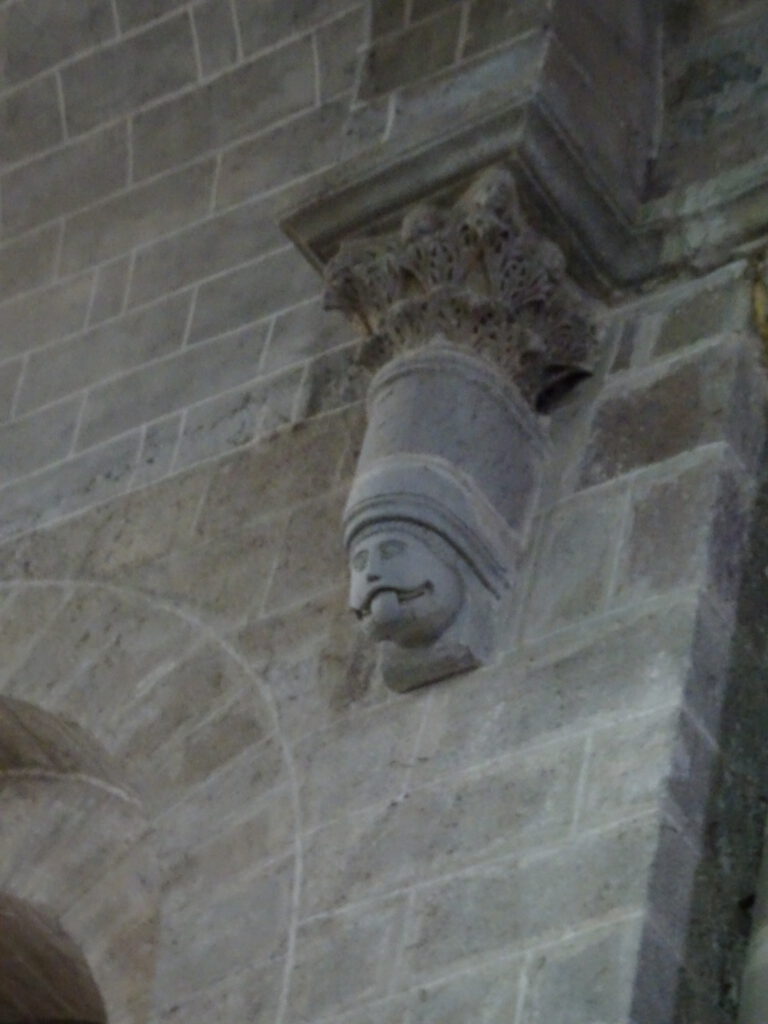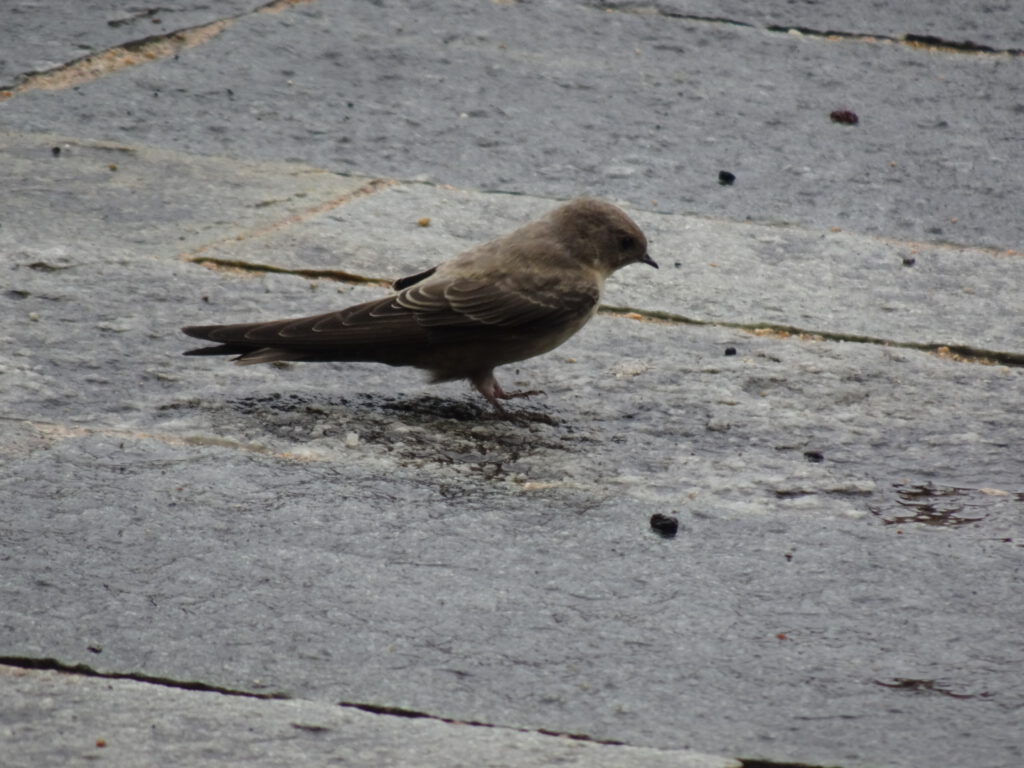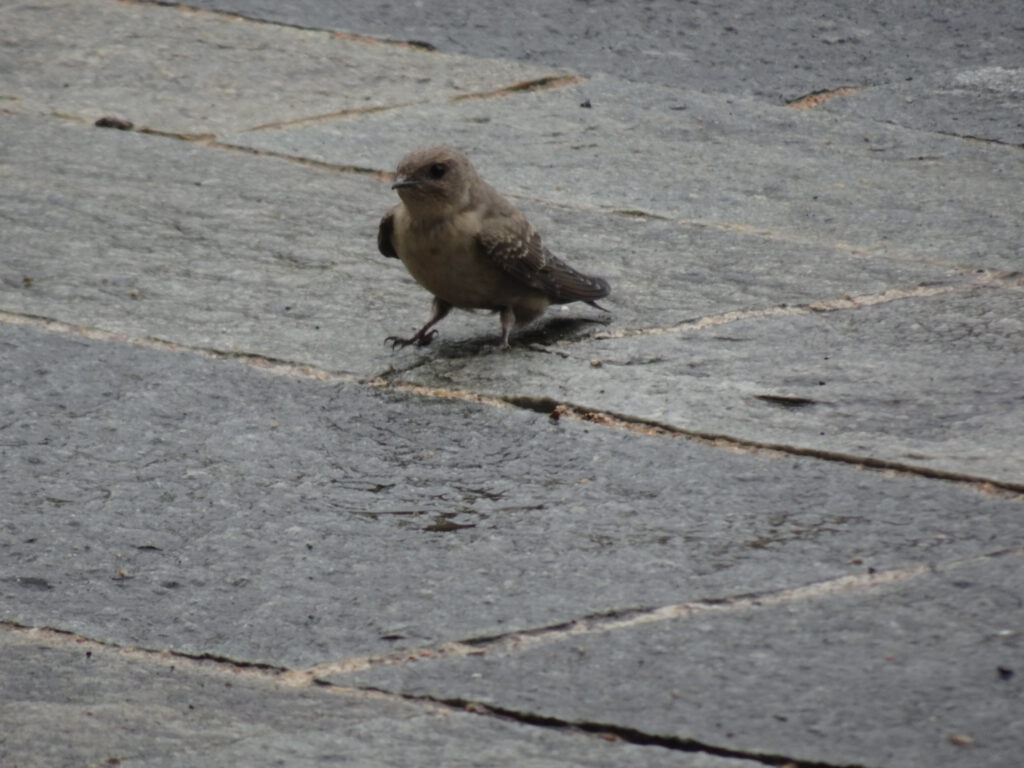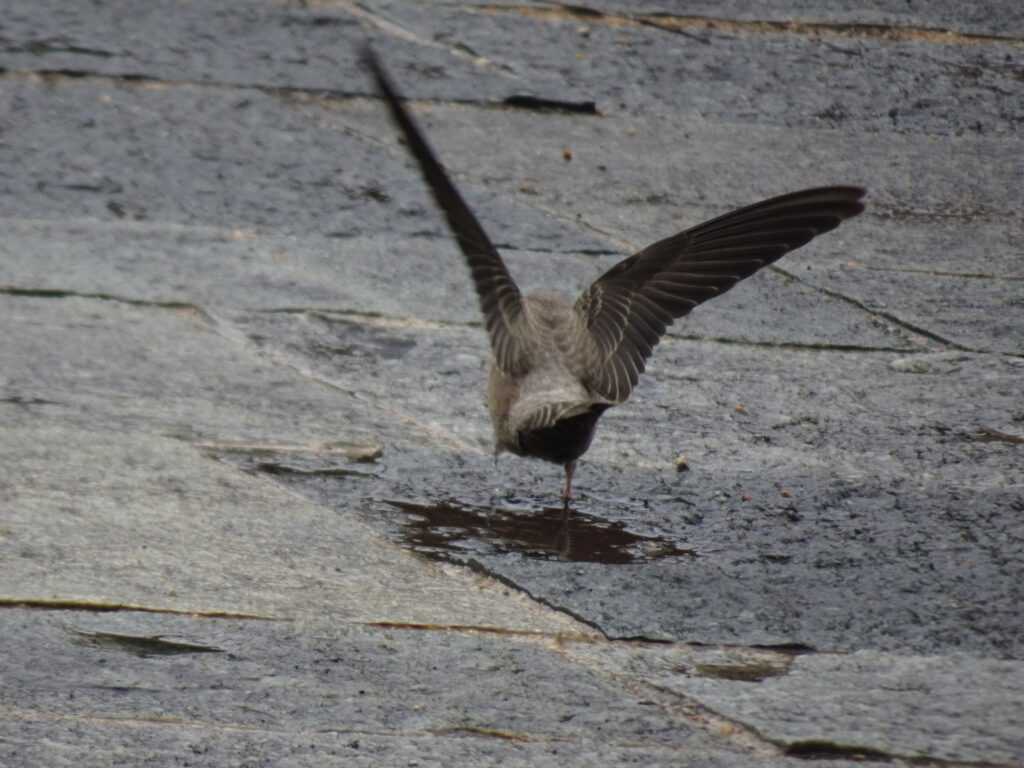 There was also a beautiful garden in medieval style.
Nice to see and smell all those different herbs. They also had an object with all kinds of different stones on it that are here in the rocks. nice to see.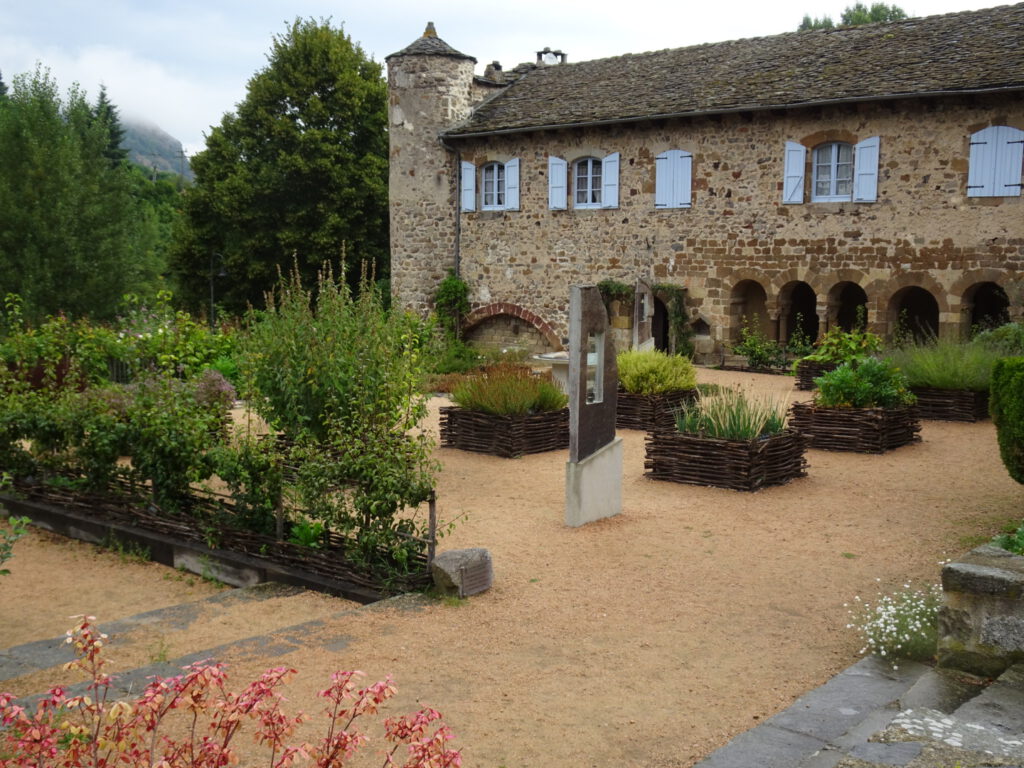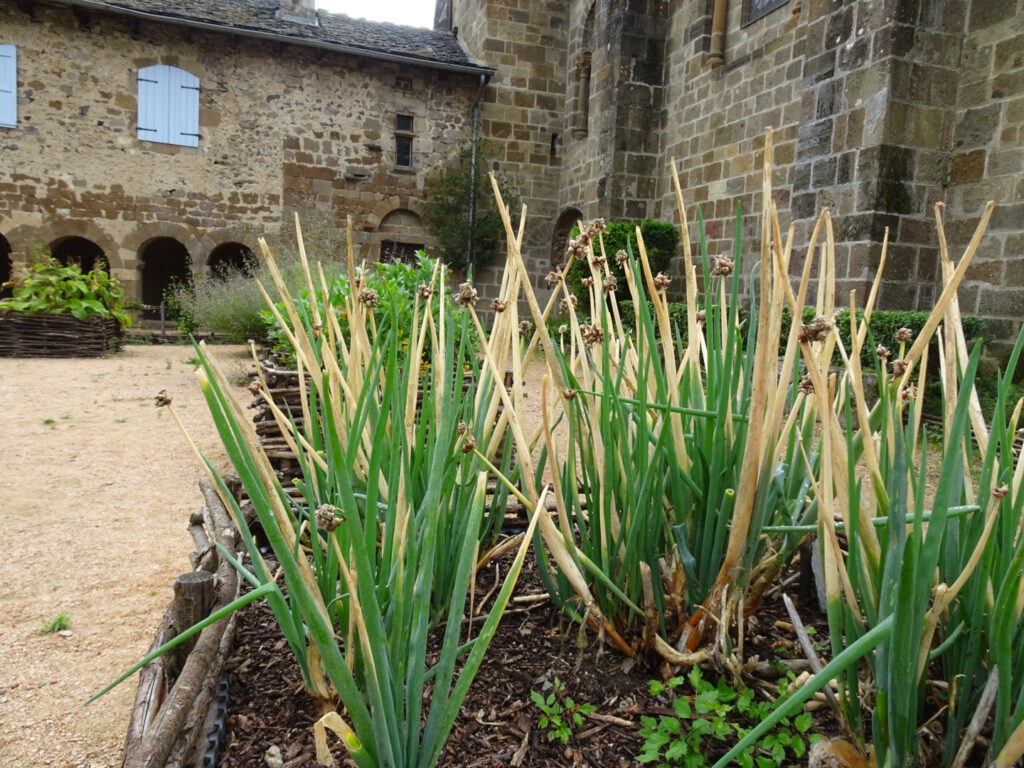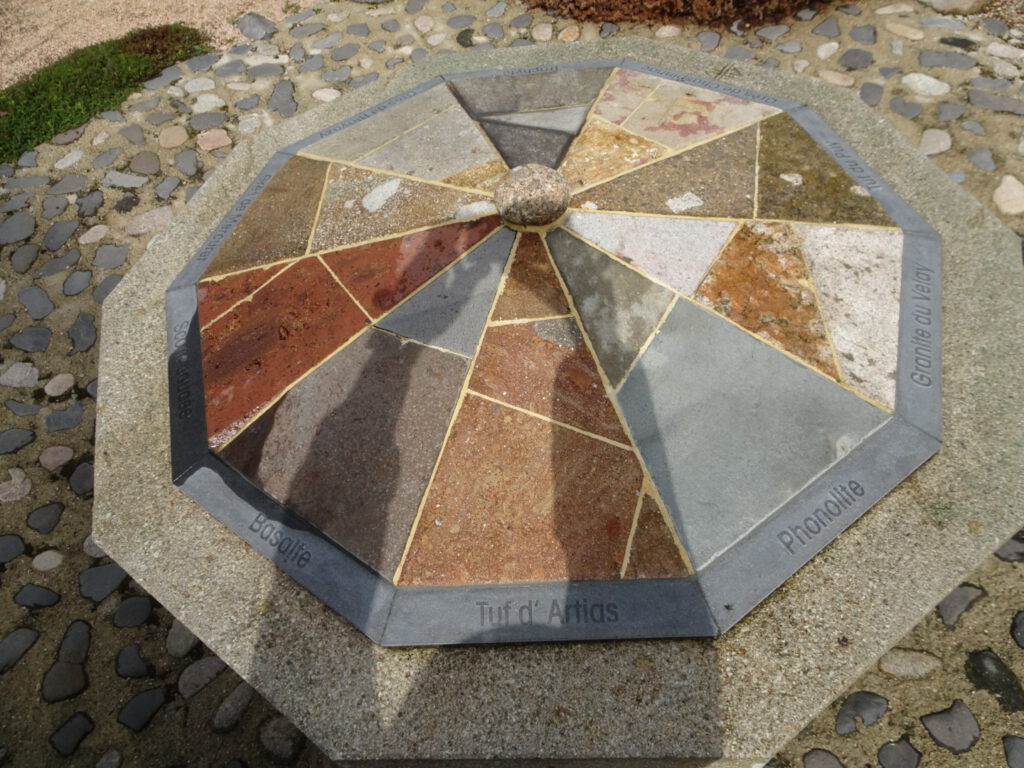 There was also a bush with huge blackberries, which I also tasted. they were very nice, but the small ones I meet on the way are tastier. I came across a lot of blackberries today anyway and I also ate a lot of them. 1st photo is the large blackberry and the 2nd a relatively large blackberry that I also ate.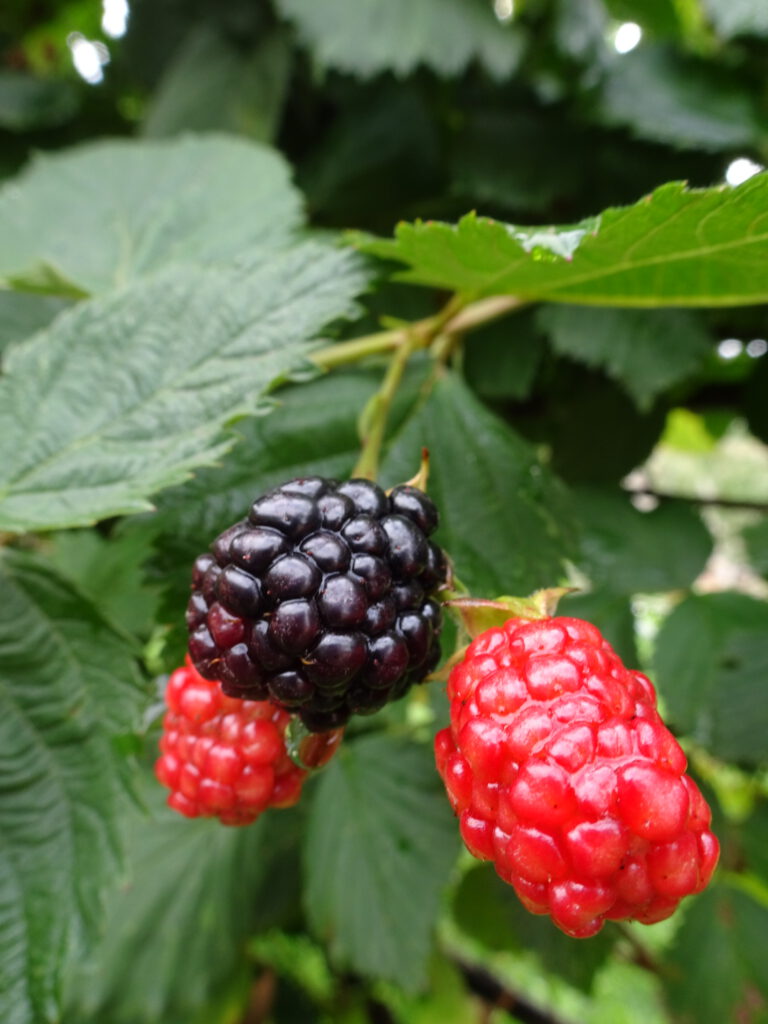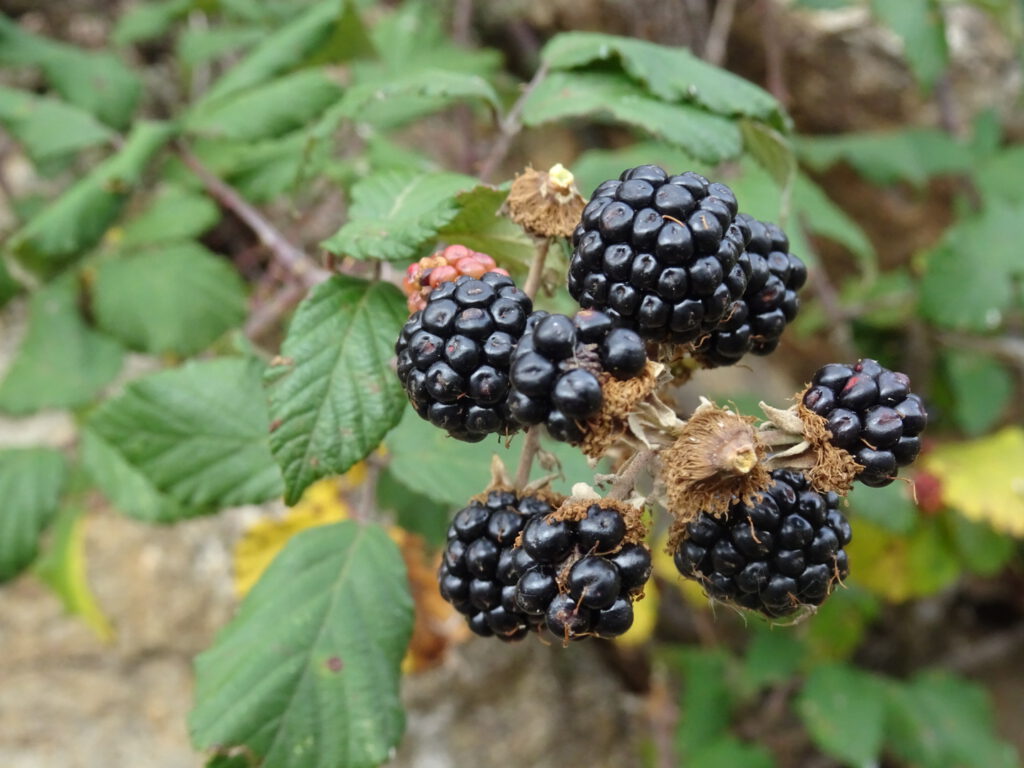 Then I rolled on, first through an area where there were still a lot of houses, but in the end (fortunately) I came back to an area with more nature. Today I had the Loire river on one side and the mountainside on the other. Sometimes I rolled almost at the height of the river and sometimes I climbed the mountain again. The environment where I am now is different from, for example, a week ago, those were just big hills on the face, they may not be much higher here, but the mountains are rocky and wilder, with regularly impressive castles and ruins on the tops and also I rolled today for the first time as far as I can remember through a real mountain tunnel with the wheelchair. Very beautiful here!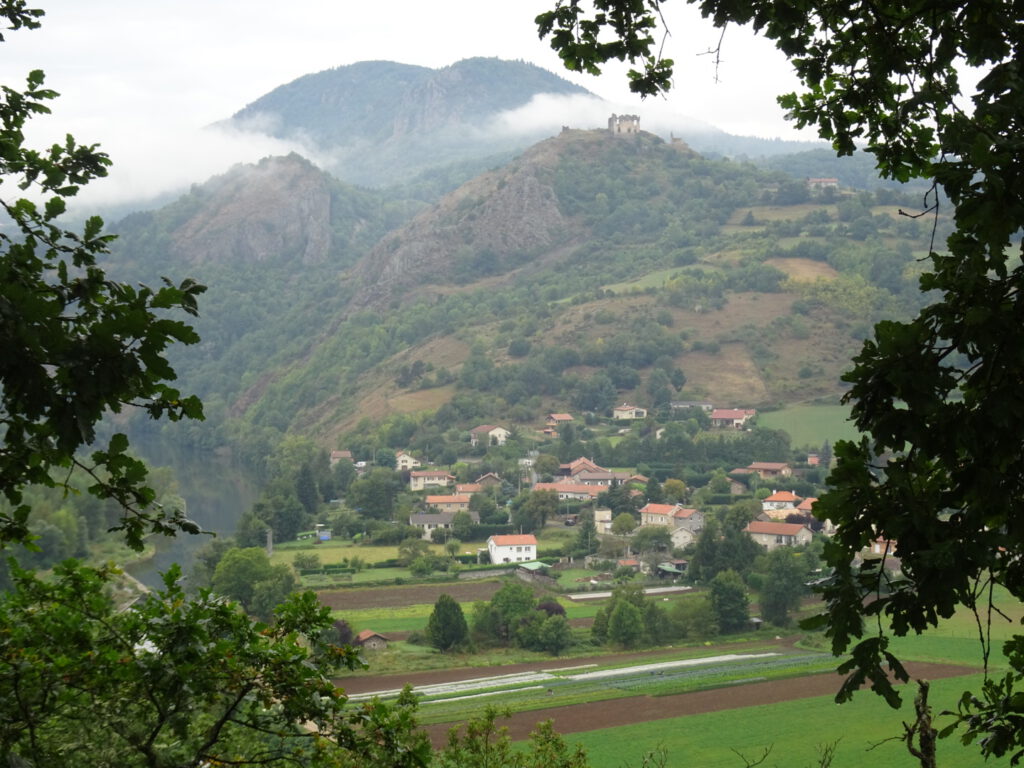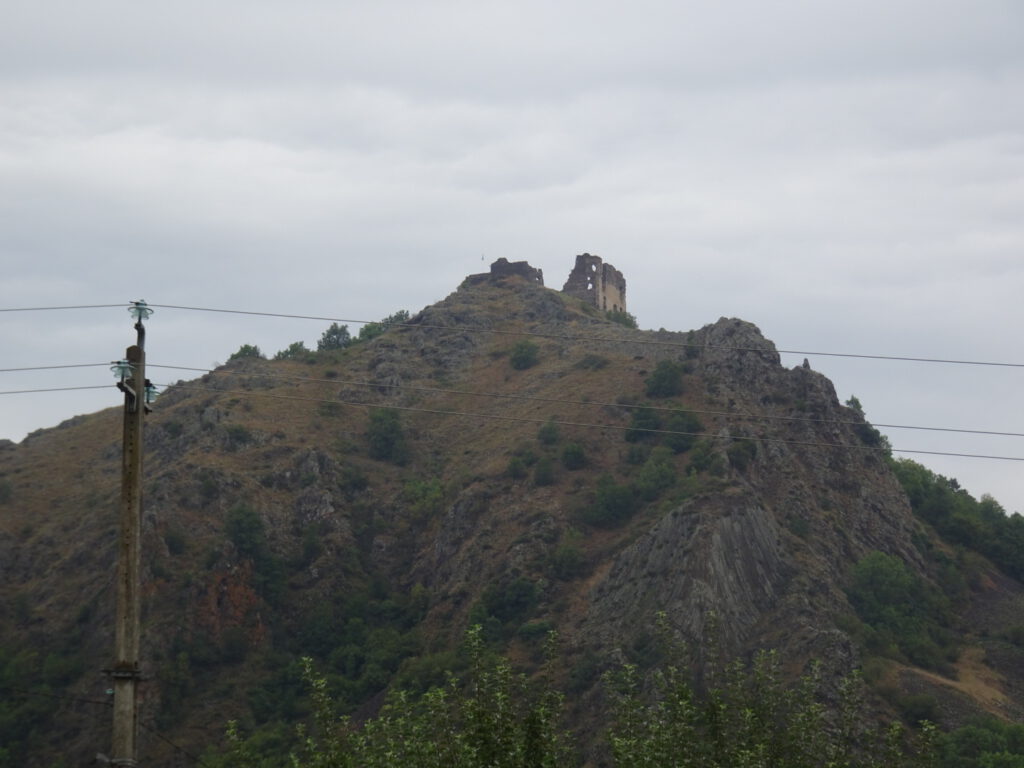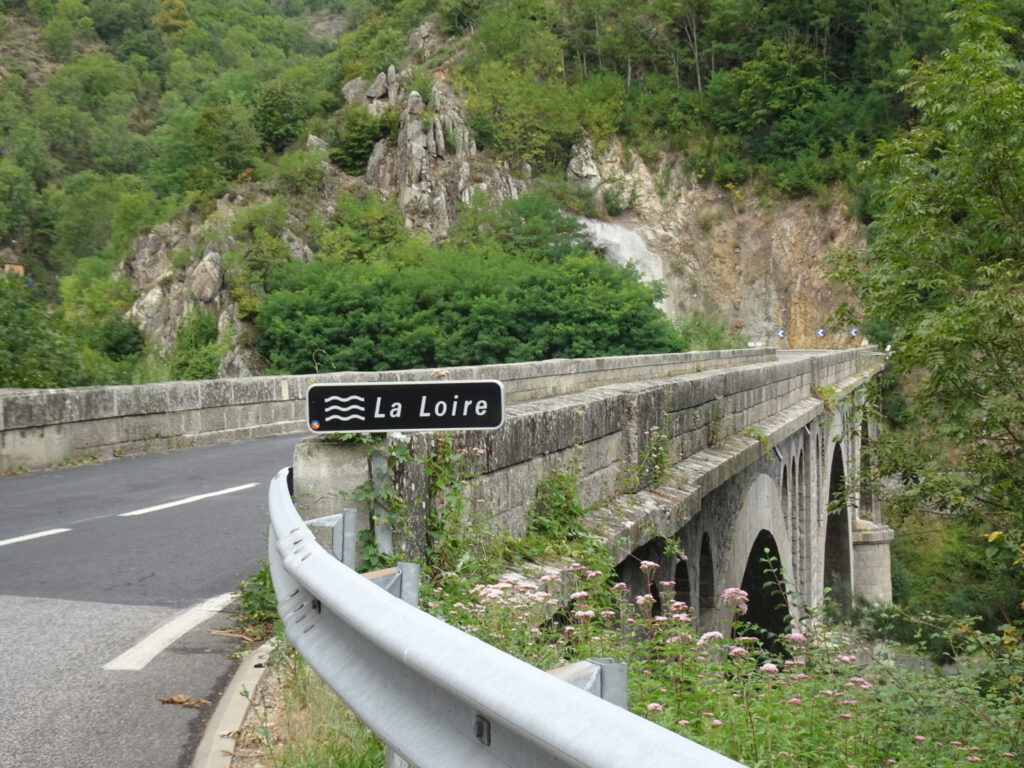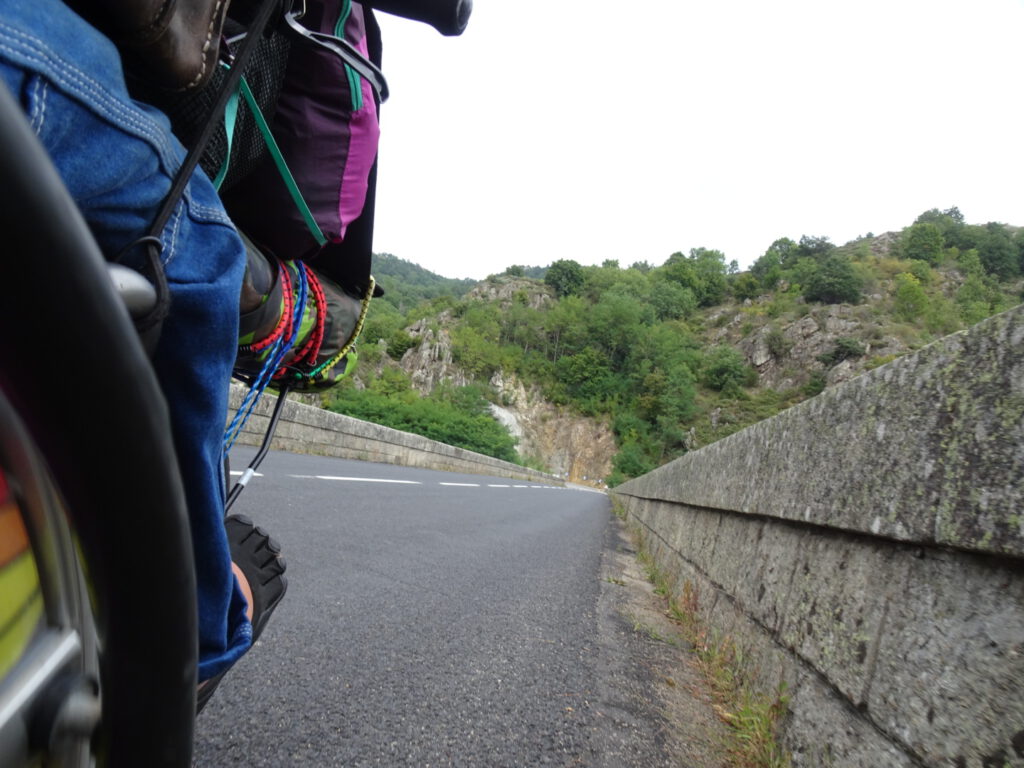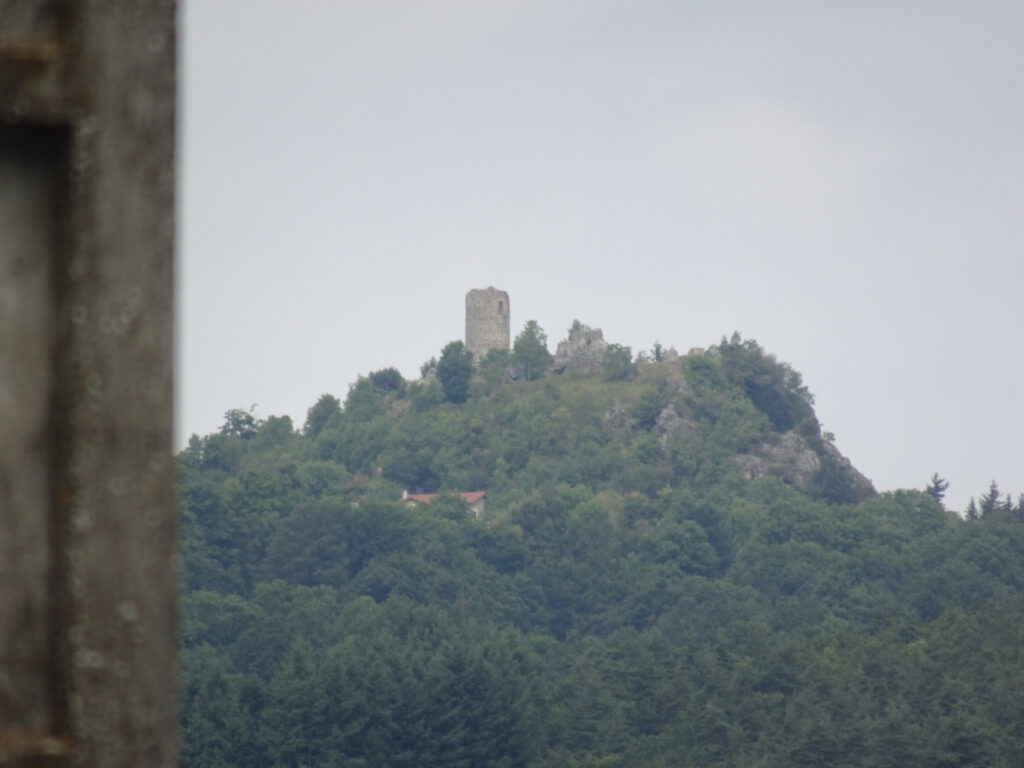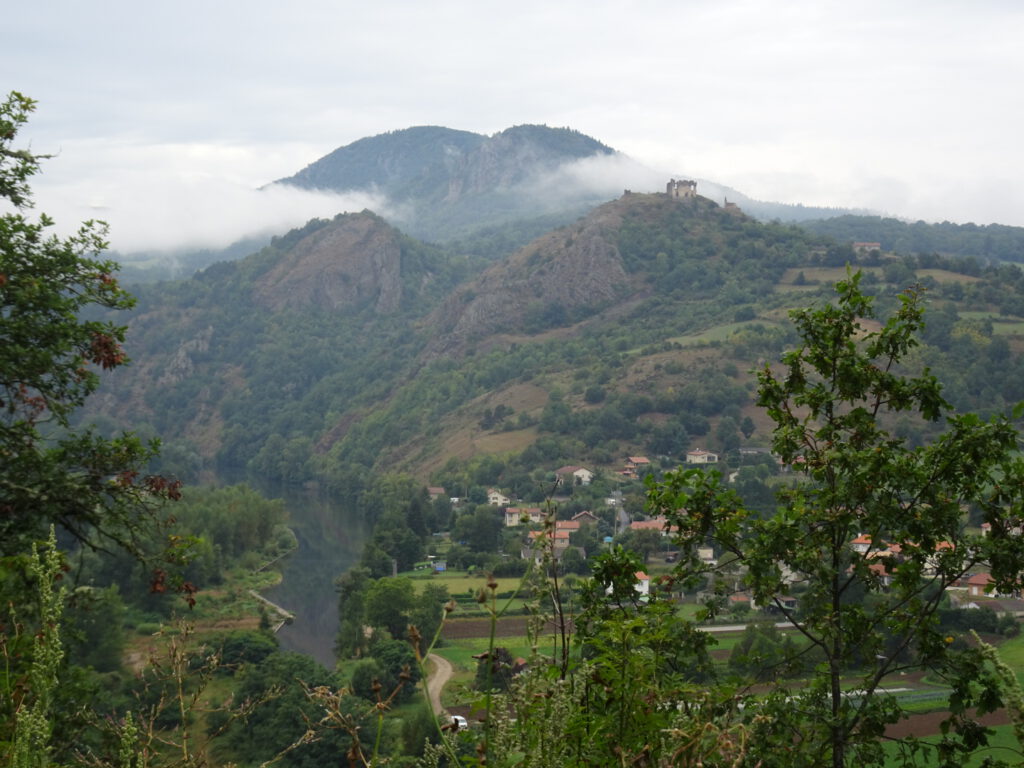 Just arrived in Vorey I also met 2 other pilgrims, in the distance I had already seen them walking but I had not met them yet. We chatted and then both went to different sleeping addresses. I go to the campsite where I am now.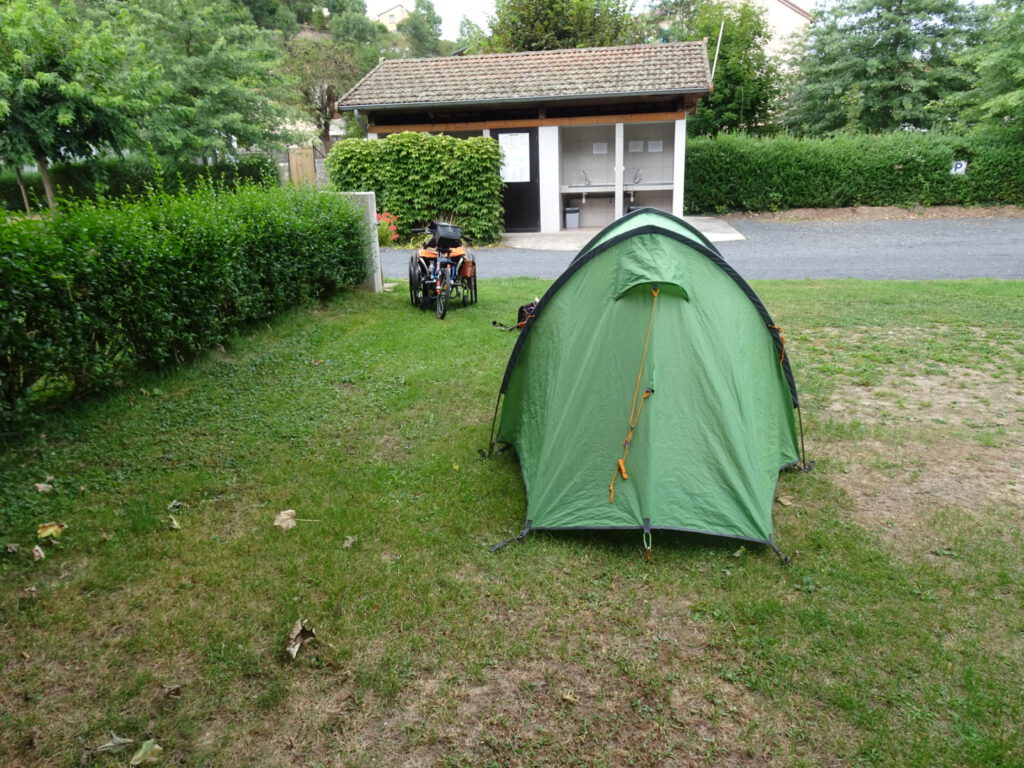 Tomorrow we will continue again, the end point of this year is already approaching, I hope to arrive in Le-Puy-en-Velay on Sunday.
more tomorrow.
Greetings,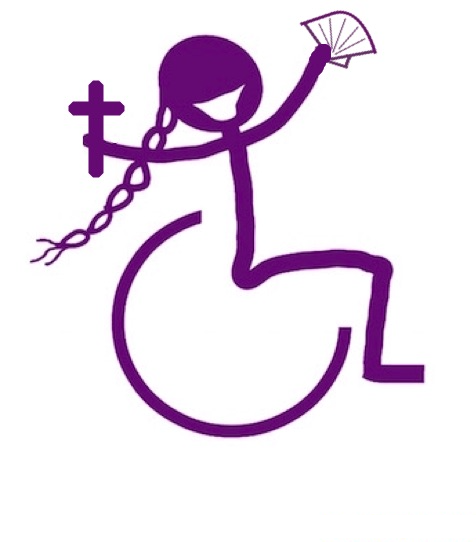 Rolstoelpelgrim
---
september 4, 2021 door rolstoelpelgrim
Today is my second to last day of rolling. The end is in sight.
Today a somewhat shorter ride, 12 kilometers, although I did roll about 16 kilometers by taking a detour that was nicer.
I wanted to leave early, but decided to make it 9:00 again anyway and do some overdue work on my website.
now day 13, the day without photos, finally includes photos and I also added some extra things (things I had to think about when I looked at the photos).
https://rolstoelpelgrim.nl/dag-13-2/
Once I had rolled away from the campsite, I first rolled towards the church. Unfortunately I couldn't go in, they were working on it, the church was partially covered with scaffolding and there was a large crane. so we rolled back again.
I replenished my food supply at the supermarket and then I left Vory.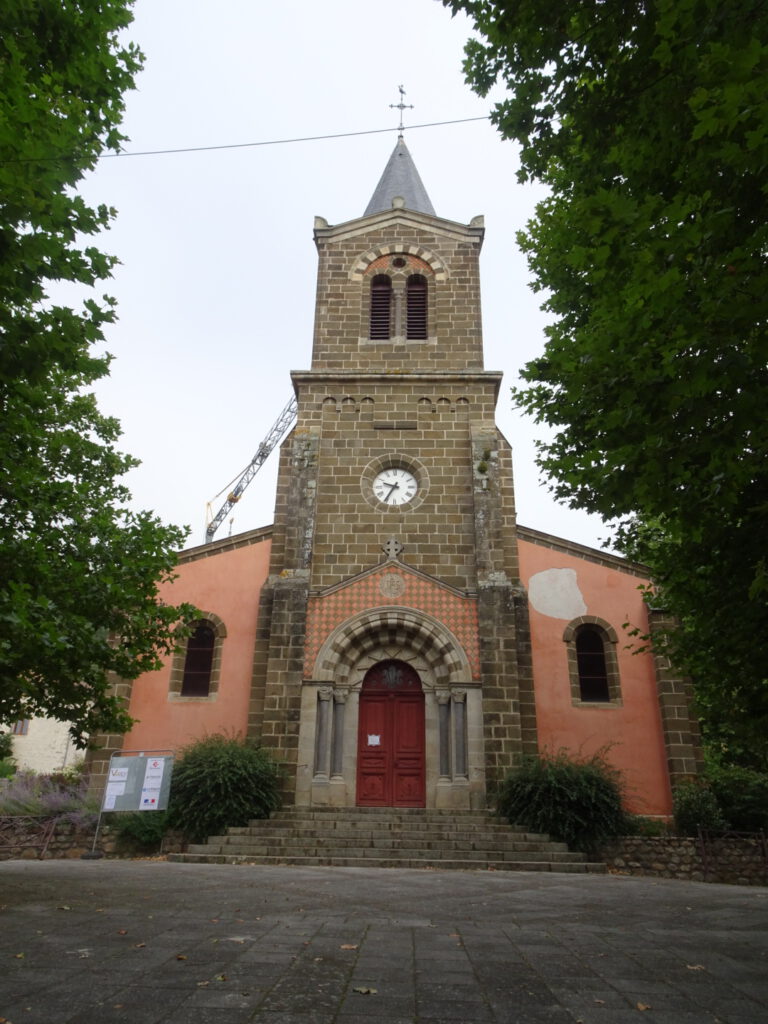 Along the way I also met a pilgrim who was walking from his hometown (no idea where, but was only a few days) to Le-Puy-en-Velay.
I could pick blackberries to my heart's content today and that's what I did. Not only were there many bushes with many fairly large ripe fruits, but they were within easy reach of me in the wheelchair. Very often I have to let treats pass me by because they are too high, too far or behind a ditch. but today I think I ate a pound of blackberries.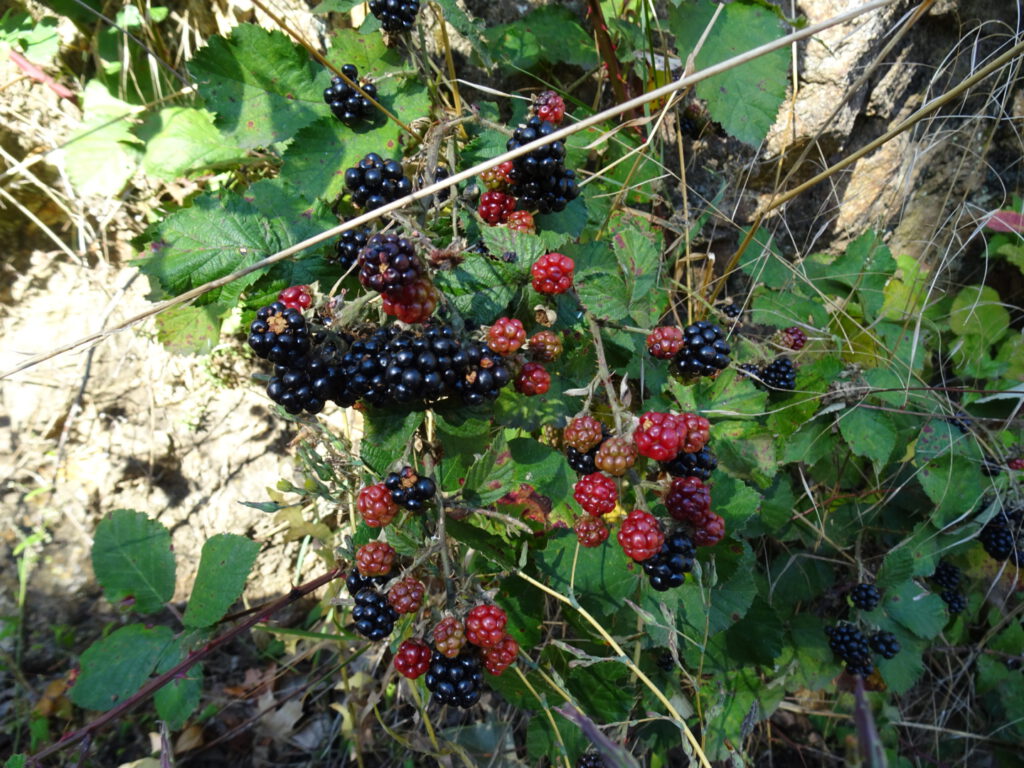 I rolled between the Loire and the railway for the first half of the day, and occasionally between the Loire and a rock face. that rock wall   was very beautifully overgrown with all kinds of succulents, flowers, mosses and grasses. In between were many lizards and butterflies and bees managed to find the flowers. And in turn I managed to find them again and capture them with the camera.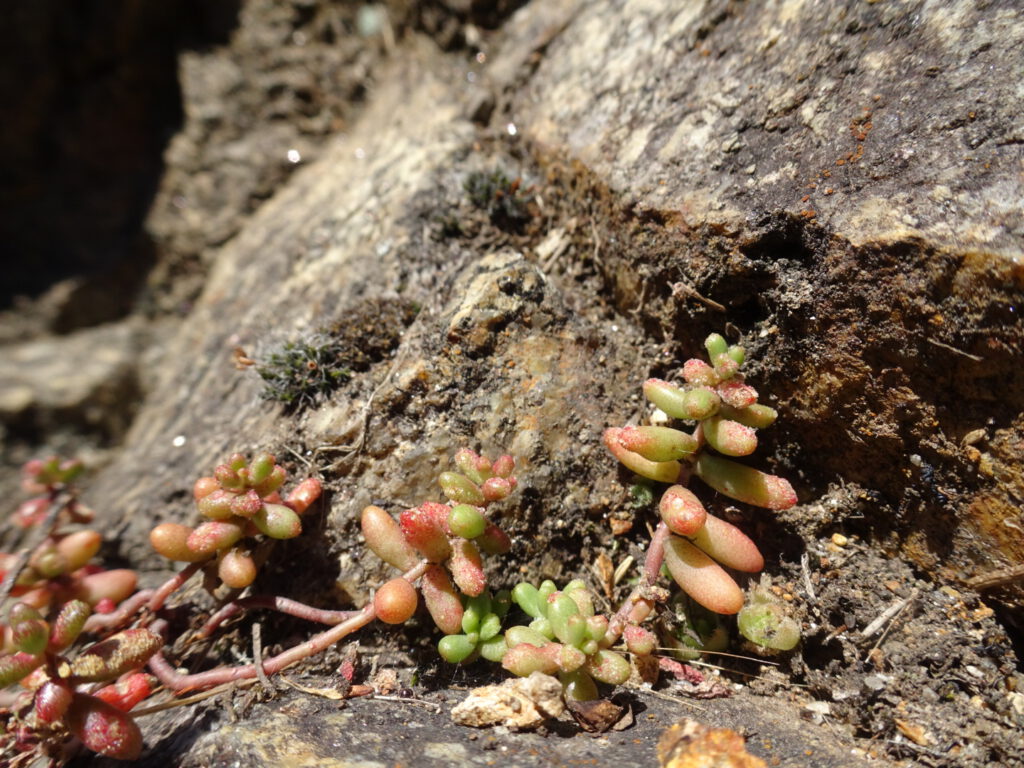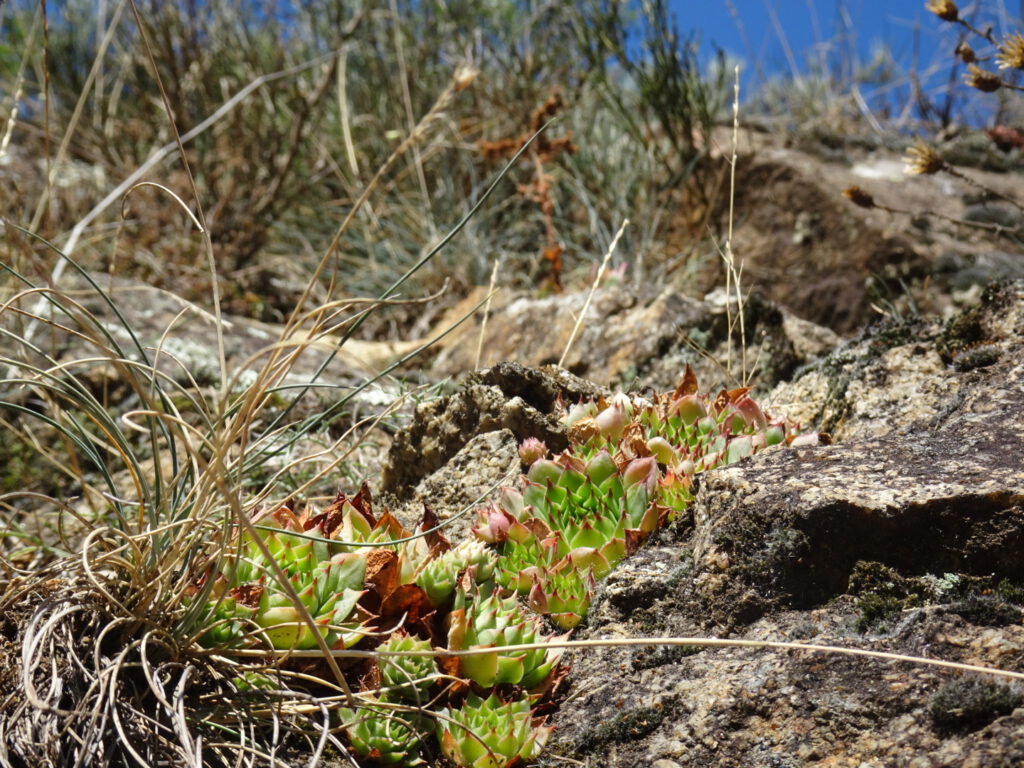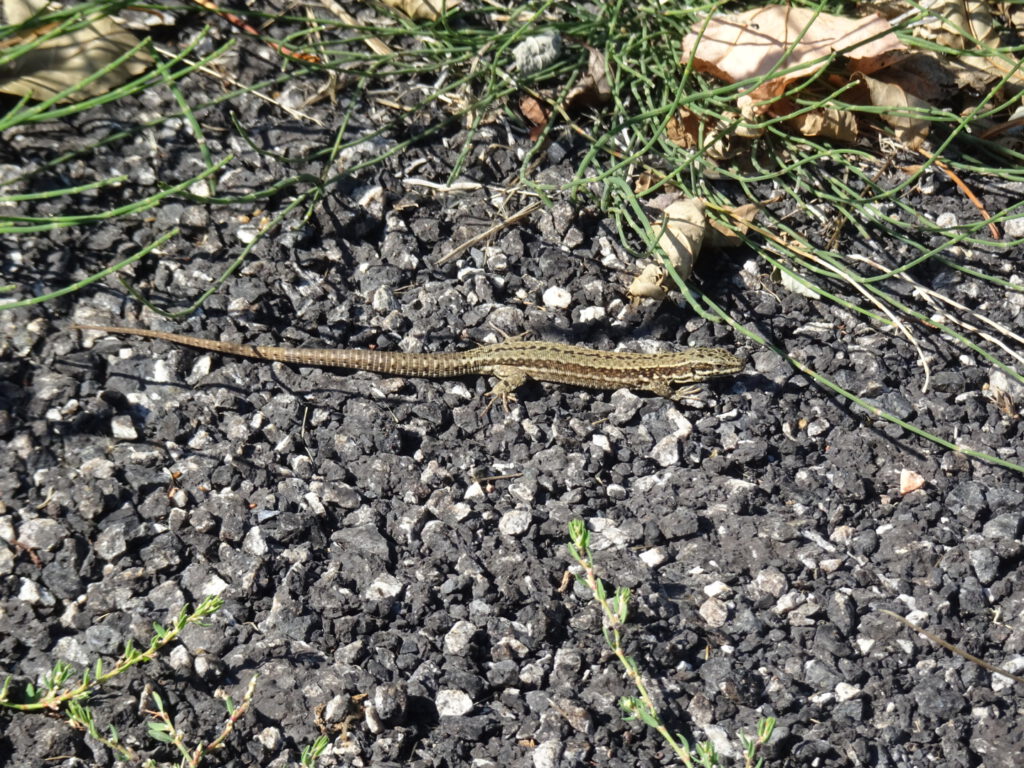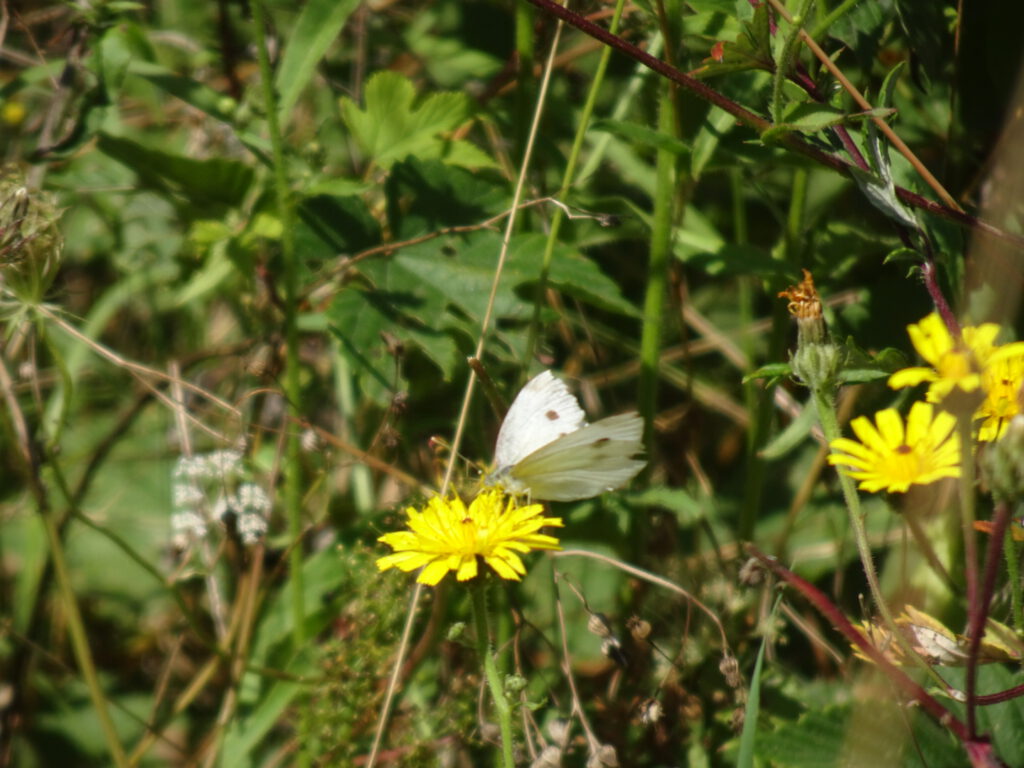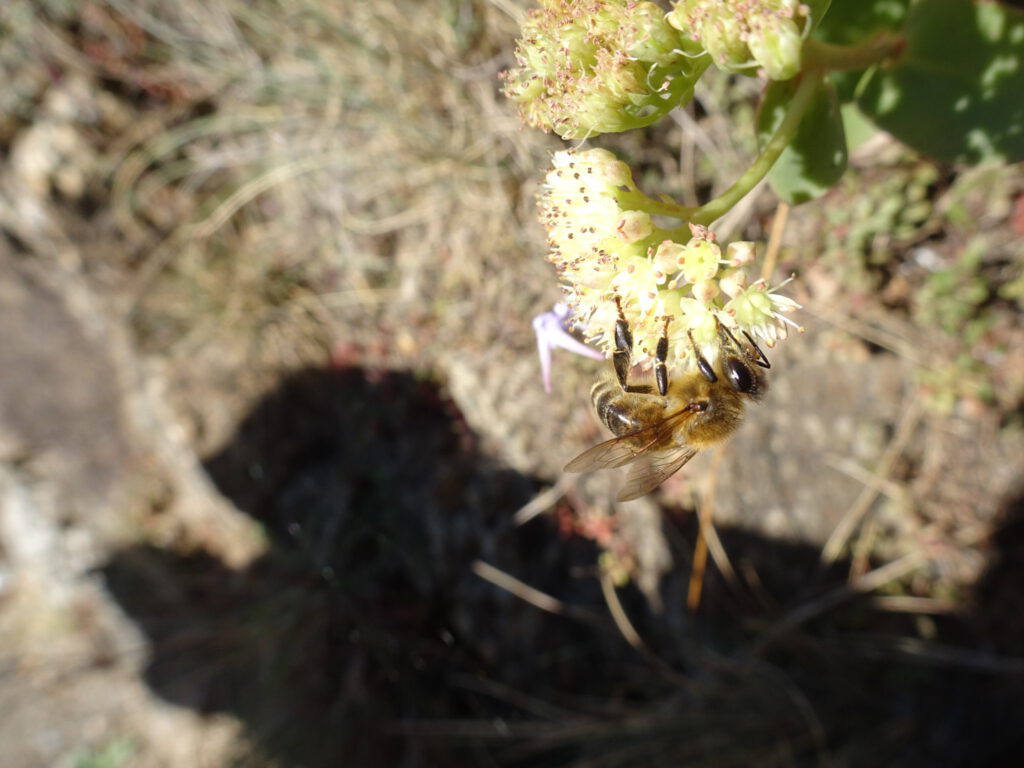 halfway through the route I crossed a bridge to the other side of the Loire. There I again passed a beautiful castle that stood on the rock.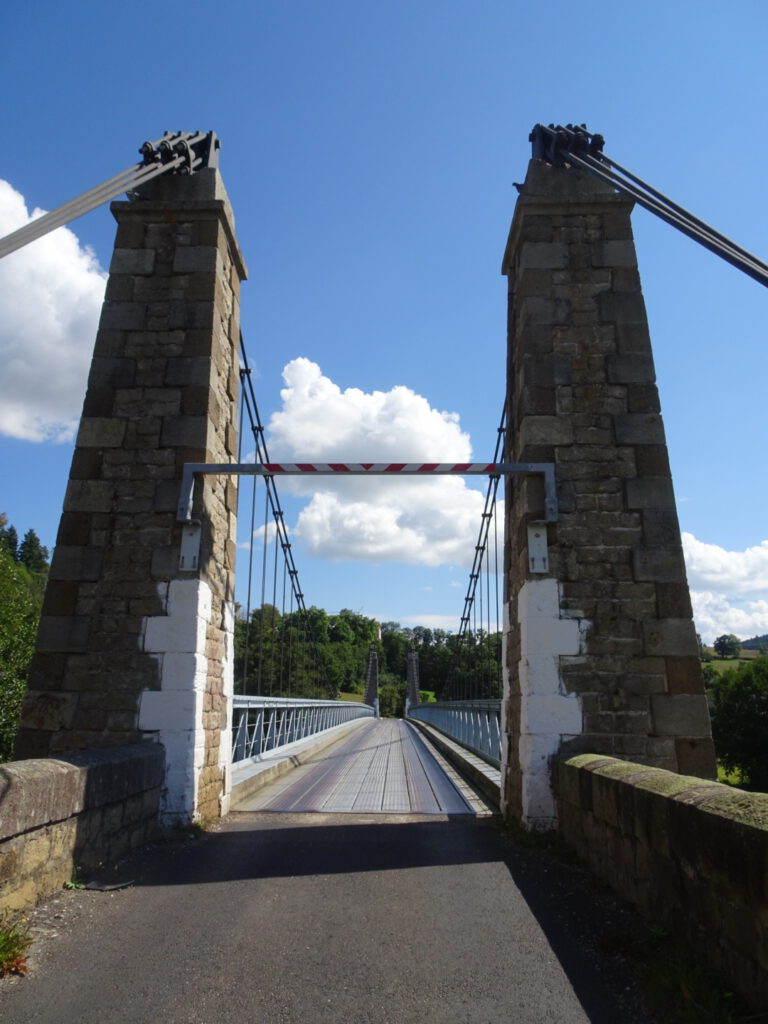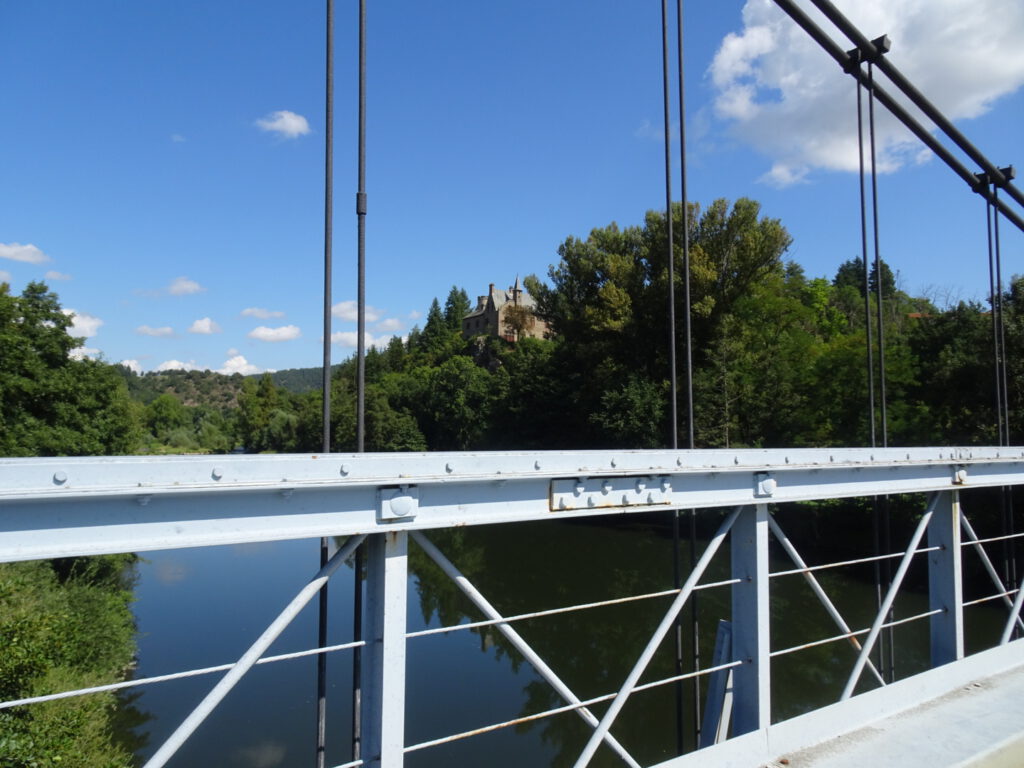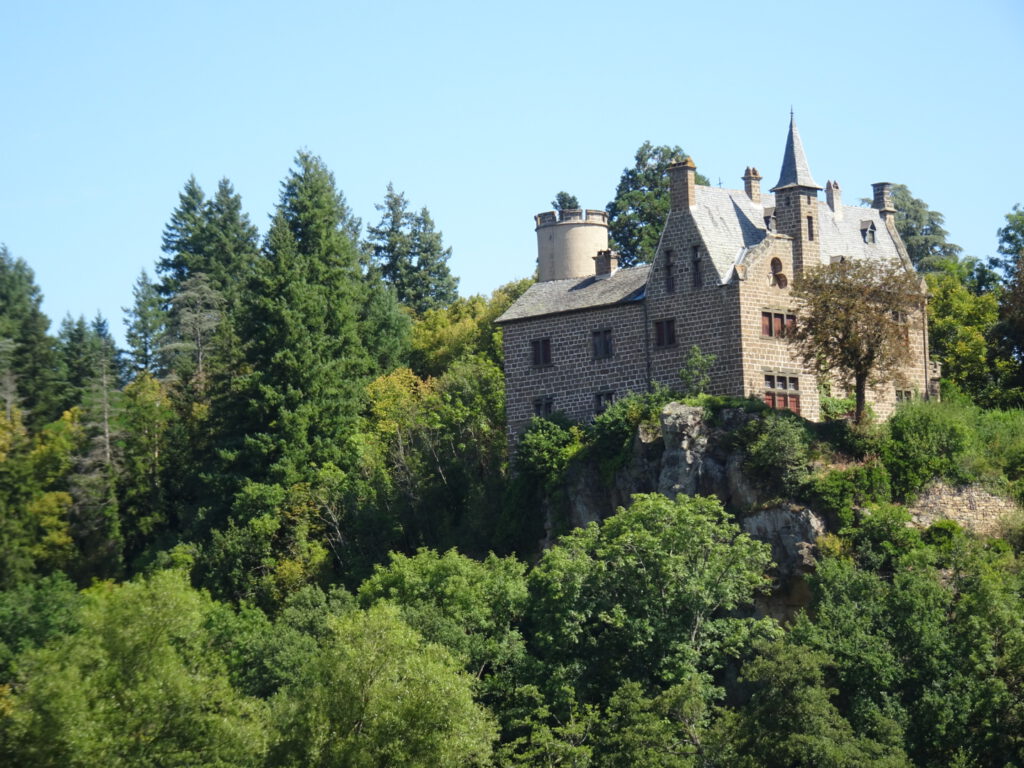 After that crossing I came back via smaller roads in a village where I visited the church.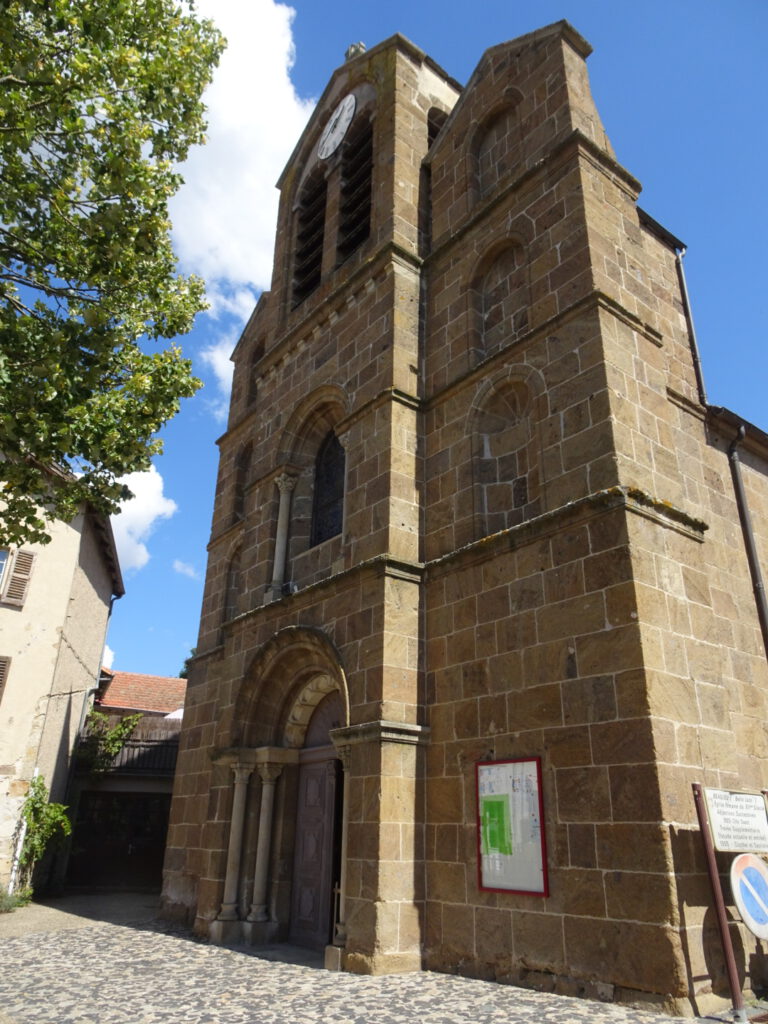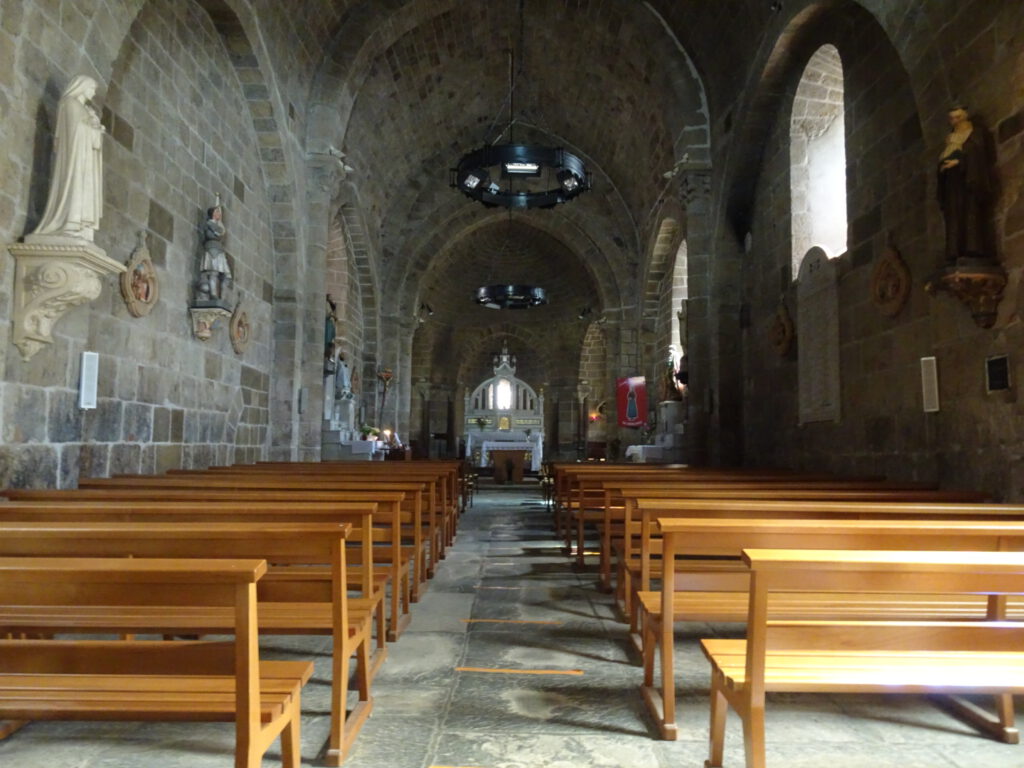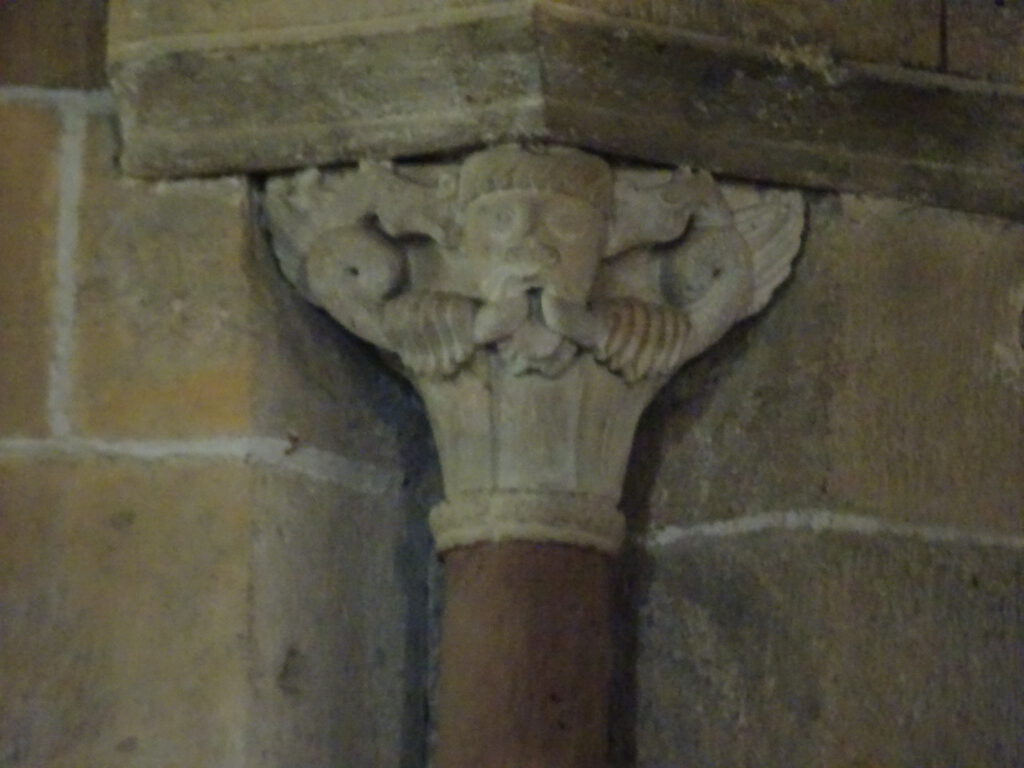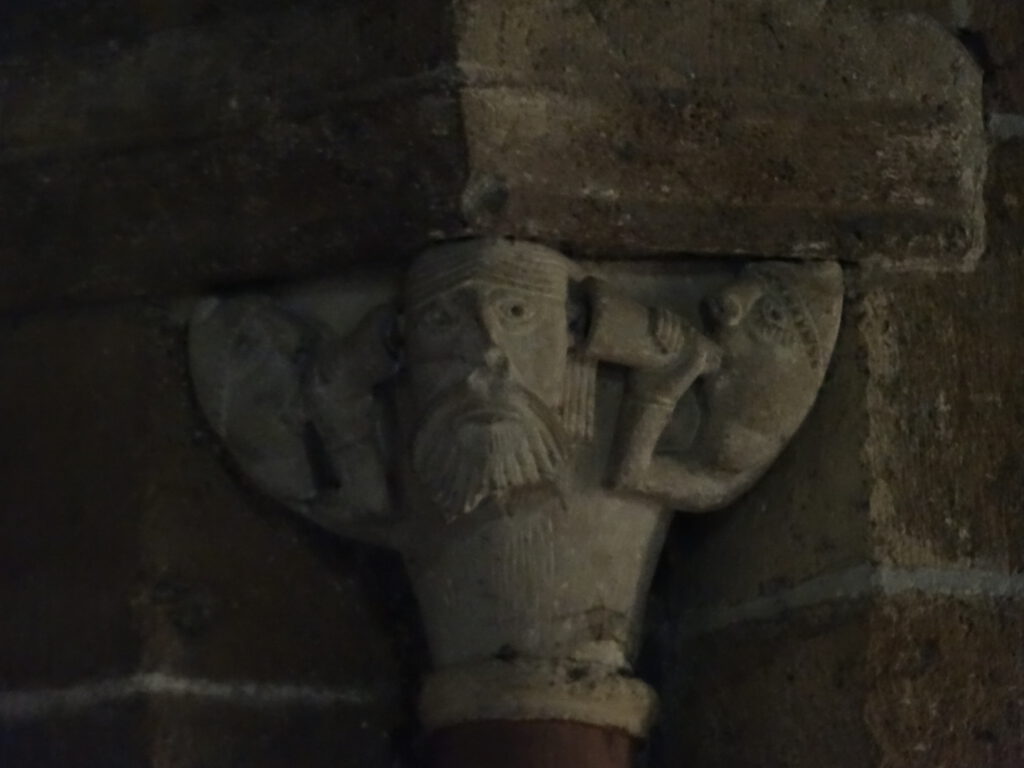 Now I'm in Lavoute-sur-Loire at the campsite and I'm writing this while lying on my air mattress in the tent.
At the campsite I just had a look at a group that played Petanque (jeu de boulle). nice to watch. When I'm normally on holiday in France I often take a set of balls with me and play that too, but now I left it up to them.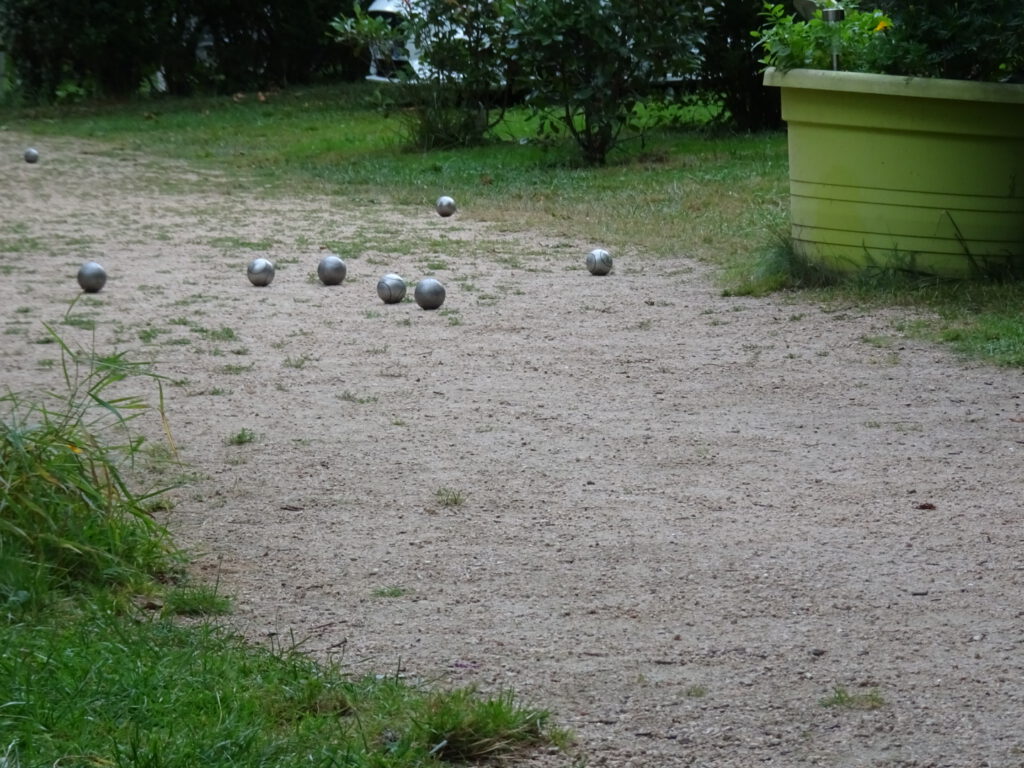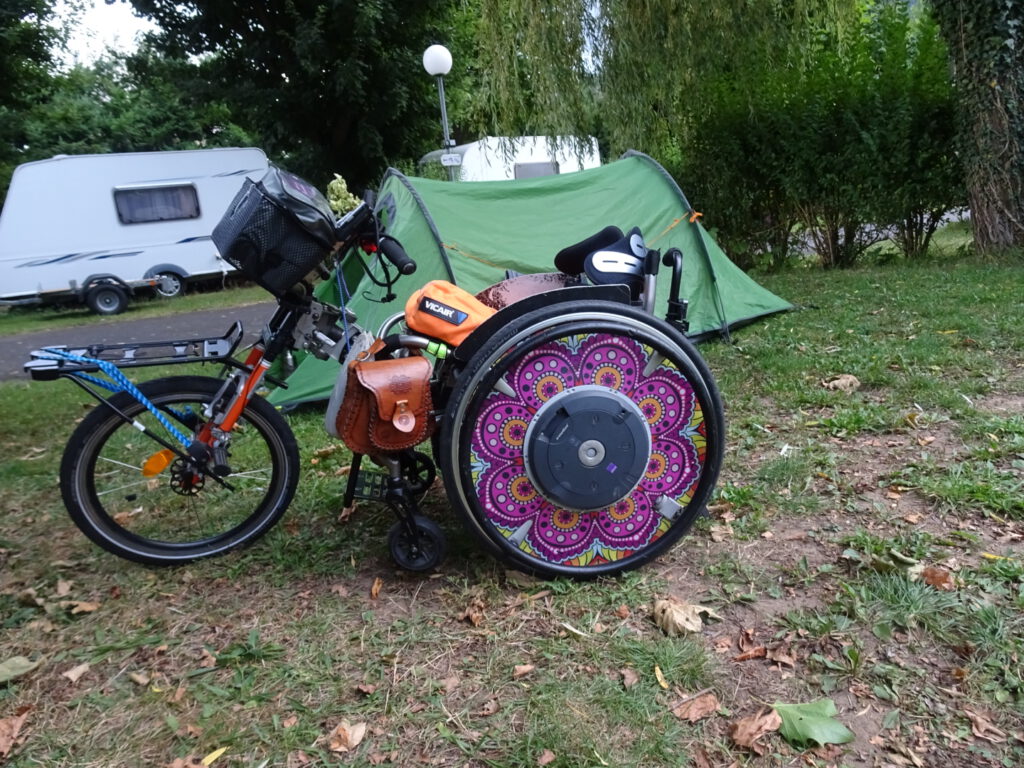 Tomorrow will be the last day of rolling and then I will arrive in Le-Puy-en-Velay. From there I have to arrange the way back via bus and train.
But later on, I'll go to bed early, despite the fact that it was a short and not too heavy distance, I'm still very tired.
Greetings,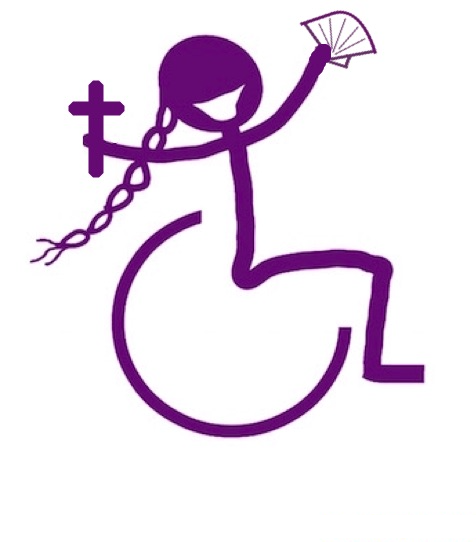 Wheelchairpilgrim
---
september 5, 2021 door rolstoelpelgrim
Today the last travel day, I got up early again and already before 9.00 I rolled off the campsite.
Soon I arrived in the village of Lavoute sur Loire where I visited the church, again a Romanesque church. there are a lot of them on the route I roll.
At first it was very dark in the church but when I rolled further into the church the light went on, it shone mainly on the cross that hung in the middle of the church and now the rest of the church was also clearly visible.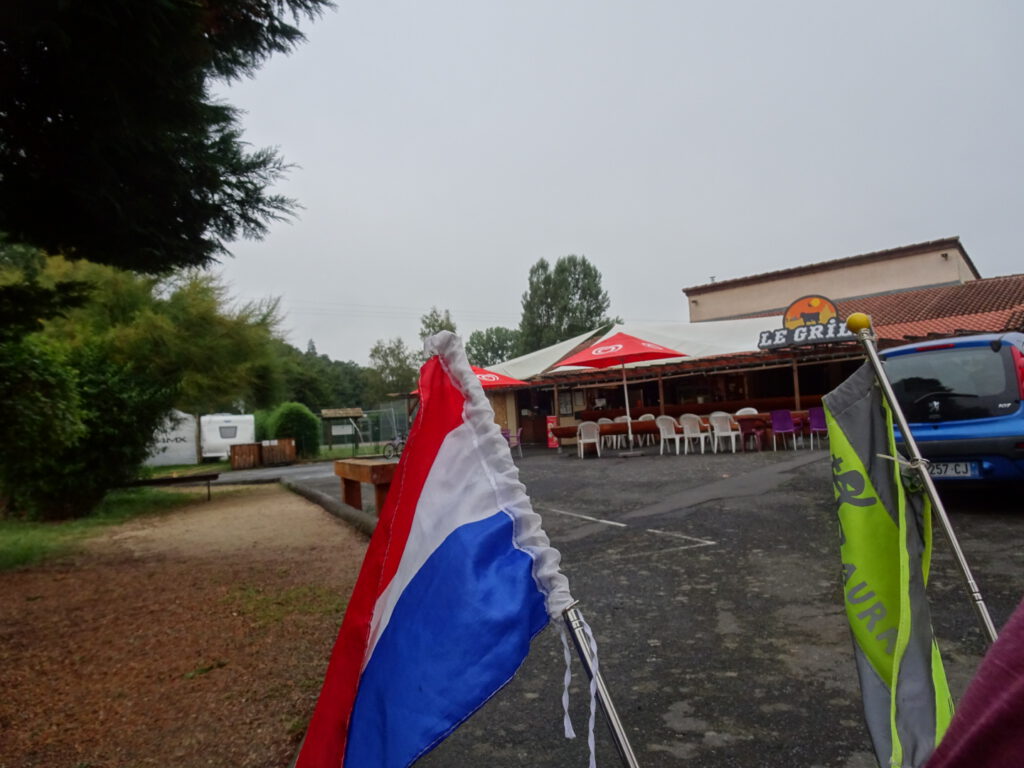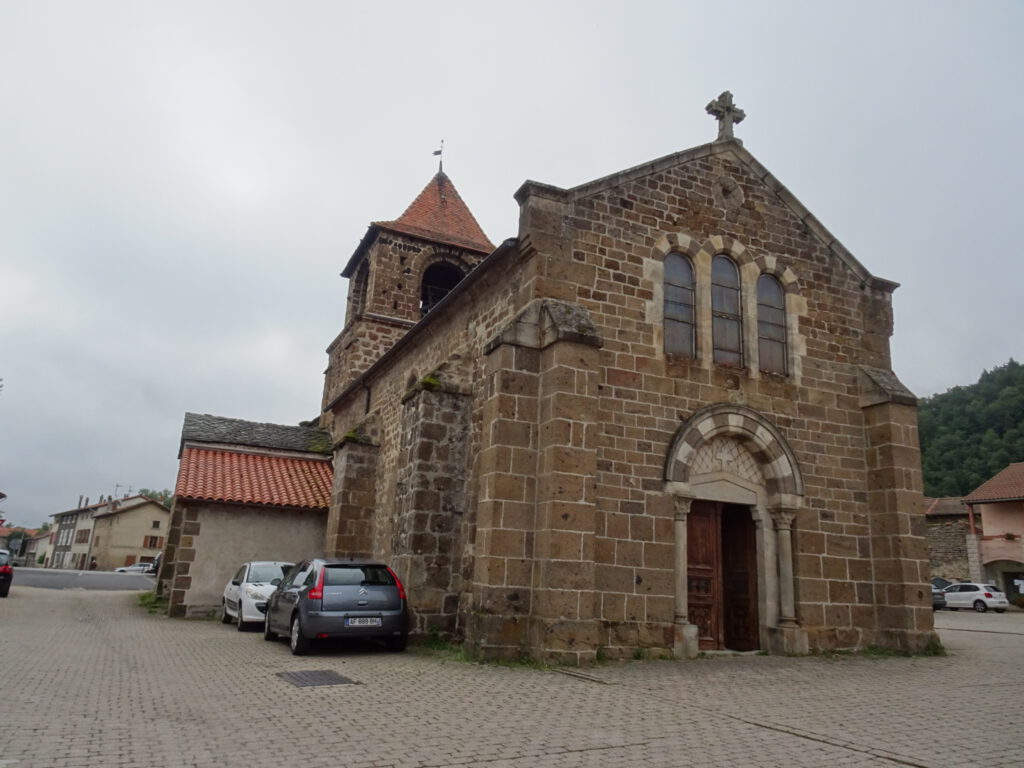 After that church I rolled on. beforehand I was a bit apprehensive about this part of the route because I seemed to have to roll over a fairly large road. luckily this was not too bad and there was also a cycle path along the road all the way.
I also had a good view of the Loire river (although I had to look over a wall, and luckily I managed exactly with the wheelchair).
soon after I drove along the Loire I saw a castle, because of the meandering of the river I saw it again and again from a different side, very nice.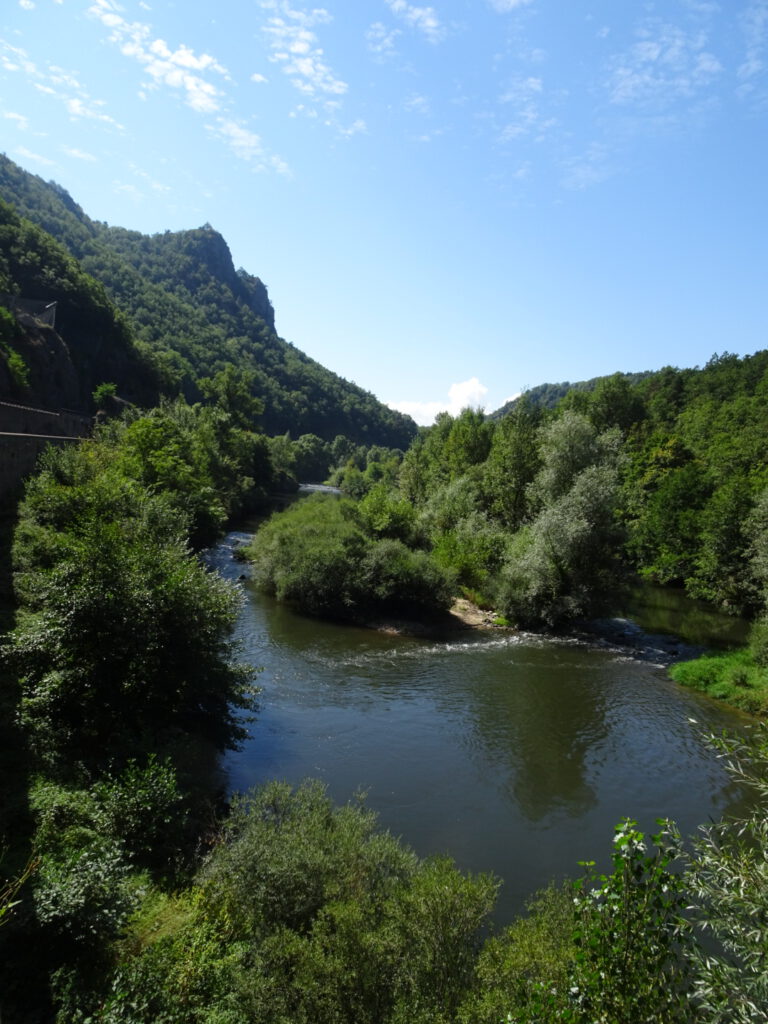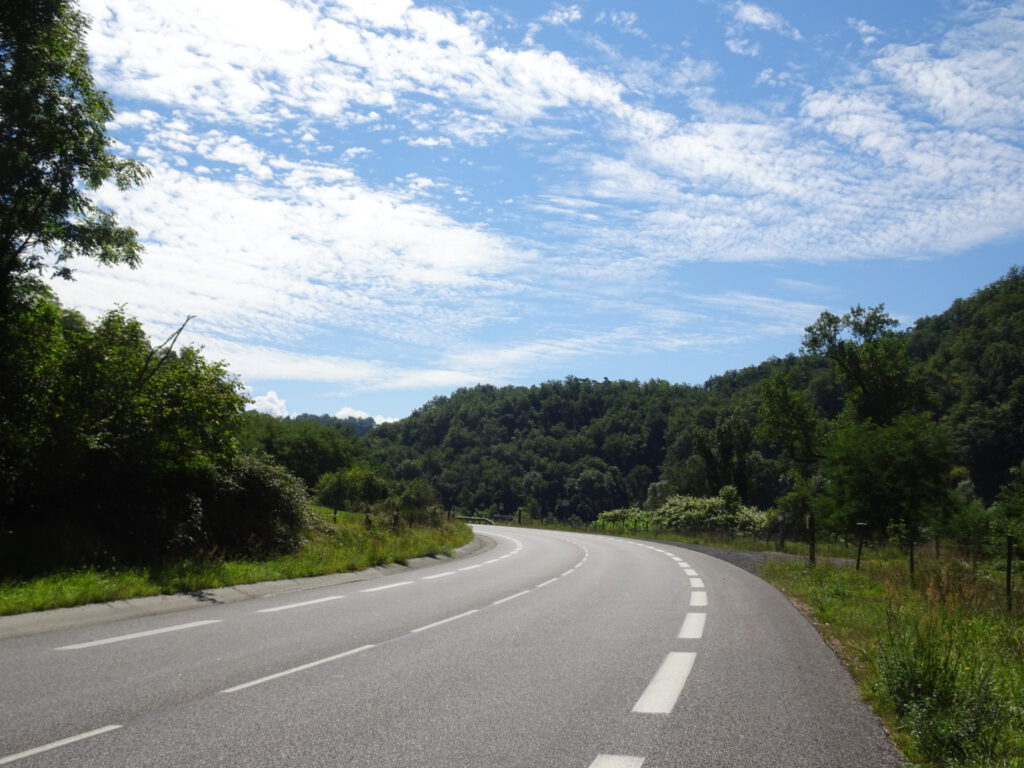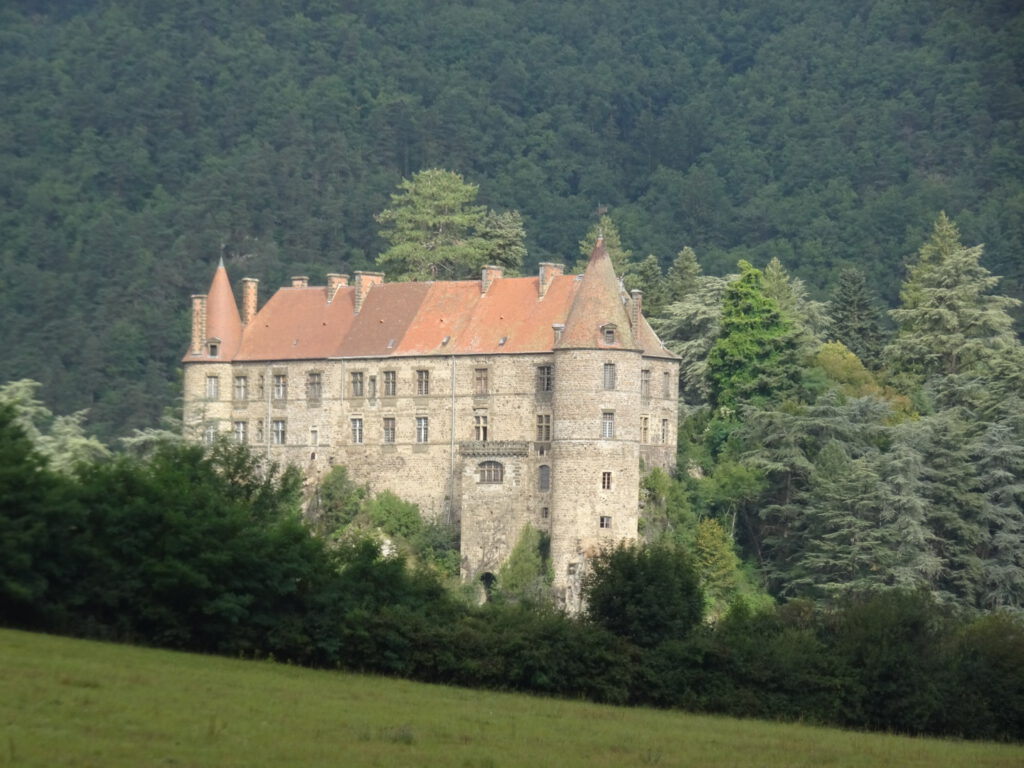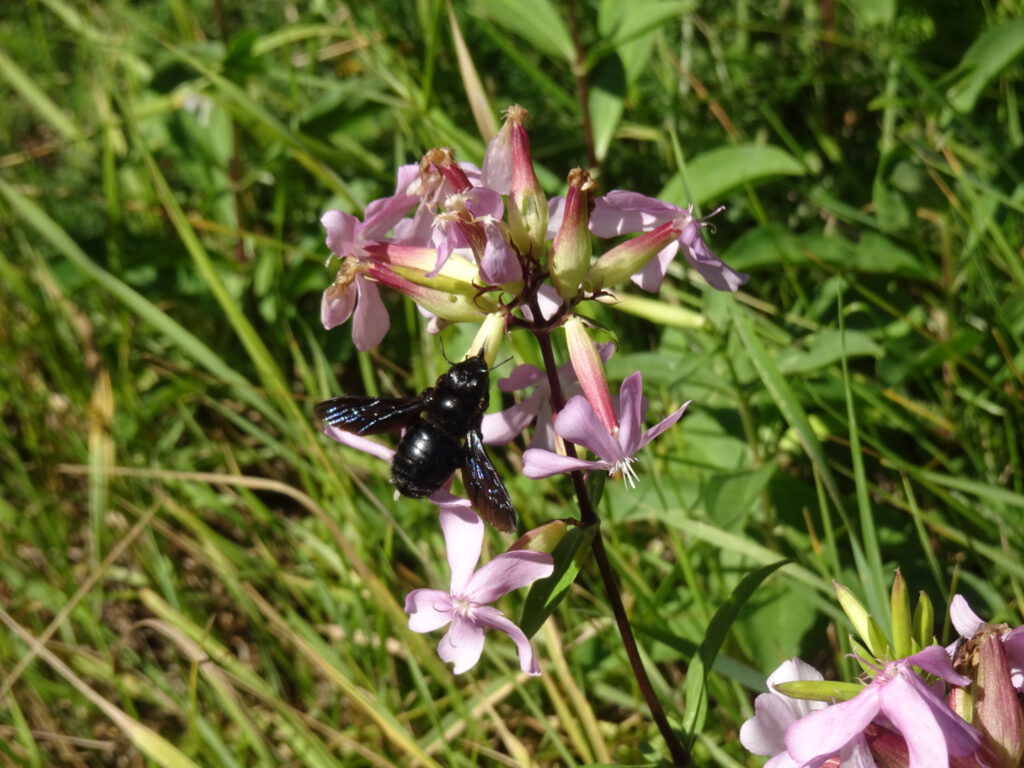 I also saw many large bridges with high arches. these were railway bridges for the train that also followed the river.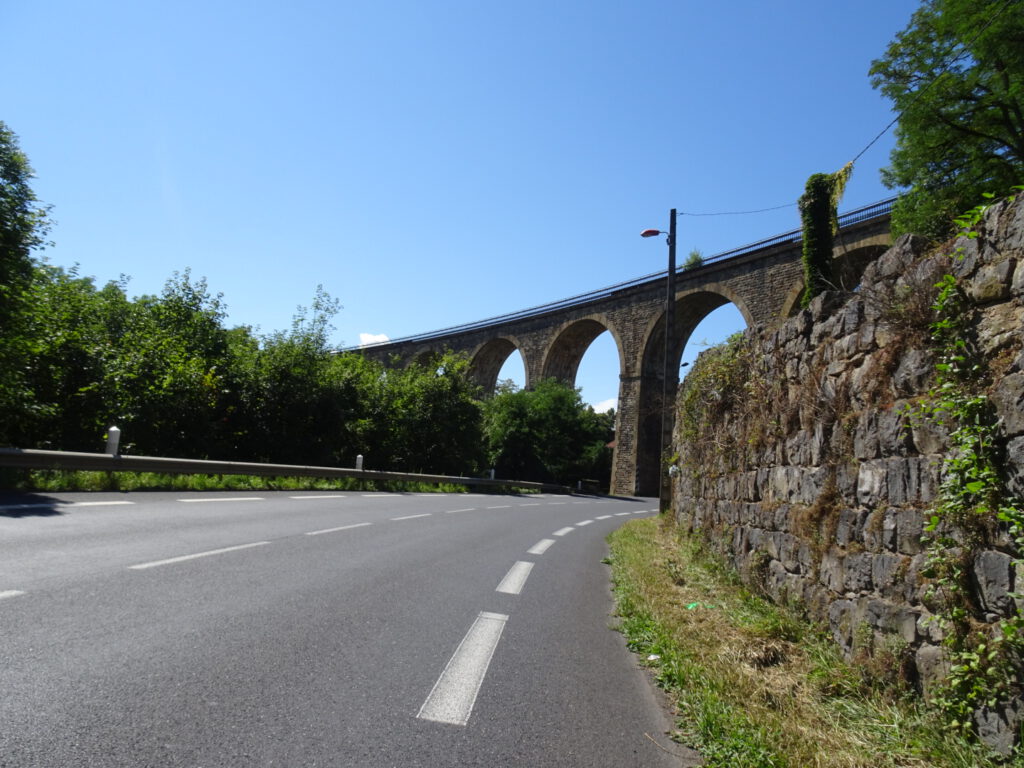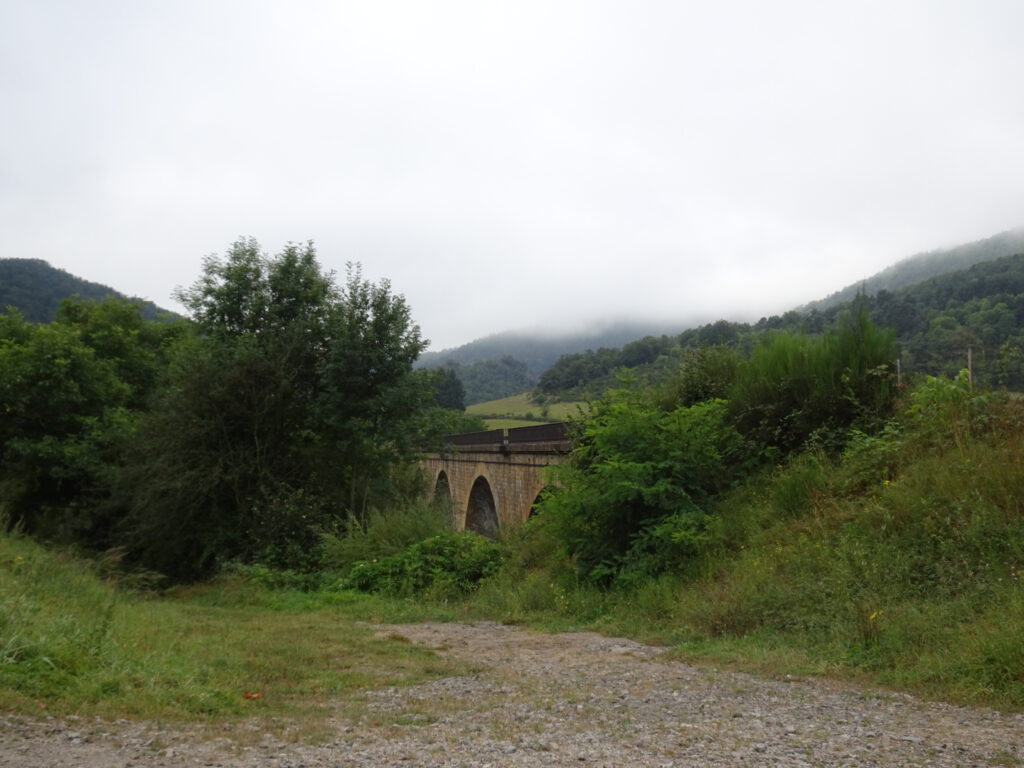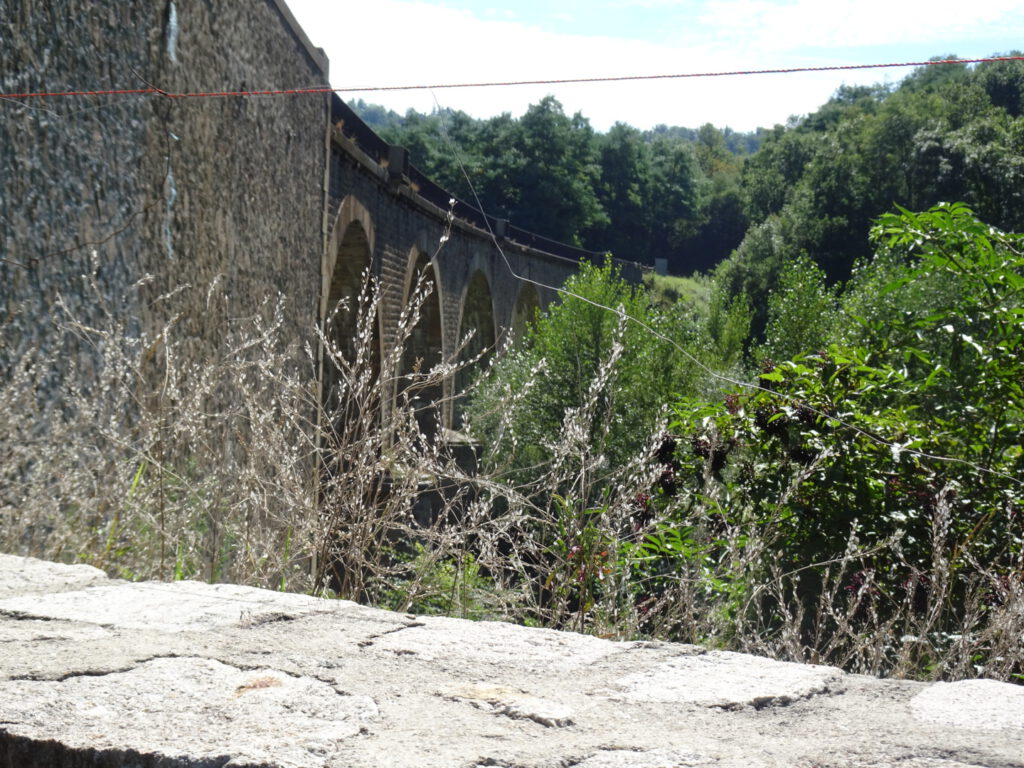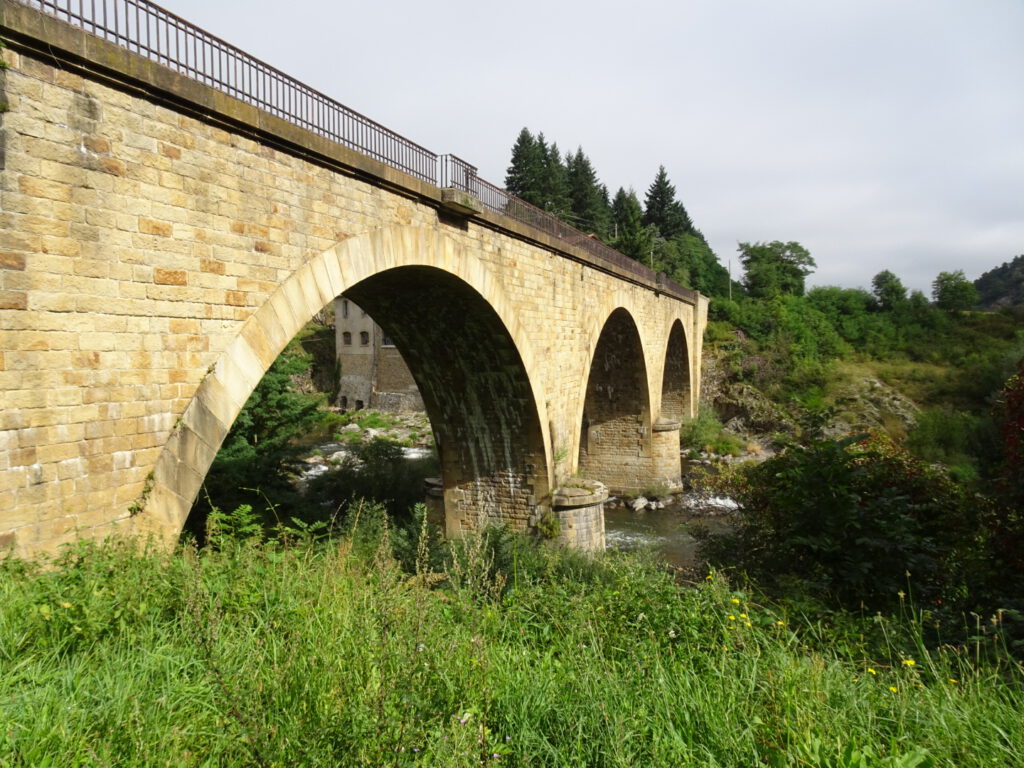 Arriving in Le Puy I first rolled through the suburbs and slowly into the center. I saw again several beautifully painted houses in pilgrim style.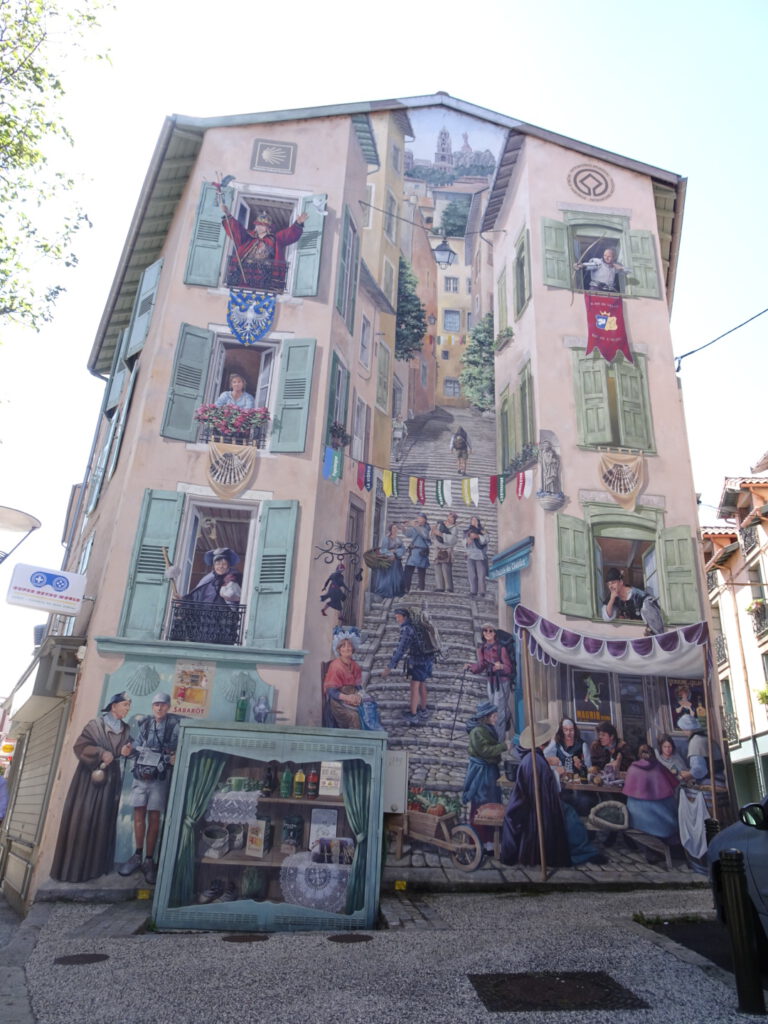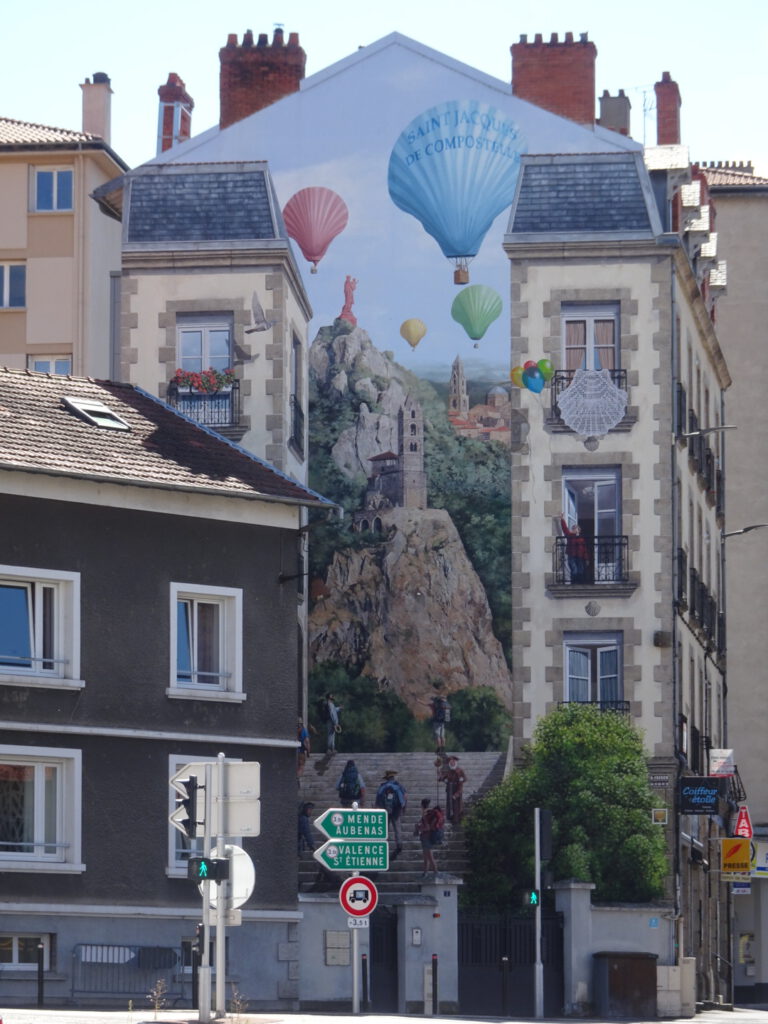 Then I rolled through the nice streets in the lower part of the center, then I climbed the mountain to the cathedral. this is not just any steep incline but a very steep incline. Several people came to ask if they could push but I told them that I would like to try it myself. in the end there were a number of people who encouraged me all the way up that climb. especially 2 Dutch people, have been very helpful with their encouragement and with direction indications (I drove backwards and sometimes almost hit curbs on the bumpy roads with cobblestones).
It was a terribly tough climb and on the way I had to change batteries again. but the positivity and encouragement made me emerge. There I visited the cathedral and got a stamp.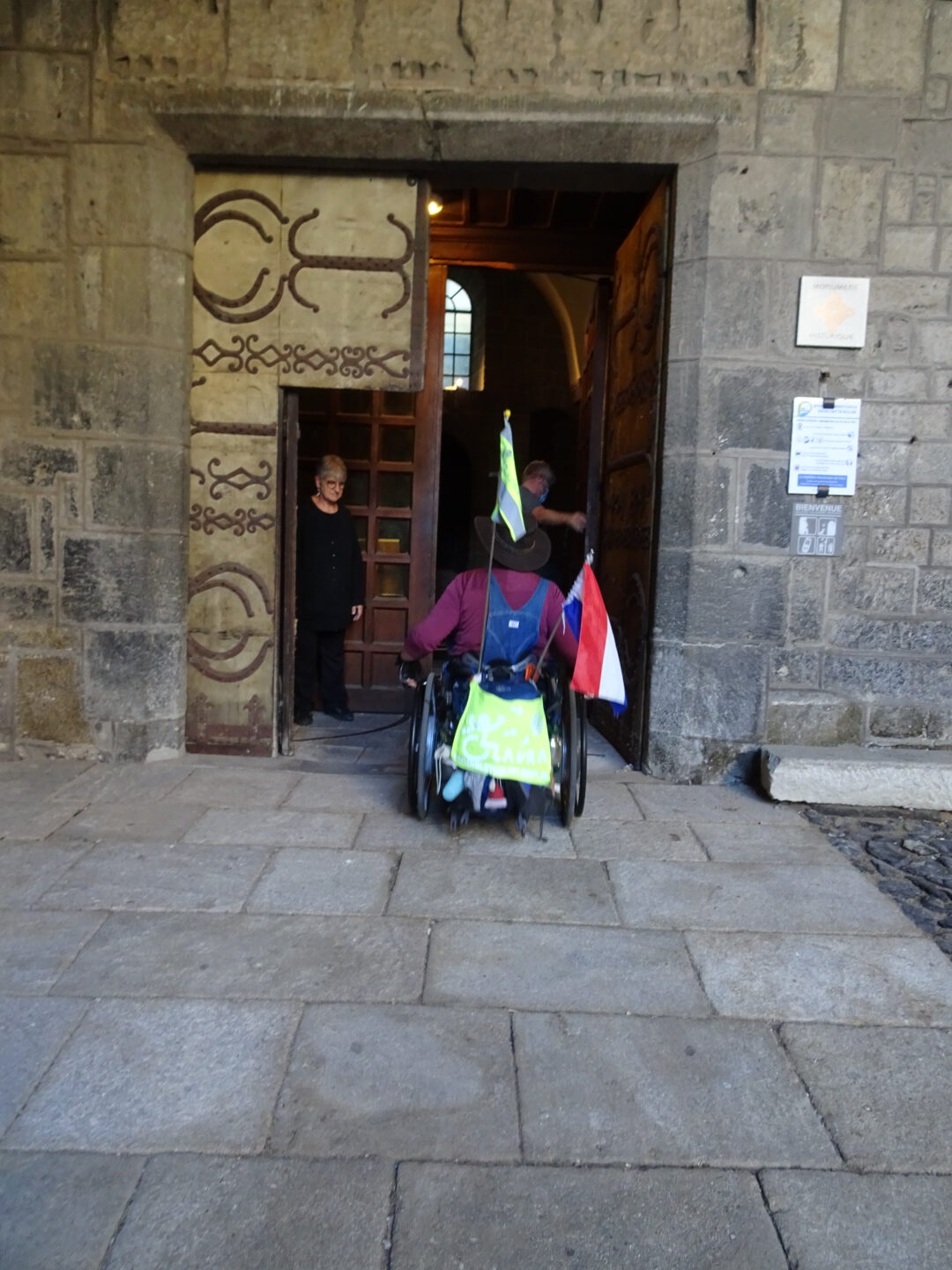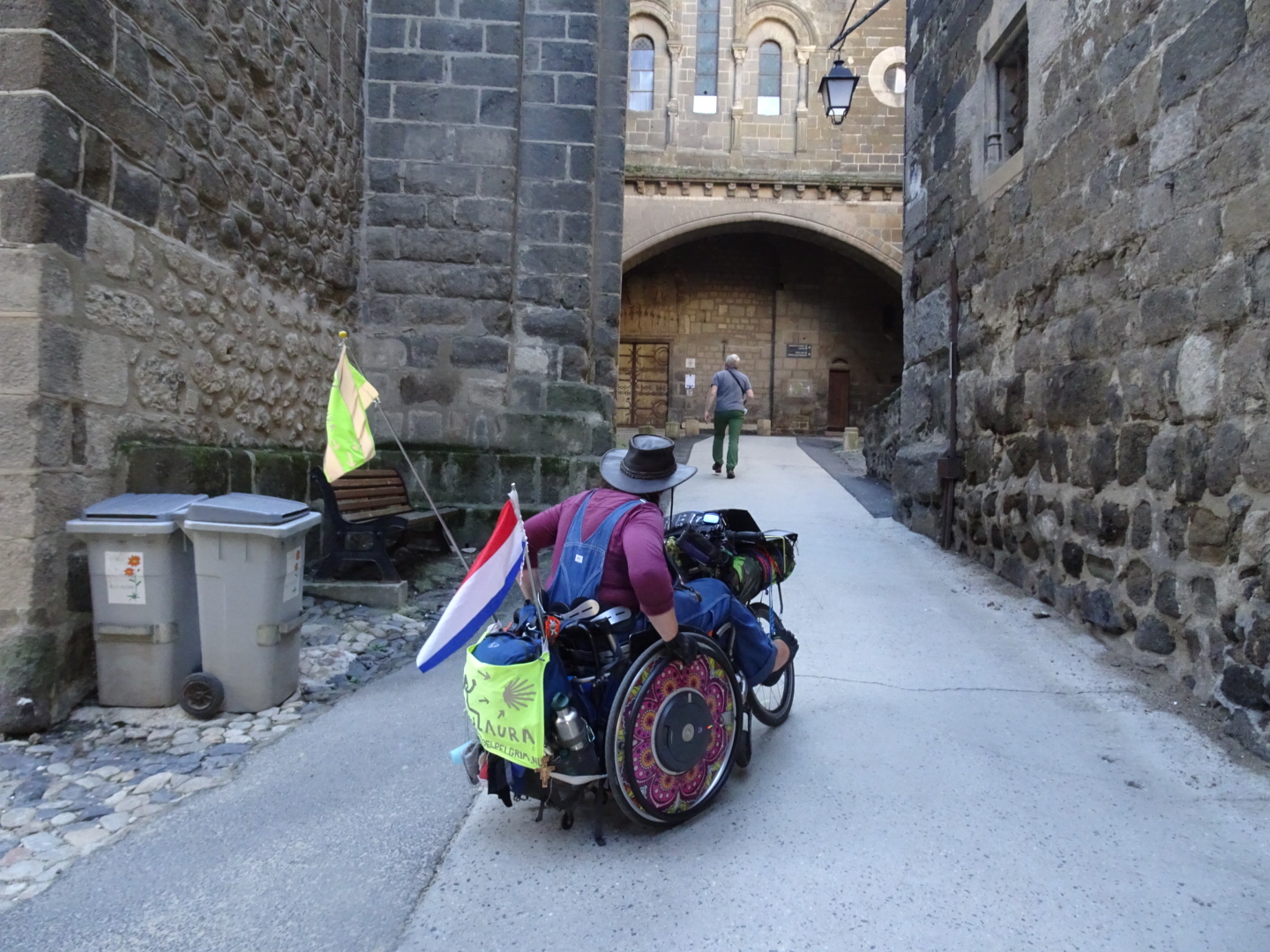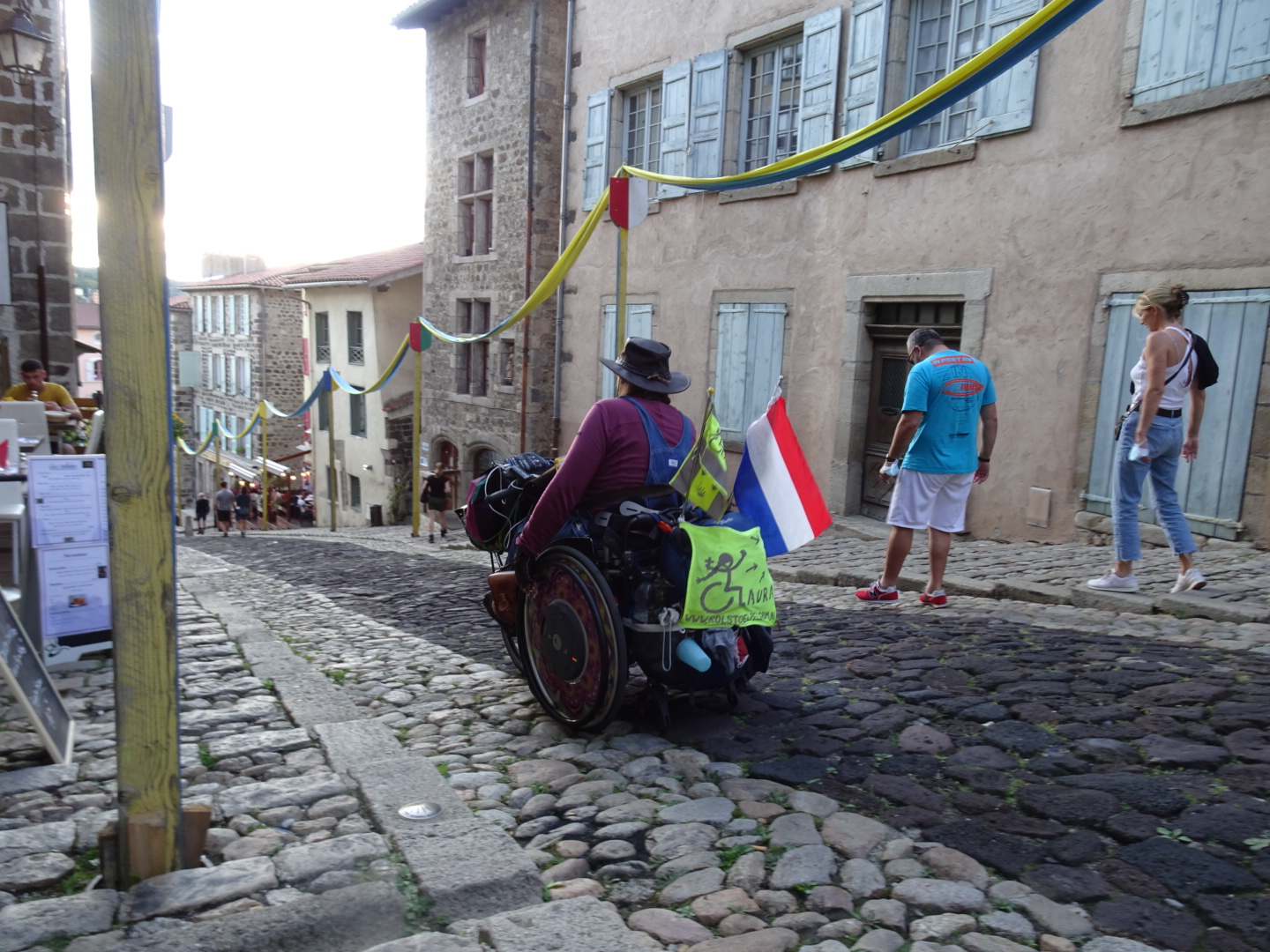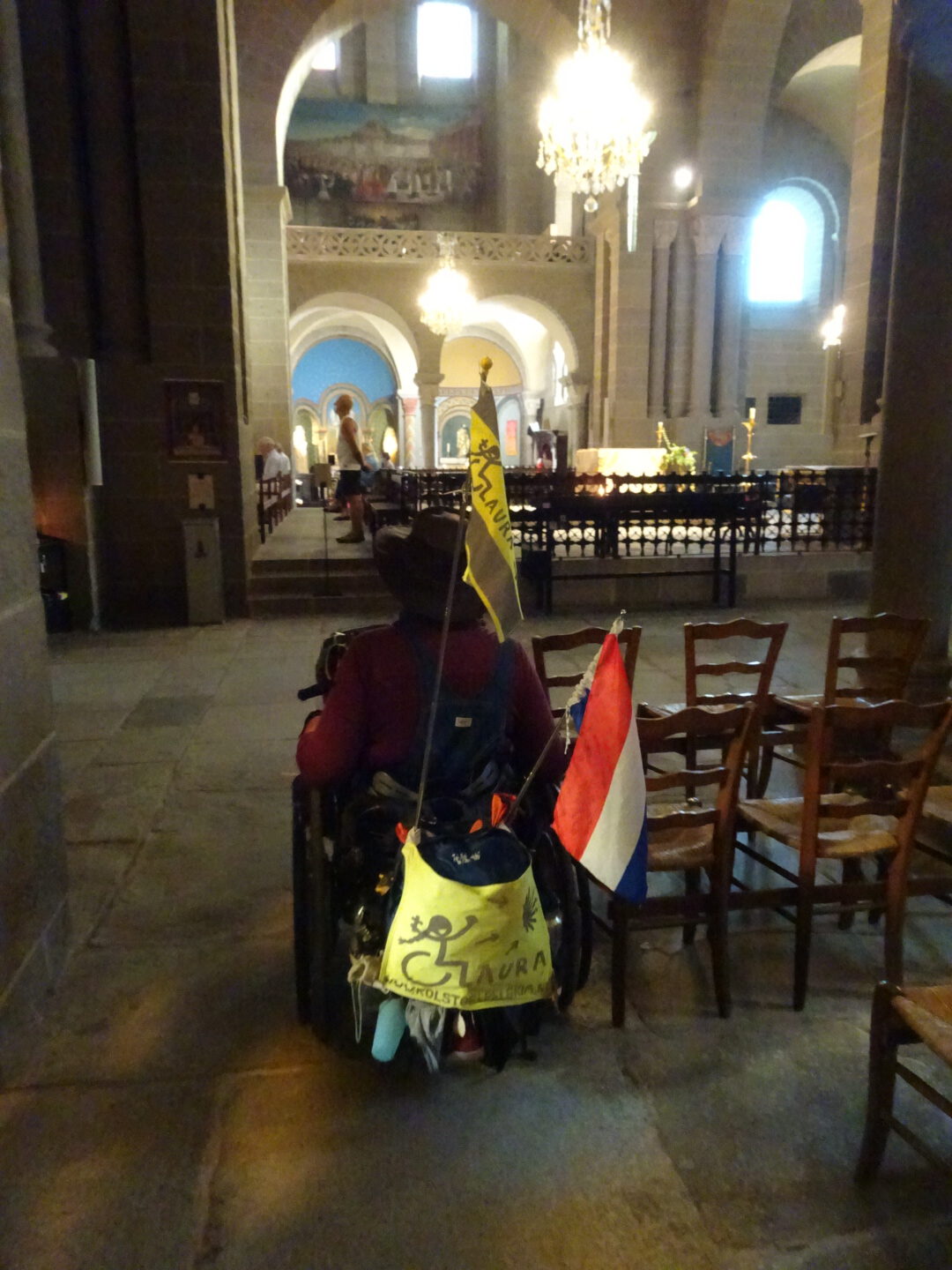 The Dutch invited me to join their group of pilgrims, they went from Le-Puy with a group of pilgrims.
they were in the Saint Jacques cafe. was very pleasant and afterwards I was invited by the group to join them for dinner.
despite the fact that it would be late when I arrived at the campsite, I decided to join them for dinner. I ate a delicious meal of salad with blue cheese.
at the end of the meal, the group gave me this meal. (Thanks again if you're reading this).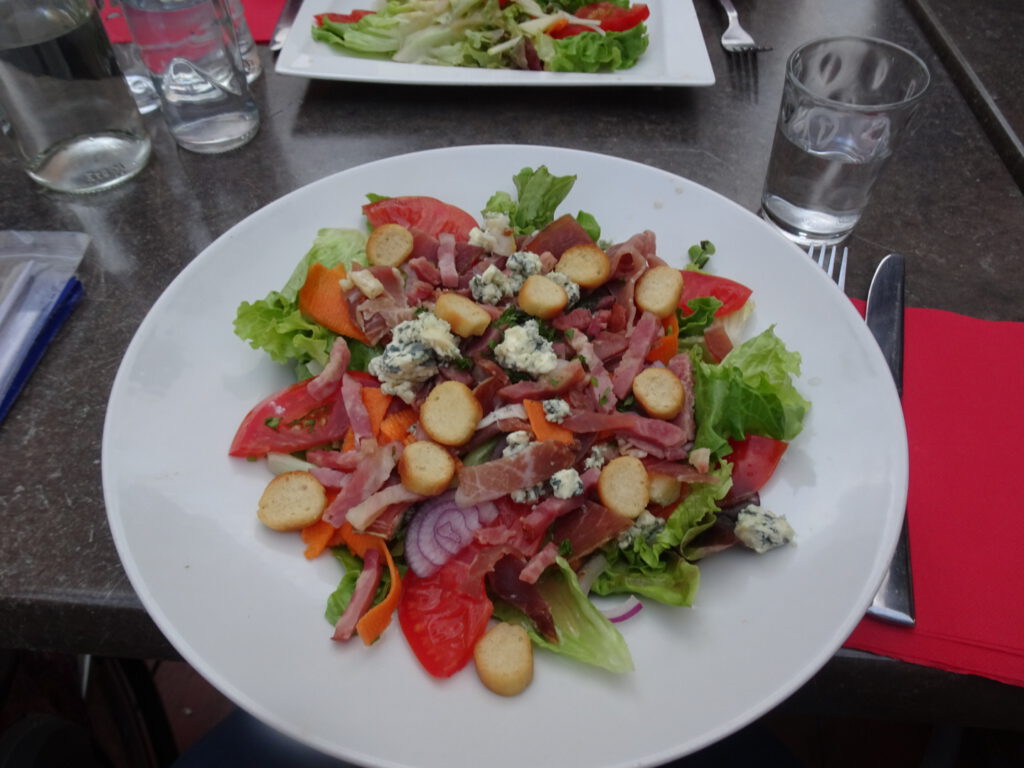 it was already getting dark and before I arrived at the campsite it was dark.
It was a beautiful and difficult day at the end, but I made it!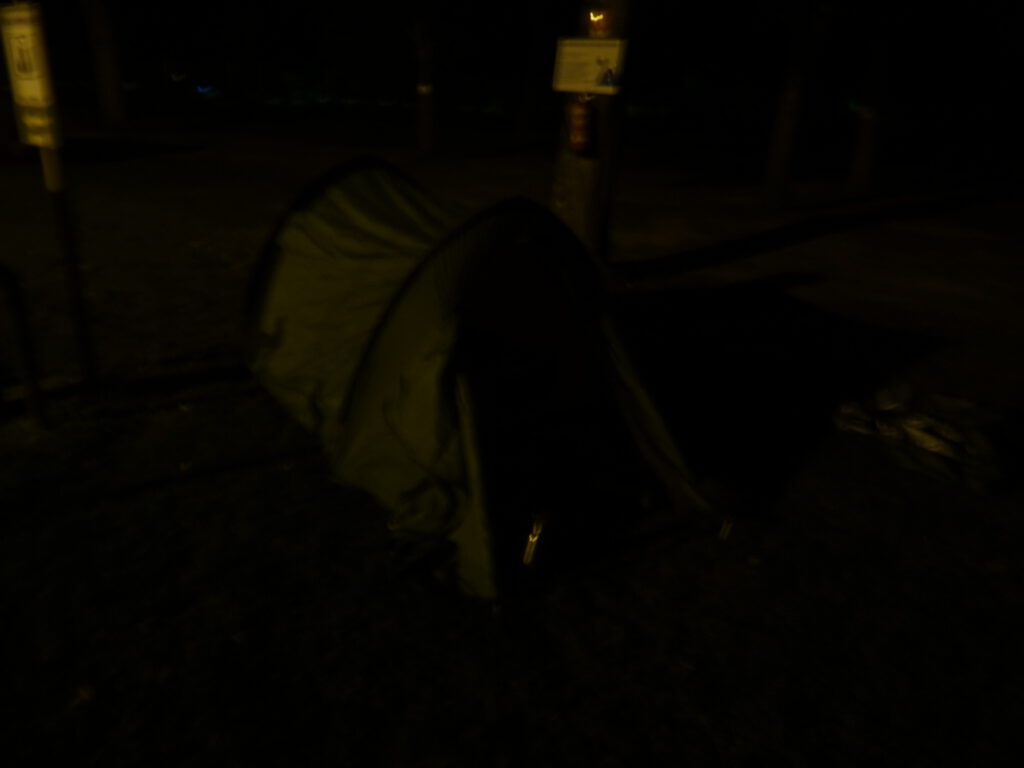 I am going to sleep now,
tomorrow I will write some more about Le-Puy-en-Velay, then I will explore the lower part of the city even further.
Greetings,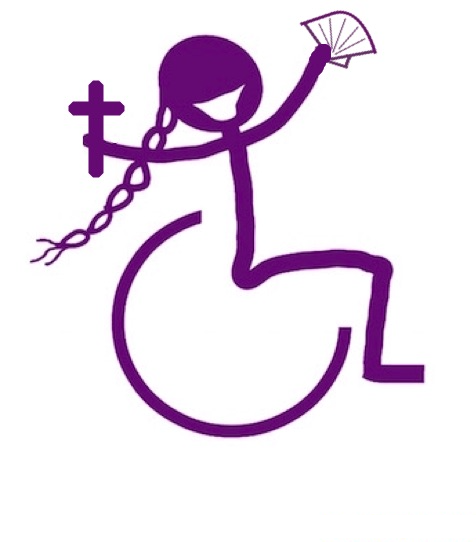 wheelchairpilgrim
---
september 6, 2021 door rolstoelpelgrim
Last night I was so tired that I forgot about yesterday morning's news.
I was in the newspaper! A few days ago, a journalist suddenly appeared in front of my tent and interviewed me in French very minimally. I just handed over my business card in the hope that he would find out the right information with this. For example, I noticed that he found my hometown too complicated and he made it Amsterdam for the sake of convenience. But despite the fact that my French is insufficient to read everything, I notice from others that it is a good article. For example, yesterday morning I went into a shop for a loaf of bread and there I was received as a celebrity and they took pictures. After that I only bought 2 newspapers and half a baguette.
below is the article for you.
Greetings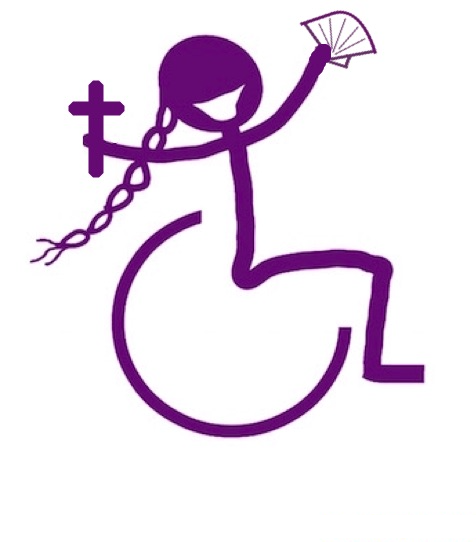 wheelchairpilgrim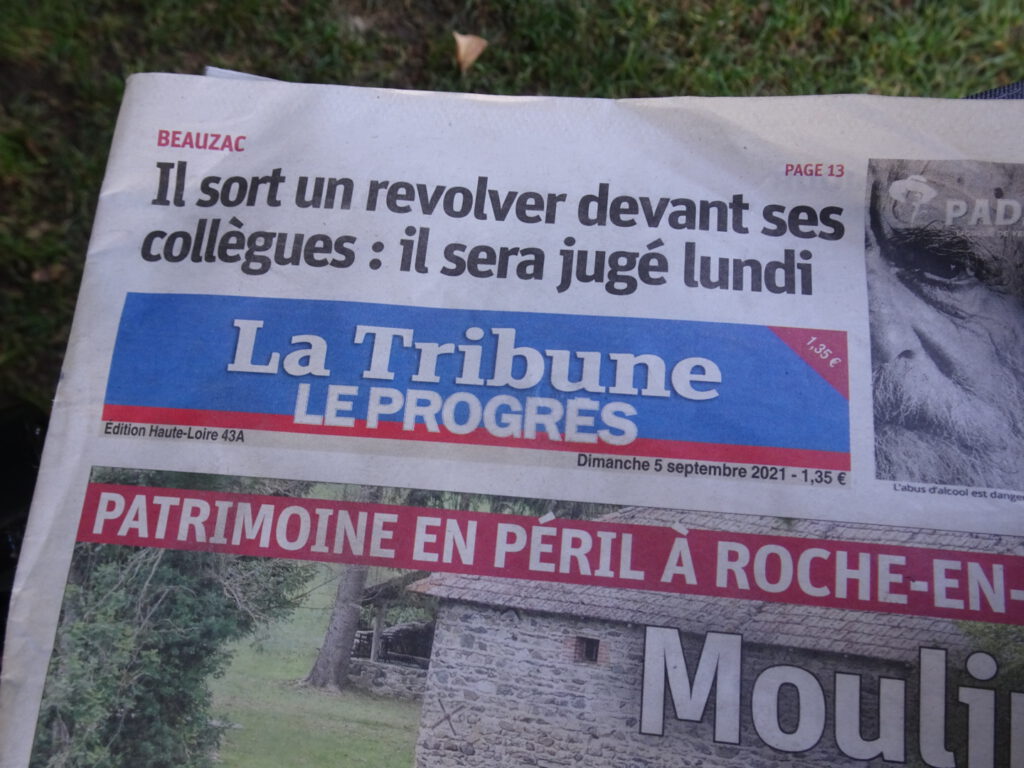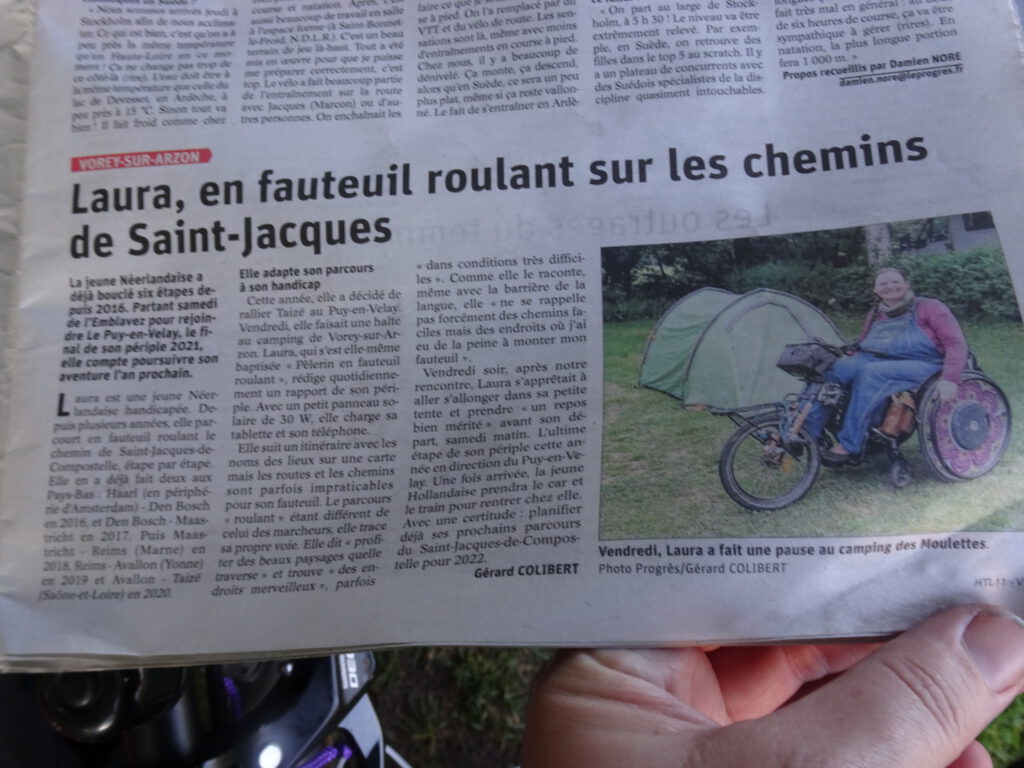 ---
september 6, 2021 door rolstoelpelgrim
Although I no longer travel from one place to another, I have still experienced enough to write something.
Today I visited Le-Puy-en-Velay.
Le-Puy-en-Velay has 3 major highlights, literally on mountain tops. it's even in the city's logo.
The cathedral I climbed to yesterday, a special chapel and a statue of Mary, both of which are also high on a top. the last 2 can only be reached by very long stairs, but luckily I can see them very well from the ground.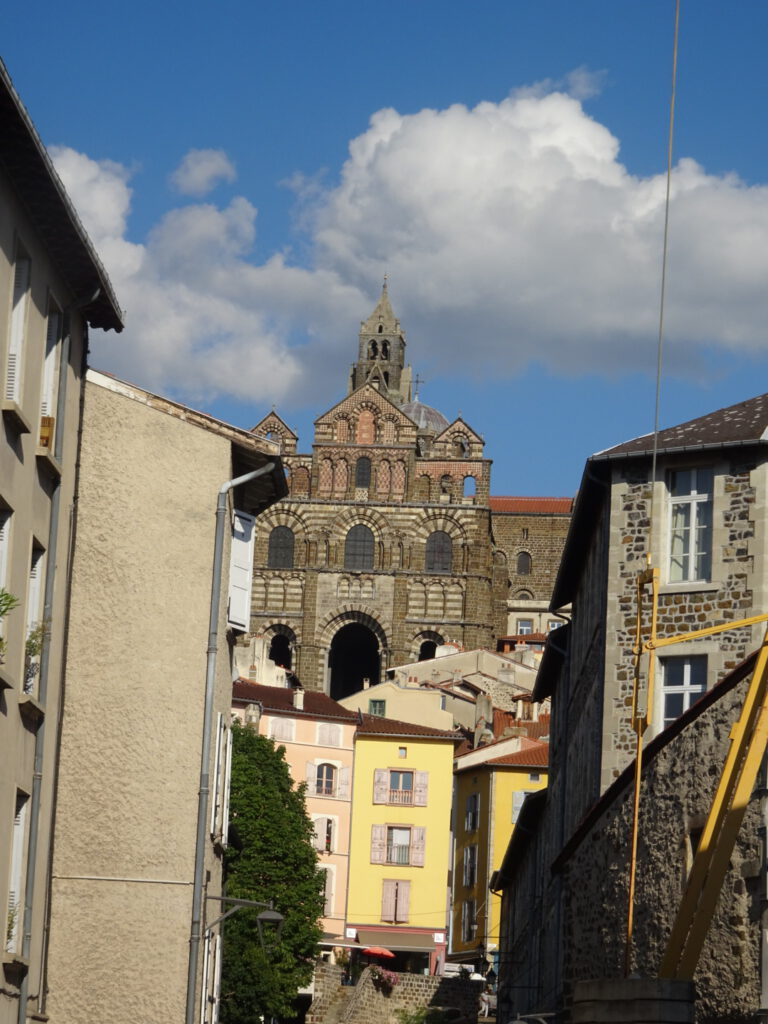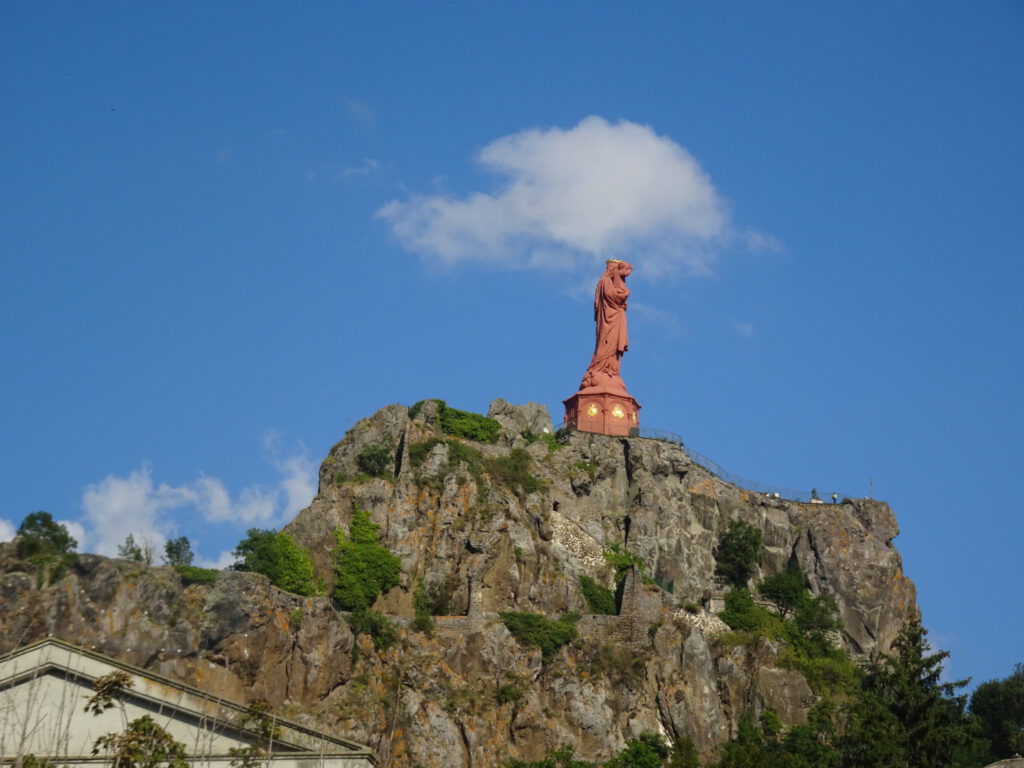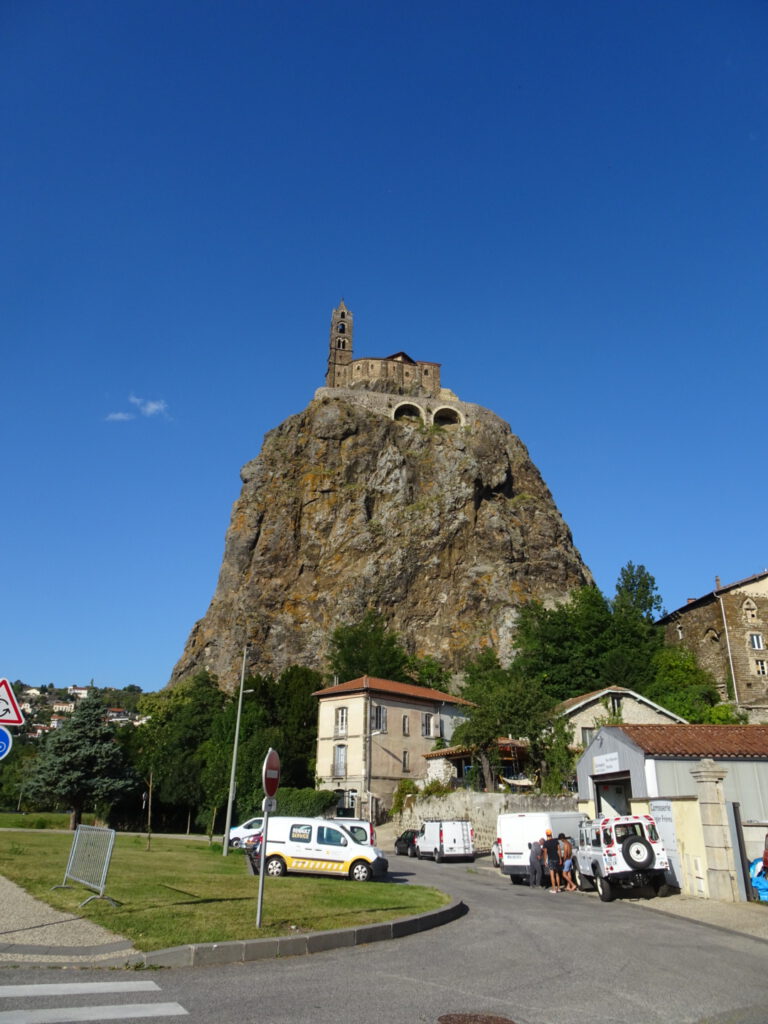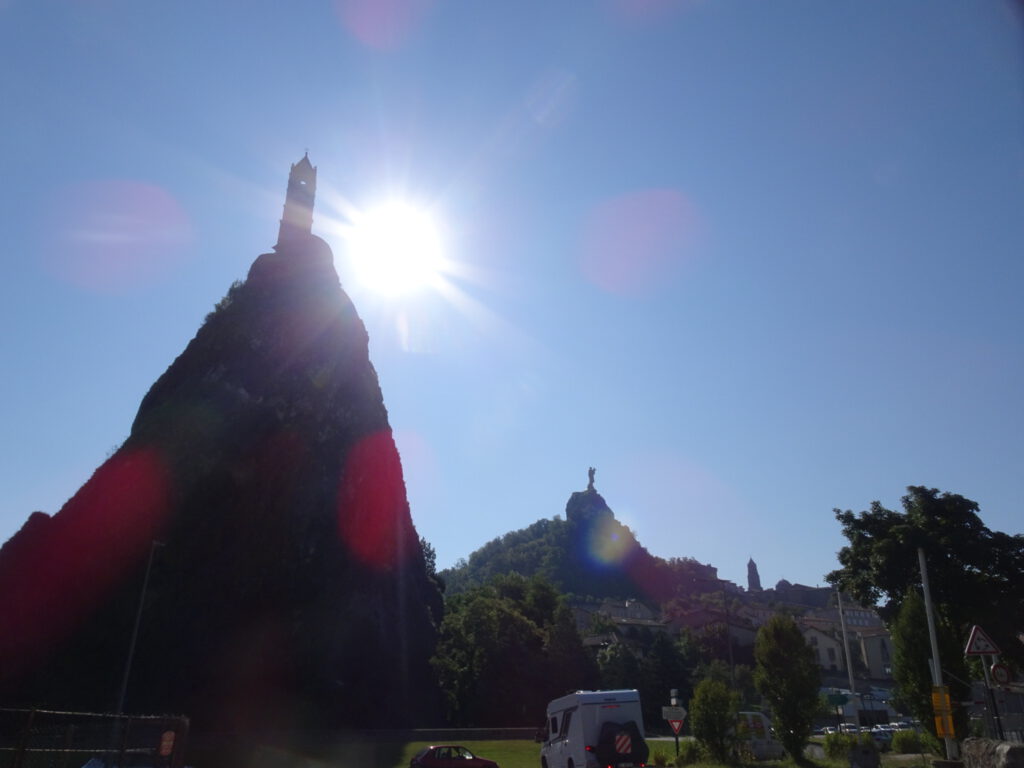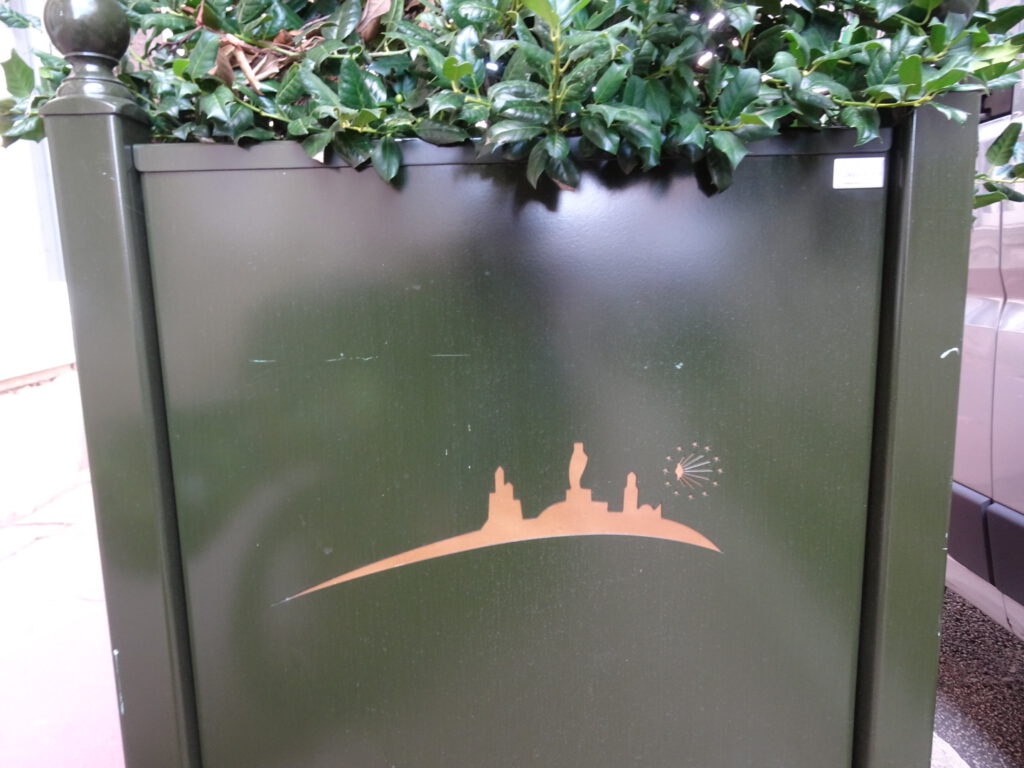 Yesterday I had already visited the big cathedral and I skipped the high part of the city.
After I had slept a little more than during my pilgrimage (but was actually still up early) I first rolled to the station in the morning. There I arranged train tickets for my return trip to my car. unfortunately I am officially late with reservation of guidance for my wheelchair (must be 3 days before departure) but the woman behind the cash register has told me that she will try again, I just have to make sure I get up more than half an hour before departure tomorrow am the station. I hope it worked because there are still quite a few transfers.
Then I did some shopping and rolled to the lower part of the center.
Le-Puy-en-Velay has a renaissance festival every year. they are already busy decorating the place before that. nice to see.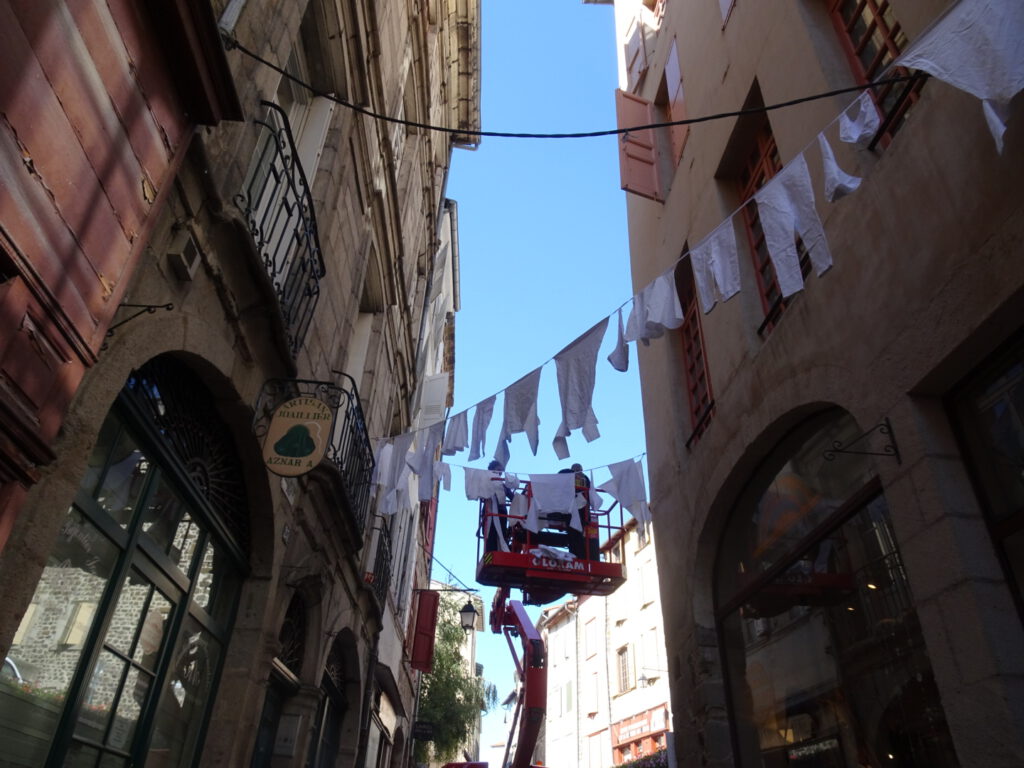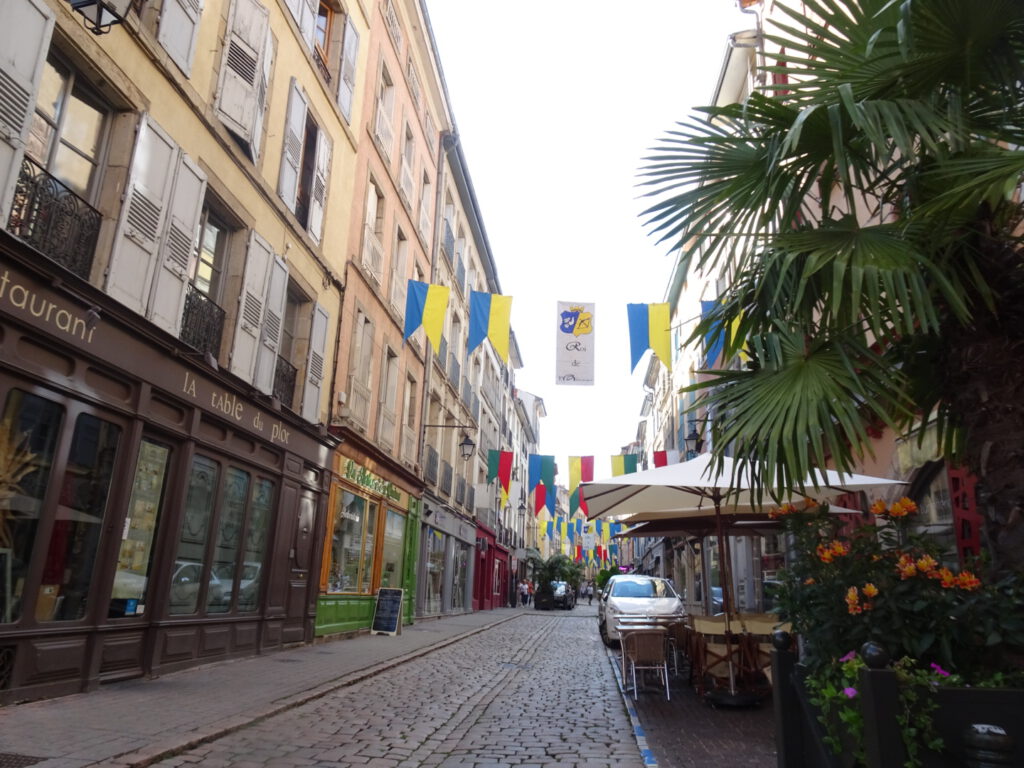 There is also a shop where they sell clothes from that era but unfortunately it was closed. (I regularly hear from people that I am never in the picture myself, but if you look closely I can still be seen below in the shop window)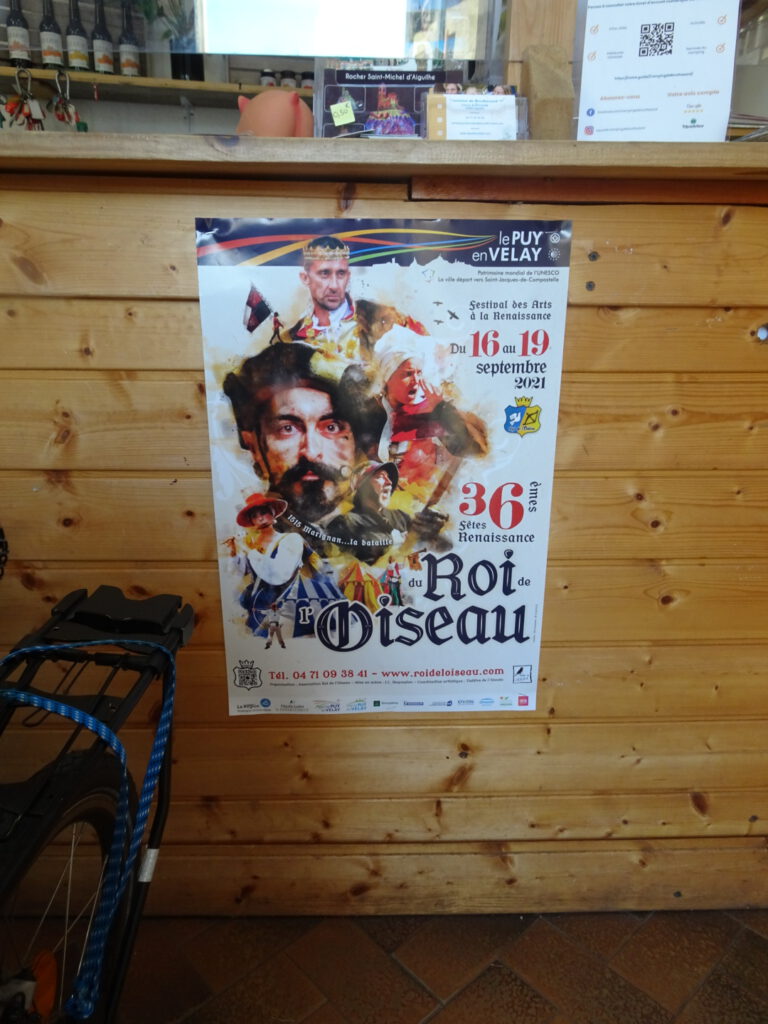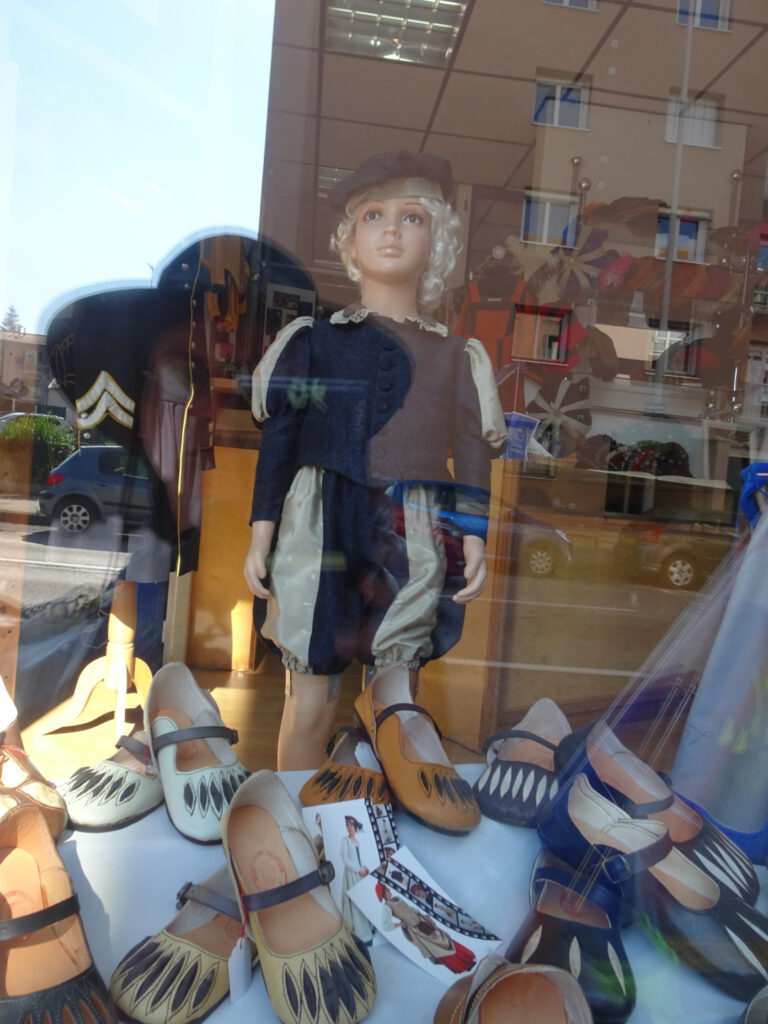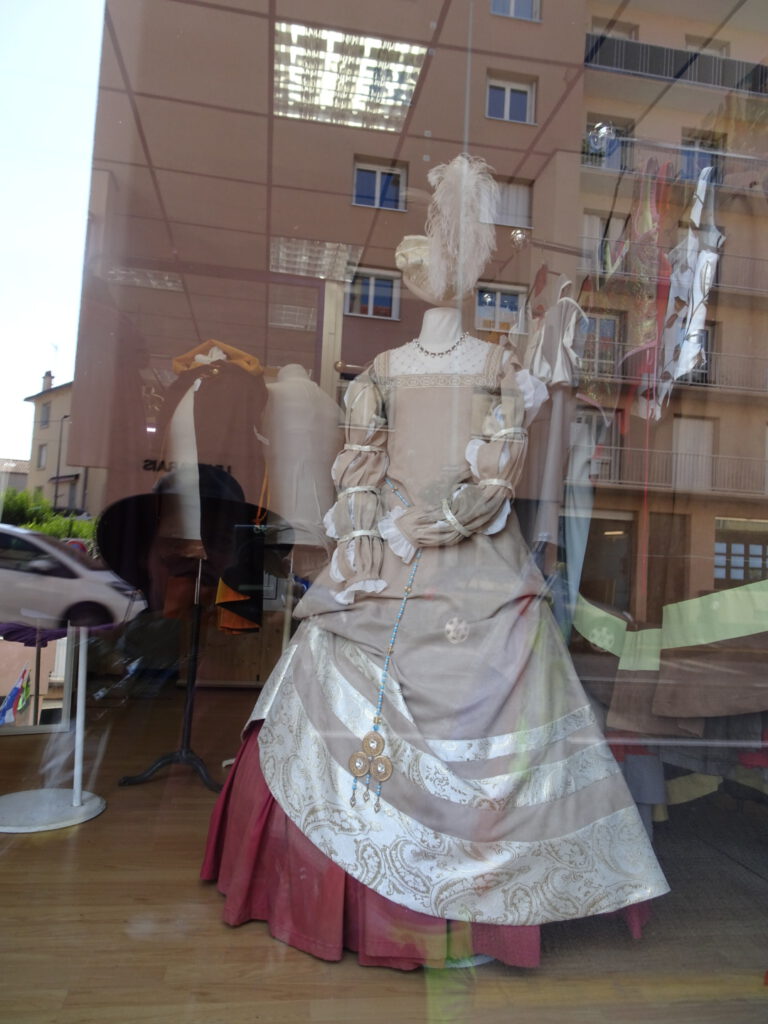 Lace making is also something that is really important in this city. everywhere you will find bobbin lace rugs, but also more modern things made with this technique.
yesterday, when I was going to the cathedral, I had met a man in front of a lace shop who was making lace very beautifully and quickly. Didier Barry from www.lacebook.net (nice pun).
At the end of the conversation, he gave me a lavender pouch with an embroidery of the statue of the Virgin and Child that stands here on a mountaintop and the text Le-Puy-en-Velay. I've hung it on my bag for now. A really nice memory.
Today while wandering through the city I also passed that location again. there I spoke to him briefly while he was making a colored ribbon, he was making lace with a number of different colors and a lot of bobbins, looked very complicated. I watched him make lace for a while and took pictures. I also looked around in the shop where he sells lace dresses and lace band, but also stuff for bobbin lace and lace pillows that he makes himself in winter time.
(I don't think I've ever written the word bobbin lace as often as in this piece!)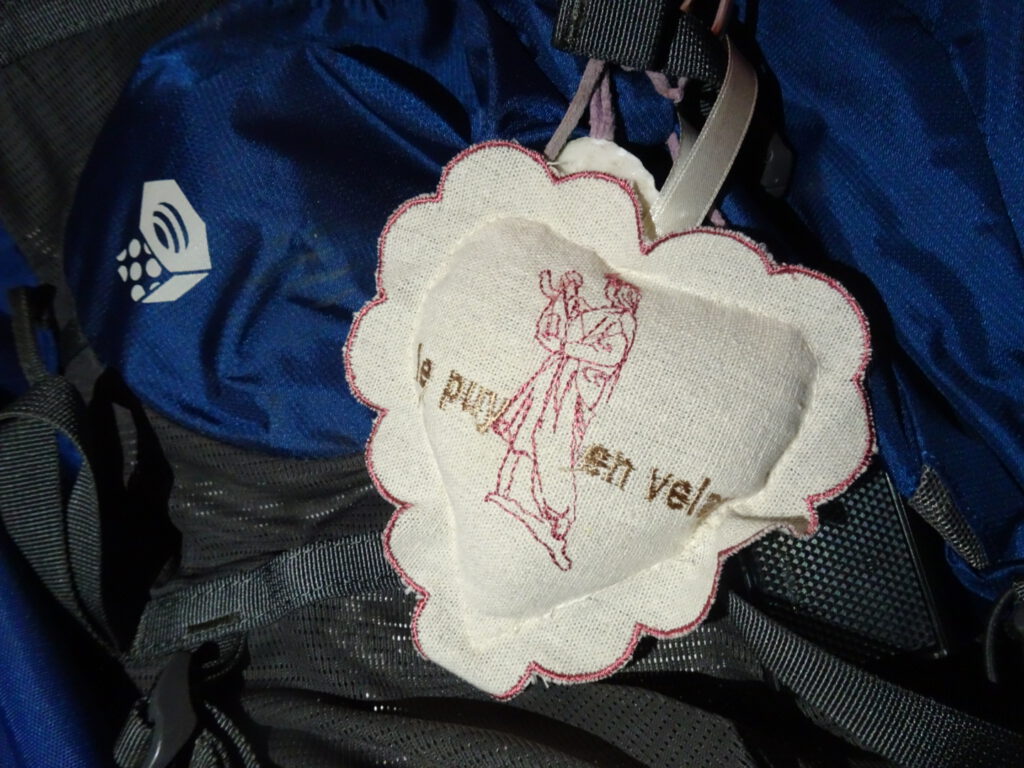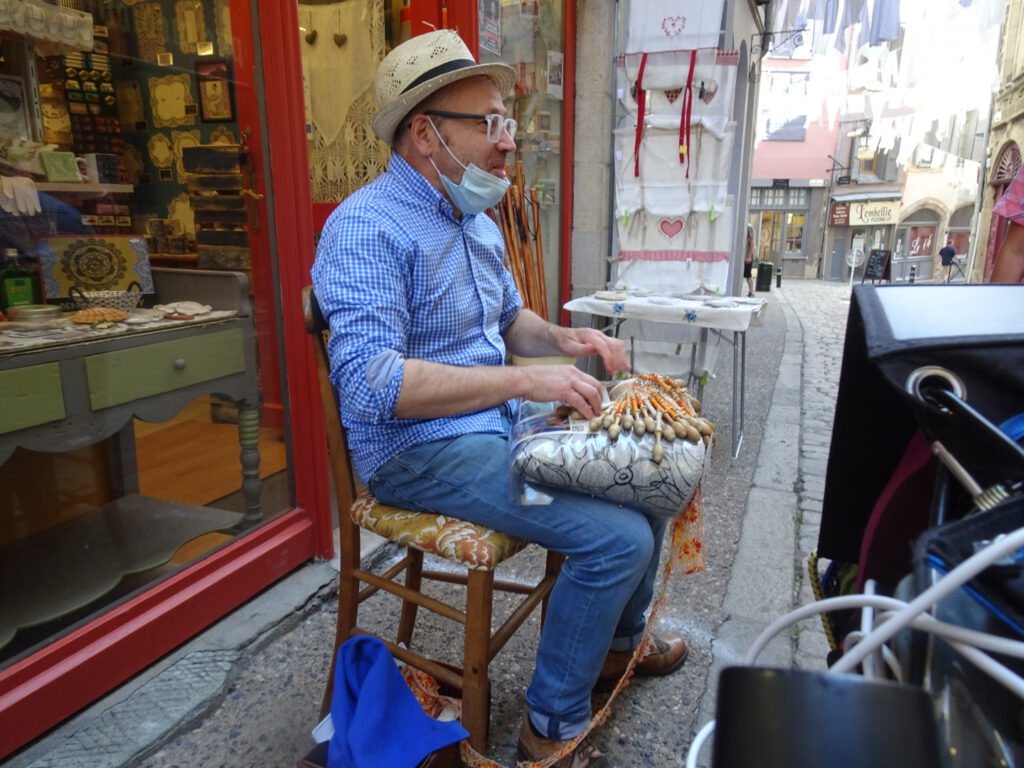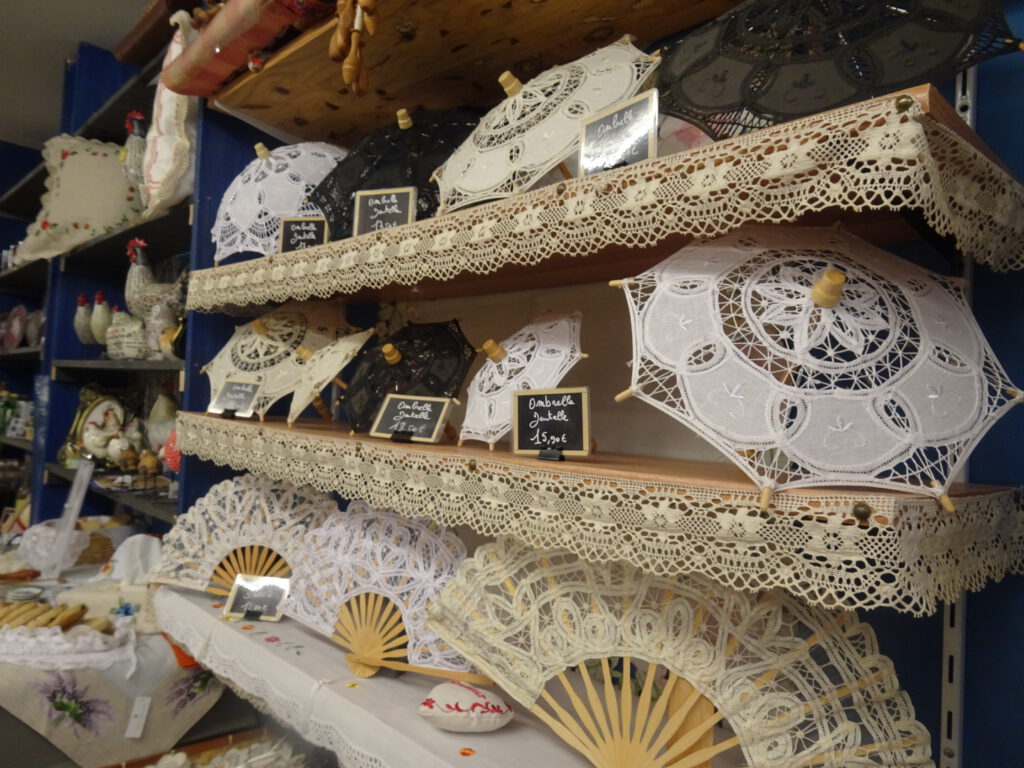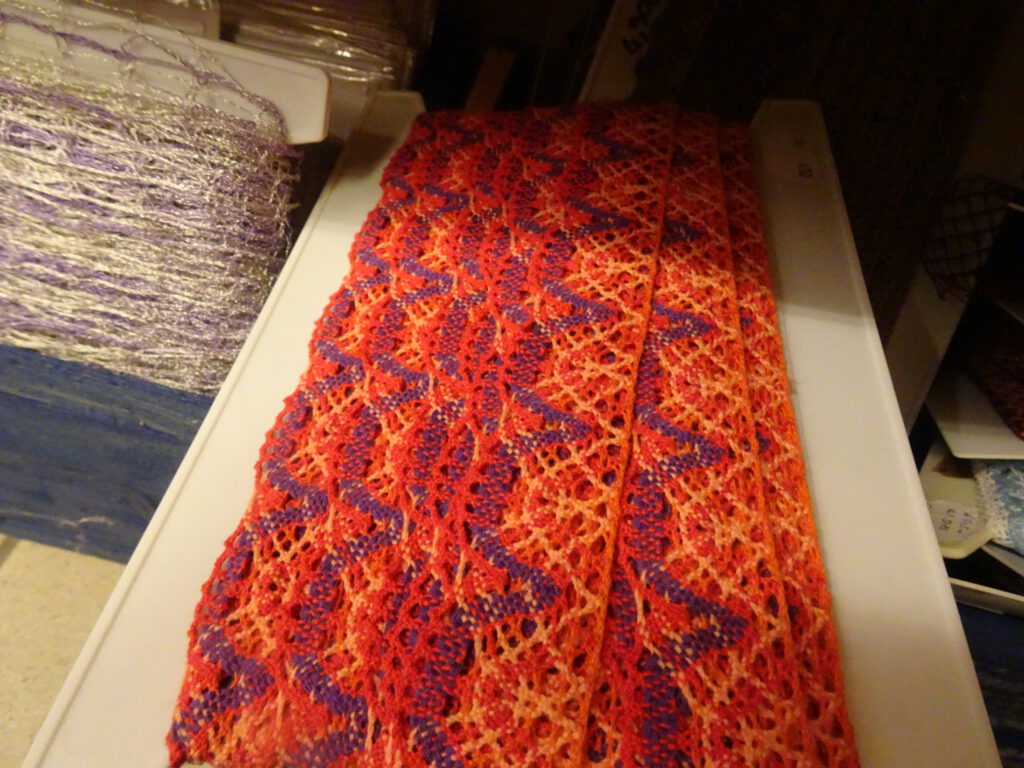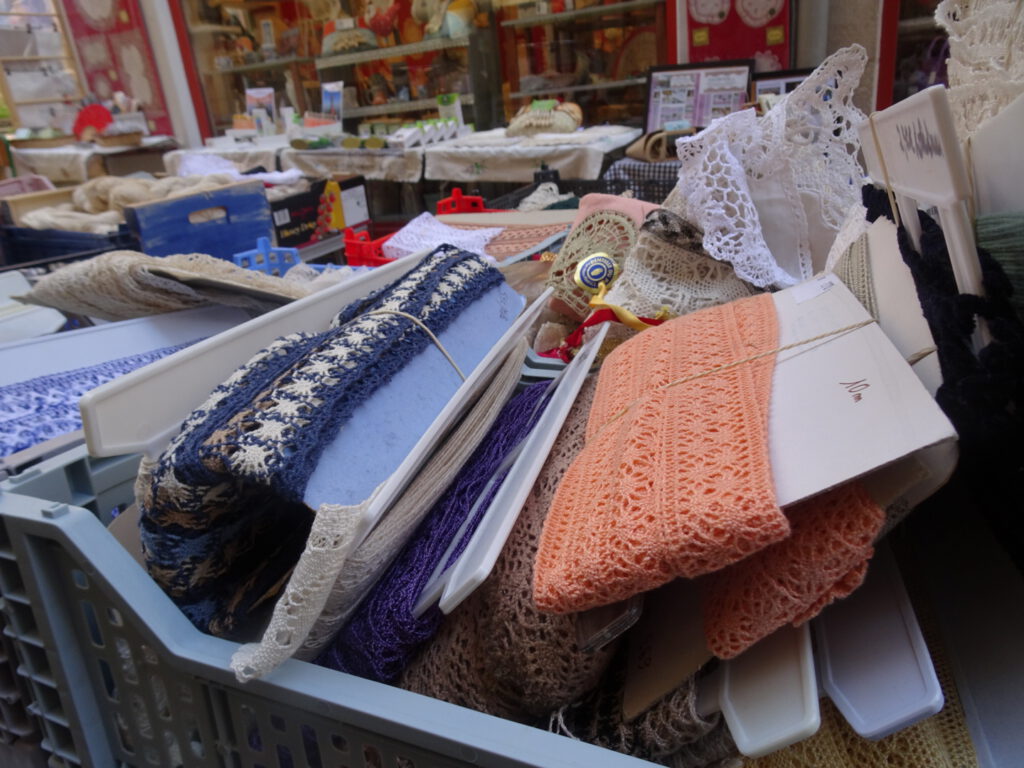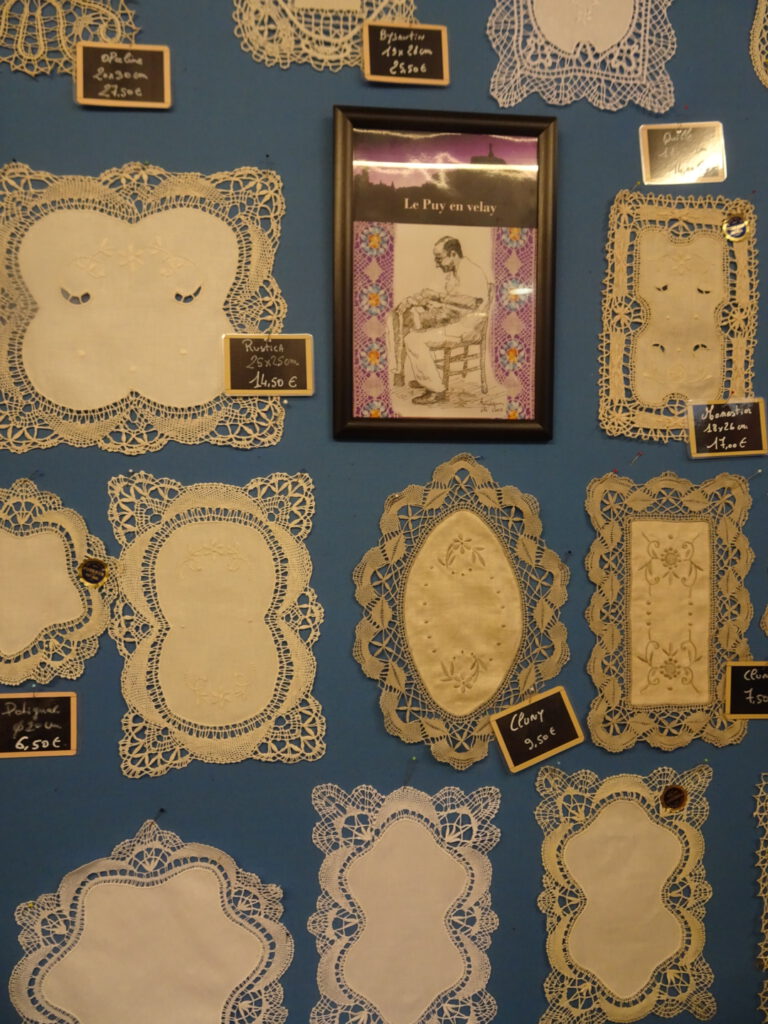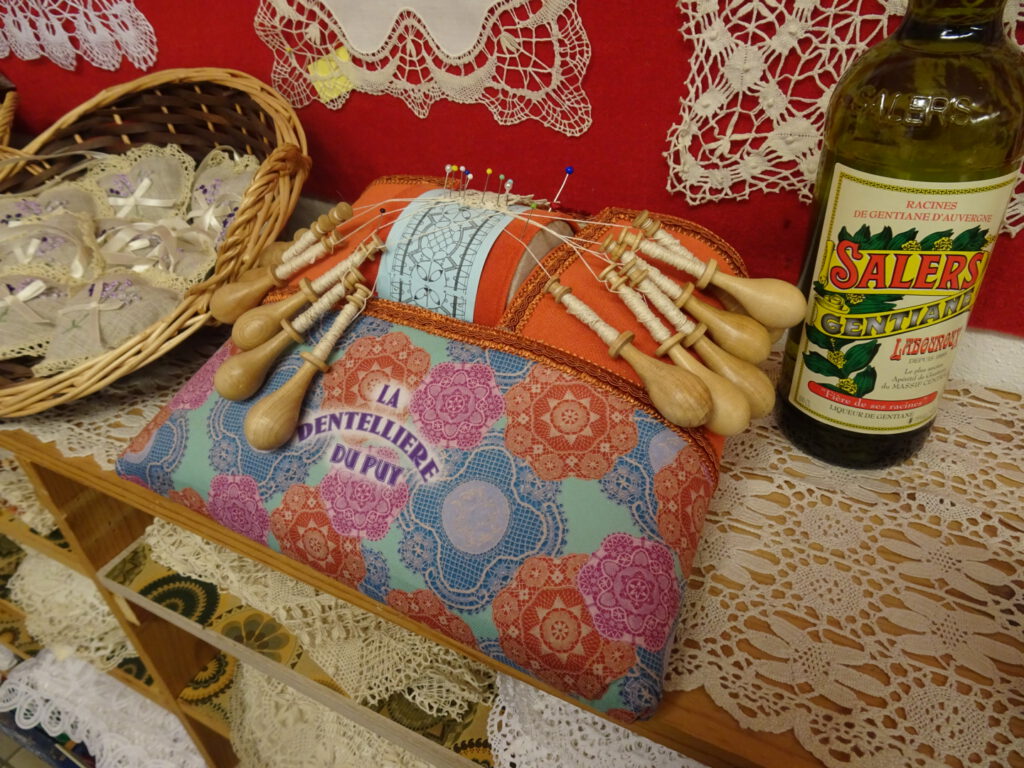 in the end I went back to the campsite, here I will go to sleep early again because I am very tired and my body has received a big blow from that slope to the cathedral yesterday, which caused my knee a lot of pain (at such up a steep slope backwards my whole body is working, not just my arms).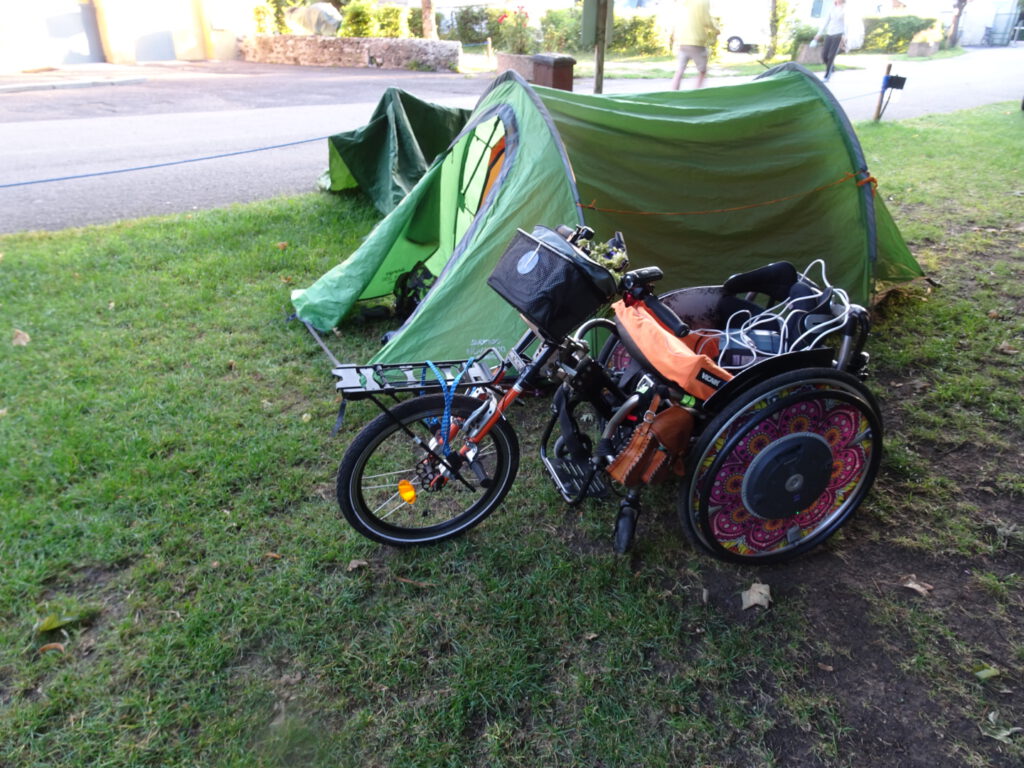 in the end I went back to the campsite, here I will go to sleep early again because I am very tired and my body has received a big blow from that slope to the cathedral yesterday, which caused my knee a lot of pain (at such up a steep slope backwards my whole body is working, not just my arms).
greetings,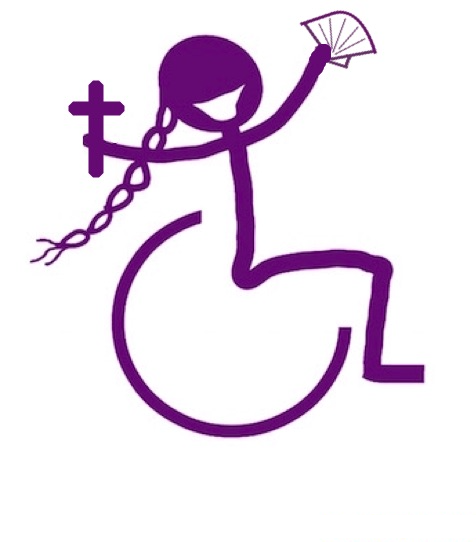 wheelchairpilgrim
---
september 7, 2021 door rolstoelpelgrim
Just a short blog to say that I had a good trip but now I'm very tired.
I am back in Taizé where my car is.
I'll stay here until Sunday.
Until then I will no longer write a daily blog (although I will possibly give a more extensive report on the way back to Taizé in the coming days) but when I really go home on Monday I will write reports again.
oh yes, next to that last time in the newspaper I was once again in the newspaper (didn't even know it was an interview when the photo was taken, must have understood it once again) .
all newspaper articles can be found here
Now it's time to rest.
Greetings,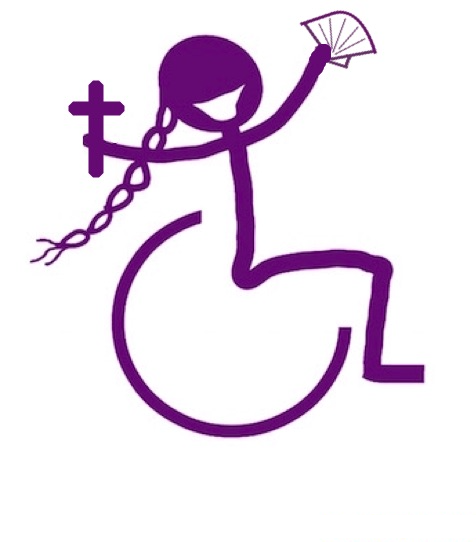 wheelchair pilgrim
---
september 13, 2021 door rolstoelpelgrim
Finally another blog from me.
from my previous blog it was already clear that I had arrived in Taizé quite exhausted and it took a while before I functioned a bit again.
but i'm back.
I had nice days in Taizé. Met many people. A lot of new people but also various people that I have met in recent years that I have been in Taizé. I had a lot of good conversations and enjoyed the tranquility of the celebrations. When I arrived I had to get used to the crowds after having spent so many days in peace, even though there were now only a few hundred people in Taizé and I have also been there once when there were thousands of people, and there it is also built on, it is a village with all those barracks. I was allowed to sleep again in my favorite barrack, sober but close to the toilet and easily accessible by wheelchair.
Do you want to know more about Taizé, I wrote a lot about it last year, you can find it here.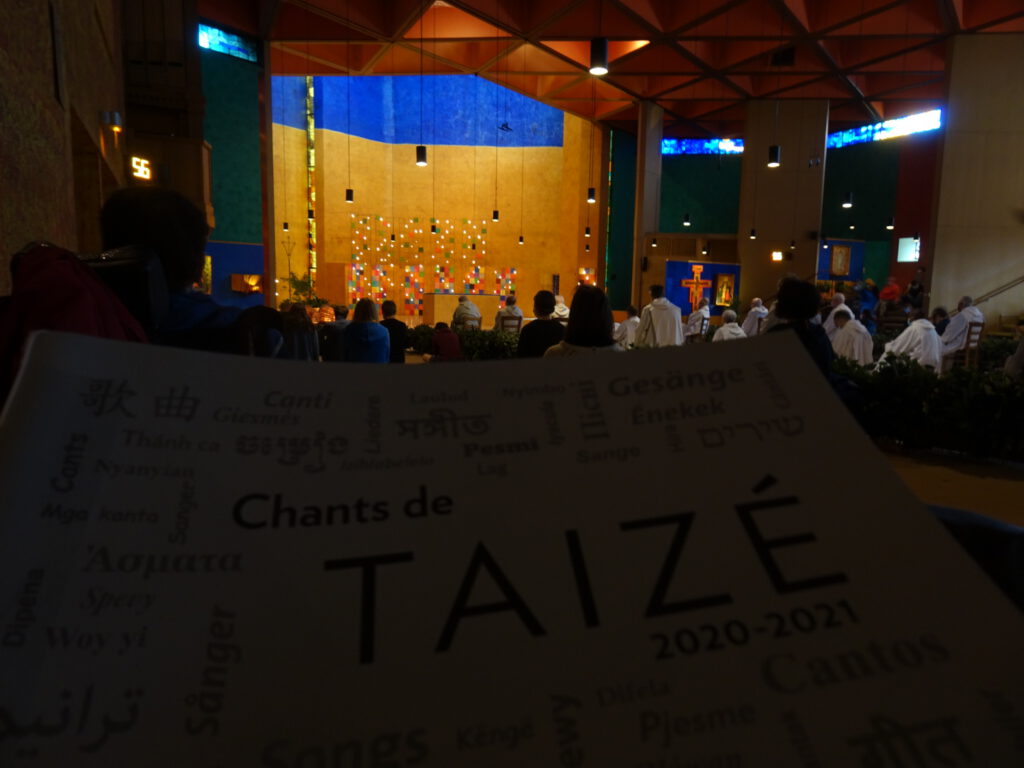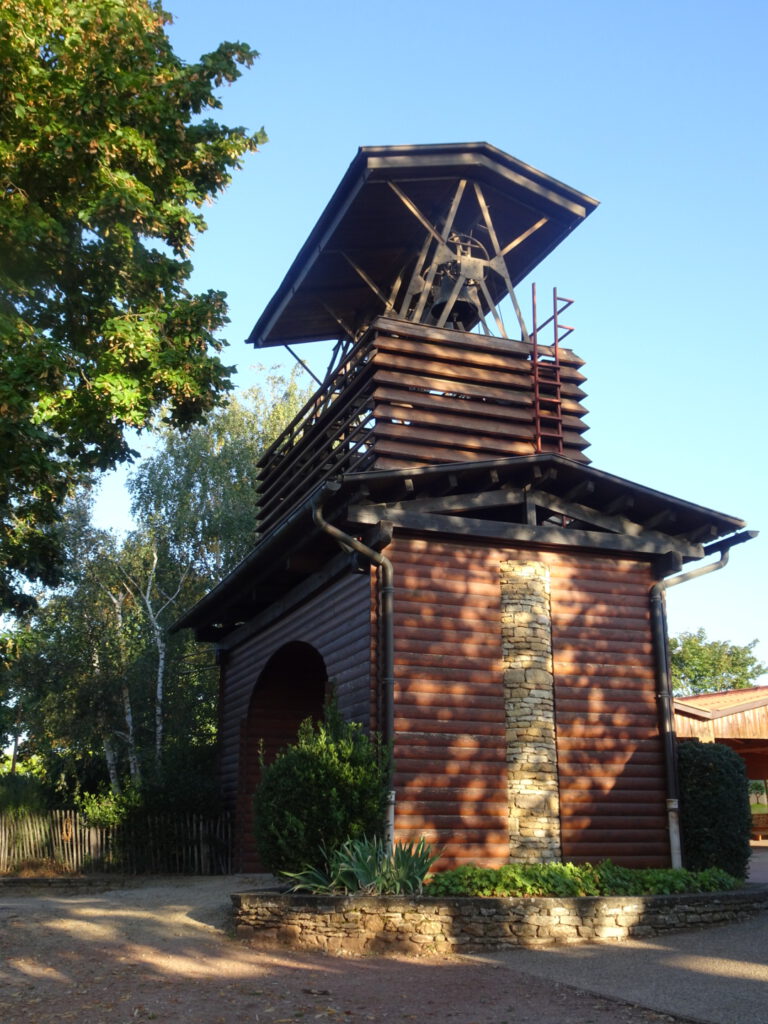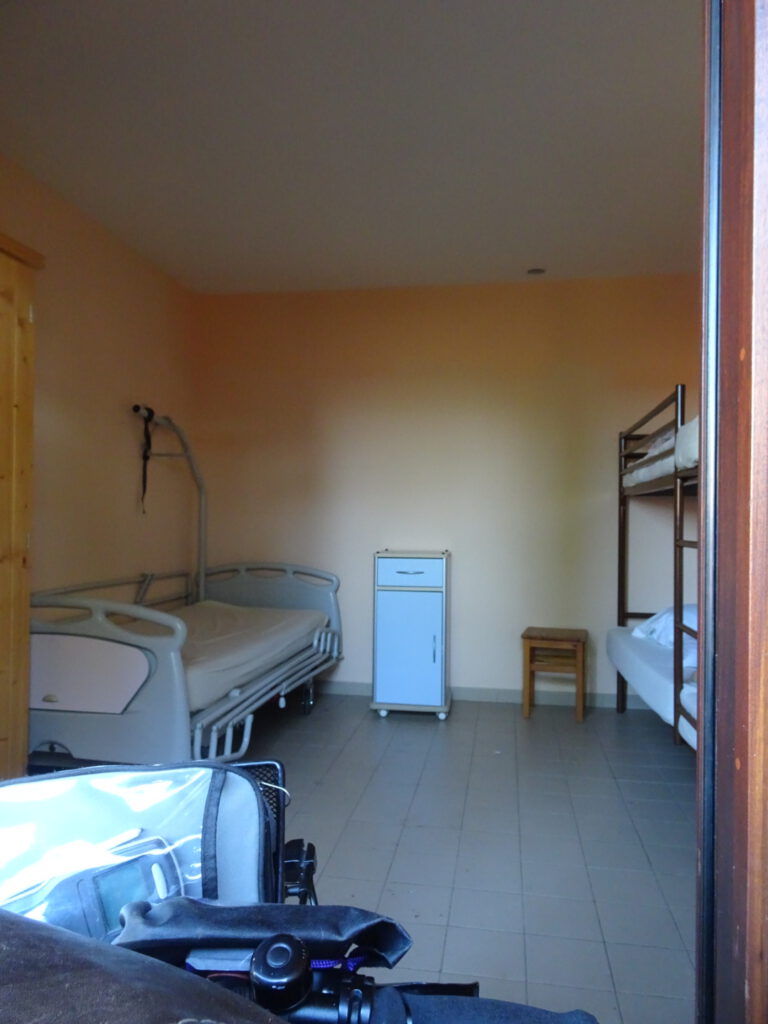 Yesterday in the morning I packed everything again. After the morning church service, and after saying hello to everyone, I left. For the first return day I had only planned a short route. I drove to Paray-le-Monial.
On the way we stopped briefly at the sisters in Verosvres where I stayed last year. after that I had agreed in Paray-le-Monial to visit the people where I stayed last year and to stay overnight. was very cozy! they also took me for a ride through the area with their adapted bus and showed a very nice castle.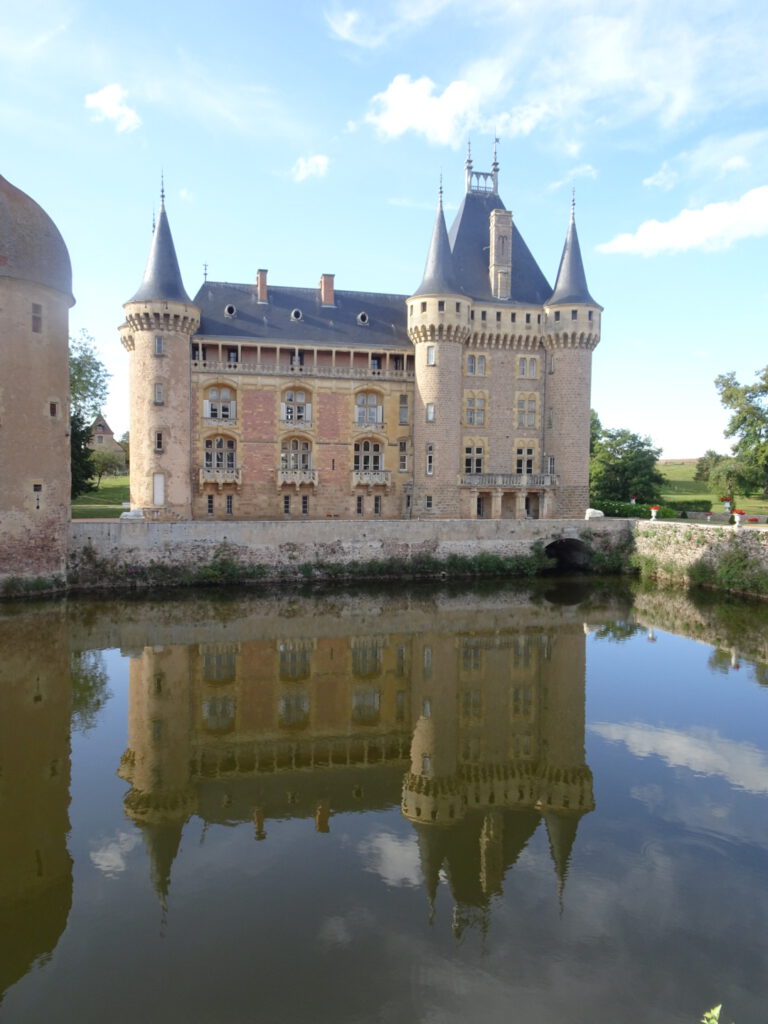 This morning it was time to drive back home. Did some shopping along the way, not only the groceries for the road but especially for home. I always take home French food and drinks to have a little bit of France throughout the year. Visiting a supermarket is always the way for me to get to know the eating habits of a country.
Along the way I came across several places where I had rolled as a pilgrim in recent years. nice to see. I spent most of the day driving through Burgundy, especially the Morvan area. but now I'm at the campsite just in a corner of the Champagne-Ardennes.
I always think this is a nice area to drive through. very varied with forest, meadows and fields with sunflowers, hemp, (mown) grain, sugar beet, etc.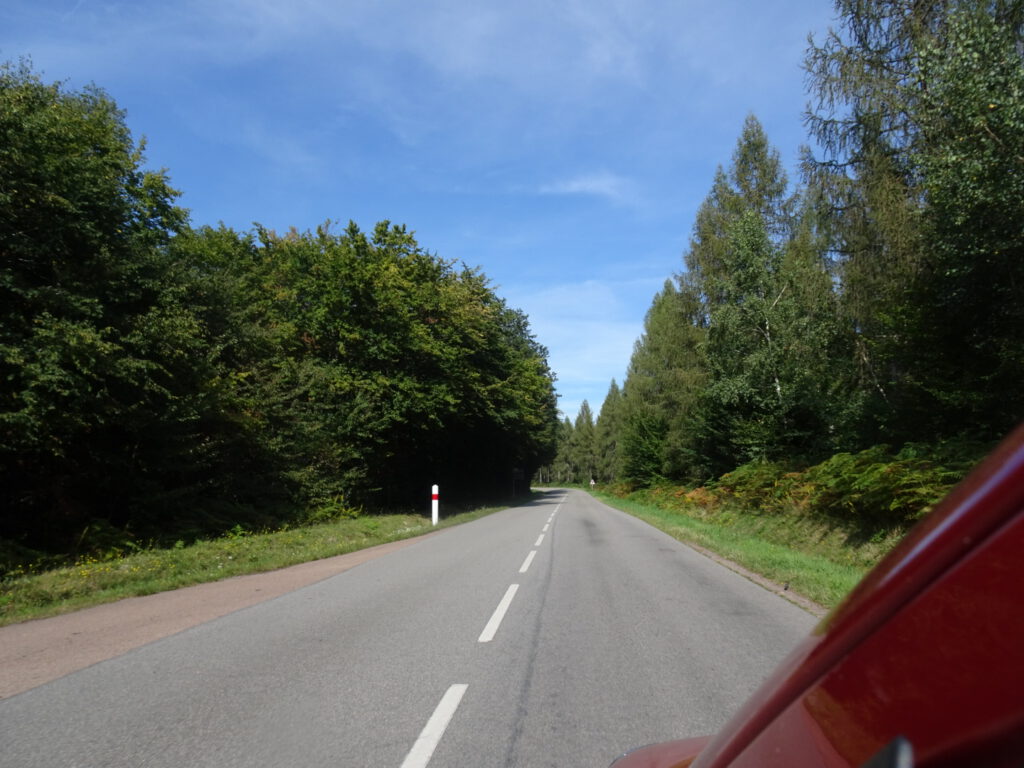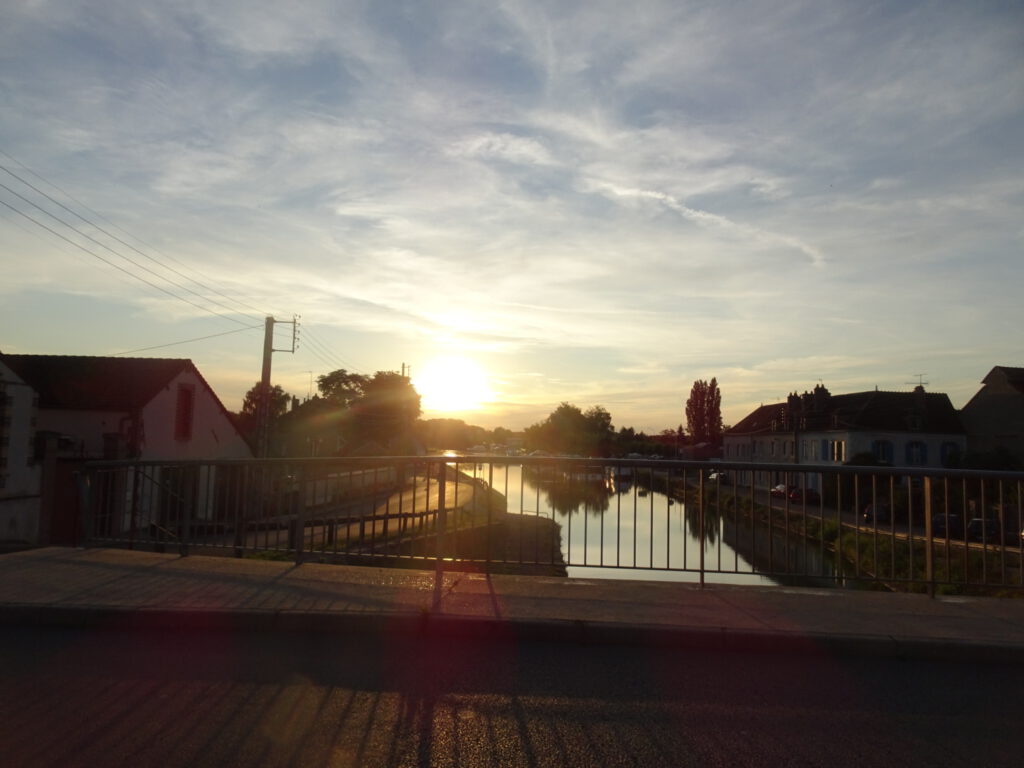 I am now at a campsite in Nogent-sur-Seine.
I arrived after sunset and the camping reception was already closed. unfortunately the barrier also…. luckily I had packed my things well and I got everything off and loaded up on my wheelchair and rolled along the footpath next to the barrier and I chose a spot close to the toilet to set up my tent. unfortunately my wheelchair does not fit in the clumsy toilet building (with too narrow doors) but luckily my wheelchair (without front wheel, which is in the car) can fit in my awning with a lot of puzzling. Now I'm still sitting in front of my tent, but I'll quickly go in there, to sleep but also because the screen can then be closed because I am being eaten here by mosquitoes, very small mosquitoes that create very large lumps.
From my tent I can see 2 huge chimneys of a nuclear power plant, see is very close here. I can hear it as well as see. a soft murmur.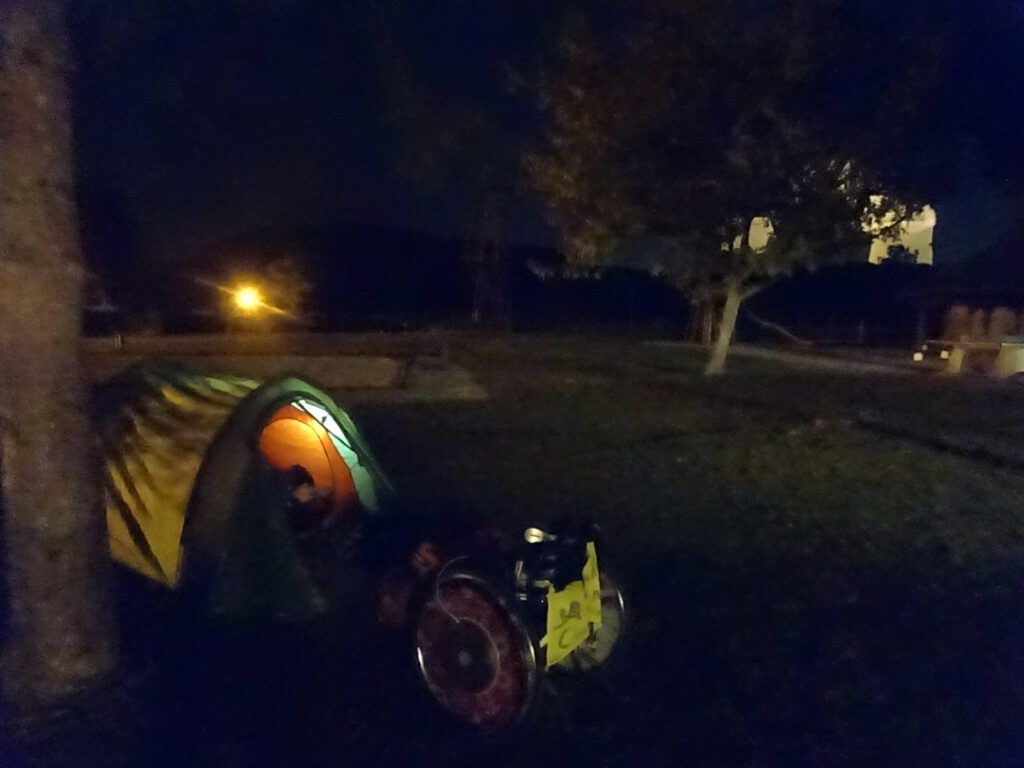 Get some sleep now. Tomorrow or the day after tomorrow I will write the rest of my journey home.
Greetings,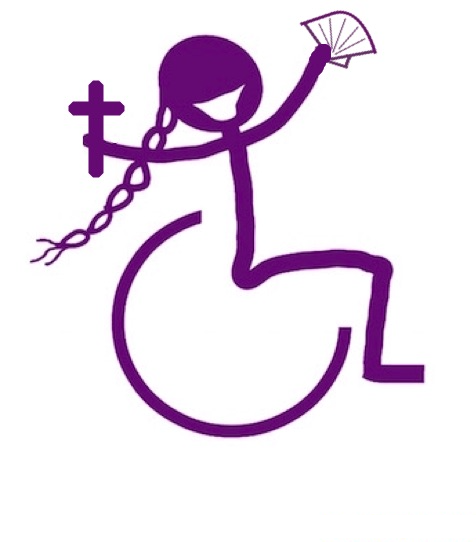 wheelchairpilgrim
---
september 17, 2021 door rolstoelpelgrim
(oops, I thought I posted this blog on Wednesday morning, but only now found out that something went wrong with posting, my last blog will follow later today.)
The day before last night at the campsite I fell asleep quickly and in the morning I woke up early again. around 6:00 am. It was still dark but I decided to pack anyway. it started to rain a little and more rain was forecast for the following hours. Packing went well and within an hour everything was loaded on my wheelchair and I rolled out of the campsite. The reception was still closed and it wouldn't open until 9 am, so I loaded everything into the car and left.
The sun came up when I drove away, unfortunately it was almost impossible to see because there were dark rain clouds in the sky everywhere. only above those huge chimneys of the nuclear power plant did I see a beautiful patch of pink sky. that makes such an ugly thing almost beautiful. The rain continued all morning, in the afternoon it became mostly dry but still gray.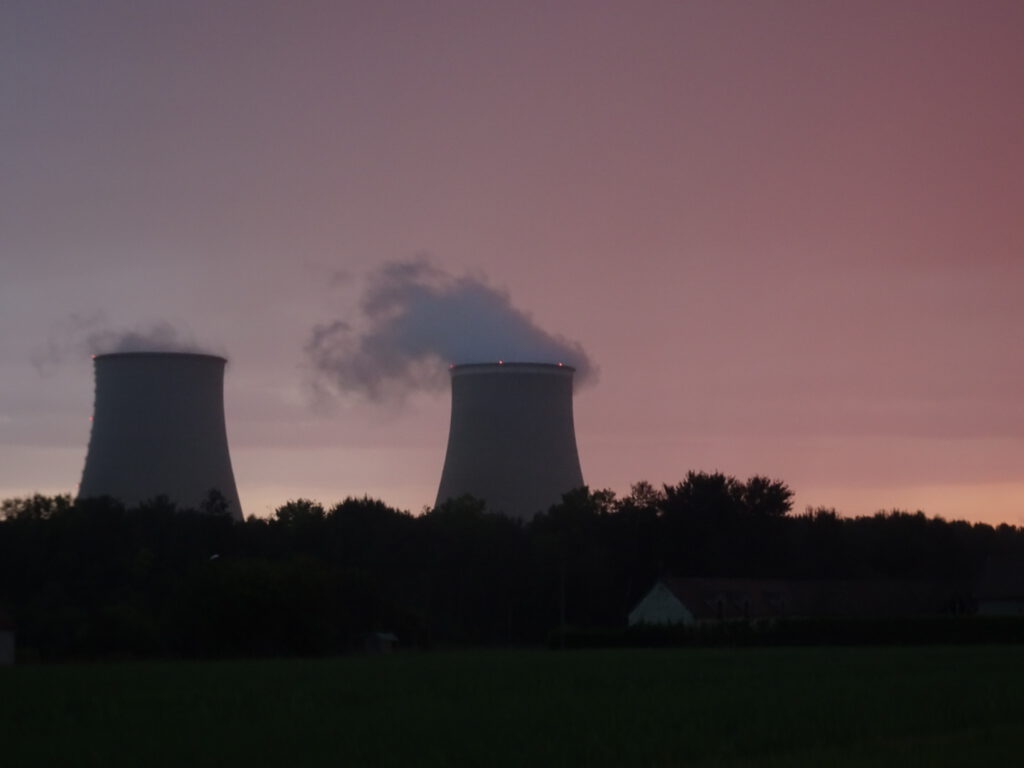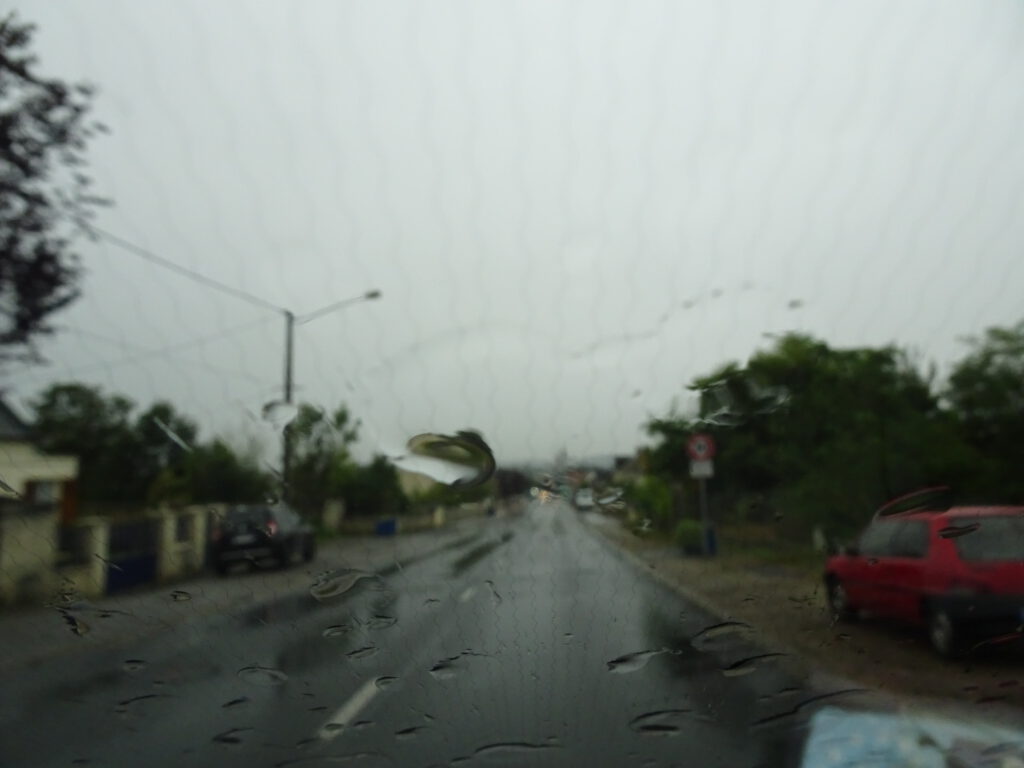 At the beginning of the route I still drove on nice little D-roads but the further north I got, and the closer I got to Paris, the busier it got and the bigger the roads became.
I prefer to drive on very small roads, which wind through small villages, hamlets and nature and where I can stop at any moment if I want. Usually I stop at beautiful old churches that are often open. unfortunately all churches were now closed. It strikes me that more churches are open in the south of France than in the north.
Fortunately, there was no real traffic jam, but occasionally drove behind tractors and other large agricultural vehicles. Some so big that they took up 2 lanes and were accompanied by other cars that had me stop in the verge.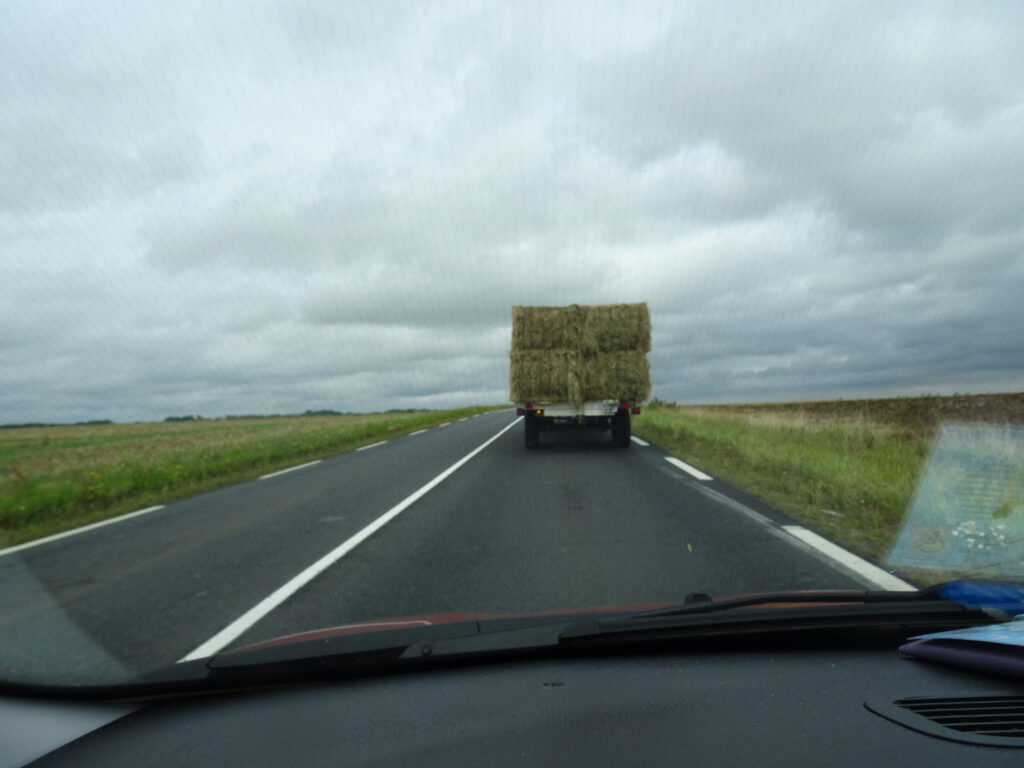 Along the way I bought a few groceries (coming months I will eat French food and bake French bread myself), at the supermarket but also at a very nice farm shop where I bought beautiful large regular and smoked garlic from the farmer's wife.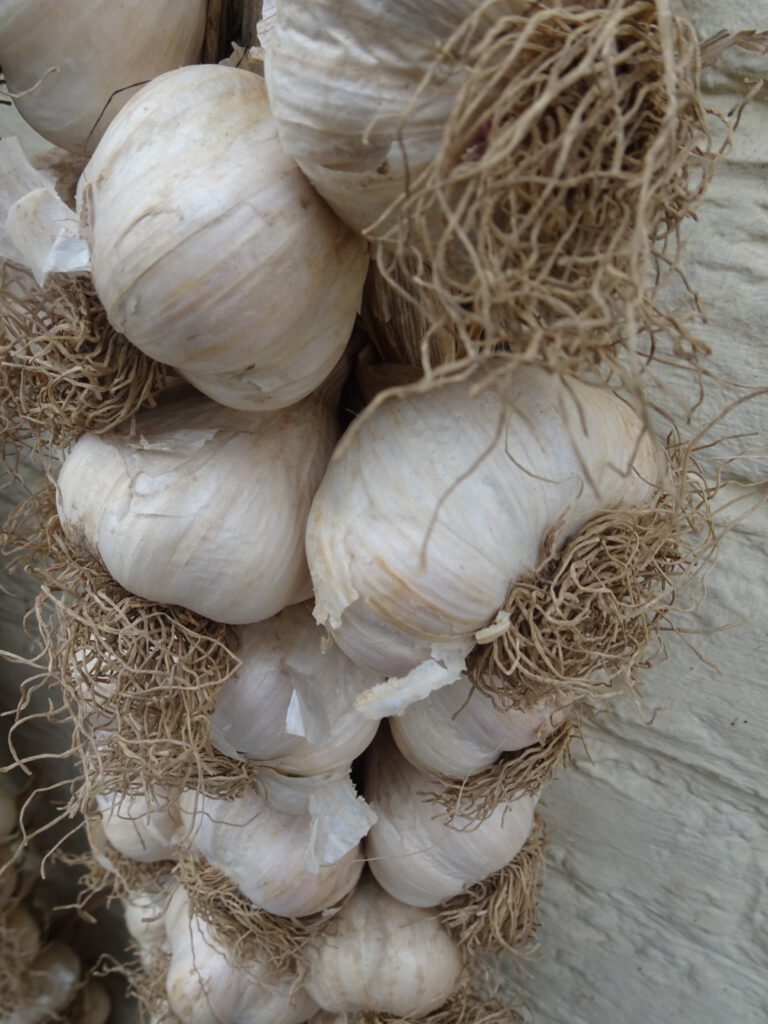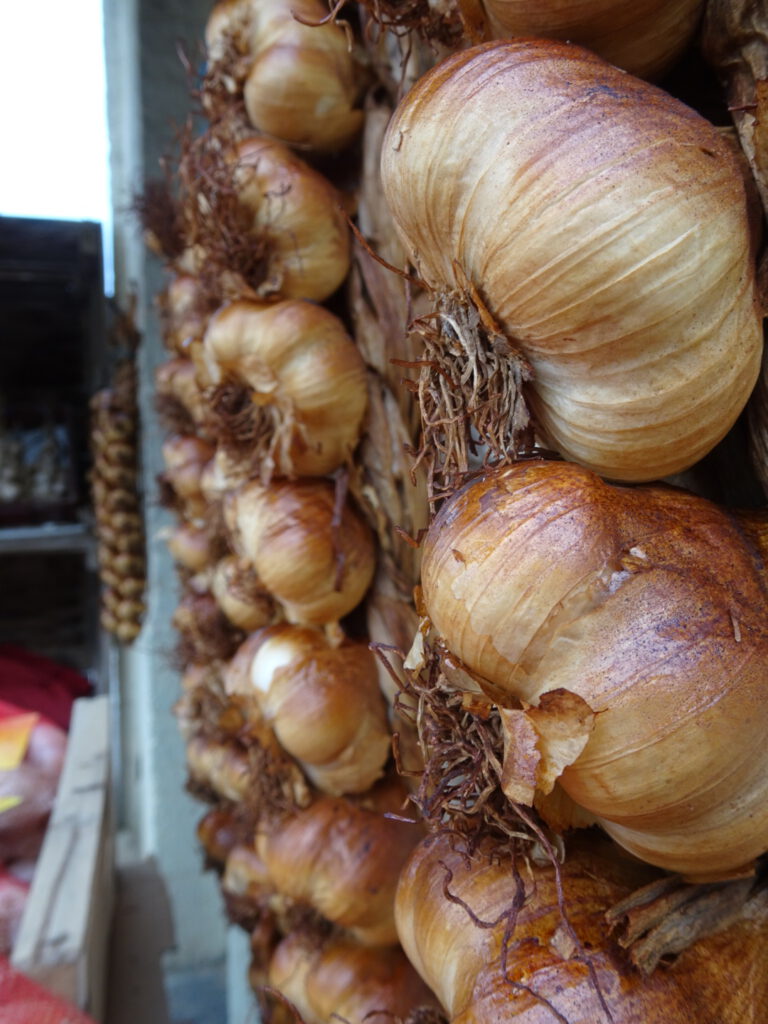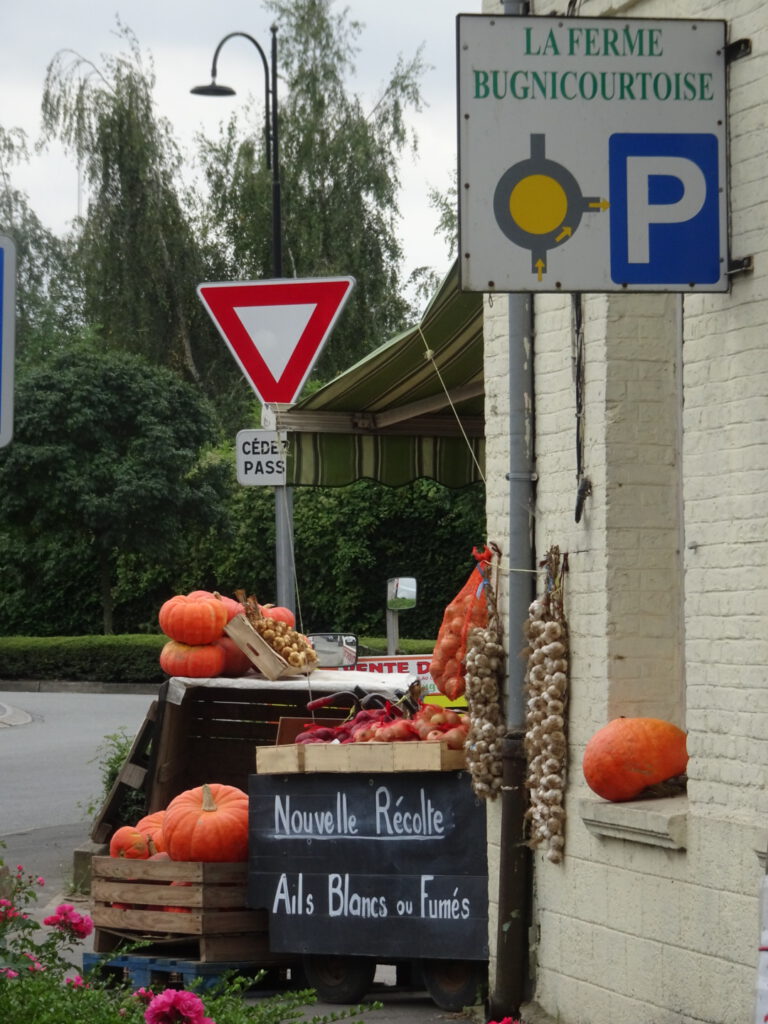 Then I soon arrived at my sleeping address just north of Lille, almost on the Belgian border.
This time no camping but a nice house, actually part of an old farm. This cottage was booked by my sister. She lives in England and had come by boat via France to visit the Netherlands afterwards. Very nice to see each other again, especially now because of corona it had been a long time since we had seen each other, about a year.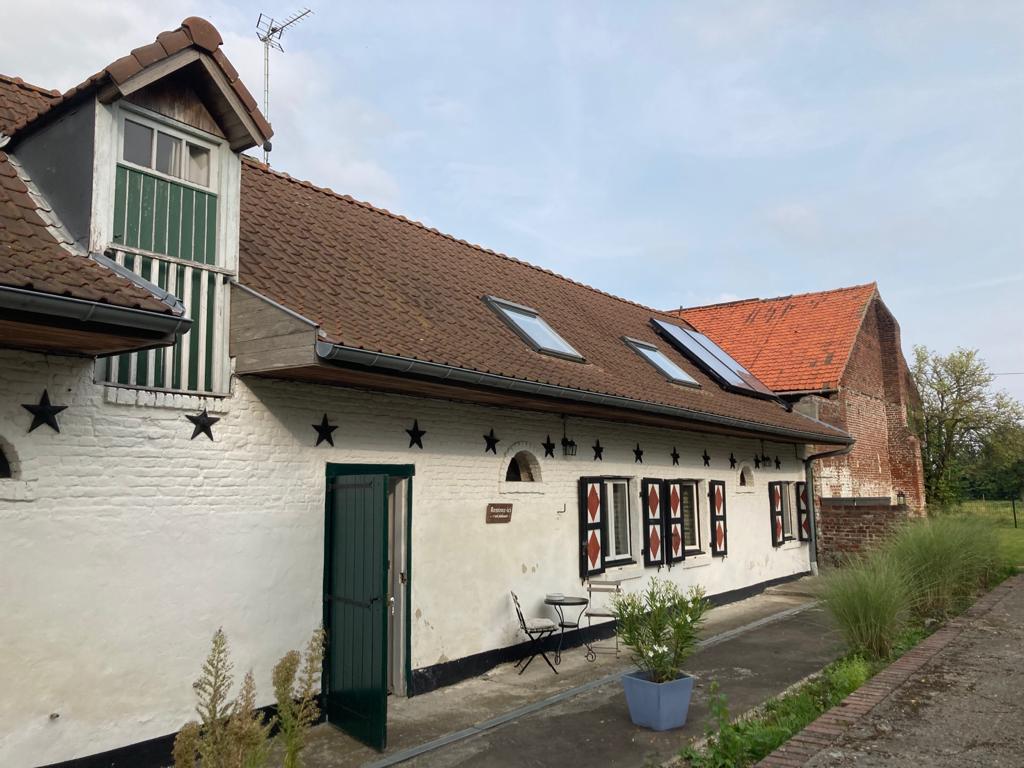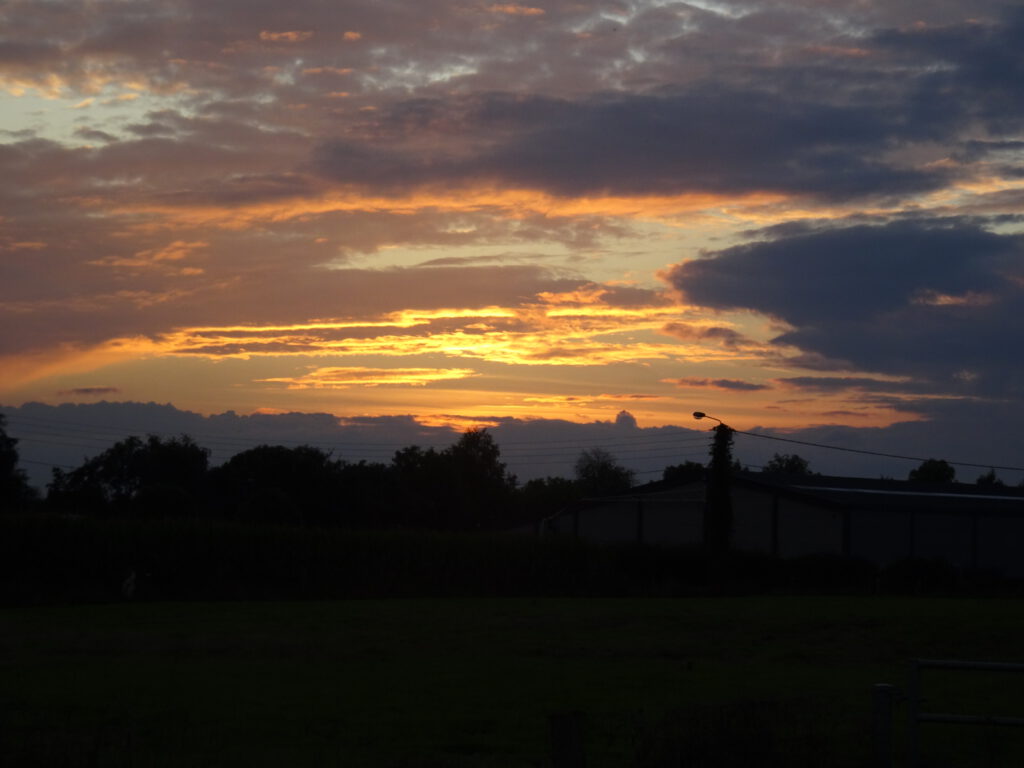 Today I am going to drive to the Netherlands, but first wake up and have breakfast.
I will describe my last stage tomorrow.
After that the trip is over and then I will soon (after the report on today that I will probably write tomorrow) write a closing blog with all kinds of other facts and figures of my trip (Kilometers, costs, etc).
If you want to know when I write this, you can subscribe to my newsletter. This can be done on the homepage.
Greetings,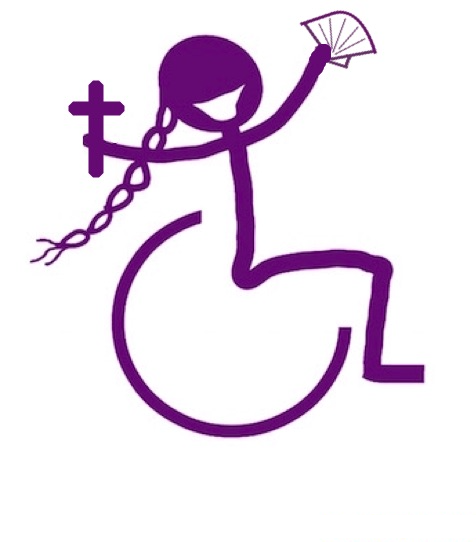 wheelchairpilgrim
---
september 18, 2021 door rolstoelpelgrim
I am home again. I arrived late Wednesday evening.
but first I will tell you how the last travel day went.
In the morning I had a nice breakfast with my sister and packed for departure. in the nice old house where we slept there were very special ceilings of brick, each piece in a different pattern.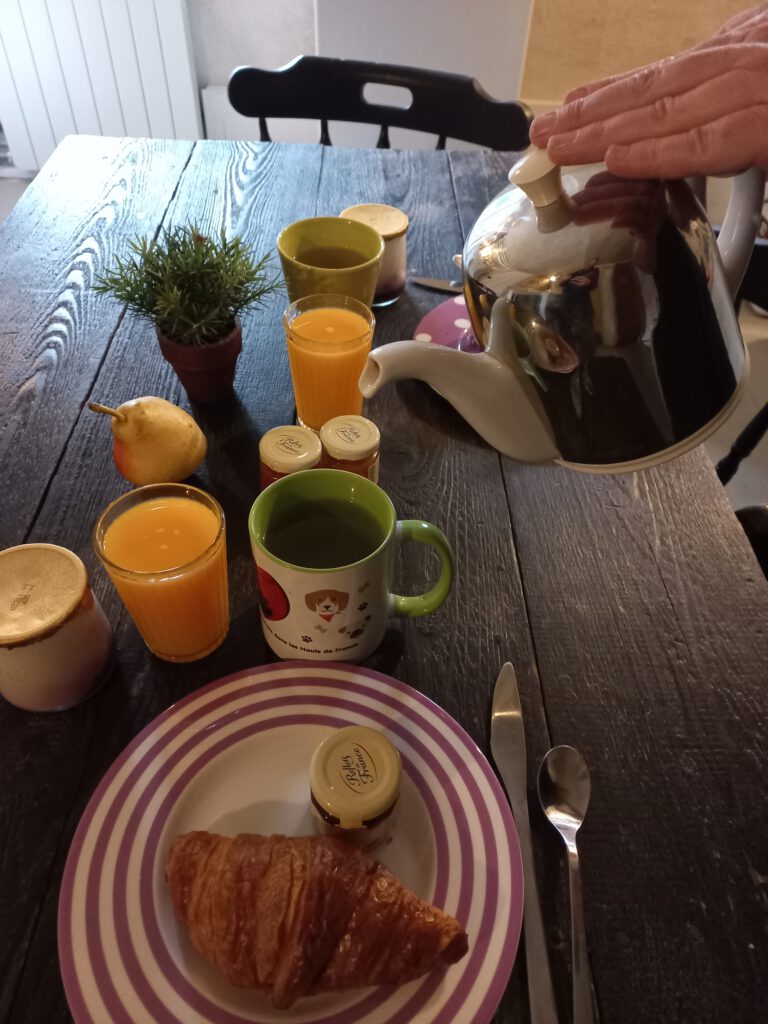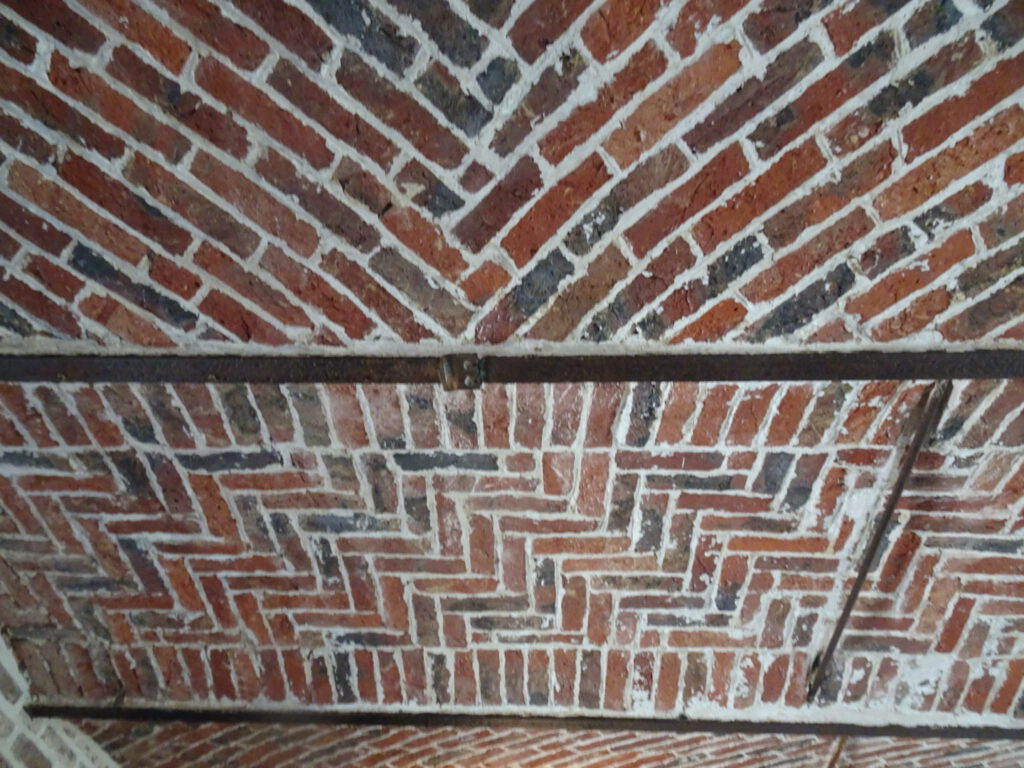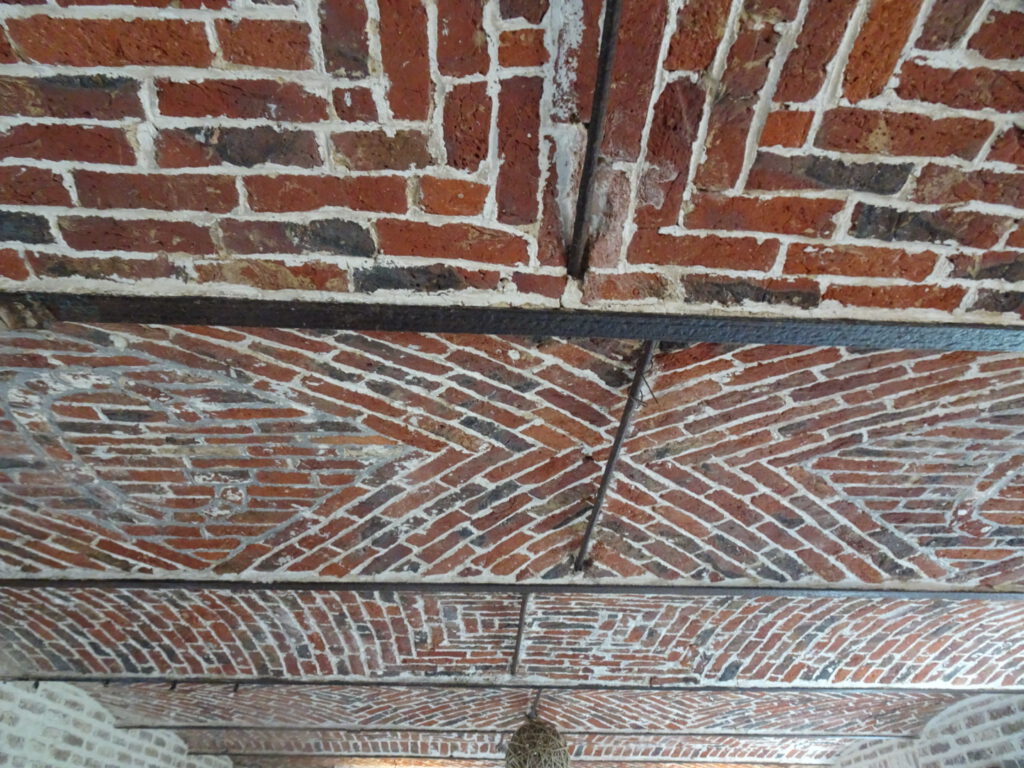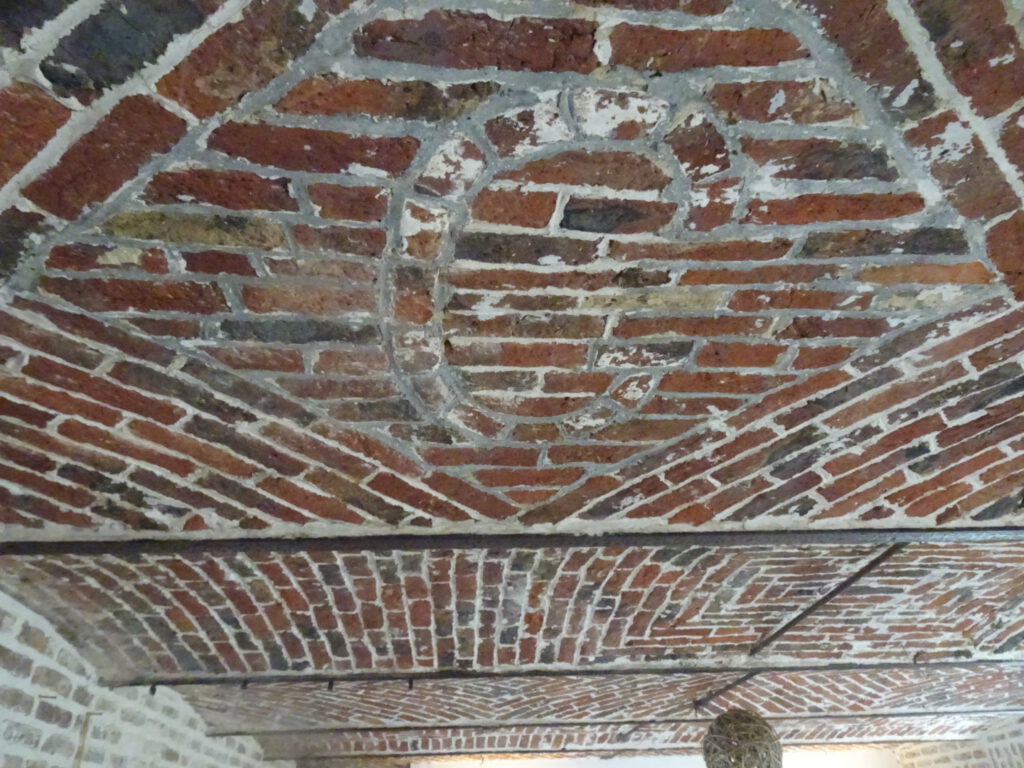 First we went to the town of Komen (Comines). Here we had a look at the church. And special copy. at first glance it resembles a mosque with a minaret.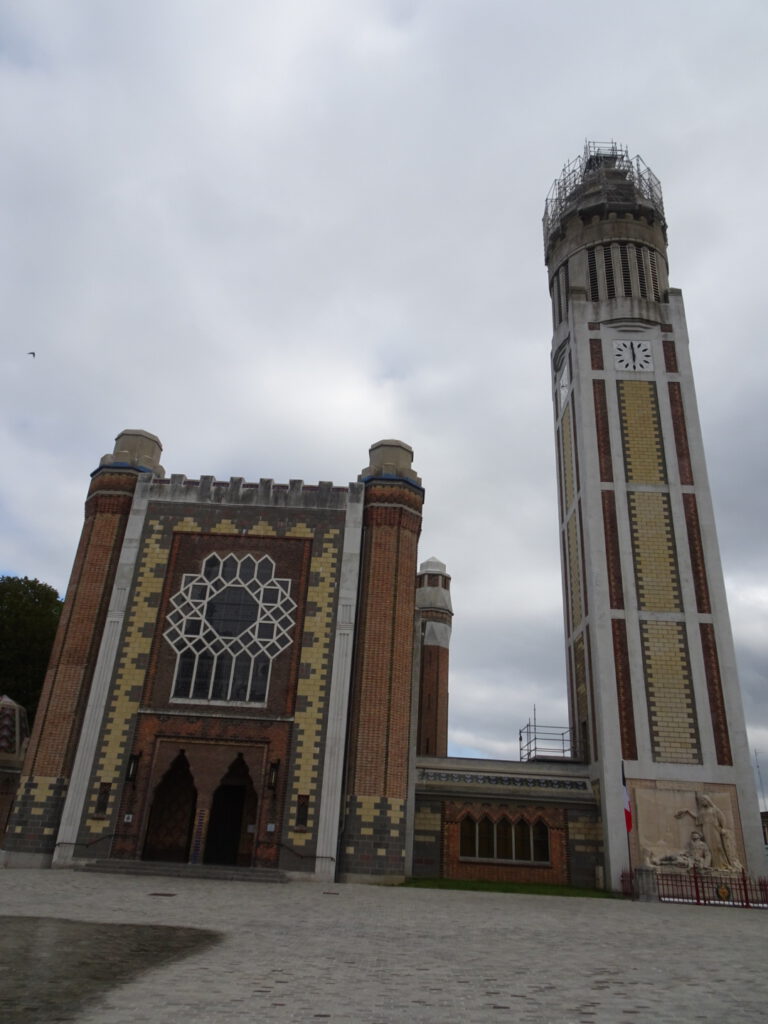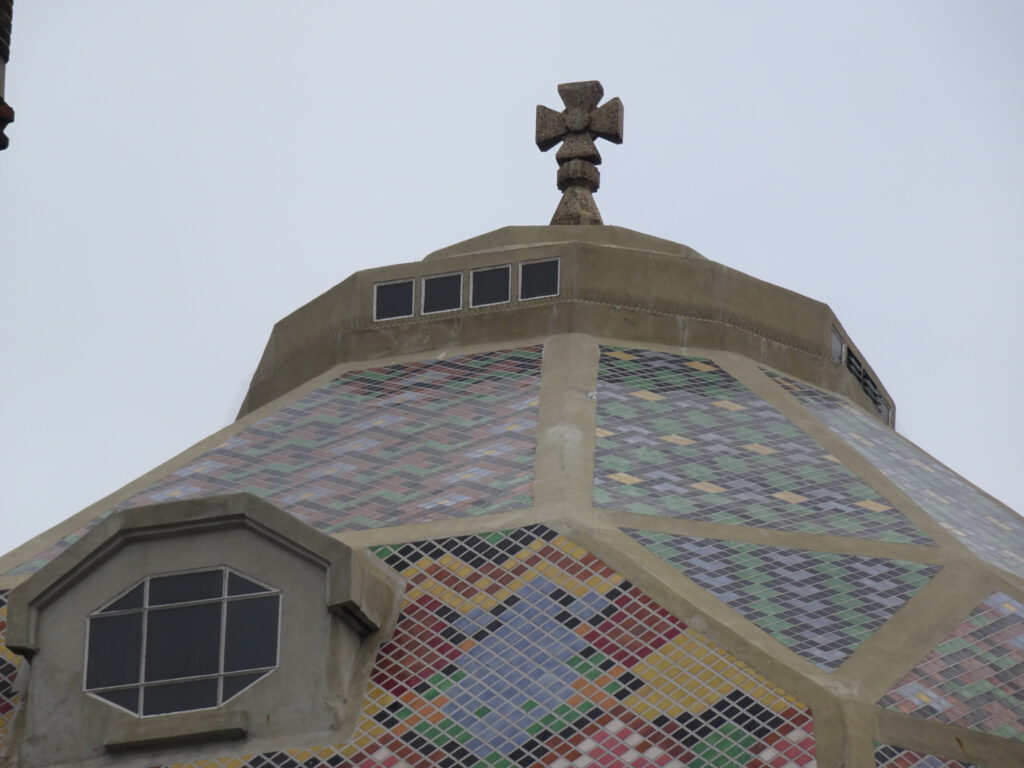 Inside there also seem to be oriental influences with all kinds of beautiful small tiles, a special type of dome and a special shape of the windows. But in the beautiful, colorful stained glass are beautiful Christian images.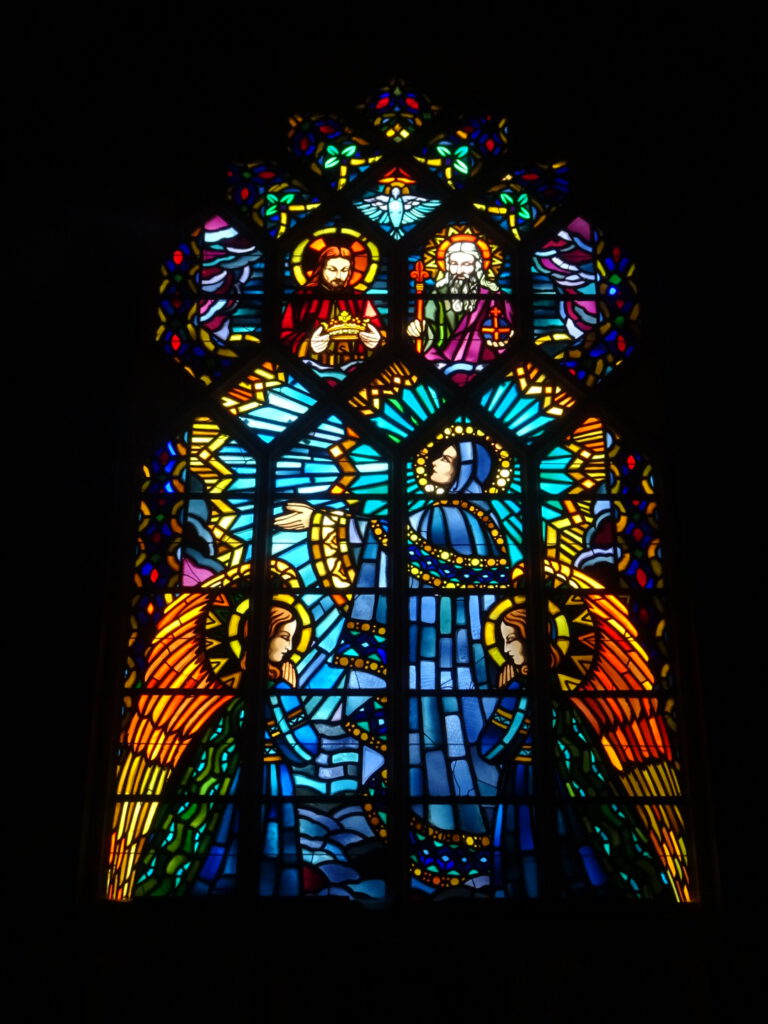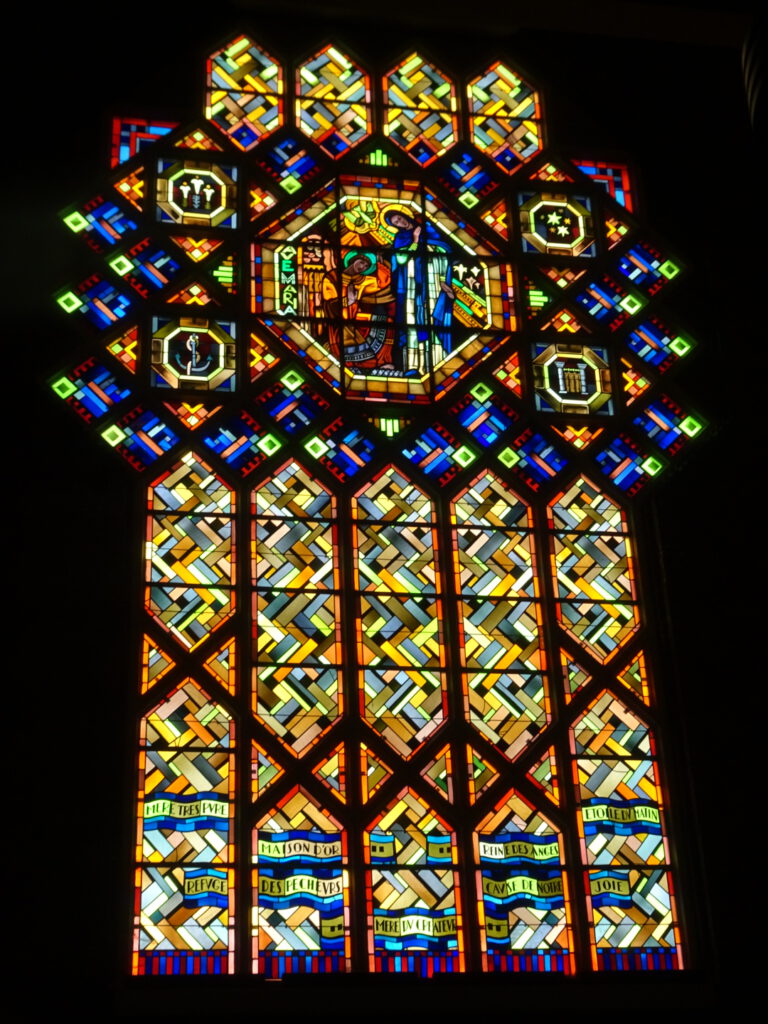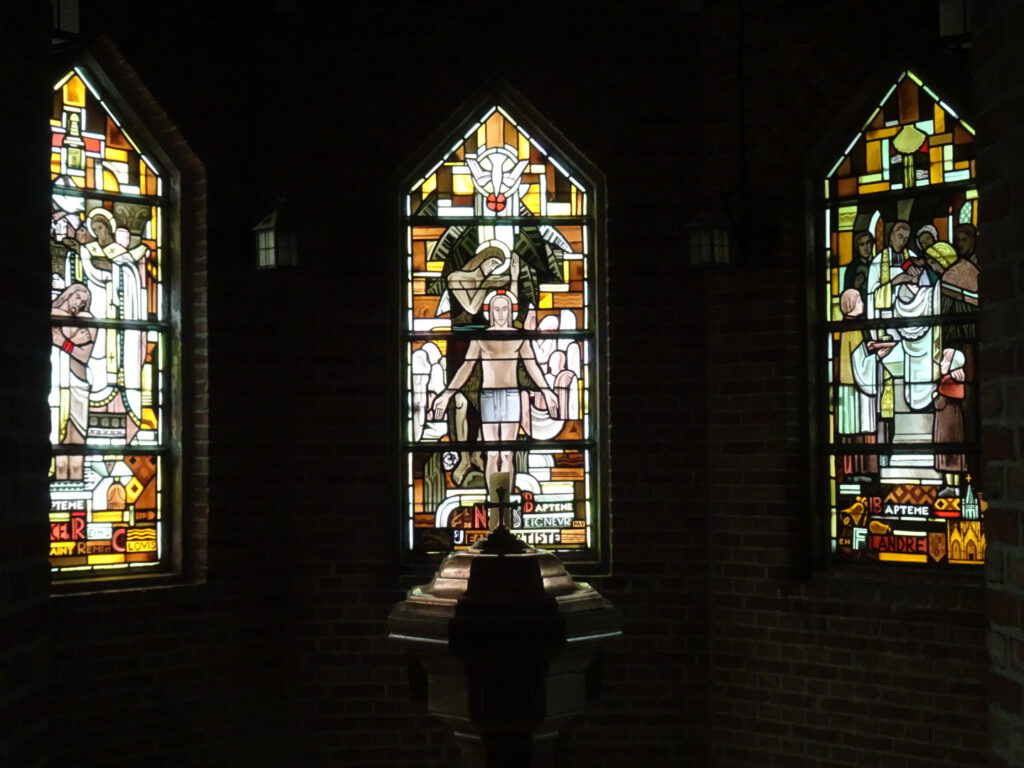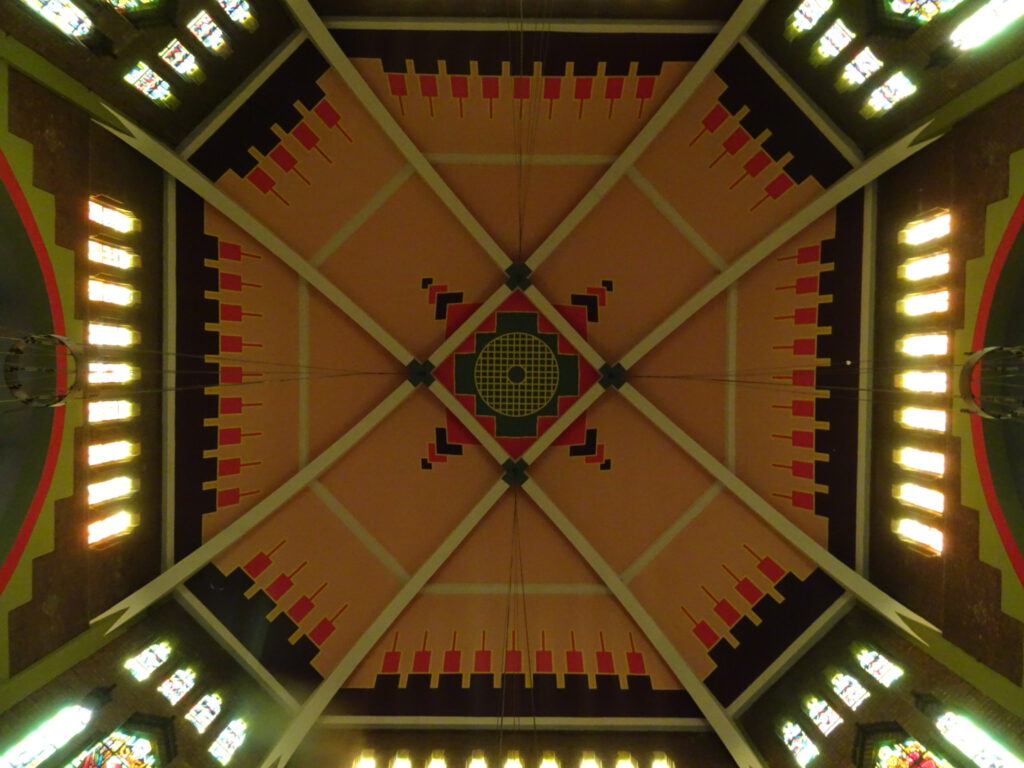 I also found the pulpit, altar, statues and lamps very special. Different from most French churches. In the area where I rolled this year most of the churches were from the 11th to 15th century and the single 18th or 19th century church was already kind of new.
This church was built in the 1920s. This is because many churches were destroyed during the First World War. In the 1920s they rebuilt these churches in sometimes special styles. I have already come across several special churches in (Northern) France that were built in the time between the 2 World Wars, often in Art Deco style.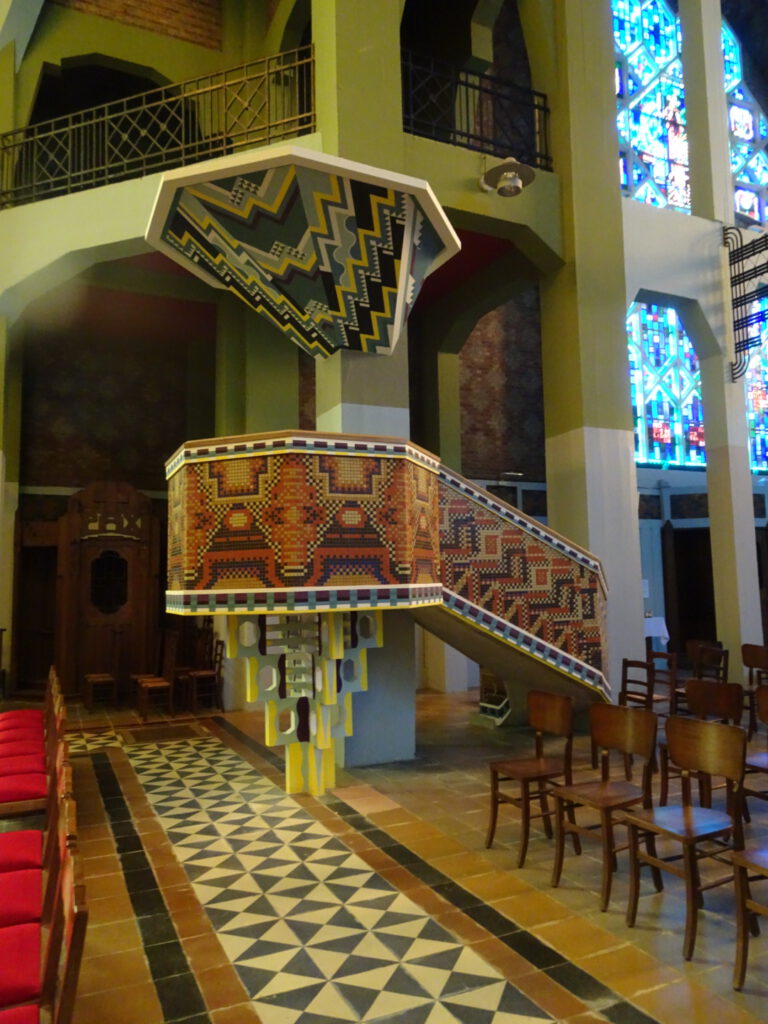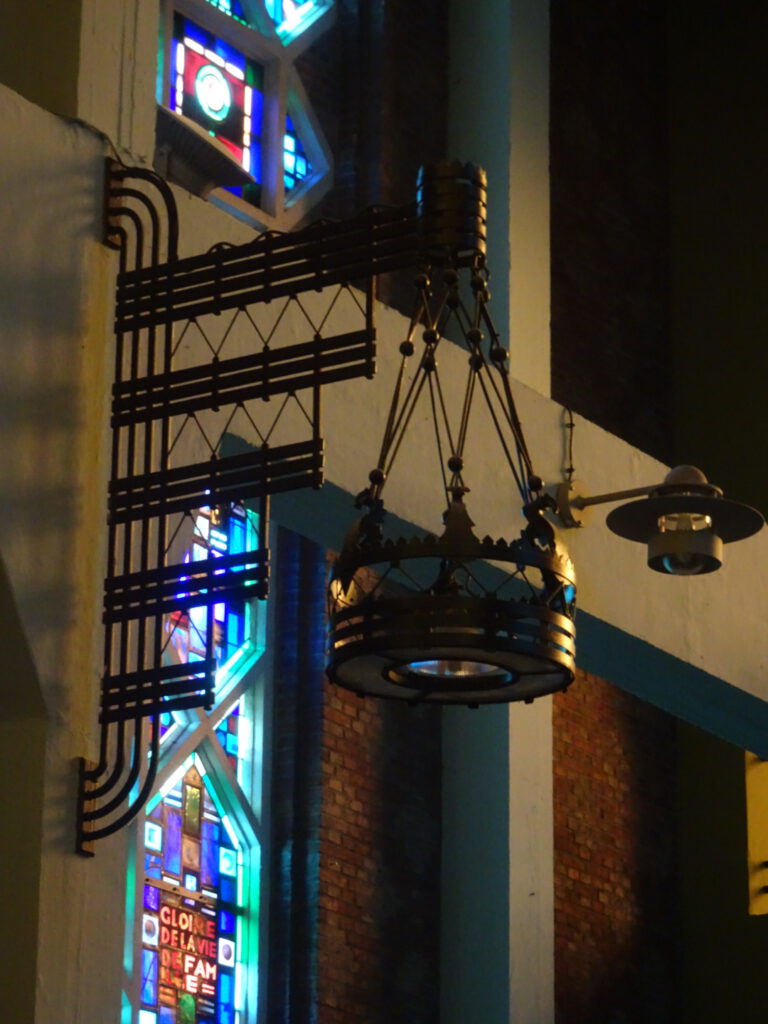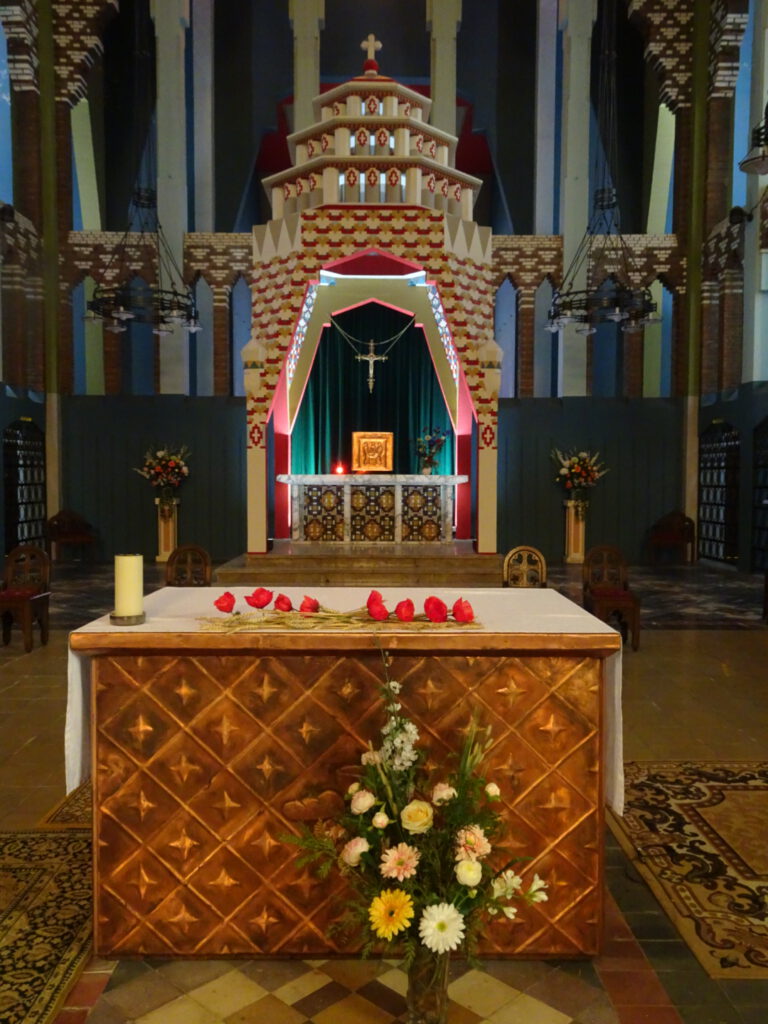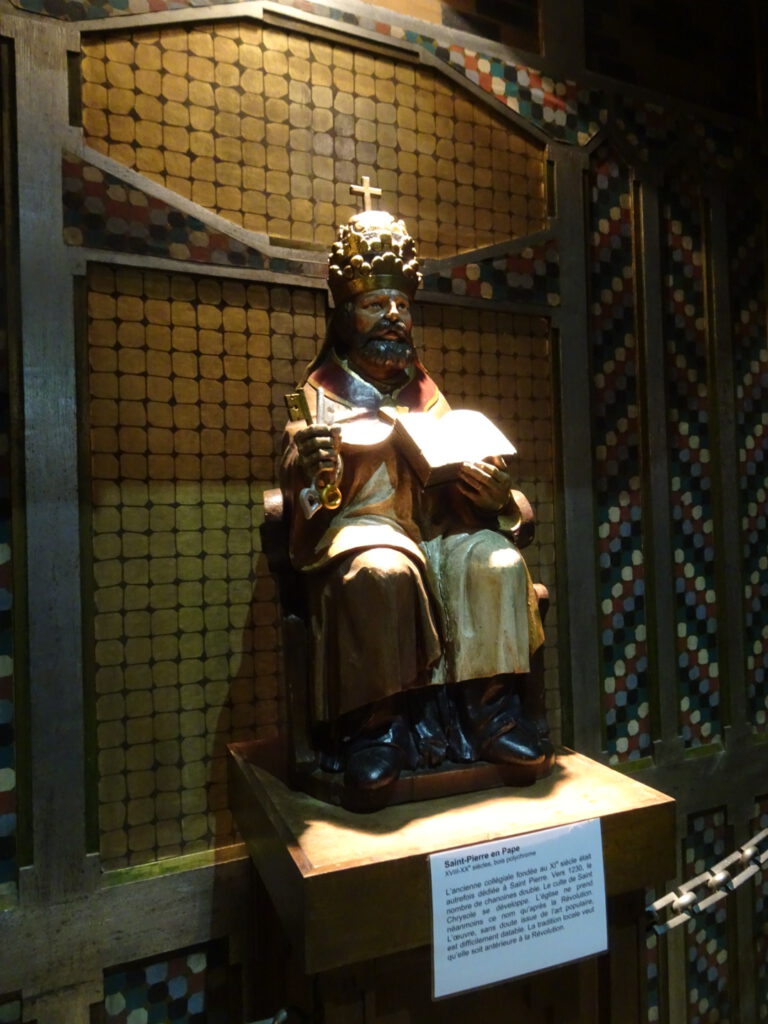 After the church we left France. We then drove to Belgium, Kortrijk. There we visited the Flax Museum.
It was great fun to see what can be made from flax. Many things were familiar to me, such as linen clothes and lace hats.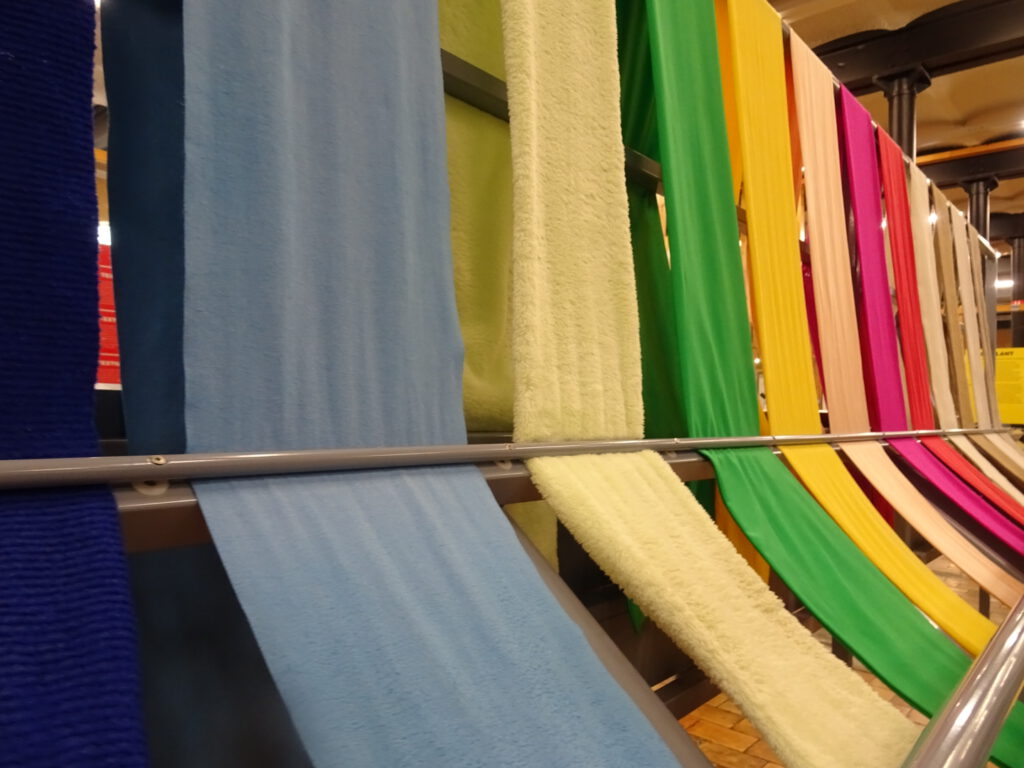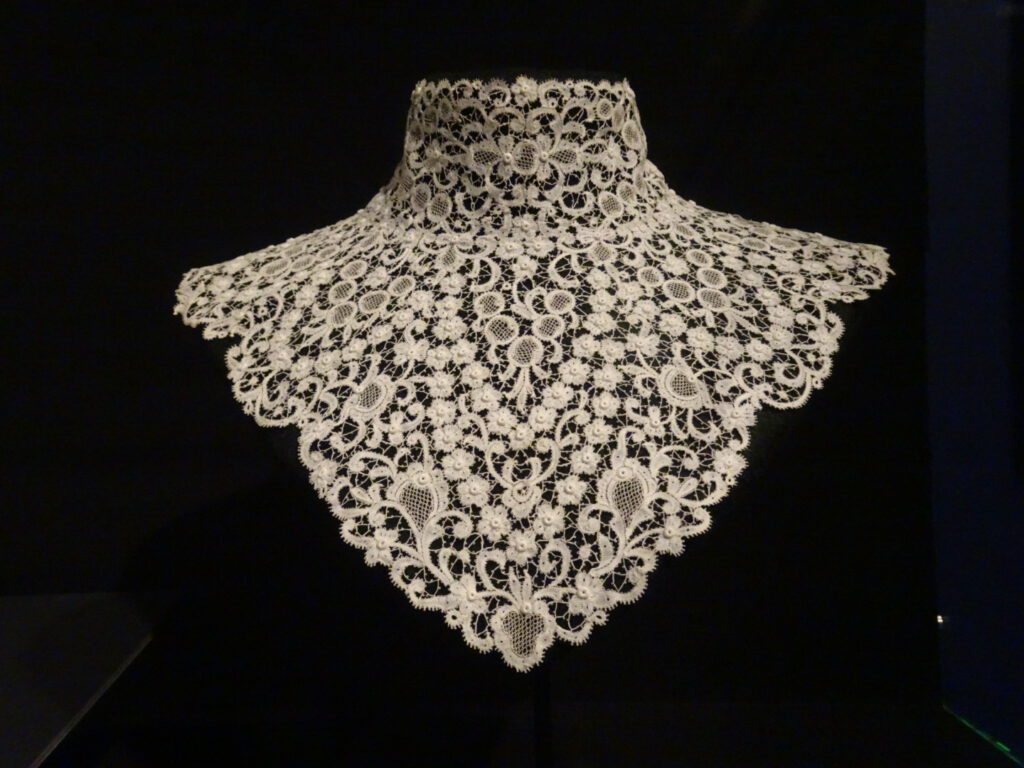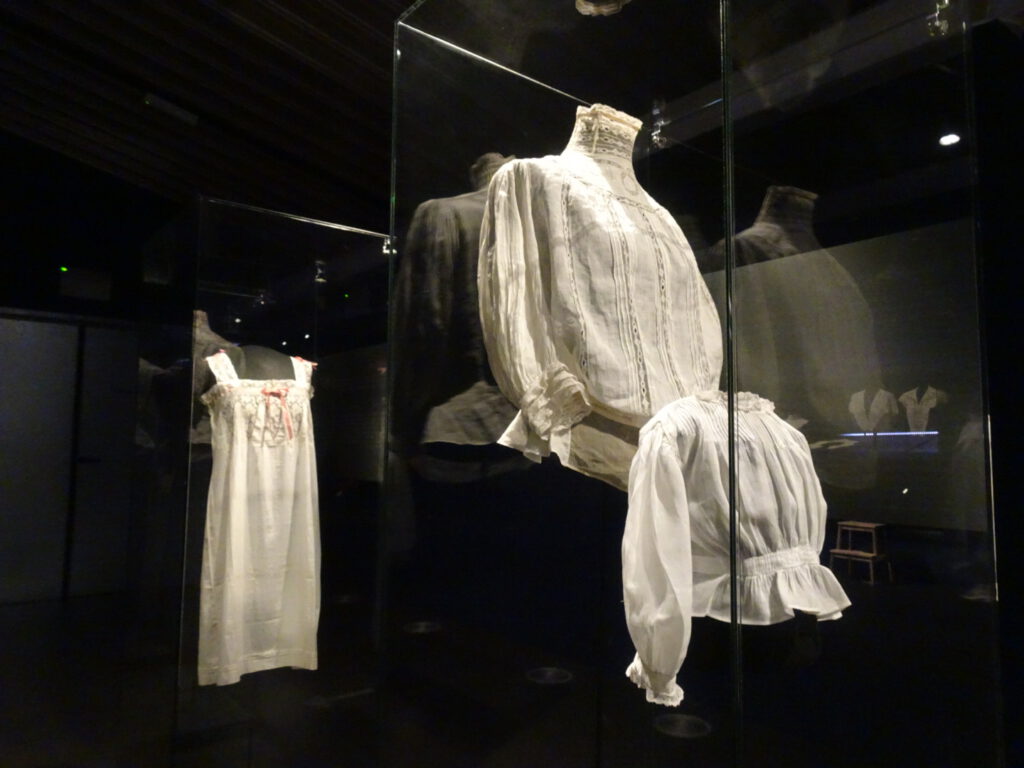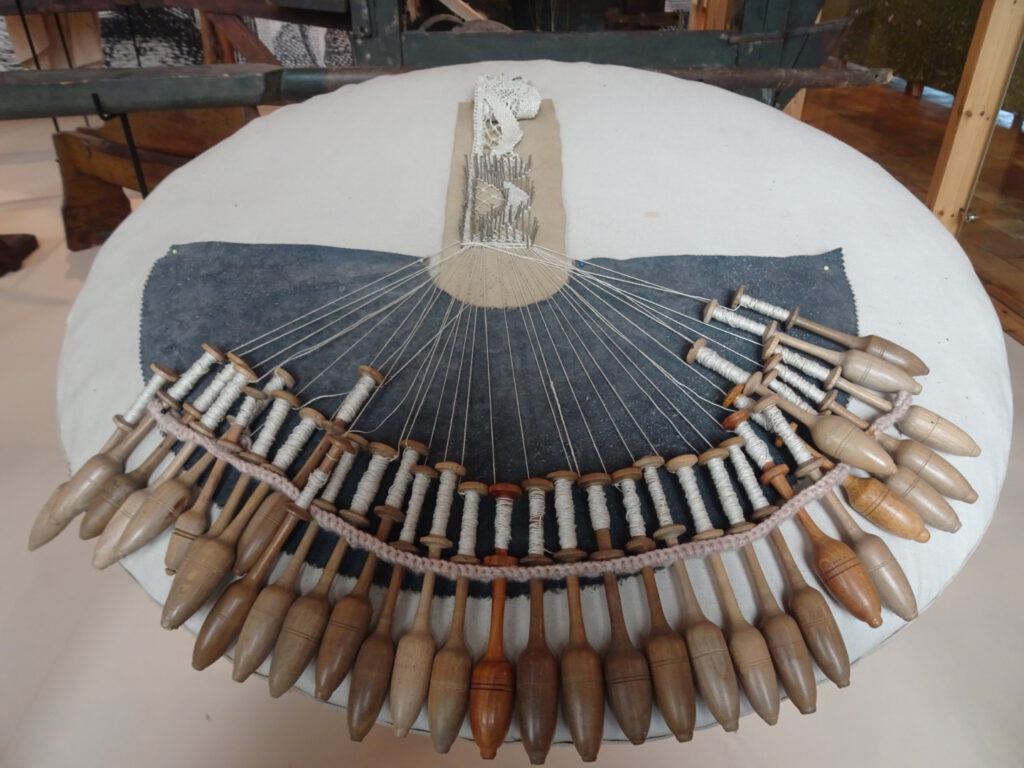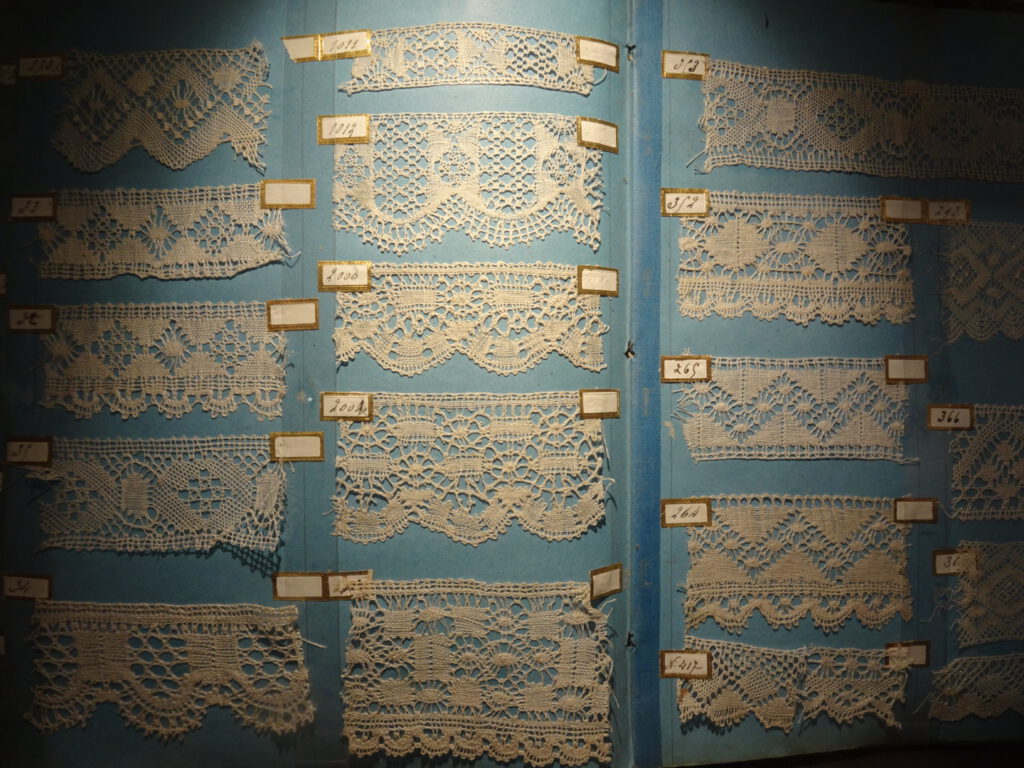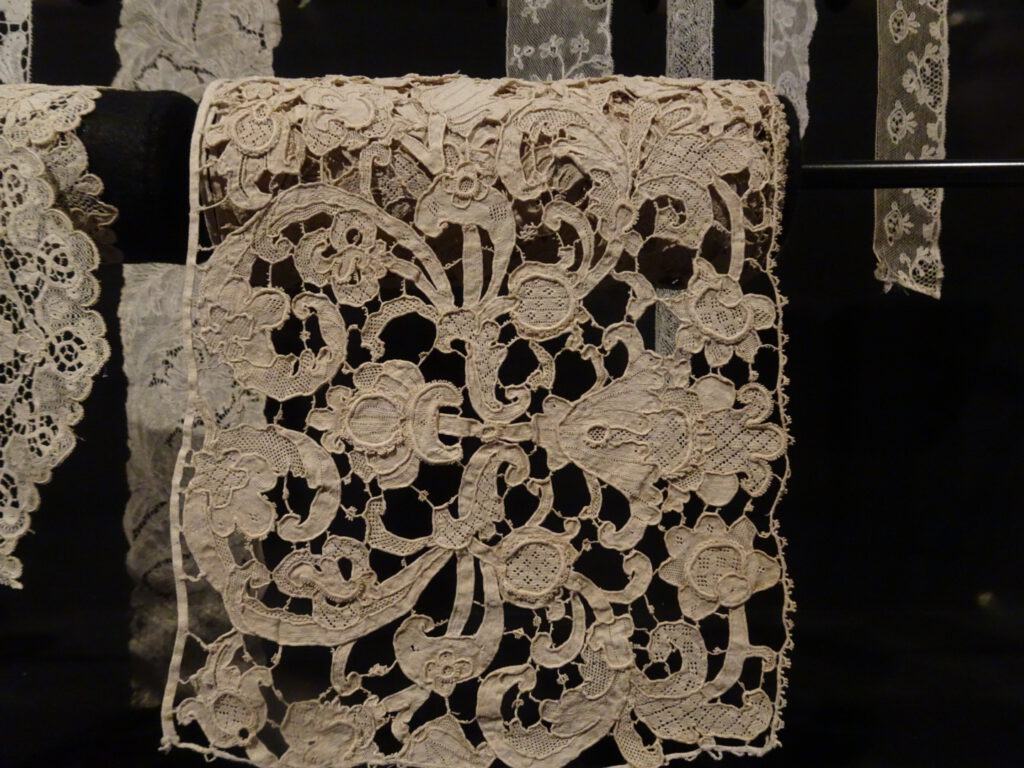 But I did not expect that people also do and make many other things with flax (a ukulele), or at least I would have thought less about it (paint, chipboard, animal feed, insulation material).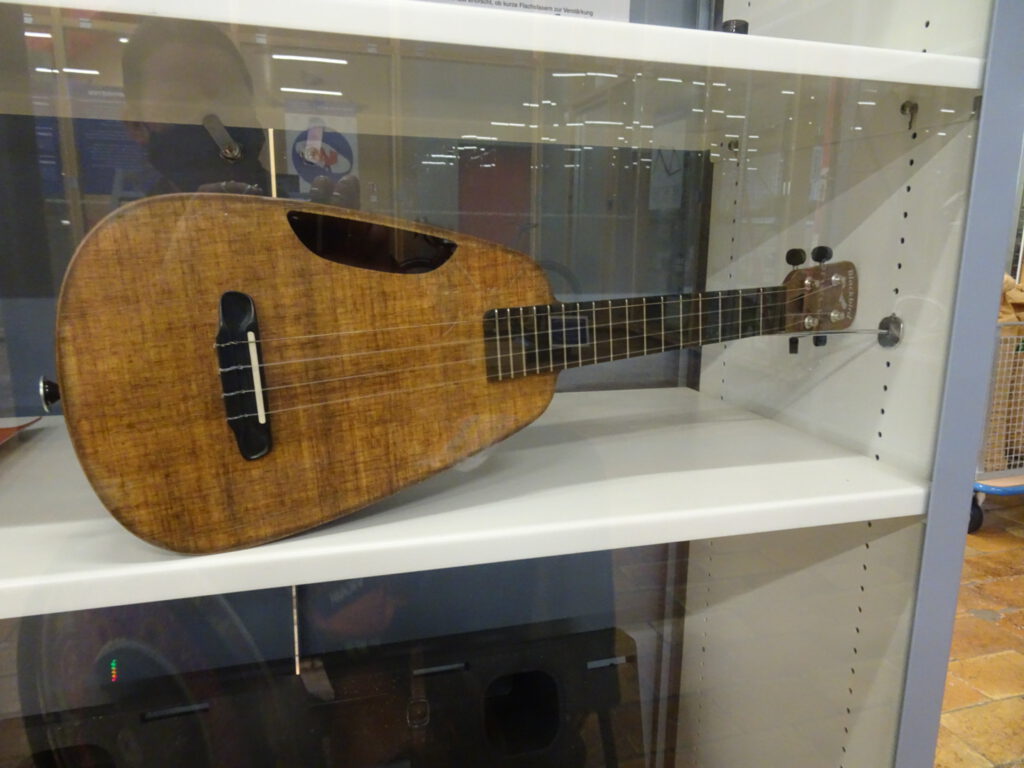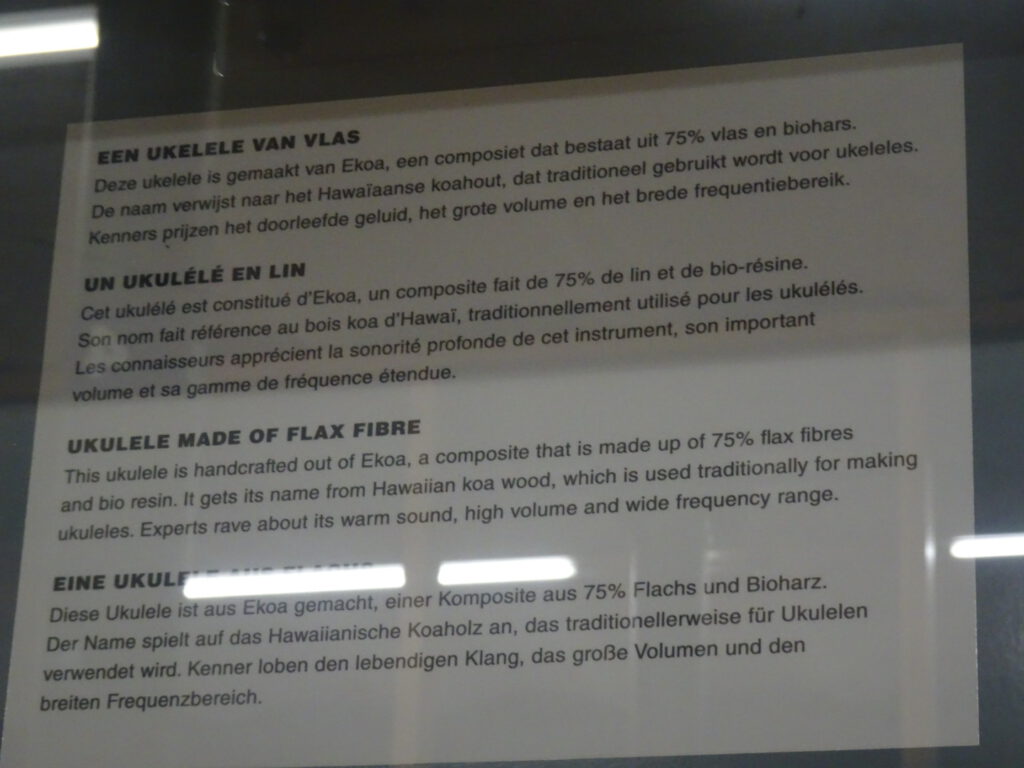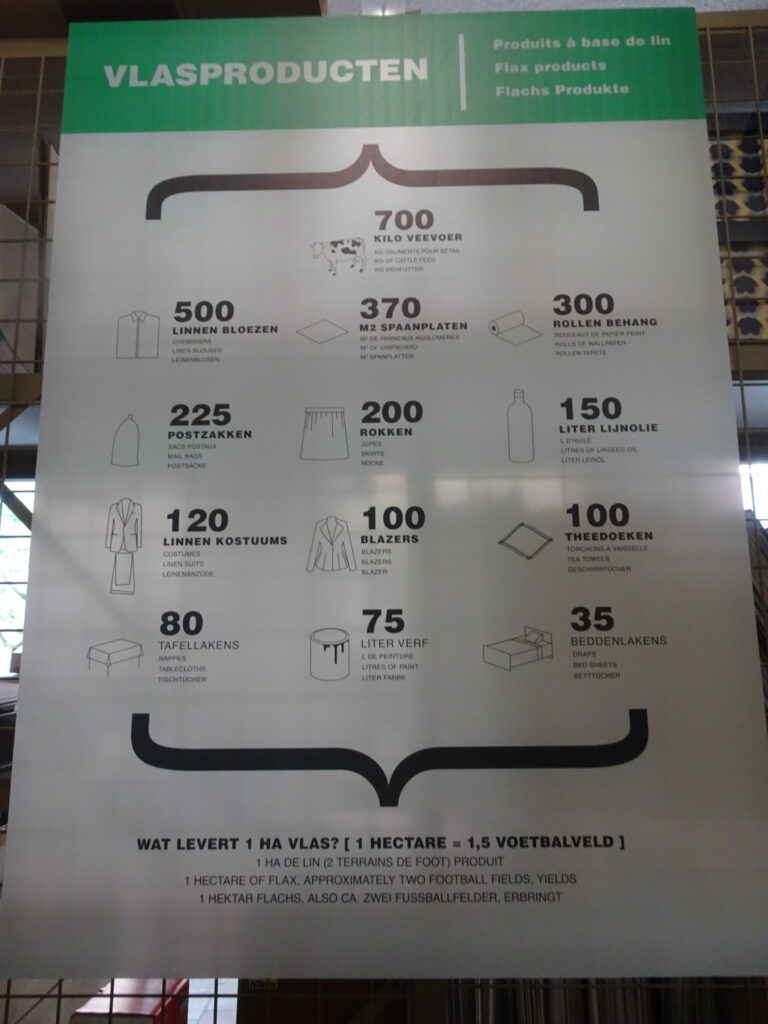 There were also all kinds of unprocessed and semi-processed flax on display in the museum. and the machines with which it was/is being processed.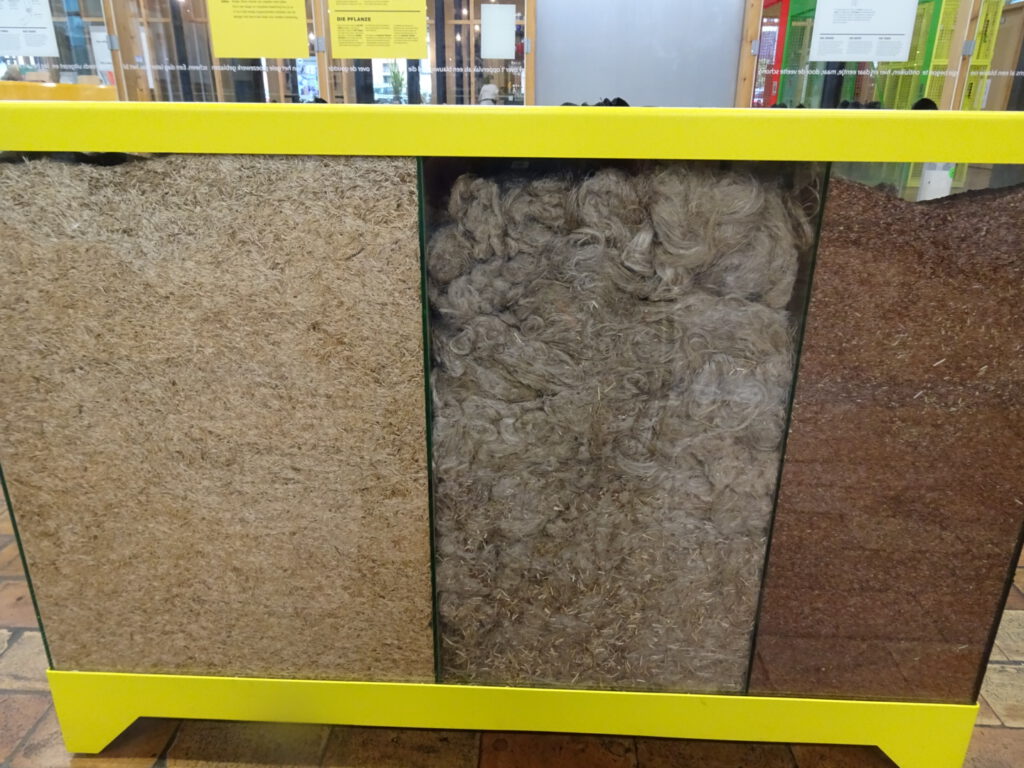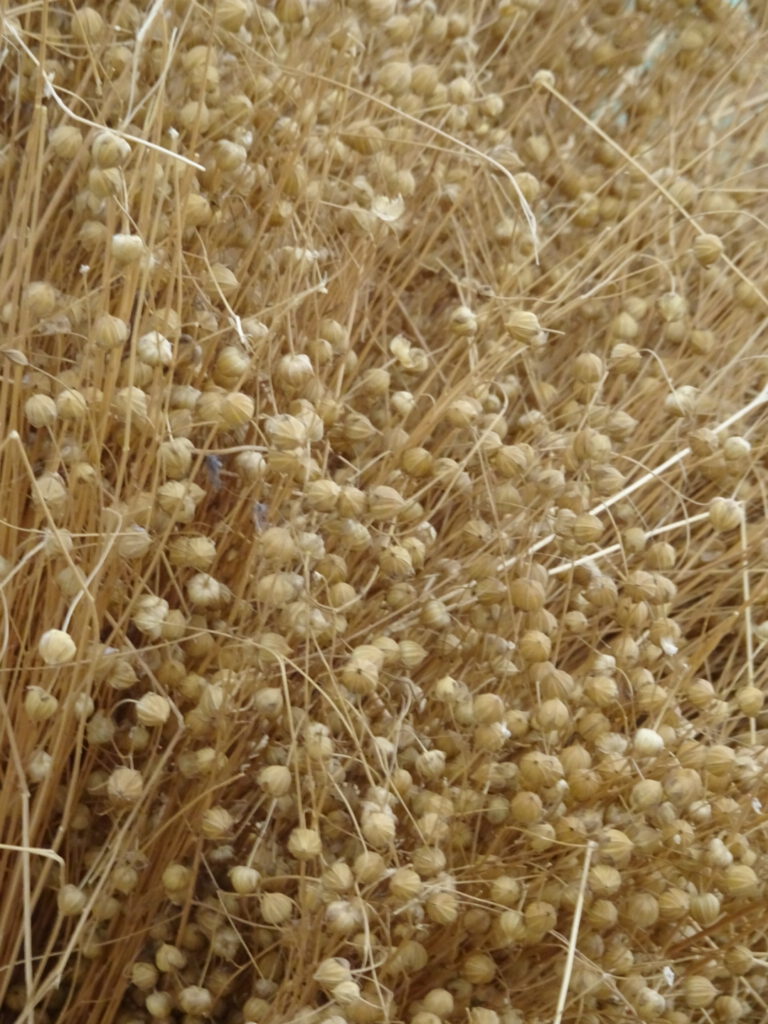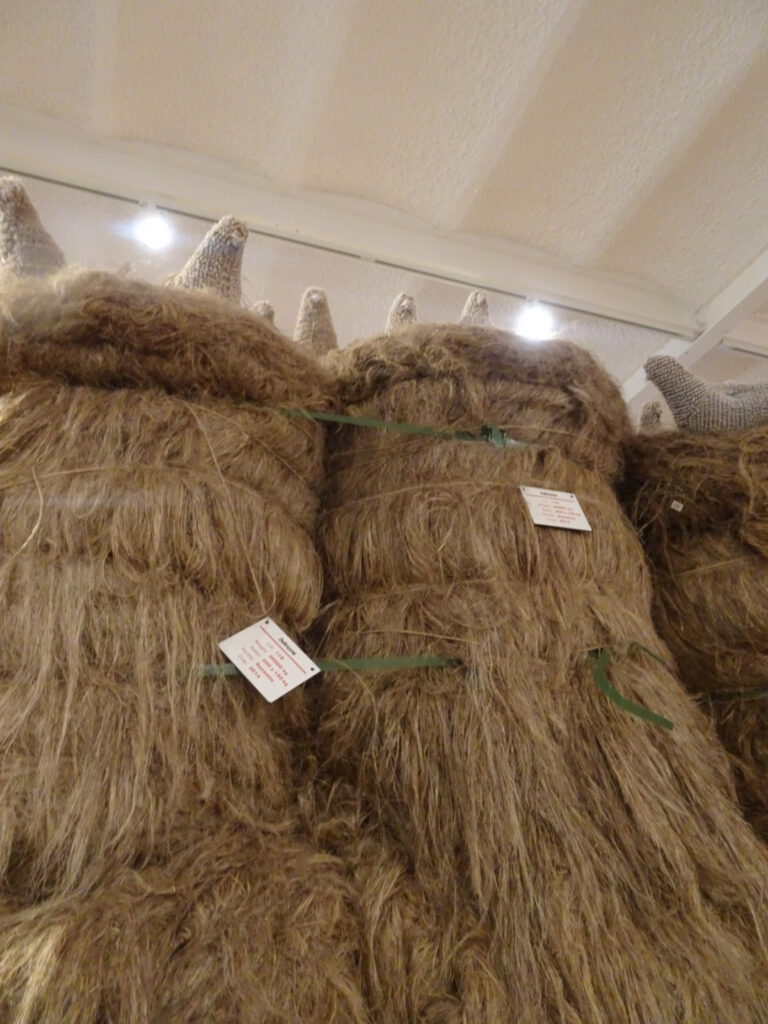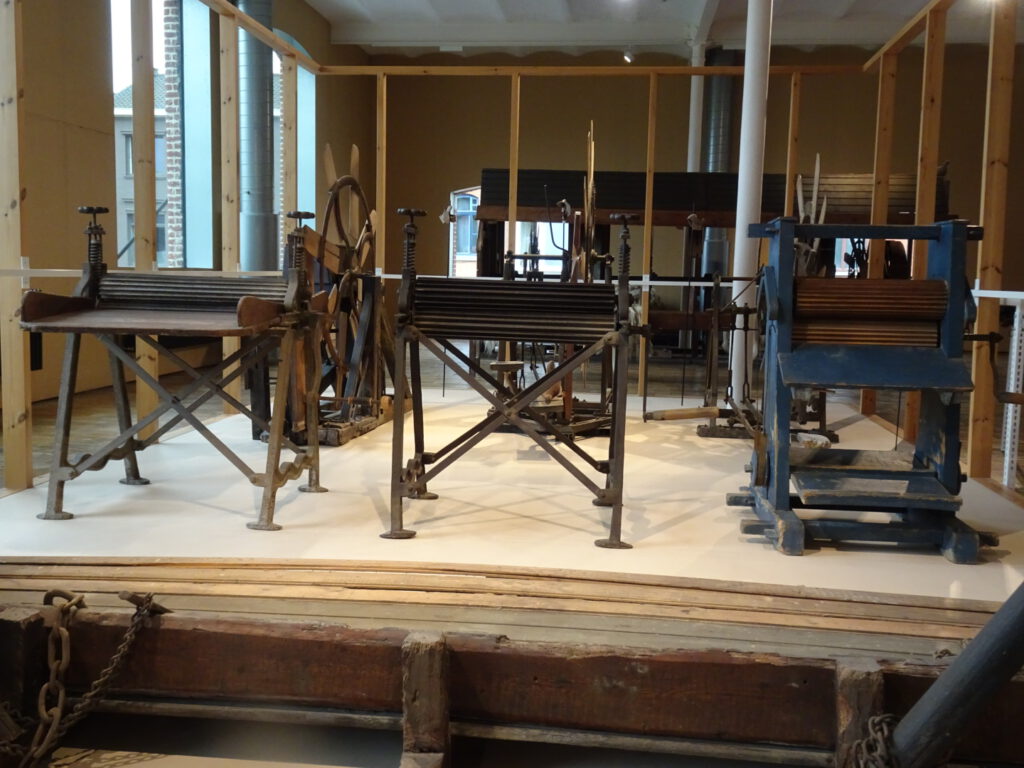 After the museum it was time to go home. was still quite a few hours away.
I was very tired and had to rest a lot on the way. It wasn't until around 9:30 pm that I arrived at my parents' house to pick up my son and I was home around 10:30 pm. Completely exhausted but satisfied from the trip. In the near future I will have to rest a lot, but that fatigue is more than worth it and I can look back on a very special pilgrimage.
In the near future I will go and find out all the numbers again and then I will write a closing blog.
Next year again.
Greetings,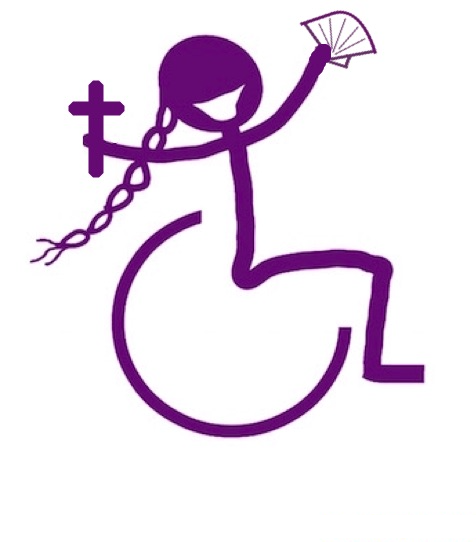 wheelchairpilgrim
---
oktober 4, 2021 door rolstoelpelgrim
As promised, here is the final blog. the end of the 2021 pilgrimage.
at the bottom of all conclusions, distances and amounts of this beautiful journey.
But first some news. Besides being in 2 French newspapers, I was also approached by Johanna Kroon. She makes podcasts about pilgrims. A few days ago she came to my house and we had a conversation/interview that was recorded. She has also made a pilgrimage herself, so it was also a nice conversation outside the recordings.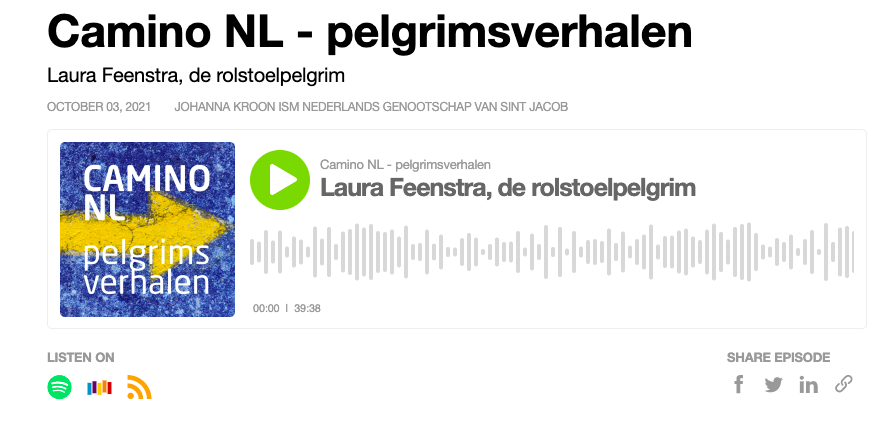 You can now listen to my story in Camino NL, on Spotify and via Apple podcasts.
and you will find it here https://camino.buzzsprout.com/1203329/9302621-laura-feenstra-de-rolstoelpelgrim


I was also emailed by a teacher from my primary school. He had heard about my pilgrimage through my parents and wanted to place 1 of my blogs, the one I had written last year about Taizé  in the church bulletin.
You can read the article under "wheelchair pilgrim in other media" By the way, there are also all previous interviews / newspaper articles that have been made about me.
The numbers
And now all the figures from this trip.
Below you will find my journey with the stages and the distances:
To France (car)
17 august, 1th day  Alphen – Revin 330km
18 august, 2th day Revin – Vitteaux 316km
19 august 3th day Vitteaux – Taizé 123km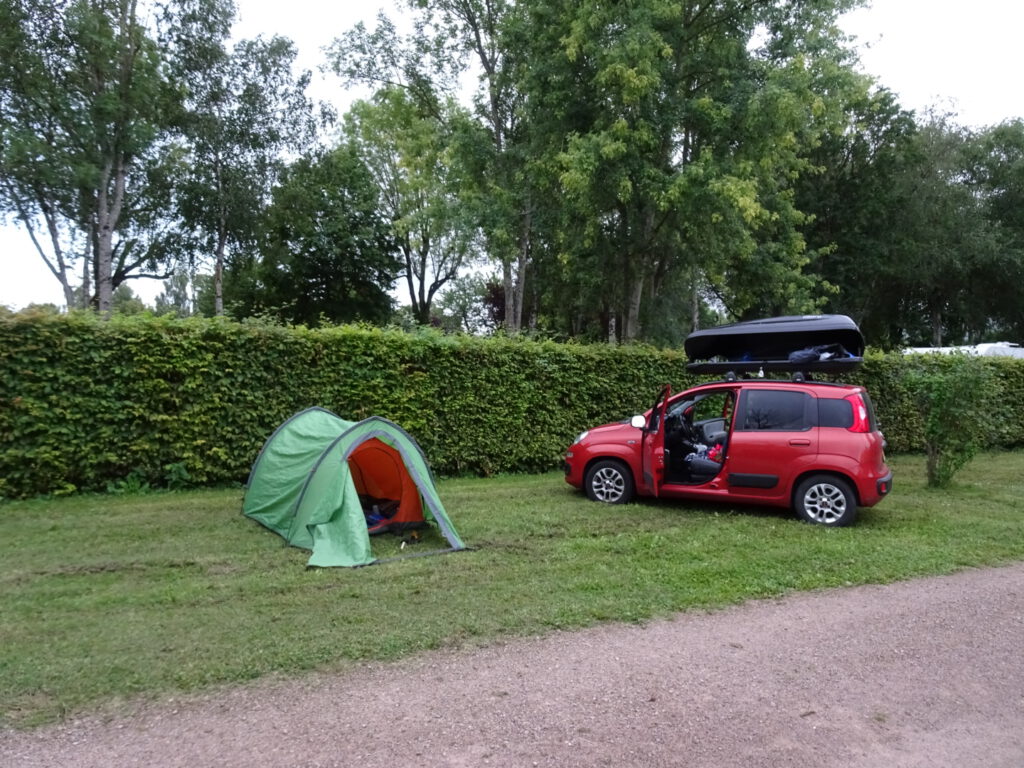 pelgrimage
20 august 1  Taizé – Cluny 11,43 km
21 august 2 Cluny – Saint Jacques des arrets 28 km
22 august 3 Saint Jacques des arrêts – col du crie 10.04 km
23 august 4 Col du crie – propieres 18,14 km
24 august 5 Propieres – Charlieu camping municipal 24,3 km
25 august 6 Charlieu – Roanne/Mably 23,24km
26 august 7 Mably – Saint Jodard 27,99km
27 august 8 Saint Jodard – Pommiers 16,10km
28 august 9 Pommiers – Boen 16,14km
29 august 10 Boen – Montbrisson 29,89km
30 august 11 Montbrisson – Margarie chantagret 10,72km
31  august 12 Margarie chantagret – Marols/la citre   12,04 km
1 September 13 la citre – Estivareilles 11,49
2 September 14 Estivareilles  retournac 33,47km
3 September 15 retournac – Vorey sur arzon 15,23km  
4 September 16 vorey sur arzon – Lavoute-sur-Loire 15,83km
5 September 17 Lavoute-sur-Loire – le puy 23,50km
6 September day le puy 15,46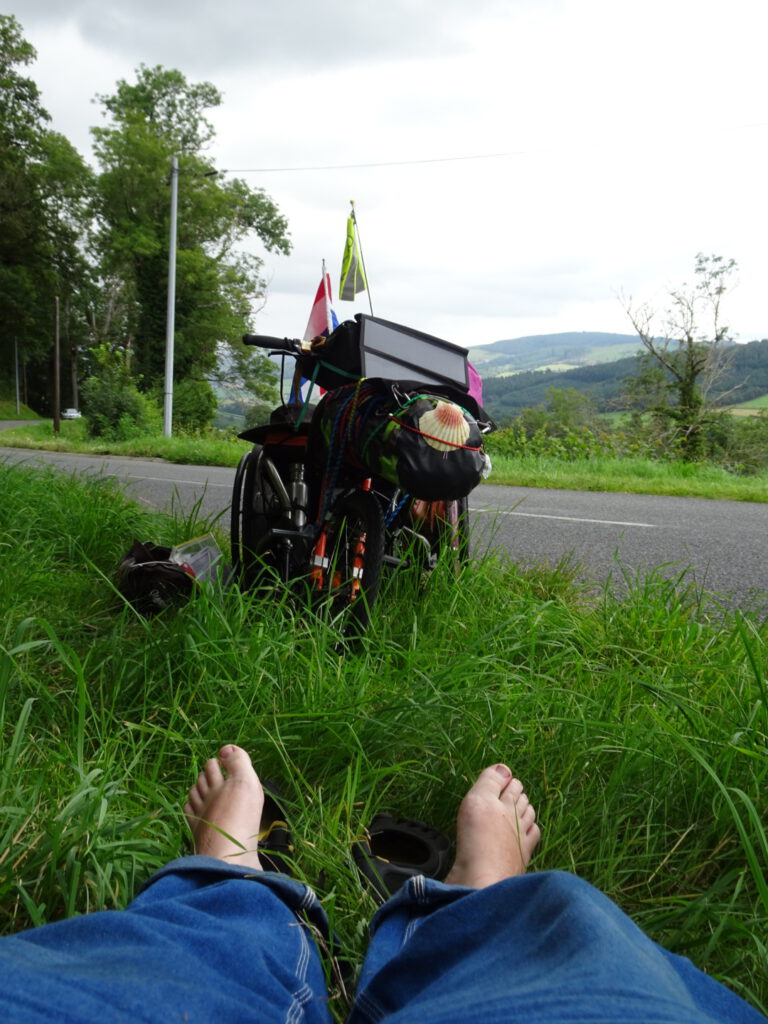 Tuesday 7 September. train le puy, saint etienne lyon mâcon. Car to taize. 4,70km rolled in Le-Puy-en-Velay, camping to station.
7 until 12 september Taize (not really rolling, only from church to barrack and to food.)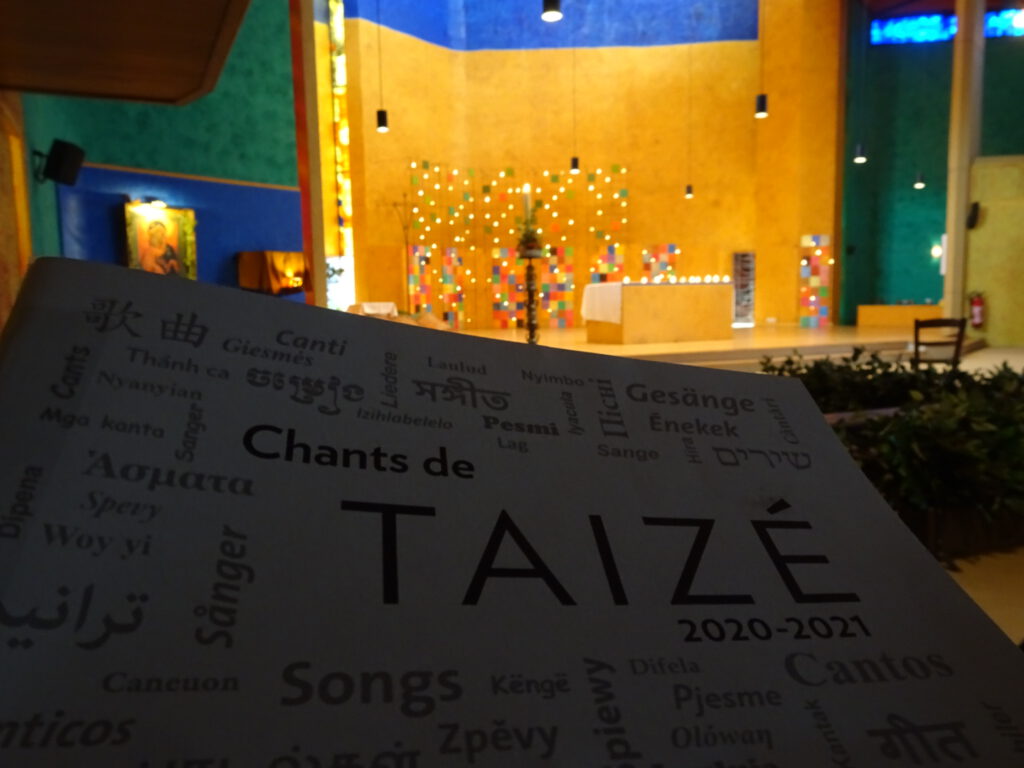 Way back:
12 september taize Paray-le Monial 51km
13 september Paray-le-Monial naar Villiers aux choux 271km
14 september Villiers naar les hirondelles 239km
15 september Les hirondelles – home. 240km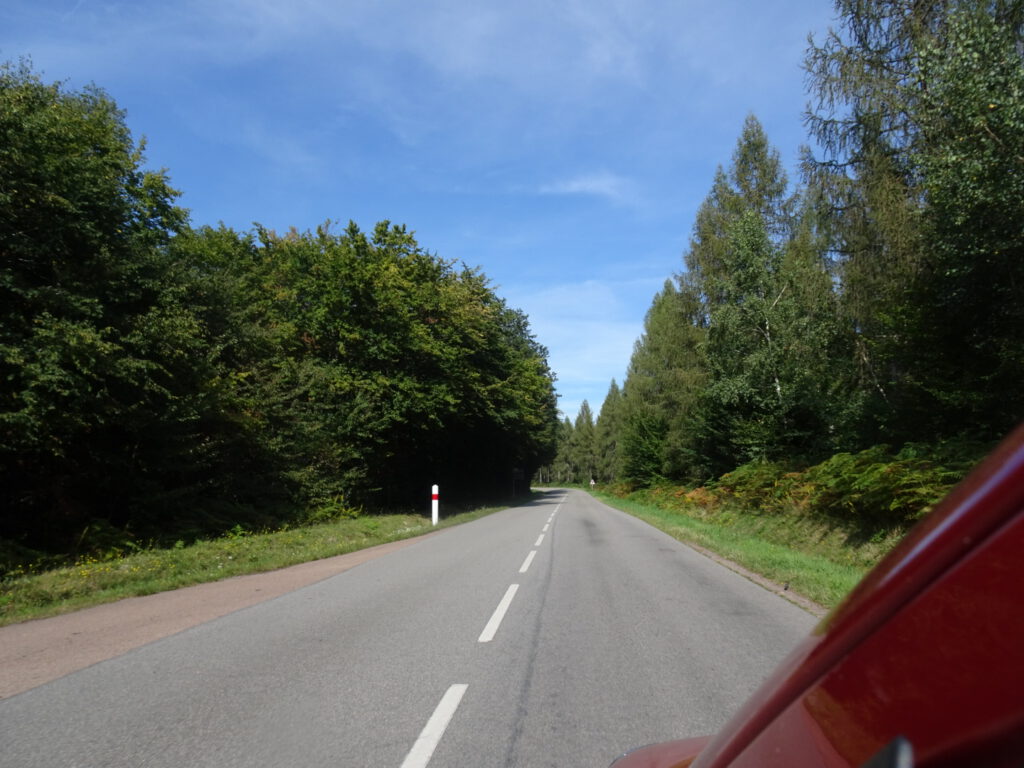 Total kilometers pelgrimage: 327,55km.
average a dag: 19,27km
and the shortest daily stages were the toughest. anyway this was a physically tougher journey than previous years, more steep mountains. but despite it being heavy it was also very beautiful.
Total number of car kilometers: outward 769 + return 801 = 1570km
cost overnight stay
20 augustus, day 1  Cluny camping municipal €8,80
21 augustus, day 2 Saint Jacques des arrets, camping municipal € 6,22
22 augustus, day 3 col du crie (stayed at a goat farmer) free gift €10
23 augustus, day 4 propieres camping municipal €6,22
24 augustus, day 5 Charlieu camping municipal €11,80
25 augustus, day 6 Roanne/Mably invited to people's homes, priceless
26 augustus, day 7 Saint Jodard Brothers of St. John, priceless
27 augustus, day 8 Pommiers camping de l'aix €13,30
28 augustus, day 9 Boen camping de L'orangerie domaine de giraud €10,65
29 augustus, day 10 Montbrisson, at people's homes, in front of sisters, priceless
30 augustus, day 11 Margarie chantagret at people's homes free gift €10
31 augustus, day 12 la citre, bij mensen thuis, onbetaalbaar
1 september, day 13 Estivareilles camping 5,20
2 september, day 14 Retournac camping municipal, no payment option
3 september, day 15 Vorey sur arzon €12  
4 september, day 16 Lavoute-sur-Loire camping les ombrelles €13,50
5 september, day 17 camping le puy €8
6 september, day 18 camping le puy €8
Total costs for overnight stays €123,69
average €6,87 for sleeping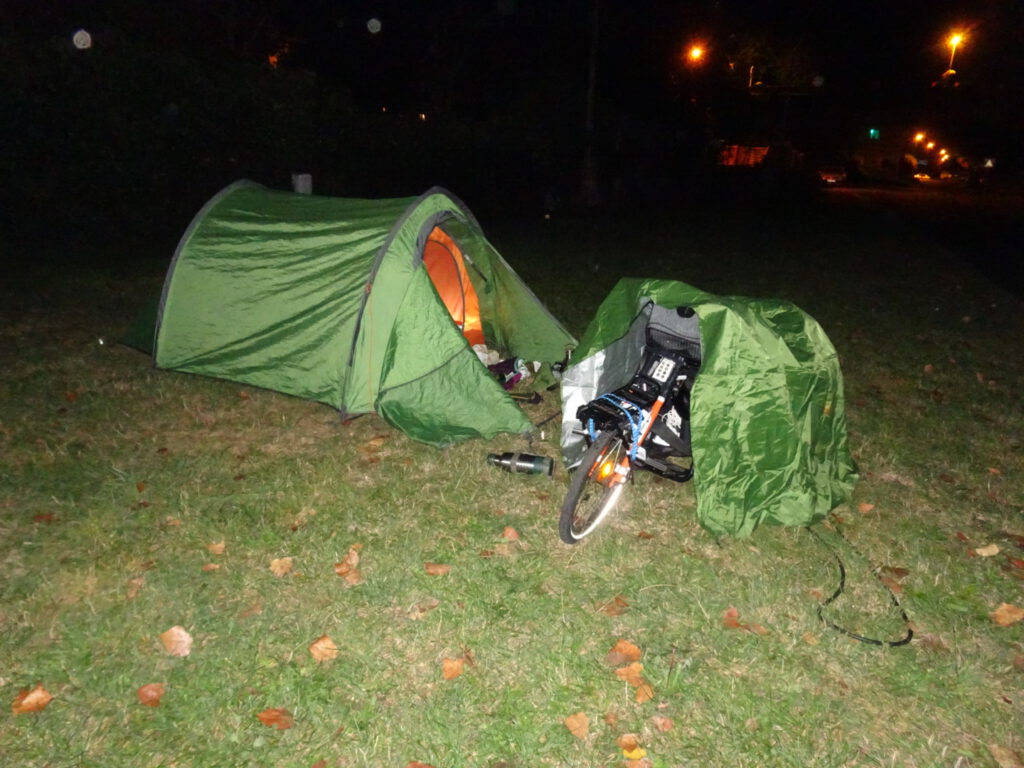 Groceries
Total: €50.03 spent in supermarkets and bakeries.
Average per day €2.77
I also brought a few things from home, including whole-wheat couscous and dried fruit.
Along the way I got a lot of food, for example people where I was staying who gave me a big lunch. Sometimes I could eat it for 2 days (I don't eat that much)! And when I slept with people I got delicious 3 to 4 course dinners, they themselves often thought it was simple food, but for me it was a very luxurious meal. and then the following days I could eat simple again at the campsite, old baguette with cheese or a bowl of couscous with dried fruit. And along the way I often found tasty fruit, especially the blackberries looked very good this year, I picked / ate kilos of this during my pilgrimage!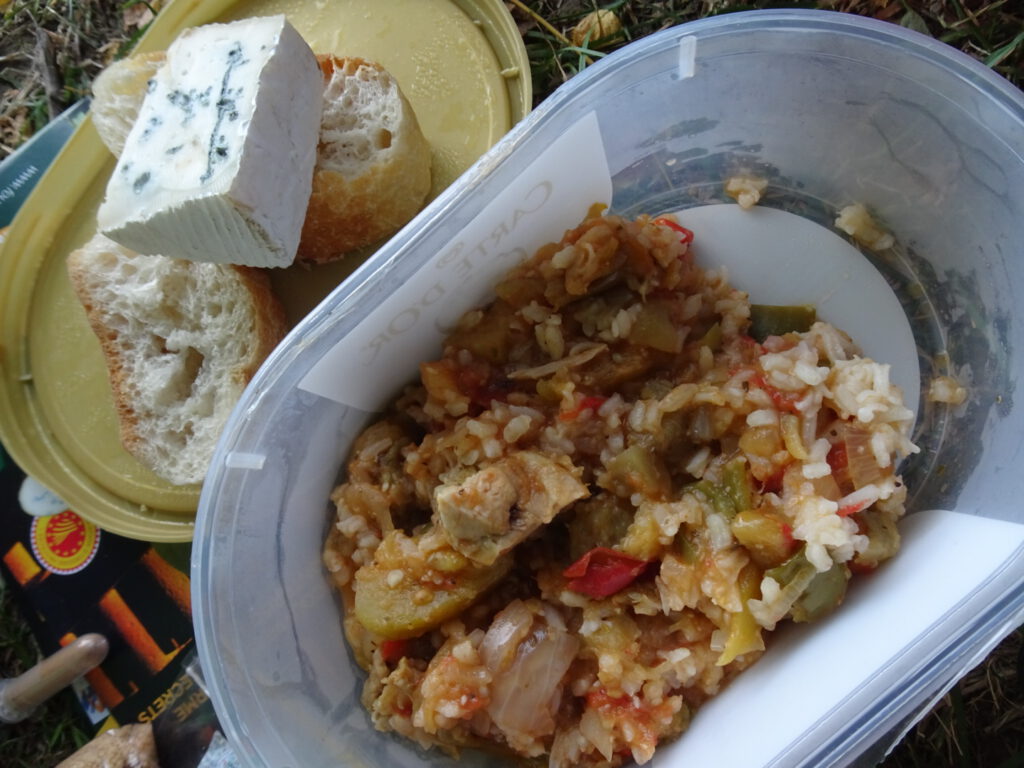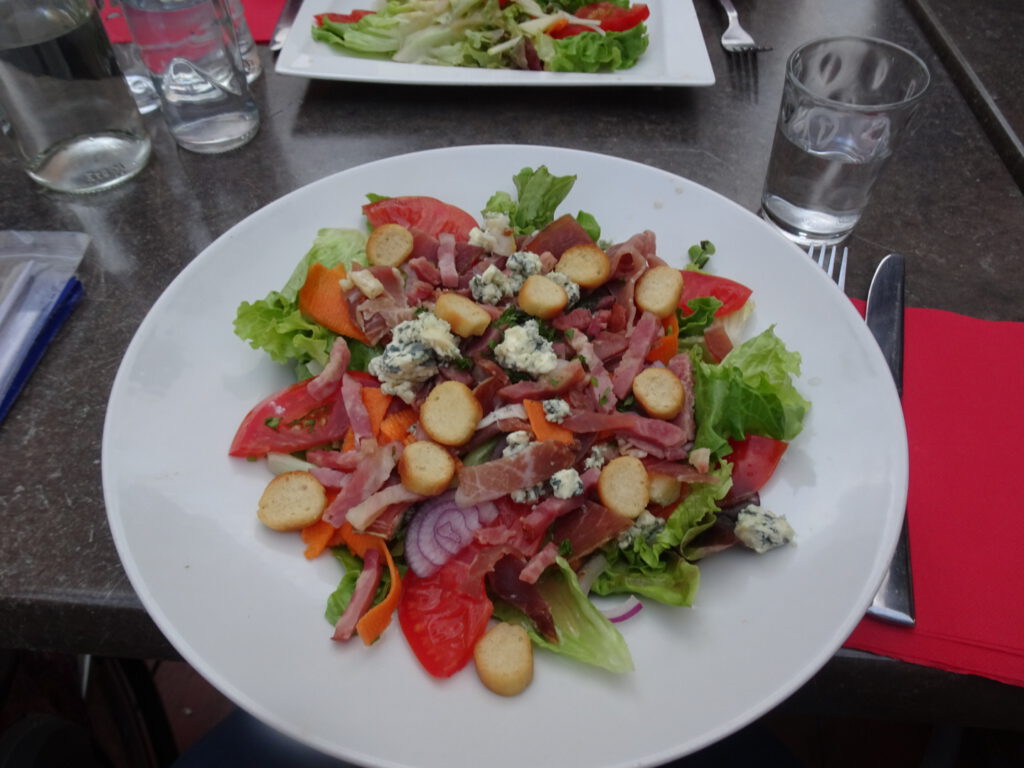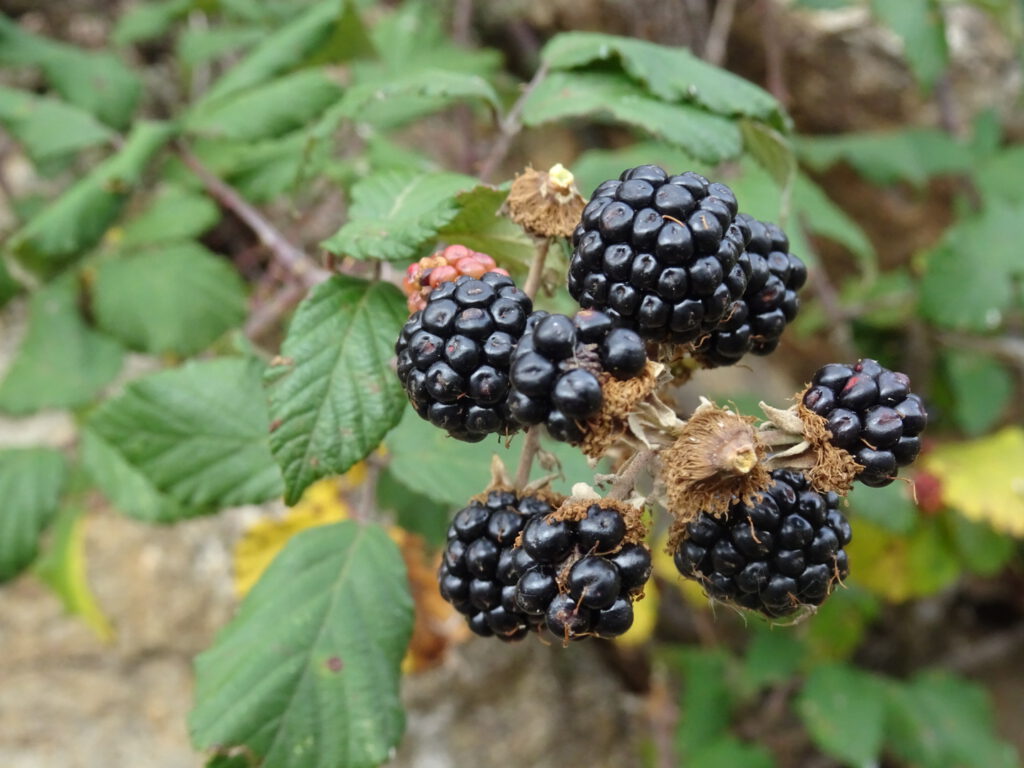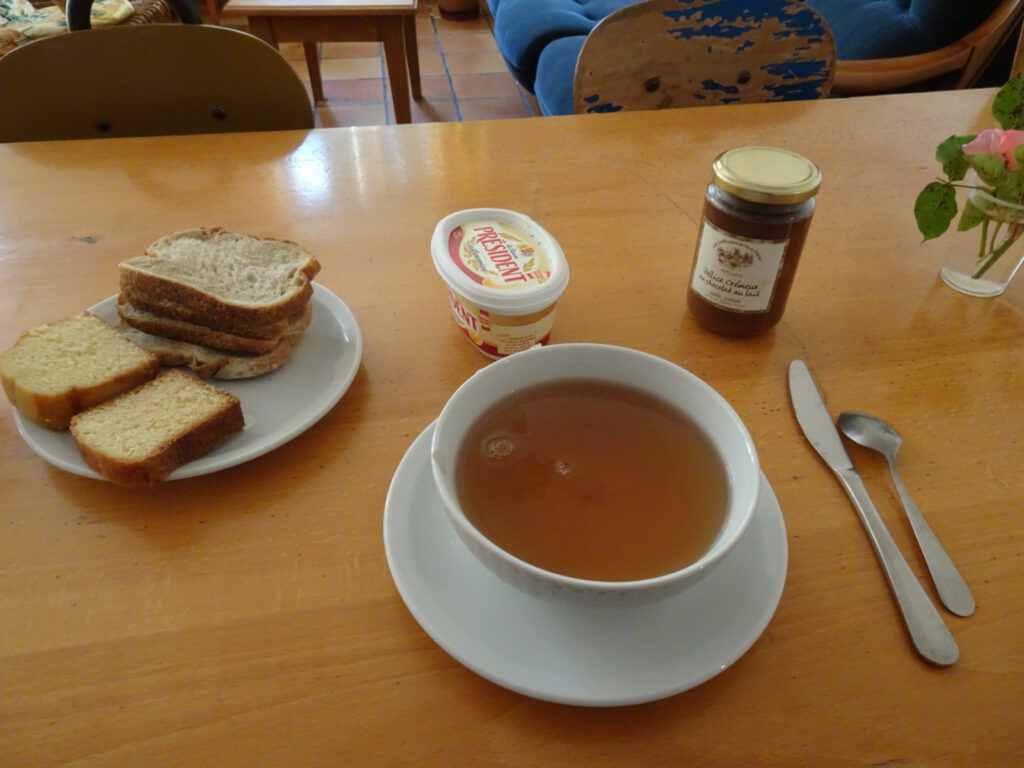 Total costs pelgrimage:
€123.69 overnight stay
€50.03 for food
€173.72 Total
Average costs (during pilgrimage) €8.90
Cost of the way there and back
sleeping:
17 august 1st day  Revin camping municipal €8,24
18 august 2th day Vitteaux camping municipal €7,33
19 august 3th day 1 nacht Taizé €20
7 until 12 september Taize  90 euro
12 september taize Paray-le Monial 51km stayed at friends, priceless
13 september Paray-le-Monial naar Villiers aux choux (camping) no payment option
14 september Villiers naar Les Hirondelles (vlak bij lille) gift from sister
15 september Les Hirondelles to home.

Total costs of overnight stays there/return and Taizé:
to and from taize €35 +Taizé €90 = €125
travel cost:
di 7 sept. train le puy, saint etienne lyon mâcon. about 35 euros, can't find my ticket for the exact price.
Consumption 5.1 liters per 100km, is about 80 liters of petrol. On average I paid 1.50 for petrol (fueled in France and Belgium). The costs were then 120 euros in petrol.
Food consisted of what I had brought from home. and on the way back what was left of the trip. its costs are therefore difficult to determine.
Costs outward/return:
€35 sleep +€35 train + €120 petrol = €190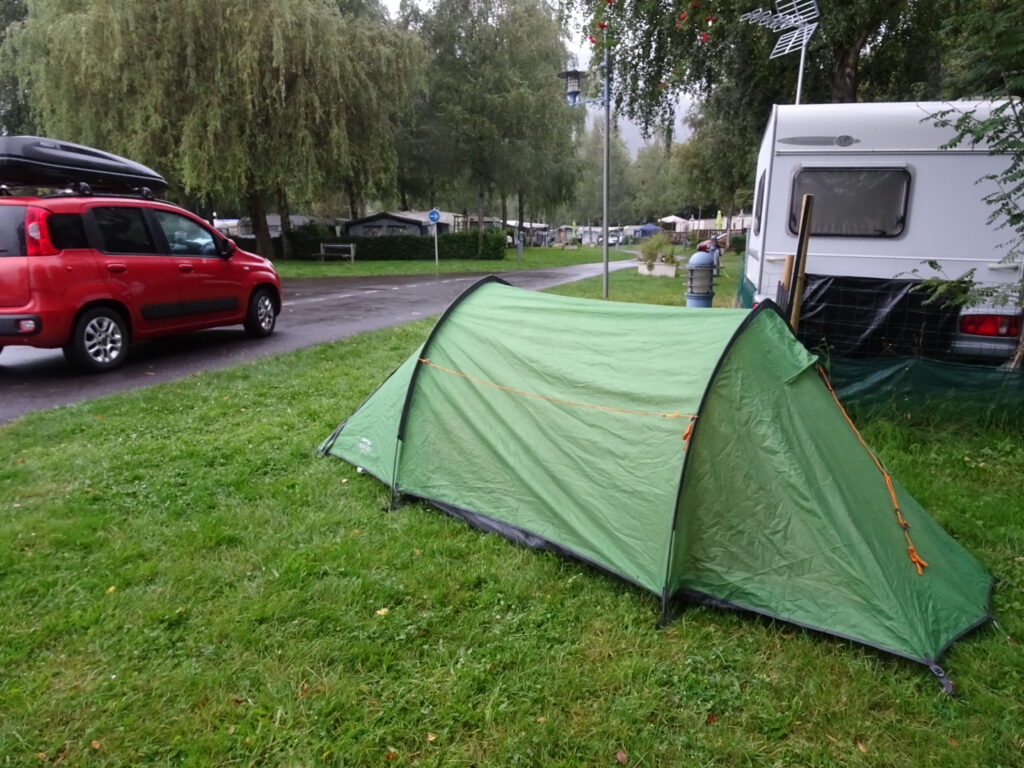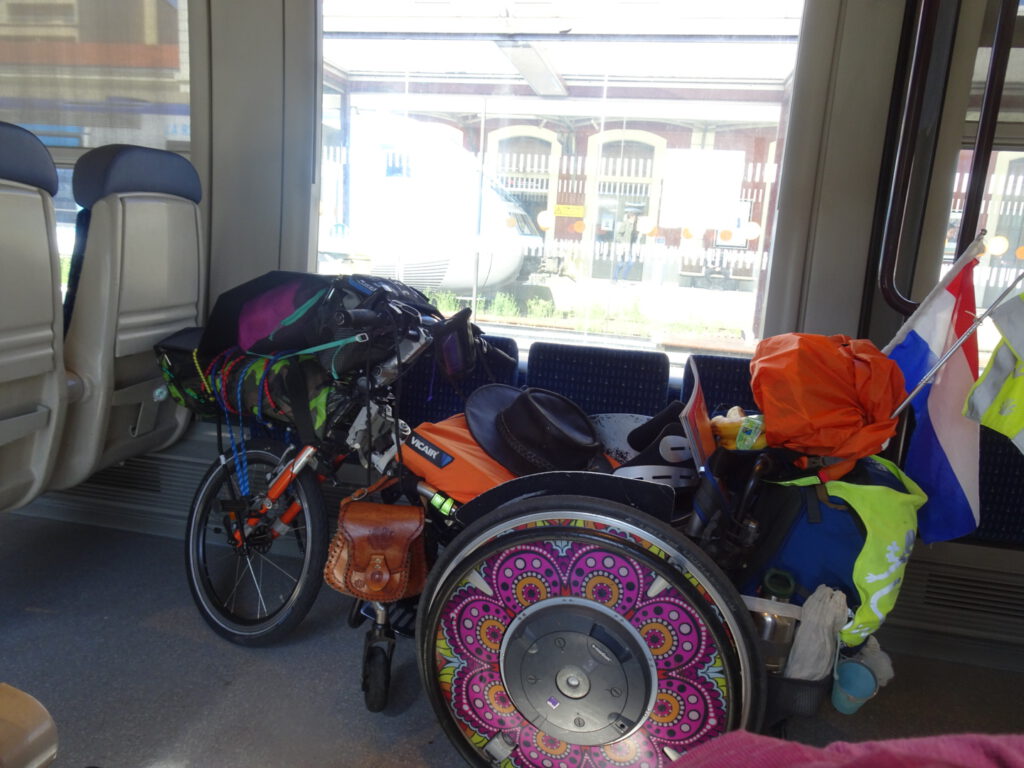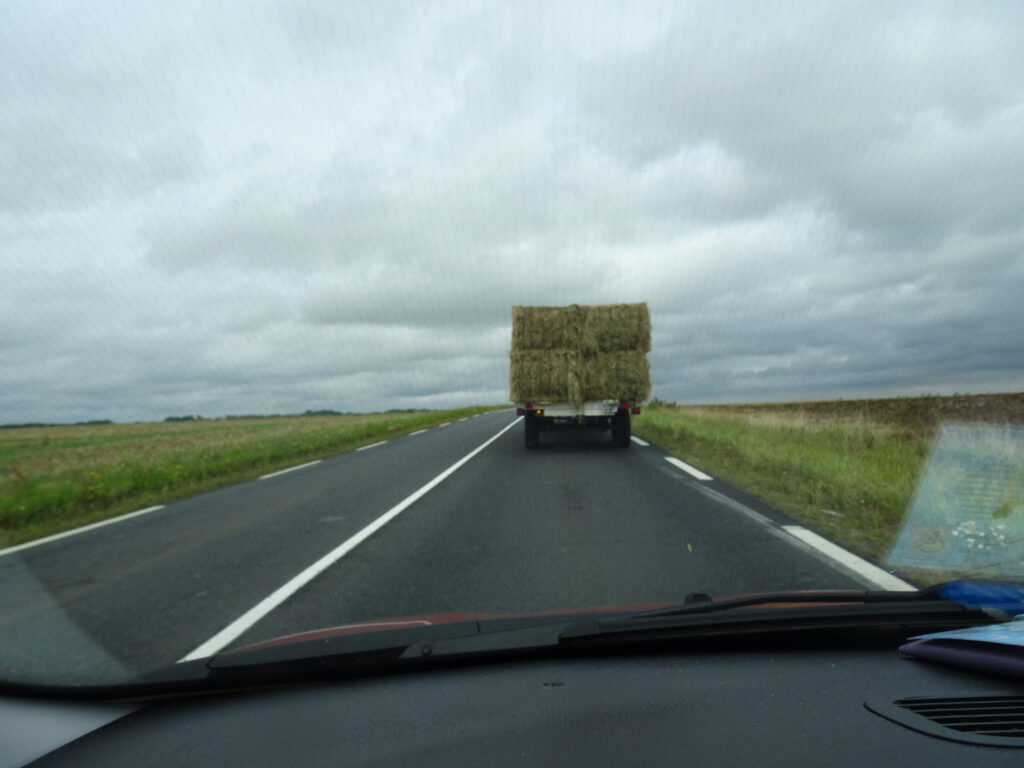 Total costs of the entire trip
pilgrimage €173,72
Taizé €90 euros
round trip €190
Total €453.72 for 30 days.
on average 15.12 per day
During the pilgrimage I paid a price of 8.90 per day (average) but due to the outward journey (average 23.75 per day) and Taizé (18 per day) that has risen considerably to more than 15 euros per day on average.
Suppose I had gone with flixbus (which is not ideal with corona, and the locations were also difficult to reach via flixbus) I would have only spent 40-60 euros on the journey instead of 190 euros. But on the other hand, I had had 1 heavy travel day in a bus and now the days traveling there and back felt like a kind of mini vacation. So in the end I'm glad I chose this one.
The End
This was the end of this pilgrimage.
It has been a very beautiful journey.
many high points. Which coincidentally also often were literal highlights.
1 highlight was that I almost got stranded on a mountain, I was around 1100 meters and my battery was almost empty. I certainly wouldn't make it to the campsite. but when the battery was almost empty I came to a small hamlet where I met people and where I could stay. a beautiful evening. day 12
Another highlight was the climb to the cathedral in Le-Puy-en-Velay. Extremely heavy but I'm very glad I did it (despite my knee still having a bit of trouble now, but it will recover with time). the encouragement during that climb was heartwarming. thanks! day 17
I can name many other beautiful encounters, and moments when I enjoyed peace and quiet, but then the blog becomes too long. Please read my old posts again.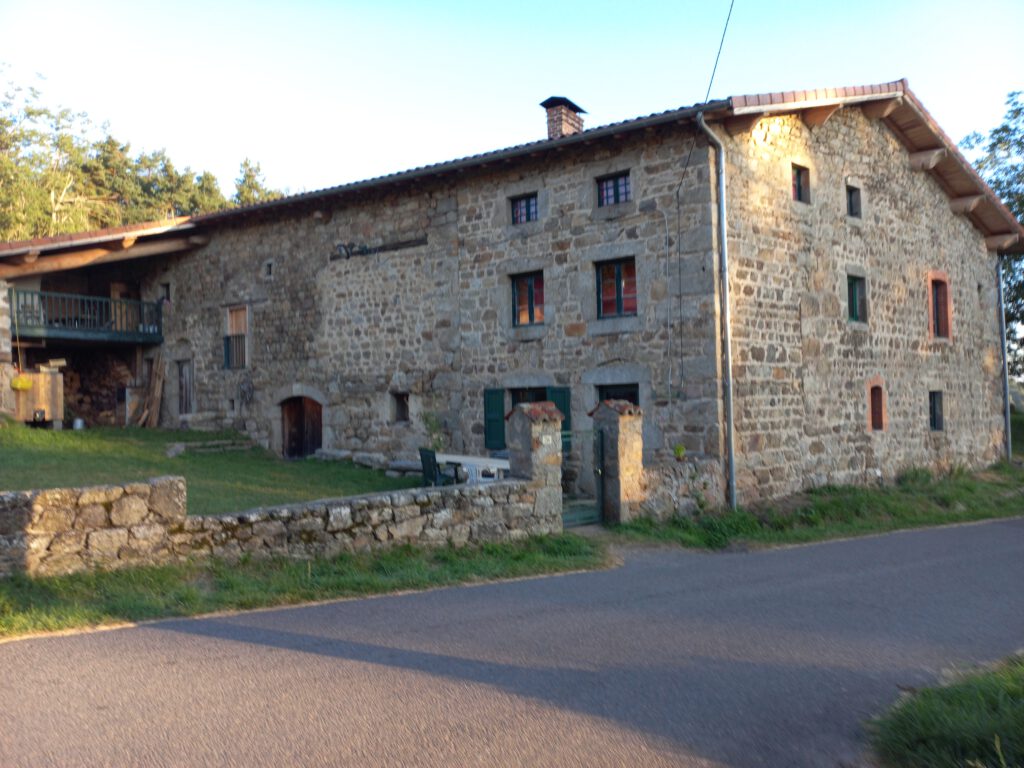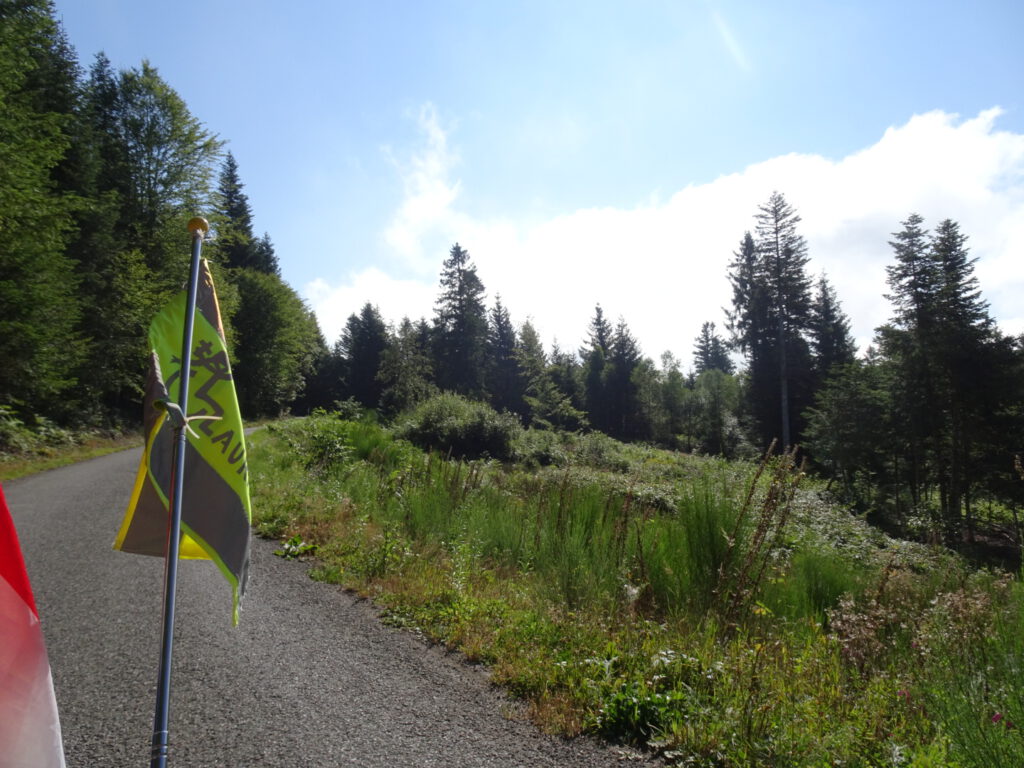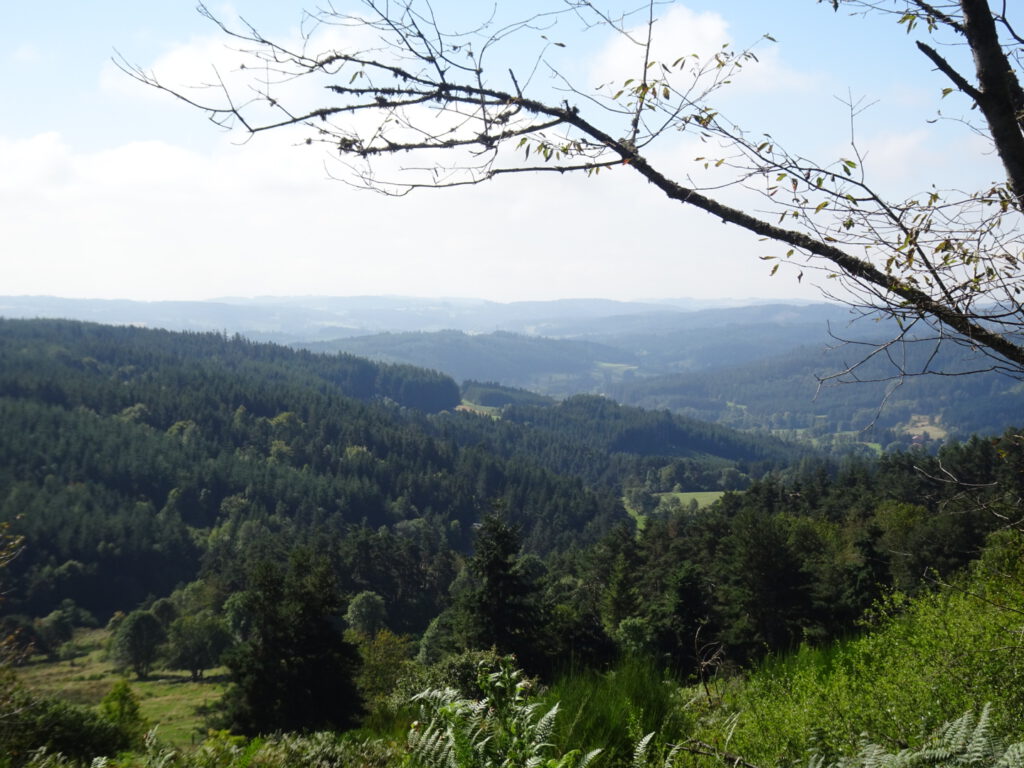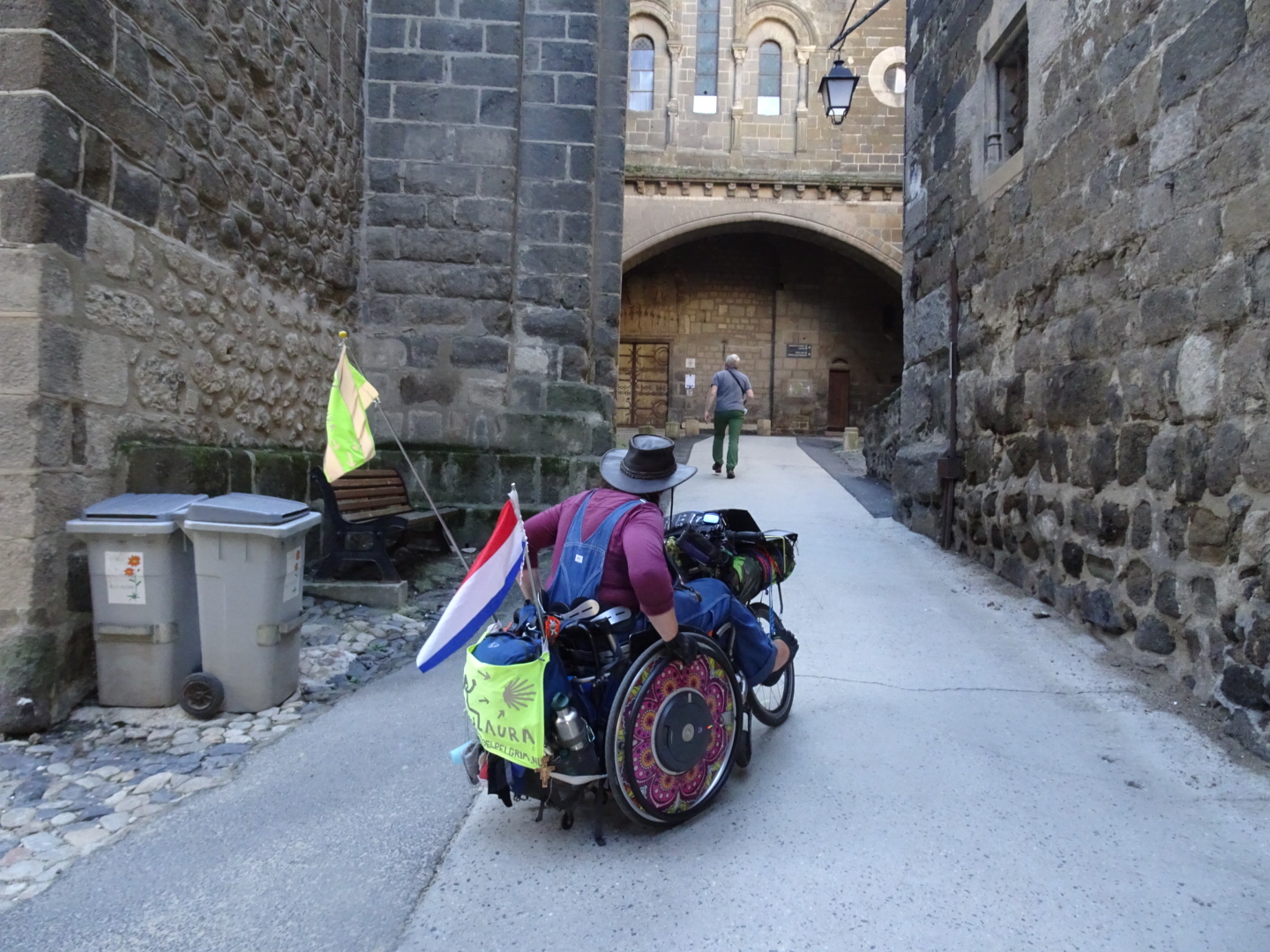 Before I finish, I want to thank everyone for reading. And especially for all the sweet messages I received along the way via this website, email, facebook or instagram.
In the difficult moments (for example, during a break during a heavy slope) I read them and they gave me the courage to continue.
I hope you will continue to follow me because next year I will continue my journey.
From now on it will be time to prepare for the next trip.
This will probably be Le-Puy-en-Velay to Rocamadour.
If you have not yet subscribed to my newsletter, you can do so via the homepage. Then you will automatically hear when I have posted something new on the blog.
Greetings,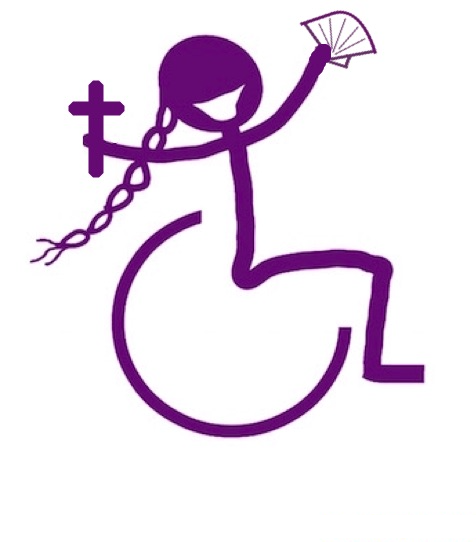 Wheelchairpilgrim.
---
Dit was mijn reis van 2021, het vervolg, en alle voorbereidingen zijn te lezen op het Blog.