Here is the blog of 2021.
I start in august to roll from Taizé to Le Puy en Velay.
I will also post the preparations here.
Blog June 7, 2021
Blog august 2, 2021
Blog augustus 15, 2021
Blog august 17, 2021
Blog 18 august 2021
Blog 19 august 2021
After that date I did not keep up with English translation, please check the Dutch blog with the transator of your own browser. https://rolstoelpelgrim.nl/blog/
Blog
Monday June 7, 2021
It has been two months since my last post about my interview in Eva magazine so time for a new blog.
Slowly but surely I have started to plan a little more now. I hope to leave at the end of August if the corona rules allow it. But for now it looks like it will be done by then so I am trying to keep hope that this will work out.
I have doubts about two possible routes. I can follow the official route (a Jacobsweg via Cluny from Germany) or a completely self planned route via Lyon where I will roll along the river Saone the first part and then through a national park. Both have their advantages and disadvantages such as steep hills and / or pieces with longer distances between campsites.
Until last year, choosing a route with enough places to sleep was my priority, but in the meantime I've learned that especially in the more difficult places. I find wonderful and often original places to sleep where I have very special encounters, and I notice more and more that it's those encounters that make this trip so special. And the same goes for the road quality of the route. the easy parts I don't remember or I remember it as boring. while the hard kilometers on unpaved roads or where I could hardly climb up with my wheelchair have stayed with me and on top of the mountain gave me a feeling of victory and where I could enjoy the view.
For now, I'm partially planning both route options and probably deciding which way to go just before I leave. So more on that in one of the next couple of blogs in the coming months.
Packing the wheelchair
Soon I also want to take a good look at my luggage. I want to check if there are things that I missed last year and that I have to take with me now (the latter will be minimal, I didn't miss much). I would prefer to travel with minimal luggage, but because of my wheelchair I always have to take more with me than walking pilgrims.
I regularly get the question where I put all my luggage on my wheelchair. Below a picture and a description of my luggage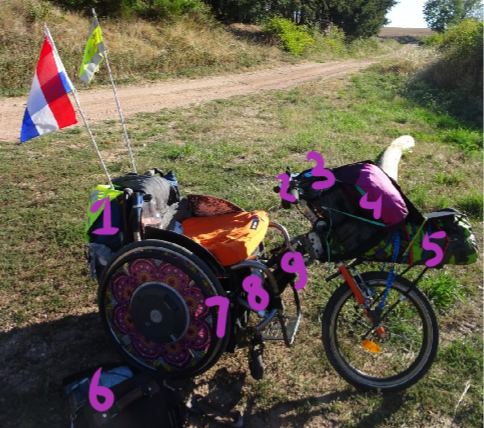 Backpack, in it I have my airbed, sleeping bag, clothes and 1 spare battery.
On my handlebar I have several things. a bike computer, a bag in which I have a powerbank and very important a bell.
This is my solar panel, 30w, with which I charge my powerbanks and phone.
Bag where I keep my (often gifted) packed lunch or groceries, here it is very full because I had just done some shopping and knew I would not find a supermarket the next day but often there is not much more than a piece of baguette and some cheese.
Large waterproof bag. it contains my tent, the hammer and the charger of my wheelchair.
My handbag and the transparent map holder. They are on the ground here but on the road this is on my lap. many call my handbag a trunk. I like big bags that are comfortable and stable on my lap and where everything fits in that I need to have at hand on the road. a bag to walk with and that is narrow and high doesn't work fine sitting in a wheelchair and having a bag on my lap, then a bag has to be wide and low, hard to find. In my bag are of course my wallet and passport but also medication for the road, small first aid kit, spare gloves and very important my pilgrim passports (credentials), which are becoming more and more, I'm now working on the 3rd and I always have an empty one with me in case the pilgrim passport I'm using now is full.
The cover for the cards is ideal, it is transparent and has a string that I can hang around my neck or tie to my bag. I always use loose maps that actually come from a michelin map book, this gives me nice detailed maps but sometimes I need 6 or more maps for 2 weeks of rolling. In this transparent cover I can keep all the maps and then put the one I need in the front and fold it so I am ready that day and can follow the route. I also often put my cell phone in this cover when I go places where the map is insufficient to navigate, then I use google maps and because of this cover everything stays neatly in my lap.
Under the seat of my wheelchair I have a bag with 2 spare batteries and I also keep my other power cables in it.
Metal drinking bottle, during the day to drink and at night often used as a pitcher.
Tool kit on my wheelchair frame. This contains everything to solve problems on the road, duct tape, tiewraps, allen keys, screws, pliers, tire repair kit, spare tire, screwdriver and more.
So I'm quite loaded, but fortunately I can still get everything on my wheelchair puzzled. despite the fact that I'm so loaded, unfortunately I can't reduce luggage very much, especially in terms of wheelchair gear (such as tools, batteries and chargers and cables) and camping gear (tent, airbed, sleeping bag), especially that stuff is heavy and/or large.
When you want to hear more about my packing or if you have other questions feel free to ask me. also check out my packing list on the website (Dutch)there is a lot of info about what I take with me.
Thanks for reading the blog, on the homepage you can subscribe to my newsletter, then I will keep you informed when a new blog is posted.
Greetings,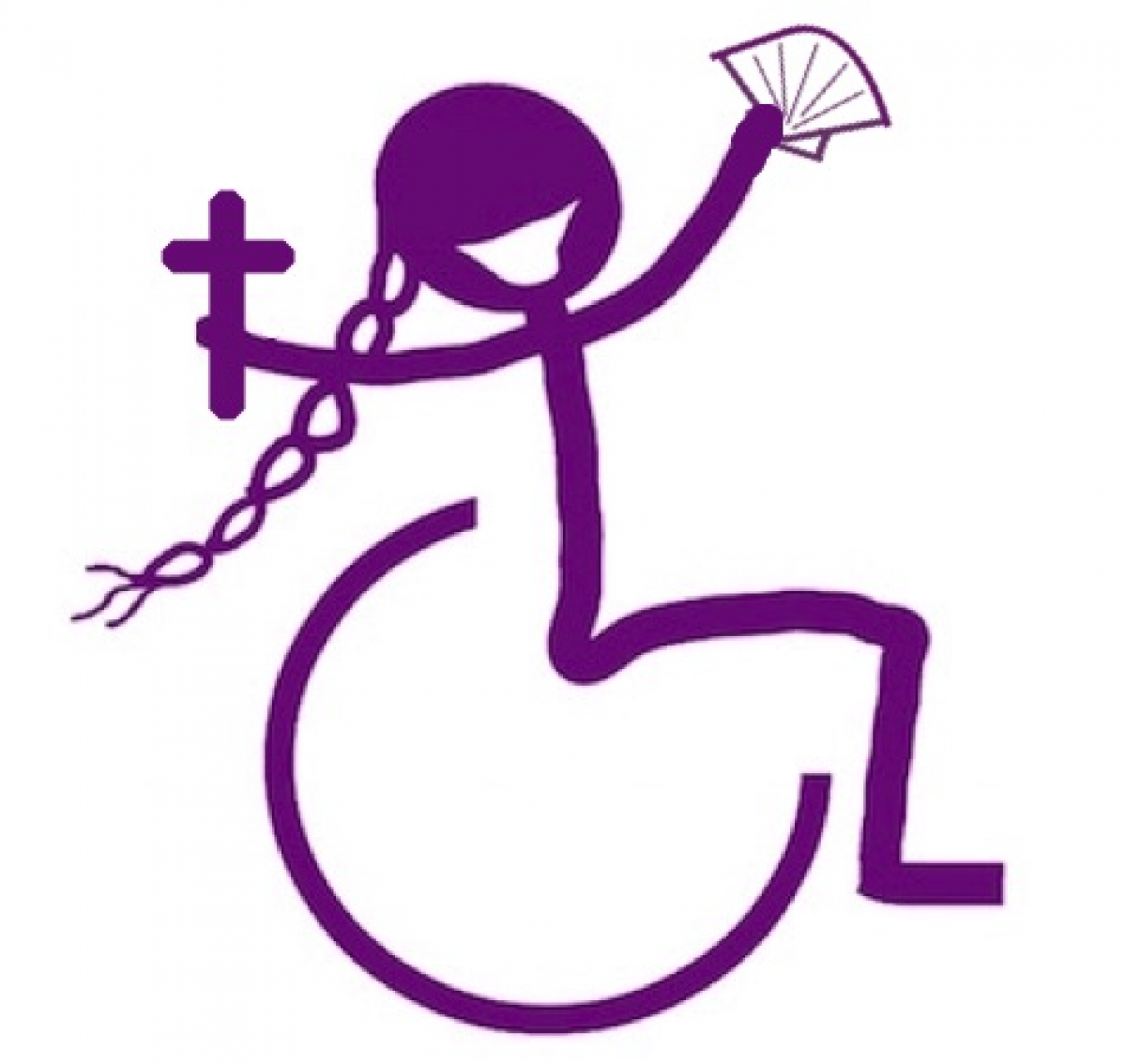 Wheelchairpilgrim
Blog August 2, 2021.
Countdown to the Pilgrimage 2021
It is August and the pilgrimage 2021 is coming closer. If everything goes according to plan I will leave for France on the 20th of August.
Also this year I had to choose to go with my own car. Because of corona I don't feel like travelling with flixbus as I did in previous years. I will therefore travel by car in the direction of Taize (where I ended up last year) and roll from there. After arriving in Le-Puy-en-Velay, I can return to my starting point by bus and train. But first I have to get ready for departure.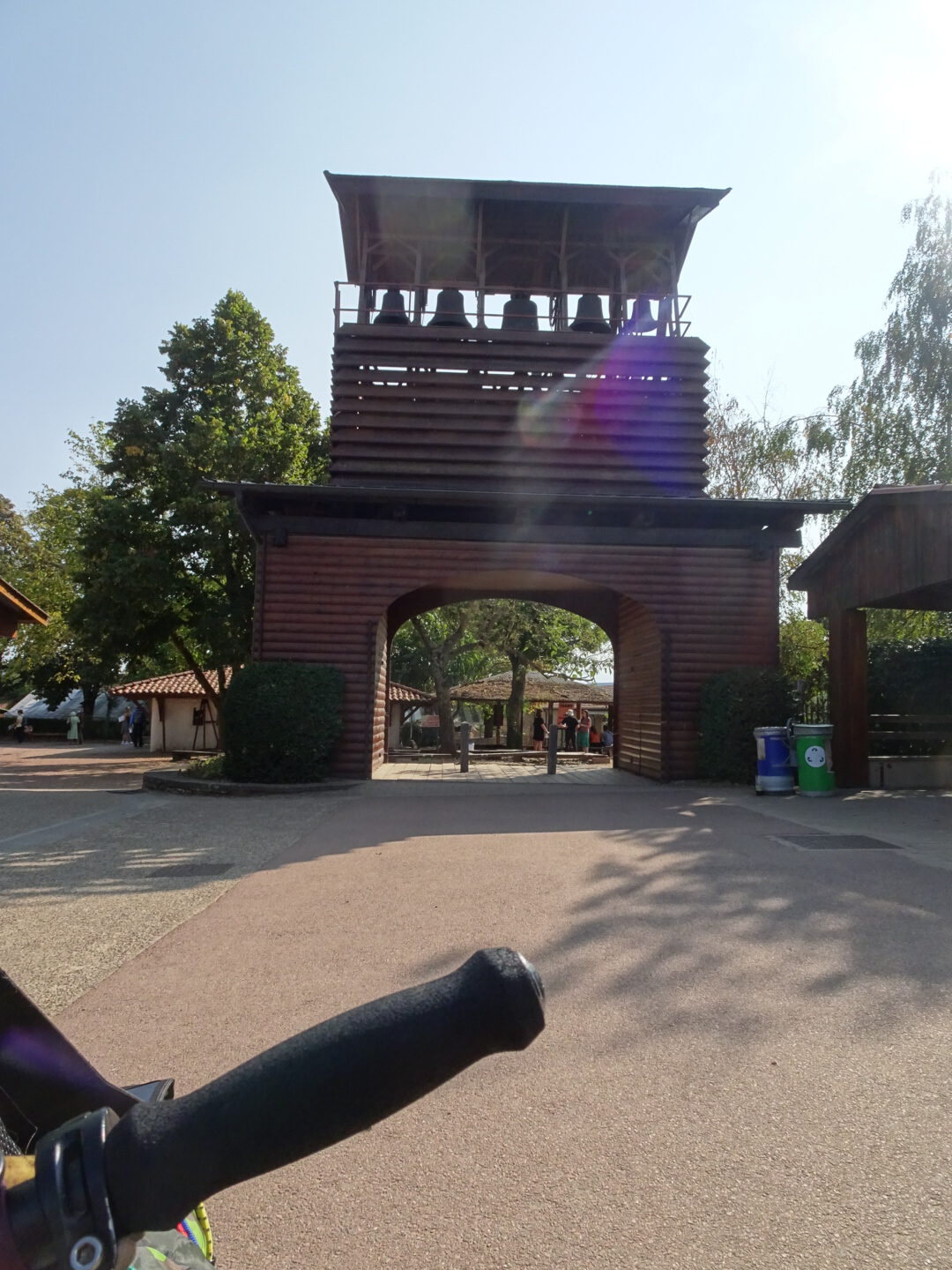 Packing
In the coming weeks, I will begin to gather and pack my things. When you travel with a wheelchair, there are always extra things to pay attention to. This week, the wheelchair company is coming to replace my tyres, so I will be leaving on new tyres. I always take an extra inner tube with me so that in case of an emergency I can always ask someone to change my tyre. I don't have the strength to do it myself but there are (hopefully) always helpful people to be found.
I always try to travel with as little luggage as possible. Unfortunately, I am not able to travel ultra-light, because I am always stuck with a huge load of stuff that a healthy walker does not have. For example, I have just picked out my medication for a few weeks of pilgrimage. At the beginning of the pilgrimage this takes about 1/3 of my backpack. Fortunately, on the way this becomes less and less so I get more space.
And then I also have my wheelchair batteries. I think I have about 10 kilos of batteries and other wheelchair equipment (tool kit, spare tyre, pump, etc). I am glad I do not have to carry this on my back!
Clothing of a wheelchair pilgrim
Also in terms of travel clothes, it is different as a roller than as a walker. I always pay attention to whether the sleeves are tight. otherwise the sleeves are always touching my wheel and they get dirty very quickly.
I like my trousers, especially when I'm riding for a long time, not too tight around the waist and high on the back. Many trousers, especially jeans, give me a tummy ache after a long day of sitting because they are so hard and stiff.
On many forums/facebook pages with pilgrims you read about good shoes, this is of course not important for me. gloves the more important. I have leather gloves without fingers but with a thumb. These are hard to come by but thanks to my sister I managed to find a new pair. I always take 3 pairs with me so I can always wear a clean or whole pair. Every trip I wear out about 1 pair of leather gloves.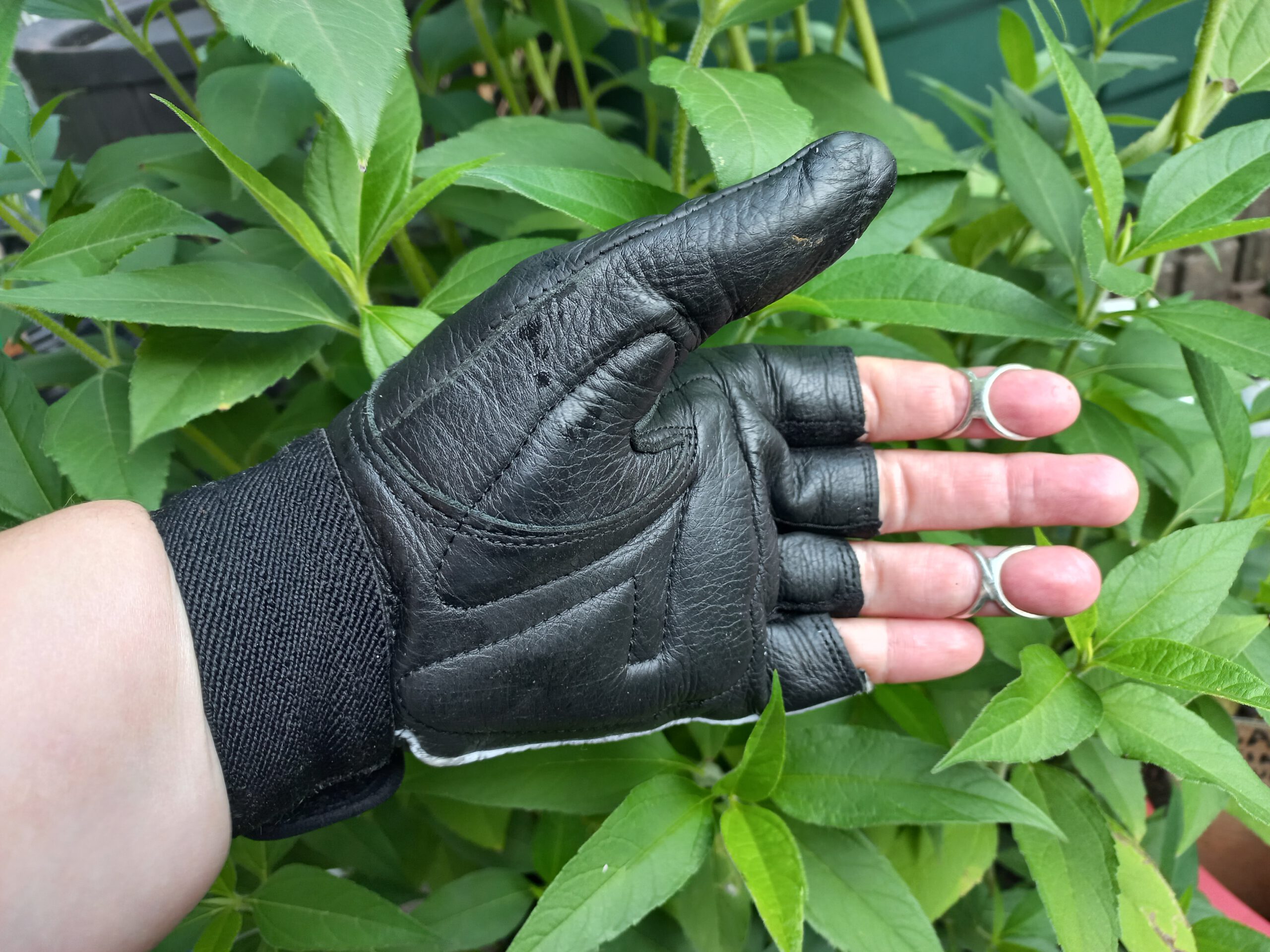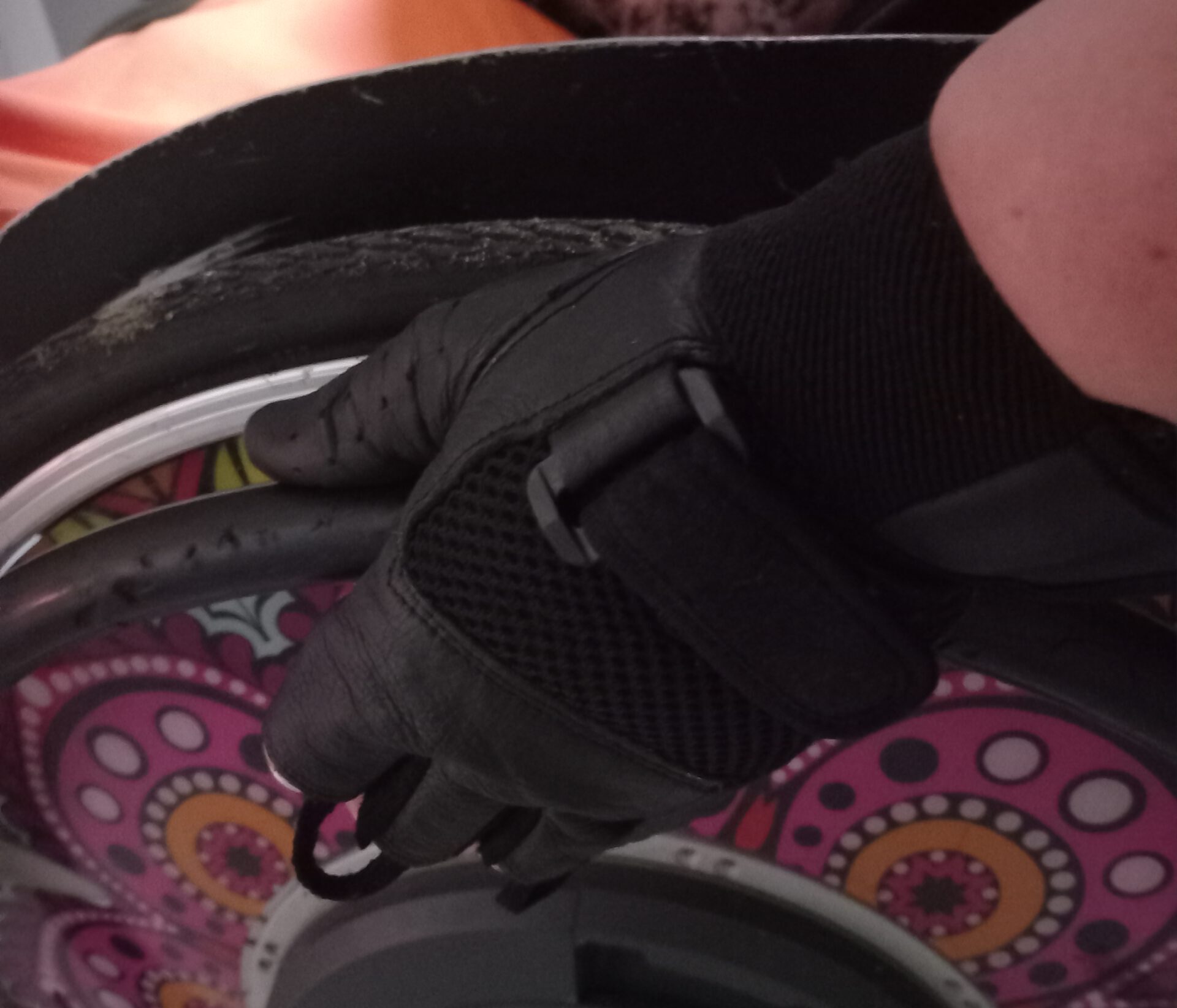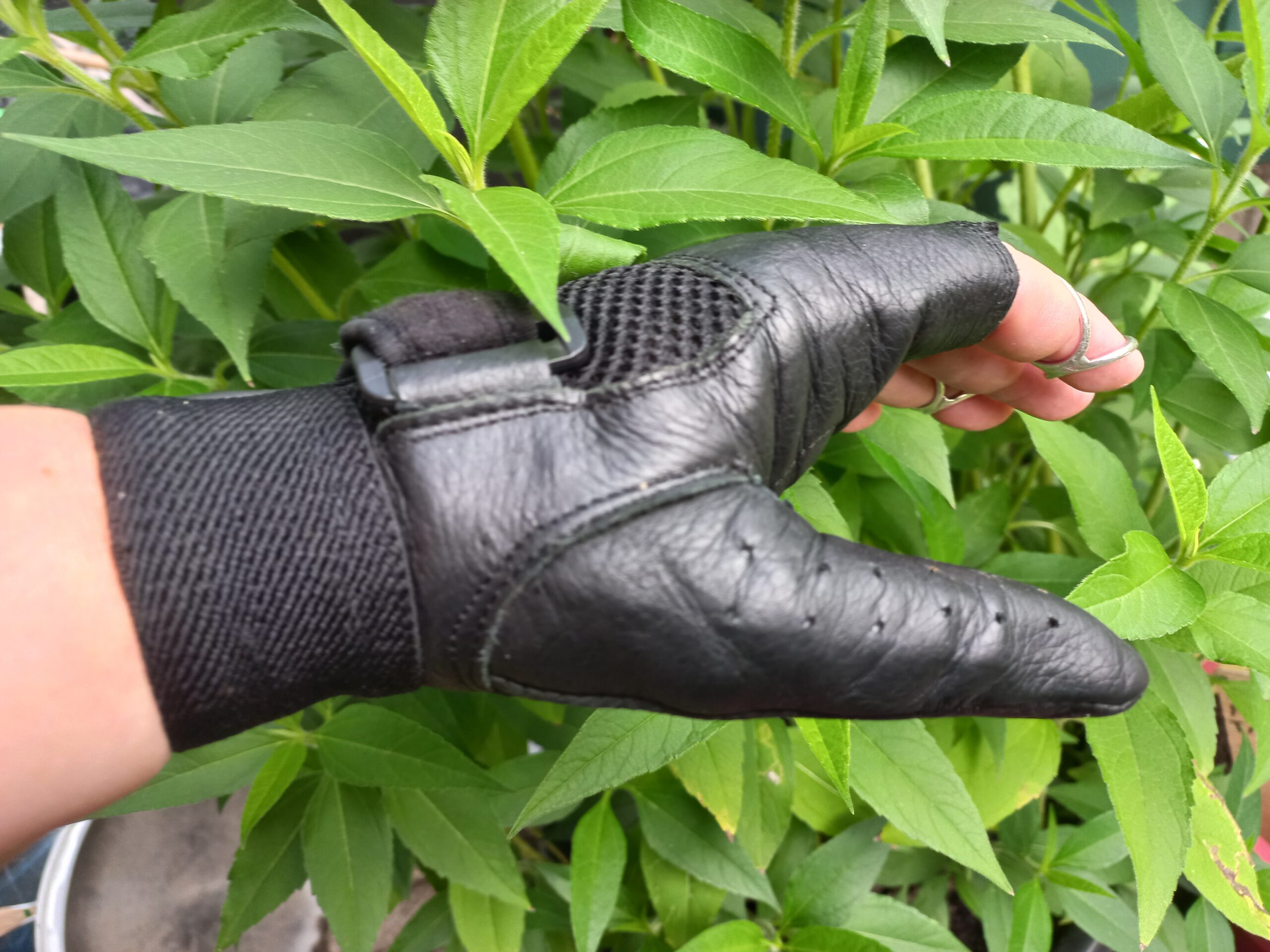 Now I have to get everything together and then I can be on my way soon. Just before leaving I will write a blog.
I'm really looking forward to going on the road again!
Greetings,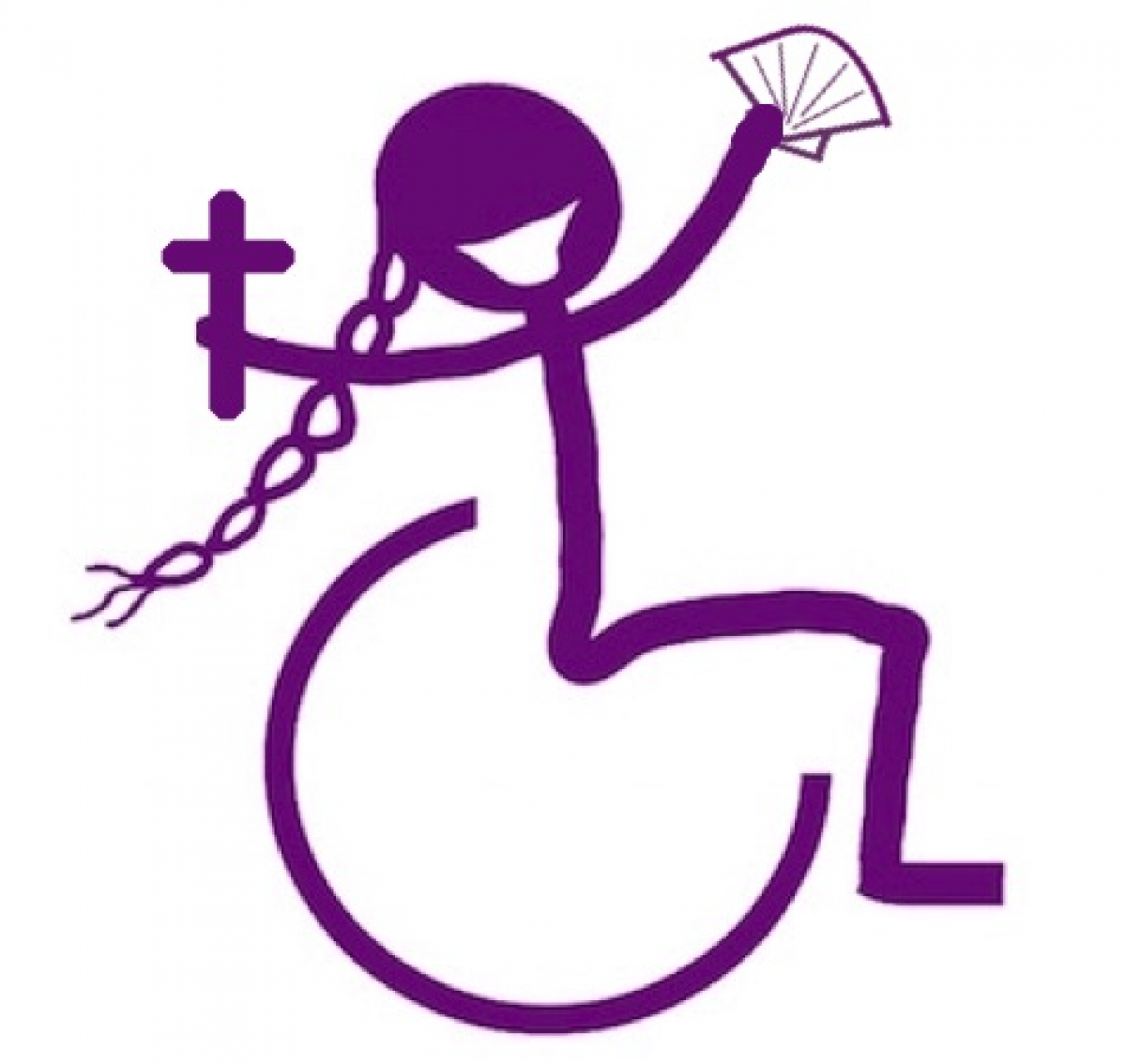 Rolstoelpelgrim
Sunday august 15, a few days before leaving, and back support.
It is now a few days before departure. I was planning to leave on Saturday the 20th, but through certain circumstances I can now leave a few days earlier, which is Tuesday the 17th. My bag is already packed.
Normally I look forward to my pilgrimage but lately it felt double and I was also looking forward to it because of enormous back pains with radiation in my leg. Because of this I could hardly sit in my wheelchair despite of a lot of painkillers. At home, I have for years now spent most of my day lying down, with short walks to do something as a variation. I only sit down when driving a car or going somewhere in the wheelchair. Normally, I manage pretty well with this, but lately even those brief moments of sitting have not worked out well. I had been treated with physiotherapy and other medication which fortunately reduced the nerve pain, but sitting in my wheelchair still remained a problem.
After some searching, tips and experiences that I read on the facebook page of the patients association, I found a backrest that seemed to be suitable for my problem. That had to be applied for through the city council, and that didn't hurry up. The wheelchair supplier had already come several times to adjust the straps in my old backrest but this hardly made it any better. I just had to get something new. I told the wheelchair supplier that the tarta backrest seemed like a good idea to me, but he was not keen on it. He thought he could solve it himself by inserting loose pieces of foam between the backrest. Unfortunately, this did not help. Finally, I contacted Summit revalidatietechniek, the company of the tarta backrest, myself. They could come and visit me. Two days later, they were already at my doorstep with a tester backrest of Tarta. This is a fully adaptable system. They made it to measure and then I could try out the backrest. It was so nice, finally lateral support without it hindering my rolling. After the fitting, I phoned my wheelchair supplier again and said that I really needed another backrest because I could hardly sit. He would discuss it and I just had to wait again.
This was 2 weeks ago and I started to get quite worried about my pilgrimage. Sitting in my wheelchair for longer than an hour was not doable, in fact 10 minutes was already not nice. But 2 days later, I suddenly got a phone call from Summit. They had received a message from the wheelchair leather supplier that they could deliver the Tarta backrest! I was very happy, but there was still one problem, namely the delivery time… The rule back was in stock but they had a full agenda until the end of September. They could not come earlier. Fortunately, I had the clarity of mind to ask them when I could visit them. And that question solved the problem! I could go last Tuesday. The disadvantage was that it was in Deventer (a 2-hour drive for me), but that means that I can now go on a pilgrimage with a good back.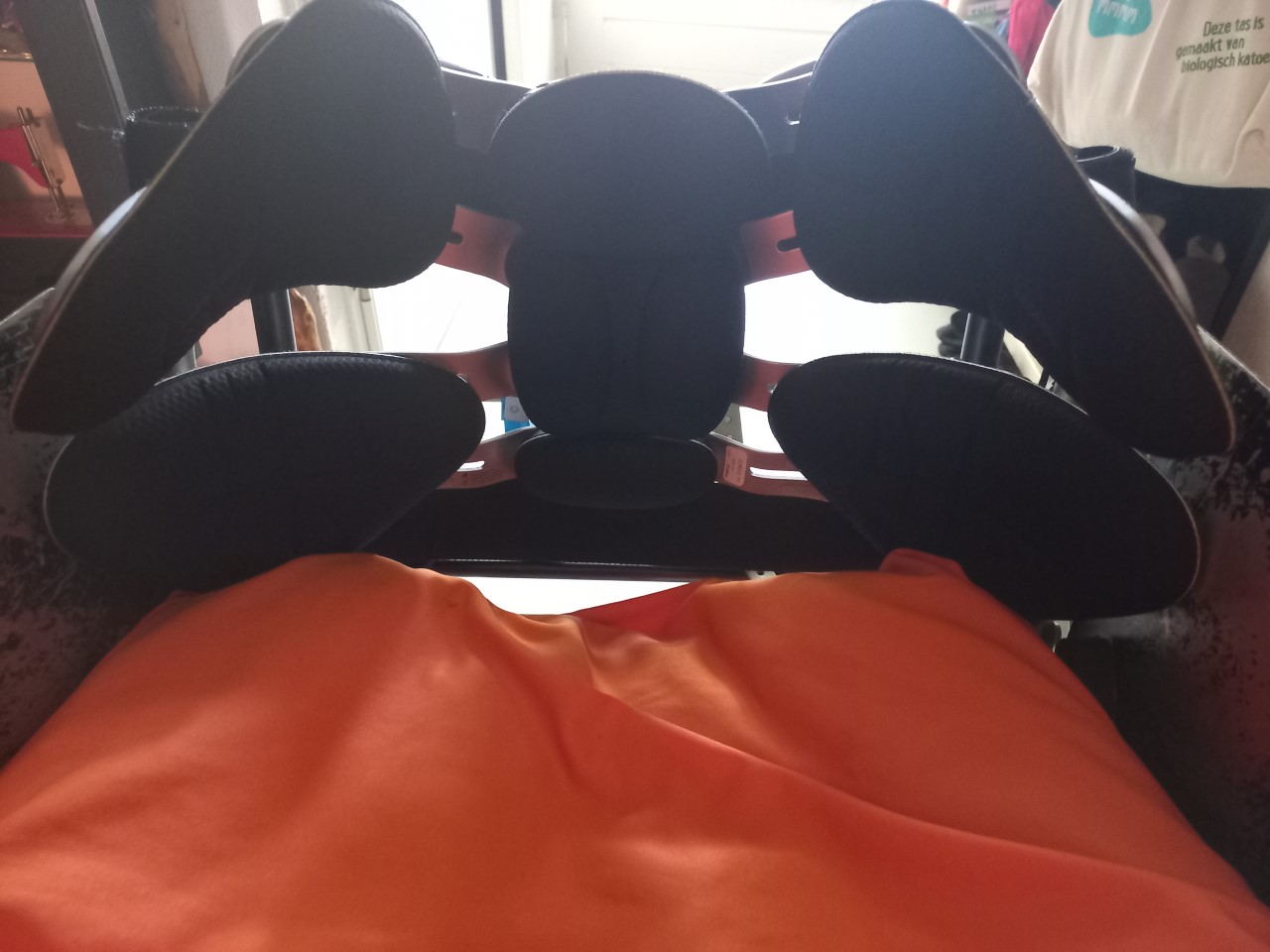 Deventer
And so I drove to Deventer last Tuesday. First, to Summit for the backrest. The man who helped me took all the time to get the backrest perfectly fitted. I have a rather hollow back and I would like a low backrest that does provide support, not only at the back but also at the sides of my unstable pelvis and lower back. But after 1 1/2 hours it was completely adjusted and I could visit Deventer. Deventer was a beautiful city, I had never been there. I visited the Broederkerk, that church is built around 1335 and has housed several churches through the years, now again a RK-church.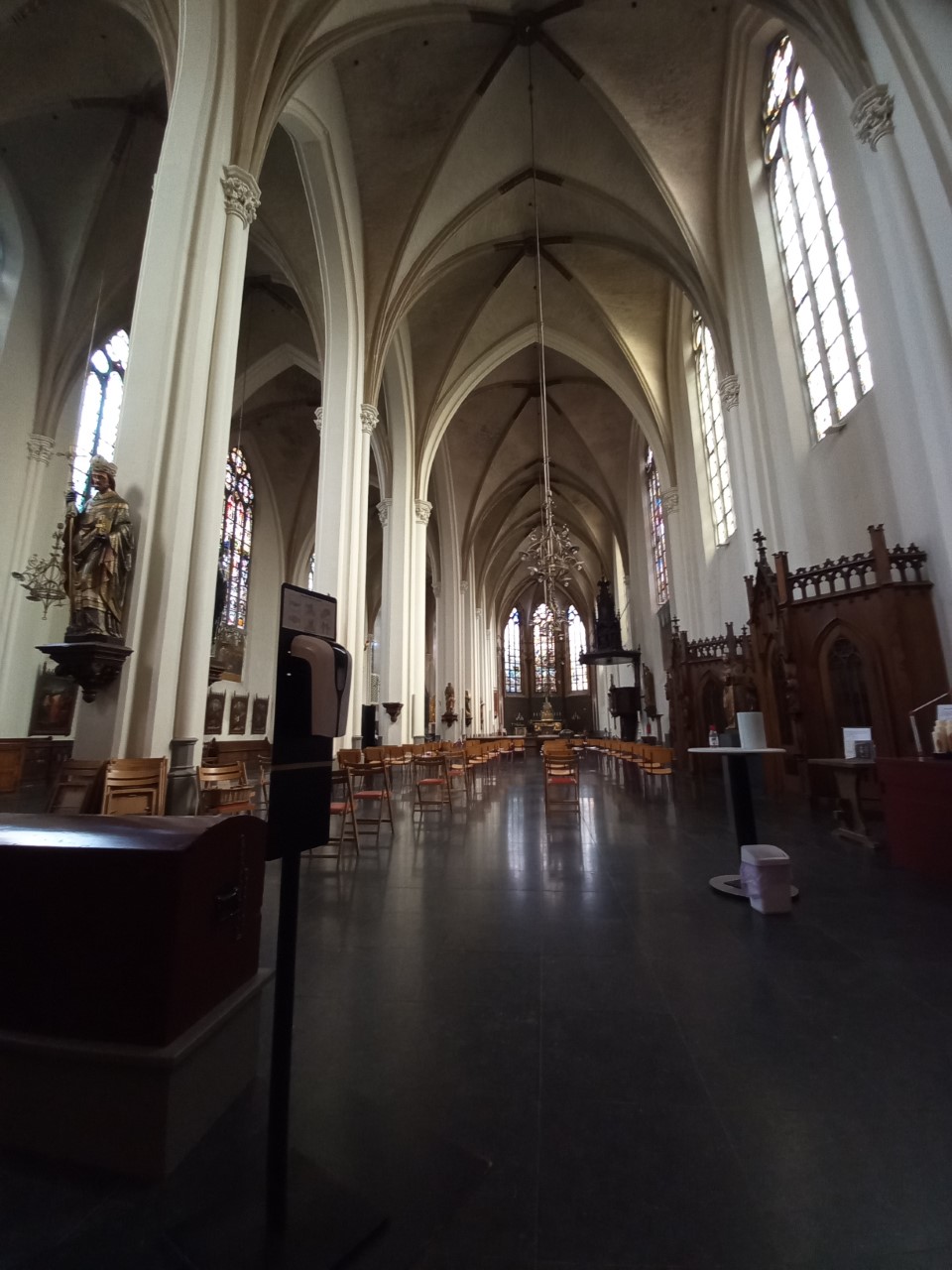 I also visited the Lebuinius church from 1450, also a very beautiful church with beautiful stained glass of the evangelists.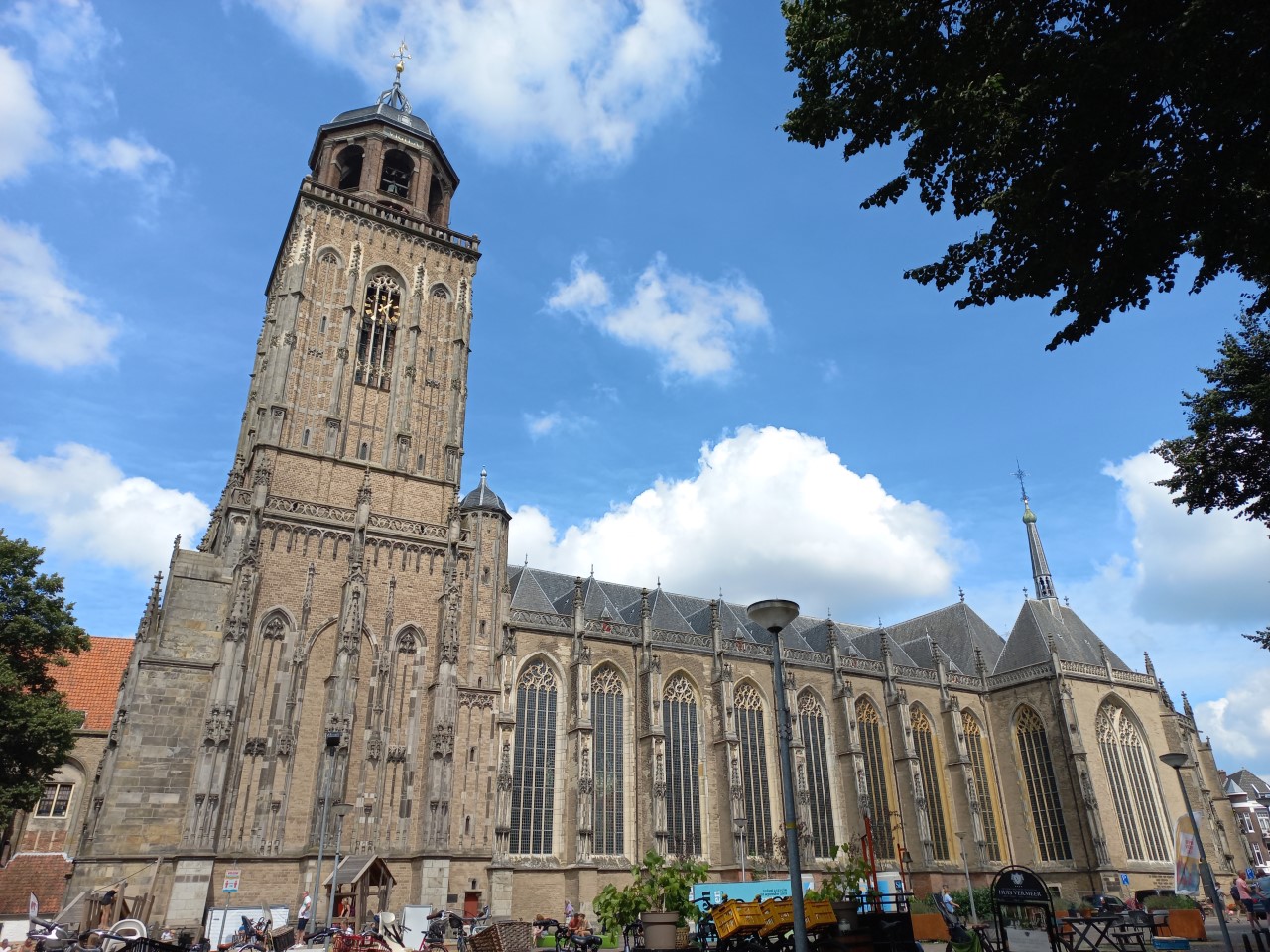 Besides these beautiful old buildings, I also found the modern town hall of deventer very striking.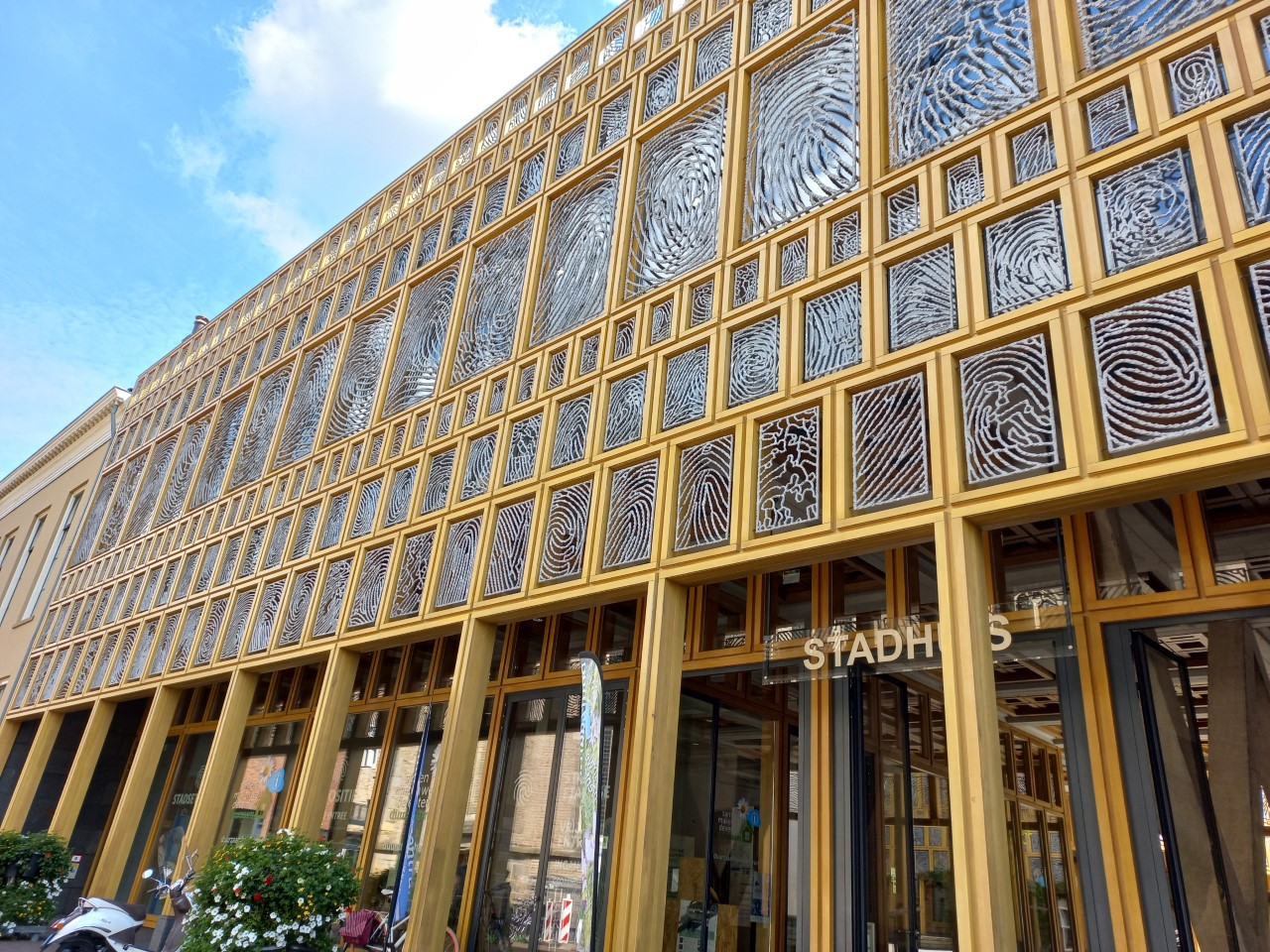 I also bought a tasty Deventer spice cake at J. Bussink who has been baking these spice cakes since 1593. tasty!
After a short tour through the city, I had to go home again. After almost 2 hours driving with some stops where I lay down on a cloth at the parking place I was back home with my new chair.

So I had a very nice but tiring day.
The last few days I have tested my backrest several times and it rolls so much better, I have much less pain.I now see much less of a problem sitting down while rolling and look forward to my trip again.
Today and tomorrow I will pack the remaining things and then I will be on the road again on Tuesday. First a few days by car and then the real pilgrimage starts. The daily blog will be there again from Tuesday.
Greetings,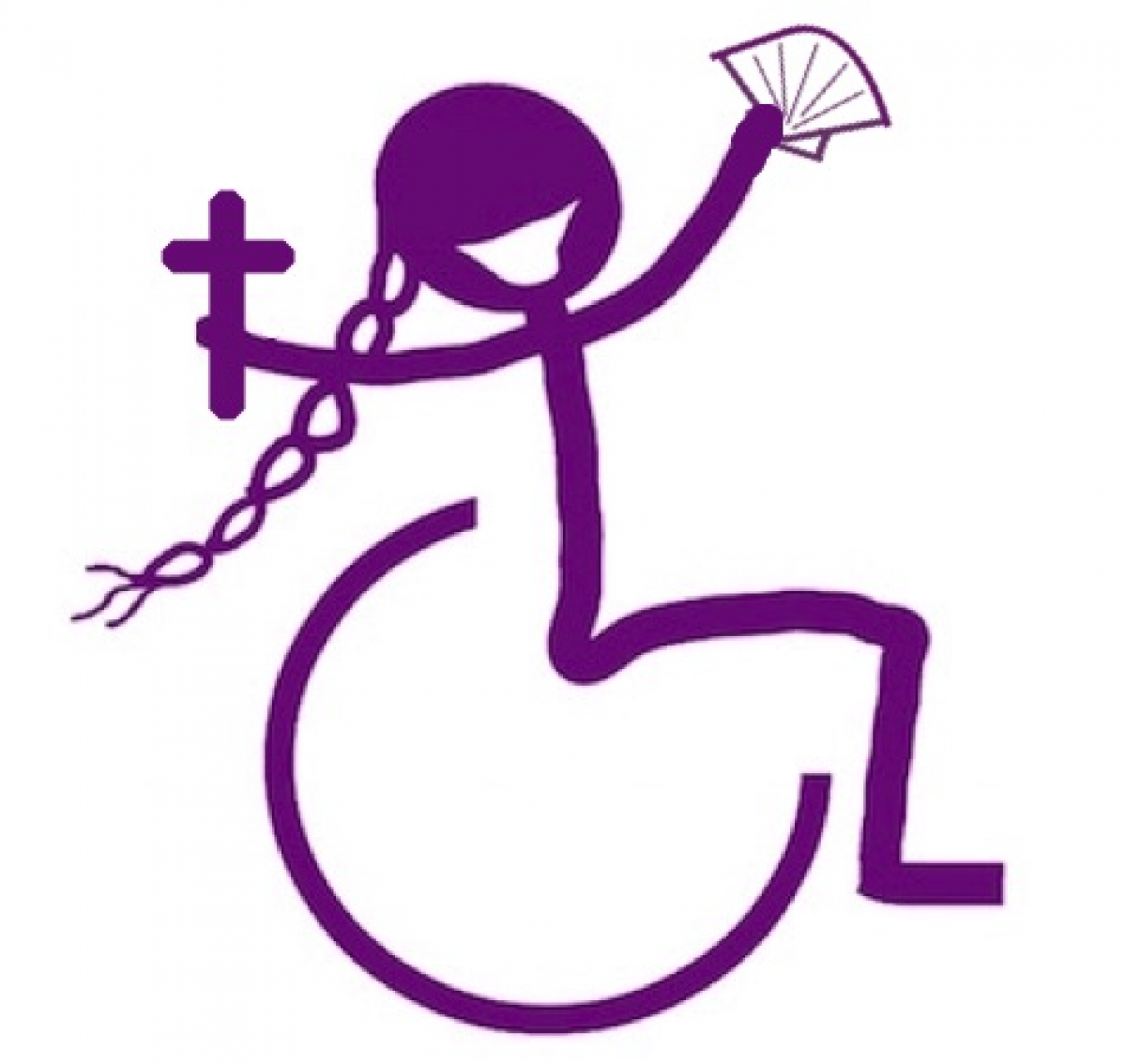 Wheelchair pilgrim
1st travel day
Last night I had already put most of my things in the car and this morning I only had to pack the last things like my charger, handbag and food for the road. So I was able to drive off at around 7.30am.
Normally I set the navigation to my final destination but I had other appointments.
My first appointment was in Helmond. I think I have written before about my voluntary work in the open air museum Archeon where I worked as a medieval shoemaker before corona (and hopefully soon again). This time I had not made medieval shoes but a pair of leather sandals that will be used in the musical Ruth by Kisi. This group is in Helmond and this week they are working hard on the musical (for those who are interested, tickets can be ordered here).

When I arrived they were practising a lot but luckily the person for whom the shoes are meant could try them on, they fitted well so just a little longer and they will be worn in the show. Nice! After the fitting, I stayed for a while to watch the rehearsals and then went on to the next appointment. This time at a friend's house, which I always try to visit when I'm in Limburg. Because of our mutual health and the large distance between our homes we don't see each other very often but it is always nice. I was going to stay for an hour but it soon became 2 but then I really had to drive towards France.
Unfortunately, the further south I went, the worse the weather became. In Belgium, I drove through the beautiful Ardennes region, but because of the wet weather, it was no weather to stop for a long time and taking pictures was not really possible either. So I only made necessary stops because my sore back made them necessary. In France, fortunately, the weather cleared up a little but it was not really dry. Fortunately, the wheelchair pilgrim only had a few drops. Just like last year, I am camping in Revin at the Meuse. A nice spot close to the toilet building so I can just walk that distance. I just brushed my teeth and now I'm back in the tent, the rain is tapping on the canvas but luckily I'm warm and dry inside and I'm going to sleep soon.
Greetings,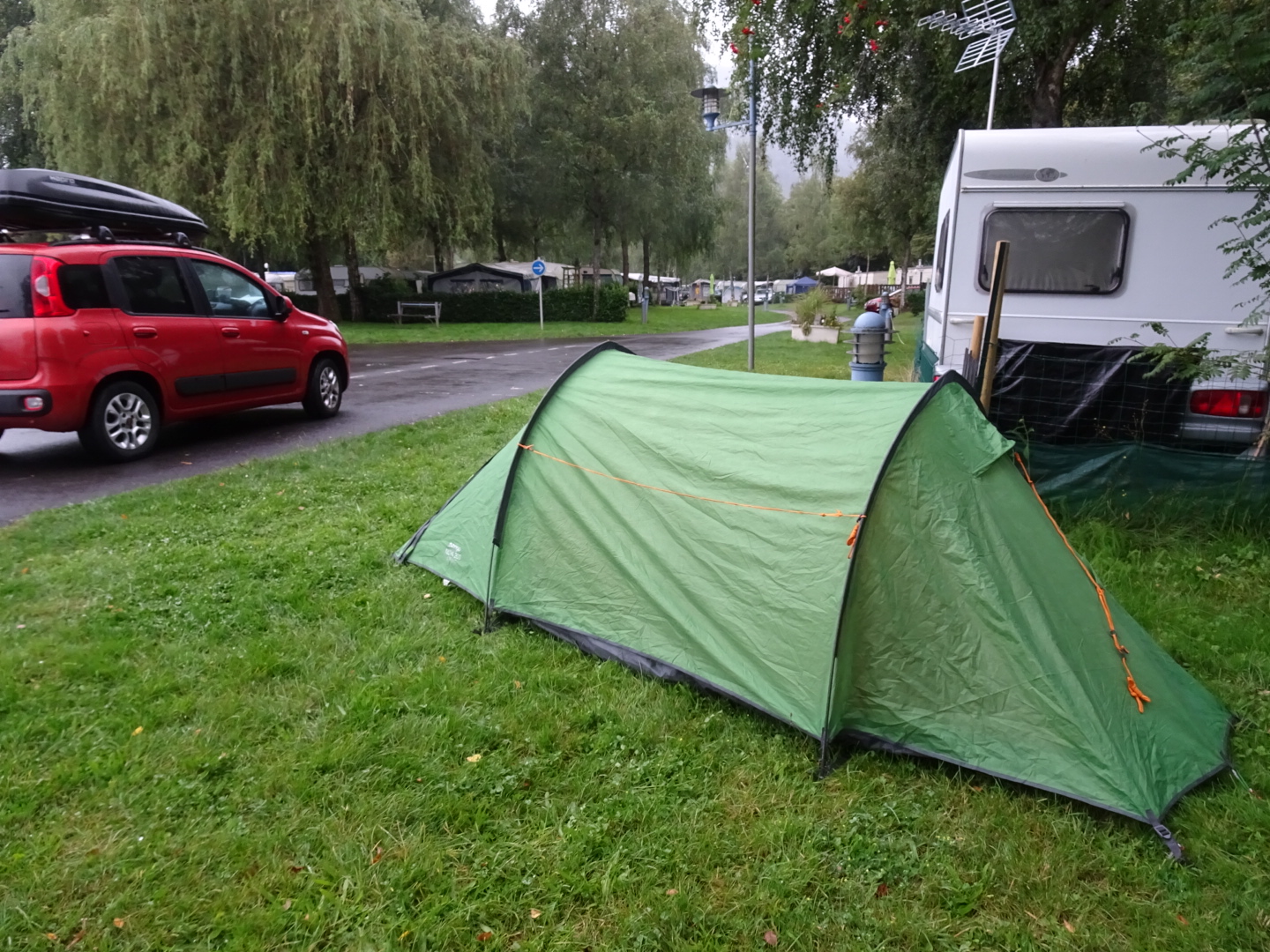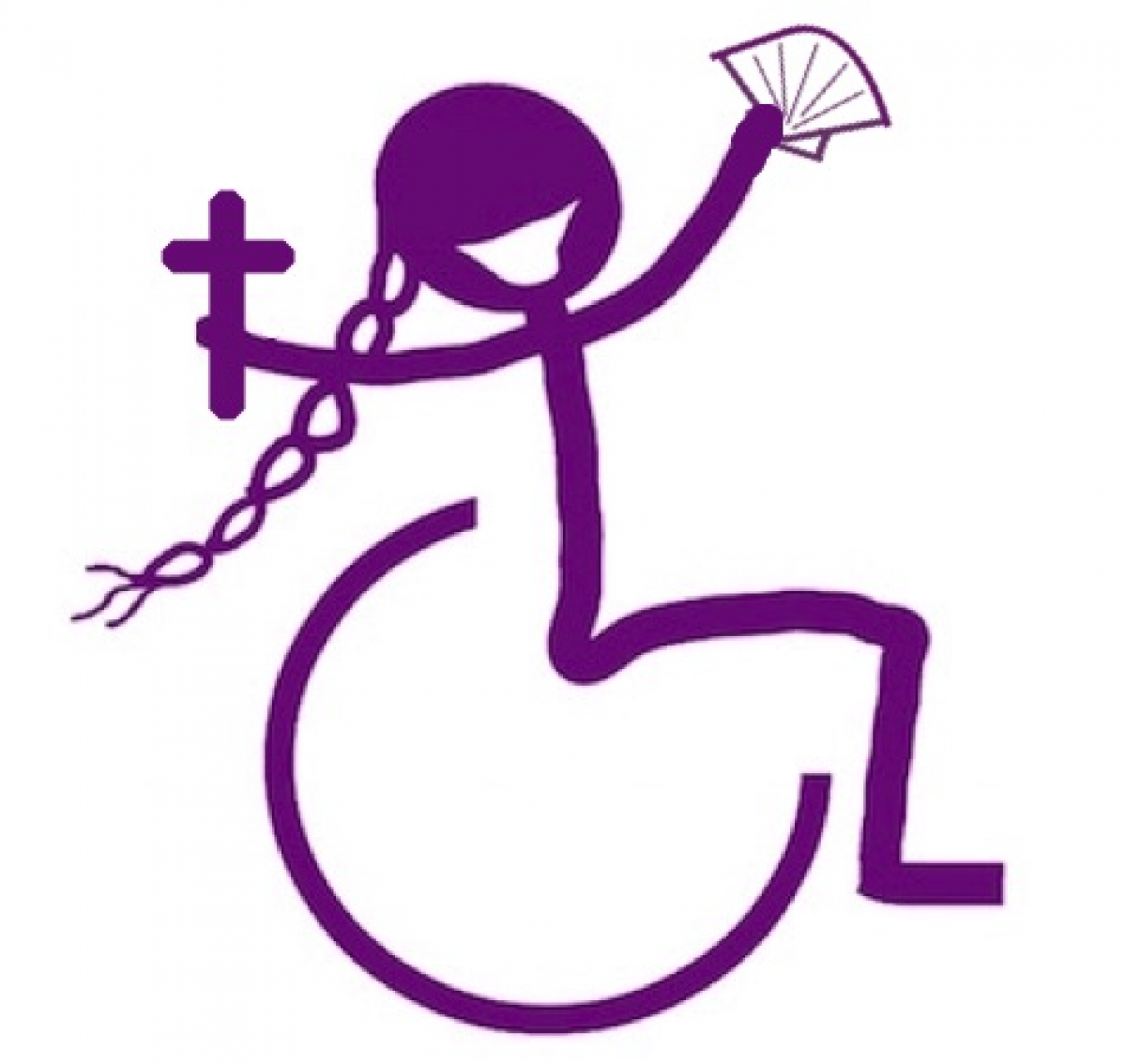 Wheelchair pilgrim
Second day of travel
Last night there was a lot of noise from other campers who came back from an evening out around midnight and were talking loudly with their engines running. Fortunately, it finally became quiet and I slept well. Unfortunately, the rain continued throughout the night. Around 7.00 I woke up. I did notice that I had been sitting a lot yesterday, my body was not quite as I would have liked but eventually it got going. The best way to get myself to leave that lovely warm sleeping bag is to simply deflate my air mattress. When I had left the nice warm bed, I packed everything again and left with my wet tent.
I hig it over my open boot and held the other end to let the wind pass through. unfortunately it wasn't completely dry yet when it started raining again. I then put it in the back of my car, wide open so it could dry in the car, something that sometimes caused foggy windows but with some extra ventilation that was solved.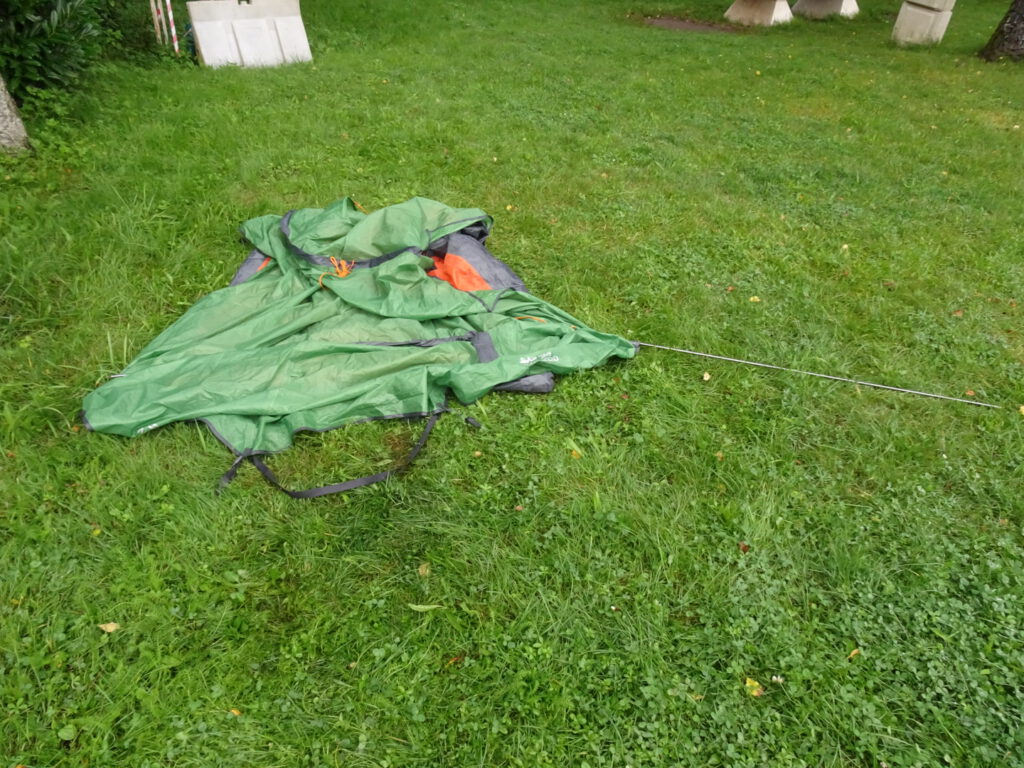 On the way I came across several war memorials and cemeteries, most of them from the 1st World War. I stopped at the largest cemetery. I thought it was special that it was actually not one but two cemeteries, one with French soldiers and one with German soldiers, and that next to each other. Impressive, more than 30,000 crosses. Although, it was not only crosses. I noticed that there were also some graves with a different model. These were Muslims, often it said that they came from the colonies (Morocco), most were called Mohammed and Ali. I had never thought about the fact that they also fought in the war and of course they don't get a cross as a tombstone.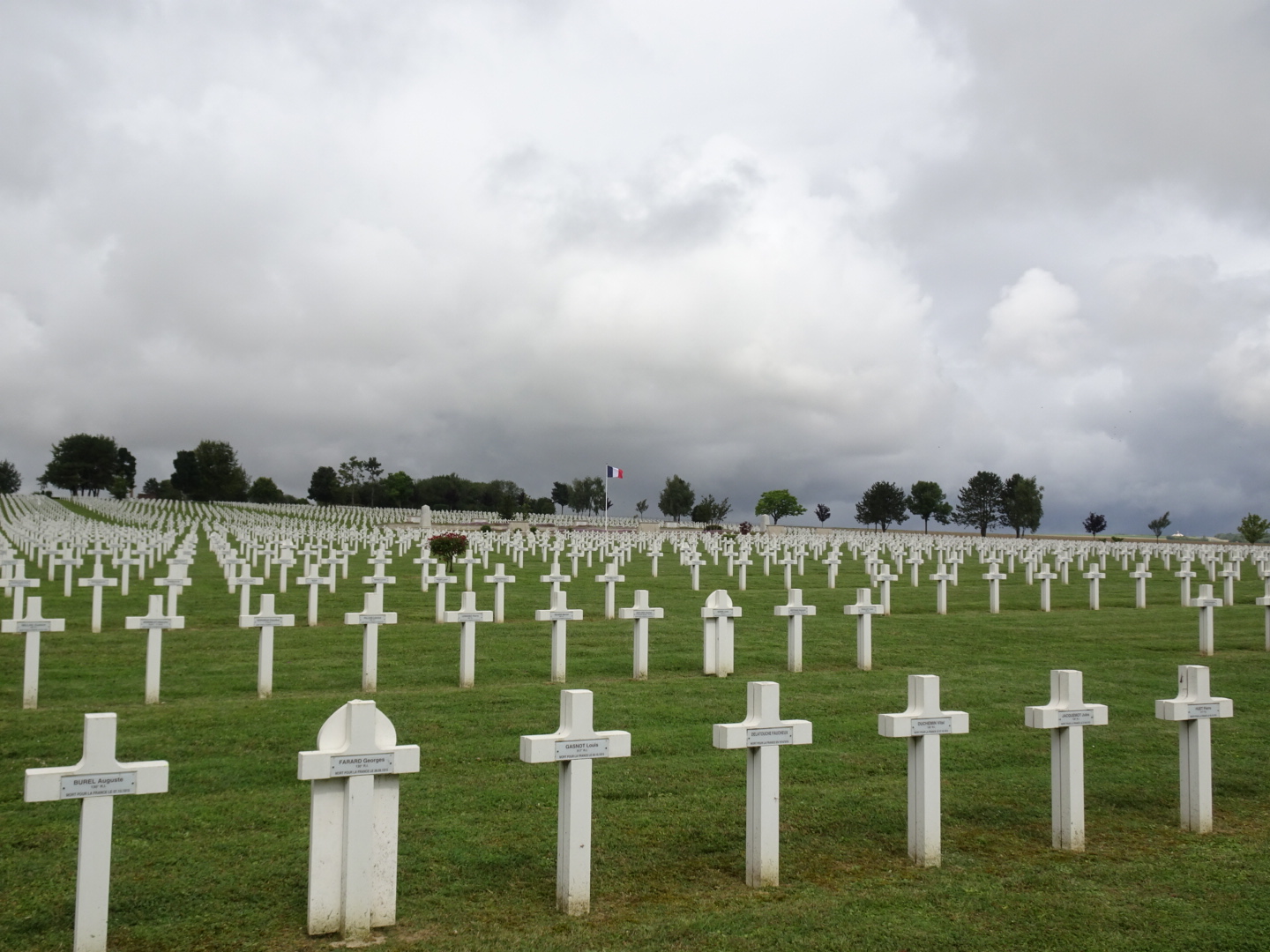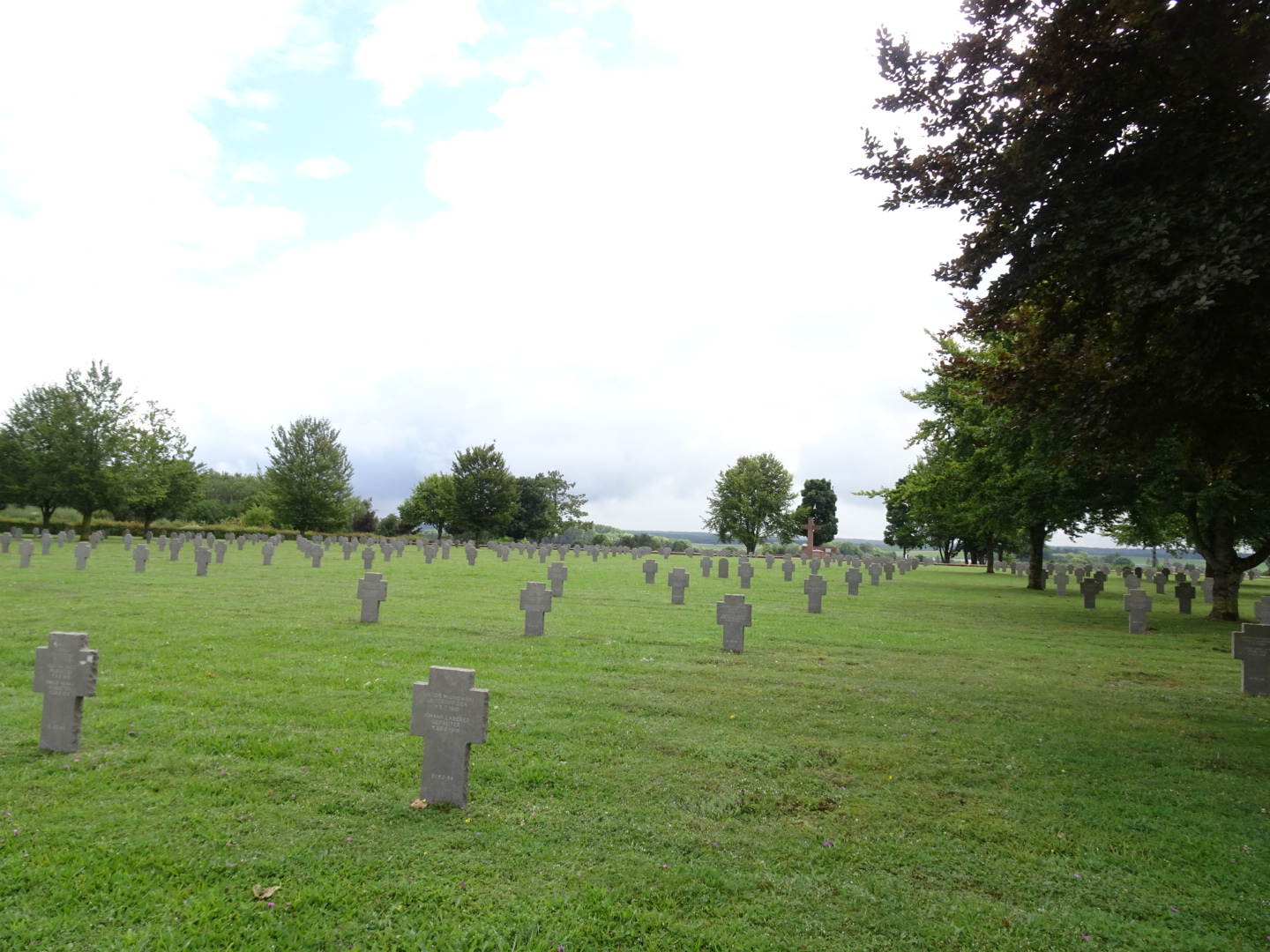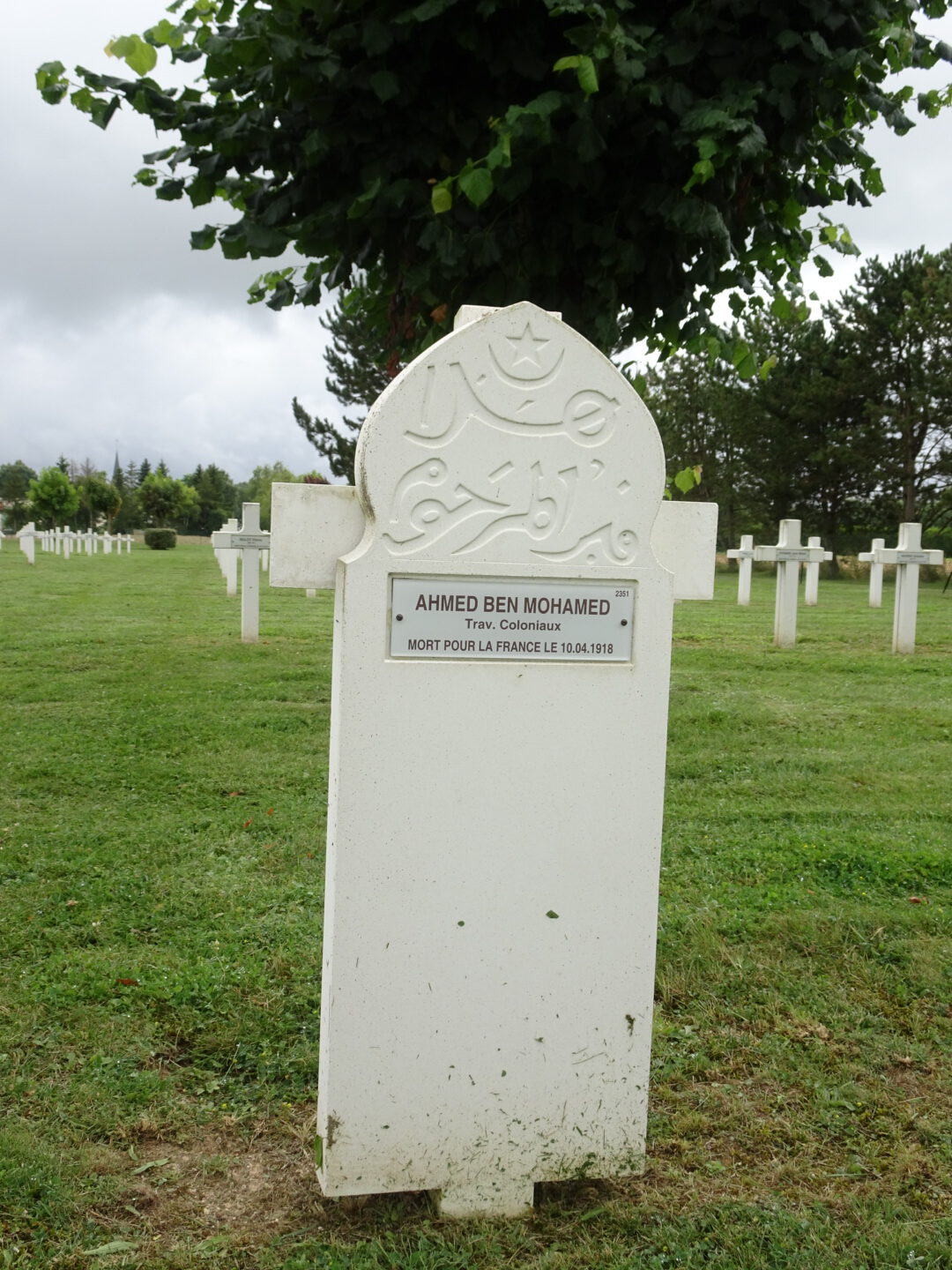 After the cemetery, i drove on. Today a lot of variation in the surroundings. Forests, villages and cities. sunflower fields, fields that used to be planted with grain but now only contain nice round straw bales, lucerne and the one I hadn't seen before were fields full of hemp. probably for rope, seeds, etc.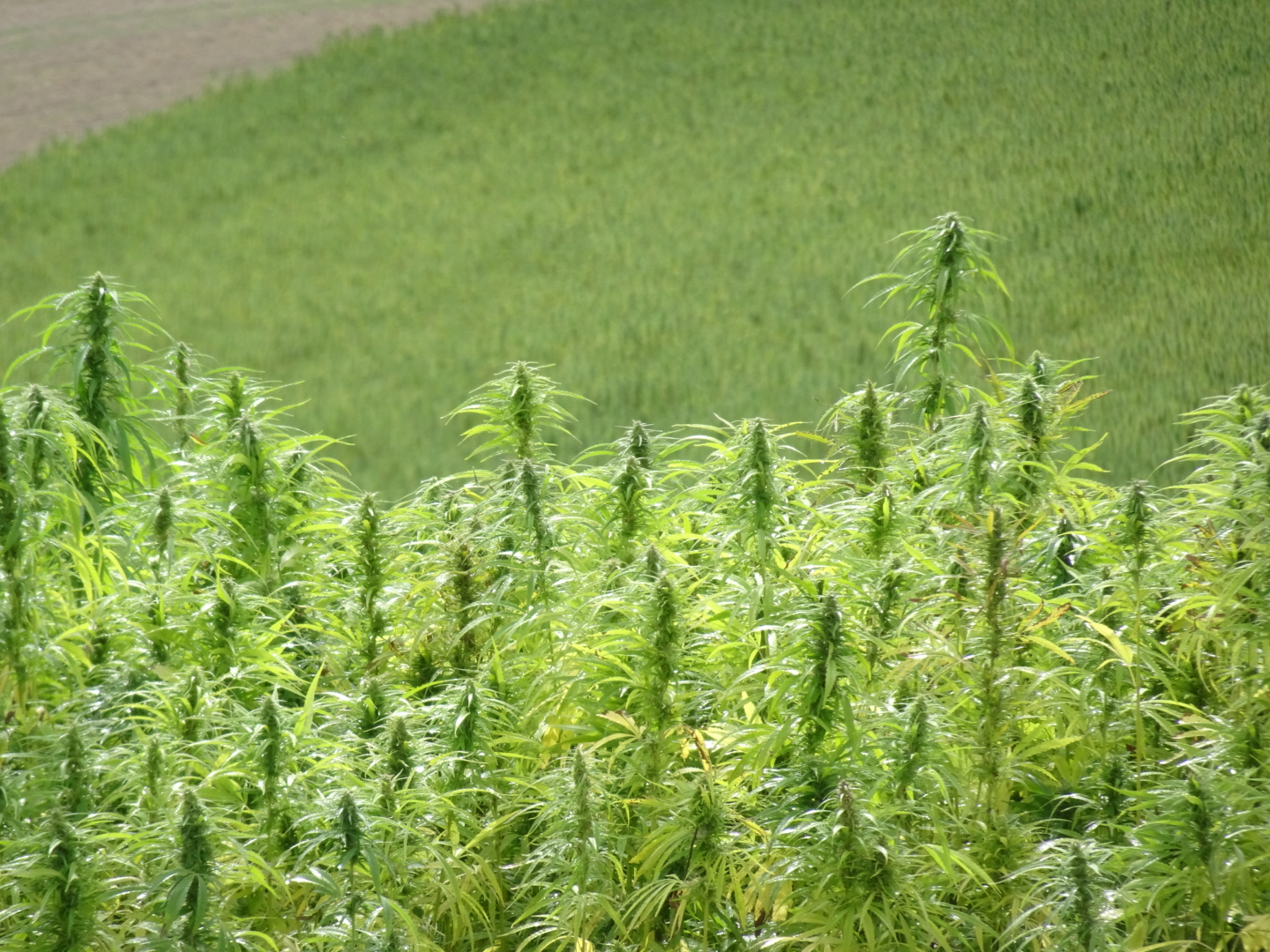 This afternoon, I also bought a route booklet of the route from Cluny to Le-Puy-en-Velay. I don't use the exact routes but it is very nice to have a booklet with place names and lodging addresses to follow.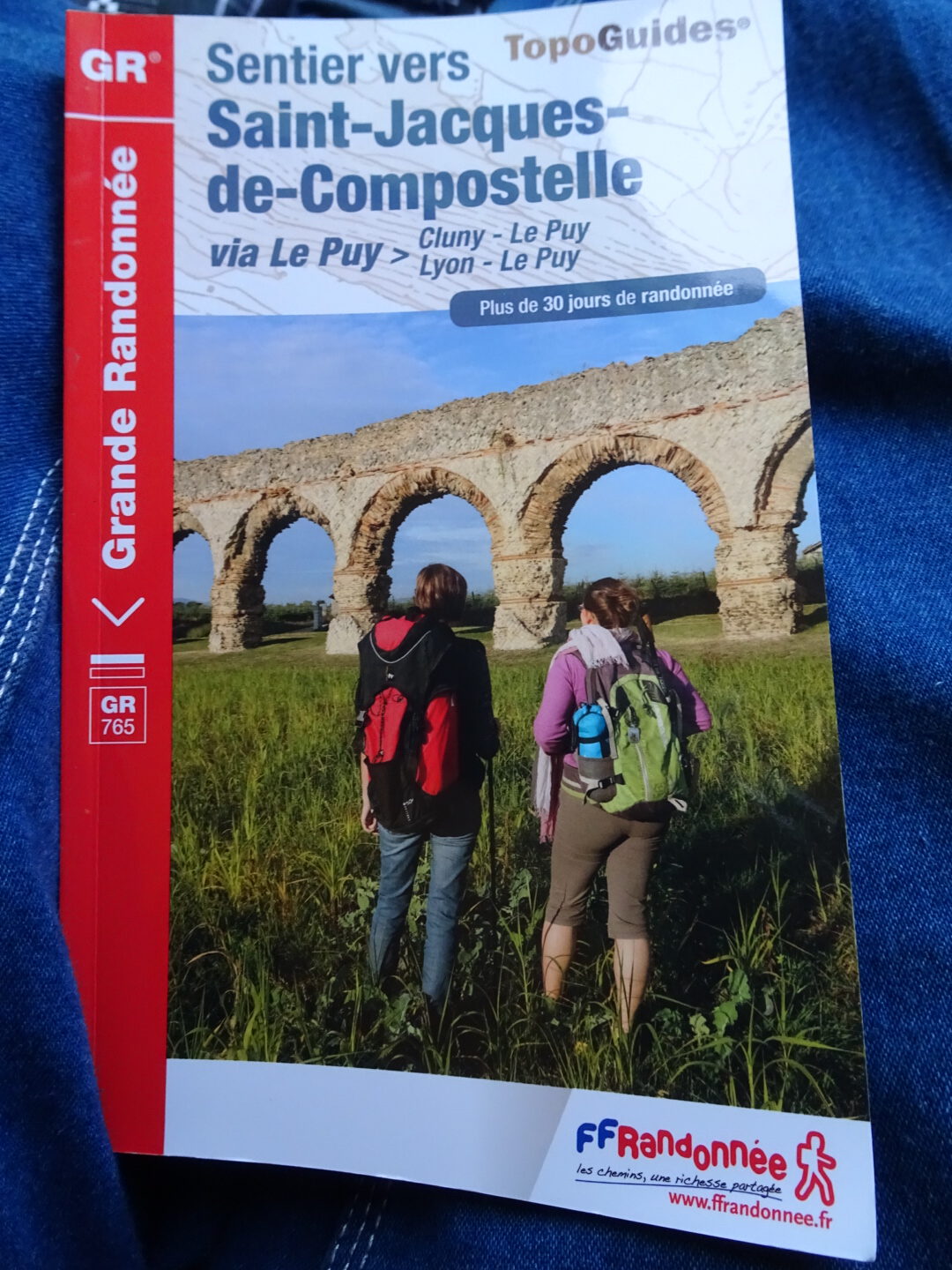 Now I am back at the campsite. I am lying in my tent again and I can hear a few drops now and then but I am glad that I was able to put it up dry.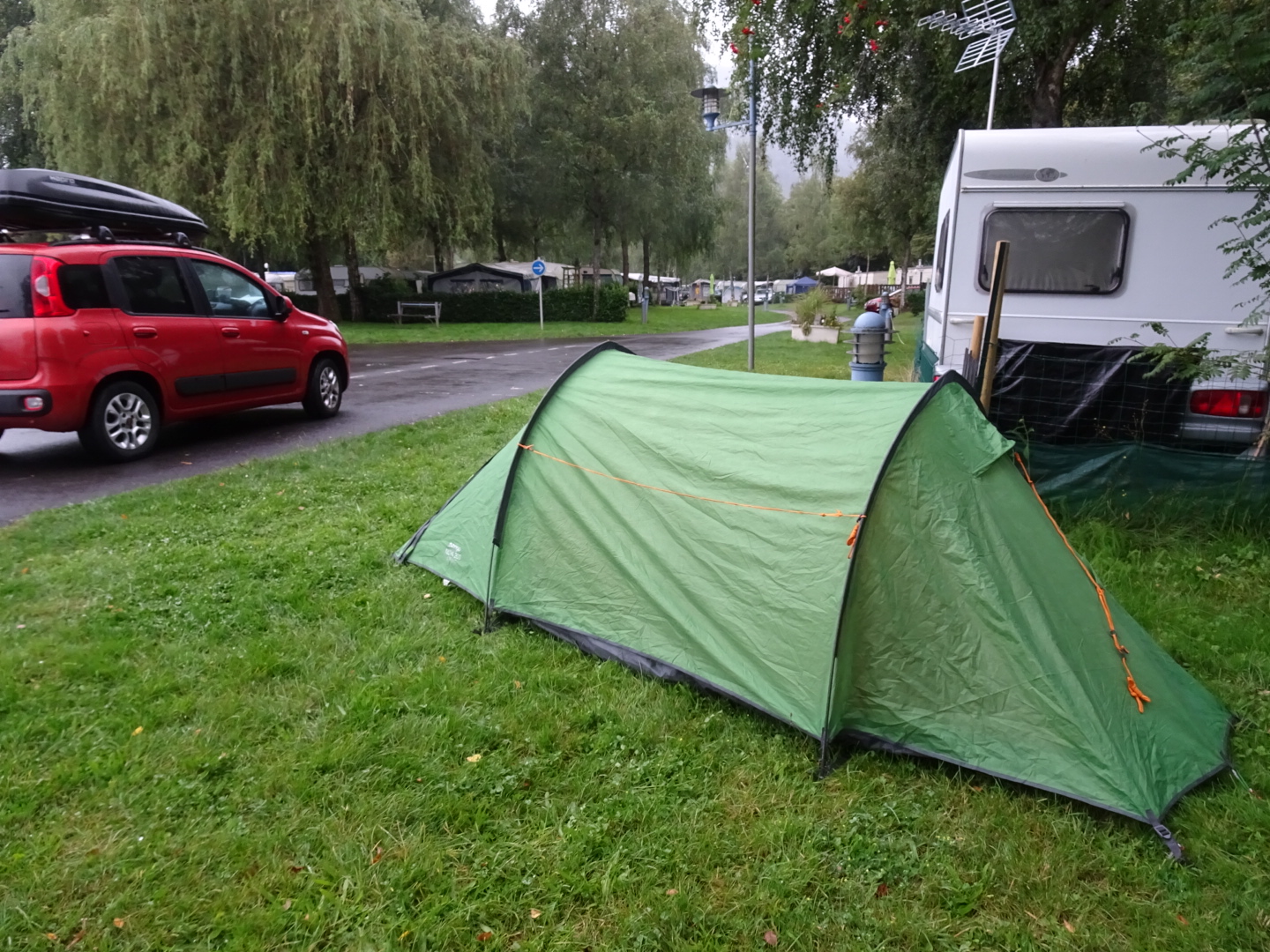 Greetings,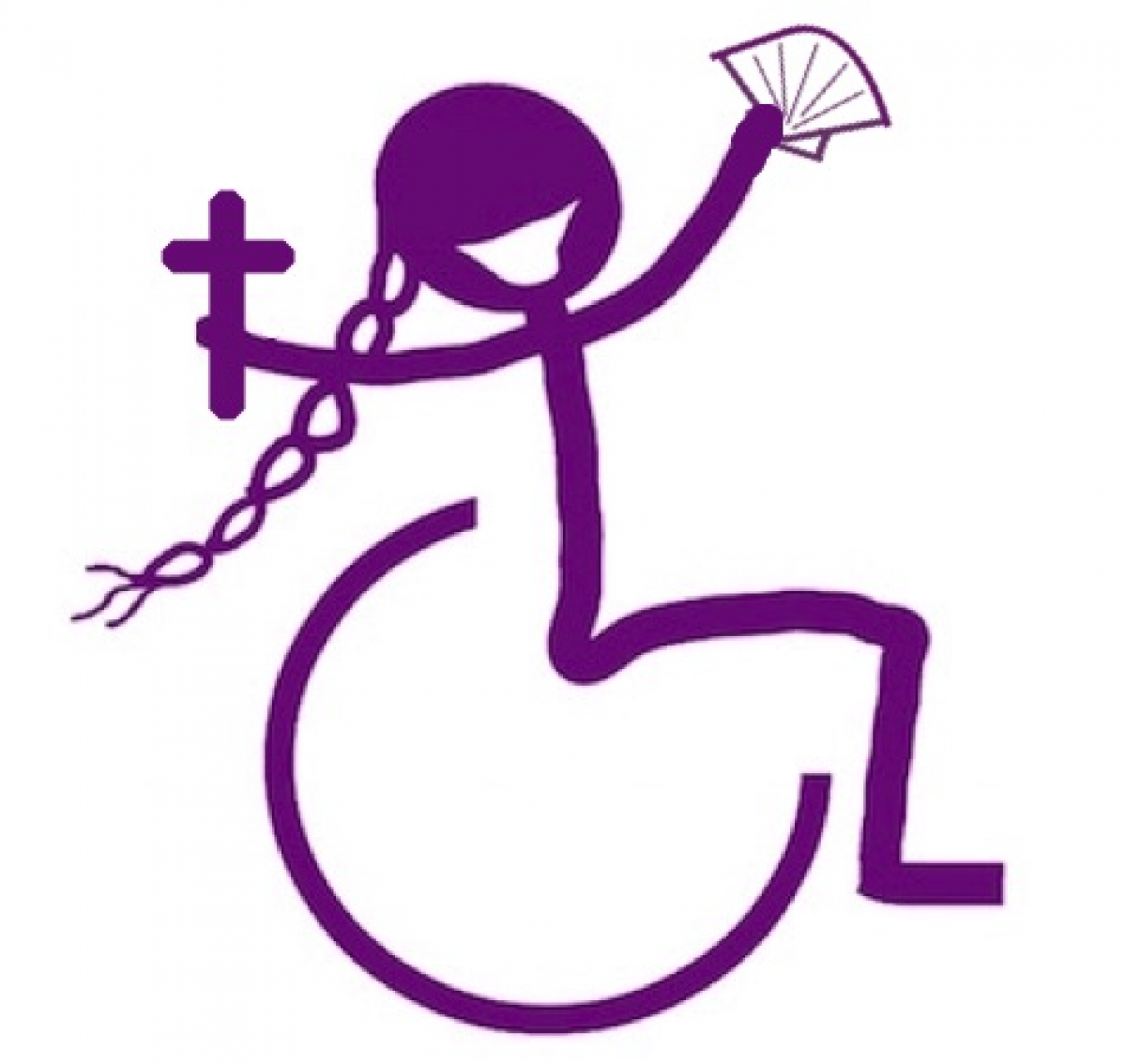 wheelchair pilgrim
third day of travel.
This morning I woke up a little before 7 with the sound of a woodpecker sitting in the tree in front of my tent, nice alarm clock. After taking some pictures of it, I packed up the tent and left the campsite.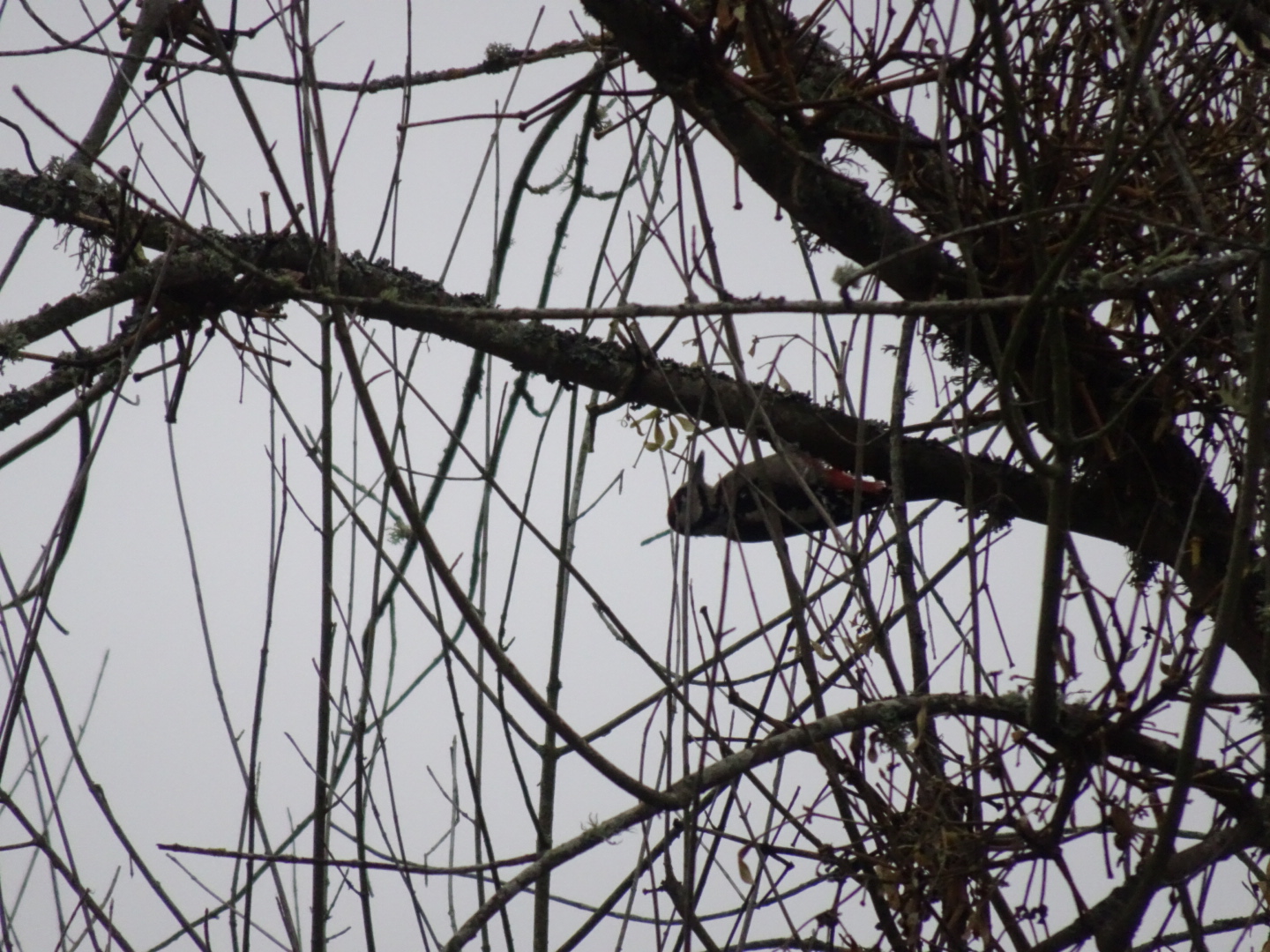 First I drove to Beaune, a town south of Dijon. There, I visited the Hotel Dieu. For the people who think that this is a Hotel of God, I will tell what it is. It is namely a hospital and has been so since the Middle Ages.
Besides the fact that it is interesting to see what it looked like from the inside, it is also a very beautiful building from the outside. On the inside you can see the beds and the pharmacy, and on the outside the most striking feature is the roof, which has a beautiful pattern of different coloured tiles. In this area, you often see this on church towers, but I think this building is the most beautiful.
I also found it interesting to see how they had arranged the beds. All on the wall and at the end of the room was a place where the (I think) religious sisters held their Eucharistic celebrations, so the patients were sort of lying with their beds in church.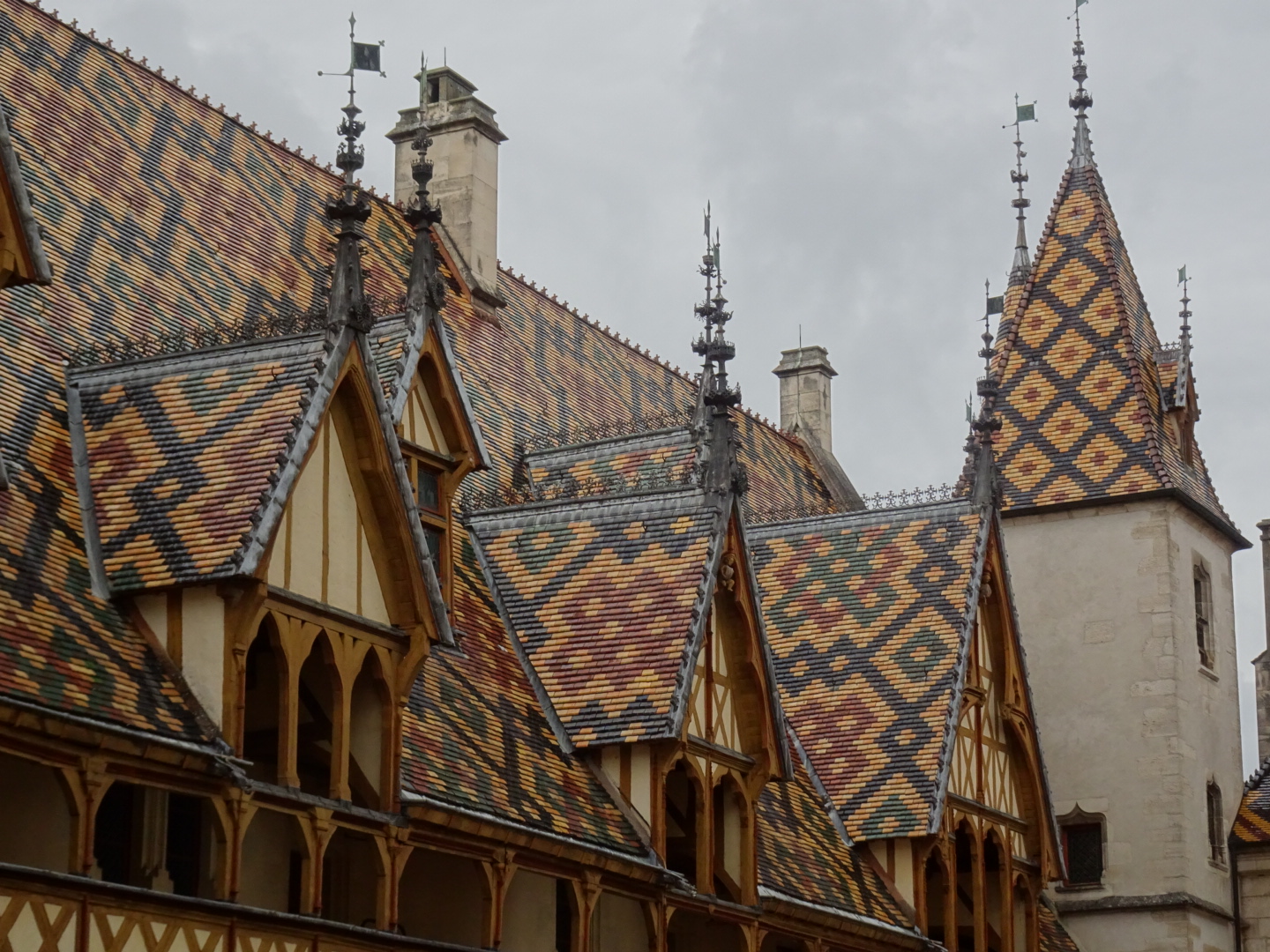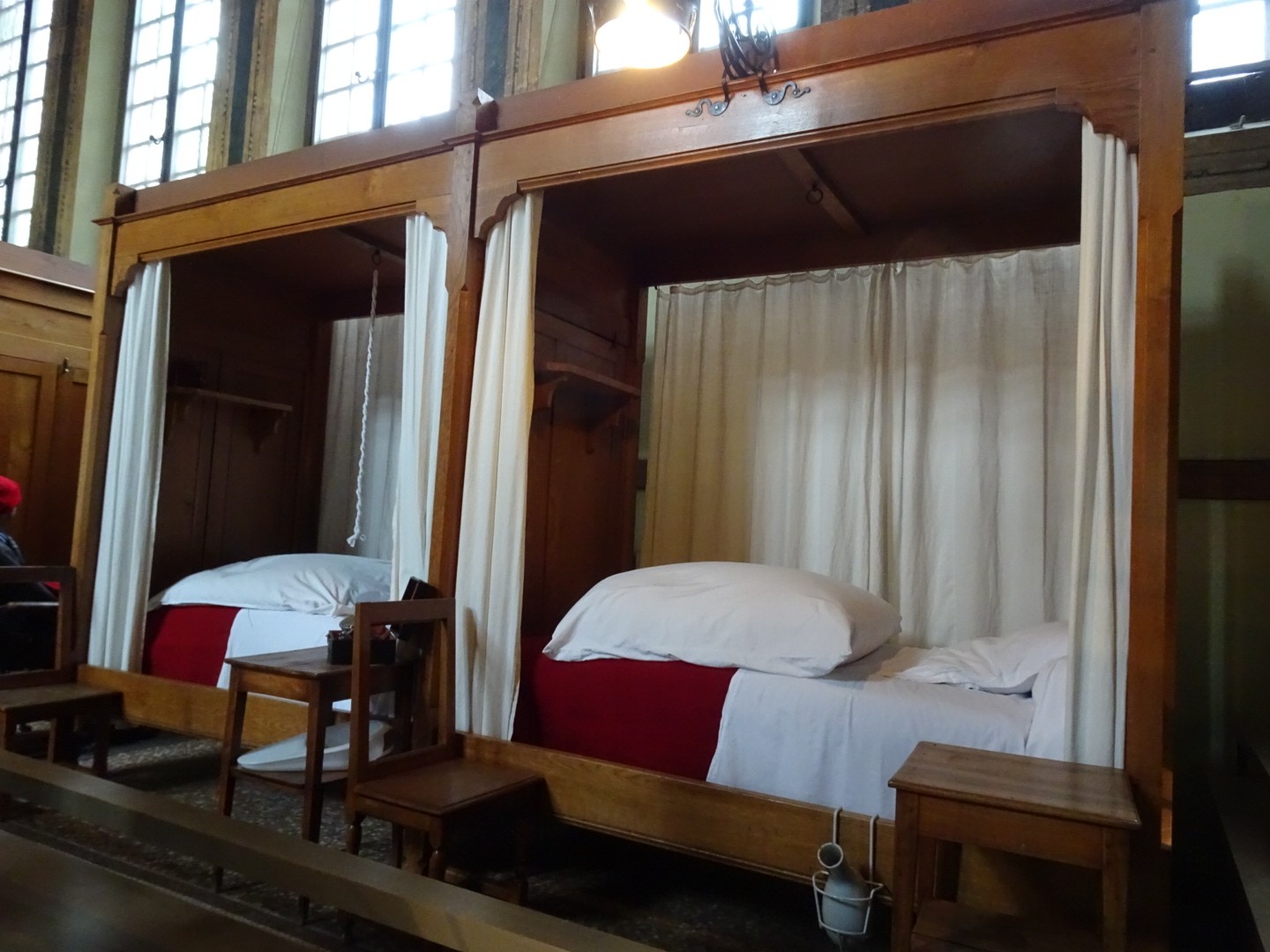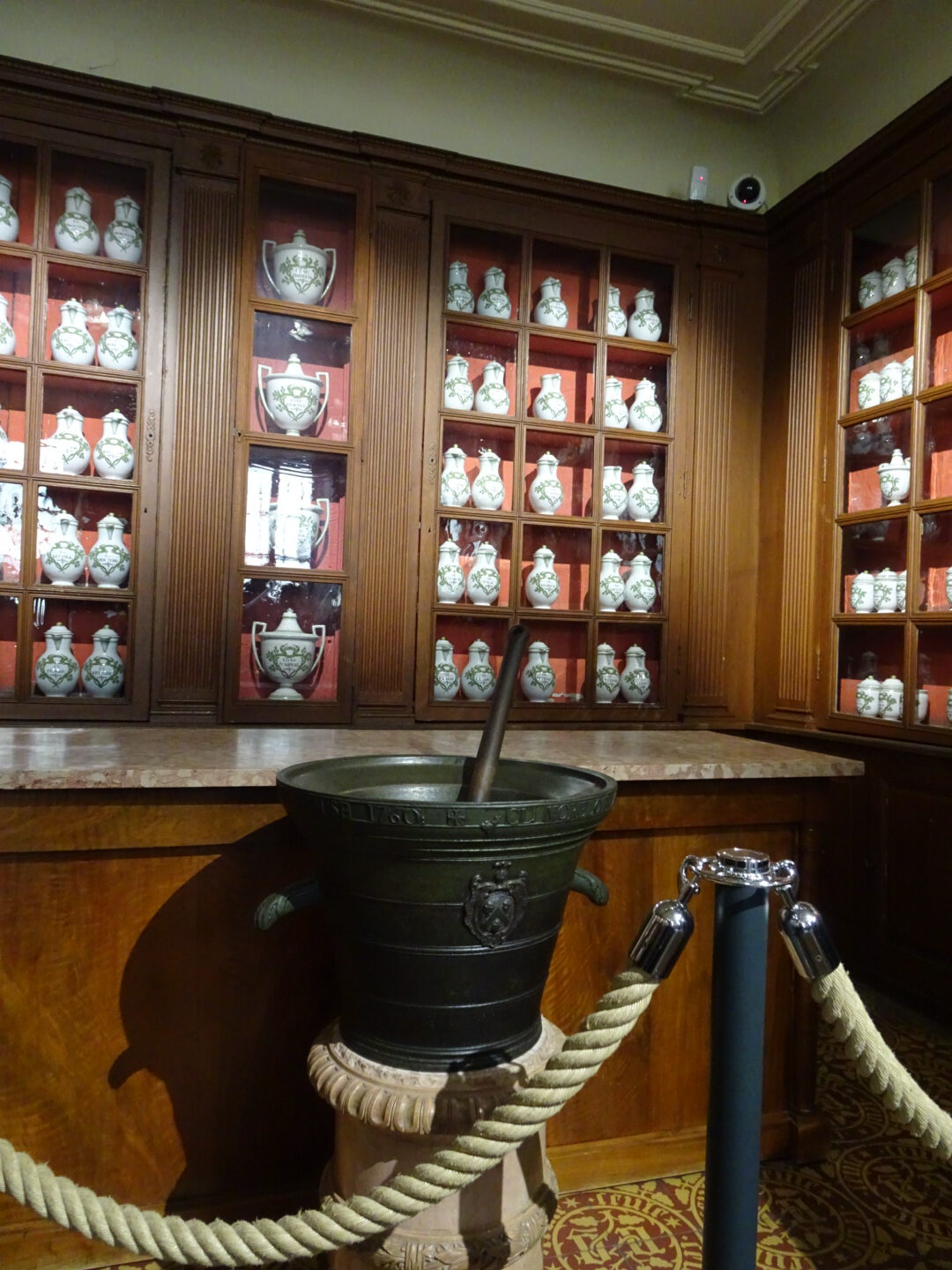 It was quite busy at Hotel Dieu, there was even a queue in front of the door because of course only a certain number of people can enter. A wheelchair often has disadvantages, but not at times like this. I was immediately taken to another entrance and did not have to pay the entrance fee.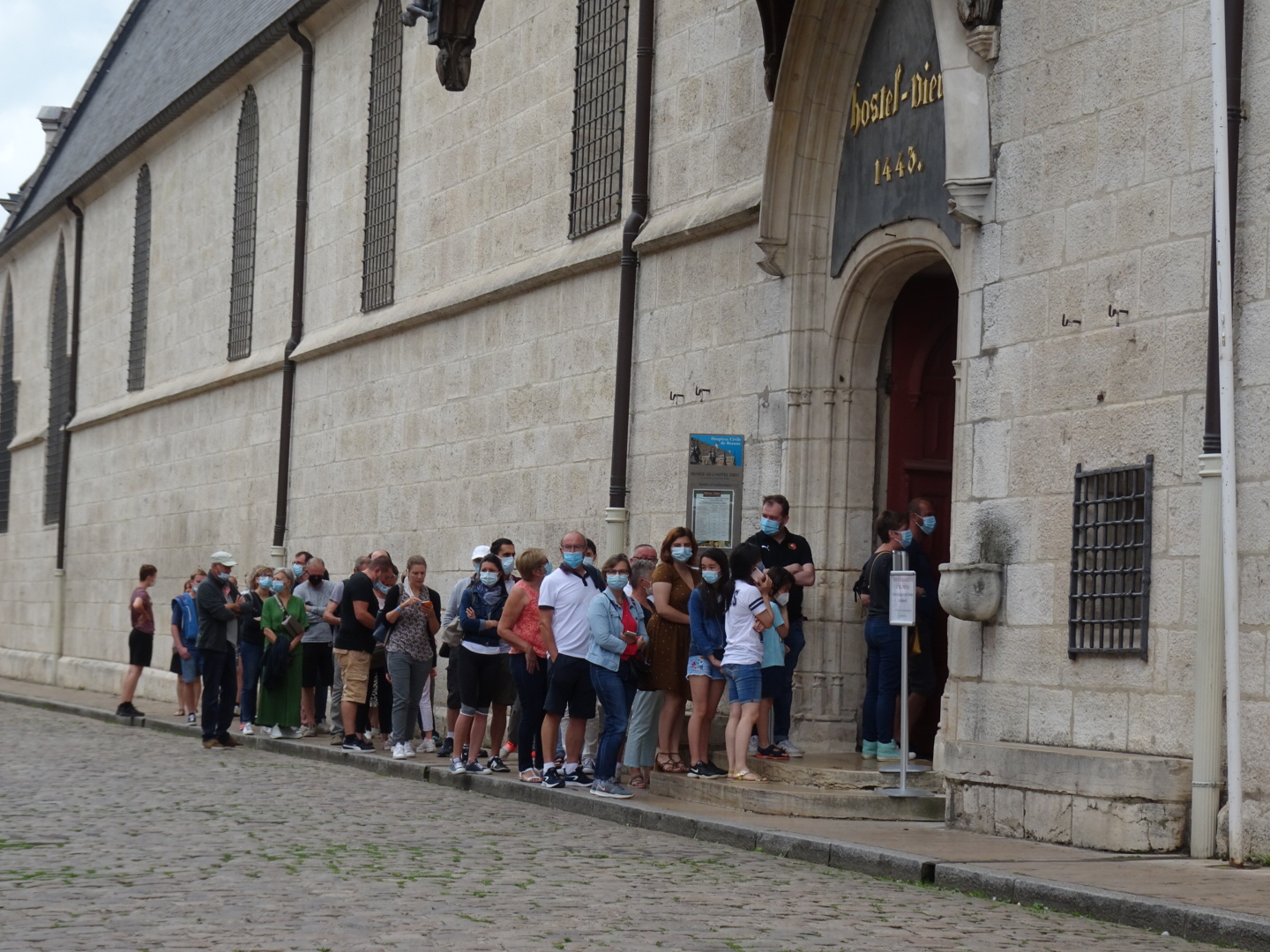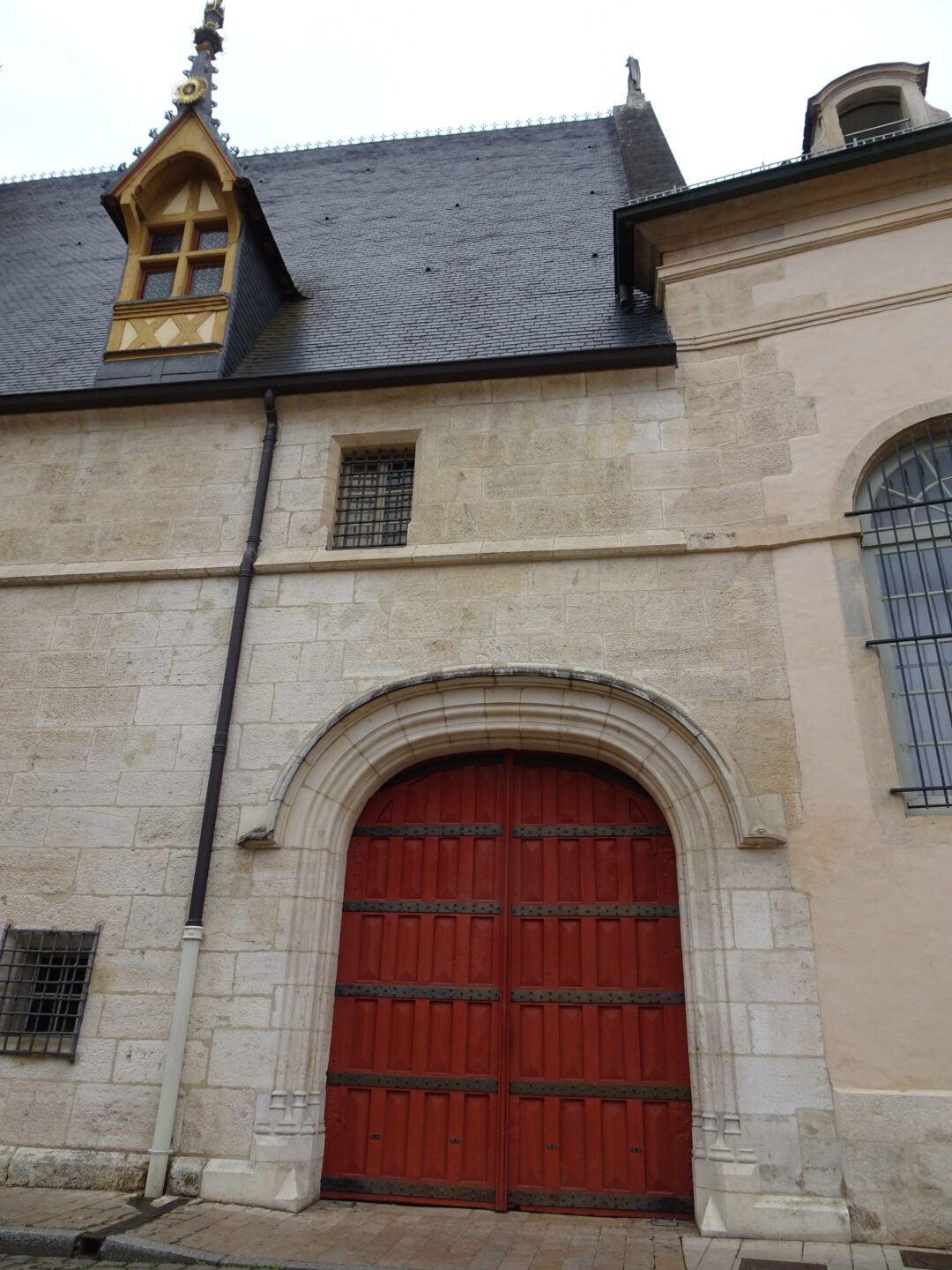 After this visit, I drove on to Taizé. here I received a barracks and tomorrow I will write more about it. then my real pilgrimage will begin!
Greetings,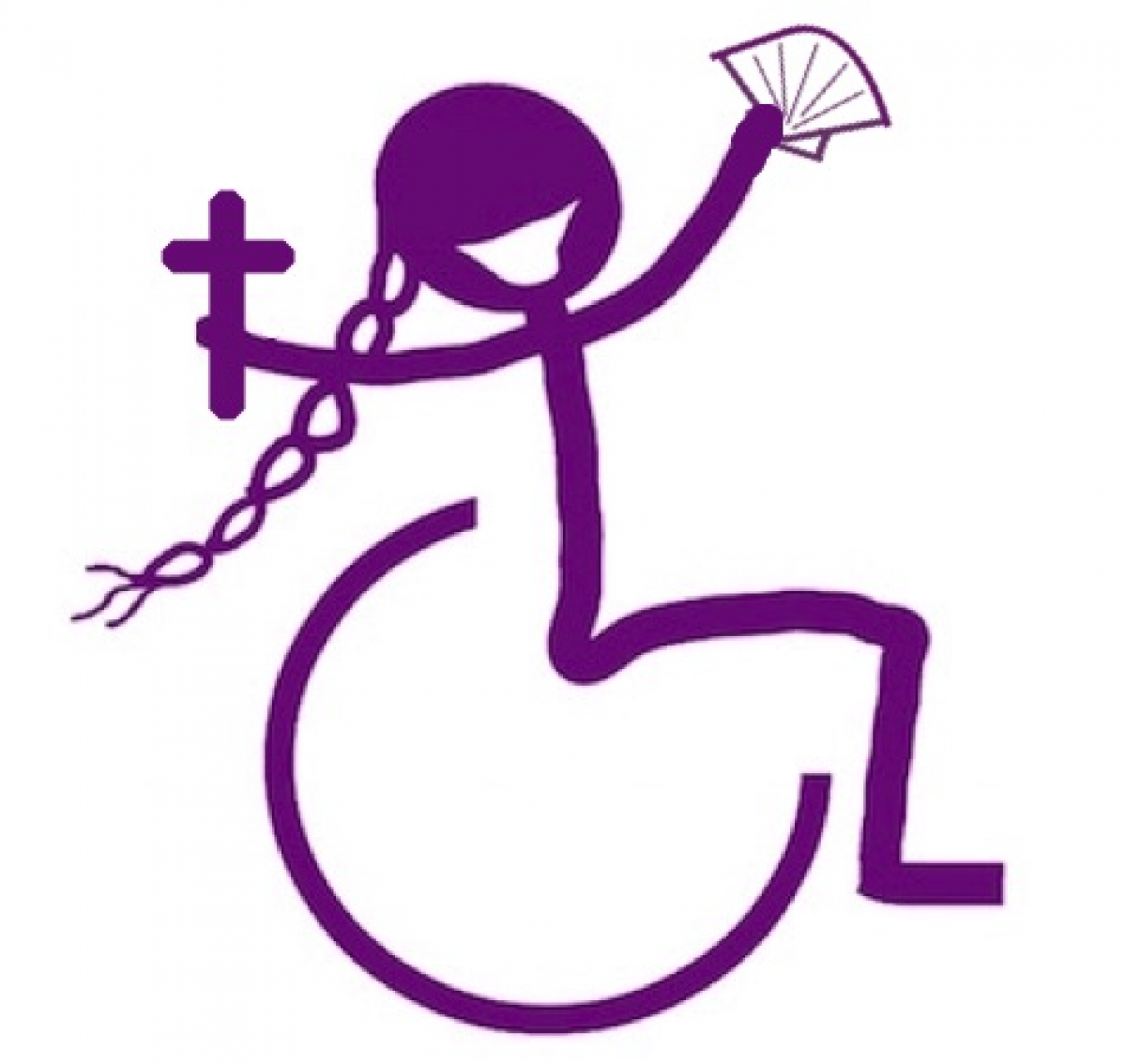 Wheelchair pilgrim
1st day pilgrimage, Trains
I wanted to get up early this morning, to have everything packed and loaded onto my wheelchair before the morning prayer of Taizé. I changed the balance of my bag by moving one battery from the bottom bag (under my seat) to the front bag. And so I made a few more small changes to my pack. When everything was reloaded, I went to my car and left behind everything that I wouldn't need on the road (e.g. a fitted sheet that will be needed in Taizé, but not for the road). The bells had already started to ring and it was time to pack up everything and lock the car door. Then off to the church to the prayer. It is always difficult to sing a foreign language for the first time (in Taize, songs are sung in many languages), but it is also fun when you succeed (especially the Eastern European languages I often find difficult, too many vowels in a row and lots of s, z, sz, zs, czh, sounds). But after visiting Taizé for 9 years, I speak (sing) a lot of languages!
After the morning prayer, it was time for my favourite meal in Taizé. Breakfast with sweet Taizé tea, bread and chocolate bars!
At breakfast I spoke to a few more people. One Flemish woman that I met in my first two years in Taizé, nice to catch up with her, even if it was for a short time.He pointed me to one of his group, a woman whom I had also spoken to yesterday.
She worked as a clown. Since I do magic and used to be a clown as well, that led to a very nice conversation.
But after all that conversation, it was time to leave.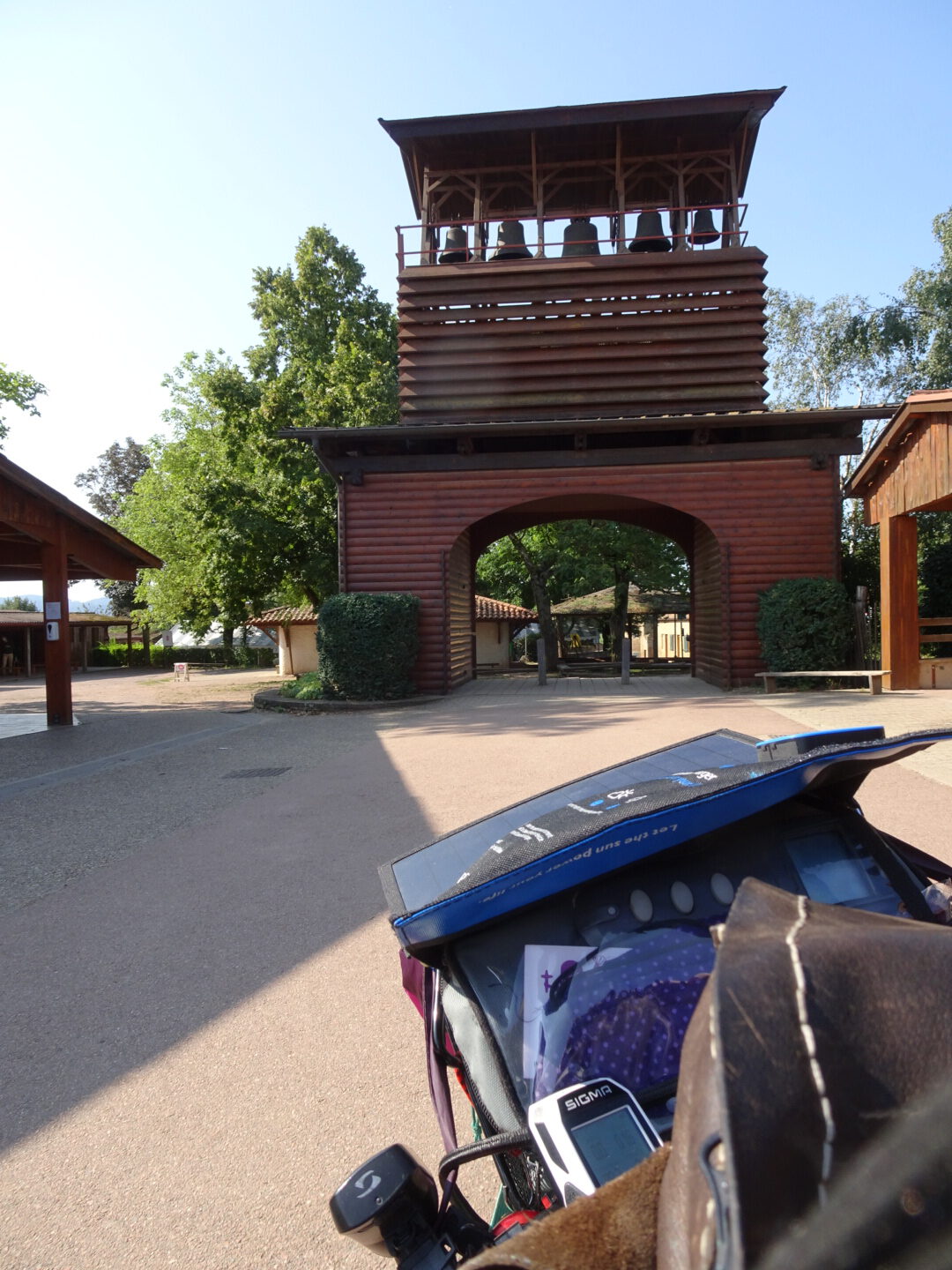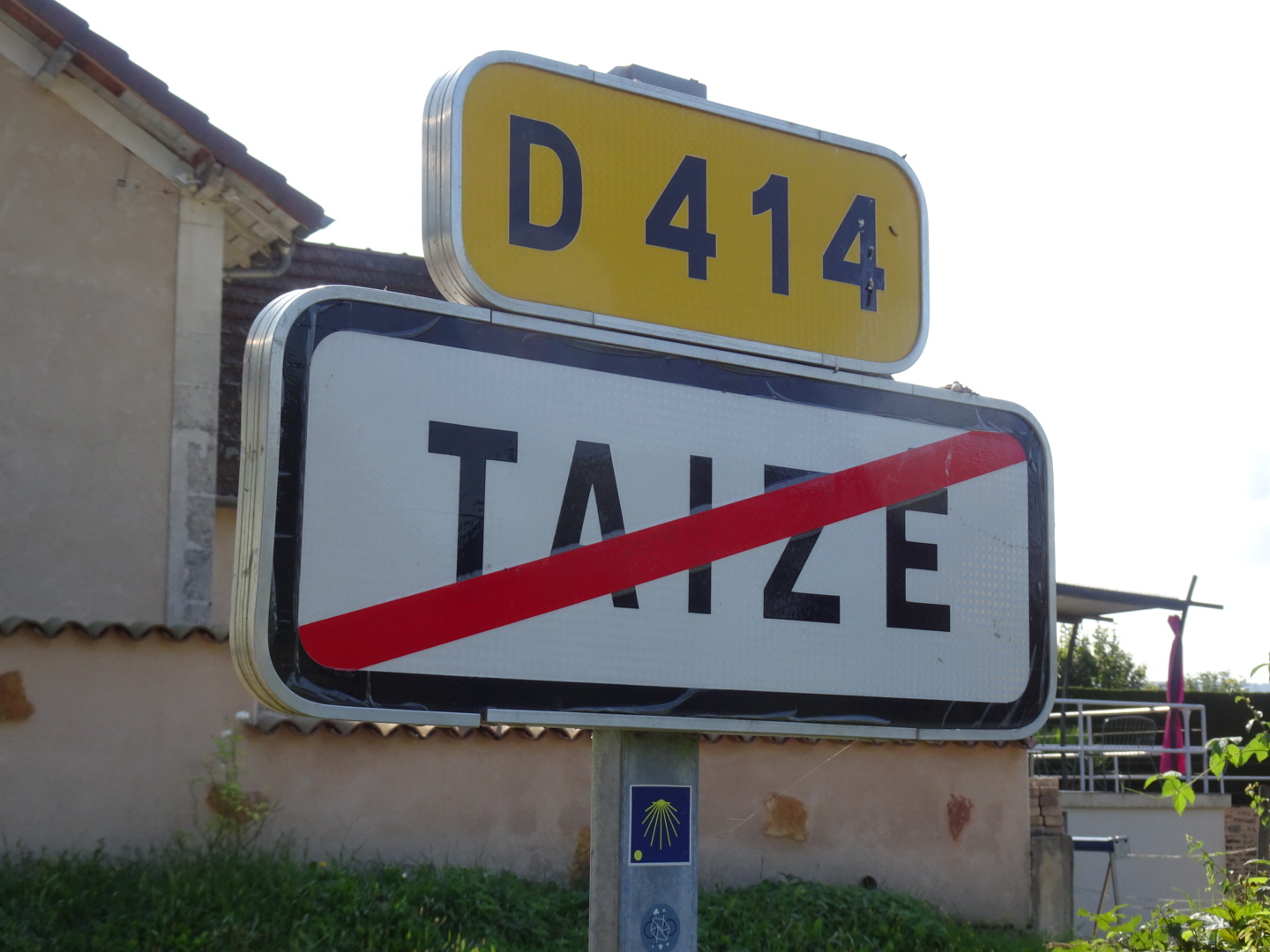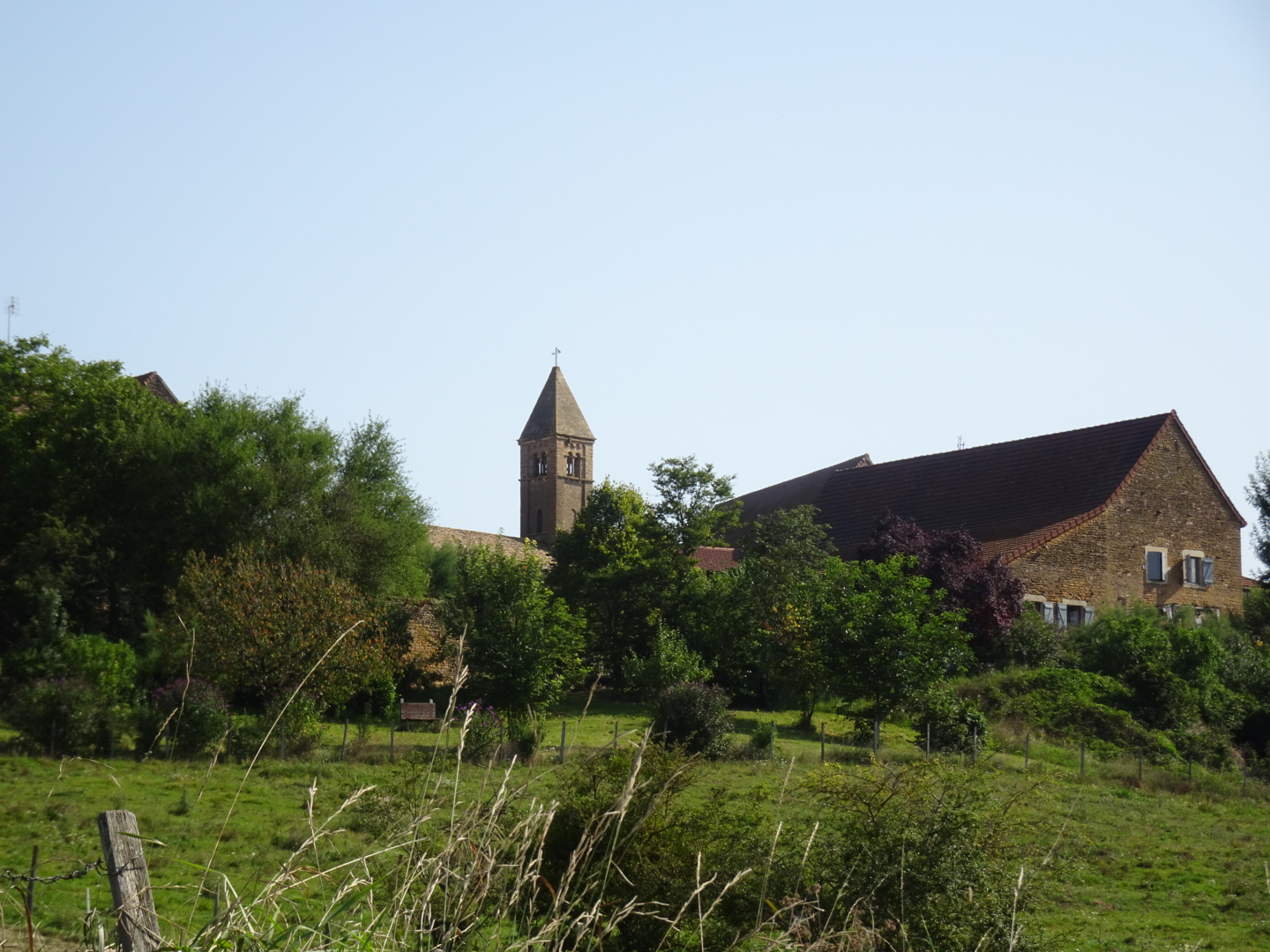 Today, I rode the same route I did last year, only now I went the other way. I rode over a beautifully constructed cycle path, a so-called Voies Vertes, green way.
These are cycle paths that have been and are still being built on places where railways used to run. Sometimes, there are even railway stations with platforms.
The road itself was rather boring and straight, but the critters in the nicely overgrown verges with many flowers were a nice photo object.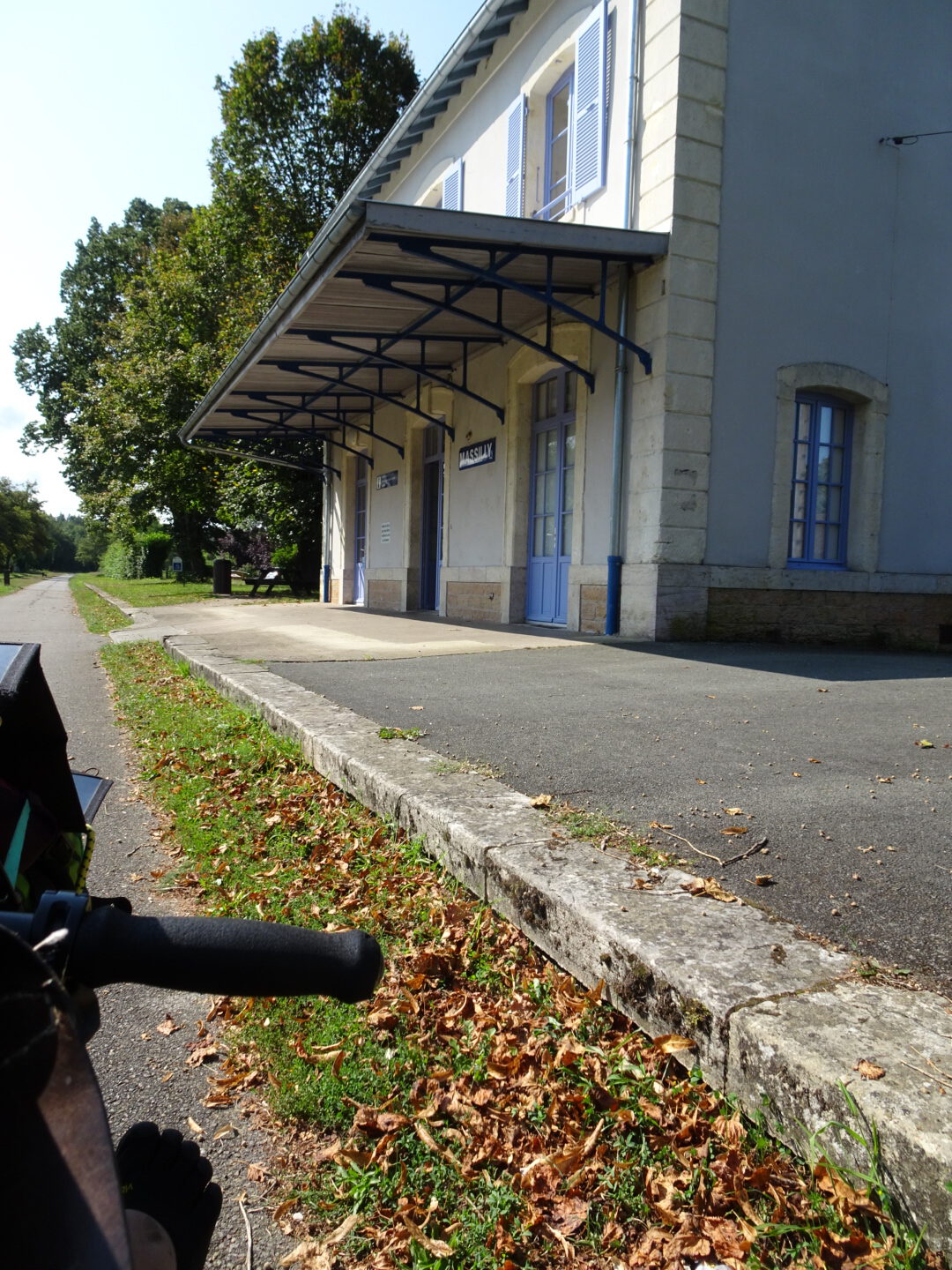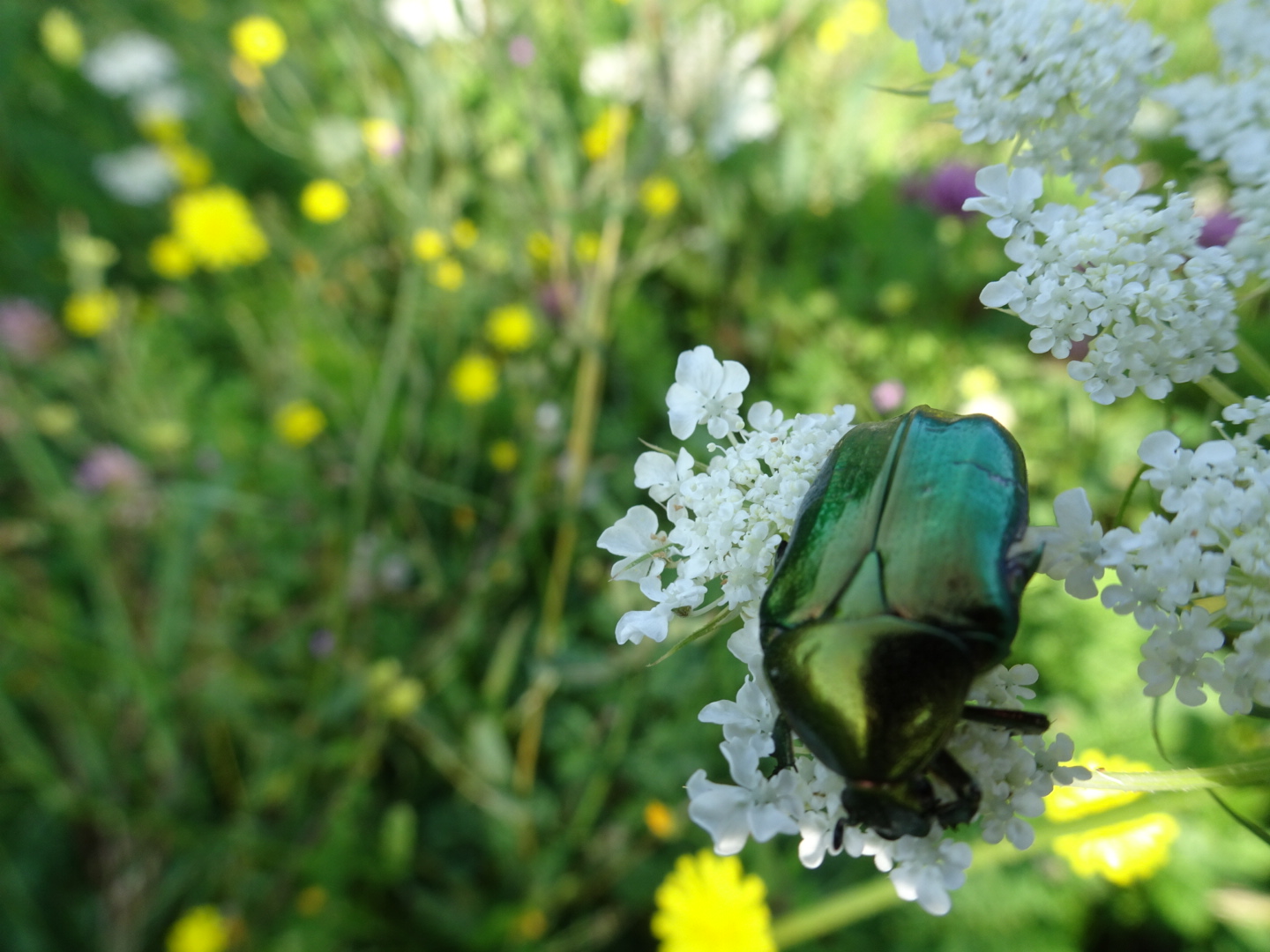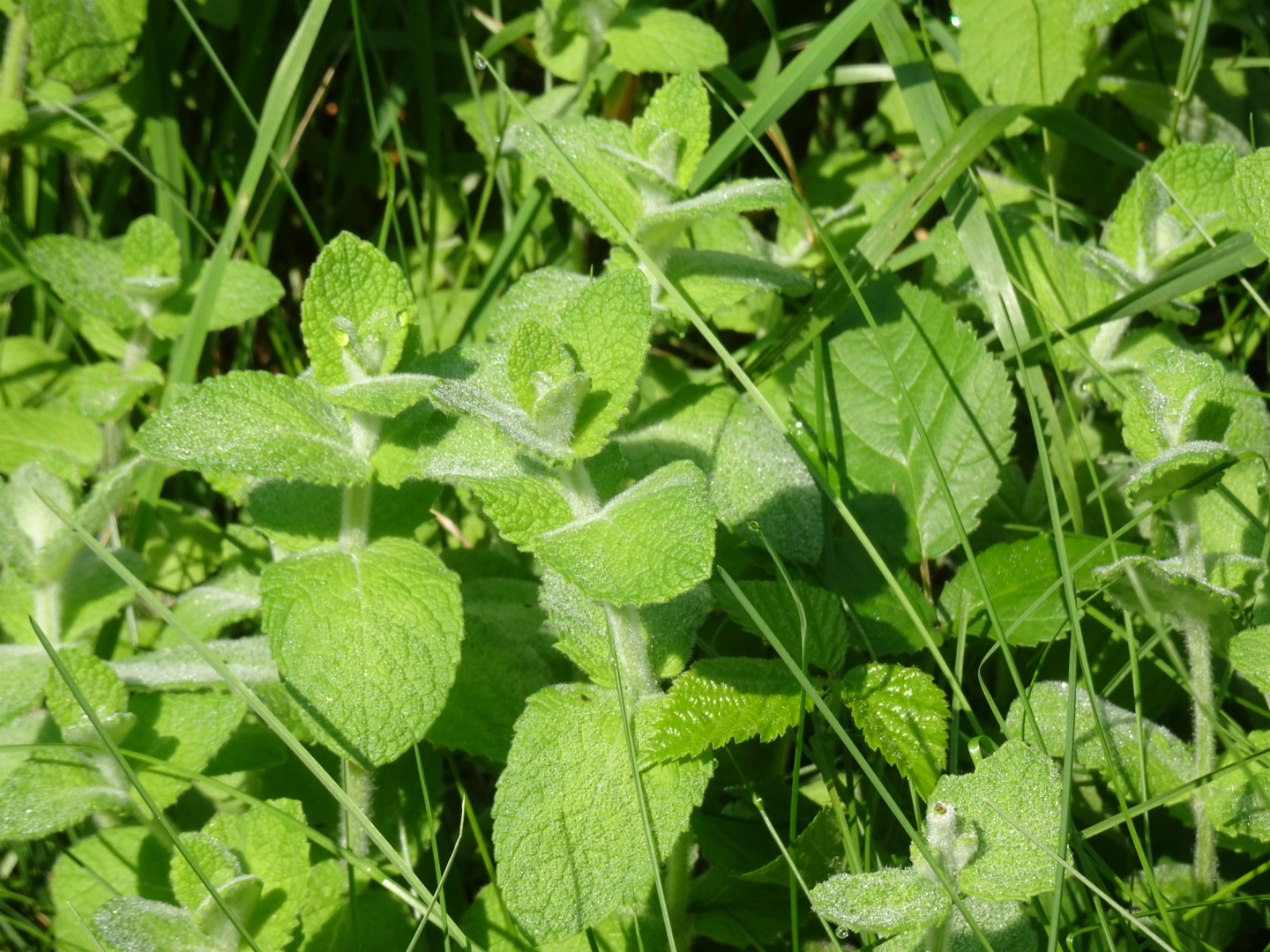 On the way, I also came across a sign with something written on it. Normally, I don't like that messy on road signs, but I liked this one! A pilgrim's greeting.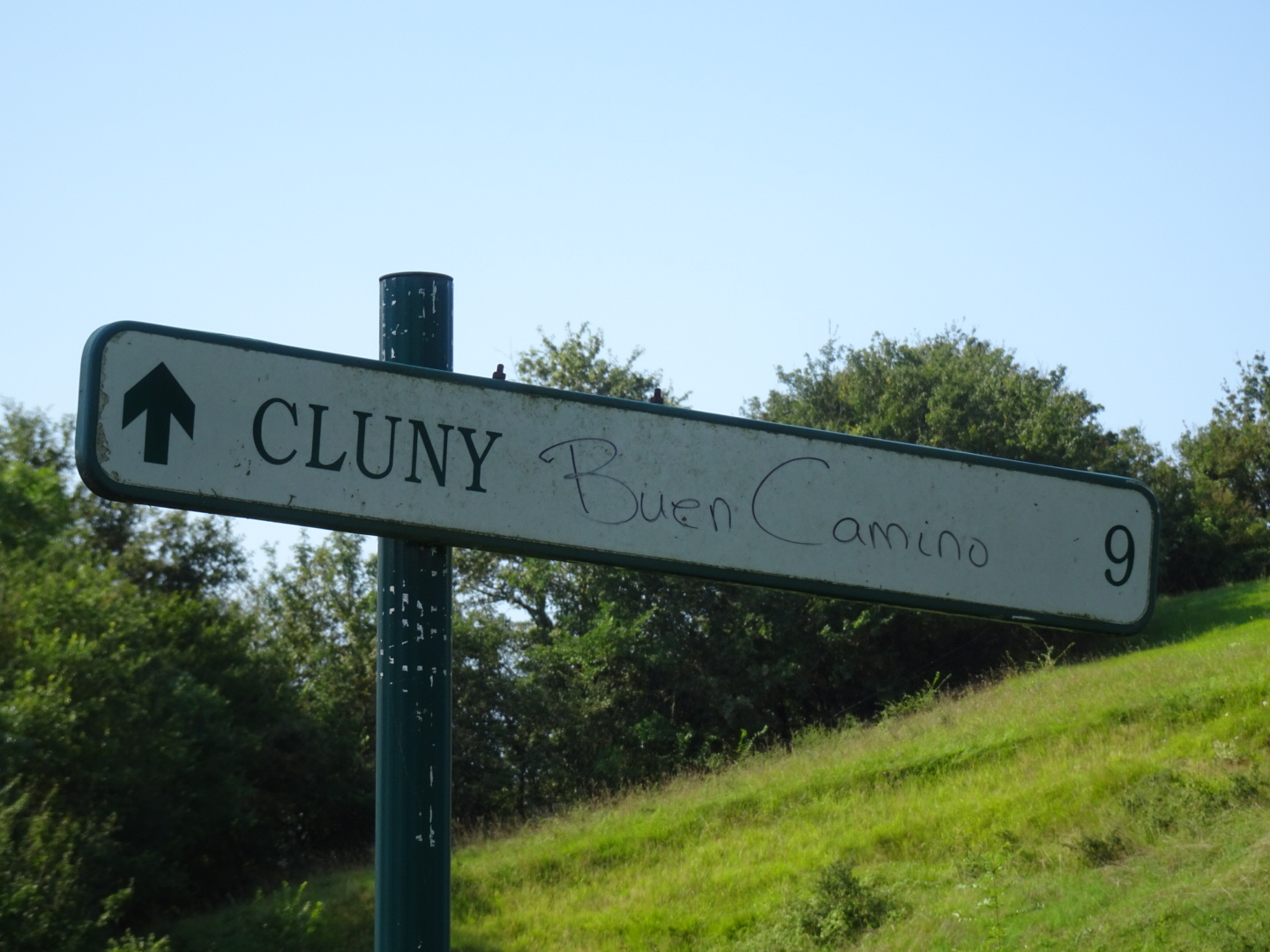 Now I am at the camp site in Cluny. It was only a short distance of about 11 km. I had actually planned to go to another camp site. But it was time to lie down, and so I do now. I can still hear the trains as they pass by the campsite.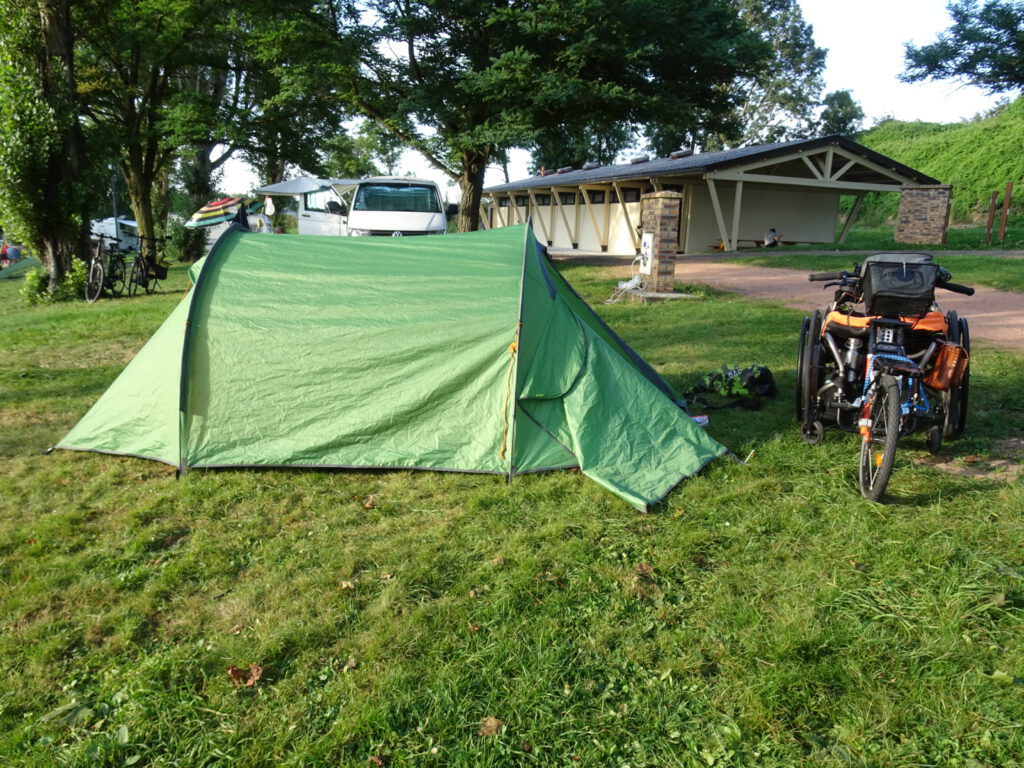 Tomorrow I will continue.
If you haven't done so yet, subscribe to the newsletter and you will be notified as soon as I post a new blog.
Greetings,
Wheelchair pilgrim
After that date I did not keep up with English translation, please check the Dutch blog with the transator of your own browser. https://rolstoelpelgrim.nl/blog/