Here comes the blog of 2021.
I hope to roll from Taizé to Le Puy en Velay.
I will also post the preparations here.
Blog
Monday June 7, 2021
It has been two months since my last post about my interview in Eva magazine so time for a new blog.
Slowly but surely I have started to plan a little more now. I hope to leave at the end of August if the corona rules allow it. but for now it looks like it will be done by then so I am trying to keep hope that this will work out.
Slowly but surely I have now started to plan a little more. I hope to leave at the end of August if the corona rules allow it. but for now it looks like it will be happening by then so I am trying to keep hope that it will.
I have doubts about two possible routes. I can follow the official route (a Jacobsweg via Cluny from Germany) or a completely self planned route via Lyon where I will roll along the river Saone the first part and then through a national park. Both have their advantages and disadvantages such as steep hills and / or pieces with longer distances between campsites. Until last year, choosing a route with enough places to sleep was my priority, but in the meantime I've learned that especially in the more difficult places, I find wonderful and often original places to sleep where I have very special encounters, and I notice more and more that it's those encounters that make this trip so special. And the same goes for the road quality of the route, the easy parts I don't remember or I remember it as boring, while the hard kilometers on unpaved roads or where I could hardly climb up with my wheelchair have stayed with me and on top of the mountain gave me a feeling of victory and where I could enjoy the view.
For now, I'm partially planning both route options and probably deciding which way to go just before I leave. So more on that in one of the next couple of blogs in the coming months.
Soon I also want to take a good look at my luggage. I want to check if there are things that I missed last year and that I have to take with me now (the latter will be minimal, I didn't miss much). I would prefer to travel with minimal luggage, but because of my wheelchair I always have to take more with me than walking pilgrims.
I regularly get the question where I put all my luggage on my wheelchair. Below a picture and a description of my luggage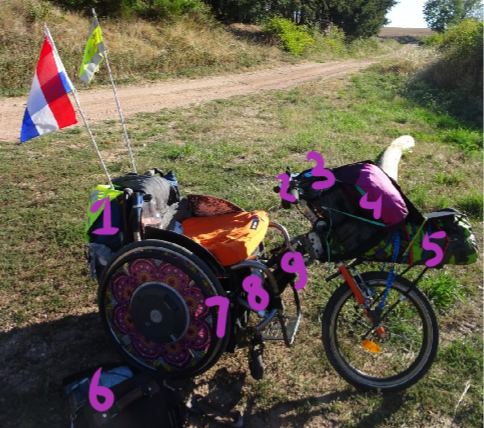 Backpack, in it I have my airbed, sleeping bag, clothes and 1 spare battery.
On my handlebar I have several things. a bike computer, a bag in which I have a powerbank and very important a bell.
This is my solar panel, 30w, with which I charge my powerbanks and phone.
Bag where I keep my (often gifted) packed lunch or groceries, here it is very full because I had just done some shopping and knew I would not find a supermarket the next day but often there is not much more than a piece of baguette and some cheese.
Large waterproof bag. it contains my tent, the hammer and the charger of my wheelchair.
My handbag and the transparent map holder. They are on the ground here but on the road this is on my lap. many call my handbag a trunk, I like big bags that are comfortable and stable on my lap and where everything fits in that I need to have at hand on the road. a bag to walk with and that is narrow and high doesn't work fine sitting in a wheelchair and having a bag on my lap, then a bag has to be wide and low, hard to find. In my bag are of course my wallet and passport but also medication for the road, small first aid kit, spare gloves and very important my pilgrim passports (credentials), which are becoming more and more, I'm now working on the 3rd and I always have an empty one with me in case the pilgrim passport I'm using now is full.
The cover for the cards is ideal, it is transparent and has a string that I can hang around my neck or tie to my bag. I always use loose maps that actually come from a michelin map book, this gives me nice detailed maps but sometimes I need 6 or more maps for 2 weeks of rolling. In this transparent cover I can keep all the maps and then put the one I need in the front and fold it so I am ready that day and can follow the route. I also often put my cell phone in this cover when I go places where the map is insufficient to navigate, then I use google maps and because of this cover everything stays neatly in my lap.
Under the seat of my wheelchair I have a bag with 2 spare batteries and I also keep my other power cables in it.
Metal drinking bottle, during the day to drink and at night often used as a pitcher.
Tool kit on my wheelchair frame. This contains everything to solve problems on the road, duct tape, tiewraps, allen keys, screws, pliers, tire repair kit, spare tire, screwdriver and more.
So I'm quite loaded, but fortunately I can still get everything on my wheelchair puzzled. despite the fact that I'm so loaded, unfortunately I can't reduce luggage very much, especially in terms of wheelchair gear (such as tools, batteries and chargers and cables) and camping gear (tent, airbed, sleeping bag), especially that stuff is heavy and/or large.
When you want to hear more about my packing or if you have other questions feel free to ask me. also check out my packing list on the website (Dutch)there is a lot of info about what I take with me.
Thanks for reading the blog, on the homepage you can subscribe to my newsletter, then I will keep you informed when a new blog is posted.
Greetings,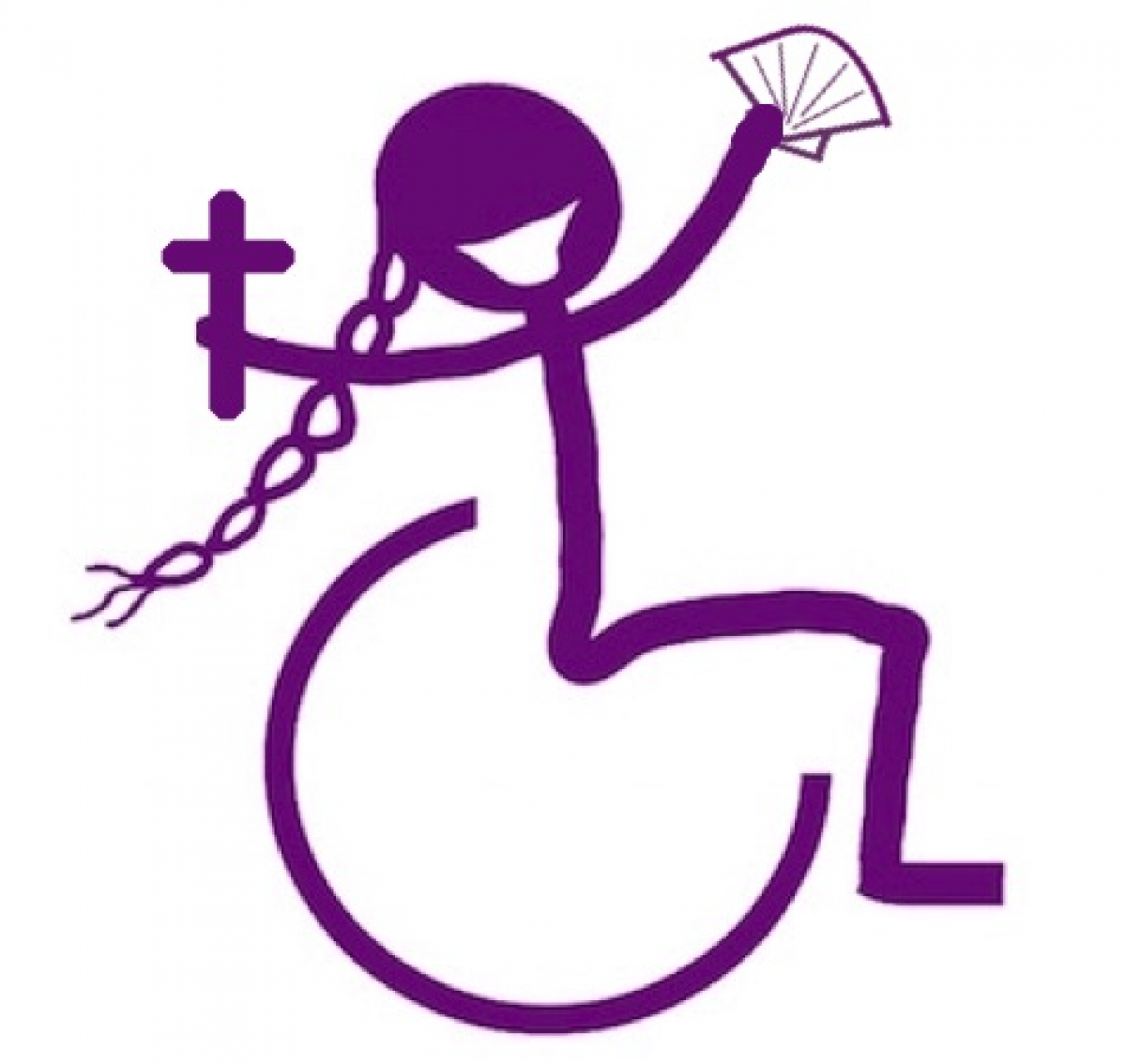 Wheelchairpilgrim