(automatically translated, I hope soon I have the chance to translate it well, in case you speek Dutch and English you are always welcome to help me translate this website)
Here are all blogs the stage of 2017, from Den Bosch to Maastricht.
Day 1 Den Bosch – Helvoirt.
Day 2 Helvoirt – Vessem
Day 3 Vessem – Achel
Day 4 Achel – Weert
Day 5 Weert _ Roermond
Day 6 Roermond – Sittard
Day 7 Sittard – Maastricht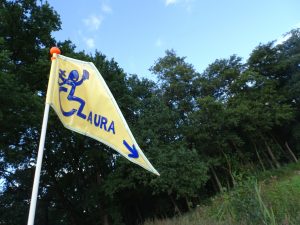 10 September 2017 – Again on the road. From Den Bosch to Helvoirt / Emmaus.
Today is the day. The start of the second stage to Santiago. This morning before departure I had helped with a family mass in my church with the theme of traveling and relying on God. So that was quite appropriate.
After the joint lunch with the people of the family celebration, I went on the road.
My goal for today was from Den Bosch to Helvoirt / Emmaus where I had booked an overnight stay.
Instead of the official walking route via the pilgrim path, I decided to roll via junctions. Pilgrim path and the other routes run too much on unpaved paths / pastures / bridle paths. So now I am turning off my own route. At about 3:30 am I left by train to Den Bosch. And an hour later I got off the train again.
First roll through the city. Soon I saw a Capuchin monastery. There happened to be someone just outside who I have asked for a stamp for in my pilgrim passport. And they had that, the first stamp of this trip is inside !!! Then I rolled again.
The route today was quite varied. First city, then forest, meadows and lakes. When I arrived at Emmaus I got a nice room that was also quite accessible with my wheelchair. There they spoiled me with a piece of chocolate in my room and I can have breakfast and take a packed lunch, there is a shared kitchen here that I can use to prepare everything.
Now I'm in my room and so I'm going to have a drink and then sleep early because I want to leave pretty early in the morning because I want to roll about 30 km towards Vessem.
It was a short but nice trip. Today I have rolled about 13 km.
Tomorrow I hope to post a new message.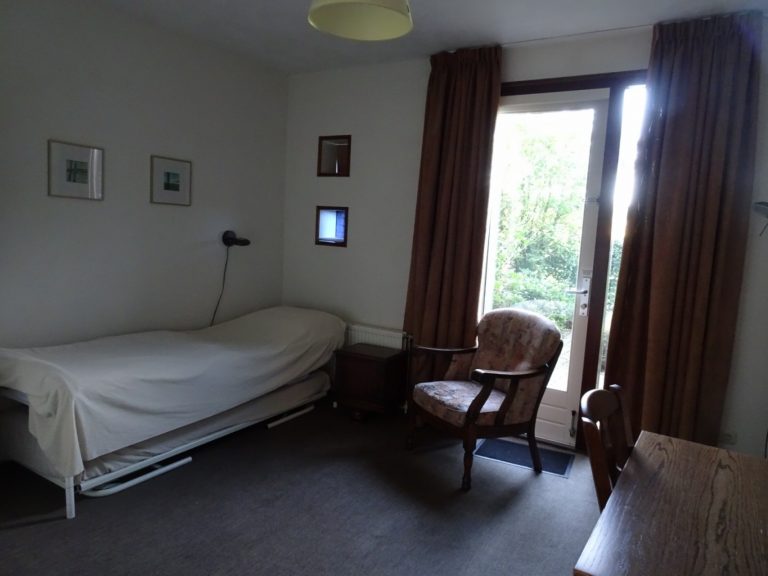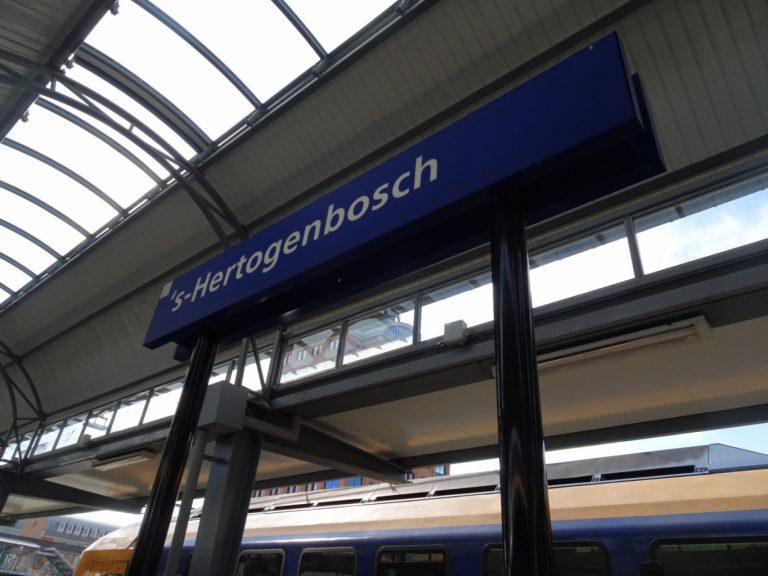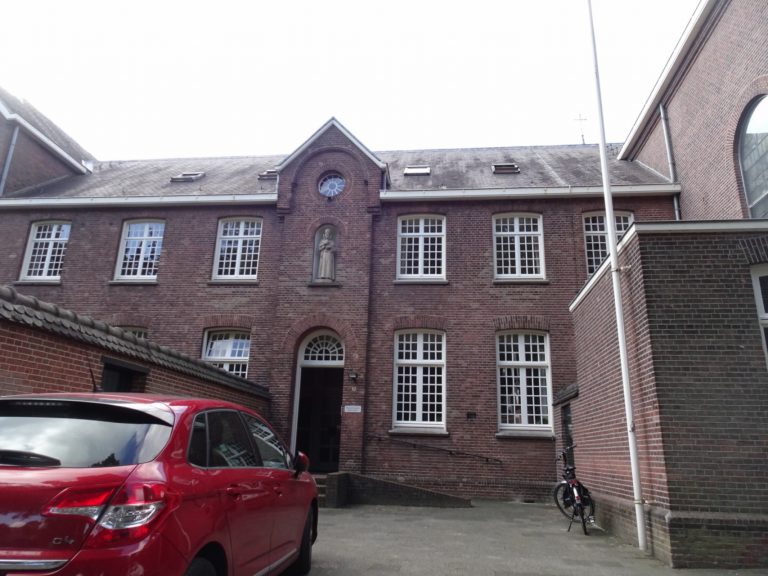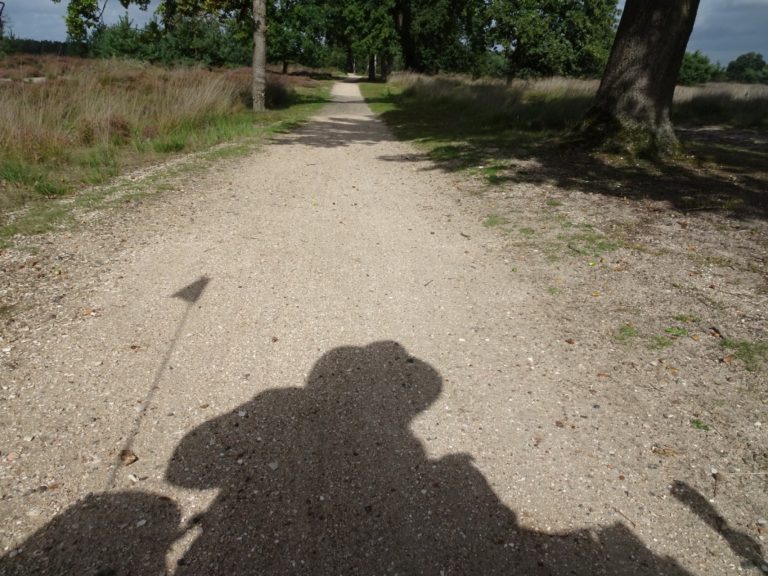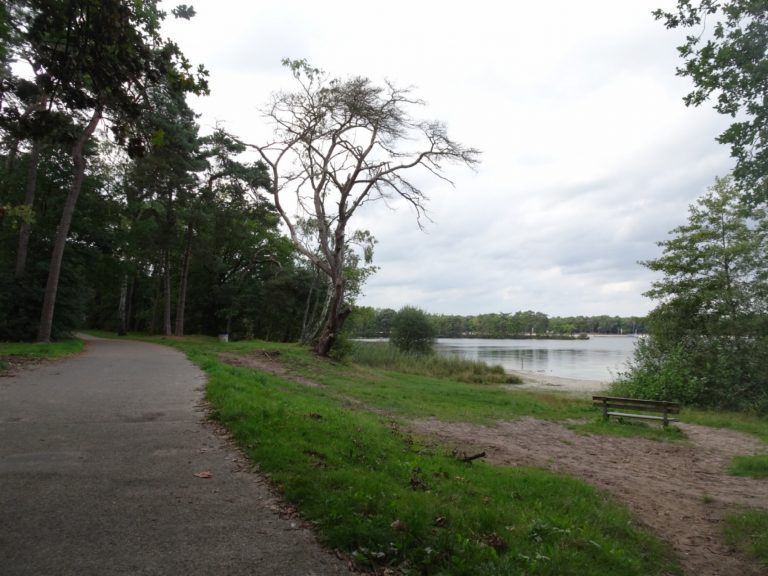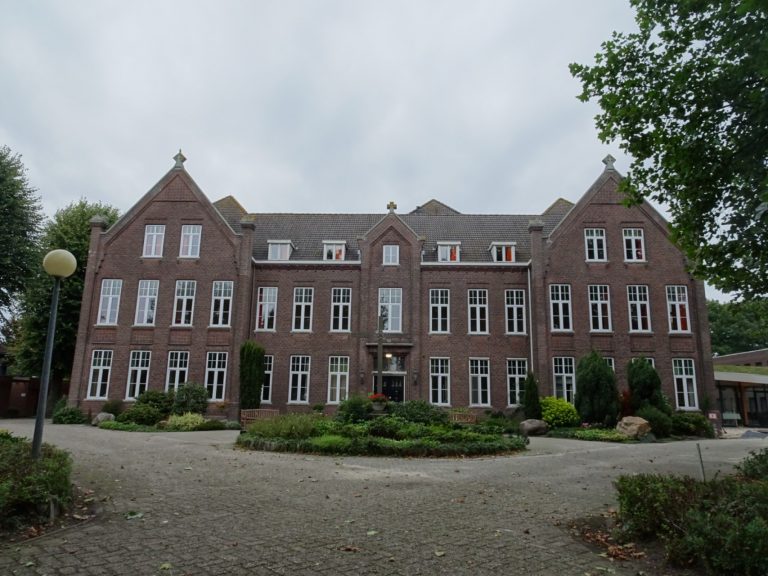 11 September 2017 – The second day. Helvoirt to Vessem.
Last night I slept well in Emmaus. Around 7:00 am my alarm clock ringed, I woke up, packed everything and had a nice breakfast. I was allowed to make my breakfast myself, everything I needed was in the kitchen.
8.00 am I went to Mass and then I prepared for departure. I was on my way again around 9.15. The first part was the same as yesterday, but the other way around was to get back on the route. In Helvoirt the church was open and I had been in the chapel for a moment, the rest of the church I could only see through glass. There were no people in the church either, but I had seen people working in the garden outside the garden. I asked them for a stamp and after a short search they found someone with a stamp. We started talking about my journey and I noticed that I had rolled past Vucht yesterday but that there was no church open at that time. She had good news, because Vucht's stamp was in Helvoirt, so I got it right.
Then I rolled again through the Kampinase heath. A very beautiful heath area and the heather was also blooming and everything was beautiful purple. on my way I also regularly picked and eat delicious blackberries. Most were still red but there were some black ones, tasty! On the way we stopped at a campsite to go to the toilet. there had a nice conversation with 2 people who came from Zwammerdam (a village close to the town I live). Then via Spoordonk and estate Baest direction Oostelbeers. Unfortunately, the church had changed in a café there. Then drove through buikheath (though it was more forest than heather) to Vessem. There I soon found the Pilgrimage Inn.
Here we are now with a total of 4 pilgrims (2 of whom are volunteers in this pilgrimage inn, so there is one guest next to me).
Tasted very cozy tonight, heard many beautiful pilgrim stories. And of course got a stamp again! My wheelchair is now charging so I can continue tomorrow. After more than 35km my battery is empty.
the bedrooms are unfortunately not wheelchair accessible here, they are upstairs, but fortunately I can still get up to those stairs.
Tomorrow again. I hope to roll towards Achel, but tomorrow I have to call and find a place to sleep before I plan the exact route. I am going in the direction of Weert, but I will certainly not roll that far tomorrow.
Now sleep first.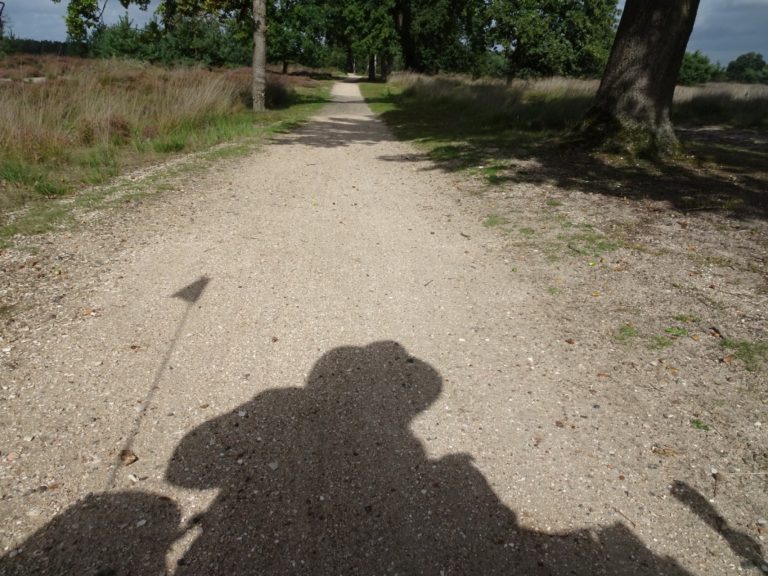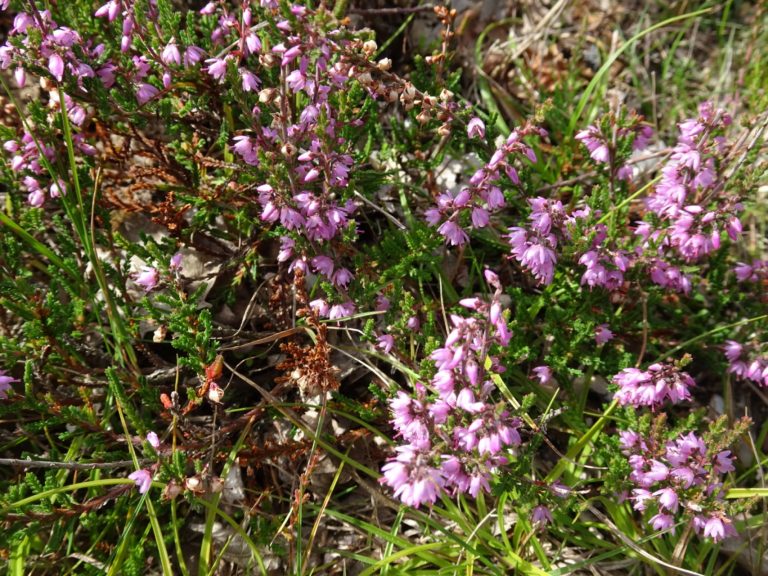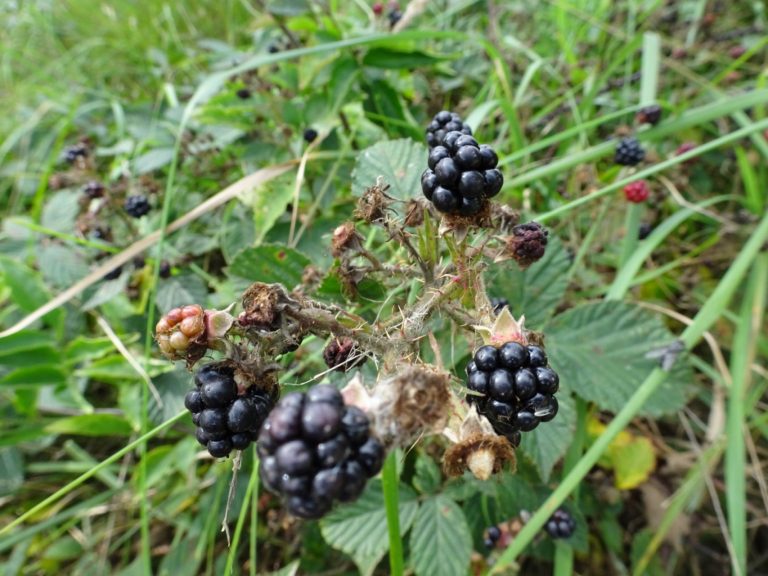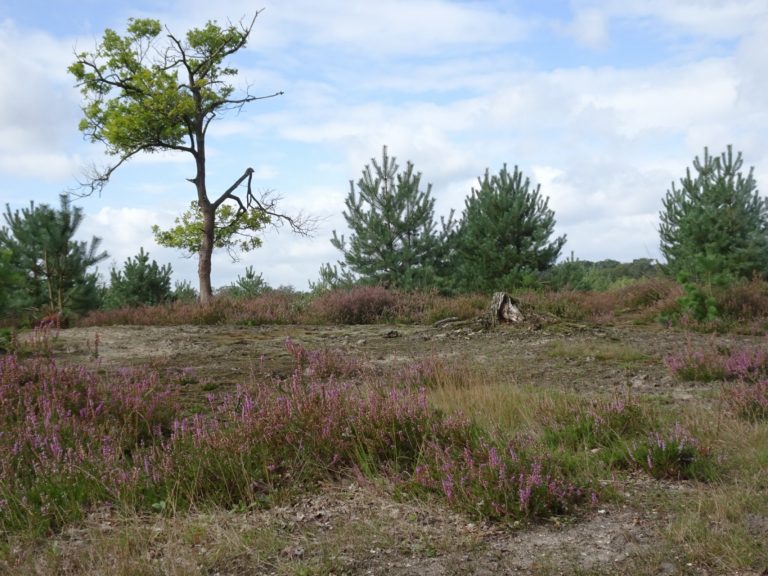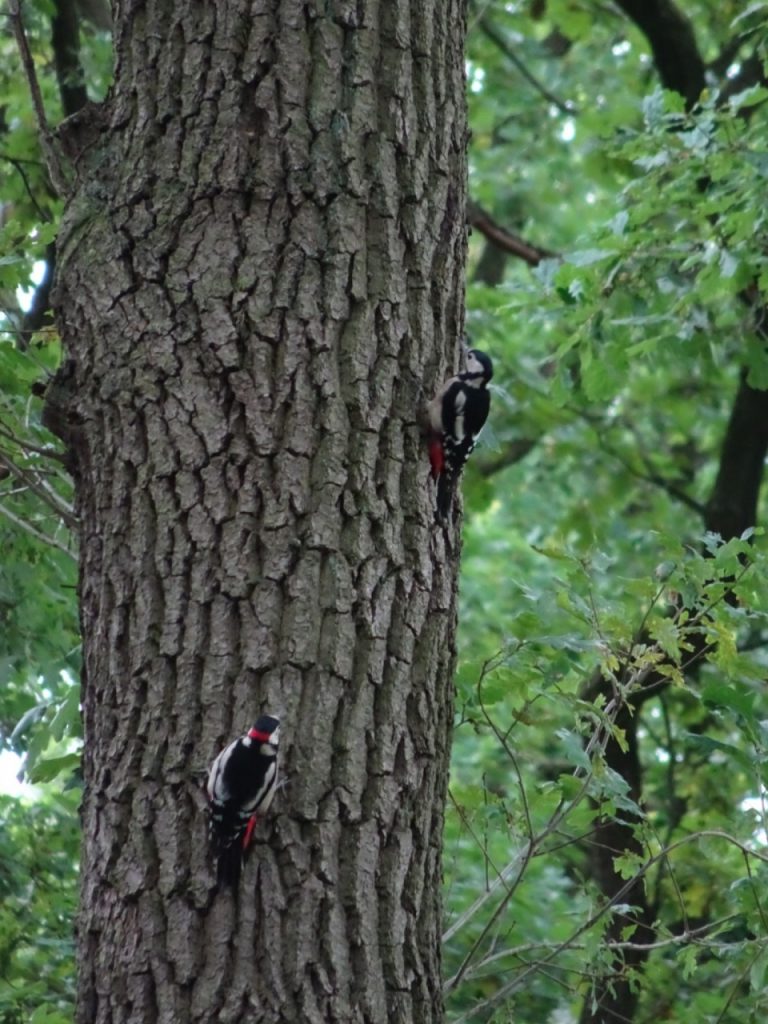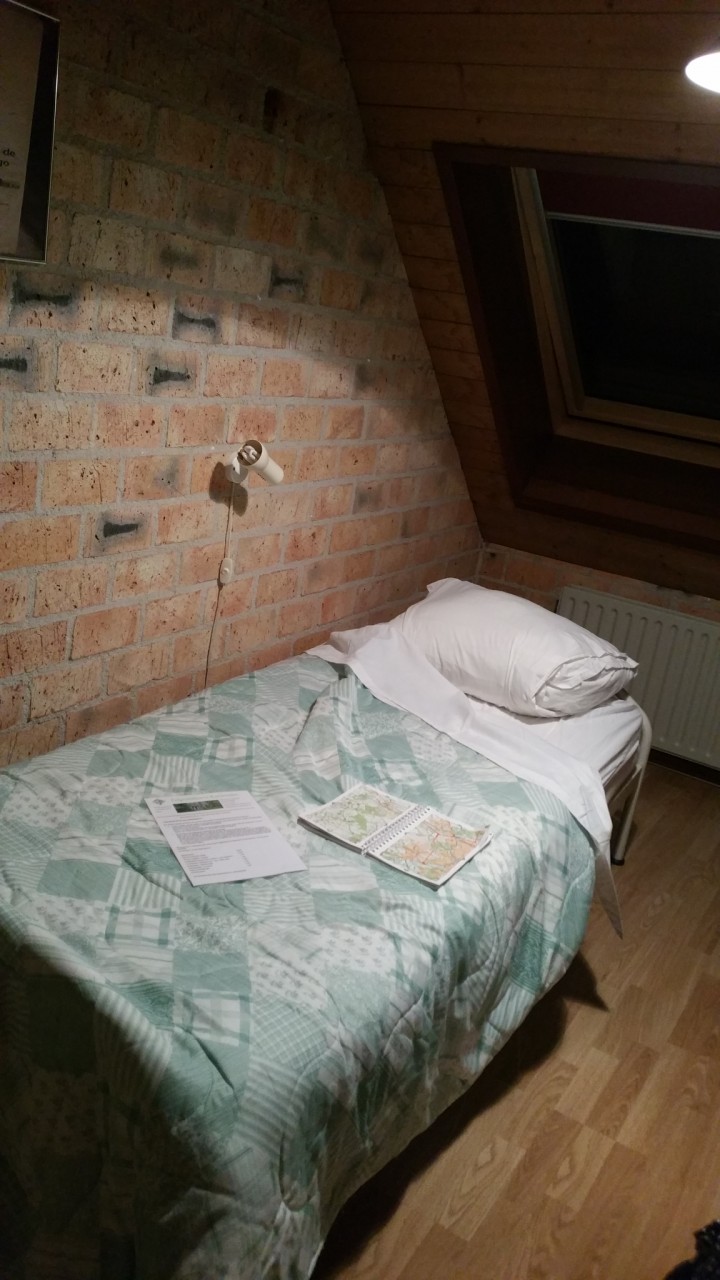 12 September 2017 – Third day, Vessem – Achel
Last night I slept well, even though I was very cold first. Fortunately, I quickly found an extra blanket and slept quickly. This morning we had breakfast with the other pilgrims. Then settled and I have bought an extra pilgrim passport for when I continue, but this week I current passport will be enough.
Then it was time to leave and together with 1 fellow pilgrim I walked to the Jacobushoeve. I had a cup of tea there and the other pilgrim was already on her way to theVia Monastica. It was fun in the Jacobushoeve, there were many elderly people who were curious about my trip.
Around 10.00am I left. First I went to Steensel, I was hoping that I could buy something there for lunch, Unfortunately there was no supermarket or anything else where I could get food. I asked woman in which village is a supermarket, because most villages here have no shops. Luckily she told me that the next village (Riethoven) has a small supermarket. I got my lunch there. 2 rolls and a piece of goat cheese from a farm from the village.
On the way we looked for a place to eat. But if something goes in there also must go something out …. that is sometimes quite difficult when there are no restaurants or shops and only nature. Luckily I found a nice restaurant in Westerhoven that was open. Then I could relax again. The route I walked today as usually mainly via junction signs, but the route also partially followed the Pilgrim path and then it is also nice to partially follow, unfortunately that is not always possible because of the accessibility.
The route today went through agricultural area, many fields full of Asparagus and many strawberry farmers. At one of the farmers I have bought strawberries, they where good! It was often difficult to find the way, there were all junction numbers on the signs that were not on my map. Fortunately, I finally found an information board and I could note the missing numbers on my card so I could find the way again soon.
Then direction Borkel and Schaft. Where a mill stood without blades.
And then I arrived around 17:00 at the Achelsekluis, a huge and old monastery. Unfortunately, the shop just closed. On the information board in front of the entrance there was a mass at 17.30. Unfortunately, in the first instance it did not work out. The door to the chapel was closed. Ringing did not help. Fortunately, someone came later to help with the Mass and he knew another bell that the brother heard. I went to mass, there were only 2 brothers living in this huge monastery. We were with 4 people in the mass (including the brothers)
After the mass I got a stamp in my pilgrim passport from the brother that opened the door. I also had a short conversation with the brother, he said that there will soon be young new brothers from another monastic order from abroad in the hope that this will ensure that the Achelsekluis can continue to exist, the current brothers can then just keep living as long as they live.
Then it was time to go to my overnight place.
Unfortunately it was a hassle on the way to find my place to stay. There I thought I was on the right track but I rolled the wrong way that I only found out 2 km later, I turned back and then rolled that 2 km back on on the dirt road. that I took a wrong road had to do with that 2 roads had the same name, 1 road in the Netherlands and 1 in Belgium, I had to have the Belgian but I had the Dutch address. Almost an hour later than planned, I arrived anyway.
Through friends on the bike (vrienden op de fiets) I sleep in Achel with people in (a huge) house, I sleep here on the first floor but my wheelchair I can park and charge in the garage. I have a nice spacious bedroom, private bathroom and there is also a kind of living room but I have not used it. After showering, I planned my route for tomorrow and went to sleep. Tomorrow I am going to Weert. Hopefully the weather is not too bad because the predictions are not very positive.
But until now I have remained almost dry. So I hope for the best.
See you tomorrow.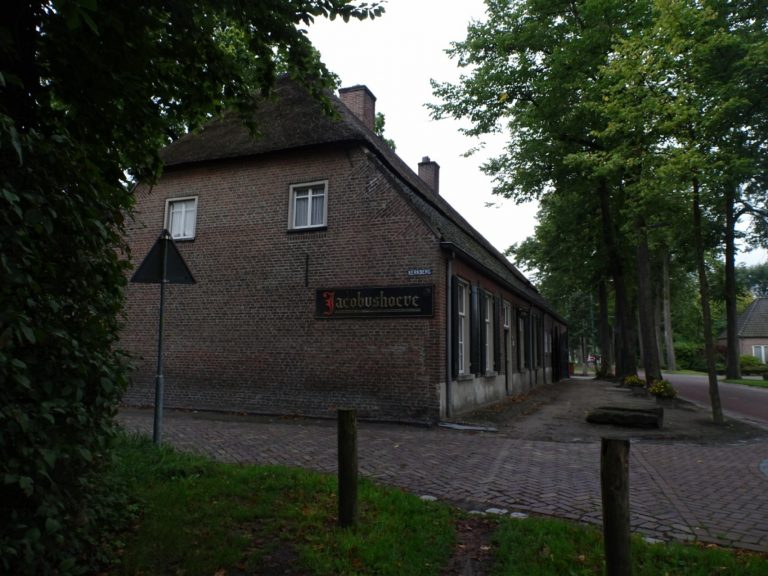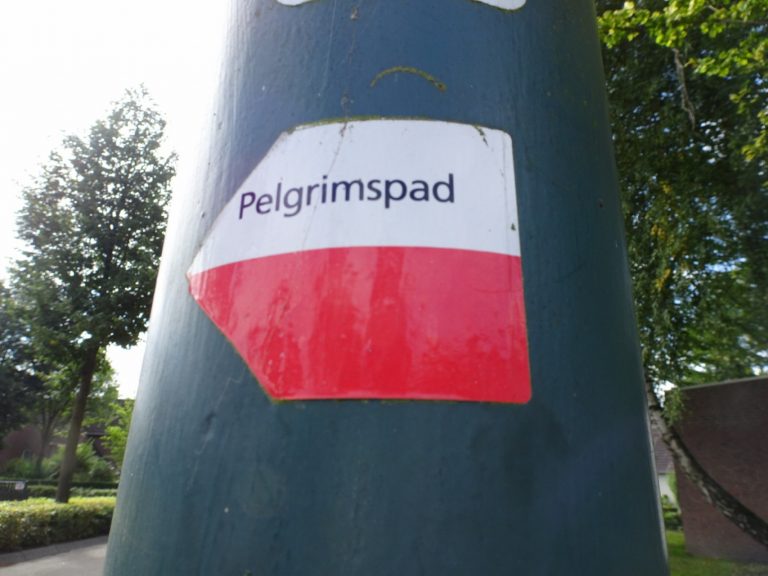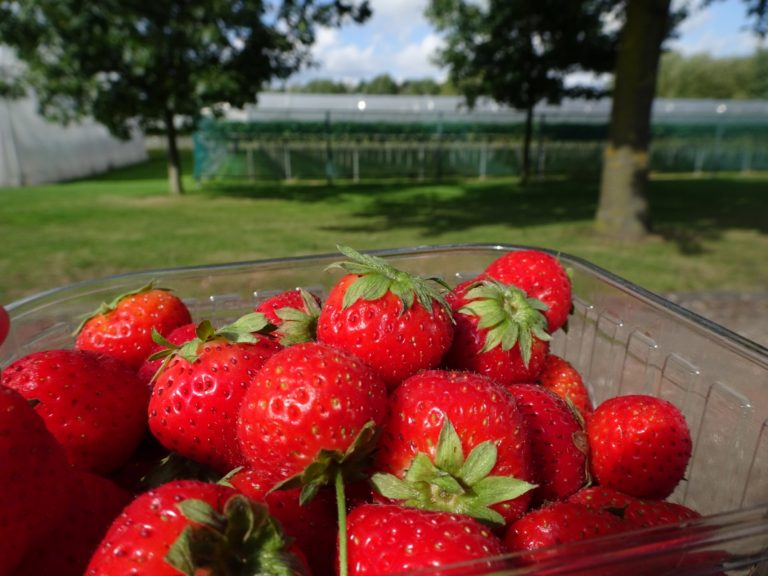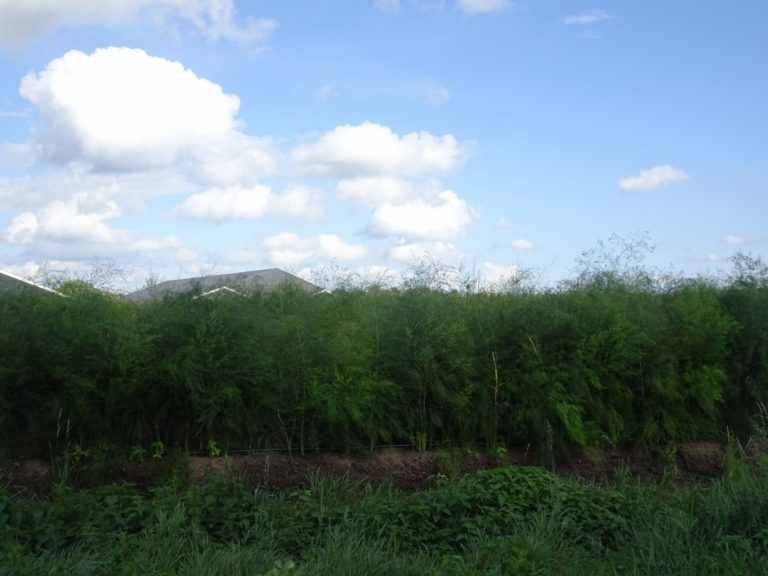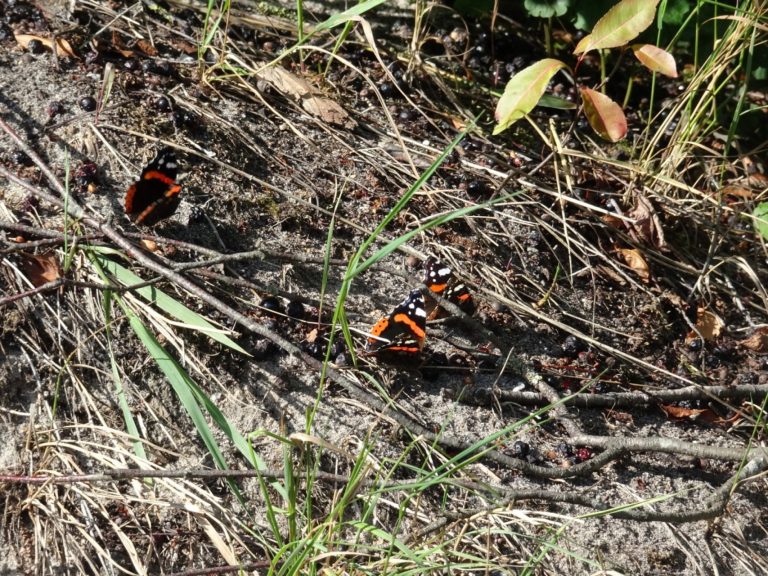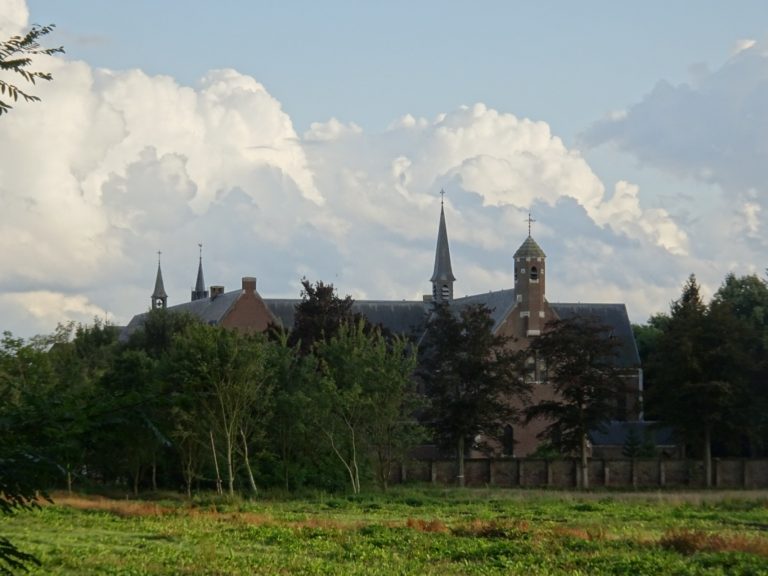 Day 4. 13 September 2017 – Achel to Weert.
This morning, after a delicious breakfast, I left. I first rolled through the center of Achel and saw the church open. I walked in (wheelchair parked at the front of the door because there were 2 stairs) and to the sacrastie where 2 people were present and gave me a stamp. Then rolled to Hamont. There, too, the church was open but no one was there. At the moment that I wanted to leave, a group came in. Of which one person belonged to this church. He gave the group a tour and told me that I could listen to it, and I did. Was interesting to hear details of objects that I had not seen myself. For example, there was a 13th century statue and a huge cloak for the priest from the same time. He also wrote something in my pilgrim's passport for lack of a stamp. After the tour, I went on again, soon I was going to the border and I was back in the Netherlands. Near the border post I was still looking for a geocache (treasure hunt via GPS), but unfortunately the cache was absent and I only found an empty tube where it should have been.
The route today was quite varied, not only in terms of nature but also in terms of roads, sometimes I rolled on the most beautiful forest paths, unpaved and no car to hear, only beautiful nature sounds, but I also drove on through roads with a bicycle lane on it and no footpath. later on I rolled through agricultural area and I past military training ground which was only to be noticed by the signs that stood there but otherwise it was just a beautiful forest and lots of heather. In Weert I was around 15.30 and I had an appointment to arrive at my place to sleep between 6 and 7 pm so I first started exploring Weert. I went to church first but unfortunately I was close after that I went to the sisters Birgitinessen for a stamp and after that I did some more shopping so that I have some food in stock on the go.
The weather was extremely stormy but dry. only a few drops felt and I had a lot of wind so sometimes I even rolled pieces on wind force, like I was sailing. The skies were very beautiful and I also saw a rainbow in the sky. I also met a squirrel. Unfortunately he did not want to be sharp on the picture. But I always like to see those animals.
Now I am staying with "vrienden op de fiets" in south of Weert. This time I stay in a garden shed. This sounds small but this garden shed and bigger than my own house. With a large bathroom with bath and shower, a large open kitchen and 2 bedrooms.
Tomorrow to Roermond.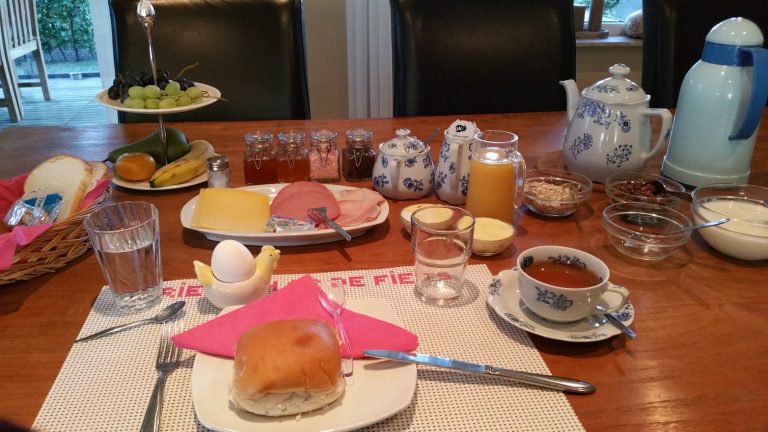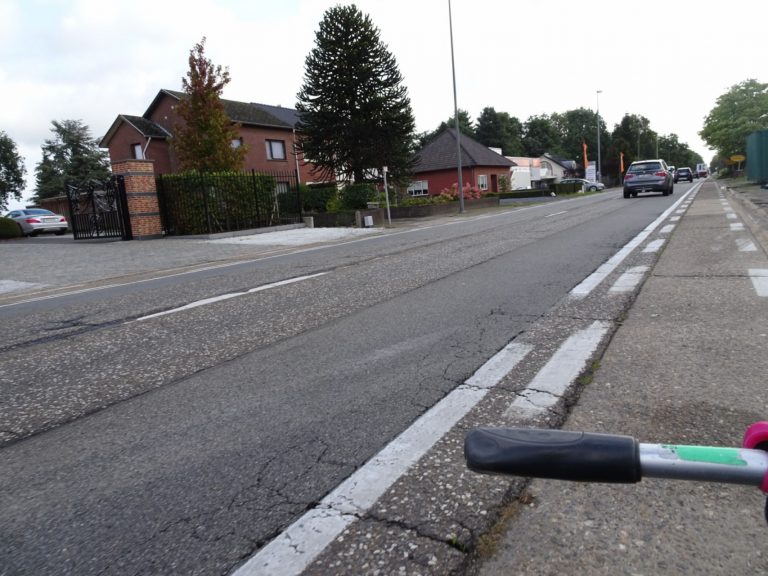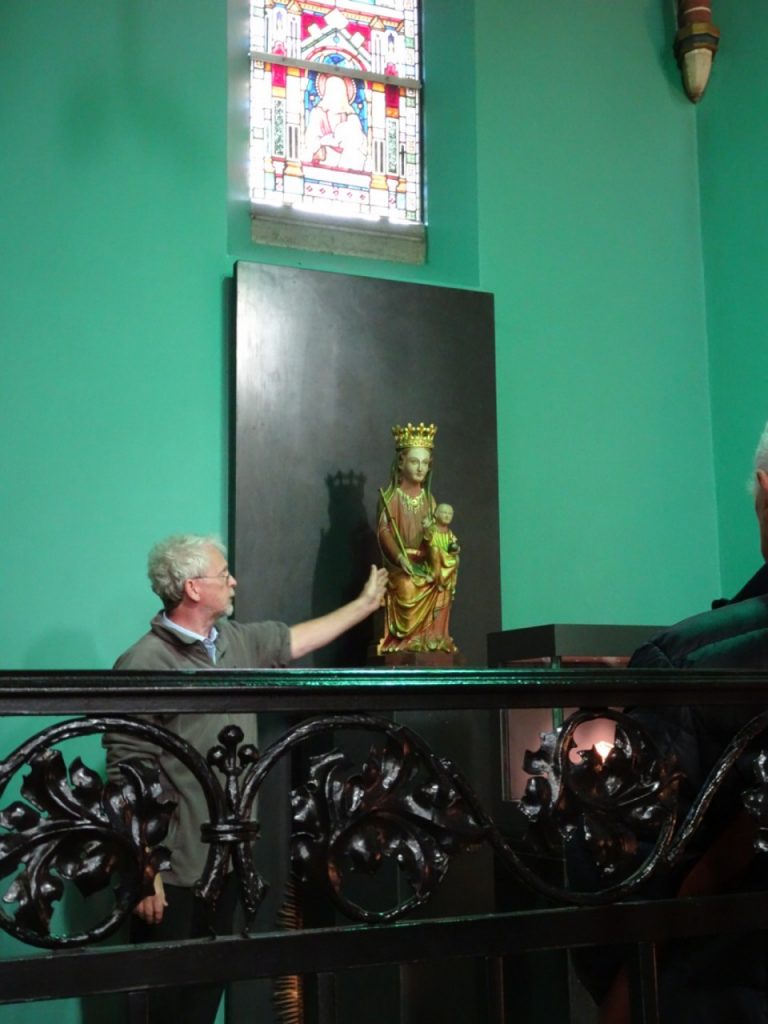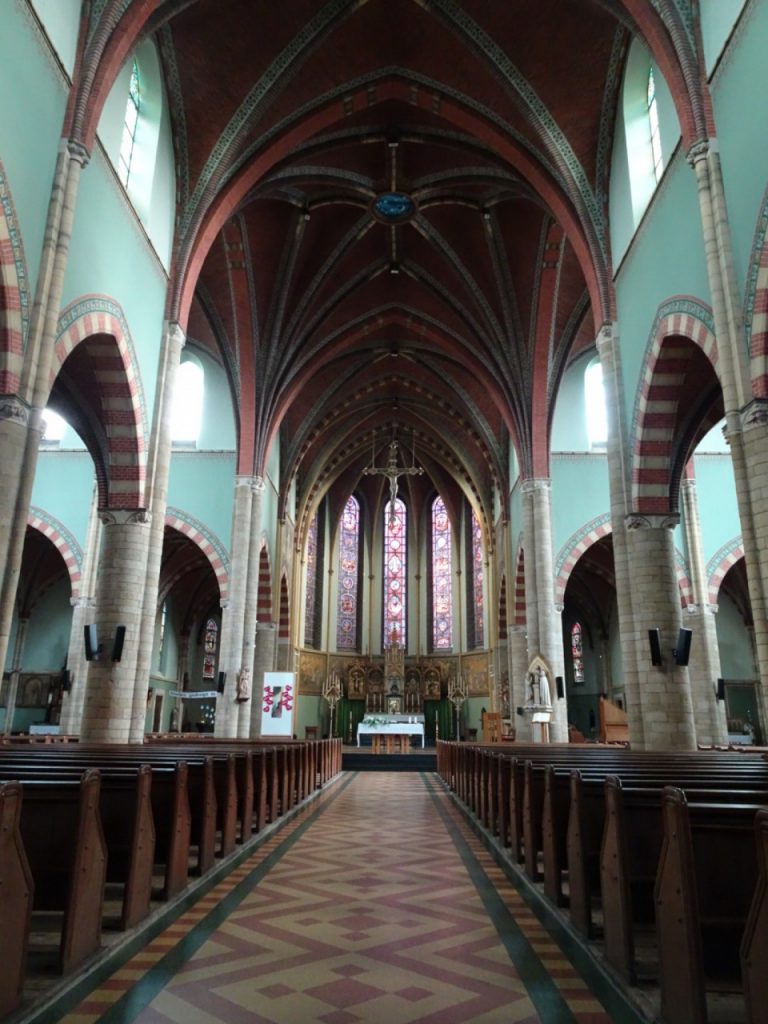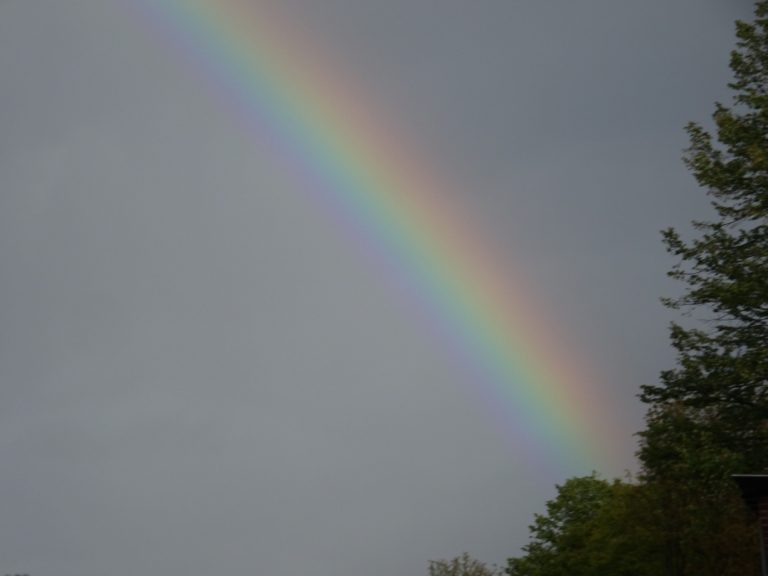 14 September – Day 5 Weert to Roermond
This morning we got up around half past seven and packed up. Then we had a nice breakfast with scrambled eggs, bread, fruit and juice. And I got another package, sandwich with cheese and mandarins. Then it was time to get back on track, it was just before 9.00 am when I rolled away.
Soon I found the right junction and I was back on the route again. A while later a woman walked a dog and when I caught up with her we got into conversation, was very nice and we also found a lot of joint acquaintances. Then the world is small anyway. After a bit of walking together we both went a different way and I rolled quietly again.
The weather was not so bad, there was a drop every now and then but it was not more.
Around 12.00 I arrived in Kelpen-Oler where I went to visit Marion. Was very cozy. My wheelchair also had a few hours of power there, so that was nice too. My wheelchair is flowing and I flatter, as it is in Limburg!
Around 14.30 I left again, when I left it was just dry again but once I was on my way it started to rain quickly.
In Kelpen-Oler I still drove past the church, I could not enter the church myself and rang the presbytery. There was a man present who could give me a stamp in my passport.
Then again, it rained harder and harder. Arrived in Horn came the baking from heaven, my rain pants started to leak and worse was that my wheelchair wheel began to beep, an error message because of the rain … luckily there was a supermarket where I could take shelter. I came in there as a drowned cat. I first quietly walked through the store when an employee spoke to me, soon I told them that I only came to buy garbage bags to keep myself drier and I told them that I still have to go to Roermond. She asked me if I might want a cup of tea to warm up and of course I was very happy with it. So I could warm up a little and dry up. (To the staff of the supermarket in Horn, If you read this, thanks again).
After some time I went into the rain again, I wanted to finish this day too. Get back on track quickly and roll through the rain. Soon I saw the church towers of Roermond, many bridges over the water and then I was there. First I visited the cathedral. When I was in Vessem I heard about the refugio (pilgrims' place) in the catacombs of the cathedral, and I wanted to spend the night there. But I already knew that I had to pick up the key at the theater hotel, a chic hotel where I drove halfway (rained through my rain suit, wet to my underwear and wrapped in garbage bags rolled in. When I told me a pilgrim I got the keys and paid 5 euros and gave my pilgrim passport as a deposit and then I could go back to the cathedral.
Through the back entrance I could enter with the keys. Even though I first had to lift my wheelchair a few more steps. Fortunately, I succeeded (with sufficient will) and I could go inside. In the porch I could park my chair and then I myself went downstairs.
What a nice place, a kind of large living room with all doors on one wall. I was very curious what was in there and when I opened a door the bed appeared! Ideal. I sleep alone in these beautiful catacombs of the cathedral tonight. However, there is a nice book full of stories from other pilgrims that I am going to read quietly tonight and write a new piece for the pilgrims that are yet to come. There is also a small kitchen where I could turn my lunch bread with cheese into a toast and a nice hot cup of soup. This way I have also been able to get myself warm again. Because I was pretty numb after all that rain. This day full of rain and a special place to sleep is a nice experience. Although not wheelchair accessible (but fortunately for me just enough accessible, though I could hardly get my seat inside) but it is definitely worth it.
Tomorrow to Sittard. The sleeping place has already been arranged and I will sleep with the Carmelite sisters.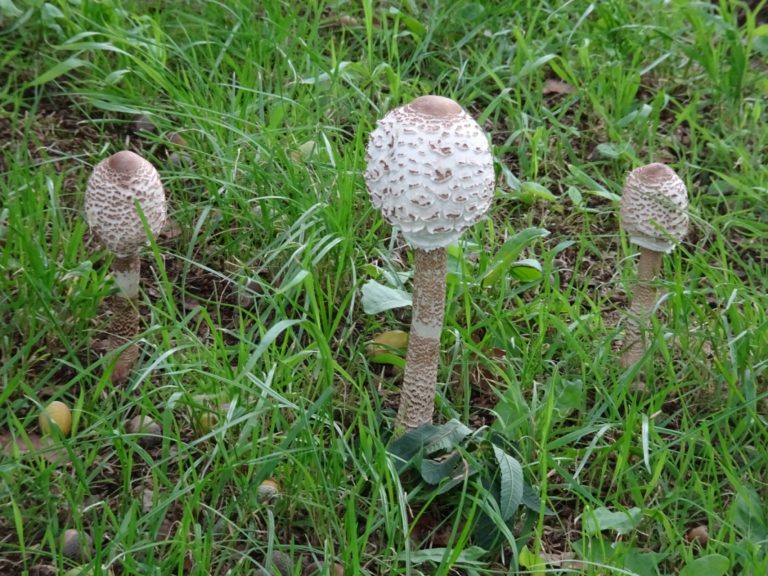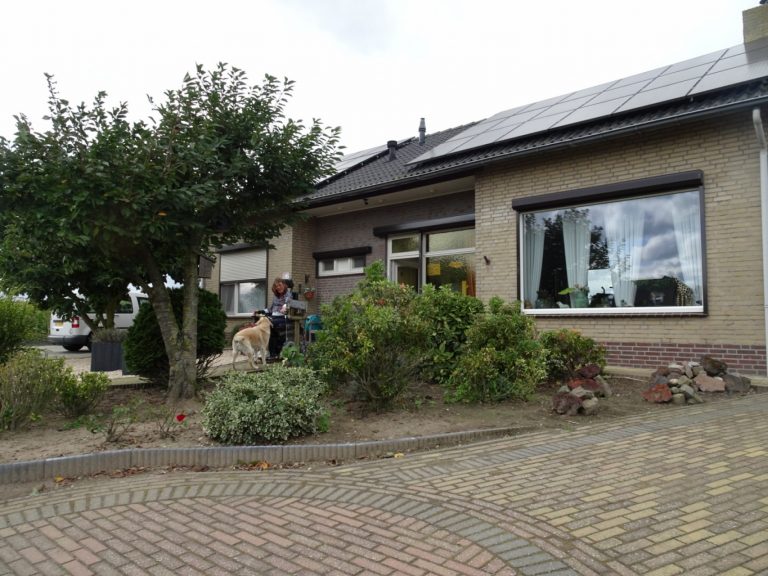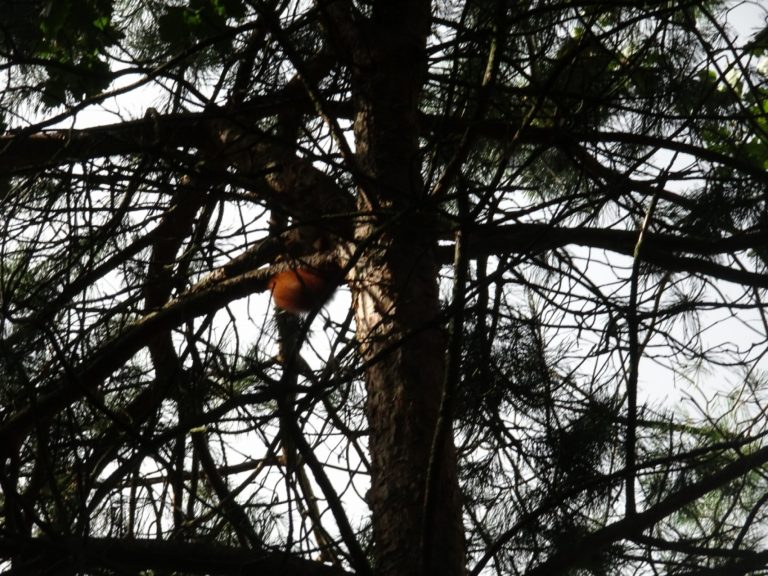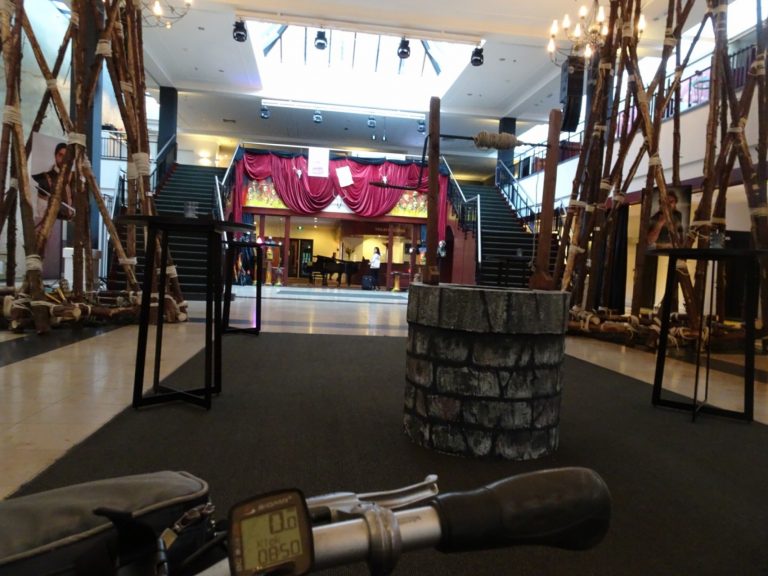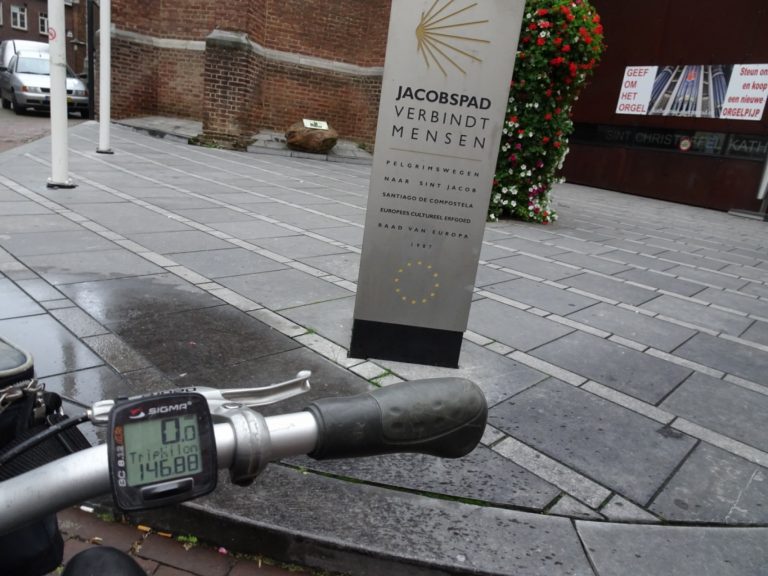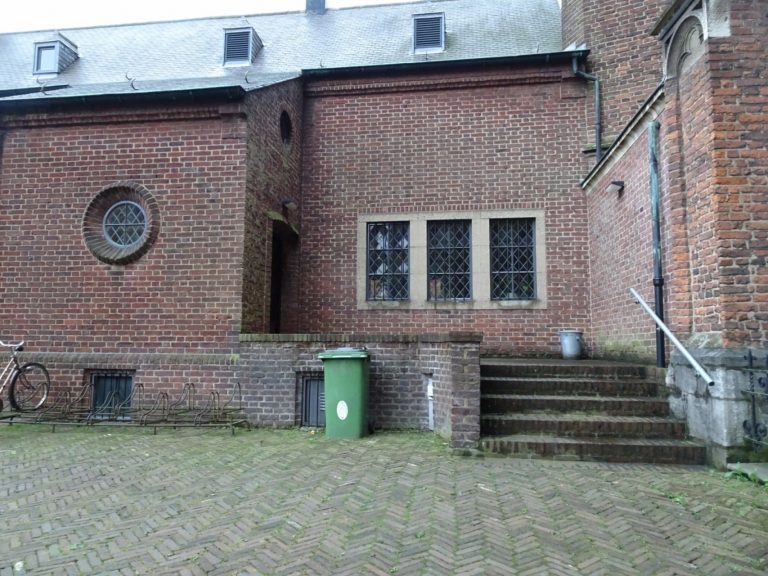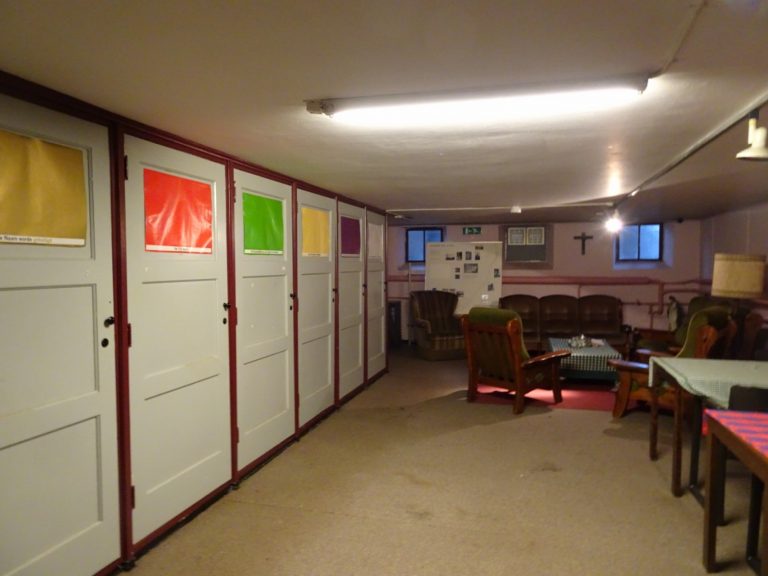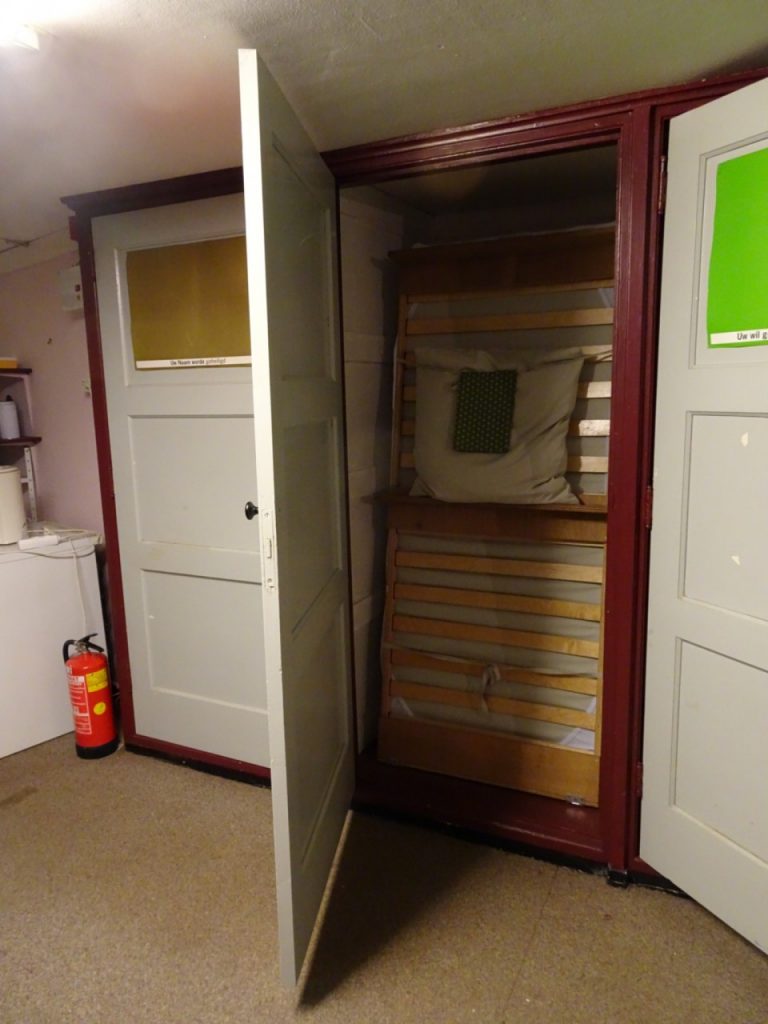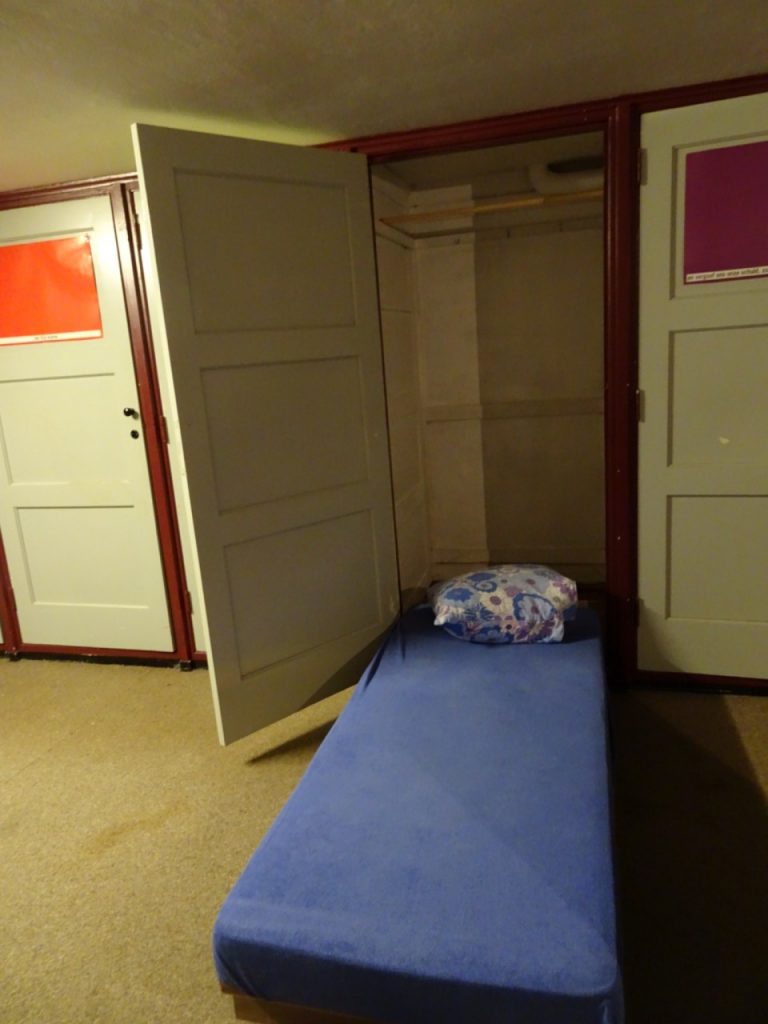 15 September 2017 – Day 6 Roermond to Sittard
This morning I had put my alarm clock around 8:30. Stuffed up and taken back to my wheelchair.
Around 8.30 I left again, just at that moment there was also a man from the church who helped me to get my wheelchair outside of the stairs. So that was very nice. Then quickly to the hotel where I had to deliver the keys so that I got my pilgrim passport back. That went very well. and then I was right on time at the Munsterkerk where at 9.00 the mass began. After the Mass I asked the sexton for a stamp and that went with my passport into the sacrament. The priest came to bring the passport back, we had a very nice conversation about my pilgrimage and his sermon. At the end he gave me the pilgrim blessing. Then I went on the road, it took a while before I found the junction but in the end I found the sign and continued my route. At one point I came across a church again, I checked for a moment whether the chapel was open. And that turned out to be far beyond expectations. It was a place of pilgrimage. the chapel in the sand, here is a 15th century statue of the Virgin Mary and a corridor that is fully tiled with tiles with texts of thanksgiving prayers. For more information click here
After looking around and of course asking for a stamp, I have rolled again.
I came through the village Sint Odiliënberg, where I saw a very beautiful church. And in addition, a monastery was found to sit. Priory Thabor, Canonesses of the Holy Sepulcher. I called at 12.00 (a time when you actually do not have to call at monasteries because of the angel prayer and afternoon prayer, but I did not want to go without a stamp) and it was opened. They had not started praying yet and I got a stamp and was invited to prayer. So I went to the chapel. There was also another visitor but I did not pay much attention to that. When I left the chapel I was addressed by her and then I recognized her from celebrate, a holiday conference. So nice to suddenly see a friend. I was also invited by the sisters to join in, but I did not have time and had to move on quickly. And so I went on the road again. I continued my way to the village of Maria hope. On the way it was time for a toilet, but all shops and restaurants were close or absent anyway. And also no trees to hide behind, just meadows and arable farming or residences. In Maria hoop I saw a house with a large wheelchair bus and decided to put on the naughty shoes. I called and asked if I could use the disabled toilet and that was of course no problem and delivered a nice conversation in addition to an empty bladder.
So I could continue to roll quietly. Eventually I went through Germany via Havert and Tüddern. In Havert it began to rain. I had already had a bit of rain today, but it was always very bad, had even had blue skies, but now it fell again with baking from heaven. Luckily it did not last very long and more than half an hour later it was almost dry again. But those trash bags that I had bought yesterday were a good purchase and kept me and my stuff dry.
In Tüddern I got some food and fruit for tonight and tomorrow on the road and after that I quickly arrived in Sittard. There I soon found the Carmelite Sisters of the Sacred Heart of Jesus. I was warmly welcomed, the sister who opened it already knew that I had finished and she quickly showed me my room and brought me to the dining room for dinner. A tasty bread meal.
Meanwhile I lie in bed while I write this and I go to sleep like that.
Tomorrow again.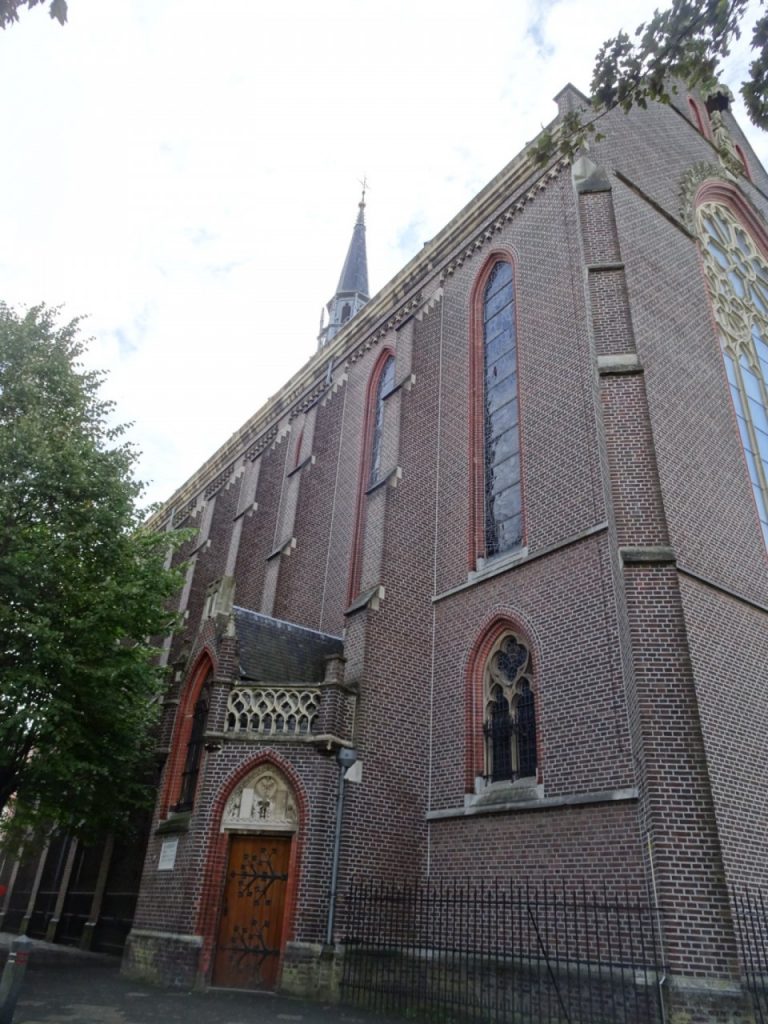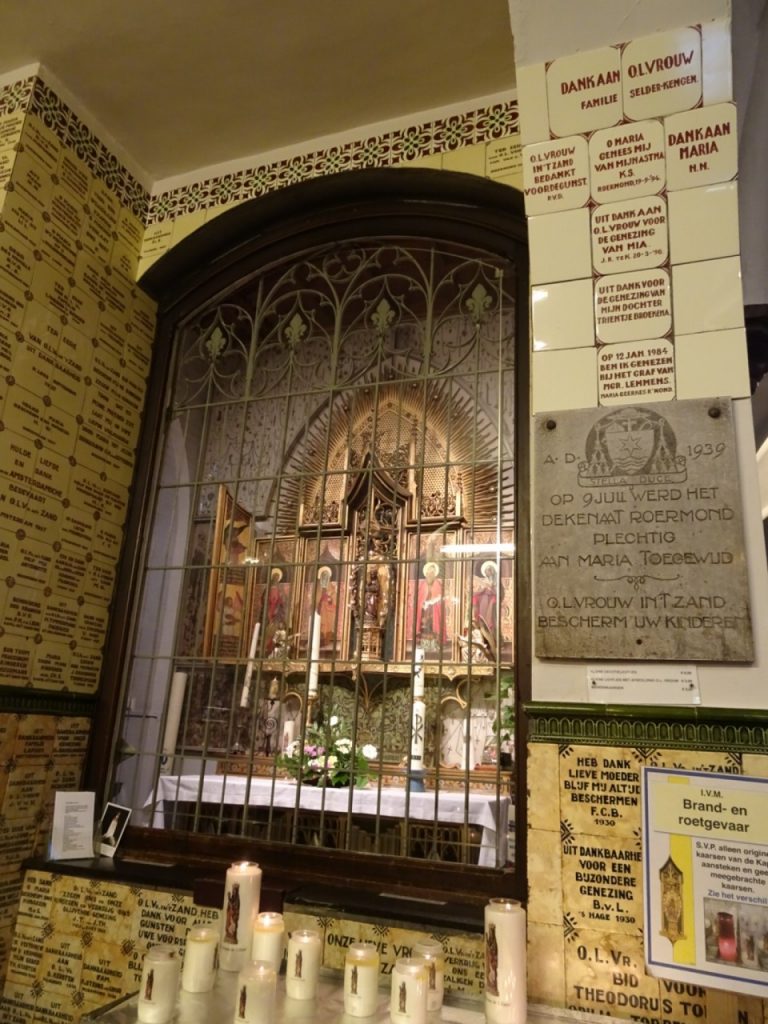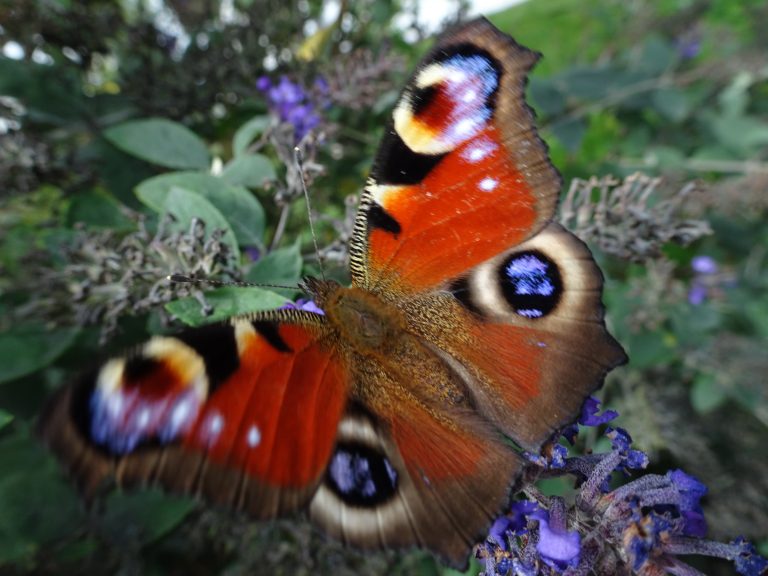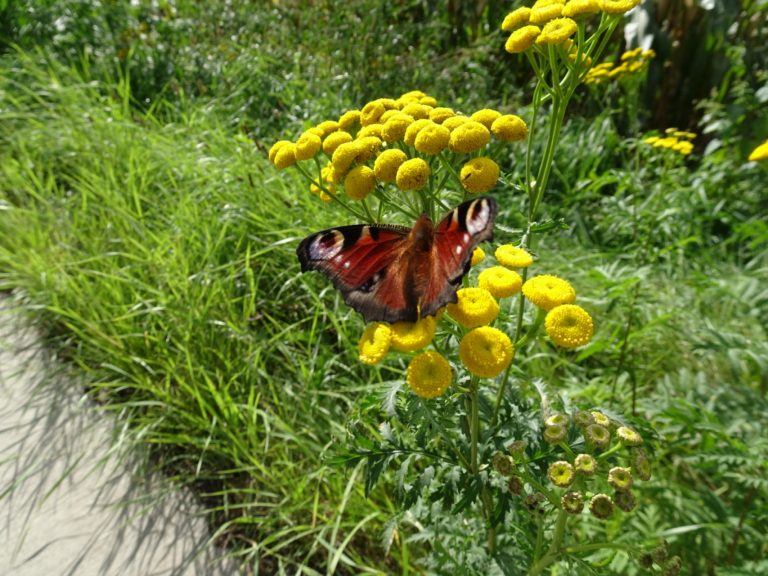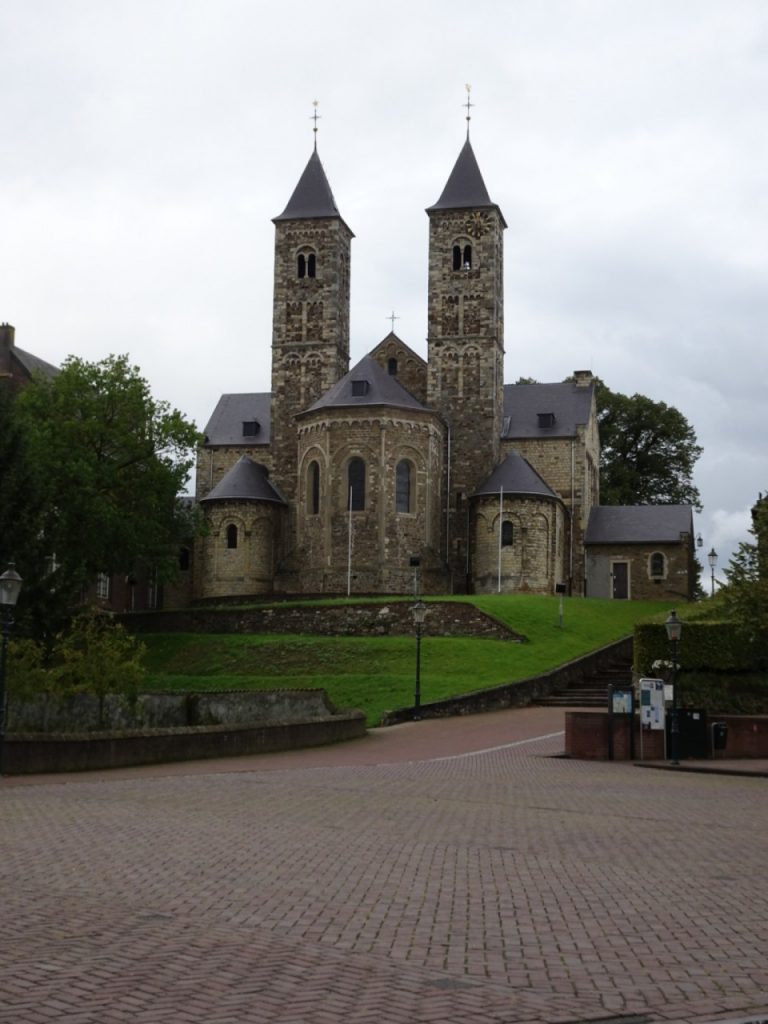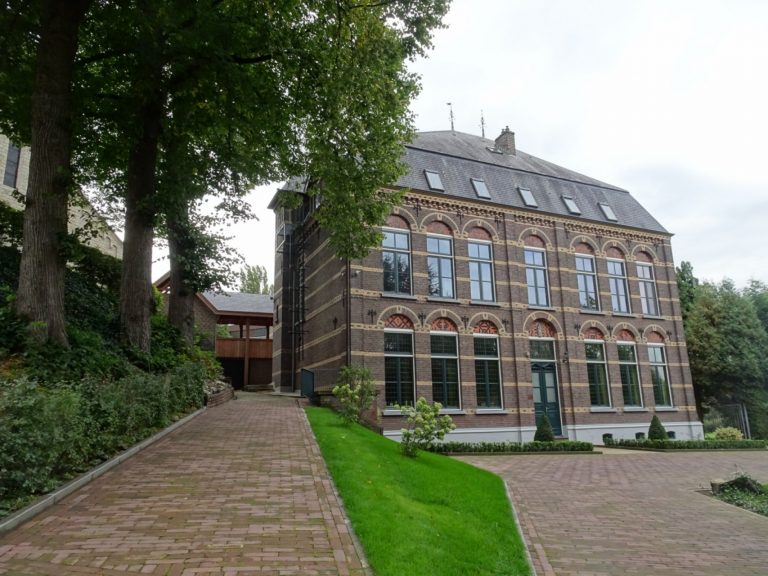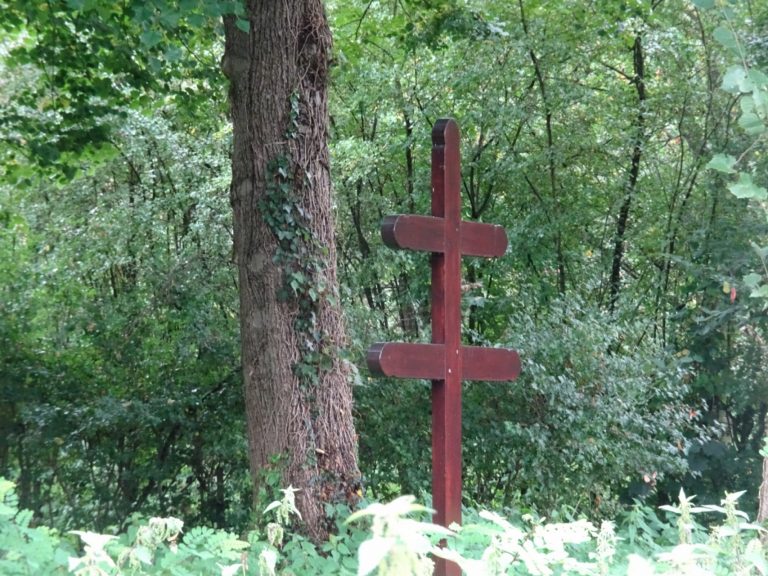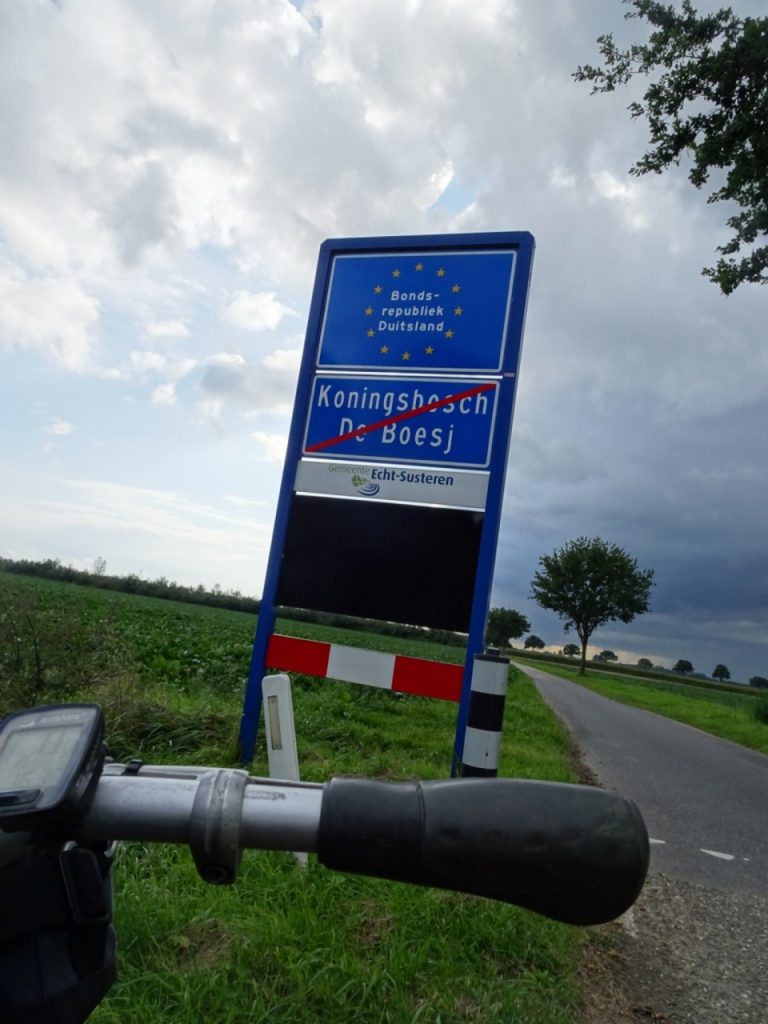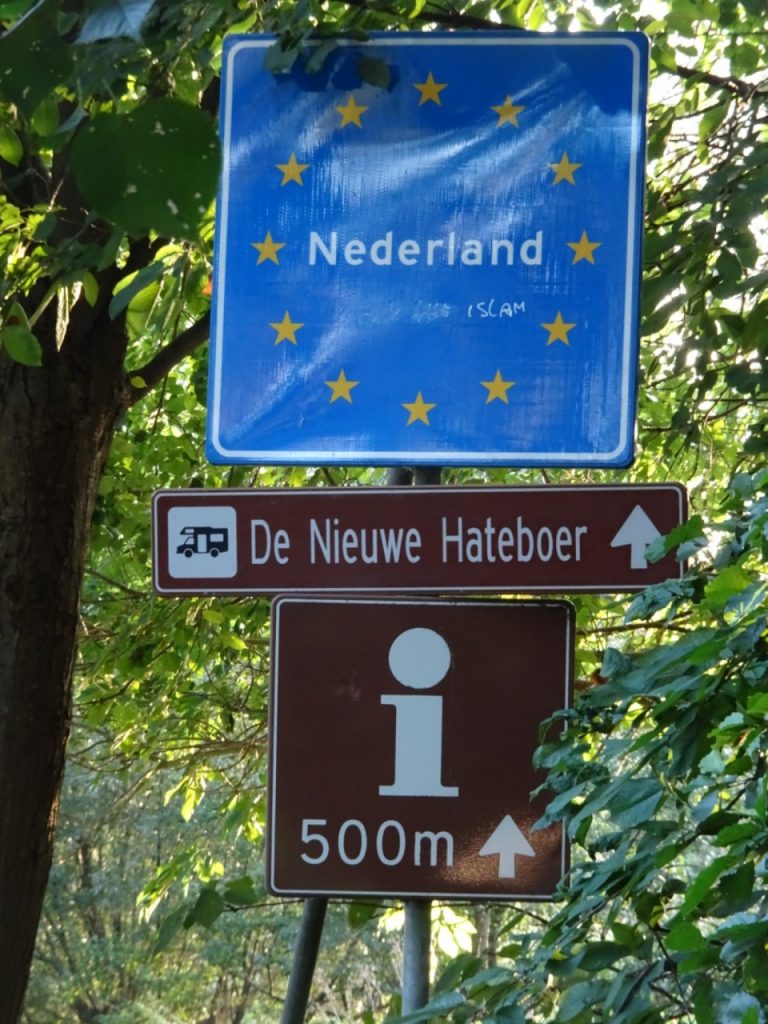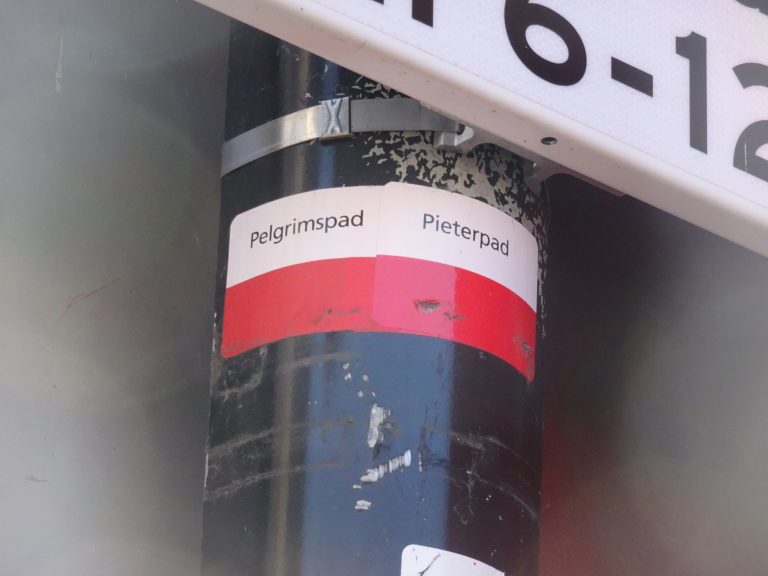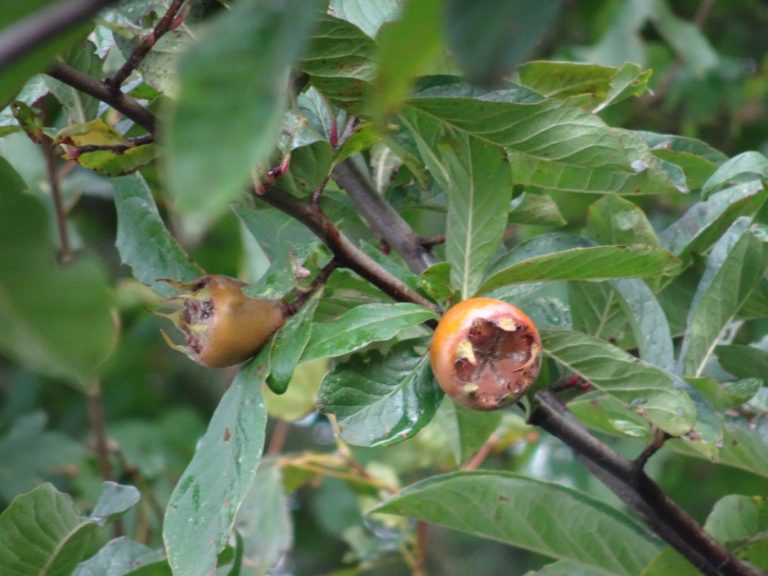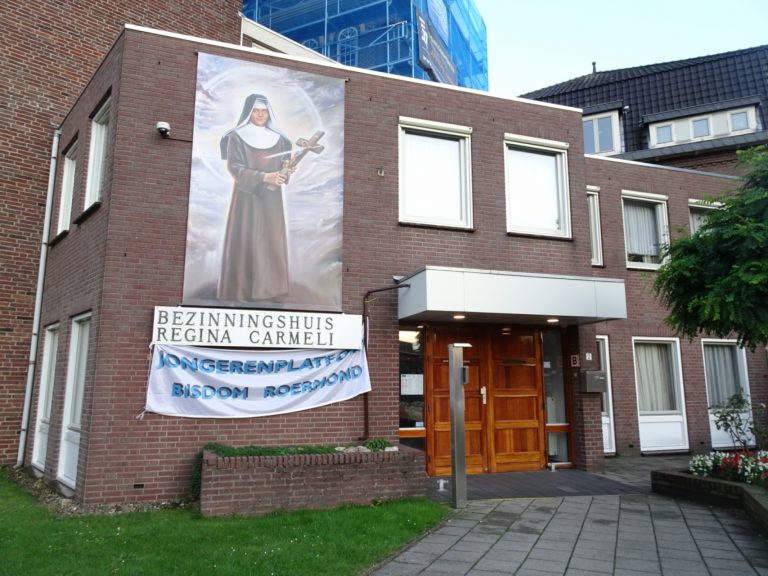 16 September 2017 – Day 7, Sittard – Maastricht. the last day of this part of my Pilgrimage
Today a little late message about yesterday. I am back home now.
Yesterday morning I got up early again and I had an extensive breakfast and went to Mass with the sisters Carmelitessen in Sittard where I had stayed the night. Then I left. The weather was unlike last days very nice, sun, blue sky with a few clouds.
I first rolled to the center. There I came to the Peter's Church where the chapel was open, Unfortunately the rest of the church did not. Fortunately I saw someone walking in the church and I asked her for a stamp. She did not have them, but she referred me to the presbytery a little further. There I called and saw the priest (blanket turned out later) that I had also seen in the mass with the sisters in the morning. He asked about my pilgrimage and I told him the story, then I got the stamp from the Petruskerk.
Then I rolled through and ran into a basilica, there was a big staircase in front of the door but there was a sign that I could ring the wheelchair at the back door and then enter the church. Unfortunately, do not open it. Then I rolled over to another church that almost stood next to it. There were a few people from the church and I also had a stamp. 1 man who sat there also wanted to show me the basilica and the person who had had to open the door had been brought and so I ended up in the Basilica. Was a very beautiful church with all the texts on the wall tiles and pillars, actually a bit similar to the Chapel in the sand in Roermond. Prayers and thanksgiving. Very strange. I also got a stamp here.
Then I went back to the route and went on my way. Today I rolled a lot along a boring road, later I deviated from the shortest route and then it was very nice again, especially villages and agriculture. It did not go so fast because secretly I slowly went up, which of course is also to be expected in South Limburg. In the end, between Hussenberg and Geulle, there was also a descent, a very long descent of 10%. I believe I have never gone so fast in my wheelchair. More than 15km per hour. Most of the time my emotion wheels grab at around 10km per hour but they could not brake these long slopes too much. Fortunately, I also have a good brake on my front wheel and halfway I stopped a few times because my hands despite the gloves were very hot because of the friction. But it was still a nice descent and of course a nice exercise for the hills and mountains that are yet to come. And I was glad that I went down this slope and not up!
Then I went back to Maastricht. I wanted to arrive before 17.00 so that the churches would still be open and I expected to arrive around 16.15 so that worked out well. but just before the city was a detour of no less than 6 km because a bridge was blocked. An hour delay and also a very long drive over industry.
Around 17.15 I arrived at the Our Lady Basilica. Fortunately, it was still open, they were preparing for a concert that evening. So luckily I could still get my stamp.
Then I rolled towards the St Servaas basilica. First I passed the monastery of the sisters under the arches. Unfortunately, because of their old age, these sisters have stopped giving stamps to pilgrims. Then I rolled to st. Servaas basilica but that was unfortunately already closed. Yet I wanted a stamp and went looking for the presbytery. Fortunately, I found that quickly. Unfortunately, there were stairs and I could not ring so I went waving in front of the window where I saw people sitting. Luckily they saw me and then the priest (Dean) John Dautzenberg came out. I was very well received there. I got a nice stamp, a postcard of the church with a personal message from the priest / blanket and a very nice replica of a medieval pilgrim's insignia, which I immediately attached to my bag. Then he invited me to go to a Mass in the Cornelius church in Borgharen (a village in the neighborhood), and so I went along after I first got a sandwich with cheese with a nice bunch of grapes. And so we left. September 16 was the holiday of St Cornelius so it was a festive celebration with a Maastricht male choir singing in dialect. During the sermon it was about pilgrims and I was mentioned.
After the celebration there was coffee / tea and cake and again I got a stamp again.
At 21.00 we were back in Maastricht at the st. Servaas and there my parents and son picked me up again at around 21.30. After another chat with the Dean and the invitation to come next year for my next departure I drove back home where we arrived around 1.30 am due to all sorts of detours.
Next year I start again in Maastricht, at the St Servaas basilica. Register your email address here on the website so that you are kept informed of my departure.