2019 I rolled from Reims to Vezelay and after that to Avallon. about al the adventures on my way I wrote a blog . below I will find the translation in English (I am working on the translation, some will be translated by me, some by google and some still in Dutch, but hopefully I have time soon to translate everything well.)
https://rolstoelpelgrim.nl/blog/
Pleas also register for the nieuwsbrief at the homepage.
july 1, 2019 – 2 months to go
August 27, 2019 – 1 week before leaving
September 1, 2019 – 1 day to go
September 2/3, on my way
September 3, Monastery Cormontruil
September 4, Cormontruil naar Epernay
September 5 Epernay – Montmort Lucy
September 6- Montmort Lucy – Sezanne
September 7 Sezanne – Mery sur Seine
September 8- Mery sur Seine – Troyes
September 9 – Troyes – Sommeval
September 10, Sommeval – Flogny la Chapelle
September 11, Flogny la Chapelle – Chablis
September 12 Chablis – Accolay
September 13 Accolay to Châtel Censoir
September 14 Châtel Censoir to Vezelay and to camping in Saint Pere
September 15, Saint Pere naar Avallon
September 16, Avallon to Auxerre (and way home by bus)
September 17, Visiting Auxerre and the way home
2 weeks home
As the title says, it only takes 2 months before I continue with my pilgrimage.
Last week I already booked the bus, last year I was happy with flixbus so I am now traveling on the way there with flixbus. I leave on the night of 2 to 3 September.
The route is also slowly starting to take shape, I am broadly going to follow the via Campaniensis, or at least the places, not always the official walking route due to inaccessible paths.
I am still working on a list of overnight places, just like last year, I make a list with all (cheap) overnight places that are on the route and then I decide on the spot when and where I want to stop. I especially hope that I will find a lot of campsites, monasteries and pilgrimages to sleep. because again this year I will take the tent with me, so there will always be a place somewhere. because I do not book anything in advance.
I only reserved the first night (3 September), when I arrive in Reims by bus at 11 a.m. I roll 6 km to Cormontreuil, where I will spend the night with the Clarissen sisters again just like last year. . then I can take a break from the night bus and then I can roll my first real long distance again on 4 September. I'm excited!
Sign up for the newsletter (if you have not already done this), you will automatically receive a message when I leave.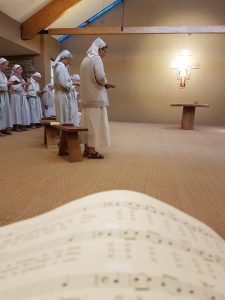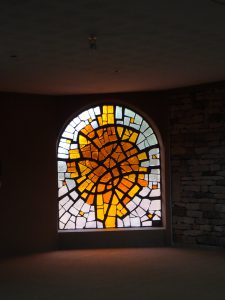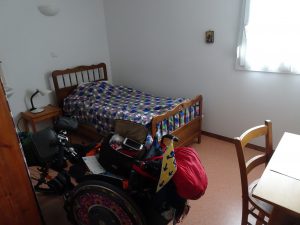 Previous
Next
After a year of planning it has now suddenly come close.
Today it is only 1 week before I leave. September 3 I arrive in Reims, then I will roll the first 6 km to the sisters in the monastery where I have also been last year where I will rest from a night on the bus and September 4 I will roll to the south , probably as far as Vezelay or further into the Morvan (depends on how I can arrange my return journey on site).
Next week I will mainly be busy with the last things, packing my bag, washing the last items of clothing, puzzling everything on my wheelchair and above all resting a bit more (because my body really needs that, I don't need a wheelchair for nothing) and then I can leave!
From next week I will write a blog here every day of all experiences.
Do not forget to subscribe to the newsletter if you have not already done so, you will always be informed.
Only one more day to go. Almost everything has been packed and even attached to my wheelchair. Yesterday and today a short test drive to check the balance of the luggage. If the weight is too much on the front, it drives heavily and making turns difficult, but the weight is too much to the rear, I tilted back. Everything is now well tied. The scallop shell that I received during my first leg from the sisters at the Cassella monastery in Hilversum is once again tied to my wheelchair.
I now have a waterproof bag for my tent, which will no longer get wet when a rain shower comes over (although I hope it stays dry). The weather forecast now seems to be pretty good. So that's nice.
A while ago I also made a new flag. After 3 years my old flag was completely worn out. I sewed my new flag from the fabric of a yellow jacket and ironed on my logo with a reflective tape. Successfully worked though I say so myself. For the back of my wheelchair I made a kind of small banner with the same material so that that is also clearly visible. That way the cars can see me well from behind when I'm driving on motorways.
Go to bed early tonight and hopefully sleep late tomorrow so that I am hopefully a bit rested before leaving. Because tomorrow night my bus leaves late and then it becomes a night to sleep on the bus (with a transfer around 4 o'clock at night) and those are usually not the best nights of sleep. Fortunately I have already booked my overnight stay in the monastery and hopefully I can make a good night there before I start rolling really long days.
I'll keep you informed.
Greetings,
Wheelchair pilgrim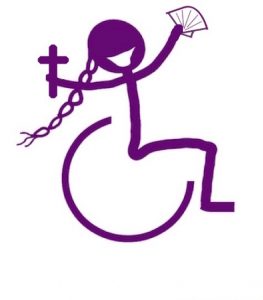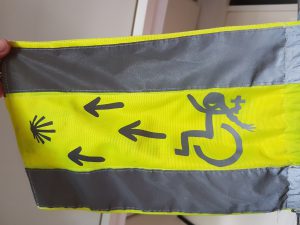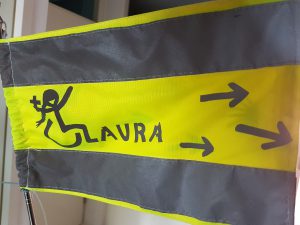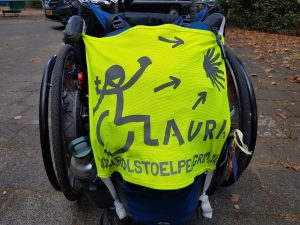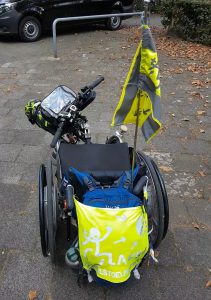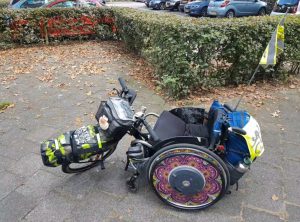 Previous
Next
It's time. I'm on the bus.
At 23.35 the flix bus drove to the stop in The Hague. my parents and son brought me here and waved me goodbye.
I always find it exciting because in my flixbus experience last year I had a driver who was struggling about my wheelchair. But this driver was fine with it and my seat was allowed in its entirety. So that was ideal. Much easier than when I have to take the chair apart, which officially has to be with the flix buses. Just to be sure, I always order a bag of extra luggage (which I don't have) and then I can point that out if they are difficult.
The route goes from The Hague via Rotterdam, Brussels and Lille to Paris. There I switched to another bus that goes to Reims.
Between Brussels and Lille I had a man sitting next to me who always fell asleep and then used me as a pillow. I kept waking them up and on / giving them a push. Was glad he didn't go to Paris.
The moment I place this I am on the stopover on Paris and am just sitting on the next bus. Fortunately I was allowed to come because my wheelchair turned out not to be registered even though I had called about it….
Luckily I still slept a little on the bus, 3 times an hour so very little but better than nothing In between I picked up my French lesson by occasionally listening to the audio files of the course of last year and a French listening course I once had at the library. I feel like I understand French a lot better than before, but I don't want to speak yet. I am curious how that will happen on the way and whether I notice a lot of improvement compared to last year. In any case, I signed up for the 2nd part of the French lesson at the folk university.
When I get to Troyes I will notice. Then I will stay with people I met on the road last year. Then we communicated everything via google translate. Now I also hope to be able to say something ordinary. I'm curious. But for now it takes a few hours before I arrive in Reims.
See you later,
Greetings, Wheelchair Pilgrim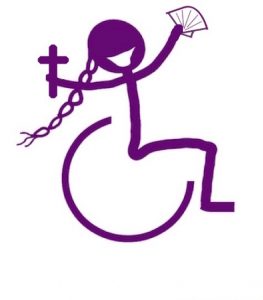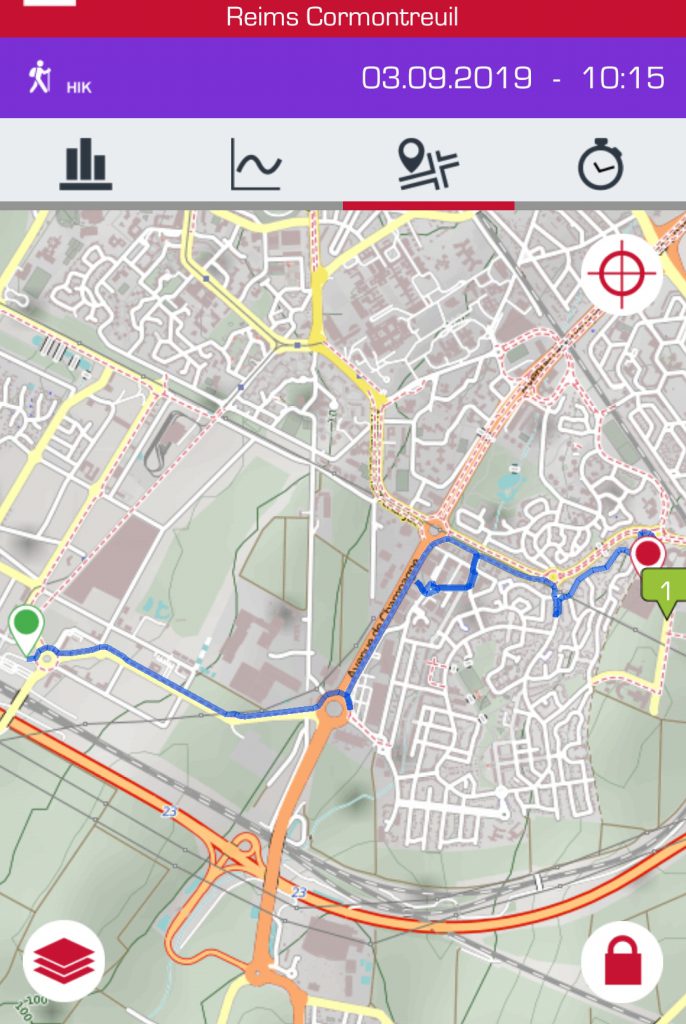 I am now in the Claris monastery in Cormontreuil (a town close to Reims).
When I arrived here, the people I met here last year were here too. So I have just spoken (with the help of google translate). When I am in Troyes I can stay with them, then I can practice my French well!
The bus trip itself went well, but it was very tiring. I was happy when I got off the bus in Reims.The bus trip itself went well, but it was very tiring. I was happy when I got off the bus in Reims.
The bus trip itself went well, but it was very tiring. I was happy when I got off the bus in Reims.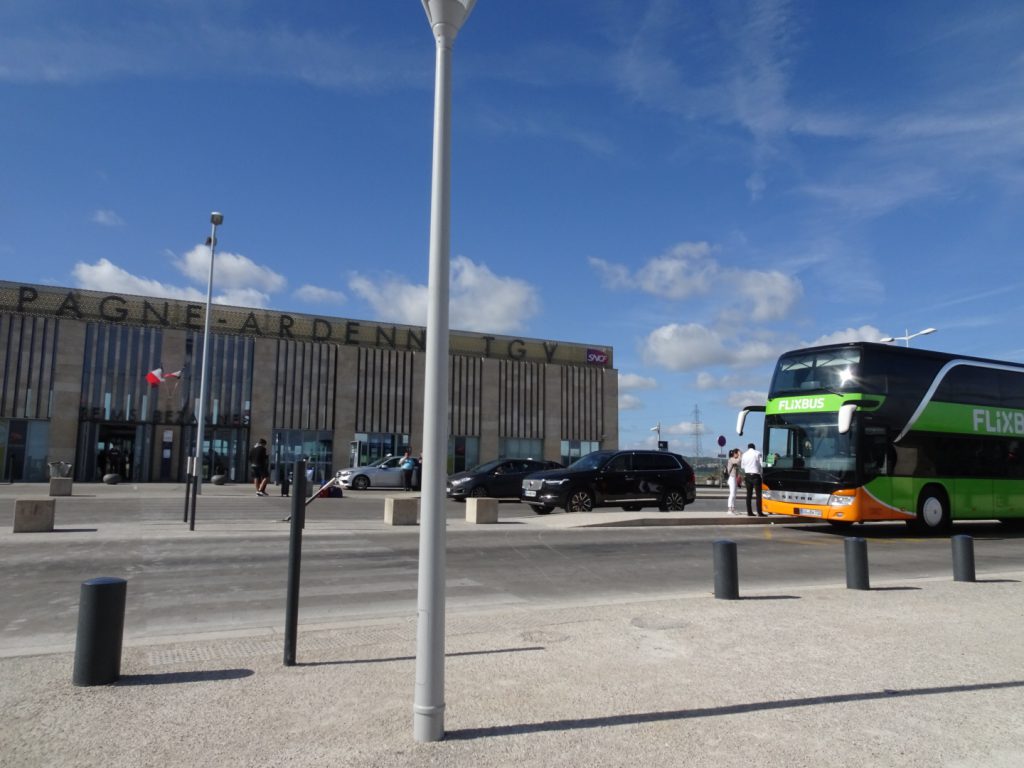 After that I just rolled 6 km and went to the supermarket to buy a sandwich for lunch. But in the end I didn't eat it for lunch because when I arrived at the monastery I was so tired that I first went to bed and slept for almost 4 hours. Afterwards I ate my lunch sandwiches and at 5.30 pm the evening prayer.
Then I had a good evening meal (carrot soup, potatoes and carrots, dessert, cheese and bread). And now I am writing this before I go to sleep again.
No pictures today because I don't have WiFi here and I have to be careful with my data bundle. (In the meantime I posted the photos when I was at the campsite of Epernay a day later)
See you tomorrow!
Greetings,
Wheelchair pilgrim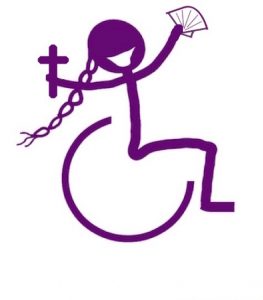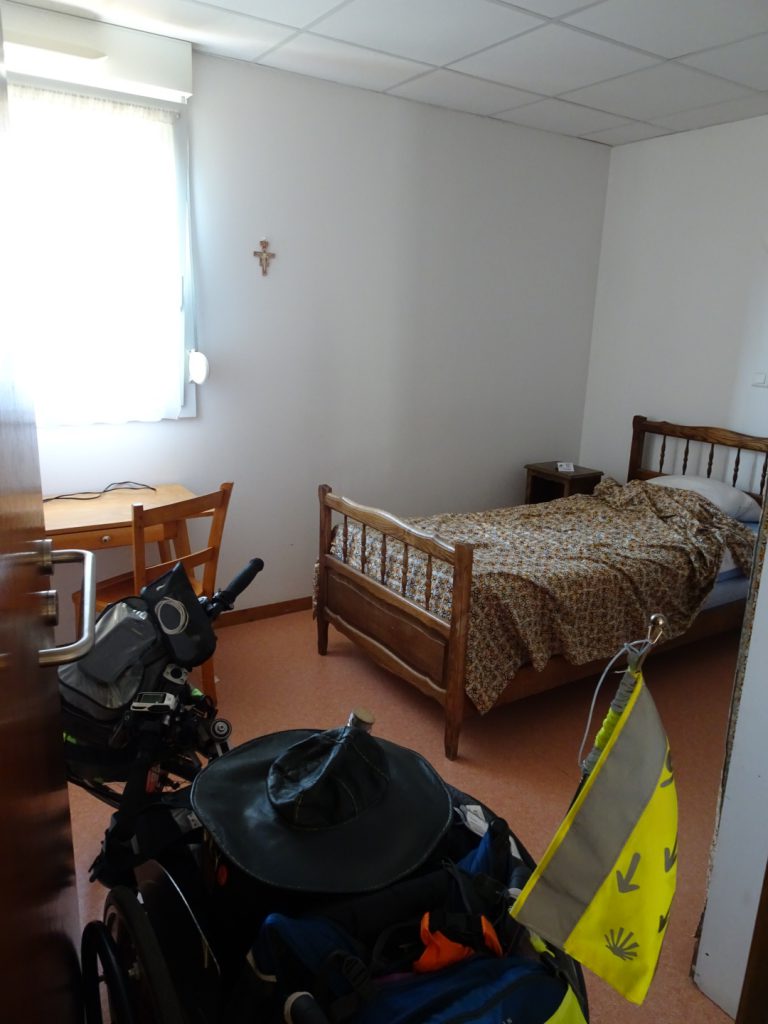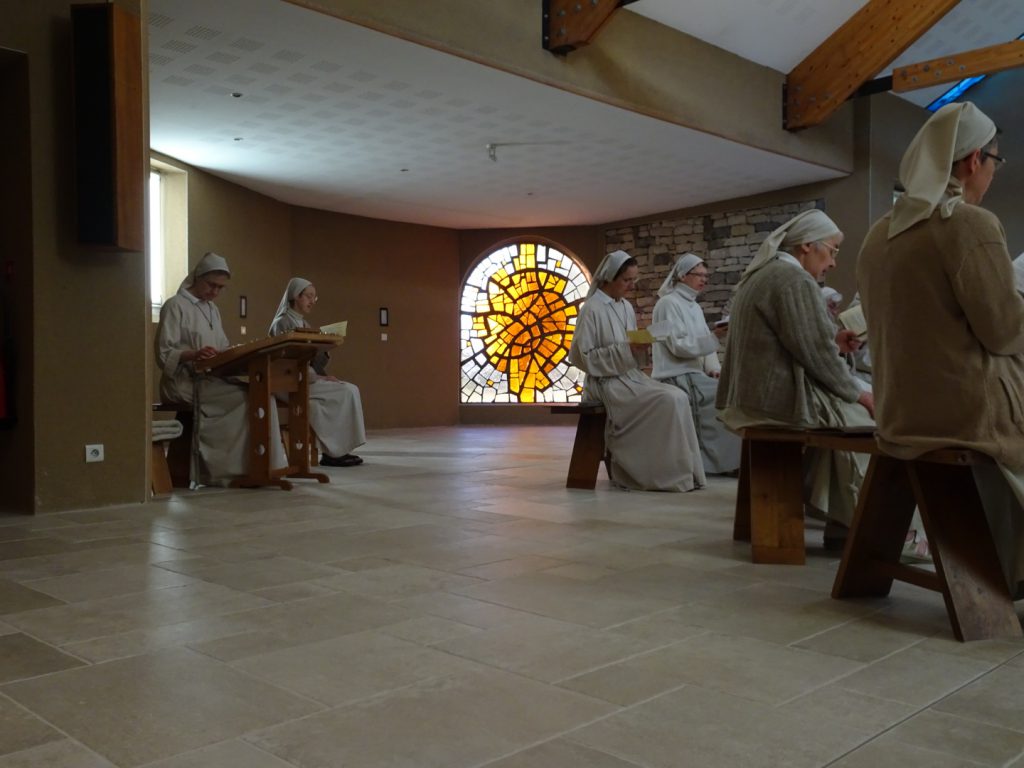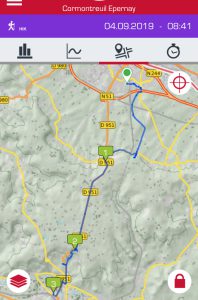 Cormontreuil naar Epernay.

28,57km
This morning I got up on time for the morning prayer with the sisters.
After the morning prayer I first packed and then had breakfast. After that I got a stamp for my passport. This year they had a different one than last year.
Just before 10 I rolled away.
It took some searching through the city, but soon I was on my way. I met another German pilgrim, she walked from Germany first to Paris and then to Tours and Santiago. After a short conversation we both took our own route again. Be the official and I an unofficial because the official route contains stairs, and that is very difficult with a wheelchair. Every now and then I came across the markings of the official route.
According to the cycling route that google maps indicated I had to go to Rilly la Montagne. I noticed that Montagne because I had to wear it. After fighting for an hour and a half straight up the mountain, I was almost at the top, a top with a great view, but that was the only positive because unfortunately the through route was closed there and the only solution down again, this went a lot faster, in 5 or 10 minutes I was already down …
In the end I drove mostly via the D951, a relatively large road (for people from Nieuwkoop, and surroundings, it was comparable to the Nieuwveenseweg). Fortunately all the traffic took good account of me and there were even a number of drivers who honked and then raised their thumbs from their windows!
The few times I was off the main road for a moment I could not deny that I was in the champagne region. Wherever I looked were wine / champagne fields, champagne châteaux, wine / champagne stores, etc.
Many wine / champagne farmers were pruning the vine in their field. They did this in a kind of tractor that stood high on its wheels. They rode with the wheels between the paths and the vine went underneath and the tall branches were cut off like a lawn mow. (See photos below this blog.)
Between those champagne fields lay very unpaved paths that I took a few more times because this was the shortest route. But after a few of these types of trails (downhill) I thought it was nice again and I started driving again paved. (See pictures)
Around 6 pm I arrived at the campsite and just before the rain (a few drops, so it wasn't too bad) my tent was standing.
My wheelchair is now charging in the toilet block. Always a bit exciting out of my sight but I have put a lock around it so it will be fine.
I will go to bed early and tomorrow I will first look at Epernay and visit a church for a stamp.
I will see tomorrow how far I will go tomorrow, although I will be puzzling over the best route tonight.
Sorry for the pictures that are on its side, I can't put them upright.
I did, however, post photos on yesterday's blog. So you can still view it.
Greetings,
Wheelchair pilgrim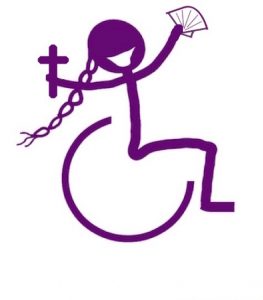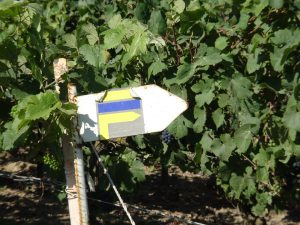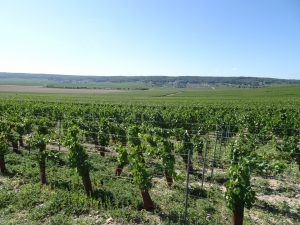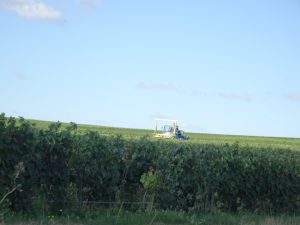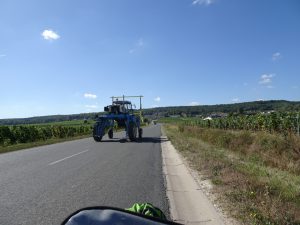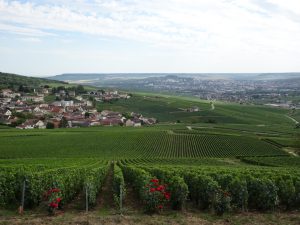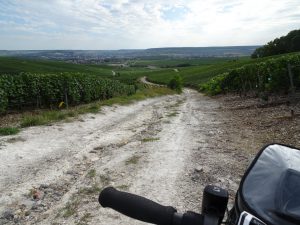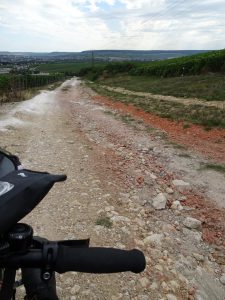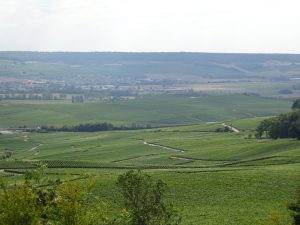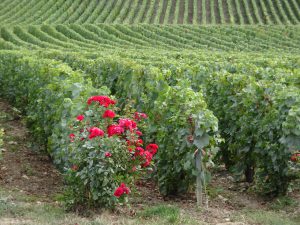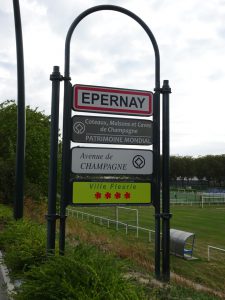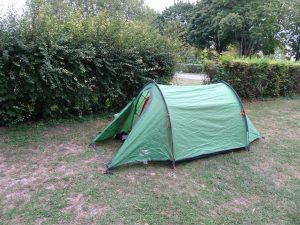 Previous
Next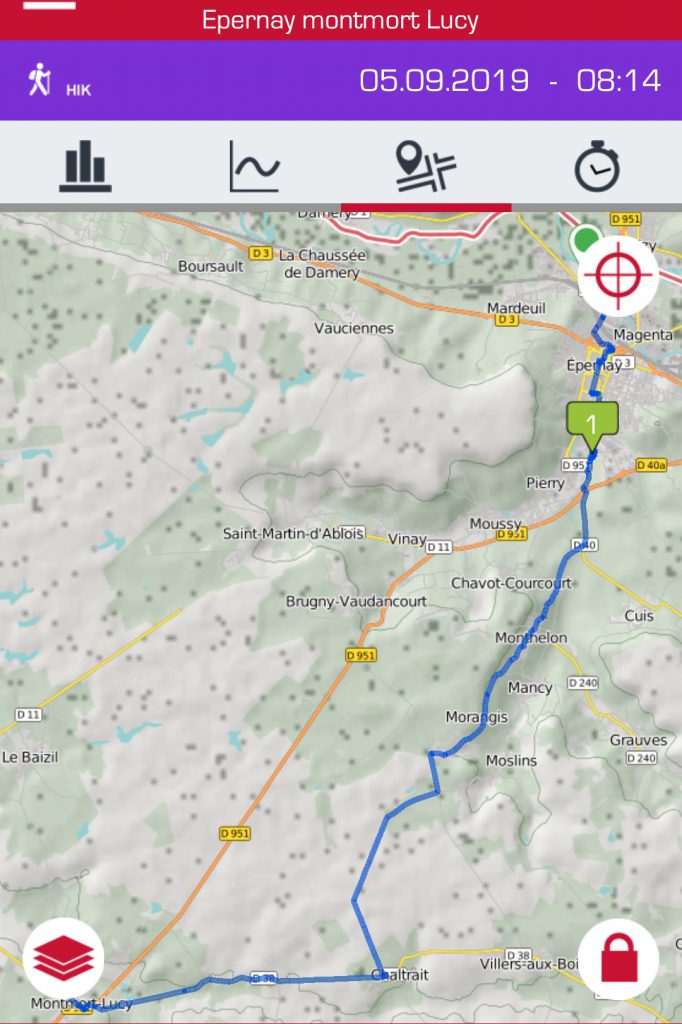 Got up this morning and packed all the stuff and the tent again. Just before leaving the water bottle filled and to the WC. There I met someone I knew (and especially who knew me, because I doubt where I know him from, I think the pilgrimage of fasting action). We talked for a moment and he said that he had seen me driving yesterday and that I was staged on the busy road I was driving on yesterday. There had already been more camping guests who had told me that they had staged me on that road. Just made a chat and then it was time for departure.
First to Epernay, to the church for a stamp. The church should be open from 9 a.m. to 5 p.m. but the main door was closed. In the end 2 more people came for a walk. They came from New Zealand. They also said that they had seen me roll a day earlier along that busy road. She also wanted to visit the church. Eventually we went to try other doors and found an open door and so we could enter. Nice but sober church.
There were a number of people working in the church but unfortunately they had no stamp in the church but they referred me to the parish office. I indeed received a stamp there.
Then I went out. I drove down smaller roads today. Was over but I didn't want to drive on that busy main road again. In the beginning, the roads mainly ran through the wine / champagne fields. Endless grapes. Valley after valley was full. Nice to see all those lines on the hills.
After the wine came the forest. In the forest still eaten tasty blackberries. Unfortunately, most were out of my reach (my tires don't like thorns), but I still got a few.
It was very quiet there. I only heard the leaves rustle. Not even birdsong. I noticed that very much.
Slowly the forest turned into meadows and fields (grain). First a meadow with French cows in the forest and so it became more and more until the forest was gone.
Finally I arrived in Montmort Lucy where there is a beautiful castle. From there I was picked up by the people I spend the night with.
I had a delicious meal here. Soup, savory pie, then cheese and bread and then black currant pie.
Now in my room. And go to sleep like that.
I don't have internet here so you will only read this one day later.
Greetings,
Wheelchair pilgrim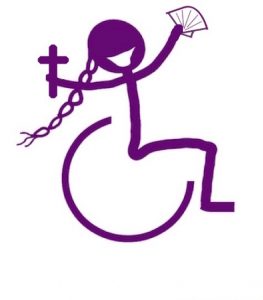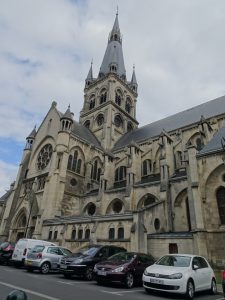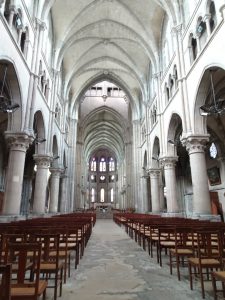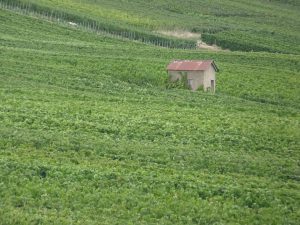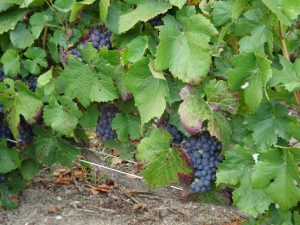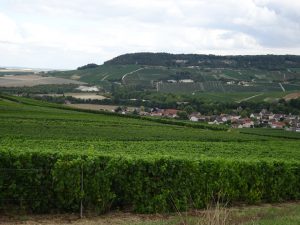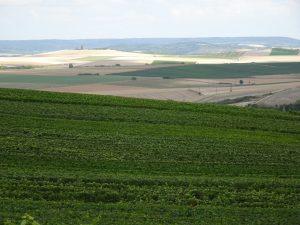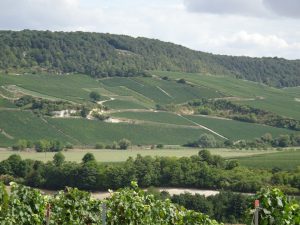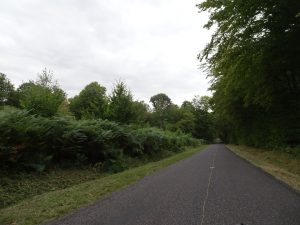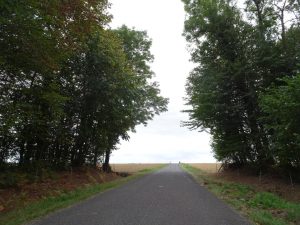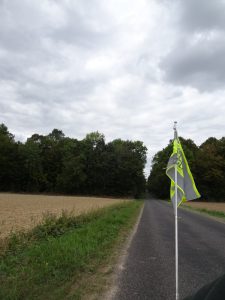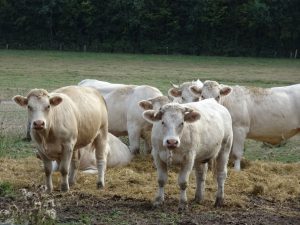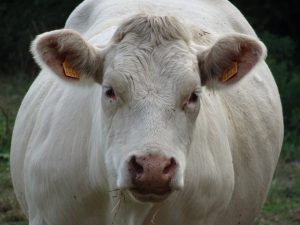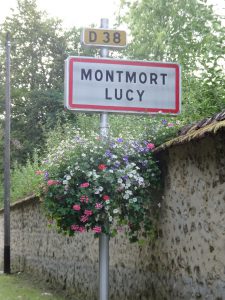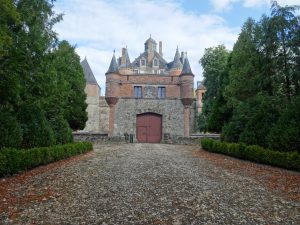 Previous
Next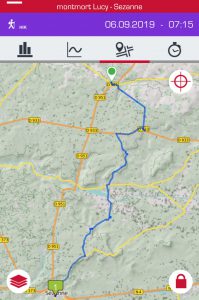 This morning my alarm clock rang around 7 a.m. Fortunately the muscle pain was less than in the past few days. The first 3 days are usually the worst.
First I had a delicious French breakfast. Tea, baguette and home-made jam in multiple flavors.
I left just after 8.00. I rolled back into the village. Here I met 2 French pilgrims whom I also met yesterday. We talked to each other in a mix of French and English and then we both go in a different direction. She the official route and I an unofficial one. When I left the village I immediately get the longest and most stylish slope of my day for my choice. Fortunately it went reasonably well and the road was not too busy. However, that slope cost a lot of my battery, so I hoped not to have too many of these types of slopes, otherwise I would not get the 35km on my battery. After the slope I soon went into the forest. But that forest did not last long because it was a very varied day. So I started with forest, then anything and everything. Sunflowers (finished but they were still there), corn, various (mown) grains, mustard, wine, apples and sugar beet. With the latter I thought I was back in the Bazancourt area where I was on my pilgrimage last year (September 19), then I drove endlessly through sugar beet fields and there is a huge sugar factory there. But in the area where I am now, it is only (relatively) small fields of all things..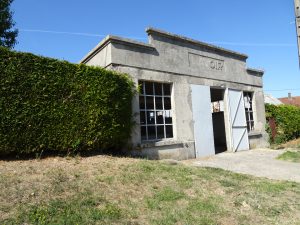 In many of the villages that I come across they have sources. There is often a sort of house / shelter with a kind of rectangular pond (sometimes even with fish) in which the water then flows. I also saw a sort of similar house in a few places (from the inside then) but then with closed walls that said "lavoir" (washing), maybe a former bathhouse?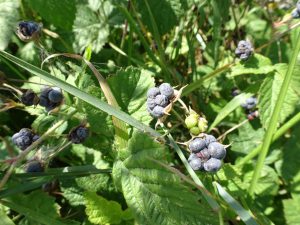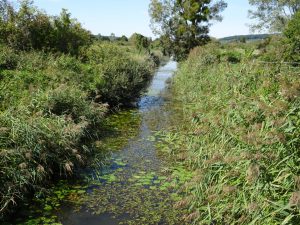 Just before the town of Reuves, I rolled through a large swamp area. This felt familiar because I grew up in Nieuwkoop with the lake areas. It is strange to roll into the hills one minute with vineyards and the next into a swamp area with reed stalks and water. There were also a lot of blackberries in that area, the blackberries were ripe and deliciously sweet, so I ate quite a bit.
For some time I saw something strange standing on a hill, huge, higher than the church next to it. but I could not post what it was. When I arrived at the village of Mondement I had a suspicion. Reference was made to a monument on a sign. So I first rolled over there. On the way I came across the town hall where I saw someone inside and got a stamp in my passport.
Then up the hill to the huge monument. The Dam in Amsterdam is nothing compared to this.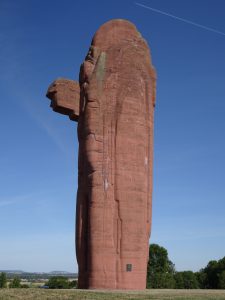 It was a 33 meter high thing, it was described as a Menhir, and I immediately thought of Obelix wearing such a thing on his back. For this Menhir a lot of magic potion was needed I think because it weighs 2000 tons! The Menhir has all kinds of images and inscriptions.
It is a monument for the 1st World War and it was finished in 1939 but it was not officially revealed until 1951 by the 2nd World War.
Then I rolled through another very varied landscape to Sezanne, largely downhill. So with the wheelchair batteries everything went well.
I wanted to camp first but read in the booklet that there was also an option to stay at the retirement home that is run by sisters (nuns). So now I have a room in the retirement home. A special pilgrim room because on all doors is the name of who that room is and on my door is Pèlerin de Compostelle.
I just ate together with the elderly. Soup beforehand, then baked potato cubes, fried egg and salad, and for dessert plum pie with a kind of puff pastry crust. Yummy!
Because I was unable to communicate well with the French elderly, I decided to do something else. If you don't know yet, beside being a pilgrim I am also a (hobby) magician. So I did some magic tricks for the 2 people I was sitting with. Soon people at other tables saw that I did that and also wanted to see a trick. So before I realized it, I went all the tables to show a trick. It was a huge success and the reactions were great, as if they had never seen a trick before. Was a nice experience.
Now I am going to sleep well. I will continue tomorrow. I don't know where exactly to go, I'll figure it out in no time.
Greetings,
Wheelchair pilgrim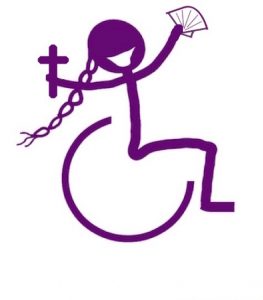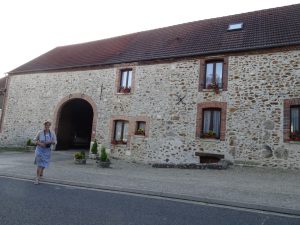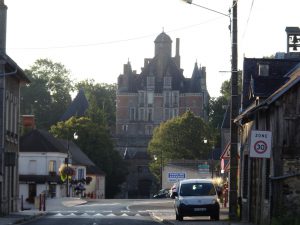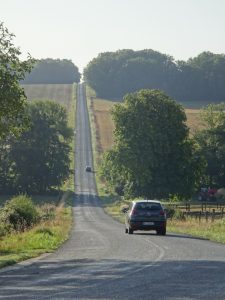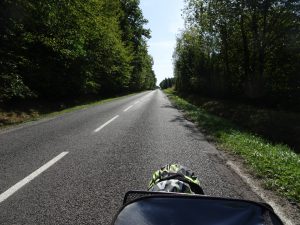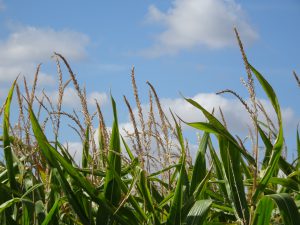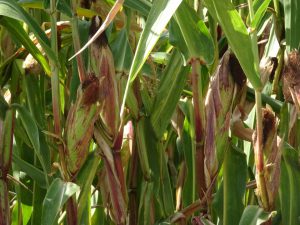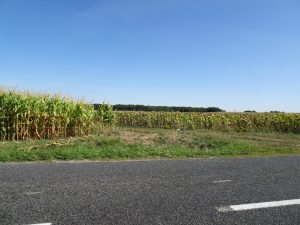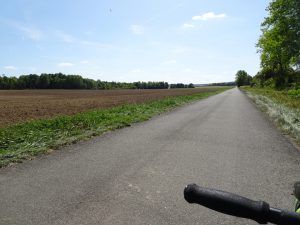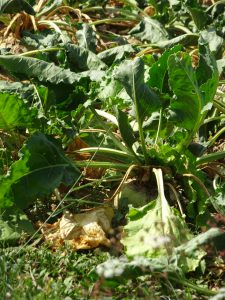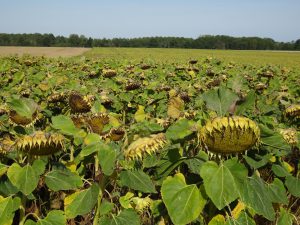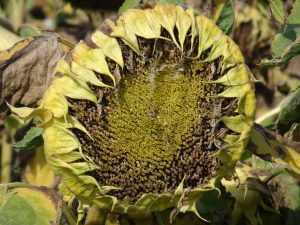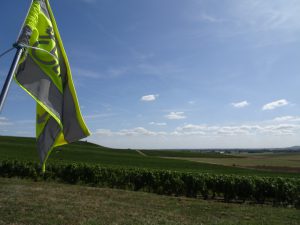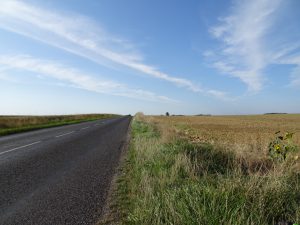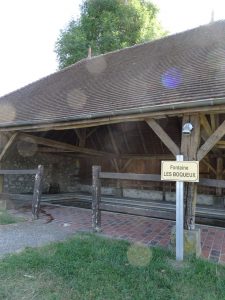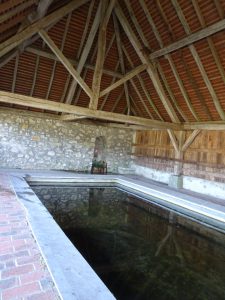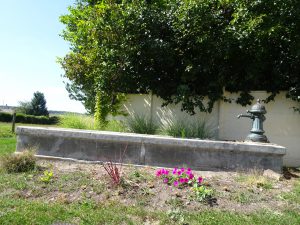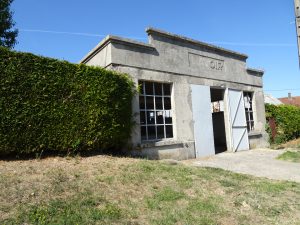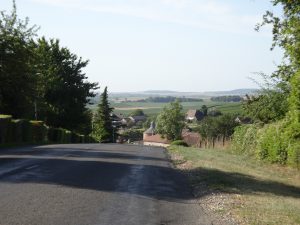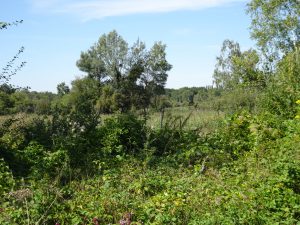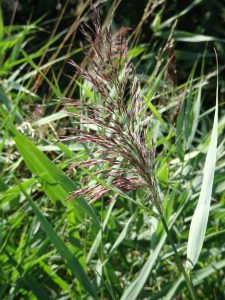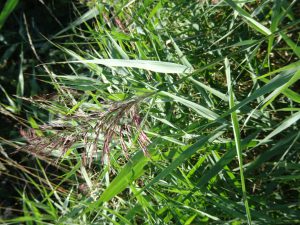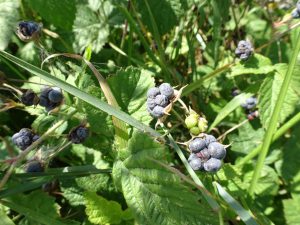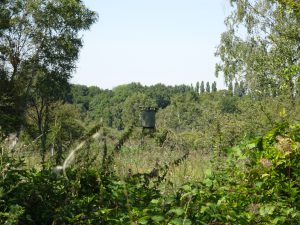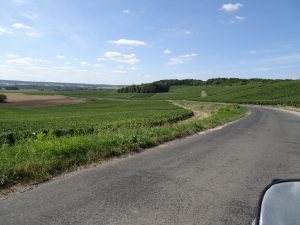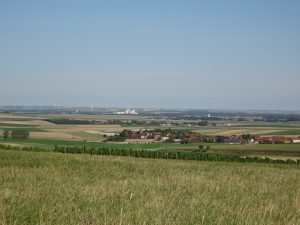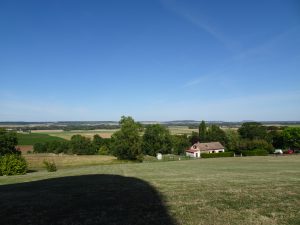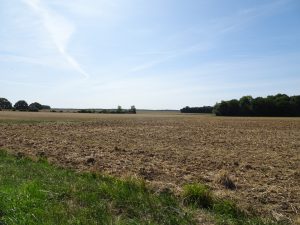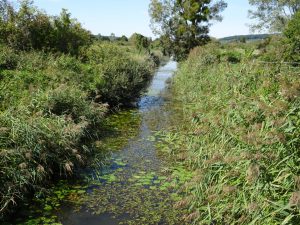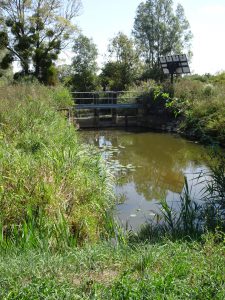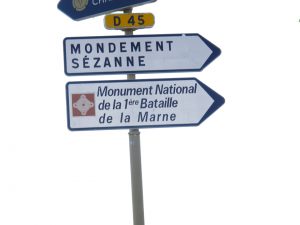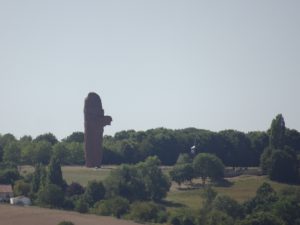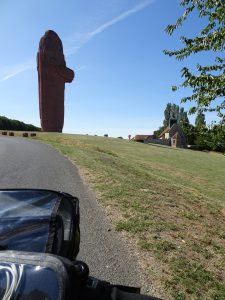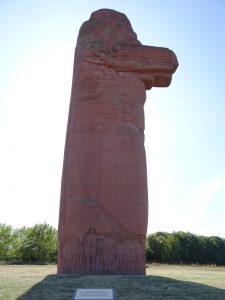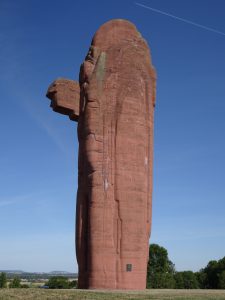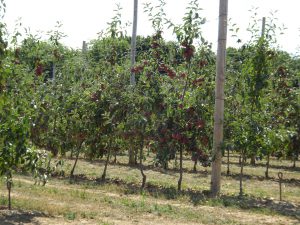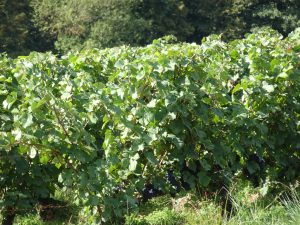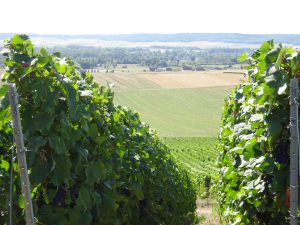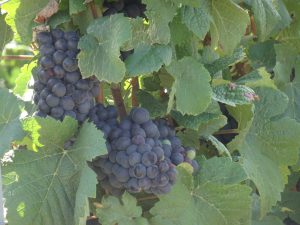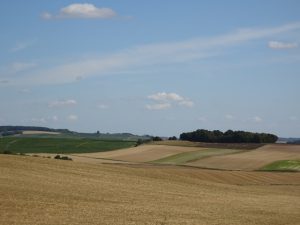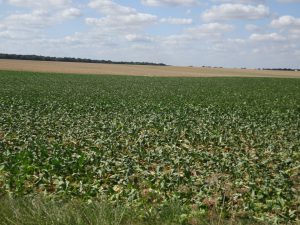 Previous
Next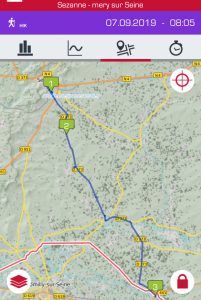 Got up this morning around 7.00. Breakfast would be at 7.30. I was a little late but when I arrived in the dining room there was no one yet. It turned out that breakfast starts half an hour later on Saturday. So I just waited a while and at 8.00 the group of elderly people did indeed arrive.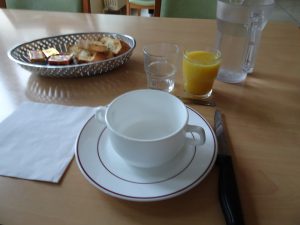 We got bread with jam, water, orange juice and a large bowl of tea (it looked like a soup bowl). The sisters were there again. One of the sisters is often followed by the dog, is probably her dog. The dog was already in the back of the chapel last night while the misen is now in the dining room. Nice beast!
After breakfast I received a stamp and I left. First went to church. The tower looks like it is not finished. A bit strange face. The church was open so I went inside. I also sang there, there was nobody and singing in such a big church always sounds so good.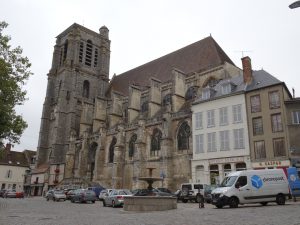 Then went on the road. On the outskirts of Sezanne went to the supermarket. Such a big place where they have everything, not just food but also fridges, school supplies, clothing, etc. Always nice. For me, a foreign supermarket is actually like a kind of museum where I see how people live and eat. When I came out of the supermarket it rained very hard. I grabbed and put on my rain gear and waited a while, and when things went a little slower, I set off. Fortunately the weather improved soon. Although it was very changeable and I had some small showers. But due to the weather I decided to take the main road instead of taking all kinds of small roads. Also because the main road route was already over 30 km and the other route added another 10 and that is nothing with rain. Fortunately the main dwarf was not too bad. What looked like a big road on my map turned out to be a small, quiet road. Not a car more often than once every 5 minutes. So rolled fairly relaxed. The landscape today was relatively flat, slightly wavy. Great for the poor.
I drove a lot through arable land (sugar beet, corn and other grains, potatoes, alfalfa, etc) and a little forest. In the forest there were many trees full of mistletoe branches (I was already talking about Asterix yesterday, I now had to think about that again, that druid always looks for mistletoe branches).
I also came to a raspberry grower, nice to get a bowl of raspberries, mmmmmmm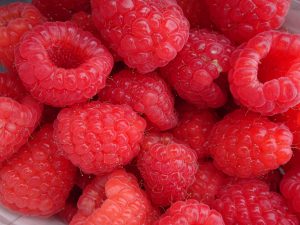 When I arrived in Mery sur Seine, I had 2 overnight addresses. At the Marianist brothers and at the campsite. because of the weather first the brothers but tried, the site still has room. A man opened the door but I couldn't speak to him because of the language. He got an English-speaking brother. I should have called first, but eventually I could come and stay. So that's nice.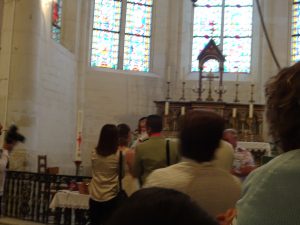 In the evening they had a mass a village away and I went with them. There was also a baptism.
Now I'm just writing this message in my room. I'm going to sleep soon. Tomorrow to Troyes (I hope because the distance is still quite large).
Greetings,
Wheelchair pilgrim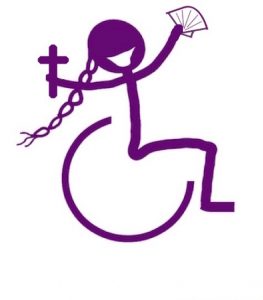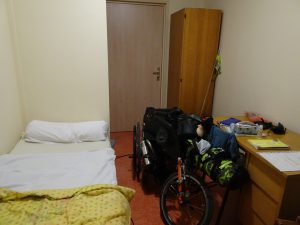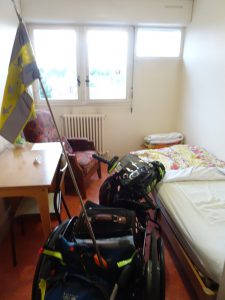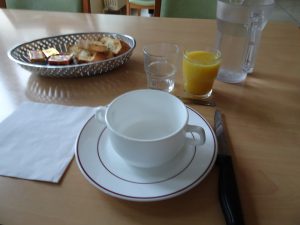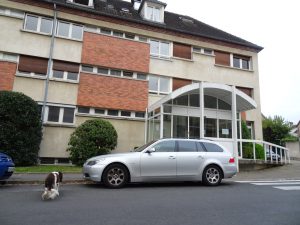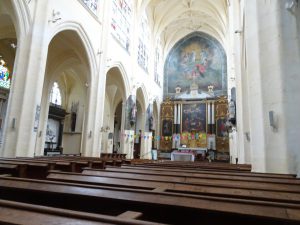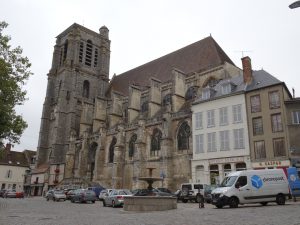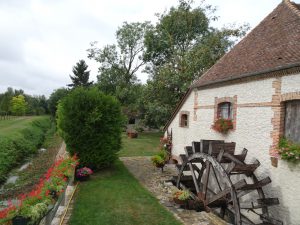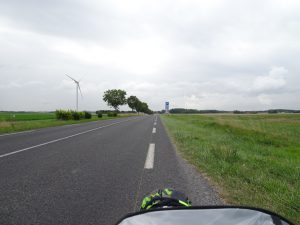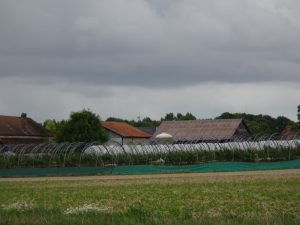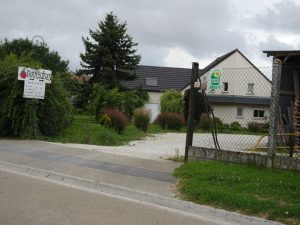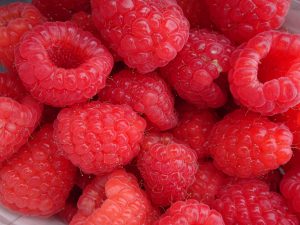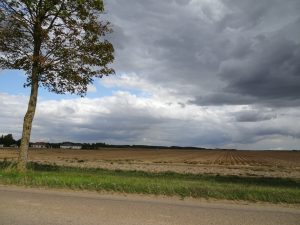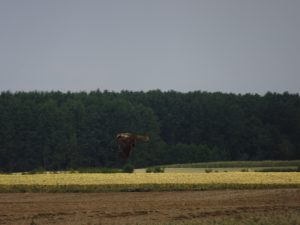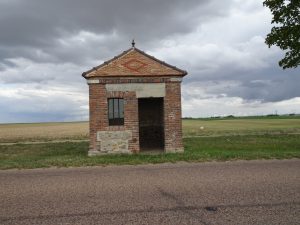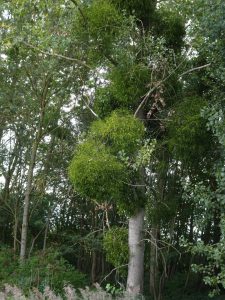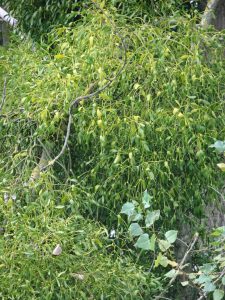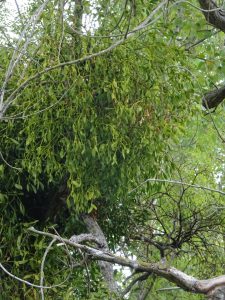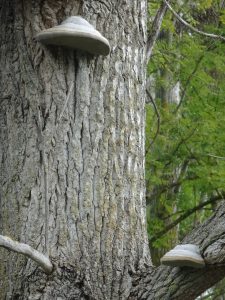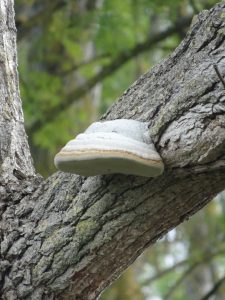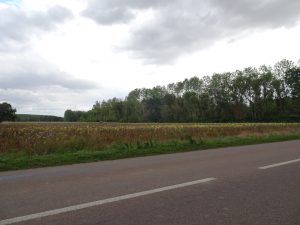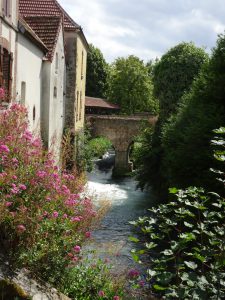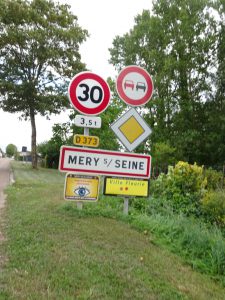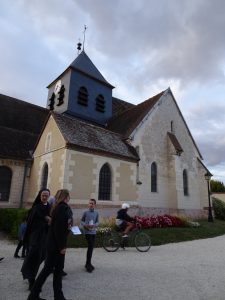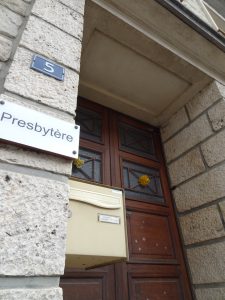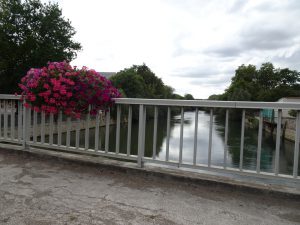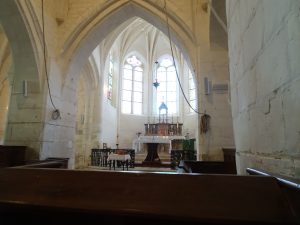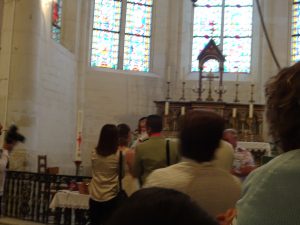 Previous
Next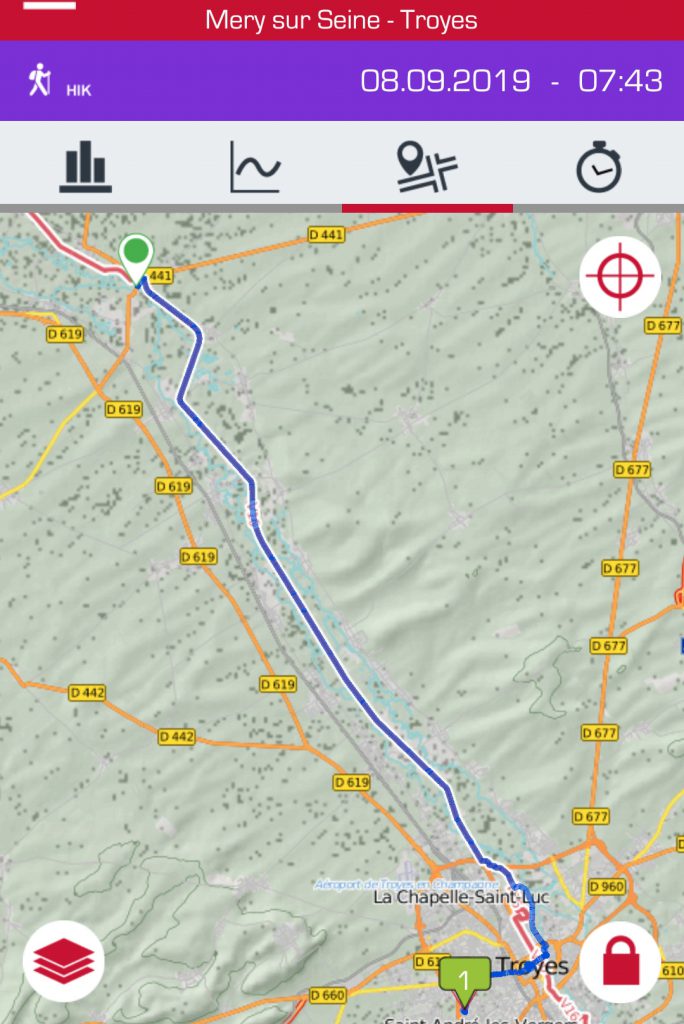 Mery sur Seine – Troyes,
37,66 km
This morning at 7.00 my alarm went off. Prepared myself and packed everything up and then went down. The English-speaking brother was already downstairs and busy with breakfast. Eaten a sandwich with jam and a large bowl of tea. Then it was time to take my things back to the wheelchair that had been charging there in the shed. The wheelchair could not enter because the house immediately started with a staircase. Fortunately, I can come up with it. After the luggage was on the wheelchair, I left.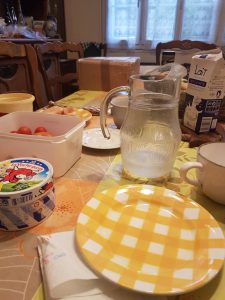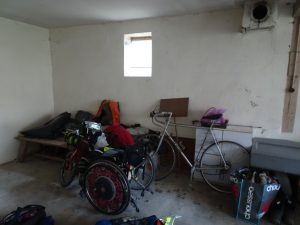 Previous
Next
Unlike in recent days, today was not a varied environment. I drove the whole day along the Seine canal (canal next to the river), or actually I was in between the canal and the river. At the Seine, I always imagine that big river through Paris, but this part of the Seine is just a little bit more than a stream, sometimes even a branched fast-flowing stream. And if you then imagine the Amsterdam Rhine Canal at a canal, you also have to adjust that idea, because this canal is very narrow, in the past 2 tow barges fitted exactly along each other. There are many locks in the canal and what I found very unusual is that sometimes the River Seine runs through the canal, so the canal is a kind of aqueduct over the river.
The channel ended very abruptly and after that there were remains to see where the channel had once walked. It looks like they are also repairing the channel. The cycle path next to the canal is also very short and the many locks are being worked on.
Rolling along the river like that reminded me of last year when I followed part of the Maas route. The same landscape for hours. The weather was not that bad. Rain was predicted and I also felt a few drops a few times, but it remained just a few drops.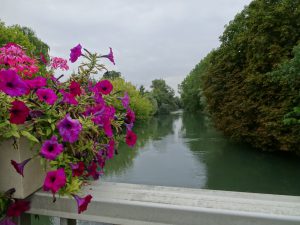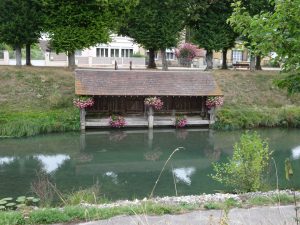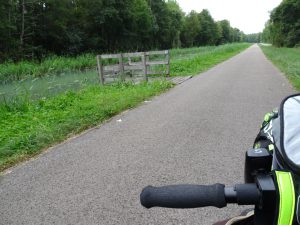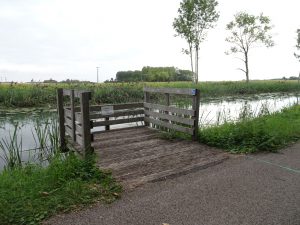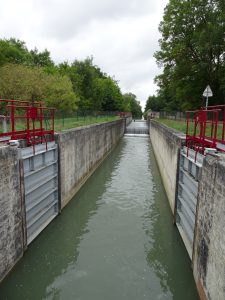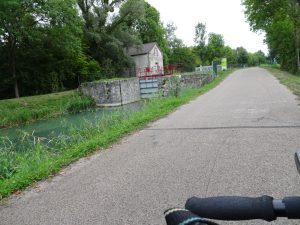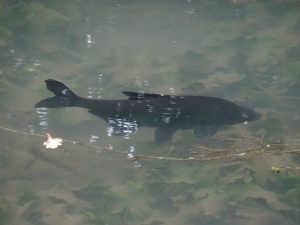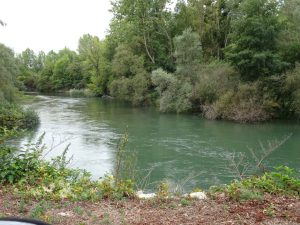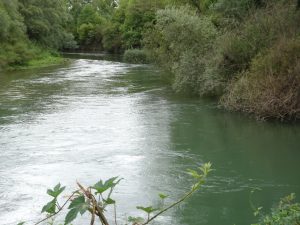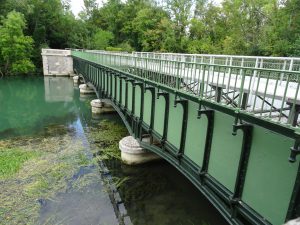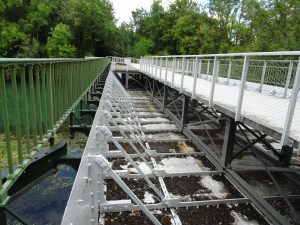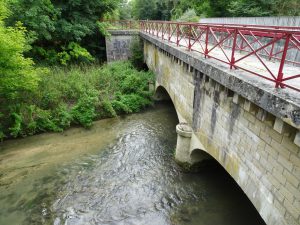 Previous
Next
At the end of the canal, the city of Troyes soon began. I first went to the cathedral. I received a stamp here. I visited the cathedral and musicians practiced for a concert tonight. Unfortunately I had to continue. Rolling down the street to the center I was stopped by a woman, she asked if I am a pilgrim and I answered that in the affirmative. She gave me a package with some goodies, turned out to be 2 cakes. And then she walked quickly back to the concert. Before I could thank her well and good, she had already disappeared. (the cake was very tasty, I ate a few more days!)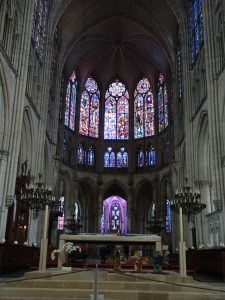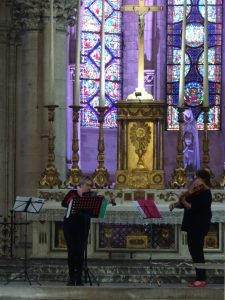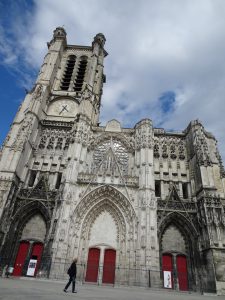 Previous
Next
Then I went on to the center, which is full of old houses from the Middle Ages and just after that. Very beautiful old craftsmanship. Especially considering my volunteer work at Archeon (historic open-air museum where I work as a medieval shoemaker in the Middle Ages), I find this very interesting houses to be viewed. Many of these houses would fit perfectly in Archeon.
A number of those houses were so close to each other that they call the narrow alley the street of the cats, because the cats could jump from one house to the other at the upper windows. After looking at the houses it was time to go to my guest address.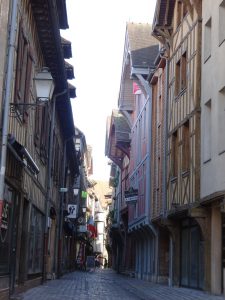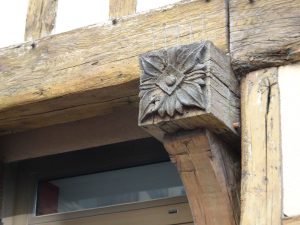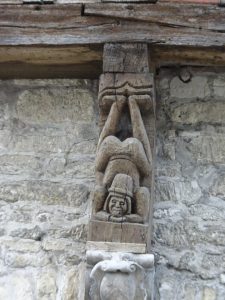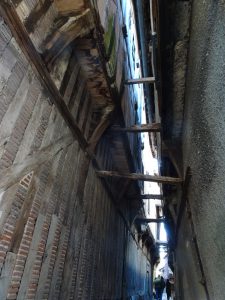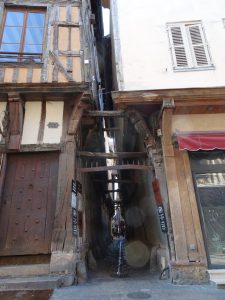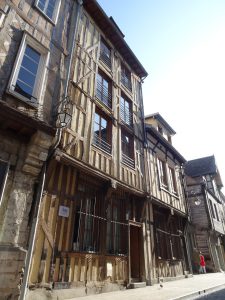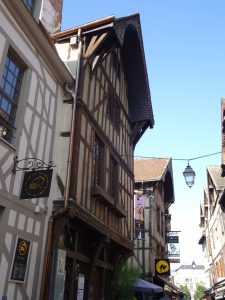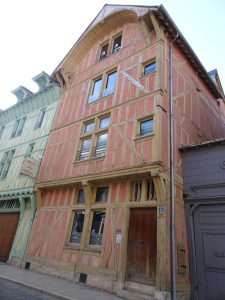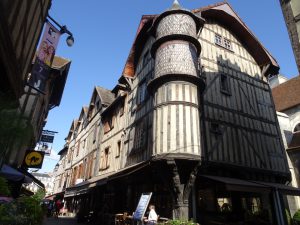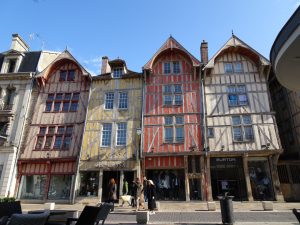 Previous
Next
Along the way I came across a huge flea market. Nice to have a look. But I didn't have much time because I wanted to continue.
I now stay with people I met last year at the sister monastery in Reims / Cormontreuil. I was warmly welcomed and shown around the house and garden. Tonight we had a nice dinner and talked to each other in French and a lot of google translate but that way we could have a good conversation. and now I'm back in bed.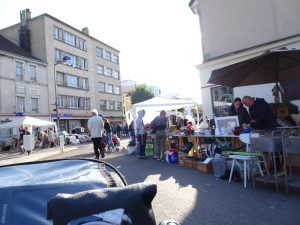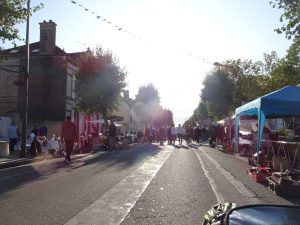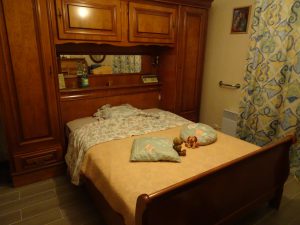 Previous
Next
Photos are coming tomorrow because unfortunately it is not possible to connect to the wifi here. (In the meantime, as you see, they are placed on the internet of the supermarket the next morning).
Greetings,
Wheelchair pilgrim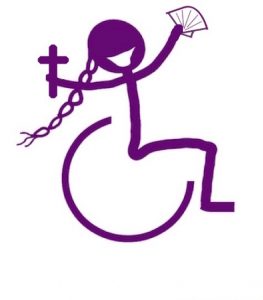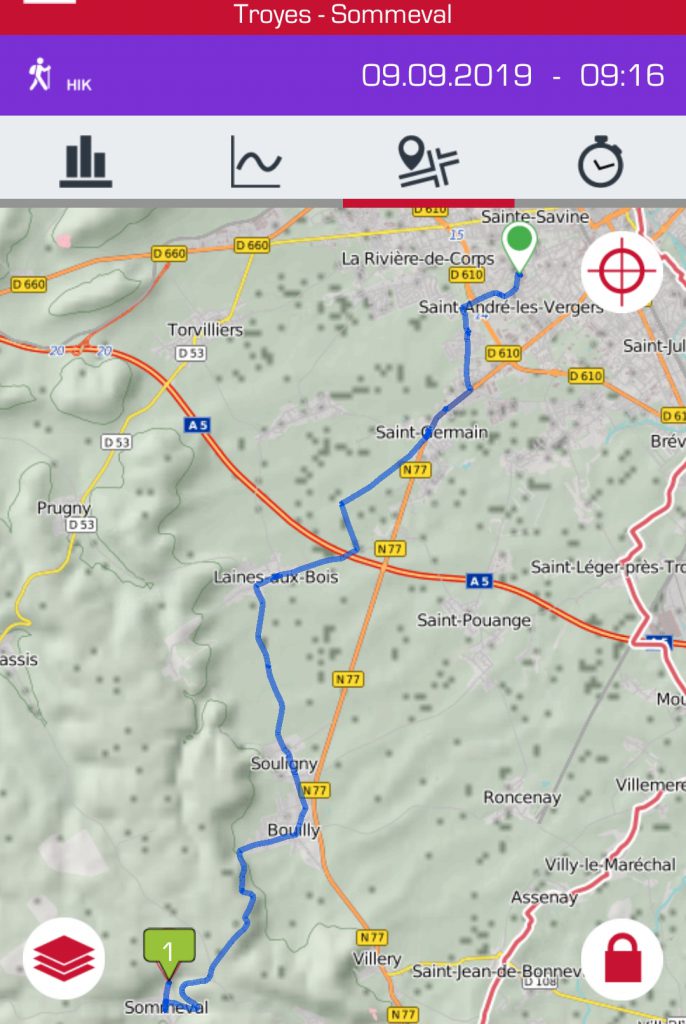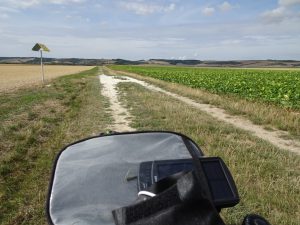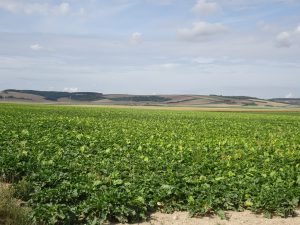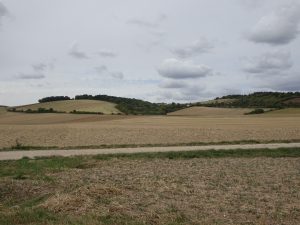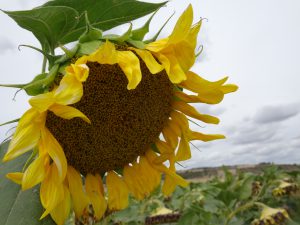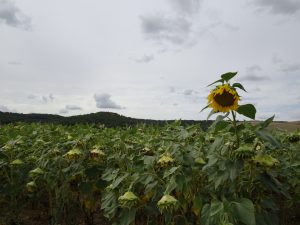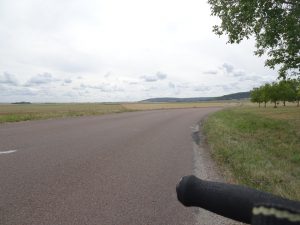 Previous
Next
Around noon I ate my lunch and a cake that I had received yesterday. Then I had not come to eat them, now I have. Very tasty, tasted like a good bakery cake!
The first part (before lunch) was almost flat, after lunch I got a hilly part. And just before Sommeval it started to become very stylish. There were also cyclists training, who always went from top to bottom and back. I have seen 1 of the cyclists at least 10 times while he went up and down during my climb. He was a lot faster than me. Almost at the top of the slope, my wheelchair began to squeak and the battery was empty. Then immediately taken a break in the roadside and the batteries changed. while I paused there I received a message on my cell phone from a journalist who may want to interview me later, I will keep you informed. When I was just back in the wheelchair, a car stopped and a woman got out. She spoke English and asked me what my final destination would be. In the end it turned out that she lives on the same street as the pilgrim hostel where I now spend the night.
She told me where I needed to be and then she left home. I then rolled the last part up the hill and then luckily it became easy again and I rolled down nicely into the village. I first went to the town hall, but it was closed. Soon I came across that woman I spoke to on the hill and she told me that this pilgrim's hostel is open and that I can go in without having to report anywhere.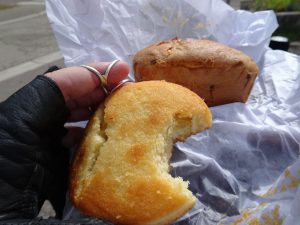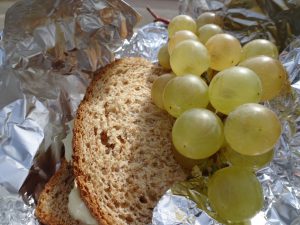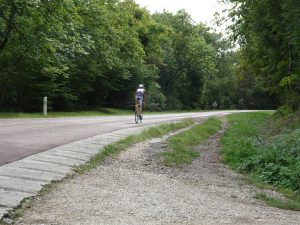 Previous
Next
Now I am in this nice little house. There is a kind of kitchen in it. Simple but what is needed (microwave, kettle, hob and hot and cold steaming water). There is a shower (the booklet said it wasn't there) and a real French toilet, a hole. Always a challenge, I am glad that do not have one like this at home, but well, it works.
There is also a large stone table with wooden benches. You can certainly sit with 10 people. And there are no beds so I can sleep here on the floor with my air bed and sleeping bag. There is also heating if necessary, but tonight I will manage without it.
I have just made my couscous with the kettle. And I eat that while writing this message. After dinner I go to sleep quickly because I am very tired today. Hopefully I'll feel a little better tomorrow.
I don't have WiFi now, so pictures will come tomorrow. (as you can see they have been placed)
Greetings,
Wheelchair pilgrim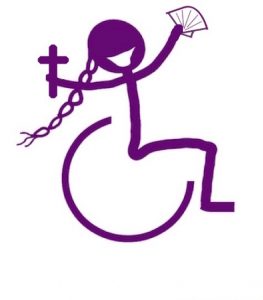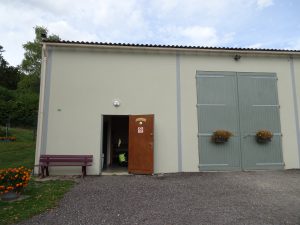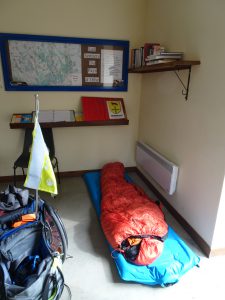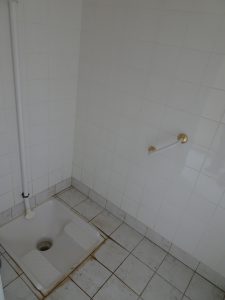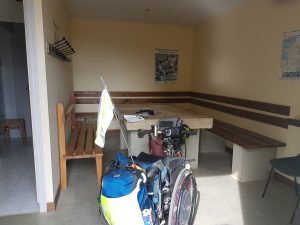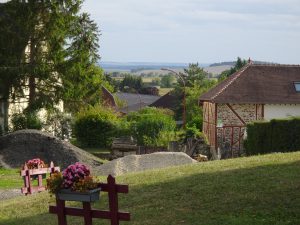 Previous
Next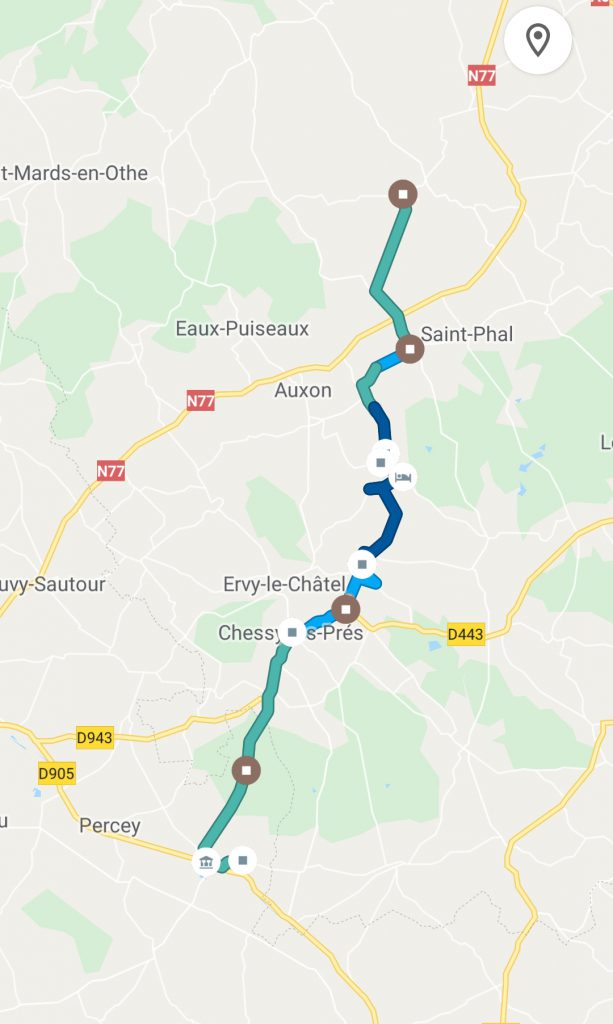 This morning I got up around 7.30 in my house in Sommeval. I slept a bit restlessly because my body hurt a lot. Fortunately, after getting up, packing, and taking medication, things slowly got better.
The start of my route gave my wheelchair some problems. That's because I was fully charged and the first part went down mainly. My wheelchair charges a little when I roll down a hill, but because it was already full I got the error message overload and then the wheels switch off completely. Very annoying because I have lost the braking power and have to brake on my own which is very heavy for my shoulders, luckily I have an extra brake on my front wheel so that I can still brake and not roll down the hill at full speed. And after 3 kilometers, the battery was empty enough to just take the descents without overcharging.
Today I deviated quite a lot from the route. Only the last part I came across the same place names as in the booklet. The route was very nice and varied. Lots of fields but occasionally also cows and other animals such as donkeys and horses and a group of tame geese who walked onto the road. As for the cows, they were mainly real French cows but I am also a meadow full of black and white Dutch cows.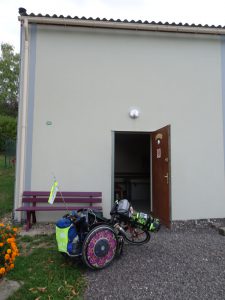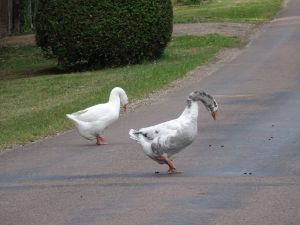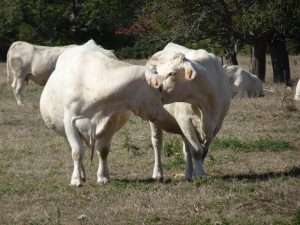 Previous
Next
I have passed through many small villages. I have the feeling that in some of those villages I was barked from start to finish by all the watch dogs. Sometimes real big scary watch dogs, sometimes lap dogs who think they are a big scary watch dog. Almost every house has 1 or more dogs in the yard and they go off as an alarm when I come by.
At one point I was stopped by a cyclist. An older man on a packed racing bike. He asked me in a mix of French and English that I went to and told me that he was only driving through France for 5 days now, but that he wants to cycle to Santiago next year.
Just after that man had cycled away again I came across a place with an enormous amount of blackberries. I still had an empty container with me from yesterday's lunch and I picked blackberries in it. I think I had harvested almost half a kilo (box had a capacity of about a liter and was up to 3/4 full) and I ate that in the course of the afternoon due to a lack of a better lunch because I am a supermarket today not encountered.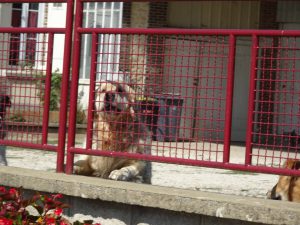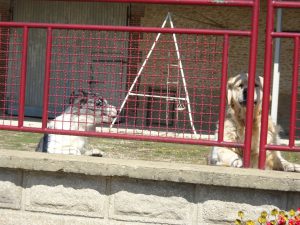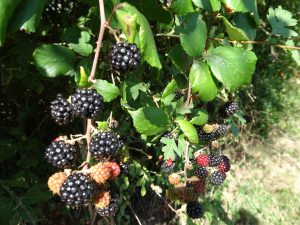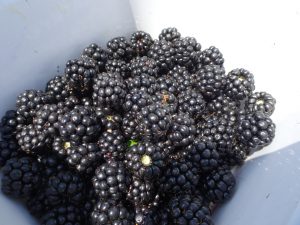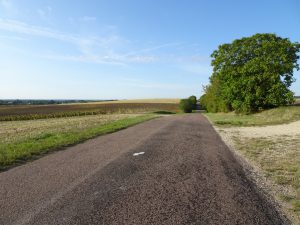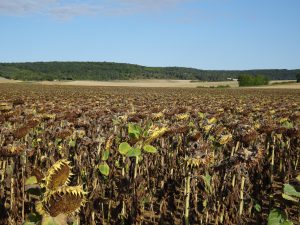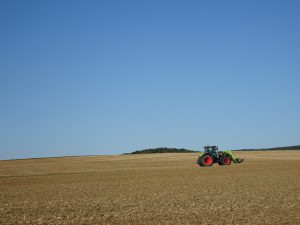 Previous
Next
The last part of the route went through the forest. Was wonderfully quiet there. I only ran into a runner. He came from the village where I now sleep and told me where I could find the town hall. Furthermore, there was hardly any traffic through that forest. Only the birds that I occasionally heard, also a woodpecker but unfortunately I could hear but not see.
Today we rolled around 35 km. This morning I started badly with a lot of pain but once I was on the road it was actually pretty good and that 35km was not too bad and today I rolled pretty relaxed.
I ended up in Flogny-la-Chapelle. Here I stay again in a pilgrim hostel. This time I did not register in advance as it should be (then I have to call French people who don't speak English and that is not very successful so take the guesswork every day). At first they did a bit difficult at the town hall because I had not registered, but in the end it went well and someone showed me the way to the inn (another 2 km from the town hall).
It is a beautiful house. 2 bedrooms (1 with bunk beds and 1 with double bed), kitchenette, living room. Not inferior to an ordinary house. I am now lying in the bunk bed and go to sleep. Tomorrow further south again.
Unfortunately again no WiFi so no pictures of today and yesterday. Hopefully tomorrow somewhere along the road at a large supermarket for example. (In the meantime, as you can see, the photos have been posted)
Greetings,
Wheelchair pilgrim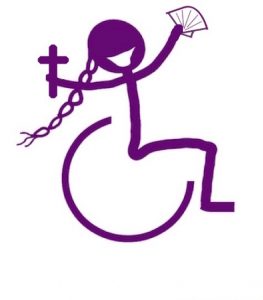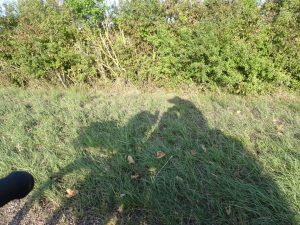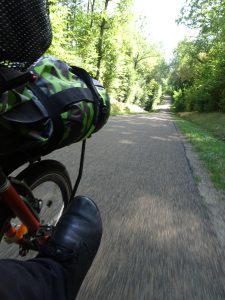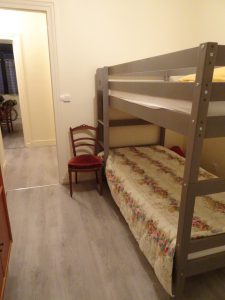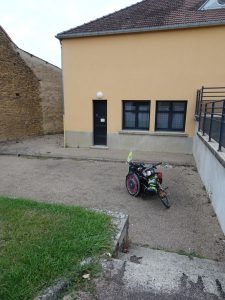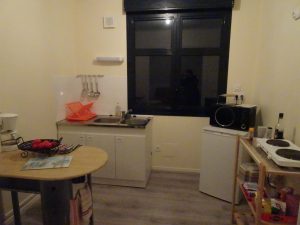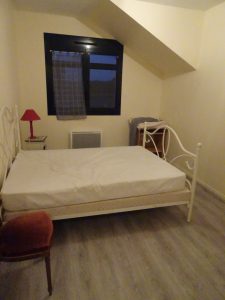 Previous
Next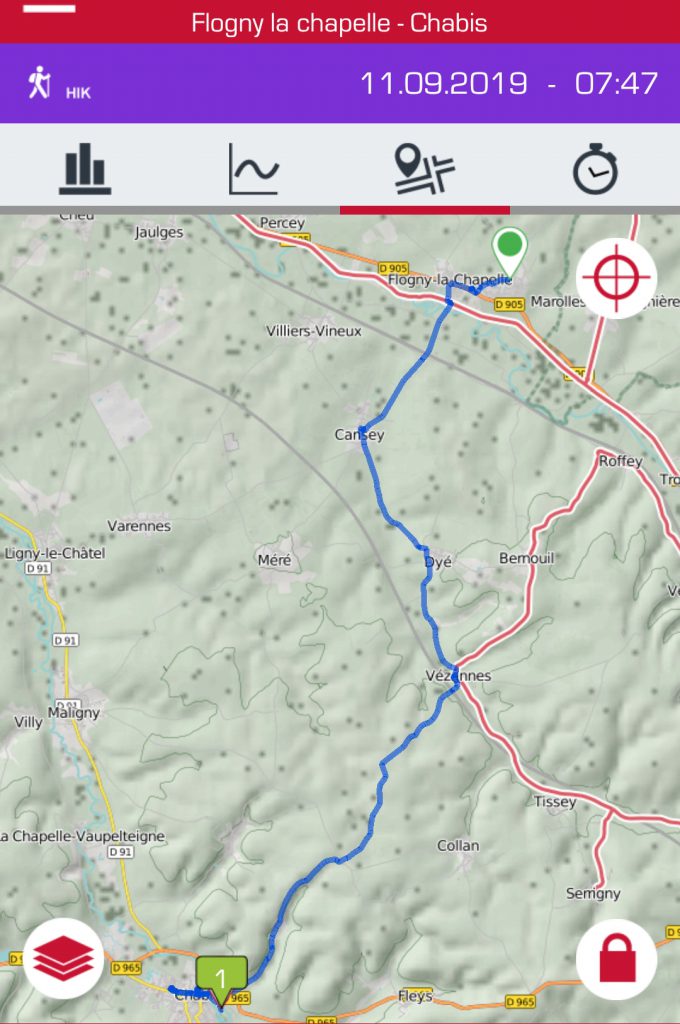 This morning I wanted to sleep in a little longer and had set my alarm at 8 o'clock, but because I woke up at 7 am I started packing on time. it was around 8.30 when I left. First I brought the key to the address of the caretaker, I had to put it in the mailbox. Then I went to the supermarket. I had to get food for breakfast and for the rest of the day. For example, I bought some fruit. 1 apple and 1 banana. At the cash register it was weighed and the cashier made an awkward movement, causing the apple to hit the scales and the peel to break. The cashier got a new apple and I got the other one. So I was so lucky because I had 2 apples for the price of 1 and I broke that one right but as part of the breakfast.
Just before I left Flogny, I checked the map a little bit more. A helpful man came to help me a little more with finding the way, but his complicated explanation in French and turning the map made it even more complicated which way I now had to go, but when he left I had the right way, luckily quickly found it.
Although I did not follow the official route, I regularly came across the route signs today.
The landscape was varied, but with a number of large hills. But after I climbed the hills I was happy to get them off again and I didn't have to do anything!
The farmers were busy with the harvest today. Tractors with trailers for harvesting drove back and forth. On a hill where I had to go up I came across the same tractor a number of times. He went with load and back without load and then after a while passed me full again etc. etc.
The way the farmers walk their straw bales is also very nice to see.
A high-speed train also regularly passed by. I do think every 5 to 10 minutes. First at a distance past me and later I went over the tracks myself.
I spent most of the day rolling between the fields and the occasional pasture, but at the end of the day I got an area with forest and on the last stretch of wine again. I am now in Chablis and this place is also known for its wine.
In Chablis I first rolled to the center. Many wine shops here. But first I went to the tourist info for a stamp in my pilgrim passport. Then I went to the supermarket on the other side of the village. Fortunately finally a real supermarket (where I was this morning in Flogny was really a mini supermarket with only the essential). Now I have dinner and some food and goodies for tomorrow. New fruit again.
After the supermarket it was time to go to the campsite. For this I had to go back a bit.
I am now at the campsite. Tent is set up. There is wifi here so I can finally post pictures again (also from the last 2 days).
Greetings,
Wheelchair pilgrim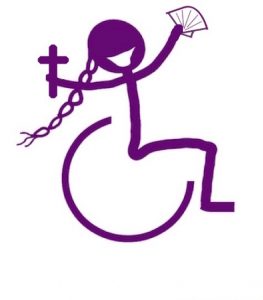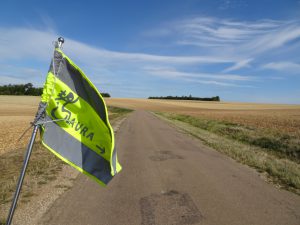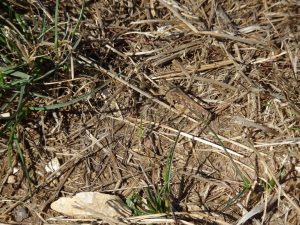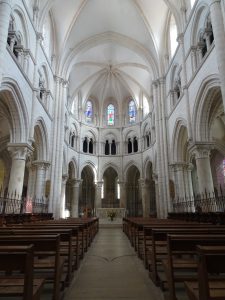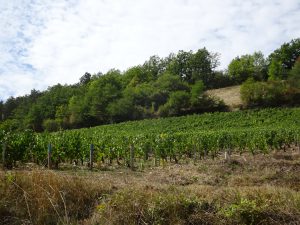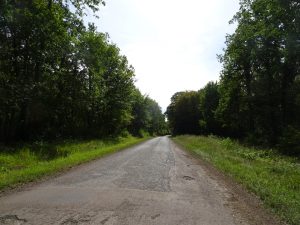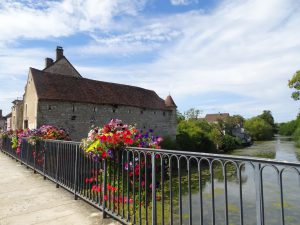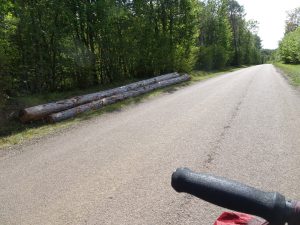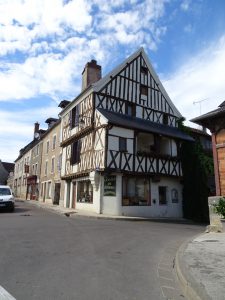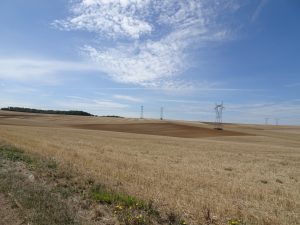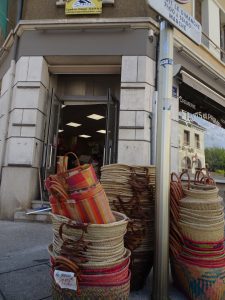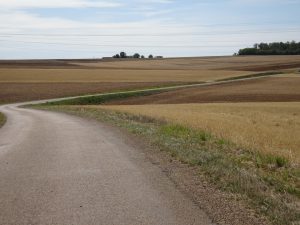 Previous
Next
September 12. Chablis to Accolay
First some things about yesterday before I continue with today.
I had completely forgotten to say that I also visited the church in Chablis. A large and beautiful church. Unfortunately they didn't have a stamp here. Fortunately I did get one in Chablis at the tourist info.
Last night I had a nice chat with a couple of Dutchmen / Frisians at their caravan while enjoying a hot cup of tea and a piece of chocolate. The man gave me a piece of transparent plastic so that I can hang it over my wheelchair if it is outside like last night. I had power for the door of my tent and I charged the chair there with the plastic over it. Now about today.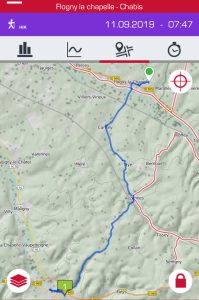 Chablis naar Accolay
29,40km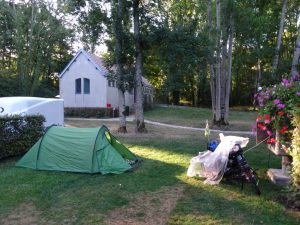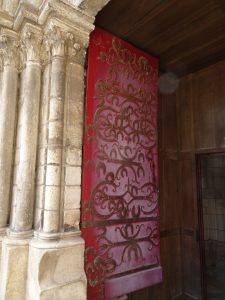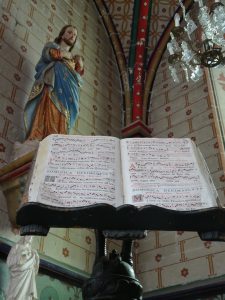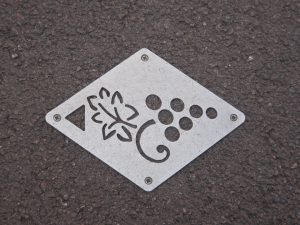 Previous
Next
Now about today.
In the morning I decided to sleep a bit first. Quarter past 8 my alarm clock went on, and that was necessary because I really woke up from the alarm clock. Even the grape pickers that were just behind me I have not heard go away. I slept pretty well. Only woke up around 4 o'clock because I was cold. When my mummy sleeping bag was closed properly (the zipper was a bit open) and pulled on the string so that only my nose was still sticking out, I quickly got warm and happily slept on.
When I finally got out of bed around 8.30 (because it was so cold outside of my sleeping bag) I started packing and binding everything on my wheelchair. After packing and charging everything I wanted to leave the campsite, but before I was ready I was talked to by another camper. A cyclist who is traveling and cycling all over the world, when I asked where he came from, he said: the Country with the crazy president. I knew immediately which country that had to be.
This man made a world trip on a bicycle to learn how to deal with the fact that he has been missing an eye for some time and therefore sees no depth, and as an artist that is of course extremely difficult. We talked about both of our challenges for a while and then I continued. A moment later I was approached by the Dutch / Frisians and we talked a bit and I got another banana for traveling. so it came that it was already half past ten before I had left.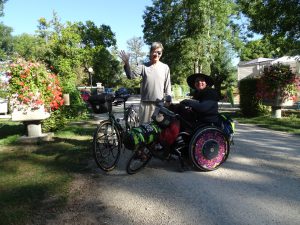 The first time I drove through the vineyards. The harvest had started well here. The harvest was mainly by machine, but a few times I saw that people were also picking.
In addition to the vineyards, I came across other companies that deal with wine. Among others, companies with all sorts of crates with wine bottles and shops where wine is sold.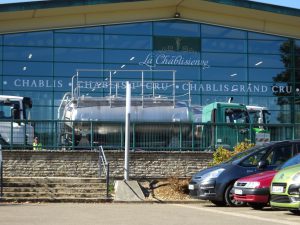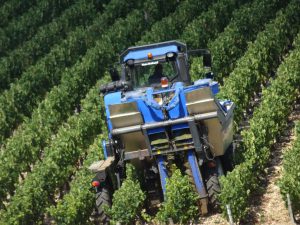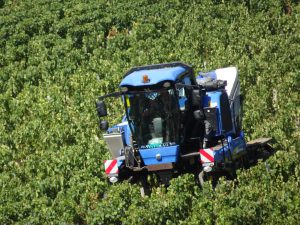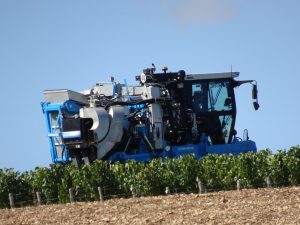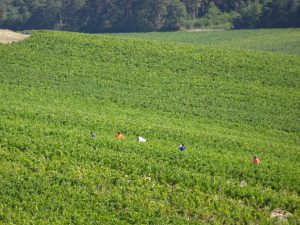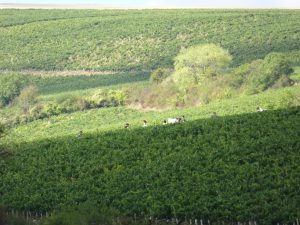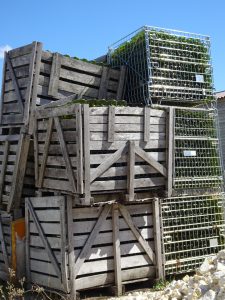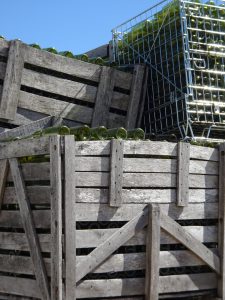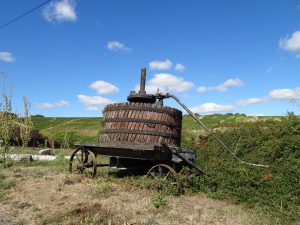 Previous
Next
In the village of Saint-Cyr-les-Colons I met a cyclist, this woman had also been in Santiago during her vacation to Spain last year. She went for a ride now and said that she might meet me again later in the day because at the end of the day she would run exactly against my route. So we said to each other until later.
Just after I met her, my wheels started beeping. I then searched for a nice spot and started to change my batteries outside the village and I took a short break at one of the many roadside crosses I encountered along the way, here I also ate the banana I had received this morning.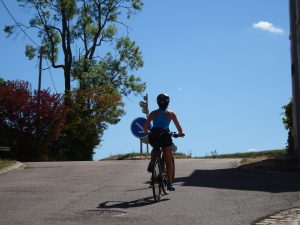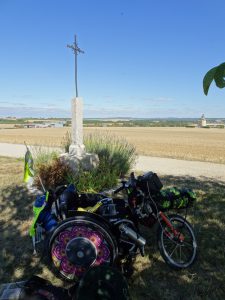 Previous
Next
Along the way I also stopped regularly at churches (which were mostly closed) and I saw many canopies with a kind of spring / pond / etc underneath.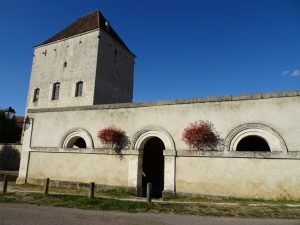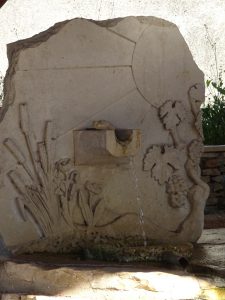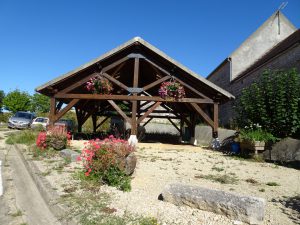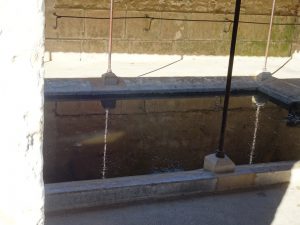 Previous
Next
After the vineyards I got some variety, but most had already been harvested. I also drove a bit through the forest.
Butterflies flew on the verge, which unfortunately flew faster than my camera could capture them. Another deer jumped out of the bushes that saw me and immediately jumped back into the bushes. Unfortunately I could not record that either. But nice to have seen the deer!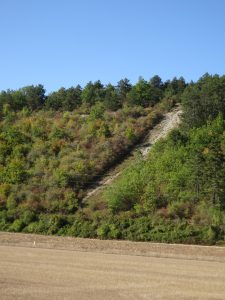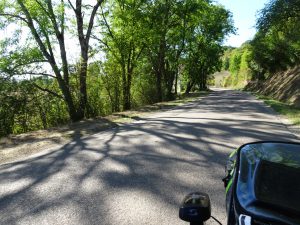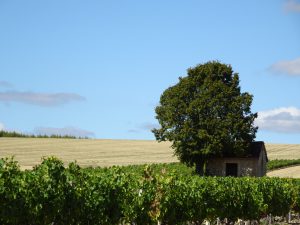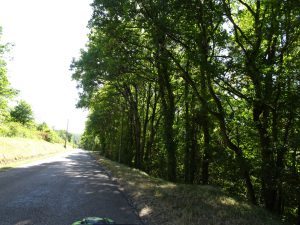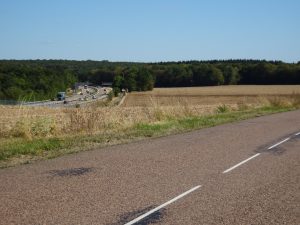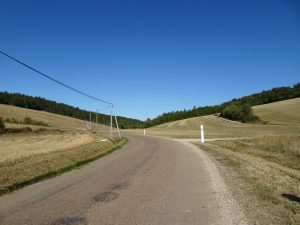 Previous
Next
When I arrived in Cravant I did meet that cyclist again. Nice to have seen her again. I gave her a card with my website so maybe she will read this.
In Cravant I drove past the church. It was open and a few people were still walking.
Then it was time to go to the campsite in Accolay. Acolay is a pottery village and everywhere there are huge pots. Nice face.
When we arrived at the campsite it turned out to be very quiet. There are about 5 people on the terrace and there are 3 caravans. I assumed that people on the terrace belonged to the caravans, but it turned out not to be so. I am alone at the campsite. I do have the manager's telephone number in case of an emergency.
My wheelchair is loading under the shelter of the laundry room and there I have just recharged my power banks. So tomorrow everything will be completely ready and charged for departure.
Now I just go to sleep. There is not much else to do here at a campsite for myself.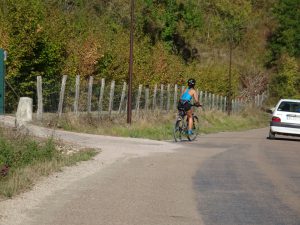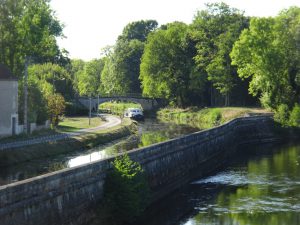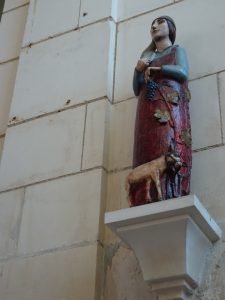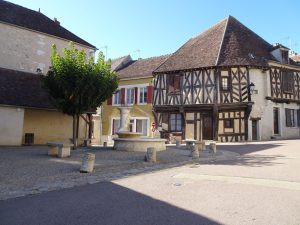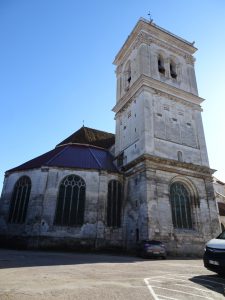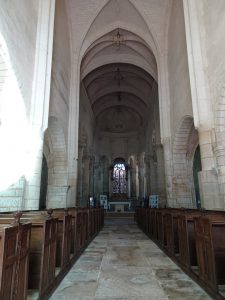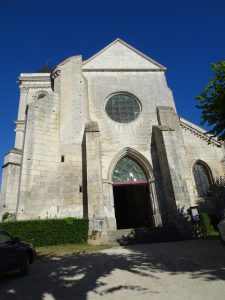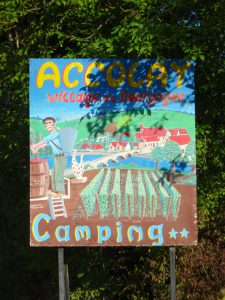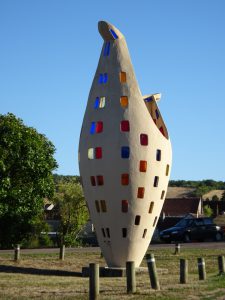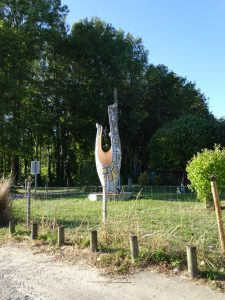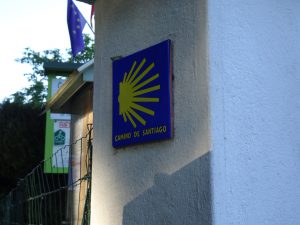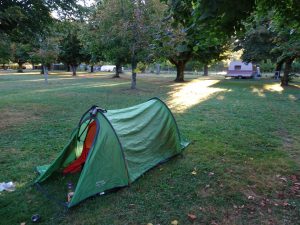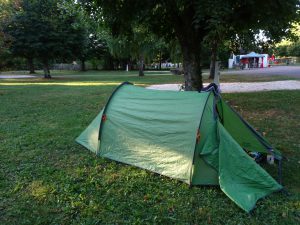 Previous
Next
By the way, tomorrow I won't be rolling alone all day, a journalist will come by for an interview. I will write more about this later.
Greetings,
Wheelchair pilgrim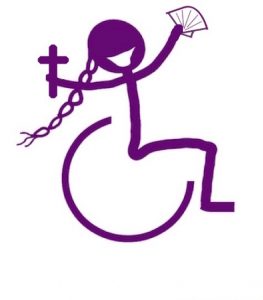 Ps. And if you haven't done it yet, you can subscribe to the newsletter on the homepage. Then you will be informed immediately if something new has been posted.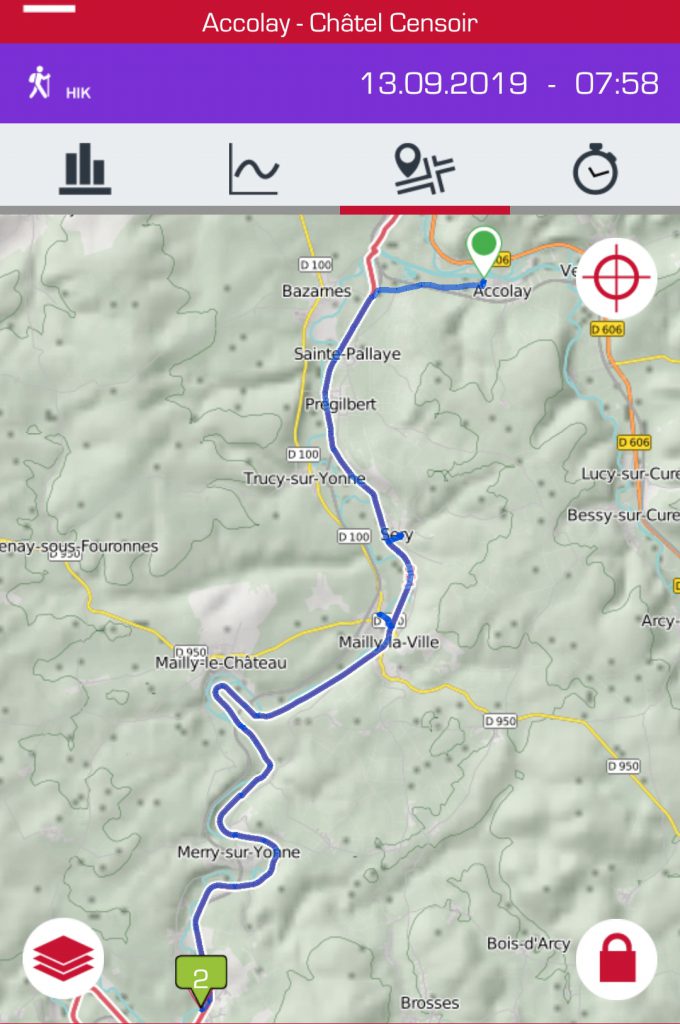 Last night I had the campsite for myself. Quite strange and a bit exciting to sleep alone on a campsite. Also nice, almost felt like a kind of camping in the wild. And because there was virtually no light at the campsite (except for a small lamp near the toilet block), the stars were very beautiful to see. The nocturnal animals also had a good time there, because an owl (or maybe more owls) made a lot of noise.
I had ordered a small baguette last night when checking in at the campsite. I picked it up this morning. I still had breakfast but this sandwich will be lunch together with some small cheeses that I still had in stock.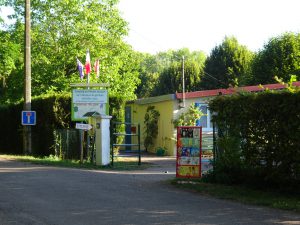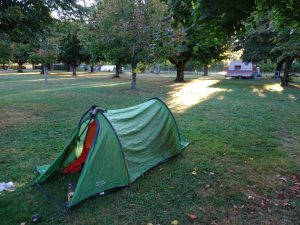 Previous
Next
After I left I first rolled on a larger road, luckily it was not busy. At one point I saw a grape growing in the wild full of very small ripe grapes. I brought 3 small bunches (3 were about the size of 1 bunch of normal grapes). They were very tasty and very red. My fingers turned completely purple after eating the grapes. Also, every grape that had the diameter of 5 to 7 mm contained 2 to 3 large seeds. But they were very tasty.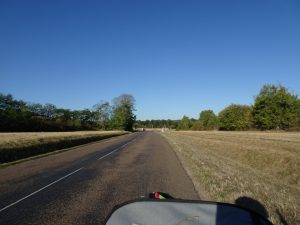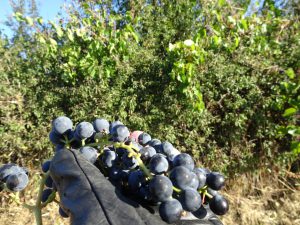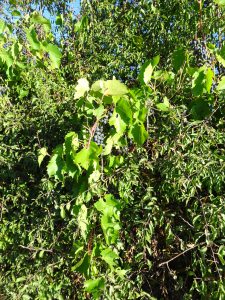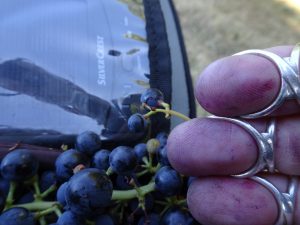 Previous
Next
Today, most of my route went along the canal. In advance this did not seem that interesting to me because the previous walk along the canal was very monotonous. But that was not so bad and it was very beautiful. In any case, this channel had many boats (the previous channel was no longer in use) and many locks. The locks were all opened by hand and at every lock there was a lockkeeper's house that did it. In addition to the canal, the river also flowed. Often the water from the canal flowed into the river through a kind of lock. The water in the channel is also very clear. I often see the fish swimming. Nice face!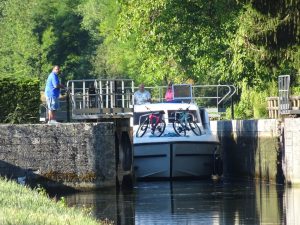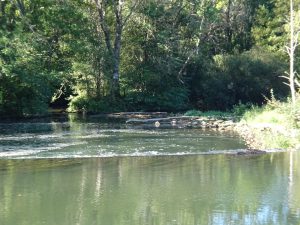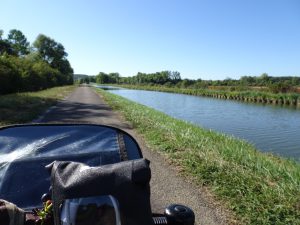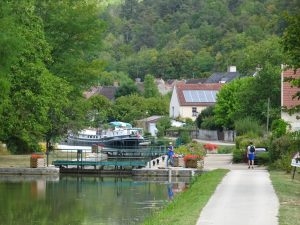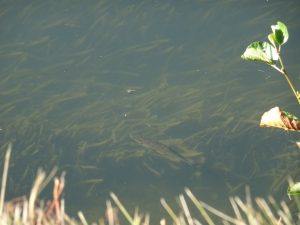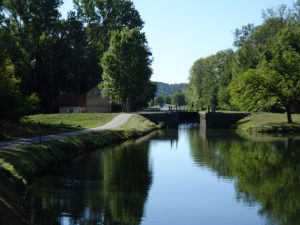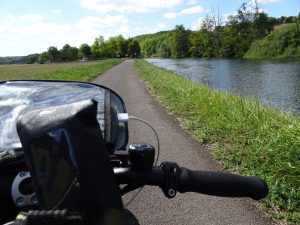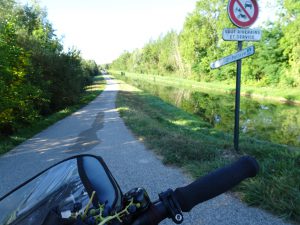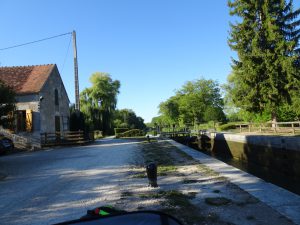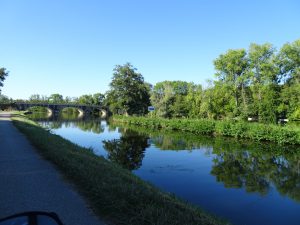 Previous
Next
In the town of Sery I had an appointment with a journalist. But after we met there we decided to do the interview a little further away, where he could also get some food for lunch. So I rolled on to Mailly la Ville. Along the way I saw in a harbor a ship from Ter Aar. against (Ter Aar is a village near my hometown), called Johanna. Funny to come across that here.
When I arrived in Mailly I soon met the journalist of the 'Nederlands Dagblad'. We looked for a nice picnic place and while enjoying a baguette with cheese we had a good conversation … and even chocolate, tasty (and I got the rest of the bar so I will eat some of it tonight). After dinner he went for a walk along the canal with me. Photos were also taken while I was rolling. I found it very pleasant. I think he has enough info to fill half a newspaper (and that place won't be there) so I'm curious about the topics he will choose from. The date when it will be posted is not yet known. As soon as this is known I will let you know. After we said goodbye and he went back to his car, I rolled along the canal.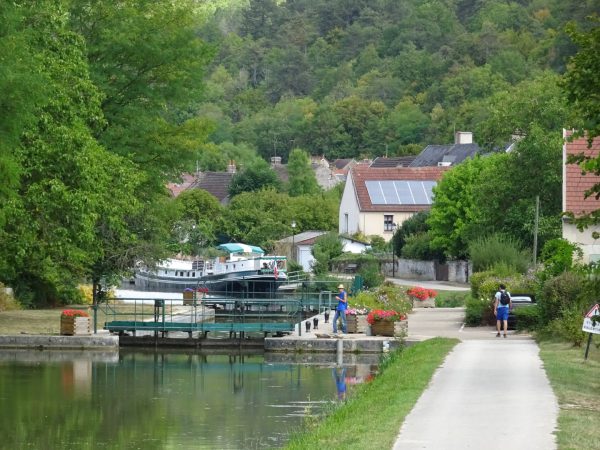 While I was rolling I still had to be careful because the lizards and grasshoppers were running fast along the path. They even sat down well for photos and when I had put something on the floor during a stop I even had a grasshopper on my card.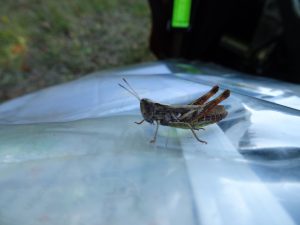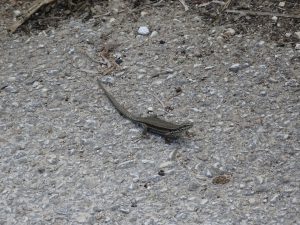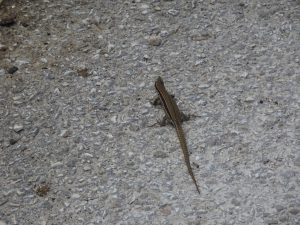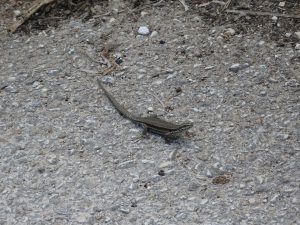 Previous
Next
The further I came on my route, the higher the hills became and the more rocky it became. I also saw a castle on top. Especially about 5 km before I arrived there were very beautiful rugged rocks. Always nice to see.
Around that place there was also a lot of coin in the side of the canal. I picked something so that I can make mint tea tonight.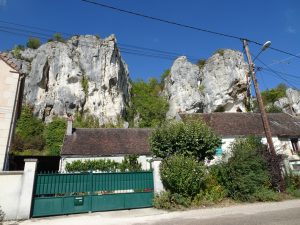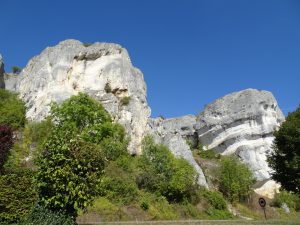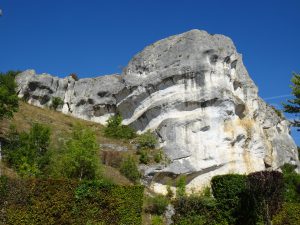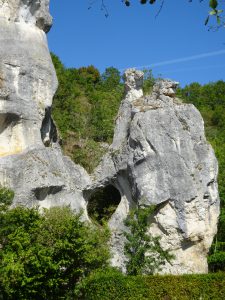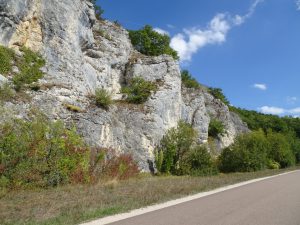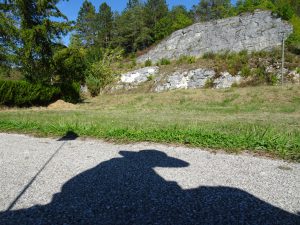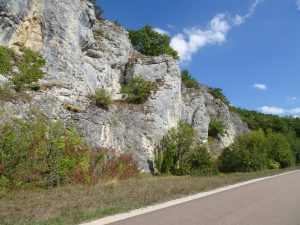 Previous
Next
Now I am at the campsite. Here I finally have wifi again so I supplemented the blog of last days with photos.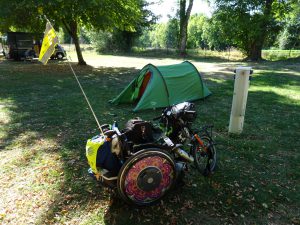 Tomorrow I will probably go to Vezelay or to the edge of the city. I want to go to church on Sunday morning for my stamp.
Greetings,
Wheelchair pilgrim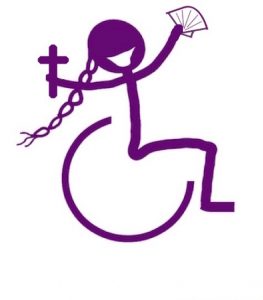 Luckily slept well again last night. Not cold. I only woke up in the middle of the night at around 2 o'clock, but I slept well. Around 7.00 I woke up and it was time to pack again.
I looked at the river behind the campsite and after that it was time to leave.
I first went to the village for groceries. A bottle of juice (which helps to make the water that smells of chlorine drinkable here. Half and half of water and juice is tasty.)
I also got a demi baguette at the supermarket (half baguette). It is always a surprise, the one time I get a baguette that is just short and the other time the bread is literally cut in half. This time I got the last one. A nice half sandwich from the bakery.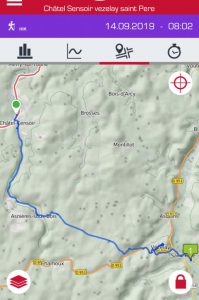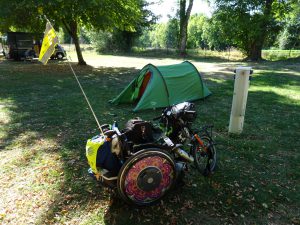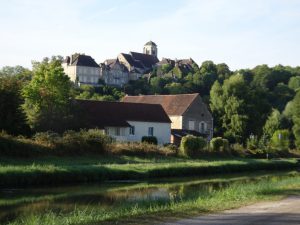 Previous
Next
I also regularly see petanque (boules) fields. Sometimes abandoned but I also see fields that are playing with enthusiastically. That looks really French!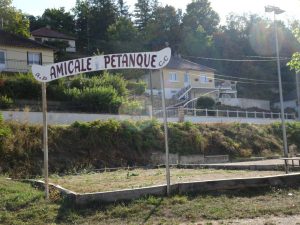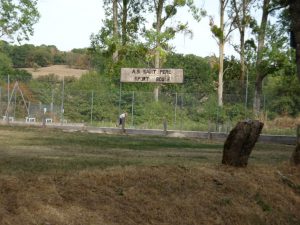 Previous
Next
I also roll through nice villages and nice and sometimes special houses.
In between the villages I roll a lot through the forest, but I notice that it is more humid here, there are many small rivers, streams and other little water that I see walking through the forest and through the villages.
Along the way I saw a kind of shelter at almost every village on the side of the river / stream. Do not know what it really is for but in my mind it seems like a place where people used to do laundry. Who the weather really can tell me!
Just like the houses with sources, they are also found in many villages in this area.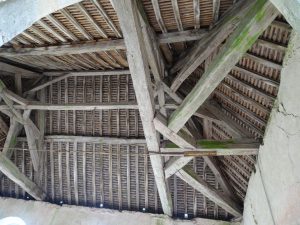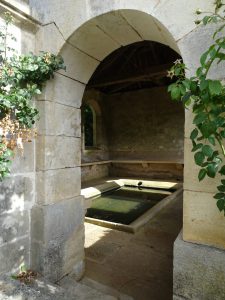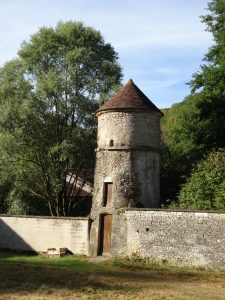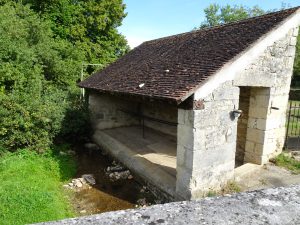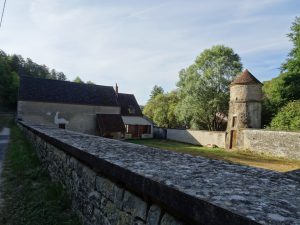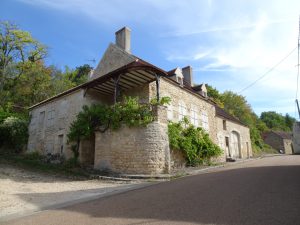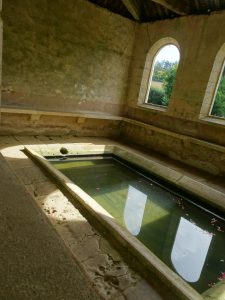 Previous
Next
Furthermore, many fields where I can no longer see what was there, mowed and / or plowed. I rolled up all day, sometimes flat and sometimes very steep. Just before Vézelay I finally rolled down for 2 km and I didn't have to struggle for a while, but that was just the calm before the storm (luckily I already knew) because Vézelay is on a very steep hill. During the descent I could see Vézelay for the first time. Once there, the big climb to the church starts. I did part of the hill backwards because I was tipping back. It was nice to roll up and I was approached on the way by various people and encouraged. I also met a number of other pilgrims because this is an important intersection of various pilgrim routes to Santiago and for many also a starting point. On the way up I also got a stamp at the tourist office. There are regularly metal Santiago shells on the floor.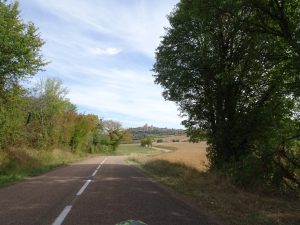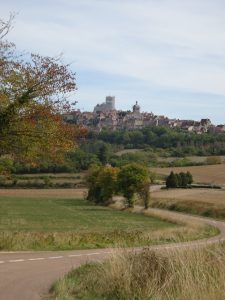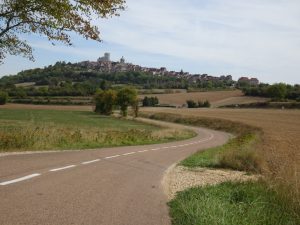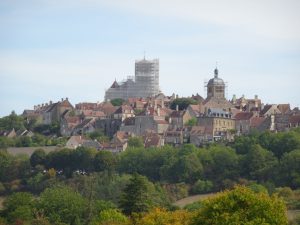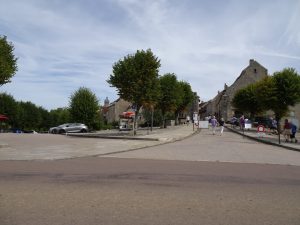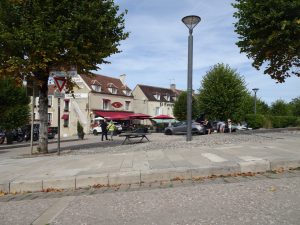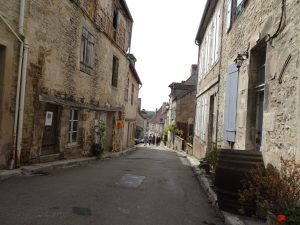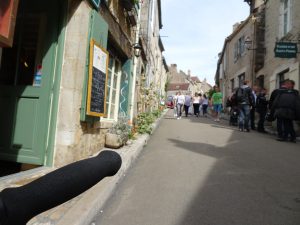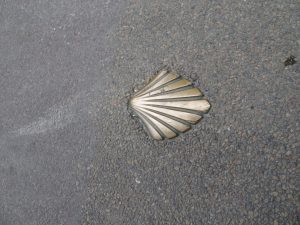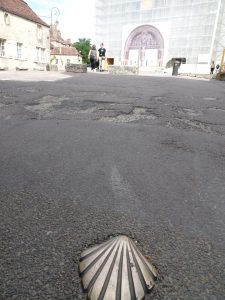 Previous
Next
At the top of the hill of Vézelay arrived to the Basilica. This basilica is dominated by Mary Magdalene. They also have a relic by Maria Magdalena in the crypt of the church. A Flemish couple went to take a few pictures for me. It is a very beautiful and old church, light in color but lots of nice little details, especially with the pillars. The church is unfortunately rising from the outside, so unfortunately that part cannot be seen, but I was here a few years ago and luckily I was able to see the cathedral from outside.
There was a choir with an orchestra practicing old instruments. Very nice to hear.
I also got a stamp at the basilica. I also asked for a new pilgrim passport (credential) because I only have room for 3 stamps. Unfortunately she didn't have it. I was referred to the pilgrim's office but I had already passed it and it sits on the hill in a building on the 2nd floor. I can't come here. Even if I do not step out of my wheelchair because when I get there my wheelchair is now driving down the hill because the hill is so steep that my brake does not hold my heavy wheelchair. Eventually the wife of the cathedral walked with me and called someone at the pilgrim's office and then went back. I was then able to buy my pilgrim passport. Very nice to have space for new stamps again!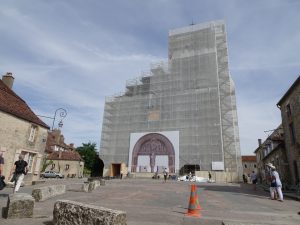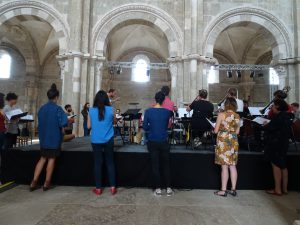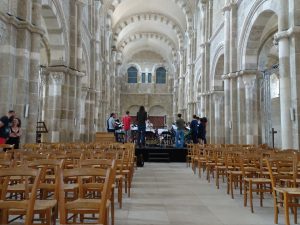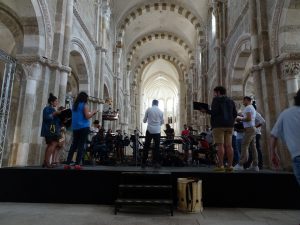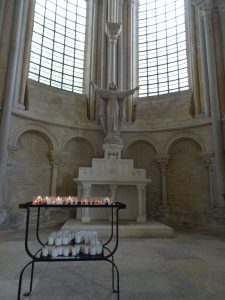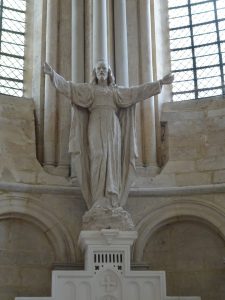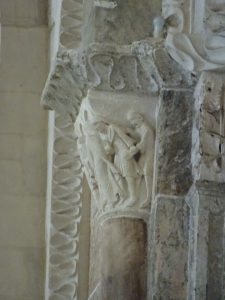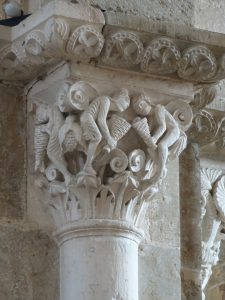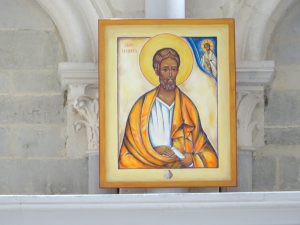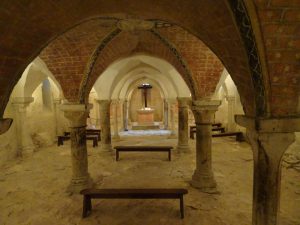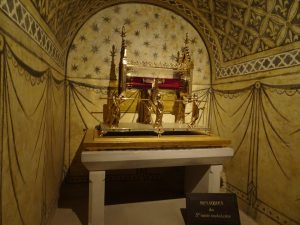 Previous
Next
Afterwards I looked around on the hill, visited some religious tourist shops and then I rolled down. On the way there were all small shops. Many artists have their workplace and sales there. Nice to see. And if it wasn't art it was wine!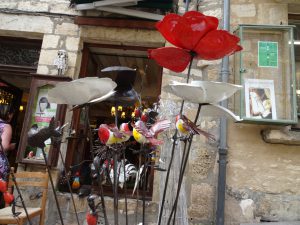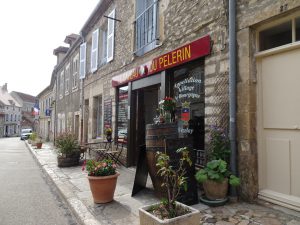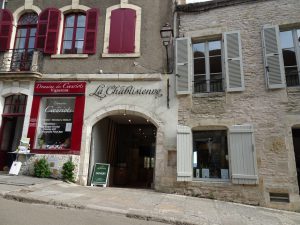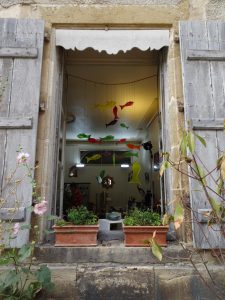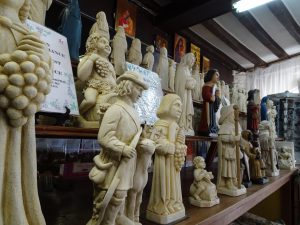 Previous
Next
Then it was time to visit the campsite. I am now on a municipal camping site in a hamlet next to Vezelay, Saint Pere. A small campsite with sober facilities but it is fine. My tent is overlooking the stream, occasional boating and canoes. Just put your feet in the stream, nice and refreshing. My chair is now being charged by a Dutch person who is here at the campsite and I have now also found another outlet. Here I am now next to all of my things (power bank, camera, telephone, odometer) on the power. Everything was empty because last night I could only charge my wheelchair. Now happy again charging possibility.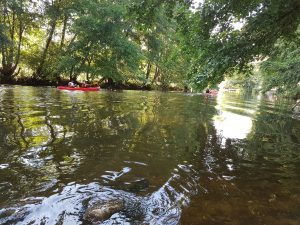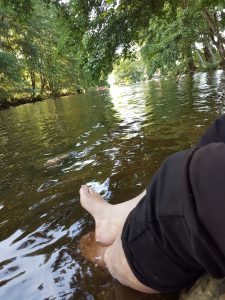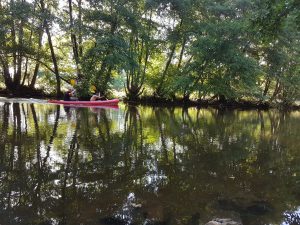 Previous
Next
Vezelay was officially my end point but due to the return trip and the lack of public transport in Vezelay I will continue to Avallon tomorrow (that is on the route next year, I want to roll from here to Taizé). I probably take a train from Avallon to Auxerre and then back home with a flix bus. I will keep you informed in the coming days! And do not forget to subscribe to the newsletter if you have not already done so. That is possible on the homepage or here. Then you get a message every time I post something and you stay informed. Greetings, wheelchair pilgrim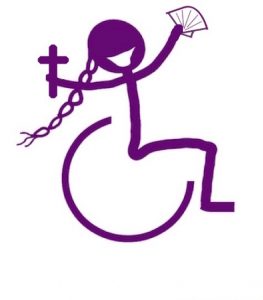 Last night I slept well despite the festival next to the campsite. With my mummy sleeping bag tightly closed I had little trouble and remained warm. Two birds with one blow! The moon was also very beautiful and full tonight.
Last night I first charged my one set of batteries with a Dutch woman who slept in a chalet. Unfortunately my wheelchair could not be covered there, but the solution for that problem came quickly. I was approached by a French couple who speak some English and who I knew from the campsite in Chablis from a few nights ago. Then my chair was able to charge the second set of batteries under their awning at night. Very nice!
When I packed everything up again I was on the road again. Yesterday I had almost everything fully loaded, so luckily I had no worries about that.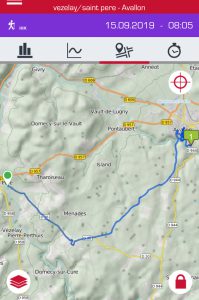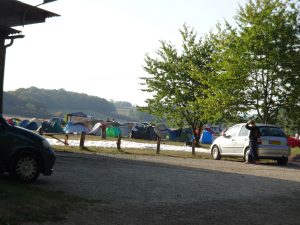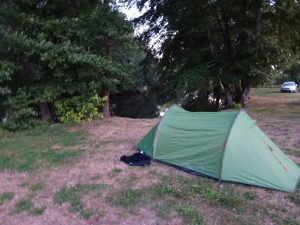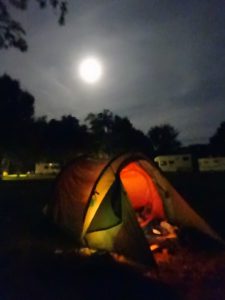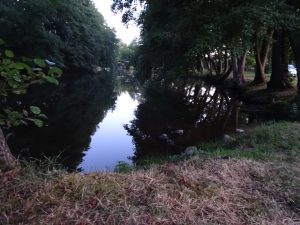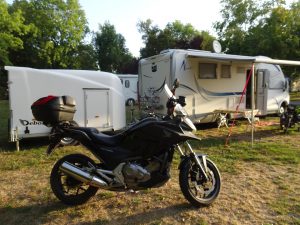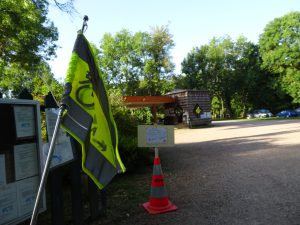 Previous
Next
It was a bit crazy route today, actually this is the route that was planned as my first leg next year. So next year I will roll 1 day shorter. But this is a much more convenient place i.v.m. public transport. Yesterday I had already visited Vézelay and therefore drove straight to Avallon this morning. I had to go a long way because I wanted to avoid the big road. I drove through the Morvan, I read a middle mountain on Wikipedia, it is not very high here, more a low mountain but I am only here on the edge of the Morvan. There were, however, a number of long, fairly heavy slopes, the great thing about a large slope is that after it takes a lot of energy and is heavy, you are almost always rewarded with a nice view and then you can go down without doing anything! Today we hardly saw any villages, and what could be called a village often consisted of only 2 or 3 houses / farms and not even a church (and that has every hamlet here). The most real village was Usy, this was a very small village with another house with a source that I wrote about earlier. Only this house was furnished with an exhibition. In it were mannequin dolls with a kind of traditional costume that did old-fashioned work, walking behind the plow, spiders, etc. Nice to see. In Usy I also saw a house overgrown with grapes, it was special that each bunch was individually wrapped in a net or a piece of paper. Just past Usy there were a number of men at a house / farm and I asked them to fill my bottle. That resulted in a full bottle and a nice conversation.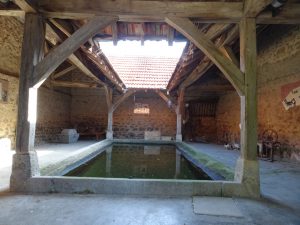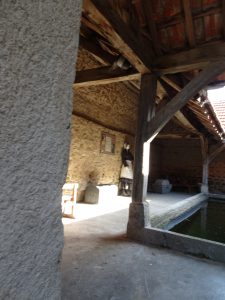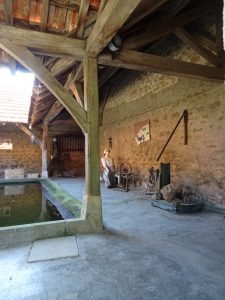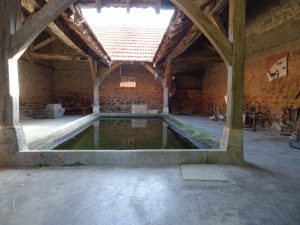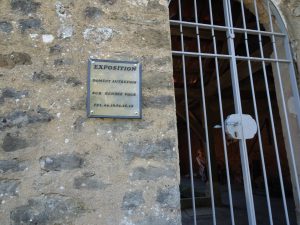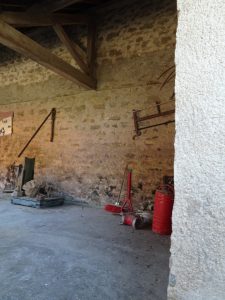 Previous
Next
In the beginning I rolled a lot between arable land, but halfway it changed into forest. It was nice and quiet, I heard a lot of birds, occasionally saw a bird of prey (unfortunately not in the photo) and heard small animals jumping off the roadside but could not see what. But since I sometimes saw flat mice (or something like that) on the road, I assume that they are mice.
Sometimes small streams also flowed through the forest. When I rolled over a bridge and just wanted to look at the stream, I was a bit surprised, because there was a huge bull in that stream! A small meadow had also been deposited for that bull, but in such a way that he could walk into the water.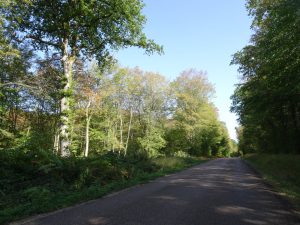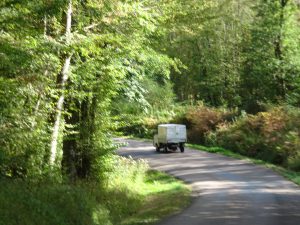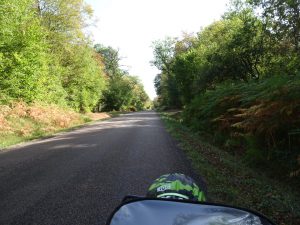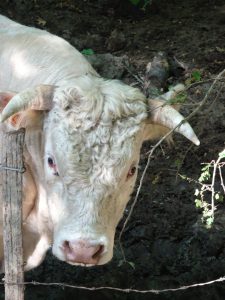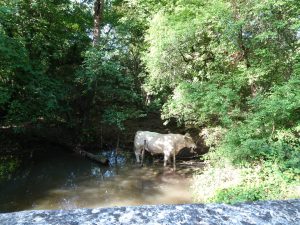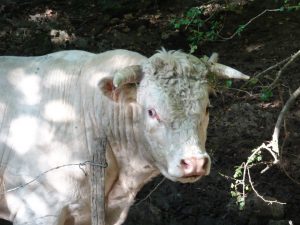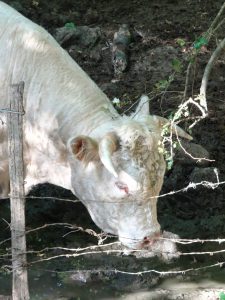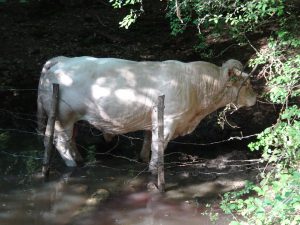 Previous
Next
I have been asked a few times recently by people what it is like for me to roll through a forest for hours without meeting people. How I do that with loneliness. I am not bothered by loneliness on such a journey, I am alone and see no other people, but it never feels lonely (as I think you know I am a Christian and therefore never really alone). I also enjoy being alone with my own thoughts. I often think about, for example, previous encounters, questions that I received that I let work through to me (such as this question that I now answer), about things of life, the good and the less good. but I also often spend my time in solitude in the forest singing. Often Taizé songs (for those who don't know, Taizé is a monastery in France where every year many (thousands) young people (and some elderly people) come from all over the world. They have their own songs, often consisting of a sung Bible text, prayer or otherwise Christian short text (eg a text from a saint), which is then repeated frequently so that the text can get through to you, I have been visiting Taizé myself for about 8 years and for those who want to know where I want to end next year, that is also in Taizé). For me, those hours in silence are very calming and these things are exactly what makes a pilgrimage a pilgrimage for me and not an ordinary walk.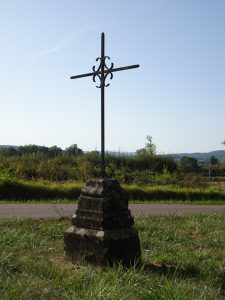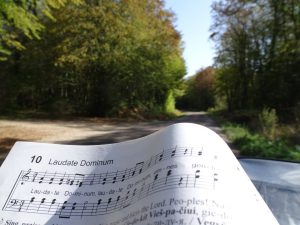 Previous
Next
Arriving at Avallon I meet a man, I had been rolling behind him for a while, but he was looking at his map for a moment when I caught up with him. I thought he was a pilgrim because he was traveling with a luggage cart. But he was not a pilgrim but a walker. He himself lives in Brittany and walked to his parents in Alsace. He had been on the road for 4 weeks and expected to have to go for 3 weeks. We walked together upstairs (the old cebtrum is 369 m high). I only went slower and had to change batteries on the way. He probably went ahead and told me to treat me to a drink if I were up in the old center. When I came up after changing the batteries and rolling up the steep slope, he was already waiting for me at a drink on a terrace. I ordered an apple juice and so we talked (in English that he spoke well) for quite a while. After everything was finished we went on, he walked on for a while and I went to see the church.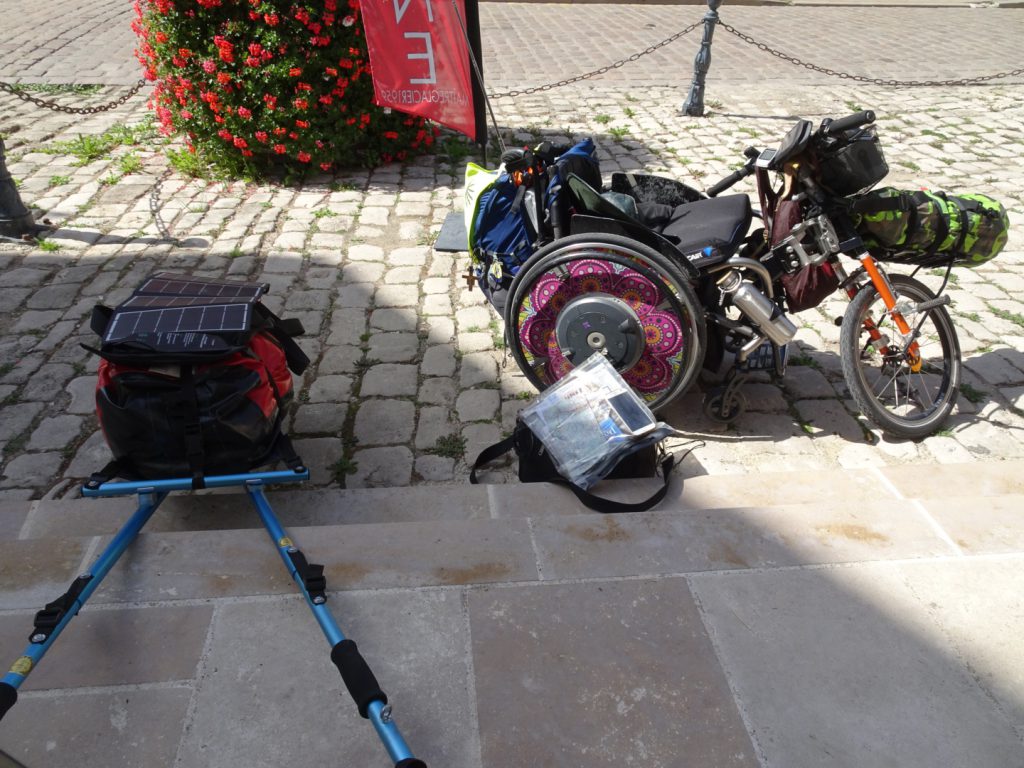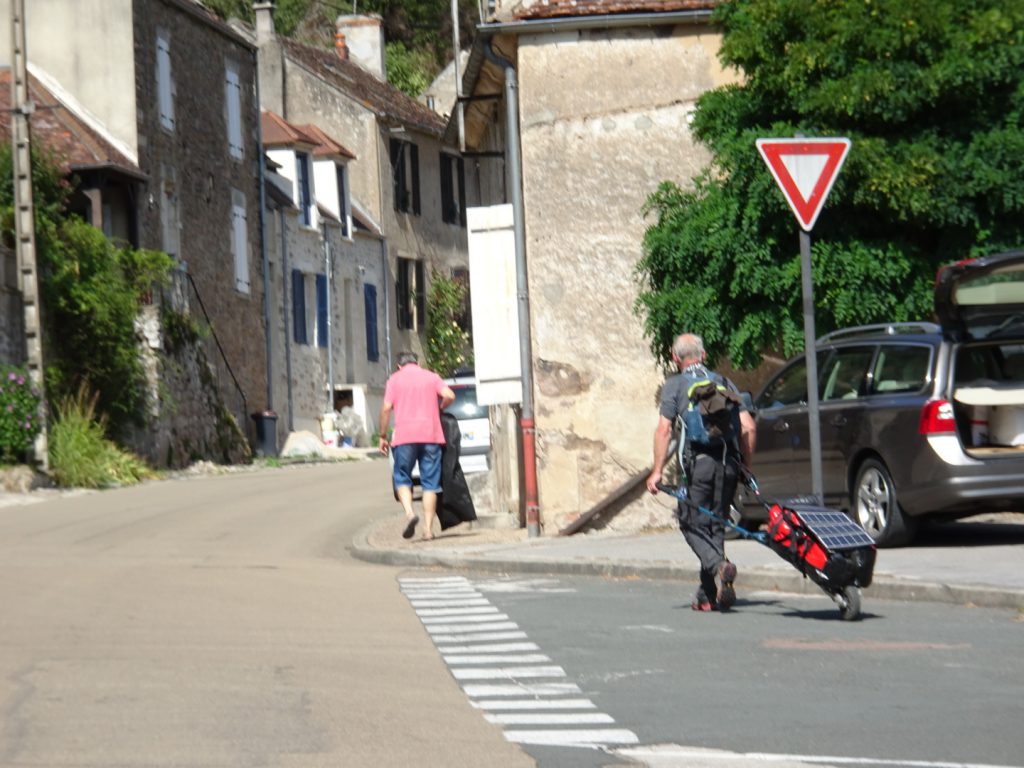 In the church it was quite busy when I arrived, I just looked at the church and also met Dutch people with whom I had a chat about my pilgrimage. After the Dutch went on and all other people had left the church, I saw my chance to sing something in the church. It always sounds so good! After I had sung I went on. I saw a tourist info that was open. I got a stamp here because unfortunately there was no stamp in the church. Only 1 stamp left and then this pilgrim passport is full again. On to the next one (I bought it yesterday!).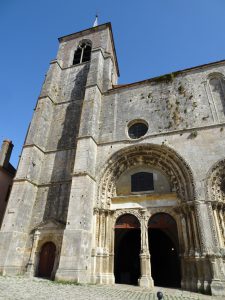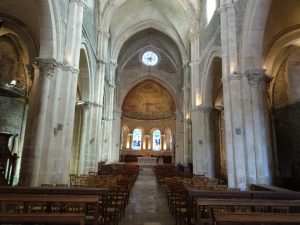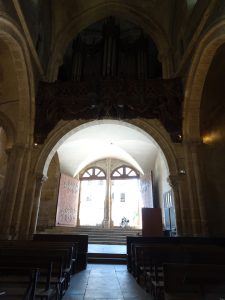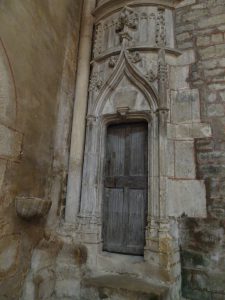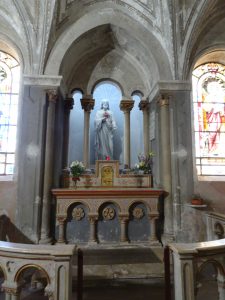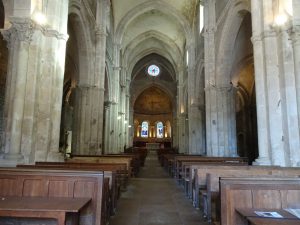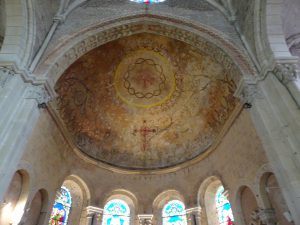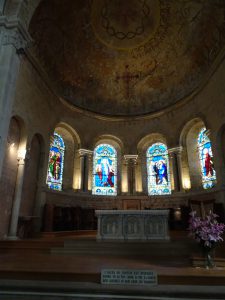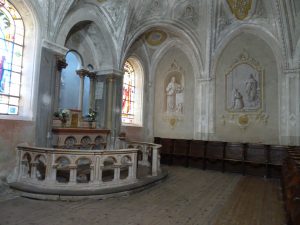 Previous
Next
Then rolled through the town. There is also a beautiful tower. Avallon has something to do with frogs, there are frog signs on the ground that indicate a tourist walking route, and there is also a huge frog statue.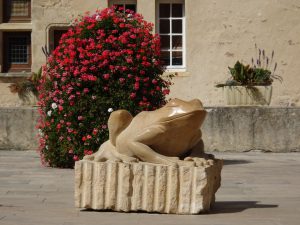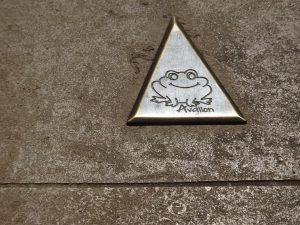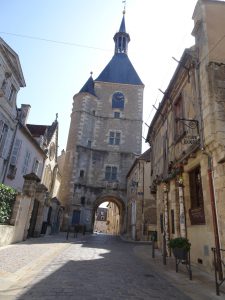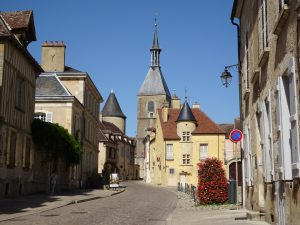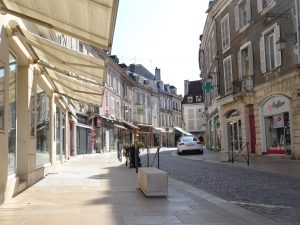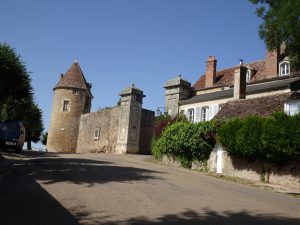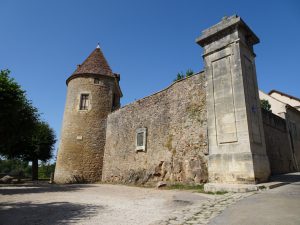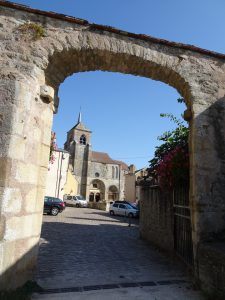 Previous
Next
But then I thought it was time to roll down the mountain and go to the campsite. That was a nice piece of route. Down the rocks.
My tent is now in place. I am sitting here in a small room on the campsite where there are chairs, tables, a fridge and a microwave. Here I am now loading my wheelchair and all other things (mobile, power bank, camera, odometer). Then I can go full loaded tomorrow again.
Fortunately there is Wi-Fi again so I can send you this message with photos again.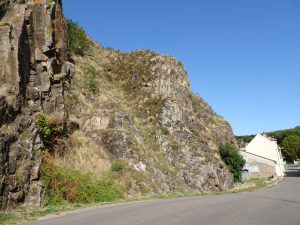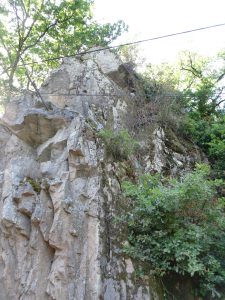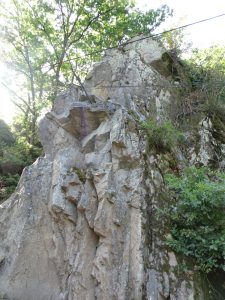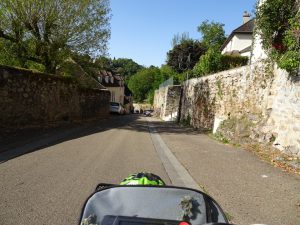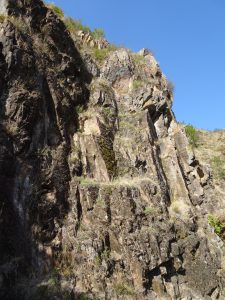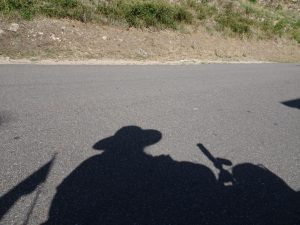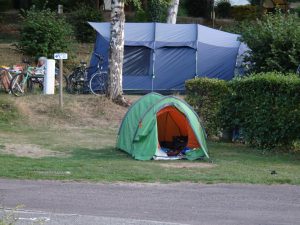 Previous
Next
Tomorrow morning I will first go to the supermarket for some shopping and then to the train station. I take the train to Auxerre. Then I will book a flix bus home and then I will be home again in a few days. Greetings, Wheelchair pilgrim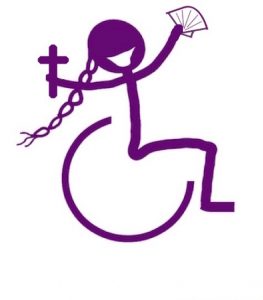 Ps. Do not forget to subscribe to the newsletter if you have not already done so. That is possible via the homepage or via this link.
Even today a short message.
This morning ate a baguette with a piece of chocolate as a topping. Baguette was still hot, tasty!
A robin came along nicely while I was packing. Was less than 2 meters away.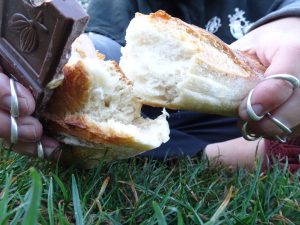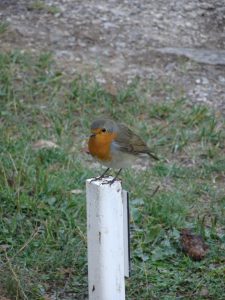 Previous
Next
Just before 10 o'clock I rolled out of the campsite, towards the train station. I actually wanted to take the train but it only went late in the afternoon and I discovered that there was also a bus that left around 2 o'clock. From Avallon I went to Auxerre this afternoon with the very well adapted bus. It was a kind of coach and a lift was hidden in the stairs of the stairs at the back door. Ideal.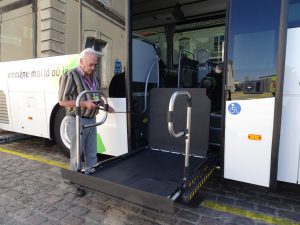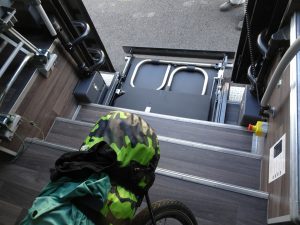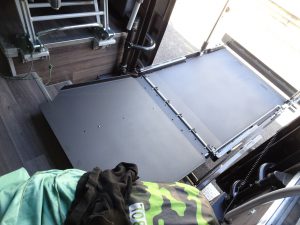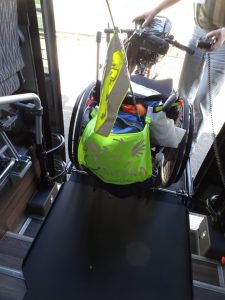 Previous
Next
Now I am with my tent at the campsite in Auxerre. Tomorrow I will have some time to visit the city and at the end of the afternoon I will take the flix bus to the Netherlands.
Tomorrow the article about my pilgrimage will be in the newspaper, the Nederlands Dagblad. `(check wheelchair pilgrim in media, dutch part of website, rolstoelpelgrim in andere media).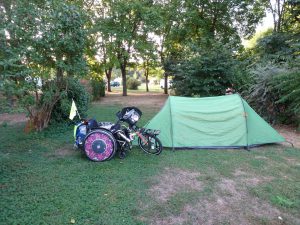 Photos will come later. The internet here is not enough to load photos. (The photos have since been placed as you see).
Greetings,
Wheelchair pilgrim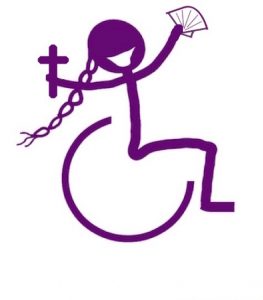 Last night I charged my wheelchair at the toilet block here at the campsite.
I also spoke to a couple that is standing here at the campsite, the man is in a wheelchair and they have an adapted motorhome with an extra wide door and a wheelchair lift. Nice to see what is possible.
Last night I slept well again. My last night in my tent. I have to get used to the fact that my pilgrimage is over for this year. From the campsite I have a clear view of the cathedral in the center.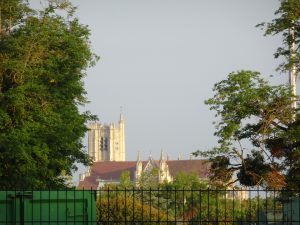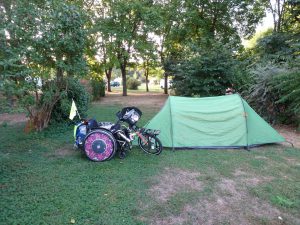 Previous
Next
This morning everything was packed again and tied to the wheelchair. I woke up early and left the campsite around 9 am towards the center of Auxerre. Along the way I called the doctor, not because I am sick, but because I always read the Nederlands Dagblad in the waiting room when I visit the doctor. And because I am in that newspaper today (Tuesday, September 17), I would like an extra copy of the newspaper. So I asked the doctor for his newspaper and I can indeed pick it up when I get home. Nice!
Auxerre is on the water and the first part of the route to the center is therefore nice and flat, but that changes just before the center because the old center is on a hill and that makes for a challenging climb, but compared to Vezelay and Avallon happy with it. In the center I look at the cathedral, it was a search to get in, but it worked. The main entrance has quite a few stairs and the side entrance was only the small door in the large door open. Eventually I asked them to ask other people inside for me how I get in. And then the large side door was also opened. And so I could just go in with the wheelchair.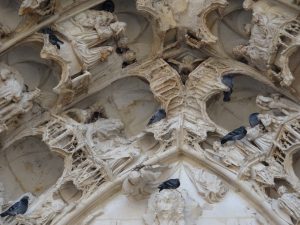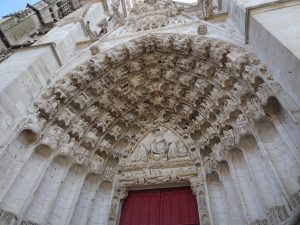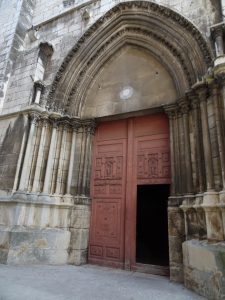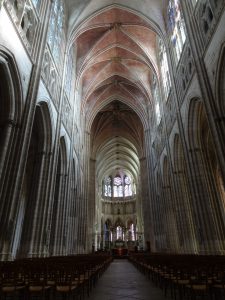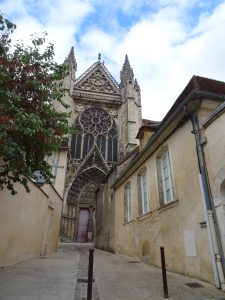 Previous
Next
I also visited other churches in the center and also just drove around. It is a beautiful town with many old half-timbered houses. There is also a tower with a beautiful clock. Also in this place are signs on the ground with the route. This time with the image of someone named Kadet Rousselle. I also saw a statue of this man in the city.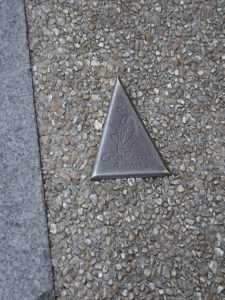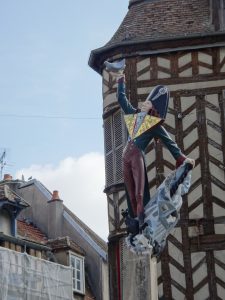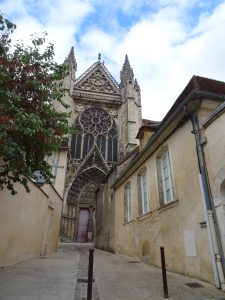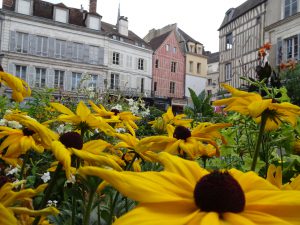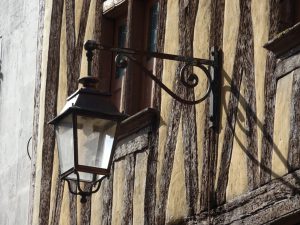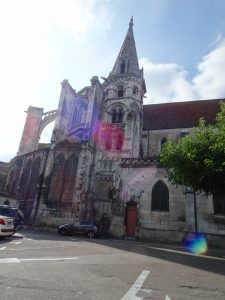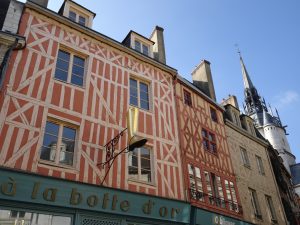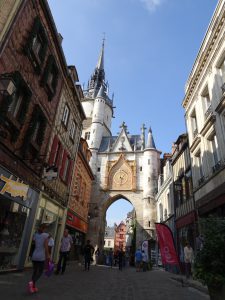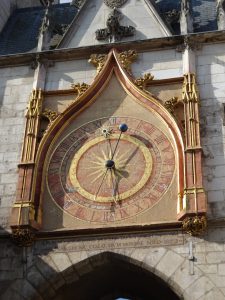 Previous
Next
For the first time this trip I treated myself to eating in a restaurant, a well-filled crepe with blue French cheese and vegetables. Yummy! And I thought I deserved that at the end of my journey.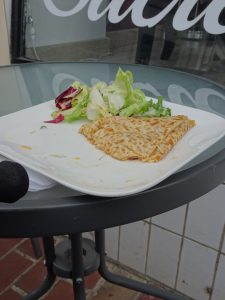 After a few hours I had seen the center and then I sat down in a park on the water. It turned out that there was internet here and I just looked a little bit about prince's day (prinsjesdag). Unfortunately I just missed the speech of the king.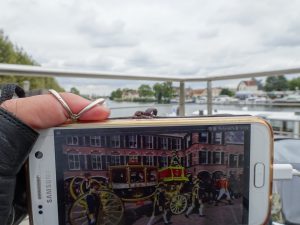 Then it was time to head for the bus. Along the way some small food and some drinks for on the way picked up at the supermarket. And then it was time for the flixbus.
16.25 the flixbus drove to Paris. Unfortunately, the driver wanted me to take my front wheel off. But luckily it went well. The bus was very full. On the way to Paris I drove through a few places and on roads where I had rolled or slept myself. Apart to see the route in this way. We had a huge delay for Paris. There was a lot of traffic jam and in the end an accident had happened. I only arrested 19.45 in Paris when I should have arrived 18.20. But luckily that didn't bother me because I had an extremely long transfer time. My bus from Paris to the Netherlands only went at 10.25. So I still had to wait a long time. Just go and sit somewhere and wait. It's not such a nice place (a kind of parking garage, almost without daylight and lots of ugly gravity) but I had to get through the time. Fortunately there are many people. A group of guitar players also played. Helps to get through the time. Fortunately at 10 p.m. the spot appeared on the board where the bus was and then I went there.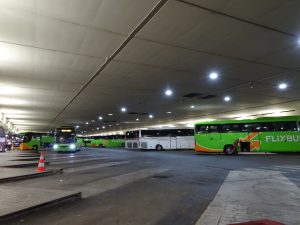 This time my chair was in it completely, always nice. Again the bus was quite full. I was still awake the first part but after an hour or so I went to try to sleep. I still slept reasonably for a bus trip, although I did wake up every half hour or so. We had several stops, Lille, Brussels (2x), Rotterdam and then my terminus The Hague.
My parents and son picked me up there. And this was the real end of my journey.
In the near future, messages will come from me less often. Although I will keep you informed of the preparations for next year (pilgrimage from Avallon to Taizé) and I will also post the missing photos and statistics (distances, heights, etc.) and other additions next week. I have posted yesterday's photos.
If you have not yet done so, sign up for the newsletter, on the homepage or here, you will receive a message when I have posted something new and when I am on the road again and you will be kept informed of my pilgrimages.
And last but not least, I want to thank everyone for reading, sympathy, reactions, etc.
Greetings, wheelchair pilgrim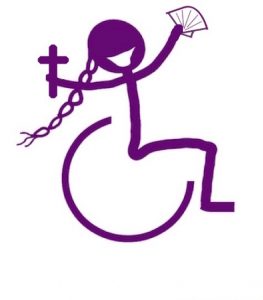 I have been home for almost 2 weeks now.
It always takes some getting used to going back to normal life after a pilgrimage.
When I pilgrimage I am mainly concerned with the basic basic needs, things like: Where do I go to sleep tonight? Where is a store to get food? Where do I fill my water bottle when it is empty? Where's a WC? Which way should I take? Am I going to climb that mountain? Can I take my tent dry tomorrow? How's the weather? Where can I charge my wheelchair batteries? really the basic necessities, while in everyday life there are always so many other things that concern me.
But I can leave the worries of home behind me on my journeys. Very nice! but always getting used to coming home and being busy with completely different things. But slowly but surely I return to the normal rhythm.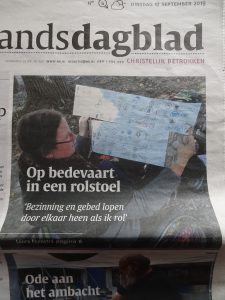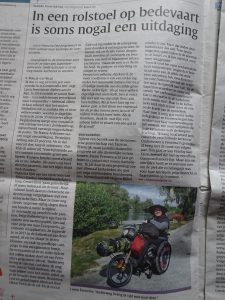 I also started updating my website. I have now placed a map on all blogs with my route and the amount of kilometers per leg.
There is now also a photo of the newspaper article of the Dutch newspaper of 17 September. You can find this in legible format in the menu under "wheelchair pilgrim in other media".
And then I have the numbers and statistics of the trip here: de reis: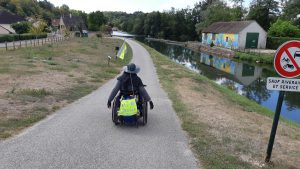 Afstanden
Day 1 Reims – Cormontreuil 5,16km
Day 2 Cormontreuil – Epernay 28,57km
Day 3 Epernay – Montmort – Lucy 27,71km
Day 4 Montmort Lucy – Sezanne 35,56km
Day 5 Sezanne – Mery Sur Seine 34,26km
Day 6 Mery sur Seine – Troyes 37,66km
Day 7 Troyes – Sommeval 20,89km
Day 8 Sommeval – Flogny la Chapelle 29km
Day 9 Flogny la Chapelle – Chablis 26km
Day 10 Chablis – Accolay 29,40km
Day 11 Accolay – Châtel Censoir 24,62km
Day 12 Châtel Censoir – Vézelay – St. Pere 24,07km
Day 13 St- Pere – Avallon 21,35km
Subtotal 344,25km
average day distance 26,46km
Day 14 visiting Avallon and rolling to busstation 8,21
Day 15 visiting Auxerre 10,42km
Total 362,88km
average day distance (incl. the last 2 days after my official arrival) 24,19km
If I compare this with last year, this seems a lot less, but last year I had virtually no hills in the first week, unlike this year. and with all those hills, a daily distance of around 25 km per day is often heavier than 35 km flat driving.
Cost
People also often wonder how much such a trip now costs, certainly because I live on benefits (disability, WIA) and people often wonder how I do financially to make such a trip every year. But I travel sober and don't need much, and I do food and drink at home too. but this can also be interesting for people who are also considering a pilgrimage and want to know what costs they can expect.
Therefore an overview here.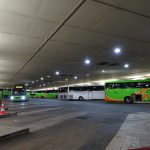 Travel costs (including extra baggage costs)
Arrival: 19 euros FlixBus
Return journey: Local bus 10 euros, Flix bus 32 euros
total 61 euro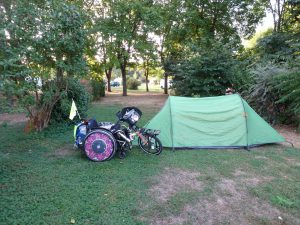 Accommodation:
Day 1 Reims – Cormontreuil – € 20 (monastery, full board)
Day 2 Cormontreuil – Epernay € 8 (camping)
Day 3 Epernay – Montmort – Lucy € 15 (pilgrim shelter, full board, very good dinner)
Day 4 Montmort Lucy – Sezanne € 20 (retirement home, full board)
Day 5 Sezanne – Mery Sur Seine € 15 (Brothers Marianisten, full board)
Day 6 Mery sur Seine – Troyes (friends)
Day 7 Troyes – Sommeval (pilgrim's inn, only replenishment of used products and / or voluntary contribution)
Day 8 Sommeval – Flogny la Chapelle (pilgrim's inn, only used products supplemented and / or voluntary contribution)
Day 9 Flogny la Chapelle – Chablis € 8 (camping)
Day 10 Chablis – Accolay € 4.50 (campsite)
Day 11 Accolay – Châtel Censoir € 5.50 (camping)
Day 12 Châtel Censoir – Vézelay – St. Pere € 4.50 (campsite)
Day 13 St- Pere – Avallon € 8 (camping)
Day 14 Auxerre € 8 (camping, approximate price, no longer have the receipt)
Total 116 euros = an average of 8.30 per night.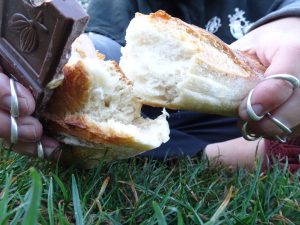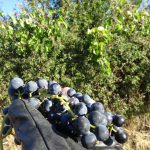 Food and drink
In addition to these amounts, on some days I had some food costs, often I bought a baguette at the bakery and occasionally at the supermarket a piece of cheese. For dinner I usually ate couscous, noodles where I had taken some portions from home or a leftover baguette with cheese or surplus packed lunch that I still had in my bag.
I think I spent around 30 to 40 euros on food and drinks for these 2 weeks. Certainly because I also get things regularly en route, I got this trip, among other things, 2 cakes, a bar of chocolate and lots of extensive lunch packages that I could often do 2 or 3 meals with. and I found a lot of fresh fruit on the way (mainly blackberries, but also wild grapes). In addition, I had days when I just did not come across a single supermarket, at most a baker where I then bought a (demi) baguette for 70 cents to a euro, then it is also easy to spend little.
Summary:
61 euro travel expenses
116 euros overnight stays
40 euro food / drink (less than I normally spend at home in 2 weeks)
Total costs: 217 euros.
Some people sleep 1 night in a hotel and have lost this amount. I have been pilgriming for it for more than 2 weeks.
Schedule
Next time I will plan further with my trip for next year. Unfortunately, there are few or no official routes at the place I want to pass. There is 1 route (that actually goes to Rome) that still does parts of the route that I want to roll so I will sort that out well in the near future.
Next year I hope to roll to Taizé, this is an ecumenical monastery (the brothers are Protestant, Catholic or Orthodox) in Burgundy with about 100 brothers where I have been visiting almost every year for about 8 years. They are best known for their music (just look in youtube on Taizé) and receive thousands of young people every year (especially between the ages of 16 and 35, but everyone is welcome there). For me this is always a very nice place and that is also the reason why I let my pilgrimage pass by.
For the time being there will be fewer blogs, but if I have news I will report it here. And if you have not yet done this, sign up for the newsletter because you will be informed immediately if I have posted something new.
Greetings,
Wheelchair pilgrim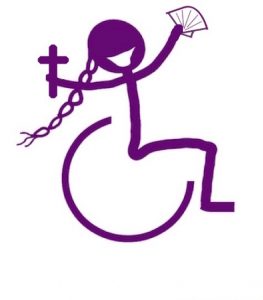 PS. If you have not yet done so, sign up for the newsletter, on the homepage or here, you will receive a message when I have posted something new and when I am on the road again and you will be kept informed of my pilgrimages.
and feel free to leave any reactions below or to contact me at info at rolstoelpelgrim.nl (without the spaces)