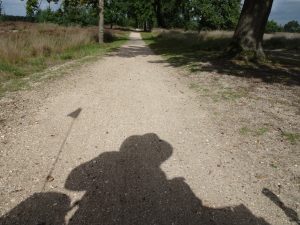 Welcome on my website!
I write here a blog about my pilgrimages.
The name of this website www.rolstoelpelgrim.nl means wheelchair pilgrim.
I make short pilgrimages in my area, but I also go in stages by wheelchair to Santiago de Compostela. in 2016 I started this trip.
Here you can read about my previous pilgrimages: (sorry, for now it is for a big part automatically translated)
The map with the part of the pilgrimage I already did (the roads are not exactly right, but the villages/cities are)
2016 from Haarlem (NL) to Den Bosch (NL)
2017 from Den Bosch (NL) to Maastricht (NL)
2018 from Maastricht (NL) to Reims (France)
2019 Reims to Vezelay/Avallon. 
2021 Taizé to le Puy-en-Velay – planning for next year
If you register down below for the newsletter, you will stay informed and you will automatically receive a message if I continue my pilgrimage. The newsletter is at this moment only in Dutch, but you can always translate it with google translate (also parts of this website are translated by google translate, sorry for the mistakes done by google or by myself, English is not my first language.)
I do not always follow the official routes to Santiago by the book because I have to adapt it because the walking routes go over meadows with fences walking people climb over, or they have too narrow bridges, paths of mud and sand and other wheelchair inaccessible things. most of the time I prefer cycling routes, but they do not follow such a beautiful route or via too large roads where I would rather not drive my wheelchair. Usually I set out my own routes using hiking and cycling routes and a cycling map. When I plan the route I keep the existing routes in mind and search the best road, I mainly follow the villages and city's that are on the road and choose the best road between them, sometimes that will be the officiel road but a lot of times it is an alternative. I usually do not choose the shortest route, but I deliberately choose detours, for example because I want to travel by (historical) pilgrimage places or stay overnight at a monastery, want to see a castle or other special places.
For me it is more about the walking, the experience, the special things on the way and the meetings with people than that I rush the shortest way. I prefer a longer interesting way above  just following the shortest but boring roads without any special locations.
And in case my detours means that it will take me a few more years before I arrive in Santiago, than I only have more time to enjoy my pilgrimage.
At this moment my blog is only in Dutch and (partly automatic translated) English, Automatic translated France, hopefully soon I have the opportunity to translate it properly.
In case someone read this who want to translate this website (voluntary) from Dutch to English, France or any other language, I should really appreciate it. Please contact me with the contact form.
Also follow Rolstoelpelgrim on social media:
Please sign in for my newsletter (in Dutch, sorry, I do not always have the opportunity to write everything in different languages).
When you sign in for the newsletter I send you a confirmation mail, please click the link in that email so you confirm your membership on the newsletter of rolstoelpelgrim.nl 
I promise to never sell or share your email, I only use it for sending this newsletter.